10 Best Lunch Coolers & Boxes for Construction Workers – Reviews & Guide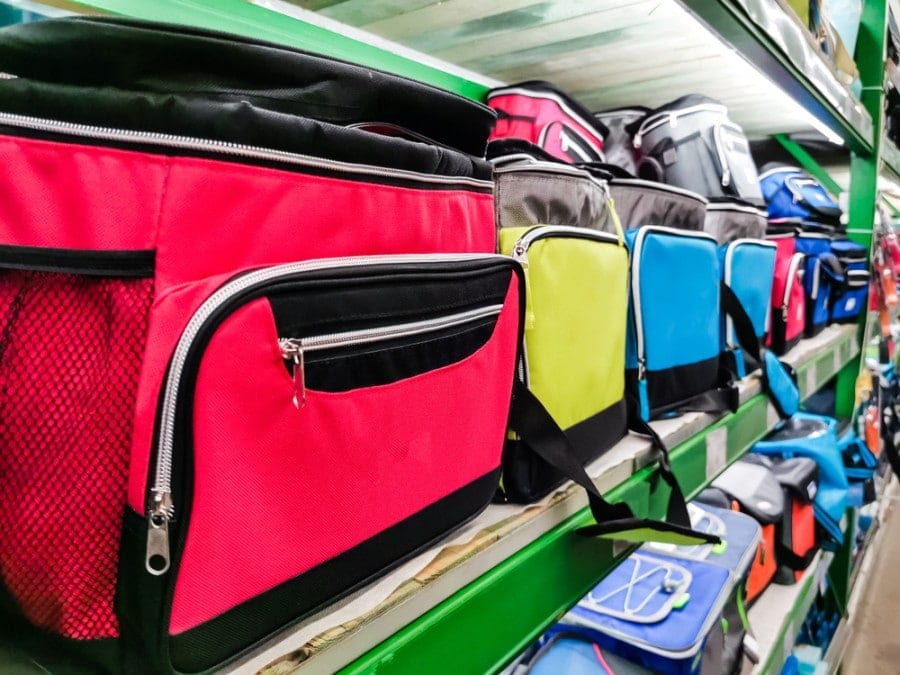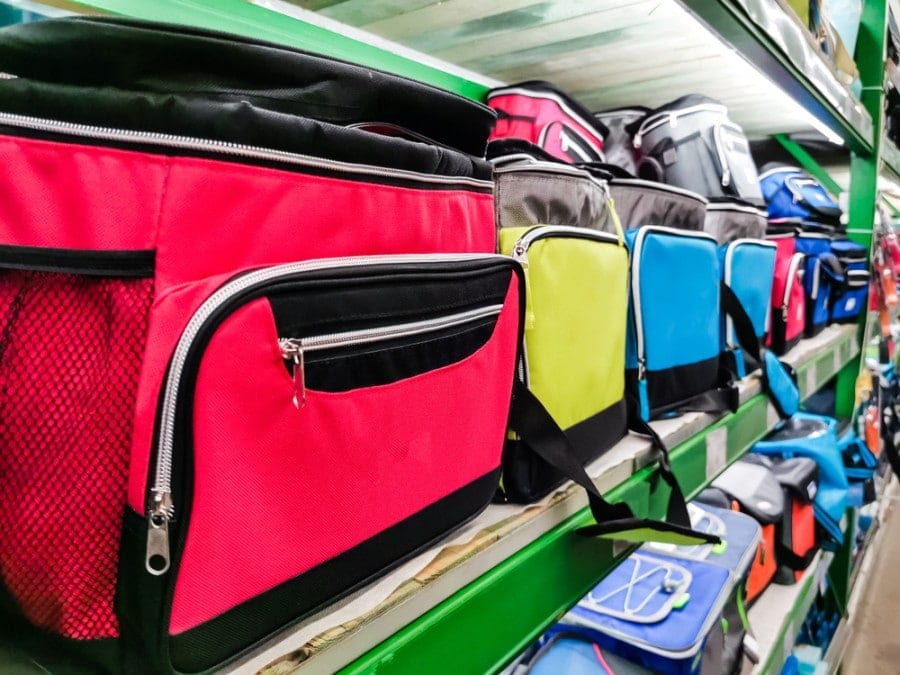 To be onsite and efficient while on the job site, it is much easier and economical to bring your own lunch. You know who made it, you can adhere to a diet if you must, and there is no chance of spending more than you have budgeted for your mid-day meal. Plus, it has the added bonus of being available when you are.
What you use to carry your food is important. You don't want your sandwiches soggy or your soup to spill, and you want the cold items to still be cold hours after you've made them. We have put together 10 wonderful cooler reviews for your next lunchtime on the job.

A Quick Glance at Our Favorite Picks in 2023
Rating
Image
Product
Details

Best Overall

Klein Tools 55600 Work Cooler

17-quart capacity
Can seat up to 300 pounds
Wide lid opening
CHECK PRICE

Best Value

Carhartt Deluxe Insulated Lunch Cooler Bag

100% Synthetic
Dual compartment
Top handle and shoulder strap
CHECK PRICE

Premium Choice

Milwaukee Sided Jobsite Cooler

5 pockets
Large interior
Cold up to 24 hours
CHECK PRICE

Igloo Quart Playmate Cooler

8-quart interior
Classic shape
Diamond-plate design
CHECK PRICE

ENGEL Cooler/Dry Box

EVA gasket
Waterproof
Dustproof
CHECK PRICE
The 10 Best Lunch Coolers for Construction Workers
1.

Klein Tools 55600 Work Cooler – Best Overall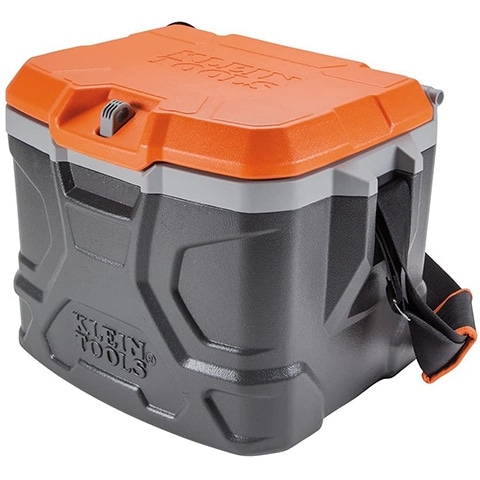 For your dining pleasure on the job site, the Klein Tools 55600 Work Cooler is a hard box to beat. This 17-quart behemoth can keep your food cool for up to 30 hours and can double as a seat, supporting up to 300 pounds. The lid can open up to 180°, functioning as a shelf for your phone, utensils, or whatever you want.
The hinges are stainless steel and will never rust, and the shoulder strap can hold the lid in place and convert easily to a carrying handle. It even has a lock hasp that can fit a Master Lock or equivalent for added security. And the recessed lid can support a 1-liter bottle standing straight up.
The only complaint is with the strap holder. The box itself is hardened plastic, the interior insulator is foam, but the strap holder is metal, and under strain it can snap, damaging the entire unit. Once broken, it cannot be replaced. And when it does break, the subsequent fall causes significant damage to the housing.
Pros
17-quart capacity
Can seat up to  300 pounds
Wide lid opening
No-rust hinges
Lock hasp
Cools up to 30 hours
---
2.

Carhartt Deluxe Insulated Lunch Cooler Bag – Best Value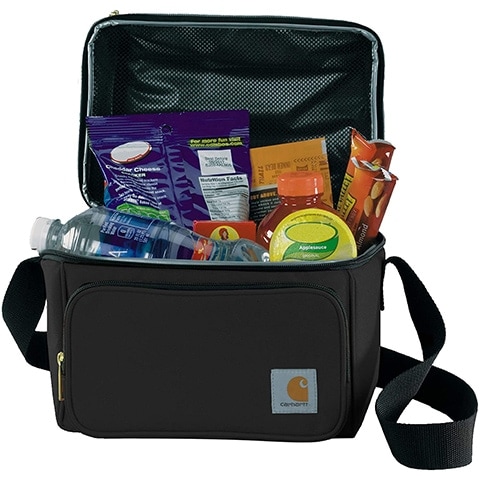 Completely synthetic, the Carhartt Deluxe Dual Compartment Insulated Lunch Cooler Bag can handle your lunch and then some. Its primary compartment can hold a six-pack and keep it cool, and is more than large enough for your lunch. And the second compartment is fantastic for additional storage.
It is made of heavy-duty fabric, treated with a Rain Defender coating for a water repellent exterior. It even has a front zipper pocket for small items, such as utensils. With top handle, shoulder strap, and weighing in at just under one-half pound, this carries the Carhartt legacy with pride.
It does have the weakness of a small internal capacity. It can't hold as much as some people might prefer. It is soft-sided, so it can be susceptible to crush issues. Beyond that, it is a decent soft cooler and our pick for best lunch coolers for construction workers for the money.
Pros
100% Synthetic
Dual compartment
Top handle and shoulder strap
Lightweight
Triple-needle stitching
---
3.

Milwaukee Sided Jobsite Cooler – Premium Choice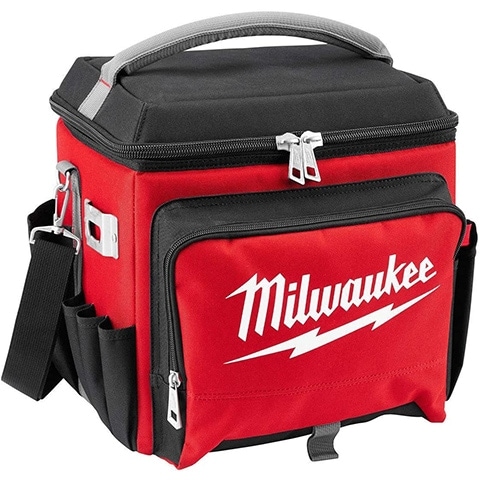 From Milwaukee Electric Tool, the Milwaukee 48-22-8250 Sided Jobsite Cooler is not only branded with their logo, but also with their quality. This tough nylon cooler is durable enough to handle tough job site conditions while keeping your items ice-cold for up to 24 hours.
Its five pockets give you plenty of storage and versatility, and its construction helps it to prevent leaking into and out of its housing. Not just a lunch bag, you can carry a few tools on the sides, which makes taking your lunch to other parts of the job site that much easier.
The seams on this model seemed a bit weak, and the walls could use thicker insulation. Most users have seen it begin to deteriorate after just a month's use. The design itself is nice, with plenty of room inside and the pockets are useful. It just isn't as heavy-duty as advertised.
Pros
Five pockets
Large interior
Cold up to 24 hours
Tough nylon
Cons
Weak seams
Thin insulation
---
4.

Igloo 14.8 Quart Playmate Cooler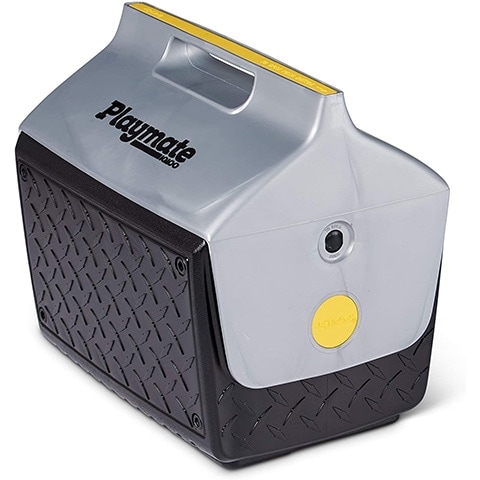 An old staple in the cooler game, the Igloo Playmate Cooler is a testament to Igloo's long dynasty of cooler ingenuity and simplicity. It still has the patented tent shape, still has the same release button to open the lid, and is still the number one selling cooler in its class.
This new model has a diamond plate exterior and is constructed of impact-resistant plastic. It has a new rugged look that says it is ready to hit the job site.
Its 14.8-quart interior is more than enough space to hold anything you want for your lunch.
As is common, the locking mechanism eventually fails. It is a simple button on a spring and can be tough to hunt a replacement down. And these days, it seems Igloo's customer service is leaving a lot to be desired.
Pros
8-quart interior
Classic shape
Diamond-plate design
Cons
Locking mechanism faulty
Poor customer service
---
5.

ENGEL Cooler/Dry Box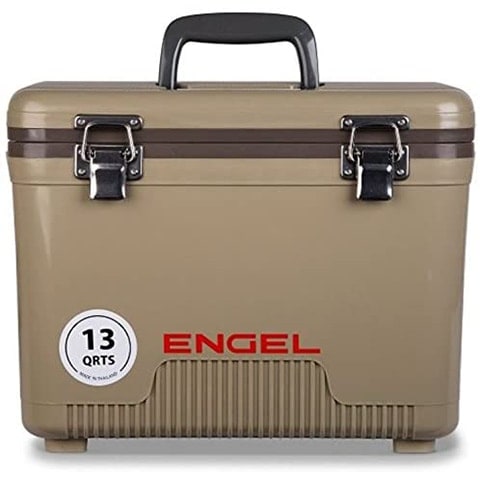 The ENGEL Cooler/Dry Box can keep your food and drinks nice and cold, and then convert into a very functional dry box. And by dry, we mean a total moisture barrier, capable of keeping water and dust from affecting anything within—great if storing electronics, emergency kits, or even cameras.
Its air-tight ethylene vinyl acetate (EVA) gasket and insulated housing keep ice very cold, and all surfaces are non-absorbent, making them easy to clean. It features a recessed carry handle and an integrated shoulder strap. And if that wasn't enough, all hardware is rustproof stainless steel.
While the initial design is sturdy and looks solid, this is just a thin shell over a Styrofoam wall set. The cooling ability is directly related to the quality of the foam, and most users found it wasn't that great. Ice melts in about 10 hours, which isn't great to find after a long shift.
Pros
EVA gasket
Waterproof
Dustproof
Recessed handle
Cons
Does not keep ice frozen
Cheap foam inside shell
---
6.

OlarHike 40-Can Large Cooler Bag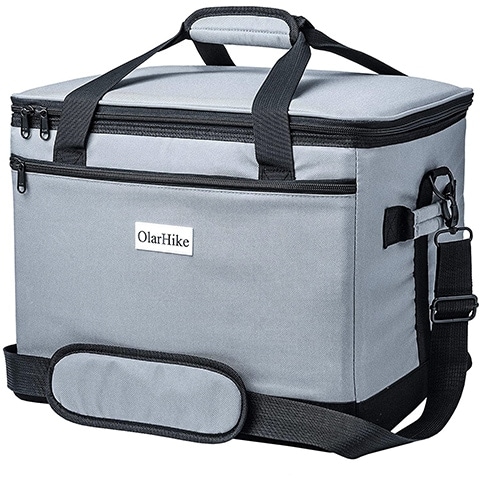 For the large capacity lunch needs, like if you are taking it for you and two friends, then the OlarHike 40-Can Large Cooler Bag is the way to feed you and your friends. It can hold 30-liters by volume, with a load capacity of over 50 pounds. That, and it can keep all of it cool for up to 12 hours.
Its collapsible soft design makes it a snap to store, and it can hold 12 lunch bags for the kids, the office, or a field trip without crushing any of them within. Its carry straps have Anti-Snap technology, giving it the durability you want when carrying food for multiple people.
Because it is a soft-sided cooler, it isn't as impressive of an insulator as its hard-sided counterparts. And over time, its leak-proof feature seems to diminish. In high-humidity situations, while it advertises that the ice might melt but that drinks will stay cool, many folks found that wasn't the case.
Pros
Huge capacity
Heavy load weight
Collapsible design
Anti-snap technology
Cons
Doesn't insulate well
Not leakproof
---
7.

CleverMade Collapsible Cooler Bag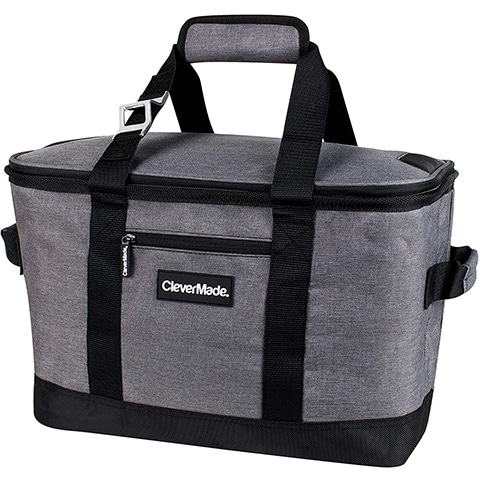 This versatile tote that is the perfect design for food deliveries, the CleverMade Collapsible Cooler Bag is lightweight but can hold up to 50 pounds inside. It is composed of mostly polyester, has patented SnapHinges on both sides of the bag for additional support, and is one of the more versatile totes.
It can collapse when not being used down to no more than three inches, and only weighs two pounds. With its huge capacity and sturdy handle, picnics, trips to the beach, and outdoor trips to the park will all be a joy.
It has a reasonably small warranty of 90-days. It is not at all leakproof and the zippers break easily. The biggest complaint is the overall quality. Because of the blended fabrics that make up the exterior, there are integrity issues with its fabric that cannot be fixed or ignored.
Pros
Large capacity
Lightweight
Sturdy handle
Cons
Leaks
Cheap material
Cheap zippers
---
8.

Arctic Zone Titan Deep Freeze Zipperless Cooler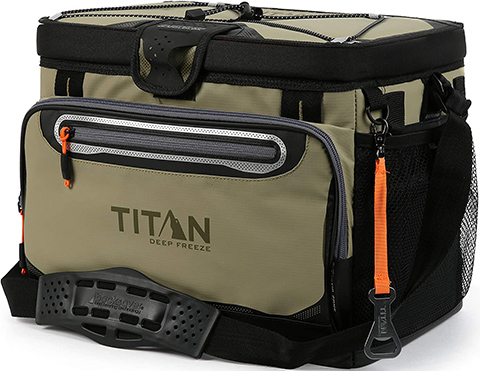 The Arctic Zone Titan Deep Freeze Zipperless Cooler has a radiant heat barrier that reflects heat, where most coolers absorb it. This allows the cooler to work less and keep food cooler. Its "flip-open" zipperless lid gives you quick access to your contents within and includes a removable SmartShelf.
Its exterior is covered in Rhino-Tech, making it water and stain-resistant, easily wiped clean, and is abrasion- and puncture-resistant. It has an Ultra Safe Leakproof Liner, and an insulated front pocket for additional storage. Add to that its "Back Saver" shoulder strap, and you are ready to get to work.
While it is advertised that it can hold ice for up to two full days, this is not the case. It has been found to allow ice to melt over no more than six or seven hours. And the plastic liner is very cheap, easily broken with minimal force. For a rough and ready cooler, this one lacks that heavy-duty appeal.
Pros
Reflects heat
Rhino-Tech
Leakproof liner
Cons
Ice melts quickly
Cheap plastic inlay
Low-quality features
---
9.

IceMule 1005 Waterproof Leak Proof Backpack Cooler
The lightest of all the coolers, the interesting concept in the design of the IceMule 1005 makes it a great idea for hiking and camping. It is rugged and ready for the outdoors. And its ultra-tough interior and exterior, plus PolarLayer insulation, ensure it will retain your ice for 24 hours.
It is leakproof, waterproof, and buoyant. Its design is zipper-less and will float alongside a canoe or kayak if needed. And its backpack straps make long-distance carrying a dream. With a foolproof design that keeps ice in and air out, you are getting all the hard-cooler perks in a soft cooler design.
While it might perform well in the summer, in the winter, it falls apart rather easily. After about a year of use, the inner and outer walls allow water to seep in, which takes a great product and makes it a heavy sack of water balloons. It's ironic that a cooler that does such a great job staying cold is a lemon in the winter chill.
---
10.

DEWALT DG5540 Cooler Tool Bag
Not just a cooler bag, the DEWALT DG5540 Cooler Tool Bag is a versatile worksite helper, capable of carrying your lunch in insulated comfort, and plenty of useful tools. And this is good for camping, fishing, as well as working. It has plenty of pockets for whatever you need them for.
Its interior can hold up to eight cans, and it has a comfortable carrying handle and shoulder strap for convenient carry. With the traditional black and yellow and quality you have come to expect from DeWalt, you can be sure you are getting a product that will last.
The model is quite small by comparison. At only 11 inches across, it can fit enough, but only enough for one. The sandwich section of the interior is tiny, and the outside pockets aren't very big either. It is soft and easily crushable, and if anything leaks, it stains the interior.
Pros
Versatile
Lots of pockets
Cons
Pockets too small
Not stain resistant
Tiny interior
Crushable
---
Buyer's Guide – Choosing the Best Lunchbox for Construction Workers
Bringing your own lunch to work is the best way to save money and maximize efficiency. If you don't have to leave the worksite, you can get to lunch more quickly, eat, and get back to work without losing any of that precious momentum. You saved money, saved time, and that is what working intelligently is all about.
There are many factors that can go into picking your perfect lunch carrier:
Capacity
Mobility
Hard or soft
Cooling duration
The need, the environment, and even humidity can play a part in the efficiency of your lunch box or bag.
Choosing Your Style
There are two primary styles of lunch coolers or boxes: hard and soft.  Many options stem from these two styles, but ultimately, this is it.
Hard boxes are typically thin plastic on the inside, then a layer of foam followed by a thicker outer layer for added insulation. They are heavier, can hold more in most cases, and are rarely an odd shape.
Soft cases come in a myriad of options for your unique personality. They can come with tool pouches and can be made by your favorite brand of tools for product loyalty. They can be designed with anti-crush inserts or be easily collapsible when not in use. And the colors available are vast. They don't, however, insulate as well as hard boxes.
Brands Versus Off-Brand
Some lunch cooler companies have been around for decades. Igloo comes to mind when thinking of the classic hard-box lunch cooler. But that doesn't mean the new items and companies dipping their toe into the cooler industry might not have a comparable item.
Coleman has released a cooler over the last few years that is rugged, sturdy, and top-quality. Before that, they made camping equipment. While brands like Engel, which you might not have heard of, have a whole line of coolers with optional dry box applications. The legacy is important, but don't discount the new faces surfacing.
Tool companies are noticing the need for workers to have sensible coolers on the job and have thrown their hat in the ring. Klein Tools and Milwaukee have hit it out of the park with their coolers. However, other notable tool companies have missed the mark. Just because a brand is notable, doesn't mean they excel at everything.

Conclusion
Lunch carrying containers are largely a matter of personal preference, but we think you will appreciate our number one pick, not just for its quality but also its versatility. For best overall, we chose the Klein Tools 55600 Work Cooler. It had all the features you would need and look for in a lunch cooler.
Our pick for best value is a brand you know and trust for clothing quality and durability, and that is the Carhartt Deluxe Insulated Lunch Cooler Bag. It still has the Carhartt style and charm, with the added protection to keep your lunch cool and safe. It's a tremendous product for the price.
Picking your lunchbox or bag is a matter of preference, but we hope that we helped you to see a few other options you might have never considered otherwise.
For further reading:
TorqX vs Torq 10FX: Which One's Best?
12 DIY Plant Stand Ideas for Outdoor and Indoor Use
Which Dremel is most suited for wood carving?
---
Featured Image Credit: Andrew Angelov, Shutterstock