12 Car Fire Statistics to Know in 2023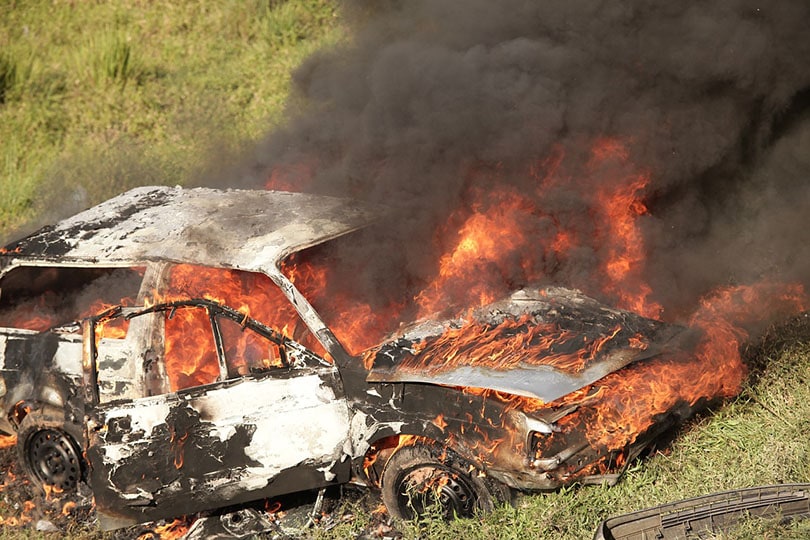 Note: This article's statistics come from third-party sources and do not represent the opinions of this website.
Car fires are scary and dangerous, occur more frequently than we realize, and claim many lives. If you want to learn how many car fires occur each year in the United States and what causes them, keep reading while we dig into these and several other facts.
Click below to jump ahead:

Top 12 Car Fire Statistics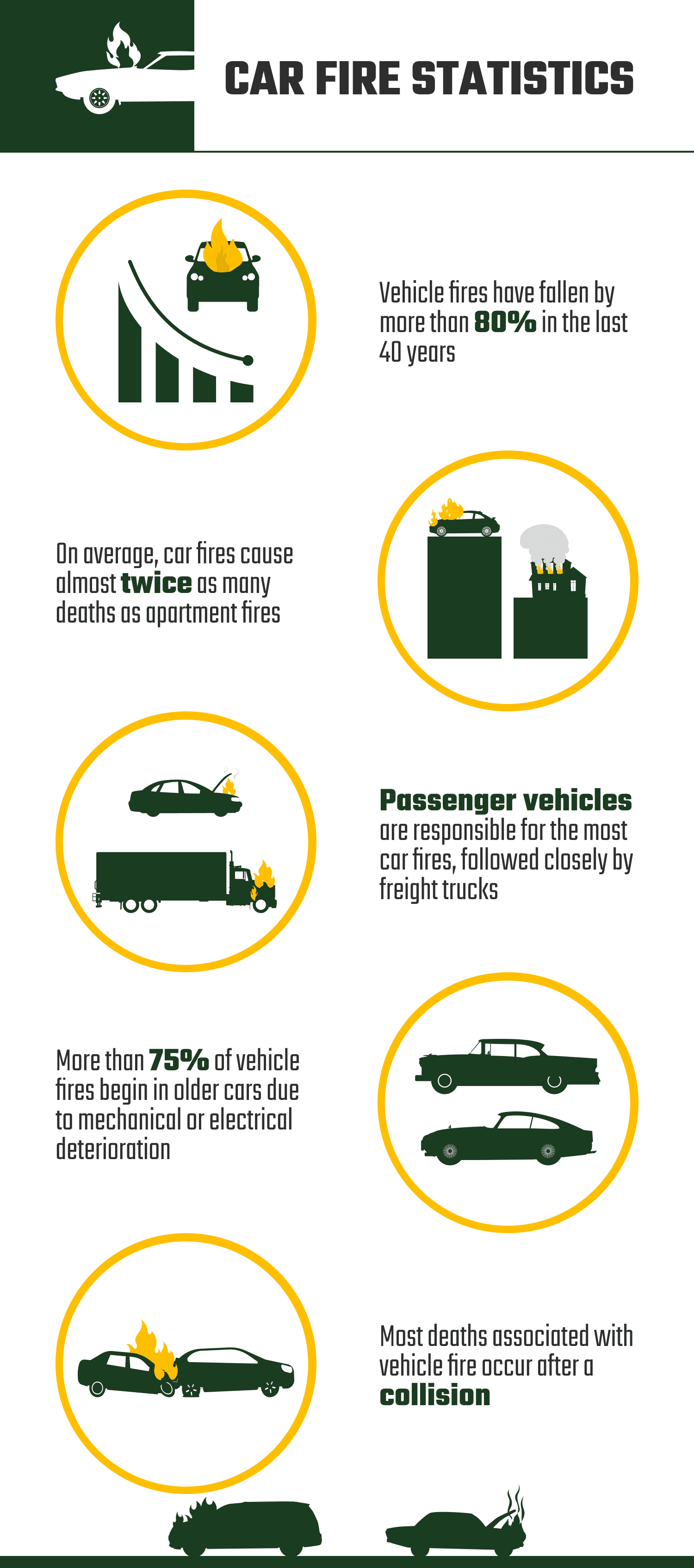 Car Fire Frequency
1.

There were 212,500 vehicle fires in 2018.
(National Fire Protection Association)
In 2018, there were more than 212,000 vehicle fires in the United States, resulting in more than $1.9 billion in property damage. Automobile fires are responsible for 16% of the more than 1.3 million fires reported to the United States fire department each year.
---
2.

The number of vehicle fires went up slightly between 2018 and 2019.
(Statista)
The number of vehicle fires and fire-related deaths has steadily declined for many years but increased slightly between 2018 and 2019. Records show that there were 189,500 reported fires in 2019 but only 181,500 fires in 2018.
---
3.

Older vehicles are the most likely to catch on fire.
(National Fire Protection Association)
More than 3/4 of vehicle fires begin in older cars due to a mechanical malfunction or an electrical problem. Unfortunately, the fires don't start because of poor design, but because parts wear out and deteriorate, so it's essential to have your car inspected regularly, especially the wiring, as the car ages. In 2017, 70% of the cars to catch fire were more than 10 years old.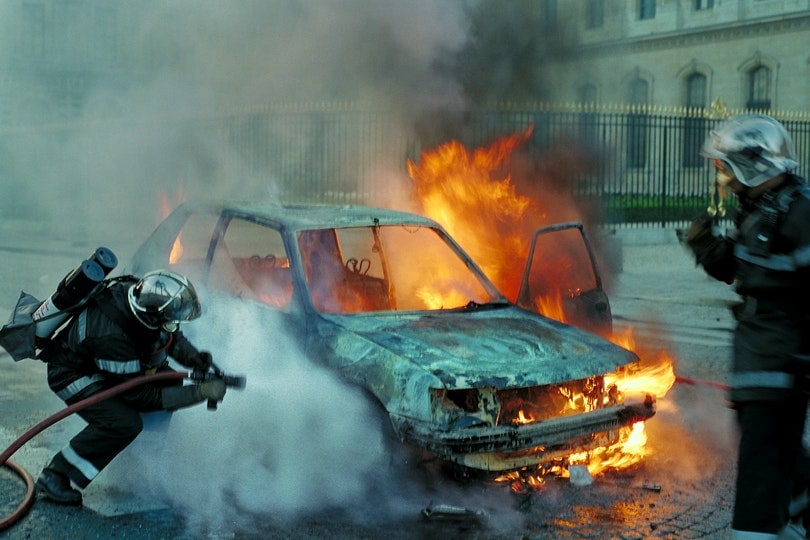 ---
4.

The national average is one fire per 19 million miles driven.
(Inside EVs)
Currently, the national average is one fire per 19 million miles driven; however, some car models hold up better than others, so you might want to do extra research before purchasing something new. For instance, Tesla has released data from 2012 to 2020 that reveals its cars have a fire every 205 million miles, proving that they are more than 10 times less likely to catch fire than the average vehicle.
---
5.

Vehicle file fires have fallen by more than 80% since 1980.
(National Fire Protection Association)
Vehicle fires have fallen by 81% per billion miles traveled since 1980. Forty years ago, there were roughly 299 vehicle fires per billion miles driven. In 2018, that number dropped to about 56 fires after following a steadily declining line throughout the years; that said, the graph has gone up slightly due to a recent increase in highway fire deaths.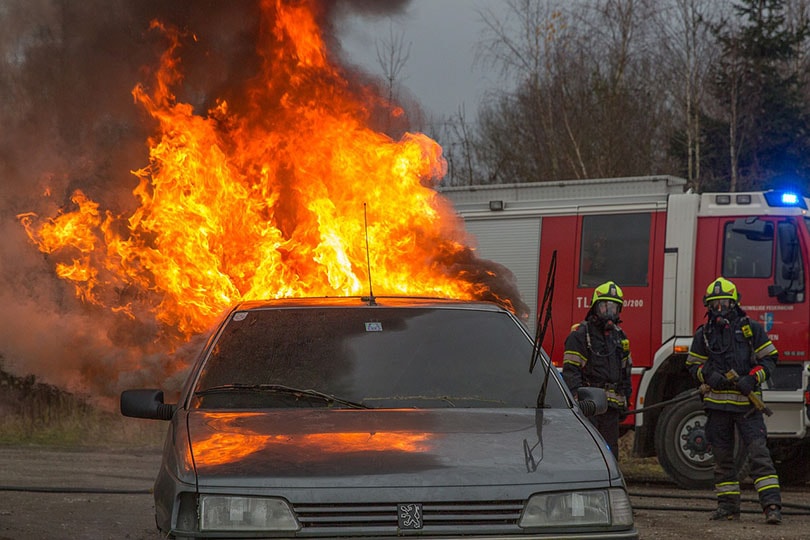 ---
6.

Passenger vehicles had the most fires.
(U.S. Vehicle Fire Problem)
The U.S. Vehicle Fire Problem report shows that between 2006 and 2010, passenger vehicles had the most fires, with 223,300 in total. Next came freight trucks or 18-wheelers, with 20,480 fires. Finally, agricultural vehicles like tractors and balers had 8,760 fires. Water vehicles, railroad cars, and aircraft had even fewer fires.
---
Highway Fire Statistics
7.

Highway fires are the most common between 3:00 and 6:00 PM
(National Fire Protection Association)
Vehicle fires on the highway are the most common between 3:00 and 6:00 PM when traffic is also highest due to most people getting out of work. Long traffic jams can cause the engine to overheat, leading to a fire.
They are also most common between May and August, peaking in July, which coincides with the year's hottest months. These high temperatures can melt wire casings in the dashboard as the car sits in a parking lot, only to cause a fire later.
---
8.

1988 was the worst year for highway vehicle fires on record.
(Statista)
Records dating back to 1980 show that 1988 was the worst year for highway vehicle fires. Statistics show more than 459,000 vehicle fires that year, which is relatively high compared to the lowest number of 164,000 in 2013. The most recent number in 2019 is 189,500.
---
Car Fire Deaths
9.

In 2018, vehicle fires resulted in 560 deaths.
(National Fire Protection Association)
The many vehicle fires in 2018 resulted in 560 civilian deaths and more than 1,500 injuries. These injuries and deaths do not count any incurred by firefighters, medics, or the police.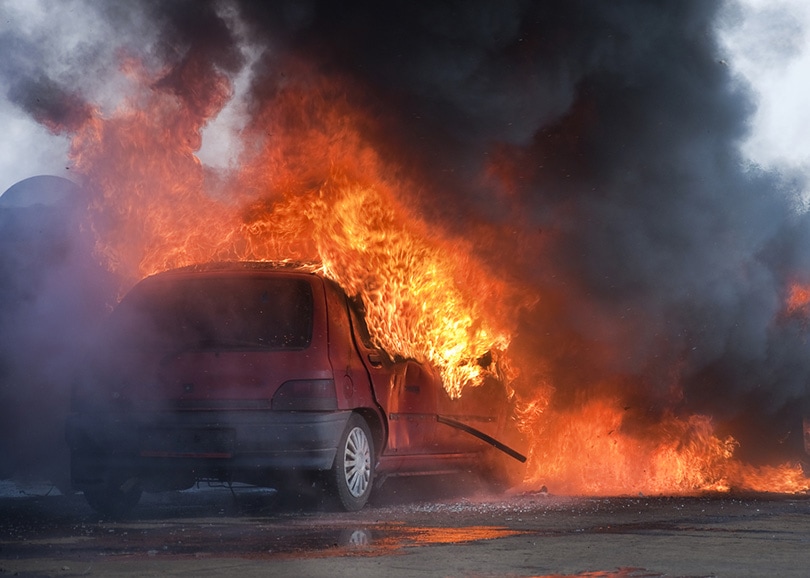 ---
10.

Vehicle fires cause more deaths than apartment fires.
(National Fire Protection Association)
Vehicle fires caused 1.6 times the number of deaths as apartment fires and 4.5 times the number of deaths as non-residential structure fires in 2018; only one and two-family home fires caused more deaths.
---
11.

Most casualties involving vehicle fires are male.
(National Fire Protection Association)
Between 2013 and 2017, four out of every five people (79%) to die in a vehicle fire were male. Men also suffered the majority (80%) of non-fatal injuries.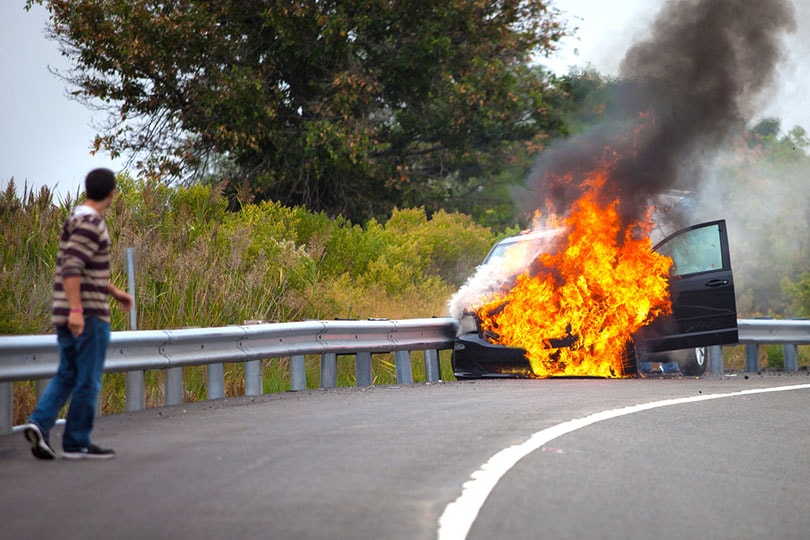 ---
12.

Collisions are the leading cause of vehicle fires resulting in death.
(National Fire Protection Association)
Most deaths associated with vehicle fires occur after a collision. The accident often causes gasoline and other combustible materials to leak over the roadway. Heat and sparks then ignite these materials, causing the fire.

Frequently Asked Questions About Car Fires
How Do Car Fires Start?
Fires can start in many ways, but most car fires start because of accidents, mechanical failure, or electrical fire.
Accidents
An accident can occur from the front or the rear that can start the fire. The accident can also release flammable liquids like oil and gasoline that can cause the fire to spread rapidly, creating an extremely dangerous and life-threatening situation.
Mechanical Failure
Mechanical failure frequently occurs in older cars as the parts wear out. Older cars also tend to receive less maintenance and care than newer models, and some problems might get overlooked. For example, motor oil can get low, filters can get clogged, etc., leading to a fire.
Electrical Fire
Electrical fire is another common reason that cars catch fire. The protective coating that covers the wires can begin to degrade on older cars, and a short can lead to a fire. Wires run all through a car, and while most fires start in the dashboard, they can begin almost anywhere.
Related Read: 9 Wild Fire Statistics to Know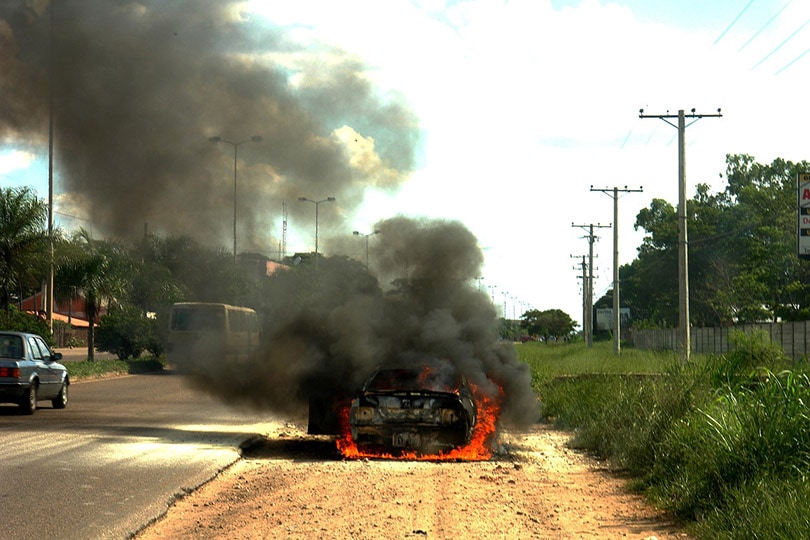 How Can I Prevent a Car Fire?
Have your car checked frequently by a qualified technician. You should already get your car inspected often, which can alert you to any problems, but it wouldn't hurt to ask someone to look over the wiring to make sure there aren't any problems developing.
Keep the oil changed at the specified intervals, usually every 3,000 miles, which typically also includes getting a new oil filter. Changing the oil will ensure that you always have the right amount in the engine, and its condition can clue your mechanic into any problems that might be developing. You should also frequently have the transmission and power steering fluid checked and filled if needed.
Put your car in the garage or under a tarp if you're not going to drive it for a few days.
Never park your car on dirt or grass because moisture can build up under the car, creating rust, which can wear out vital components.
Ensure you run the car every few days to reach a running temperature for a few minutes. Doing so will help remove any moisture buildup causing rust and move any joints to keep them flexible.
If you need to park your car in a parking lot frequently, use a windshield sunshade to reduce the sunlight on your dashboard, and try to park by a tree or structure if possible.
Take plenty of breaks if you're driving a long distance to minimize the risk of an accident, and travel with a companion to help with GPS so you can focus on the road.
What Should I Do If My Car Catches on Fire?
Pull over to the side of the road, and shut the car off immediately if you smell something burning. Leave the car off until you determine the source of the smell and fix it. If you can't find and fix it, get the car towed to minimize the danger.
If you see visible flames, stop and leave the car immediately and call the police and fire department.
We highly recommend purchasing and learning how to use a fire extinguisher that you can keep in the car with you, but only use it on fires that you know you can contain. Gasoline and oil can cause large fires and explosions very quickly, and it's usually best to get as far away from the car as possible and let the fire department handle it.

Conclusion
Unfortunately, even with the decline in car fires over the last 40 years, there is still a significant number of them, and many of the fires result in death. Hopefully, with the increase in electric cars, we'll see fewer explosive fires on the highway, but we're still likely to see electrical fires as the cars age. Fortunately, most of these can be dealt with using a fire extinguisher.
We hope you have enjoyed our look into these statistics and found the answers you need.
---
Featured Image Credit: WikimediaImages, Pixabay