4 Best Scroll Saw Blades of 2023 – Top Picks & Reviews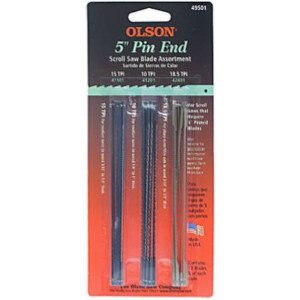 No scroll saw blade lasts forever, and some brands last for a shamefully short amount of time before you have to replace them. It's not always easy to find a good replacement online. There's no sure way of telling what's useful in a product description. You may avoid buying online, just because you can't be certain you're getting a good deal.
However, if you're looking to upgrade your scroll saw experience, you've come to the right place. This list includes our top scroll saw blades of the year, and reviews for each pack, which should help you find the variety that is right for you. We've also included a buyer's guide that covers everything you might need to know about scroll saw blades.
A Quick Summary of our Favorites in 2023
Rating
Image
Product
Details

Best Overall

SKIL Plain End Scroll Saw Blade Set

Three blade types
Precision-sharpened
Works with wood and plastic
CHECK PRICE

Flying Dutchman Variety Scroll Saw Blades Pack

Cuts through anything
Blades milled for sharpness
Good durability
CHECK PRICE

Best Value

Olson Saw Scroll Saw Blades

Three-blade styles
Six of each style included
Pinned blades
CHECK PRICE

Delta 40-519-Precision Scroll Saw Blades

Dual-direction teeth
Raker teeth
CHECK PRICE
The 4 Best Scroll Saw Blades:
1.

SKIL Plain End Scroll Saw Blade Set – Best Overall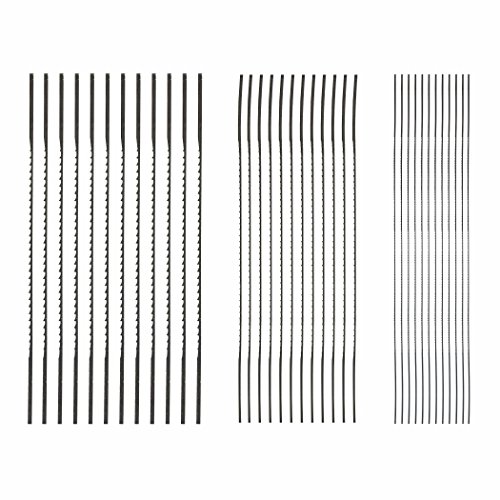 The SKIL 80182 Plain End Set (36) comes with a total of 36 precision-sharpened blades:
(12) – 28 teeth per inch
(12) – 11.5 teeth per inch
(12) – 9.5 teeth per inch
This set strikes a nice balance between variety and quantity, giving you a good selection for different projects, but enough of each blade type to complete repetitive tasks without running out.
These blades made of high-quality steel, which increases their endurance and helps them hold their edge for longer than inferior blades. They're also good for working with wood, plastics, and non-ferrous metals, which means you'll be able to cut almost anything that you can cut with a scroll saw.
While SKIL Plain End Set blades hold their edge, they wear out quickly. So, if you're looking for blades that will last for a long time, you'll need to invest in something more expensive. However, this pack will be right for most home users.
Pros
Three blade types
Precision-sharpened
High-quality steel
Works with wood and plastic
---
2.

Flying Dutchman Variety Scroll Saw Blades Pack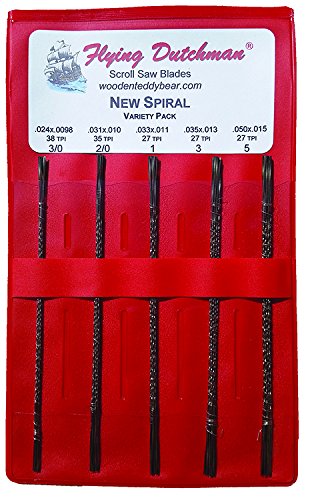 The Flying Dutchman Spiral Five Variety Pack is a good choice for anyone who's not sure what blades they want, or users needing a large variety of blades for multiple kinds of projects. These blade have been milled for exceptional sharpness, and you get excellent cuts right out of the box. Five different styles are included, notably the Ultra Reverse #5, which is a great general purpose blade; and the Polar #5, which is good for bone, Corian, wood, and acrylic pieces.
With 12 of each kind of blade in this package, you won't be running out of backups anytime soon. Spiral Five blades are also some of the more durable on the market, so you won't have to replace them that often unless you're constantly using your scroll saw. It's only the premium price versus value that keeps the Flying Dutchman Variety Pack out of the top spot.
Pros
Cuts through anything
Blades milled for sharpness
Five blade styles
12 of each style included
Good durability
---
3.

Olson Saw FR49501 Scroll Saw Blades – Best Value
The Olson Saw FR49501 is a budget pin-end scroll saw users. More modern scroll saws use pinless blades, which is the blade style in the previous two entries on our list. If you have an older scroll saw, this is probably the set for you.
The pack includes three blade styles for different materials. You also get six of each blade type, which means you can work with one style consistently for a long time before you run out. However, the price is the main selling point of the FR49501 set.
Unfortunately, the pins are of inconsistent quality, which sometimes means you get a blade that breaks quickly or snaps when the blade is dull. Pin-end scroll saw users are very familiar with these blades, so there won't be any surprises.
Pros
Price
Three-blade styles
Six of each style included
Pinned blades
Cons
Inconsistent pin quality.
---
4.

Delta 40-519-Precision Scroll Saw Blades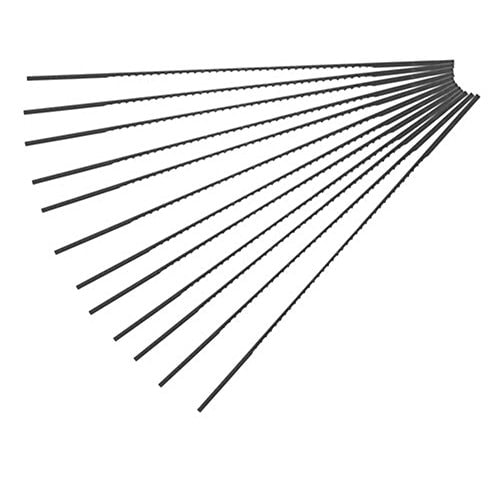 The Delta 40-519 Precision Blades set is the most polarizing set on our list. Users either love them or hate them. These blades come with dual-direction teeth, which means the blade cuts on both the upstroke and downstroke. That gets jobs done faster, but it could leave you feeling like you have less control. On a positive note, the raker teeth help you get clean, accurate cuts with square sides and corners.
However, Delta blades are sold individually by size and style. If you're looking to experiment or do a lot of different projects, you'd be better off with a variety pack. It also comes with relatively fewer teeth per inch than other blades, which means it may not cut as well, despite the high-quality tooth design. Overall, this is a set that's going to be just right for some people and very wrong for others, which drops it to the bottom of our list.
Pros
Dual-direction teeth
Raker teeth
Cons
One size per pack
Low TPI
---
Buyer's Guide – Finding the Best Scroll Saw Blades
Hopefully, our reviews already have you thinking about what features you want to have in your next set of scroll saw blades. If you're still not sure which set is right for you, be sure to check out this buyer's guide, which is full of useful information. If you've never bought replacement blades before, this is a great place to learn everything you need to know before you buy. It's also a good resource for people who haven't bought replacement blades in a while and want to find out if there's something better on the market.
Pinned vs. Pinless
Pinned
Older scroll saw models are far more likely to used pinned blades, which use pins to hold the blade in place. The advantage of this kind of blade is that it's very easy to change out. The downside is that in many projects you have to thread the blade through the project before you start to do an interior cut. The pin adds significant thickness to the blade in that one spot, which means you're going to need a larger hole to get the blade through.
The minimum size you could get a pinned blade through is 1/16", which is a much larger hole. It's not massive, though, and for many projects, it will be just fine, but if you have very tight tolerances, you'll probably want to use a machine that uses pinless blades.
Pinless
Pinless blades are superior for situations where you need a very precise cut and want to start with the smallest hole possible. Most modern machines use these blades for this purpose. They're also straightforward to install and replace, though they do take a bit more time. Once you've threaded the blade through the piece, you have to insert the blade ends into slots above and below the table, and then tighten clamps at both locations to hold the blade in place.
Some models use quick clamp systems to make the clamping process faster, but they're still not quite as fast as changing out a pinned blade.
While it may sound like pinned blades are held more securely than pinless blades, there is no difference between the two in this area, as both are safe to use if installed correctly. You should also keep in mind that you can't use both types on a single machine. All scroll saws use one kind or the other.
Teeth per inch
The number of teeth per inch greatly changes the way the blade performs.
Blades with more teeth per inch cut slowly because the teeth are smaller and remove less wood with each cut. However, this means that they can cut smoother curves than blades with more teeth per inch. If you're working on a project that calls for a lot of tight curves, you'll want to go with a blade with a very high tooth per inch count. However, these blades tend to be thinner and more fragile, which means that they won't be up to cutting the hardest materials and that their durability will be lower than thicker blades with fewer teeth.
Since thicker blades are more durable, and faster, there are projects in which it makes a lot of sense to use them. If you're making a rough cut, or have a design that calls for few, large curves, you can get it done a lot faster if you use a thicker blade with fewer teeth per inch.
The good news is that you can find blades at both extremes, but also find a ton of blades that fall somewhere in the middle and give a nice mix of speed and precision.
Check the manufacturer's designation
You'll also find that while most manufacturers identify their blades with a teeth per inch designation, some brands use a differing numbering system to identify the same thing. Instead of saying the teeth per inch on a given blade, they instead assign it a number, ranging from 2/0 at the smallest, up to 9 in increments of two, so 1, 3, 5, 7, and 9 are all common sizes in addition to 2/0.
Teeth arrangement
Standard blades
On standard blades, all the teeth use the same design, and they are spaced an equal distance apart from each other. While most blades in this category are metal, you occasionally find wooden or plastic ones designed for use on plastic and metal surfaces.
Skip-tooth blades
Skip-tooth blades are often recommended to beginners because they don't build up as much heat and because they cut very smoothly. Their tooth shape is similar to that found on a standard blade, but every other tooth is left out of the design, leaving larger gaps between each tooth. These blades will also cut a bit slower, so they're a good choice if you're worried about cutting too fast, or want to learn with a blade that feels like it's under control.
Reverse skip-tooth blades
Reverse skip-tooth blades feature the same pattern as skip-tooth blades, except that the teeth closest to the bottom of the blade have been turned around and face the opposite direction. You'll want to make sure that only a few of those teeth extend above the table when the blade is mounted. This tooth configuration results in less tearout on the bottom of the piece and is also useful for working with plywood, which is prone to splintering.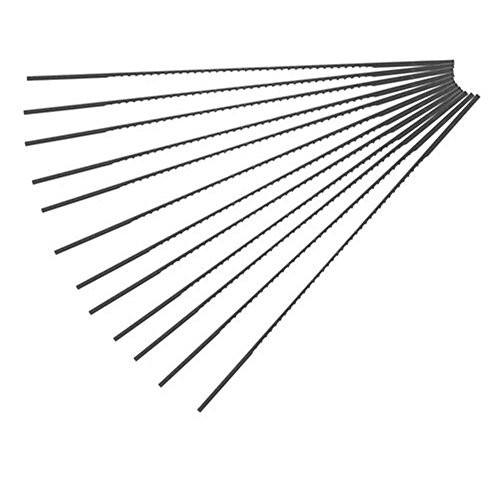 Double-tooth blades
Double-tooth blades take the idea behind the skip-tooth blade and kick it up a notch. Every third tooth is skipped so that you have pairs of points down the blade separated by a single tooth-width gap. They're a bit slower than skip-tooth and standard blades, but you can get an exceptionally smooth cut with them, which makes them good for detail work.
Spiral blades
Spiral blades are twisted blades that feature points aimed 360 degrees around the blade's center so that you can cut in any direction. They aren't very precise, so they're not great for precision work, and they don't have too many uses overall, but they are good for quickly expanding a hole you plan to finish later neatly.
Crowth-tooth blades
Crown-tooth blades feature teeth that come in pairs. Each pair features a tooth facing up and another facing down. This means that it doesn't matter which way the blade is mounted, and it can cut in either direction. They're not the fastest blades on the market, but they are good for cutting plastic, so this is a great blade to add to your arsenal if that's the medium you'll be cutting the most.
---
Conclusion
The SKIL 80182 Plain End Set (36) is our top pick for the best scroll saw blade due to its inclusion of 36 blades of three different types, the high-quality steel it's made from, and its excellent precision sharpening. The Flying Dutchman Spiral Five Variety Pack includes five different blades styles, each precision-milled for sharpness, and known for good durability, though its price drops it out of first place. The Olson Saw FR49501 comes with 18 blades in three styles, and are pinned, making them the best choice for people who need pinned blades, and also provide great value for the money. The Delta 40-519 Precision Blades set features blades with dual-direction and raker teeth, but with a low tooth per inch count and only coming with one size per pack, it falls to the bottom of our list.
We hope that our buyer's guide and reviews have taught you everything you need to know about scroll saw blades. Armed with that information, you should be able to buy the set that will make your next project a breeze.
More blade-types we've covered: