Have you heard that saying about a team only being as good as its weakest player? The same thing applies to a jigsaw. What good is a high-quality jigsaw without a great blade? Although you may think that all blades are created equal, that is really not the case. When it comes to jigsaw blades, it does pay to purchase a mixed variety set that will allow you to cut both metal and wood. Choosing a complete set with a case is the smartest way to play the game.
With all the options available for jigsaw blades, we went ahead and reviewed our top five so that you can be a little less overwhelmed when it comes to purchasing jigsaw blades.
---
A Summary of our Favorites (updated in 2021)
Rating
Image
Product
Details

Best Overall

BLACK+DECKER 24-Pack Jigsaw Blades

Five blade styles
Includes metal-cutting blades
Sharp & Durable
CHECK PRICE

Bosch T-Shank Jigsaw Blade Set

Six blade types
Progressive tooth pitch
Durable carbon steel
CHECK PRICE

DeWalt 14-Piece T-Shank Jigsaw Blades

Seven blade types
Up to 32 TPI
Includes case
CHECK PRICE

SKIL Wood U-Shank Jigsaw Blade Set

Cheap
Only wood blades
Great for small projects
CHECK PRICE

Makita 5 Piece T-Shank Jigsaw Blades

High carbon steel
Stay sharp
For Makita saws only
CHECK PRICE
The 5 Best Jigsaw Blades
1.

BLACK+DECKER 24-Pack Jigsaw Blades – Best Overall
The BLACK+DECKER 75-626 24-Pack Set offers a wide variety of jigsaw blades at an affordable price. This set comes with five different blade types, ranging from 6 to 24 teeth per inch, which means you can cut all kinds of wood, PVC, and even some metals. They last a long time, so you won't have to replace them as often as you would with other brands, and you're getting four or five of each blade type with this set, so you'll have a backup handy for a long time.
These universal blades also come sharp from the factory, which is a baseline expectation for a blade, but all too often these days, blades come dull or with serious design flaws. The knock against them is that they're a bit on the short side, and we wish there was a little more variety in length and not just style included in this pack.
In short, we think that these are the best jigsaw blades in 2020.
Pros
Five blade styles
Includes metal-cutting blades
Durable
Sharp
---
2.

Bosch T-Shank Jigsaw Blade Set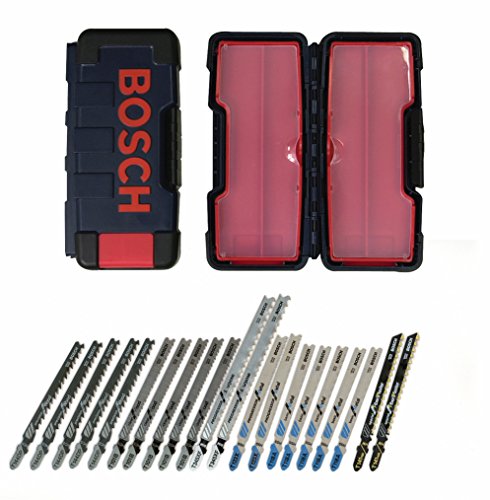 The Bosch TC21HC 21-Piece Set is a good set for buyers looking for variety and innovative design. The 21-piece set includes 10 blades for wood, two progressors for multi-material, seven for metal, and two for plaster. Something unique to this set is its inclusion of two blades with progressive tooth pitch. This means the teeth nearest the shank are smaller. This reduces the strain on the blade and leads to faster cuts.
This set is made from durable carbon steel and the blades fit any jigsaw that accepts a T-shank blade. It also includes a carrying case, which is a nice touch. The only downside is that these blades tend to dull quickly relative to other brands. You'll still get plenty of use from them, but you may end up replacing them sooner than later. Overall, this is a good set, but they're too expensive and short-lived to make the top spot.
Pros
Six blade types
Progressive tooth pitch
Durable carbon steel
Included case
---
3.

DeWalt 14-Piece T-Shank Jigsaw Blades
The DeWalt DW3742C 14-Piece Set comes with seven T-shank blade types, which gives you a lot of versatility. The variable-length blades range from six to 32 teeth per inch, which means you can work with any kind of wood or plastic, and most kinds of metal as well. This set also comes with a case, which provides some nice extra value for the price.
However, these blades do have some bending issues. They'd rank higher on our list if they were consistently good, but nearly every set has at least one blade that randomly bends during normal use. That's something that no one wants to deal with, and it hurts the set's overall value. The case also comes with only six slots, which is strange given that you're getting seven different blade types.
Overall, this is a decent set, and a good choice if you need 32-TPI blades, but other sets on this list will provide better value for your money.
Pros
Seven blade types
Up to 32 TPI
Includes case
Cons
Some bending issues
Case has six slots
---
4.

SKIL Wood U-Shank Jigsaw Blade Set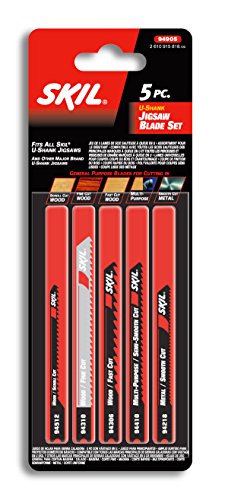 The SKIL 94906 5-Piece Set is a decent choice for people looking for multiple wood blades at a good price. This set is dirt-cheap, which means each blade has a very low unit price. You also get only wood blades, which is a bit of a double-edged sword. If you only want to cut wood, that's not a bad deal, but if you're looking to get a versatile set that will allow you to do many different kinds of tasks, you'll need to look elsewhere.
Not surprisingly, this set also has some quality control issues. The blades are prone to bending and wearing out quickly, which raises the cost of operation in the long run. It also doesn't come with a case – not that you'd expect one at this price point. If you're looking for wood blades, this could be a good deal, but otherwise, you should get a different set.
Cons
Only wood blades
Quality control issues
No case
---
5.

Makita 5 Piece T-Shank Jigsaw Blades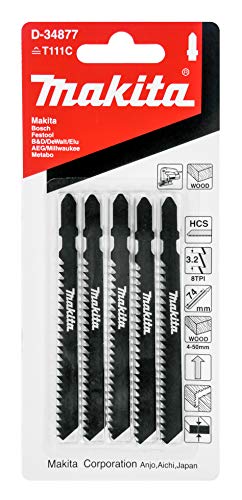 Our list couldn't be complete without a mention of the Makita 5-Piece T-Shank Wood Jigsaw Blades. Given that Makita jigsaws often top the rankings of best corded and cordless jigsaws, you'd expect their blades to be of superior quality. The good news is this five-piece set of 8 TPI four-inch blades are made of high carbon steel that stays sharp as long as any other blade on the market. The bad news is these blades are only good for softer materials and PVC and they only fit Makita products.
Thus, you'll only be interested in these blades if you already own a Makita jigsaw. In which case, they're great for small projects and light-duty use. If you need the tool to perform some heavier cutting, look above for some better T-shank options with higher tooth counts and longer lengths. This is a proprietary product with limited applications.
Pros
High carbon steel
Stay sharp
Cons
Only fit Makita jigsaws
Limited use
No case
---
Buyer's Guide
This buyer's guide is designed to teach you everything you need to know about jigsaw blades, and to help you think through each feature and how it relates to your needs. That makes it a great place for beginners to start, but it also means that experienced users looking for a refresher course can get something out of it, too. Let's find you the best jigsaw blade!
Teeth per inch
If you understand teeth per inch, you can understand more about each blade in a set than just what the manufacturer is telling you. For instance, any blade with less than 10 teeth per inch is meant for use with wood only. If a blade has four or six teeth per inch, it's meant for fast, rough cuts, while a blade that falls in the seven to ten range is meant for finer, but slower, work. Ten to 16 teeth per inch features a progressively finer cut in wood, and at about 16 or 18 teeth per inch, you start getting blades that can cut softer metals, and are great for cutting PVC.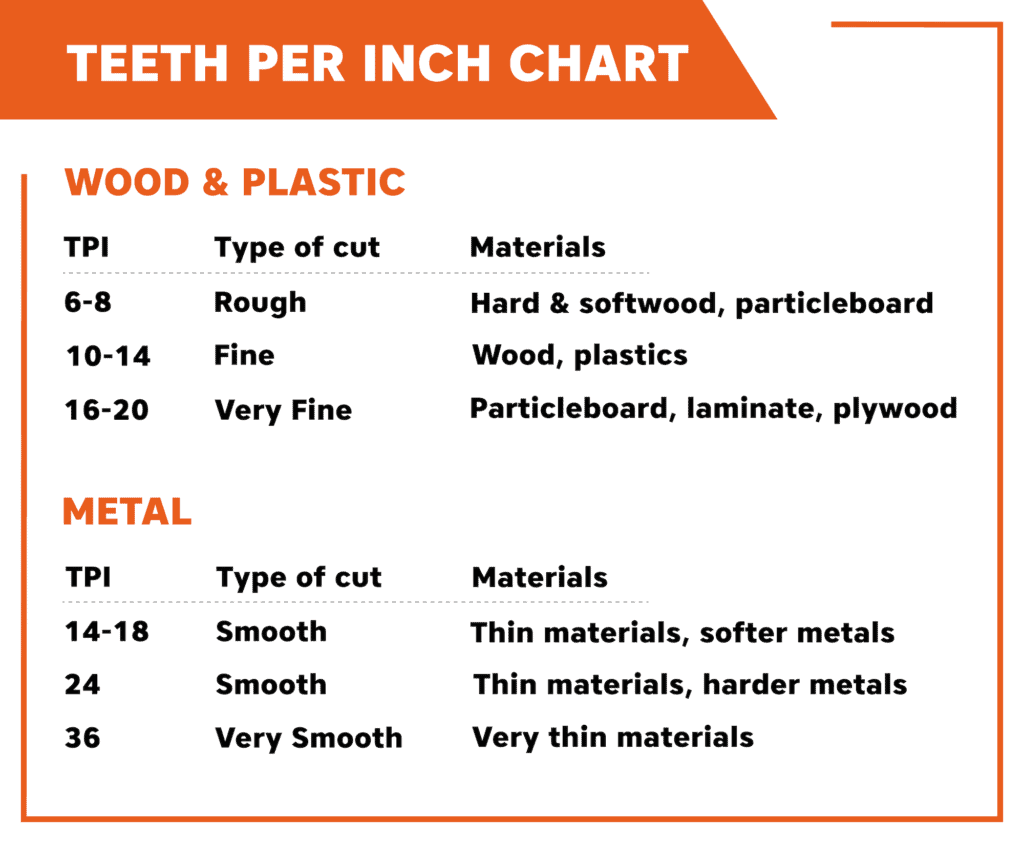 When to use a higher tooth count
If you're going to be cutting exceptionally hard metals, you'll want a blade with 20 teeth per inch or more, though getting one with 24 teeth per inch or more will provide the best results in those situations. The good news is that most sets come with a variety of blades, so you can use the ones best suited to the task at hand, as long as you know which tasks they're best for.
Durability
Two common problems in jigsaw blades that hurt durability are bending and dulling. Some brands have blades that will get bent out of shape under normal workloads. This ruins the blade and means you'll have to switch it out to keep working. That costs you time and will cost you a lot of money in the long run.
There's typically not anything in a product description that will tell you if a blade is prone to bending but reading reviews online can give you a good feeling for whether the blades hold up well under pressure or not.
Premature dulling can also be an issue. While we'd all love to see tungsten-steel blades, there's no way to make those and still be price-competitive. While carbon steels are better than raw steel, they don't necessarily perform all that much better. Again, reading reviews can be a good way to get a feel for a blade.
Compatibility
Not all jigsaw blades are made with the same shanks, and while there is compatibility between brands, each jigsaw only accepts one kind of shank.
U-shanks, which feature a rounded end, are made by companies like BLACK+DECKER and SKIL. Keep in mind that even if you have a jigsaw made by one of those companies, compatibility isn't guaranteed. You need to double-check which kind of shank your jigsaw accepts before you buy.
T-shanks, made by companies like Bosch and DeWalt, feature two protruding pieces of metal near the end of the shank, which helps hold it in place while in use. Again, you'll want to make sure that you're using a jigsaw that takes t-shanks before you buy.
Some modern jigsaws accept both t-shanks and u-shanks, though they tend to be on the more expensive side. If you have one of these, you can freely use blades that use either kind of shank.
Which jigsaw blade set is right for you?
The most important thing you should consider before you buy is the kinds of projects that you're going to be working on. If you're going to be working primarily with metal, you're going to want to get a kit that has a lot of blades designed for working with metal.
Likewise, if you're working with wood, there's no reason to get a set that predominantly features blades for cutting metal. You'll also want to take into consideration the fineness of the cut that you'll need. Do you need blades that work fast and leave a rough cut, or are you going to need nice, clean cuts that look good, even if it takes a bit longer?
All of these factors should feature in your final calculation, but as long as you understand your needs, you should be able to find a set that meets them.
Conclusion:
The BLACK+DECKER 75-626 24-Pack Set is our top choice due to its inclusion of durable, sharp blades for metal and wood, and the fact that it gives great value for the price. The Bosch TC21HC 21-Piece Set includes six different blade types, including two that feature a progressive tooth pitch, which lowers the stress on the blade and leads to faster cuts. However, these blades dull quickly, which drops them to second on our list. The DEWALT DW3742C 14-Piece Set comes with seven-blade types and includes a case, but the fact that the case has six slots and the blades are prone to bending keeps this set out of our top two.
We hope that our reviews and buyer's guide have helped you learn about jigsaw blades. Armed with that information, you should be able to find the best jigsaw blades for your workshop. Good luck!
Featured and header image Credit: Sandy Poole, Flickr

Pete has been working in the trades since high school, where he first developed a passion for woodworking. Over the years, he has developed a keen interest in a wide variety of DIY projects around the home. Fascinated by all sort of tools, Pete loves reading and writing about all the latest gadgets and accessories that hit the market. His other interests include astronomy, hiking, and fishing.
As the founder of House Grail, David's primary goal is to help consumers make educated decisions about DIY projects at home, in the garage, and in the garden.