5 Best Sediment Filters for Well Water in 2023 – Reviews & Top Picks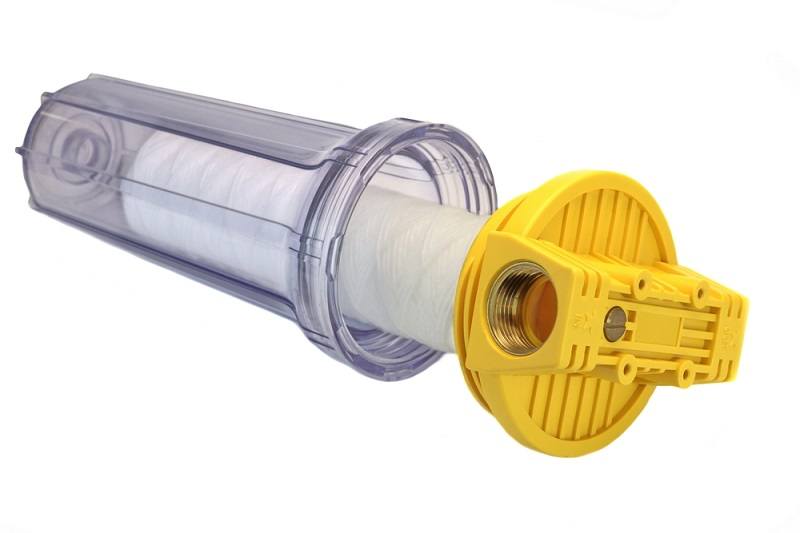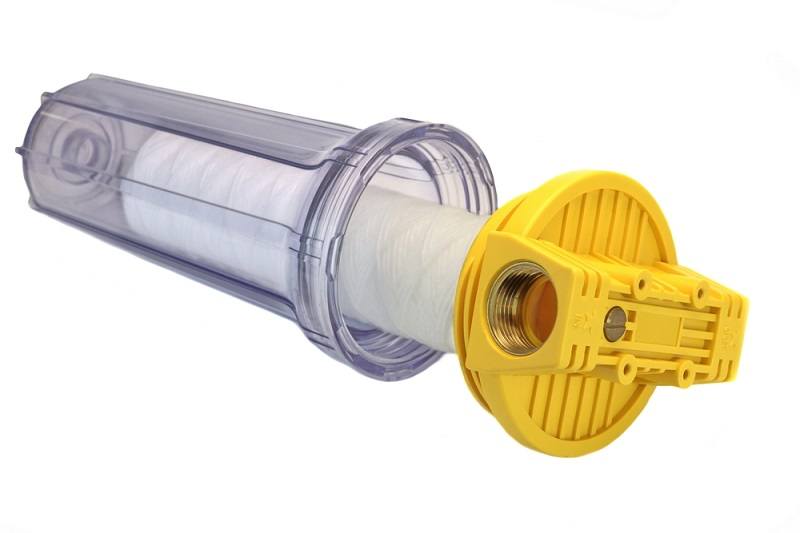 Nature can do a lot of things, but it can't provide filtered water from a well. This means that if you do get your home water in this way, it could contain sediment. Sediment consists of anything from fine sand to rust, all of which can ruin the flavor, the smell, and the look of your tap water. It can also ruin your sinks and water-based appliances. This is why it is important that you invest in a sediment filter to eliminate these particles.
We have created a list of in-depth reviews of five of the best sediment filters available for homes with well water. These are commonly used with whole-house filtration systems and combine with carbon and other filters to provide total filtration. Choose the proper fineness of mesh, ensure that the filter is compatible with your system, and look for a model that is easy to install and that is designed to match the pressure, condition, and volume of your water.
There are a lot of options, but using our reviews we hope that you'll find the most suitable sediment filter system for your home.
---
A Quick Comparison of Our Favorites
Rating
Image
Product
Details

Best Overall

iSpring WSP-500 Sediment Water Filter

Good price
See-through housing
Brass reinforcement head
CHECK PRICE

Best Value

Rusco NT100-100P Sediment T-Style Water Filter

Cheap
Flushable and reusable
Centrifugal removal of debris
CHECK PRICE

Premium Choice

iFilters Well Water Filtration System

Two-stage sediment filtration system
Everything is included
Reduces chlorine and heavy metals
CHECK PRICE

iSpring WSP50GR Sediment Water Filter

High-quality parts
Rotating head
Pressure gauge
CHECK PRICE

Culligan WH-S200-C Whole House Sediment Water Filter

Suitable for small to medium homes
Transparent housing
Bypass valve
CHECK PRICE
---
The 5 Best Sediment Filters for Well Water – Reviews 2023
1.

iSpring WSP-500 Sediment Water Filter – Best Overall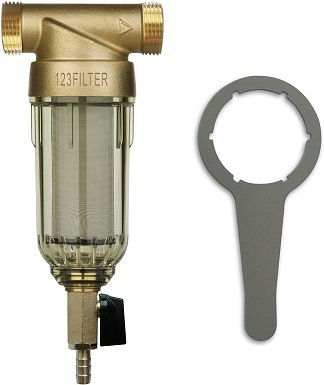 The WSP-500 sediment water filter from iSpring has a 500-micron screen. It will prevent sedimentary particles from passing, and it is designed to be used as part of a multi-stage filtration whole-house filter system. It is flushable, which means that the filter can be reused. Regular flushing also helps maintain high performance from the WSP-500 for longer.
The 500-micron mesh is made from stainless steel, and the unit includes a brass reinforcement head. The filter will support water up to 100°F and with pressure between 20-100 PSI. The company estimates that the filter will last up to two years. Despite the high-quality materials, which include see-through housing that makes it easier to monitor the system, it is very well-priced compared to other models.
Our one gripe is that it doesn't filter out iron very well. Despite this, we think this is the best sediment filter for well water available this year.
Pros
Good price
See-through housing
Brass reinforcement head
Flushable and reusable
Two-year life
Cons
Not as effective on iron as other sediments
---
2.

Rusco NT100-100P Sediment T-Style Water Filter – Best Value
The Rusco NT100-100P is a 1-inch mesh PVC spin-down sediment filter. It operates with a maximum pressure of 150p PSI and the 100-mesh filter is suitable for filtering grit from a new well, or fine sand from existing wells.
As water is passed into the spin-down filter, it passes through the head, which directs the water so that it circulates through the housing. This centrifugal force catches particles of sediment within the filter mesh, removing it from your well water.
Like the iSpring, the Rusco is flushable and reusable. Compared to the iSpring, however, it is all made from plastic and doesn't feel as strong or durable.
It does perform well at removing sediment from well water, however, we found that the plastic valve leaked on installation. It does require Teflon tape around the threads to minimize the risk of this leakage. However, for the money, this is the best value sediment filter for well water we have found.
Pros
Cheap
Flushable and reusable
Centrifugal removal of debris
Does a good job of removing sediment
Cons
All plastic design not durable
Leaking around the seal
---
3.

iFilters Well Water Filtration System – Premium Choice
The iFilters filtration system is a whole-house system that includes the housing and a two-stage sediment filter. It includes a pressure-release button, which makes replacing the filter simpler and less messy. It is a compact unit for a whole-house system, and the inclusion of the filters as well as the housing helps keep costs down.
Unfortunately, when it comes time to replace the filter, you will need to replace it like for like. The manufacturer states that you can only use iFilters' replacement filters. The filtration system is a 30-micron pleated sediment filter. This screen can be washed and reused, which prolongs the life of the filter and also ensures that you can keep the system running at optimal levels.
The kit itself includes everything you need for installation: a heavy bracket, housings with a pressure relief button, and a wrench. This is the more expensive option on the list, but it is a whole system that includes the housing and the filters, as well as the brackets.
Pros
Two-stage sediment filtration system
Everything is included
Reduces chlorine and heavy metals, as well as sediment
Cons
Expensive
Only works with iFilter's own filters
---
4.

iSpring WSP50GR Sediment Water Filter
The iSpring WSP50GR has a stainless-steel mesh that is rated at 50 microns. It uses centrifugal force by directing water after it is passed into the filter housing. The filter cartridge and housing can be easily cleaned, and the double-sided scraper ensures that the unit is thoroughly cleaned, which helps prevent the clogging of the next filter stages.
This unit has a 360° rotating head, making it quick and easy to install the unit. It also has a built-in pressure gauge, which enables you to see whether the filter needs flushing or replacing, enabling you to keep your filtration system in top condition and performing optimally.
The 50-micron mesh is a good compromise that is suitable for well water, as well as city water. Although it can be tempting to simply go for the finest mesh possible, in the hopes that it will clear out more debris, if you choose the wrong size mesh, it can negatively affect performance and longevity. Although iSpring claims it enables a water flow of up to 15 gallons per minute, we found it was restricting flow after a couple of weeks. It is also expensive for a small pre-filter.
Pros
High-quality parts
Rotating head for easier installation
Pressure gauge for accurate monitoring
Flushable and reusable
Cons
Expensive
Restricts water flow
---
5.

Culligan WH-S200-C Whole House Sediment Water Filter
The WH-S200-C has a 3/4-inch inlet/outlet that can handle water pressure up to 125 PSI, although some buyers have stated that it won't deal with this level of pressure and they have experienced a considerable drop-off. It does have a clear housing, which enables you to see in and makes it easier to determine when the filter needs cleaning or replacing. The inlet/outlet pipe gives enough water flow to be suitable for small to medium-sized houses, and you should look for a larger 1-inch or even a 2-inch connector for large properties and commercial uses.
Although the Culligan WH-S200-C looks high quality, it is made from a soft plastic, which has proven especially weak around the thread that tightens to the waterline, in fact, it caused a leak for us. Despite this, the Culligan is around the same price as some of the higher-quality competitors.
Pros
Suitable for small to medium homes
Transparent housing for easy monitoring
Bypass valve allows filter change without turning off water
Cons
Plastic inlet threads
Complaints of leaks

Buyer's Guide – Purchasing the Best Sediment Filter for Well Water
A sediment filter is used to remove any kind of sediment from well water before it is delivered to your faucets and appliances. Sediment can include grit, sand, iron, and other heavy metals. This process is usually conducted by passing the water through a fine mesh or screen. Because the mesh physically catches the sediment, it can quickly become clogged up and get messy.
The filter may require, and will benefit from, regular flushing. And in some cases, it may be possible to clean the mesh and replace it, extending its life and ensuring that you can continue to enjoy clean water.
A sediment filter is most often used as part of a whole-house system and in conjunction with other stages of filters including carbon filters and heavy metal filters.
Types of Sediment Filter
There are two basic types of sediment filters for homes with well water – spin-down and cartridge filters.
Spin-Down Filters – these filters direct water so that they spin around the mesh core. Centrifugal force pushes the sedimentary elements outwards, where they become trapped in the mesh. The design of this type of filter means that spin-down filters are less likely to cause a drop in your water pressure and they can work with water supplies that have a pressure of up to 150 PSI, although this does depend on the exact model that you purchase. Another benefit of this type of filtration system is that the mesh nets can usually be cleaned. Cleaning and replacing the net negates the need to have to buy replacement filters as often, therefore offering a longer life but also ensuring that they perform optimally for longer. The casing does not need changing as frequently, further reducing the ongoing cost of these units. Because well water has larger sediment particles, the spin-down filter is usually preferred over cartridge replacement filters.
Cartridge Sediment Filters – Cartridge filters typically rely on gravity to do the work. The water passes directly through the mesh net, where particles are collected. This type of filtration system works well with smaller sediment particles, but it is not normally possible to clean or reuse the mesh. Once it gets clogged up or dirty, it's time to swap the whole cartridge. If you have particularly dirty well water, this need for regular replacement can become prohibitively expensive.
Water Flow Requirements
Water flow is an important consideration when choosing your filtration system. The filter must be able to cope with the flow of water from your supply. If you choose a filter with a lower flow rate capacity than your peak water flow, you will lose pressure. Taps, showers, and even washing machines will start to operate with less force and you will notice a difference in the volume of water coming from your faucets. Most filters have a minimum water pressure rating of 15 gallons per minute, and some models offer up to 40 gallons per minute.
Mesh Microns
The pore size of a sediment filter mesh is measured in microns and determines the size of sediment particles that can be effectively removed from water. The lower the micron rating, the finer the mesh, and the smaller the particles of sediment removed from the water. As such, it might seem like the best option is to simply go for the smallest micron rating available. But this is the wrong choice.
If your water has large particles of rust or metal, and you opt for a smaller mesh size, it means that the filter will quickly clog up. Your water pressure will drop significantly until you clean or change the filter. If you have washable and reusable filters, you will be washing and replacing the filter on a daily basis to enjoy a decent flow of water. If you have a cartridge system, you will have to buy and replace the cartridges more often, and the replacement costs will soon add up.
Typical mesh size requirements do vary, but the following can provide a general guideline:
150-micron mesh is considered suitable for sand, grit, and pipe scale
100-micron mesh is used for very fine sand and grit
15-micron filters will trap fine, dust-like sediment
It is likely that you will have a variety of different types of sediment, and these can change over time and over the life of your well. Having your water tested is a sure way of determining the best micron mesh size, but experimentation with different meshes can also lead to the same results. If you do have a wide array of sediment types, you will need a multi-stage filtration system to ensure that you're receiving clean and debris free water.
Durability and Lifespan
You don't want to have to change your filter every few days. It's costly, it's impractical, and it's a pain.
How often you need to change the filter will usually be determined by your water usage. Single people that work all day and use minimal water in the evenings will enjoy the longest life from their cartridges, while a family of six living in a four-bedroom house, and with constant heavy use over the course of the day and night will struggle to find filters that last longer than a couple of months.
Most manufacturers list the expected life of their cartridges and filters. In many cases, the life expectancy is listed according to the amount of water that can be filtered before changing, but some manufacturers list an estimated timeframe.
Always remember that these are estimates. If you have dirty water filled with sediment particles, it is unlikely that you will achieve the timeframe given by the manufacturer. In contrast, if your water is clean, if your sediment is all roughly the same size, and if you choose the right micron mesh rating for your needs, you could potentially enjoy a longer filter life than stated.
Another factor that determines the life of a filter is how often you flush or clean the filtration system. Flushing a filter basically means running water through it several times without consuming or using the water. The water is flushed into a bucket or other container and then disposed of. Cleaning methods vary according to the filter itself, but you can clean the filter using mild detergents. Always ensure that the detergents are fully removed before replacing. You can also use a homemade vinegar solution to clean your filter mesh and prolong its life. Where viable, cleaning the filter can greatly enhance its performance and prolong its life. It's also better for the environment because you won't discard as many used filters.

Conclusion
A sediment filter is especially useful for homes and other premises that take water from a local well.
It can be used as the first stage in a three or more stage filtration process, makes drinking water safe, and it can protect you, your family, pets, and even your water-based home appliances from potential harm.
With a wide variety of filters from brands including Rusco, Culligan, and iSpring, there is a large selection of potential filters to choose from.
During our testing and reviews, we found that the i-Spring WSP-500 offered the best all-around results. It uses high-quality components, including a brass head that does away with the thread stripping that is a major problem with soft plastic heads, while features like the clear plastic housing make it convenient for ongoing use.  The Rusco NT100-100P was the best value for money, costing less than most other filters on the market, especially thanks to its flushable and reusable screens and, of course, its low price point.
---
Featured Image Credit: AVN Photo Lab, Shutterstock