10 Best Slip Joint Pliers of 2023 – Reviews & Buyer's Guide
The slip joint of slip-joint pliers is not only where this tool gets its name but is the reason why the unique tool can grip objects of different sizes and shapes, and maintain a secure grip regardless of dimensions.
Although the slip joint does offer some universality to the pliers, you will still need to choose the size that best meets your project requirements. Grip is one of the most important factors when choosing any set of pliers, but especially to those that might be used to grab any type of surface, and you should also consider the quality of the stripping, peeling, and scraping that the tools have to offer.
Popular manufacturers, including the likes of Tekton, Irwin, and Channellock, make a series of slip joint pliers, ensuring that you can find the right tool for the project at hand. To help you find the best pliers for the job, according to your budget as well as your requirements, we have put together a list of reviews of ten of the best slip joint pliers on the market.
---
A Quick Comparison of Our Favorites in 2023
Rating
Image
Product
Details

Best Overall

Channellock 528 Slip Joint Pliers

Made in the USA
Strong carbon-steel
Serrated jaw and cutting shear
CHECK PRICE

Best Value

IRWIN VISE-GRIP 2078408 Pliers

Hardened grooves
Rubber non-slip handle cover
Cheap
CHECK PRICE

Premium Choice

Wilde Tool G262FP Slip Joint Pliers

Flush slip joint
Not tight or loose
Comfort handle
CHECK PRICE

TEKTON 37122 Slip Joint Pliers

Non-slip grip
Well made and good quality
Inexpensive
CHECK PRICE

Crescent H26VN Slip Joint Pliers

Cheap
Carbon steel blades
Cut wire
CHECK PRICE
The 10 Best Slip Joint Pliers
1.

Channellock 528 Slip Joint Pliers – Best Overall
Channellock 528 Slip Joint Pliers are durable, very easy to use, and they are really affordable compared to other models, making them the best slip joint pliers on our list overall.
Made from high-carbon steel, the 528 pliers give a strong grip and they feel sturdy in the hand. They give you confidence that they won't break when you're applying pressure, and this means that you will be comfortable applying more pressure to get the job done. Options include 4.5-inch, 6.5-inch and 8-inch models. They have a serrated jaw to give greater grip, and they include a wire cutting shear to further expand their scope and use. The US-manufactured pliers are cost-effective, great for everyday or occasional use, and will last a lifetime.
However, there have been some reports of pliers with misaligned and wobbly jaws. It may also be worth oiling the slip joint because it can be tough to move when you first receive the pliers. For regular work and some applications, the jaws could do with being a little bit wider for easier application and use.
Pros
Affordable
Made in the USA
Strong carbon-steel
Serrated jaw and cutting shear
Cons
Jaws could be wider
Some reports of misaligned and wobbly jaws
---
2.

IRWIN VISE-GRIP 2078408 Pliers – Best Value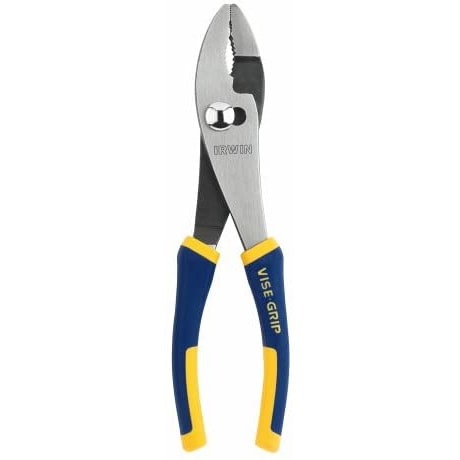 IRWIN VISE-GRIP 2078408 Pliers are 8-inch slip joint pliers. They are a cheap set of pliers with a soft-grip handle that makes them easy and comfortable to use, even if you use them all day long.
Made from durable nickel chromium steel, these IRWIN pliers have hardened cutting edges stay sharper and machined jaws that offer maximum grip strength. The rubber handles are non-slip and they minimize friction, rubbing, and user fatigue so they provide a comfortable handle for all day and intensive use. This is another pair of pliers that can be stiff when you first receive them. Consider applying lubricating oil but they may still be loose.
The IRWIN Vise-Grips are not heavy-duty, but they may a great addition to the toolbox, have a good strong grip, and their budget-friendly price tag means that they are some of the best slip joint pliers for the money.
Pros
Hardened grooves
Rubber, non-slip handle cover
Cheap
Cons
Not the best quality
Rivet may be loose or too tight
---
3.

Wilde Tool G262FP Slip Joint Pliers – Premium Choice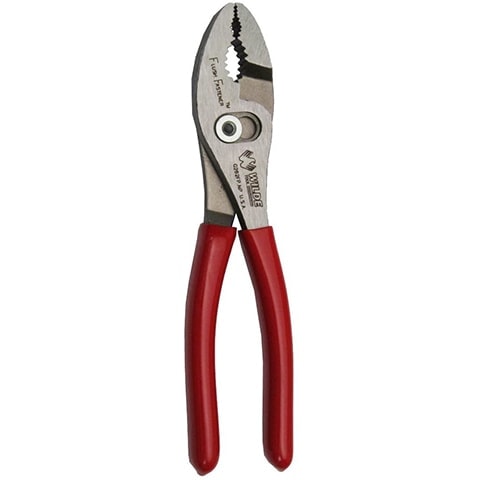 Available in 6.5, 8, and 10-inch sizes, the Wilde Tool G262FP is a premium set of pliers. They are made from durable steel and you can choose between standard fasteners and those with a flush joint. The slip joint rivet is recessed flush into the metal of the blades, which prevents damage to the joint and ensures that it stays free from dirt and debris that might otherwise prevent trouble-free operation.
The sharp shears are ideal for cutting and stripping wires, making these a great set of multi-purpose pliers. Not only are the pliers themselves durable and have a high-quality feel, but the handles are designed for comfort so you can use the pliers all day long without suffering hand fatigue. While a lot of pliers suffer from tightness, Wilde Tool's quality machining ensures that this isn't the case.
The Wilde Tool G262GP Slip Joint Pliers are very high quality. In fact, they are probably of higher quality than most people require. This means that they are more expensive than other sets on the list, and this additional cost may not be necessary.
Pros
Flush slip joint
Not tight or loose
Comfort handle
---
4.

TEKTON 37122 Slip Joint Pliers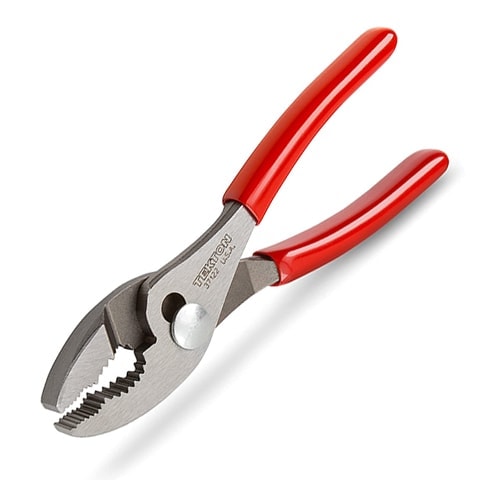 The features in most slip-joint pliers are relatively standard. They have jaws that grip, a joint that allows you to alter the width of the jaw, and they have a shear section that will cut or strip wire, as required. The big difference between different pairs comes in the quality of the joint and the materials used, as well as features like the comfort of the handles.
The Tekton 37122 Slip Joint Pliers are well made. The jaws move freely enough without proving too wobbly, although they are offset slightly at the nose when the jaws are closed. The sheers will strip and cut wire, too, and the handles include a non-slip grip to increase the purchase you can get on the pliers when in use.
The Tekton pliers are USA manufactured and seem to be the same pliers as the Wild Tool model above, but without the flush joint and relabelled as Tekton.
Pros
Non-slip grip
Well made and good quality
Inexpensive
Cons
Noses don't quite line up
---
5.

Crescent H26VN Slip Joint Pliers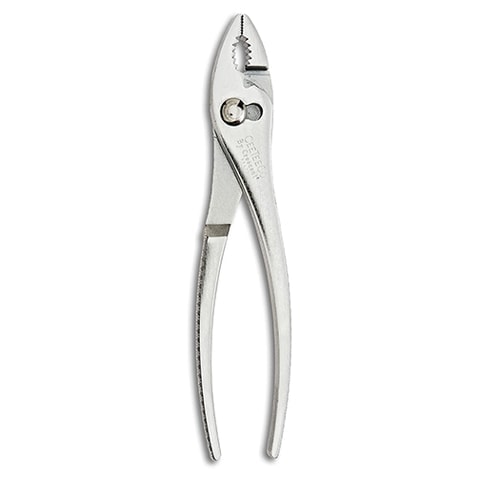 The Crescent H26VN Slip Joint Pliers are simple pliers made from carbon steel. Carbon steel is tough and difficult to break, but it does not have the same corrosion and rust-resistant properties that stainless steel would have to offer.
The alloy steel handle does not have a comfort or anti-slip handle, which means that the pliers are cold and they can slip around in the hand while in use, although the knurled texture does go some way to preventing some slippage. Available in 6.5 and 8-inch models, the Crescent H26VN Slip Joint Pliers are inexpensive.
They are not as good quality as some others on the list. They are made from carbon steel, which is susceptible to rust and corrosion, and would definitely benefit from being stainless steel for its rust-resistant properties. The lack of a decent cover for the handles is one of the biggest factors that prevent their ongoing or frequent use. They can slip around and are difficult to grip, and because the whole pliers are made from metal, they are not suitable for use around electrical outlets. But, for occasional and light-duty work, they represent good value for money and a decent product.
Pros
Cheap
Carbon steel blades
Cut wire
Cons
Not the best quality
No handle cover
---
6.

Stalwart 75-HT3004 Utility Slip Joint Plier
The Stalwart 75-HT3004 Utility Slip Joint Plier Set is a set of 6, 8, and 10-inch pliers. The heat-treated steel may not offer corrosion resistance but it has been chosen for its strength, and although this set of pliers doesn't cost much more than most individual sets, you will find that they include tight-fitting non-slip handles that make the pliers easy to use.
Pliers can be difficult to turn: this is why we most often turn to them. The more you attempt to twist the pliers, the slippier your hands get and the more difficult the pliers become to twist. Thanks to the non-slip cover of the Stalwart pliers, this isn't a problem.
However, the pliers themselves are not of the best quality. You will need to tighten the nuts and potentially lubricate the joint to ensure smooth but secure operation. And, while the set does come with a storage pouch, the material is low quality and it is too easily damaged by tools that are made from steel and have sharp cutting edges and protruding teeth on them.
Pros
Cheap
Set of three different sizes
Includes carry pouch
Cons
Bolts need tightening
May need lubricating
Carry pouch is poor quality
---
7.

Edward Tools Slip Joint Pliers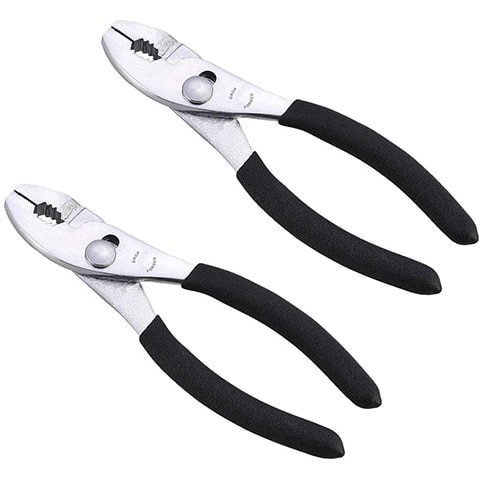 The Edward Tools Slip Joint Pliers are a set of two pliers, both of which are 6-inch pliers. The heavy-duty carbon steel is strong and durable, although it isn't resistant to rust or corrosion so look elsewhere if you need pliers that can be left outdoors or in the damp.
They have fine teeth at the front of the jaws, suitable for fine grip, and thick teeth at the back which are good for grabbing and holding. The non-slip rubber grip handle is also really comfortable while it stays in place, but like a lot of rubber handles of this type, it tends to slip which can make it very difficult to get a purchase and to turn or twist objects in the grip. The set is inexpensive and is a handy addition to a toolbox, although it would be better if the two sets of pliers were a different size, thereby enhancing the jobs and projects that the pliers could be used for.
The Edward Tools Slip Joint Pliers are cheap, suitable for light-duty work, and come in a pack of two sets of pliers of the same size and shape.
Pros
Pack includes two sets of pliers
Rubber non-slip grip
Cons
Both sets are the same size
Only suitable for light-duty work
Grips can slip and slide
---
8.

Klein Tools D511-6 Slip-Joint Pliers

The Klein Tools D511-6 Slip-Joint Pliers come in 6, 8, and 10-inch sizes, with the 8-inch representing the best value for money, although all the models are priced as premium pliers, so you should expect to pay more for these than other sets. The steel is nickel-chrome plated which protects against some physical damage like knocks and scrapes, and will help to protect against corrosion and rust, which is a feature that isn't present on all of these sets of pliers. The plastic dipped handles might not be as comfortable as some other styles of the non-slip handle but they are not prone to shifting around during use and they do a good job of preventing the pliers from sliding in the hand even while applying plenty of pressure. However, despite the good reputation of Klein tools, these pliers do not line up well which means that they do not offer the vice-like grip that you need in some instances. The biggest issue with these pliers is that, unlike most other Klein tools, these are not made in the USA and are manufactured in Mexico.
Pros
Klein is a well-respected brand
Good size
Range of sizes available
Cons
Expensive
Not great quality
Not made in the USA
---
9.

GEARWRENCH Slip Joint Pliers

The GearWrench Slip Joint Pliers are 8-inch pliers with a small grip and relatively small head. The design means that these pliers are suitable for use in limited spaces and when you need to get a decent grip on a small bolt.
Not only are these pliers narrow, but they dispense with the usual rounded head and instead rely on a narrower nose which makes them even more useful in tight spaces. The pliers do have a soft-grip handle cover, and these are an improvement over bare metal, but there are certainly more comfortable handles out there, especially because the narrower head means you are likely to have to ensure a better grip of the handles.
The slip joint itself is also quite rough, which can make the pliers very difficult to use and control, although it does mean that they won't be loose when you first start using these pliers.
Pros
Narrow pliers suitable for confined spaces
Comfort-grip handles
Cons
Tight slip joint difficult to operate
The grip isn't that comfortable
---
10.

SATA ST70511ST Slip-Joint Pliers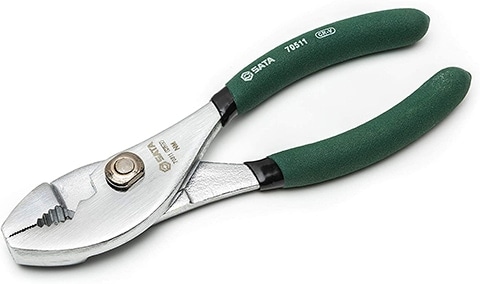 SATA ST70511ST Slip-Joint Pliers are 6-inch slip-joint pliers. They have hardened teeth to offer improved grip and greater stability. They are made with a solid rivet that shouldn't separate, even during heavy use. The chrome vanadium steel pliers are durable and strong, and the steel material itself is toughened although it is not resistant to corrosion or rusting.
The 6-inch pliers are considered to have a strong grip but are small enough to allow access to confined spaces, but many users find that 6-inch pliers are too small for the majority of typical tasks. The coated handles are designed to be slip-resistant, offering flexibility and comfort while also minimizing user fatigue and hand pain.
The SATA pliers are reasonably priced and of reasonable quality, but they are not designed for heavy-duty tasks, may rust if left in a damp space, and are too small for use in most tasks around the home.
Pros
Made from strong steel
Reasonable price
Cons
The joint is a bit loose
Too small for most tasks
Not rust or corrosion resistant
---
Buyer's Guide – Choosing the Best Slip Joint Pliers
What Are Slip Joint Pliers?
Slip joint pliers are one of dozens of different types of pliers. They make handy multipurpose pliers. They fit inside any toolbox or tool bag, and they are easy and intuitive to use. Although they do have a single slip joint, they are relatively simple mechanical tools, which means that there are fewer ways in which the pliers can go wrong and become damaged or broken. As well as having jaws, which include metallic teeth for improved grip, this type of pliers will usually have an additional jaw that is used to shear, strip, or cut wire. As such, the multifunctionality of this type of tool means that it is not only useful for DIY and home use but is also used by plumbers, electricians, and other professionals.
At their most basic, slip joint pliers consist of two pieces of metal, joined at the slip joint in the center. This joint usually consists of a rivet but may use a nut and bolt to secure the two sections in place. Some pairs have an additional layer of another material around the handle. Foam, rubber, and plastic are common materials for this anti-slip handle.
Uses For Slip Joint Pliers
Slip joint pliers can be used to grip and to bend hardware. The front of the jaws have fine teeth, which are used to grip small objects like nails. Coarse teeth found near the back of the jaws are used to grip onto bulkier items like bolts or nuts. The slip joint allows you to change the size of the jaw opening, which means that you can use these pliers on a wider range of items and materials.
This type of plier can be used for making household repairs. They are often used when working on sinks, faucets, drains, and other plumbing. They are also used for auto repairs and they can find use when working with rusted or otherwise damaged screws and other fastenings.
You should be aware that, although slip joint pliers have many uses and they are a beneficial tool for a lot of different requirements, they should not be used when you need a really tight, vicelike grip. The nature of the slip joint means that they are prone to slipping, and this can cause damage to workpieces and injury to you.
Slip Joint Pliers Features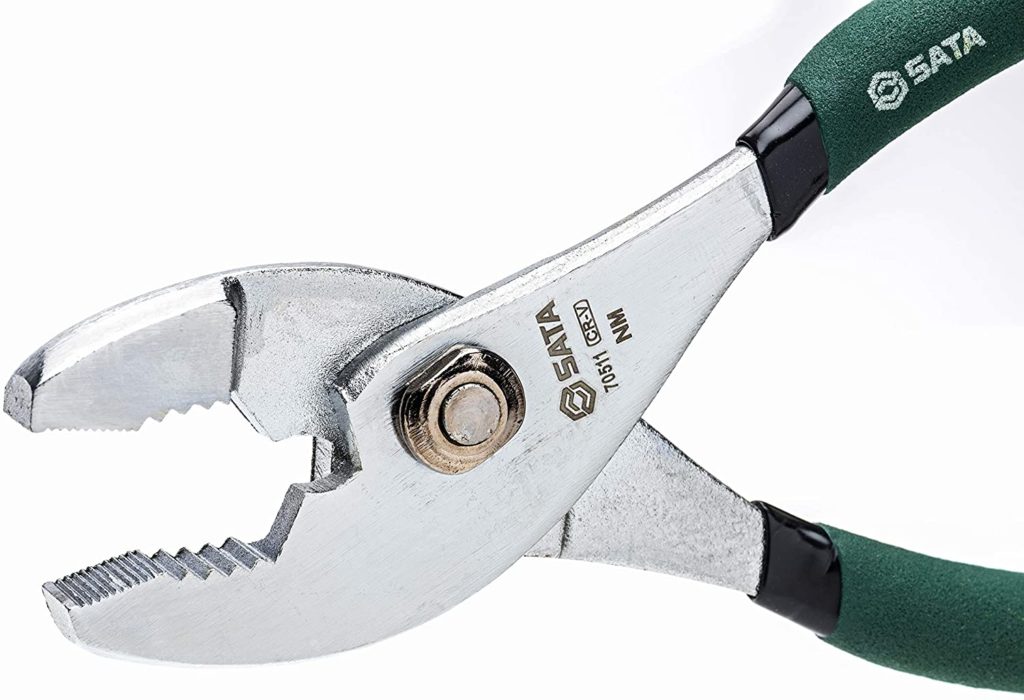 Plier Size
When choosing slip joint pliers, one of the first factors you have to consider is the size of the pliers. This type of tool usually comes in sizes varying from 6 to 10 inches, with various sizes in between. Smaller pliers have the benefit of being able to squeeze into confined spaces, whereas larger models usually offer greater strength and can be used for a greater variety of purposes. If you will be using your pliers for fiddly jobs, getting in and around pipes, or in and around the engine bay of a car, a smaller set may be more beneficial. If you want a set of general-purpose slip-joint pliers to pop in your toolbox for currently unknown purposes, opt for a medium to large set for more strength. Alternatively, buy an inexpensive set of pliers that include two or three sets of different sizes.
Metal Material
Most pliers are made from a steel alloy, but there are several different types and material names that you might see listed.
Stainless steel – Stainless steel is strong and it can withstand severe heat, cold, and is resistant to corrosion caused by alkaline and chlorine. In the case of tool construction, the material is chosen for its high tensile strength combined with its resistance to rust and corrosion. It also won't bend or scratch over time, which means that your stainless steel tools will last for years.
Carbon steel – When heated to a high temperature, iron can absorb carbon, resulting in a carbon steel material. It is very strong and shock resistant, although you shouldn't be striking these pliers when using them because it is likely to break the joint. Carbon metal is not as resistant to corrosion as stainless steel, but it is not prone to rotting. It is also safe to work with and is resistant to fire and other environmental pressures.
Heat-treated steel – Heat treating steel allows the creation of even stronger, more durable, and tougher steel tools. Heat treatment also further improves the shock resistance and prevents wear from forming on the steel material.
Nickel chromium steel – Chromium is the primary element that is added to steel to make it stainless steel. The more chromium added to the metal, the greater the corrosion resistance, but a minimum of 10.5% needs to be added for the resulting material to be corrosion resistant. Therefore, chromium steel is basically stainless steel, but nickel is another commonly alloyed metal. Nickel stabilizes the structure of the steel when at room temperature, which further reduces shock and physical damage to the stainless steel. Nickel chromium steel is considered high quality and resistant metal.
Chrome vanadium steel – Chrome vanadium steel contains a mixture of steel, obviously, and chromium and vanadium. Chromium helps protect the steel against corrosion while vanadium helps to keep the granular size of the steel small while still offering high quality and toughened qualities to the steel material.
Tools should be made from a steel-based material, and you should not consider pliers made from other materials because they will damage, warp, or break too easily, and they will not offer the kind of tensile strength that you need from a plier handle.
Handle Material And Non-Slip Covers
As well as the material used in the jaws and the pliers themselves, it is worth considering the material of the handles. Some basic pliers do not have an additional handle. This means that you are holding the same steel material as the pliers are made from. It can be cold, needs to be textured to offer some kind of grip especially when your hands are sweaty or otherwise wet, and it may slip and slide during use.
Sleeves may be added to the handles to provide greater comfort and to minimize vibrations and discomfort. Sleeves must be tight-fitting and they shouldn't be prone to shrinking, otherwise, they will slide around while in use. Foam is a cheap material that is used in cheap and typically low-quality tools. Rubberized grips and plastic dipped handles are better alternatives. The grip is effectively attached directly to the handle, minimizing the risk of slippage and ensuring that you can get a good grip without the handles sliding around. They can minimize user fatigue, increase comfort, and prevent slipping.

Conclusion
Slip joint pliers are small and convenient pliers. The slip joint means that the plier jaws can be set to either of two positions, allowing for the gripping and grabbing of a wider range of items. Ensure that the pliers you choose offer a firm and reliable grip, that they are made from good quality steel, and that they are comfortable to use. You will also have to choose the size of pliers, ranging from 6" to 10" and this range of choice means that there is a wide selection of tools that meet the requirements. You can even find some manufacturers selling sets of two or three pairs of pliers.
Hopefully, our reviews of the 10 best slip joint pliers have helped you find the best pair for your tool bag and to help with your next home DIY project. The Channellock 528 Slip Joint Pliers are manufactured in the USA, affordable, and made from strong carbon steel.  The Irwin Vise-Grip pliers are even more affordable but are a really good quality considering their low price.