10 Best Speed Squares of 2023 – Reviews & Buying Guide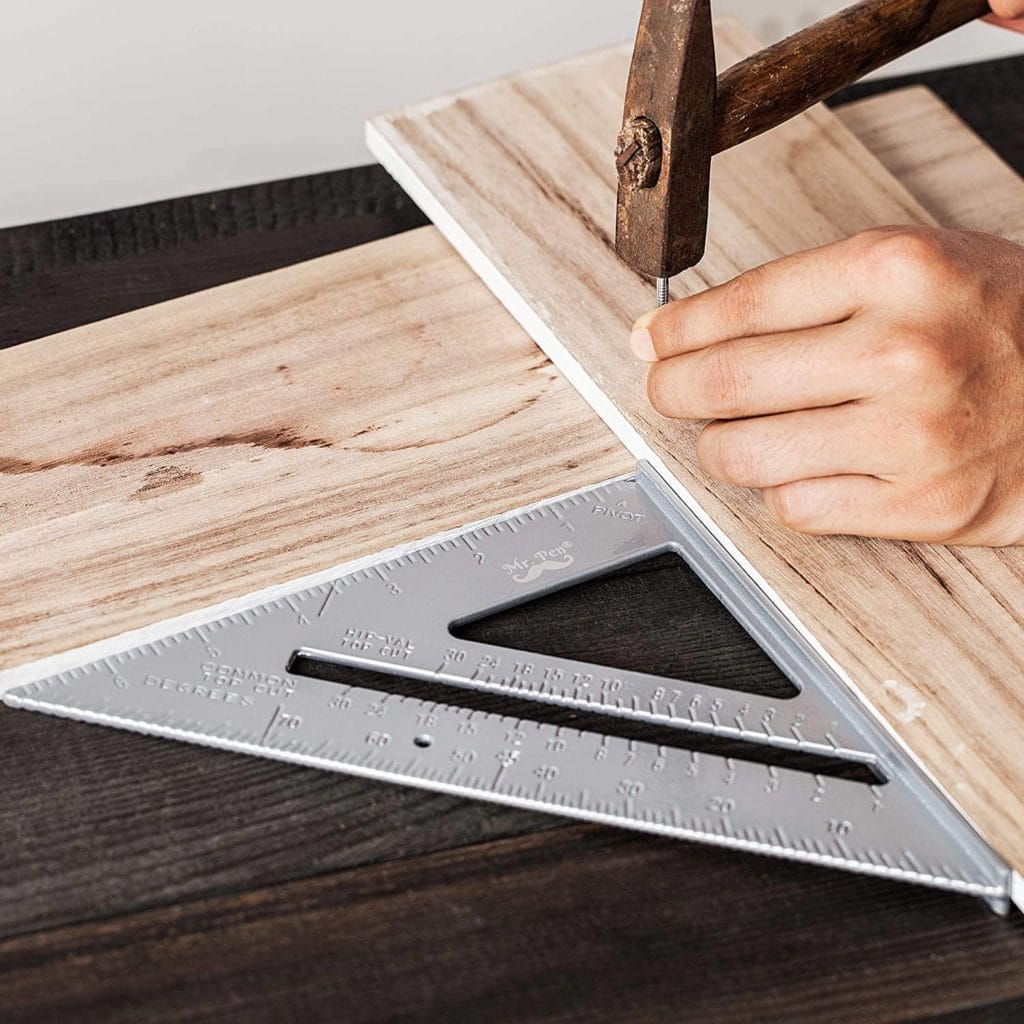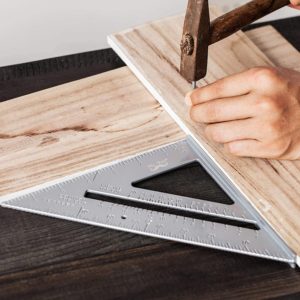 Speed squares are an essential tool for any carpenter or woodworker. Even if you're just a home DIYer, speed squares may turn out to be one of your most-used tools. Despite how they often look, speed squares have an extended range of features and qualities. They are not all made equal.
Choosing the correct speed square for your situation is essential. It can be the difference between a stress-free project and one riddled with headaches.
To help you choose the best speed square, we put together a list of reviews, as well as an in-depth guide to shopping for speed squares. Hopefully, this guide helps you sort through the wide variety of speed squares on the market.
---
A Quick Comparison of Our Favorites in 2023
Rating
Image
Product
Details

Best Overall

Johnson Level & Tool RAS-1 Rafter Angle Square

CNC machined edges
Solid aluminum construction
Thick edges
CHECK PRICE

Best Value

Swanson Tool S0101 7-inch Speed Square

Packs are available for very cheap
Graduations are easy to read
All usual measurements are included
CHECK PRICE

Premium Choice

DEWALT DWHT46031 Aluminum Rafter Square

Etched numbers
Easy to read numbers
Accurate
CHECK PRICE

VINCA ARLS-12 Aluminum Rafter Carpenter Square

Yellow on black numbering is very durable
Longer than most speed squares
Thick aluminum
CHECK PRICE

Empire Level 2990 Heavy-Duty Magnum Rafter Square

Aluminum
The forged tip provides a secure grip
Made to withstand drops
CHECK PRICE
The 10 Best Speed Squares
1.

Johnson Level & Tool Rafter Angle Square – Best Overall
The Johnson Level & Tool RAS-1 Rafter Angle Square is inexpensive and straightforward. However, when it comes to tools like these, simple is almost always better. It is accurately made and truly square, so you'll get accurate measurements every time. The solid aluminum body is made with CNC machined edges for exceptional durability and precision. If you need to be correct in all your measurements, this is the speed square to get.
The edge of this square is very thick, allowing you to use it as a guide for your saw easily. This feature works particularly well for crosscuts and angled cuts. Of course, you can use the square indirectly as well by scribing notches and drawing lines on your workpiece.
Like most squares, this one has scales for cutting hip, valley, and jack rafters. If you're a rafter, this tool is handy. However, even if you aren't, this square can improve your efficiency and precision.
The numbers are graduated, so they are effortless to read. Continuous scribing notches are also included, making it possible to rip boards of specific dimensions quickly. The whole tool is covered in a low-glare protective powder. However, we discovered that this coating isn't as durable as we would have liked. Despite this, we still think this is the best speed square available this year.
Pros
CNC machined edges
Solid aluminum construction
Thick edges
Graduated numbers
---
2.

Swanson Tool S0101 7-inch Speed Square – Best Value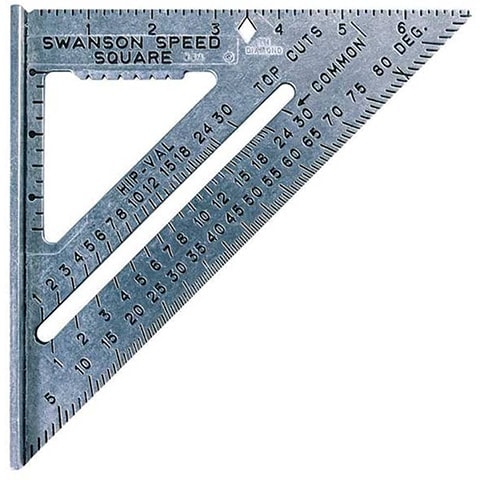 This Swanson Tool S0101 7-inch Speed Square is inexpensive and effective – two of the essential features to look for when purchasing a speed square. It has been crafted in the USA since 1925, so the design has been thoroughly tested by time. You can use this nifty tool as a miter square, saw guide, and line scriber. This is something you'd want to have at your side during every project.
This speed square includes the pocket-sized Swanson Blue Book, which is a complete guide to using the tool. It explains how to make the correct angle cuts for any pitched roof – an essential skill for rafters. This blue book is extraordinarily high-quality and probably worth the low price by itself.
There is a diamond cutout for easy rafter seat cuts. You may not use this feature often. But, when you do, you'll be happy that it is there. There are graduations included for making common, hip, valley and jack rafters. While this is a standard feature for all speed squares, it's still a good idea to double-check that these measurements are there. The graduations are pretty easy to read as well, which helps ensure that you remain accurate. Overall, this is one of the best speed squares for the money on today's market.
Pros
Inexpensive
Packs are available for very cheap
Graduations are easy to read
All usual measurements are included
Cons
Smaller than other options
---
3.

DEWALT Aluminum Rafter Square – Premium Choice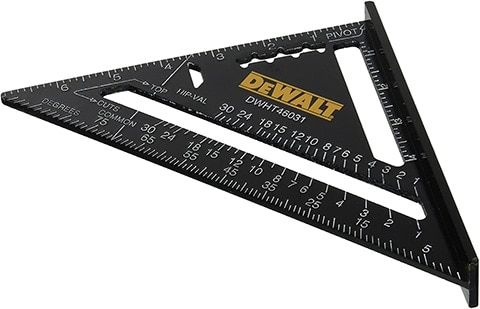 This DEWALT DWHT46031 Aluminum Rafter Square is expensive. However, in this case, you're getting what you pay for. It is a very well put together speed square, which is a big reason why the price is so much higher than other options.
The white numbers on the black background are pretty easy to read, though we have seen better designs. Yellow would have been a better option, but we don't have too many complaints. The numbers are etched and stamped on, so they should stay on for quite some time. However, we did notice that the paint tends to chip rather quickly, so they may wear off faster than you'd like.
One thing we didn't like about this product is that it doesn't come with any notches. However, no everyone needs notches, so this isn't necessarily a negative for every buyer. Beginners would likely benefit from choosing a speed square with some notches, however.
We did like how perfect this square is. As far as we could tell, everything should be accurate enough for practically all uses. It works the same as other quality speed squares.
Pros
Etched numbers
Easy to read numbers
Accurate
Cons
Coating rubs off
No notches
---
4.

VINCA ARLS-12 Aluminum Rafter Carpenter Square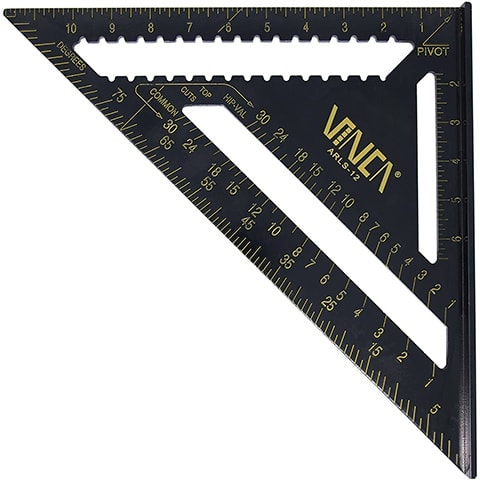 This VINCA ARLS-12 Aluminum Rafter Carpenter Square is quite large, which can be useful for larger pieces of wood and similar large pieces of work material. Not everyone is going to need a square as large as this. However, if you commonly carry around 2-speed squares, this one may eliminate the need to do that. This speed square also includes multiple scales, eliminating the need to do calculations in your head while measuring.
The numbers are deeply etched to ensure that they don't rub off. The yellow numbers on the black background are elementary to read. This was one of the easiest to read speed squares we reviewed.
The thick aluminum body is very durable and won't bend. We expect that this speed square should withstand quite a bit of punishment—plan for it to last quite a while. The broader base also allows it to provide a more stable grip on your workpiece, preventing slippage and unnecessary mistakes. Of course, a rafter conversion table is also included.
While this 12-inch aluminum square is longer than most, it isn't actually 12 inches, despite the name. However, we doubt this will be a problem for most users.
Pros
Yellow on black numbering is very durable
Longer than most speed squares
Thick aluminum
Cons
Sharp edges
Thin sides are not straight or flat
---
5.

Empire Level Heavy-Duty Magnum Rafter Square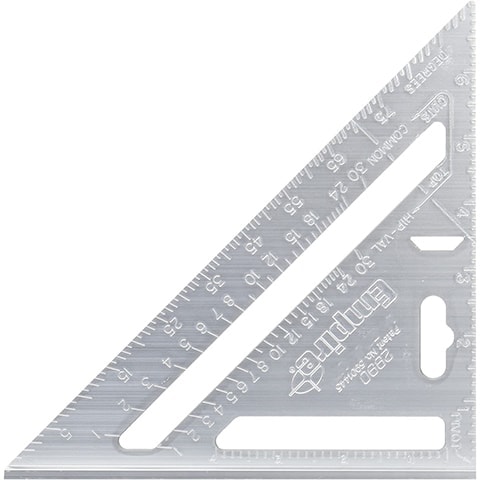 The Empire Level 2990 Heavy-Duty Magnum Rafter Square is another aluminum speed square. As you might imagine, like many of the others we reviewed, the aluminum construction makes it quite durable and weather resistant. It isn't going to rust, unlike some of the squares made out of steep. The forged tip allows for a secure grip and eliminates stripping – the last thing you want when working on a project. It is also built for drops and won't bend and break. If you plan on using it as a saw guide, the thicker edge makes it perfect for this use. Like almost all squares on the market, this one also comes with conversion tables printed directly onto it.
One of the things we didn't like about this speed square is that the measurements are only engraved, they aren't painted or stamped on. This reduces visibility a bit, which can be a problem for some users. This may not be an issue for you all the time, but the last thing you want is to misread the numbers while making a measurement.
The edges are also very sharp. They can cut you. You have to be careful with this tool, even though speed squares aren't typically dangerous.
Pros
Aluminum
The forged tip provides a secure grip
Made to withstand drops
Cons
Very sharp edges
Numbers are only engraved
---
6.

IRWIN Tools 1794463 Rafter Square
At first glance, this IRWIN Tools 1794463 Rafter Square looks excellent. It has a blue background and yellow measurements, which are extremely visible. This is one of the easiest to read squares we reviewed. The color combinations were a perfect choice. Like most squares, it comes with multiple scales and features rafter tables. It comes with basically everything you would expect a square to have.
But, that's about where the great things about this square end. It is quite expensive, which we found unnecessary for the features it provides. It isn't a great square but is nearly twice the price of others. We recommend saving you money and purchasing a square of equal quality for much cheaper.
The pivot point is also tiny. The square says "pivot" on it, with a small arrow pointing towards the hole. However, the hole that is supposed to be the pivot is far too small for almost all pencils and other marking devices. You'd need a mechanical pencil with a very small lead to use it. This isn't a huge problem, but it can be very annoying.
Pros
Easy to read
Comes with all the measurements you need
Cons
Tiny pivot point
Expensive
---
7.

Stanley Premium Adjustable Quick Square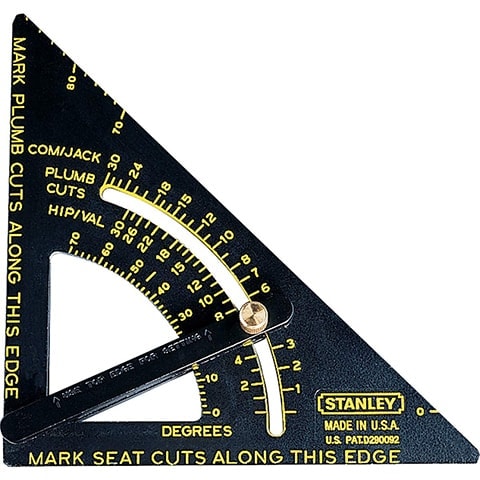 The Stanley 46-053 Premium Adjustable Quick Square has a nifty little arm that can help you find angles. This is a unique feature and one that we didn't see in any of the other squares we reviewed. If this square was well made, it probably would have landed very high on our list. However, it isn't a quality square and likely isn't the best choice for most people.
It is made out of aluminum, which is nice. We prefer this material to steel since it won't rust and is much more weather-resistant. The black body makes the yellow measurements very easy to read, even in low light conditions. It features all the measurements you'll need and all the scales typically included on a speed square.
Despite this, though, we don't recommend it for a few different reasons. It is not very good at helping you make accurate straight lines, though it does angle lines very well. You may end up carrying around two squares because of this, and at that point, you might as well just spend your money on a quality, all-in-one square instead of purchasing this one.
Pros
Aluminum construction; won't rust
Very readable measurements
Cons
Not as durable as others
Not as long
---
8.

Mr. Pen Metal 7 Inches Rafter Square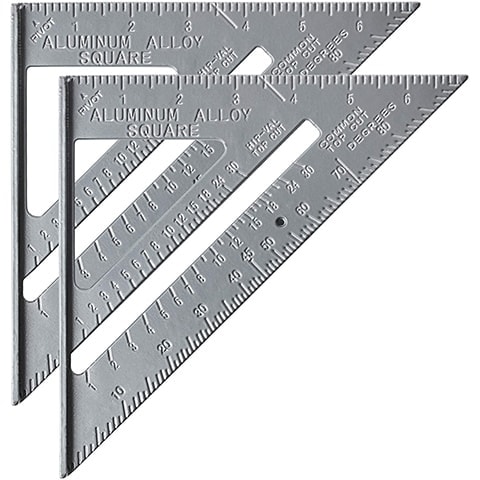 For the price of one speed square, you can get two when you purchase these Mr. Pen Metal 7 Inches Rafter Squares. Both of the squares are the same. You aren't getting two tools, just an extra duplicate. This can be useful for some situations, though, since speed squares are useful for so many different things. You may decide to keep the tools in two different places to ensure you always have one when you need it, or you may just keep one as a backup.
Both are made of aluminum, making them decently weather resistant. They include all the features and measurements you would expect a speed square to have. Nothing is left out. An e-book is included as well, however, it's not significantly high quality. You could probably find all the information it includes on the internet for free. In our opinion, it wasn't a significant bonus.
However, neither of these squares are very accurate or precisely square. This can lead to inaccurate cuts and measurements. It is also a bit lumpy and doesn't seem to be precisely flat either. A square that can't be used for accurate measurements is useless, which is why this set appears so far down on our list.
Pros
Two tools for the price of one
Cons
Not very accurate
Coating is thick and lumpy
Not flat
---
9.

WORKPRO Speed Square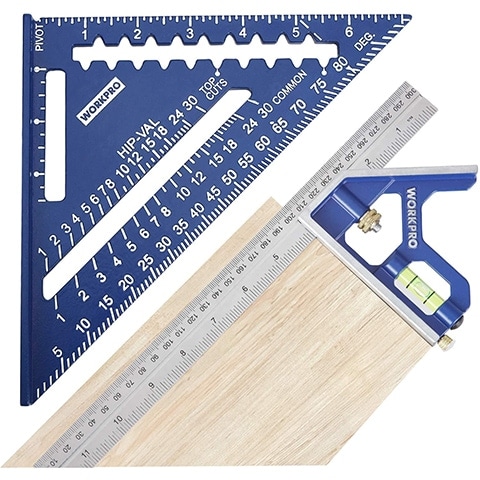 For the price of a higher-end speed square, you can purchase this small measurement toolset that includes the WORKPRO Speed Square. It comes with a speed square and a combination square – two tools that woodworkers and carpenters need. This can be a great way to save money, especially if you're a beginner. However, don't be so fast to rush out and buy this set. There were quite a few things we didn't like about it.
To make it clear: the speed square itself is not bad. It has a blue background with white measurements, which is easy to see. It is quite durable and made of aluminum. All the measurements you need on a speed square are included. But the combination square was not high quality at all. It is not entirely square, making the measurements slightly off. It also has a bit of a bow to it, which can be a massive problem during specific projects.
In the end, we recommend purchasing a cheaper speed square that is just as good as this one and then using the extra money to purchase a usable combination square. This set just isn't a good value for your dollar.
Cons
The combination square is not accurate
The combination square is difficult to read
The combination square is challenging to use
---
10.

Milwaukee Magnetic Rafter Square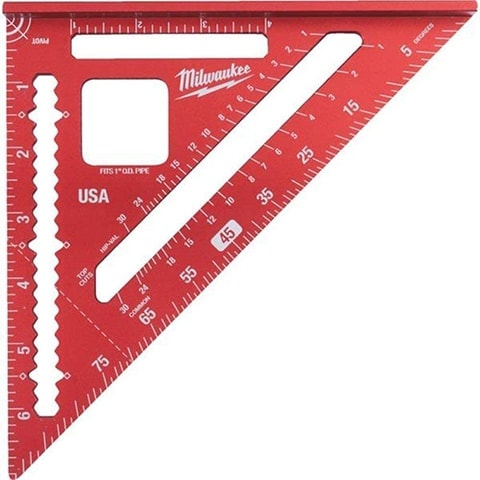 This Milwaukee MLSQM070 Magnetic Rafter Square is decidedly less popular than some of the others we reviewed. After some inspection, we found out why. The white numbering on the red background isn't as easy to see as some other color combinations. We found it difficult to read in many different light conditions. It does come with magnets, which is a nice touch. This allows you to stick it directly to the side of your workbench. But the magnets aren't good enough for all uses.
While the measurements are laser etched, the etching is very poor. It is not durable at all when compared to others we reviewed, so don't expect the numbers to stay readable for long. Readability is an essential feature of any speed square, so this is a significant reason why it ended up in tenth place on our list.
Cons
Difficult to read
The etching is not durable
Magnets are not particularly strong

Buyer's Guide – Choosing the Best Speed Square
Despite their simplicity, these tools vary quite a bit from model to model. Luckily, there are only a few key features that matter when it comes to these tools. If you can keep your eye out for them, you can easily choose the best speed square for your situation.
Below, we'll go into some of the essential features to keep in mind while shopping.
Material
The material a speed square is made out of is going to have a direct effect on its durability. These versatile tools get used a lot, so they take quite a bit of wear-and-tear. If they are made out of low-quality material, they may wear down and become unreadable after only moderate usage.
Aluminum is the best material a speed square can be made out of. It won't rust and is decently weather-resistant so that you can use it in an array of environments. At the same time, it is durable and can withstand most drops. Aluminum doesn't bend super easily in most circumstances. This material is also very lightweight, making it easy to keep your speed square next to you at all times.
Luckily, most squares are made out of aluminum today. So, in all likelihood, you can find an aluminum square for your situation. We recommend just skipping other materials in most cases. Just save yourself some trouble and go with aluminum.
Accuracy
Speed squares are designed to provide you with measurements very quickly. If they aren't accurate, they can't do this, turning them into basically unless hunks of metal. Being accurate is one of the essential features of a square. Without accuracy, none of its other features are going to matter.
Most speed squares are pretty accurate – enough for most uses anyway. The average homeowner does not need absolute perfection when it comes to their speed squares. Being slightly off is going to be excellent for most projects. However, some do require more perfection than others. For example, most woodworking requires complete accuracy. Otherwise, your project is not going to turn out completely wrong in the end.
Before you purchase a speed square, you should know what level of accuracy you're looking for. Accurate squares are going to be higher-quality in general, making them more expensive. You don't want to spend more money than you need to.
Readability
Even if a speed square is accurate, it isn't going to be particularly useful if you can't read the numbers. Because of that, many companies etch the numbers into each square on top of painting them on. This makes them easier to read and keeps them readable for a long time.
Still, though, some colors are easier to read than others. Many companies use a darker background and some sort of lighter coloring on their squares. This is typically pretty easy to read, making it an excellent choice for most people. Other color combinations exist as well, such as red and white. These are significantly less easy to read, though.
One significant factor of readability is how durable the etching is. The last thing you want is for the numbers to wear off, making it completely unusable.
Durability
The most accurate, easy-to-read square is not going to be useful if it gets bent. Bent squares can not accurately measure anything. They can't even be used as a saw guide. They're worthless. Because of this, you should only purchase squares that are very durable and able to withstand a few drops. You will drop your speed square at least once. You don't want it to bend when that happens.
You also don't want the speed square to get rusty or otherwise wear down due to the weather. This can warp it and make some of the measurements unreadable. Once again, a rusty square is not going to be very useful.
It can be challenging to figure out how durable a particular square is before you buy it. The material it is made out of gives you a decent idea of how durable it probably is. Preferably, you want it to be made out of the most durable material possible, which is usually going to be aluminum in most cases.
FAQs
Here is a list of some of the most common questions we receive about speed squares.
Why is it called a speed square?
Albert Swanson invented the speed square. It was called a speed square because it is square and designed to allow you to measure things quickly. It is a very straightforward name, to say the least. After deciding that his invention could be worth something, Swanson made the Swanson Tool Company. Speed square is a trademark name, which is why you won't see other brands using it to describe their products. However, in conversational situations, this term is often used to describe this whole class of tools.
What is the use of a speed square?
Speed squares help you get to make measurements and cut very quickly. It is like a combination square, try square, and framing square all in one. They are mostly used by carpenters to make necessary measurements and marking lines. However, they are quite useful for all home DIYers. You can even use them as a saw guide for certain cut angles.
How thick are speed squares?
It depends. Many have different thicknesses on different sides. One side is often designed to work as a saw guide, which means it has to be quite a bit thicker. The other sides are often thinner. Some are so thin that they can be quite sharp, which can be a problem for some people. While safety is always essential in the workshop, no one thinks to be extra careful with the benign speed square – until it slices your hand.
Thickness can be essential to consider when selecting a tool. After all, you typically don't want a speed square that is knife-sharp.
We also recommend reading:

Conclusion
Speed squares are a vital tool for carpenters and woodworkers. Many home DIYers will benefit from these tools as well, which primarily drives their popularity today.
These tools are incredibly simple and straightforward. However, they can come with many different features, which can make it difficult to choose the best one for you. We hope this article helped you sort through all your options out there.
Out of all those we reviewed, the Johnson Level & Tool RAS-1 Rafter Angle Square was the best overall. It is accurately crafted, and the numbers are pretty easy to read. Overall, this speed square should serve you well for years to come.
For those who need to spend a bit less money, the Swanson Tool S0101 7-inch Speed Square. It is the original speed square and is made decently durable. It cost a bit less than some other options, making it a reliable option for most DIYers as well.