3 Best Stump Grinders of 2023 – Reviews & Top Picks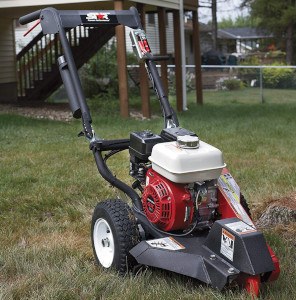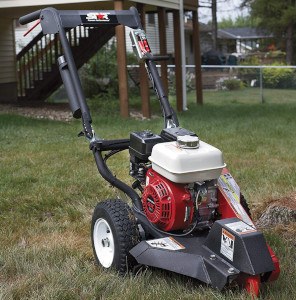 With all the options out there, it can be really hard to know which stump grinder to choose. There is no way to tell the good from the bad unless you've had one in your hands for a while.
Unfortunately, the average consumer can't perform product tests, but we can. We've done lots of tests on a ton of stump grinders over the past few months.
Through our research, we found three of the best stump grinders on the market. Your only job is to relax, read our stump grinder reviews, and choose the tool that is perfect for your task.

A Comparison of Our Favorites in 2023
Rating
Image
Product
Details

Best Overall

DK2 Stump Grinder

Easy to use
Moderate price
Powerful motor
CHECK PRICE

NorthStar Compact Stump Grinder

Lightweight
Compact design
Efficient performance
CHECK PRICE

Samson Machinery Stump Grinder

Lightweight
Powerful motor
CHECK PRICE
The 3 Best Stump Grinders
1.

DK2 Stump Grinder – Best Overall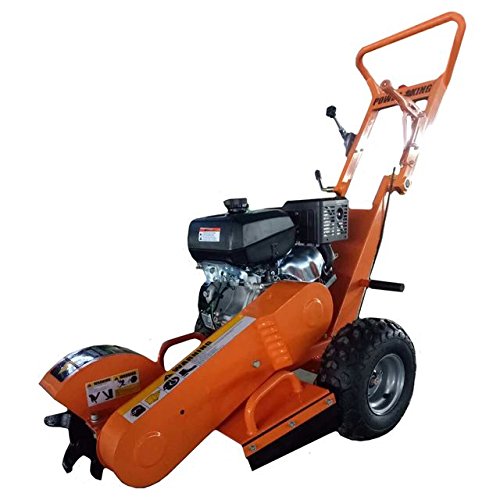 The DK2 Stump Grinder is not only great both for professional and commercial use, it is also our best for the money pick today.
This tool features a powerful 14hp Kohler engine that will be able to make quick work of your average stump. It has nine tungsten steel blades that are hardened for efficiency and durability, and a shutoff latch that allows you to stop the tool on a dime in an emergency.
It also has a very simple design framework that you should have no trouble figuring out, regardless of your experience level.
There isn't much to complain about with the DK2. However, you'll want to bear in mind that it does take time to work through larger stumps. While smaller stumps will be a breeze, it might take you a couple of hours to work with larger stuff.
This grinder will still get the job done, but this efficiency issue might prove a problem for high-volume professionals.
Pros
Moderate price
Powerful motor
Easy to use
Cons
Takes a long time to use with larger stumps
---
2.

NorthStar Compact Stump Grinder
The NorthStar Compact Stump Grinder lives up to its name with an efficient compact build. The tool is about the size of a lawnmower and has a clever design that the average homeowner won't struggle with.
It's also relatively lightweight at only 135 pounds. To put that number in perspective, the Powerking grinder above weighs in at over 400 pounds. Because of the weight and size, you will be able to easily store and transport the NorthStar grinder, and navigate it through doors and walkways.
The tool can grind from up to ten inches above the surface of the ground, to nine inches below it. It shoots refuse out to the side as it runs, so the chippings won't be dangerous to you, or to the sensitive motor.
There are only a couple of problems that you will want to be mindful of as you consider this grinder. The motor oil tends to drip into the combustion chamber, causing it to release smoke periodically. Granted, it's not the anxiety-inducing "my stump grinder is on fire" smoke that you never hope to see. Still, it's not great.
The tool is also a little pricier than our top pick, which might make some buyers' decisions very easy.
Pros
Compact design
Lightweight
Efficient performance
Cons
Occasionally emits smoke
Slightly pricier than our top pick
---
3.

Samson Machinery Gas Walk-Behind Stump Grinder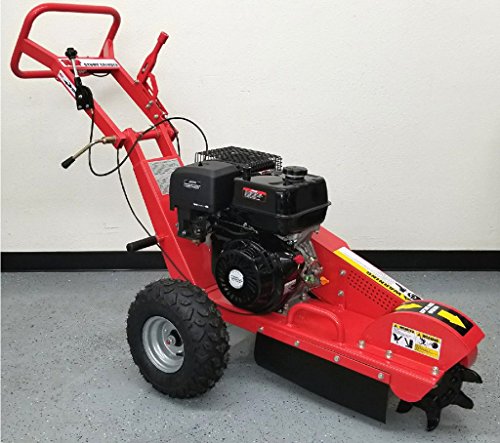 The Samson Machinery Gas Walk-Behind Stump-Grinder is the most expensive option on our list, but it does have some redeeming features. For one thing, it's a fairly lightweight design, coming in at 220 pounds.
It also has a comfort grip and a powerful 15 horsepower motor. There aren't really any serious complaints about the Samson Machinery grinder. The tires do seem to lose air very quickly, but otherwise, it's a well-built tool.
The reason it's last on our list is mostly a matter of value. You can get a grinder that's just as good (if not better) for less, so why not do it?
Pros
Lightweight
Powerful motor
Cons
Low-quality tires
Value concerns
---
Buyer's Guide – Choosing the Best Stump Grinder
We've now seen three great stump grinders suitable for a variety of different people. To help you make a wise decision, we've included a buying guide as well. Read on for some buying considerations!
To buy or rent?
Most average homeowners don't need a stump grinder. If you just need this tool to take care of a stump or two on your property, it won't be worth your time or money to buy a stump grinder.
In that case, you can rent a stump grinder for around $100 a day. Going this route will save you lots of money, both on the price of the tool, and the cost of a yard service.
However, if you own a sizable wooded property or run a business, the need for a stump grinder will be more significant.
Cost
A stump grinder is, unfortunately, never very inexpensive. It's a sizable investment no matter what, but there are still ways to get a good deal. For example, our top choice today was a great example of a high-performing tool that won't empty your wallet.
More money might buy you better features, like a higher-quality motor, but you can always compromise a little on quality to save some money as needed.
Easy Start
One of the problems many people have with stump grinders is that they can be difficult to start. This is true of any gas-powered yard tool.
The ripcord involved in the operation of most stump grinders can potentially give you a good workout, which is great for your biceps but not so good for your disposition.
In acknowledgment of this, many manufacturers now ensure that their tools include a quick-start feature. Stump grinders optimized for a quick start will get running after your first attempt, saving your arms plenty of work, and saving you plenty of frustration.
Size
Stump grinders come in several different sizes. Smaller options look a little like a lawnmower. They are easy to transport and will do just fine with small to moderate-sized stumps. These smaller units are often favored by homeowners.
Commercial grinders will be substantially bigger, but they will be able to remove larger stumps at a very quick rate.
If you're buying for a professional business, you'll definitely want something bigger. Larger grinders will be able to take care of big and small stumps at a rate that is satisfying to the demands of a business.
On the other hand, if you don't plan to use your grinder often, a smaller unit might be suitable.
Cutting Capacity
Cutting capacity refers to how many stumps a grinder can eliminate in a specified amount of time. A high-capacity grinder will naturally cost more, but if you need this tool for a tree service, a high capacity isn't optional.
On the other hand, if you're just buying as a do-it-yourselfer, this isn't a factor you need to worry about.
Ergonomics
The word "ergonomic" basically means that something has been deliberately designed for comfort. You would think all products would strive for this, but that is not the case.
No matter who you are, you'll probably want to invest in a grinder that is comfortable to use. An ergonomic design will keep you comfortable as you perform this sometimes intense task.
Ease of Use
Stump grinders range significantly in complexity. Some are about as straightforward as a lawnmower, while others can be somewhat complicated.
If you're a pro, you'll want something with all the bells and whistles. This might mean getting a tool that is tougher to use. However, if you're just an average layperson, you'll want something as simple to use as possible.
Pay attention to a grinder's design before you buy it to ensure that you'll be ready to use it when it's time to work.
Warranty
If things go wrong, you want to be prepared, and you certainly don't want the costs to come out of your pocket. A good warranty will ensure you're covered.
There are a few benefits to a good warranty. One, of course, is that you should have an easy time receiving replacement parts as needed for free.
The other benefit is that it shows the company is proud of the thing it has made. Do you know who doesn't promise to fix their broken products? Companies that think they've made something likely to break. The better the warranty, the more confident the company is in its product.
Brake Wheels
Many good stump grinders have high-end brake wheels. The brake wheels help make it a little easier to navigate the tool during transport and use. This is a feature you will want if you're using the grinder for professional purposes.
Related posts:

Final Verdict
The stump grinder reviews that we've just gone over have hopefully made your choice easy. But if you still haven't decided on which grinder to go with, we can be of more assistance. Though we would never tell you what to do, we can nudge you towards one tool that will be a great option for a variety of buyers.
If you need something that delivers consistently professional results, you'll find it with the Powerking Stump Grinder. This unit wound up being our top choice because it combines lots of value with an extremely high level of performance.
But that's just the unit we chose as our favorite. Now that you've read our guide, you can decide on one for yourself.