7 1950s Interior Design Ideas (with Pictures)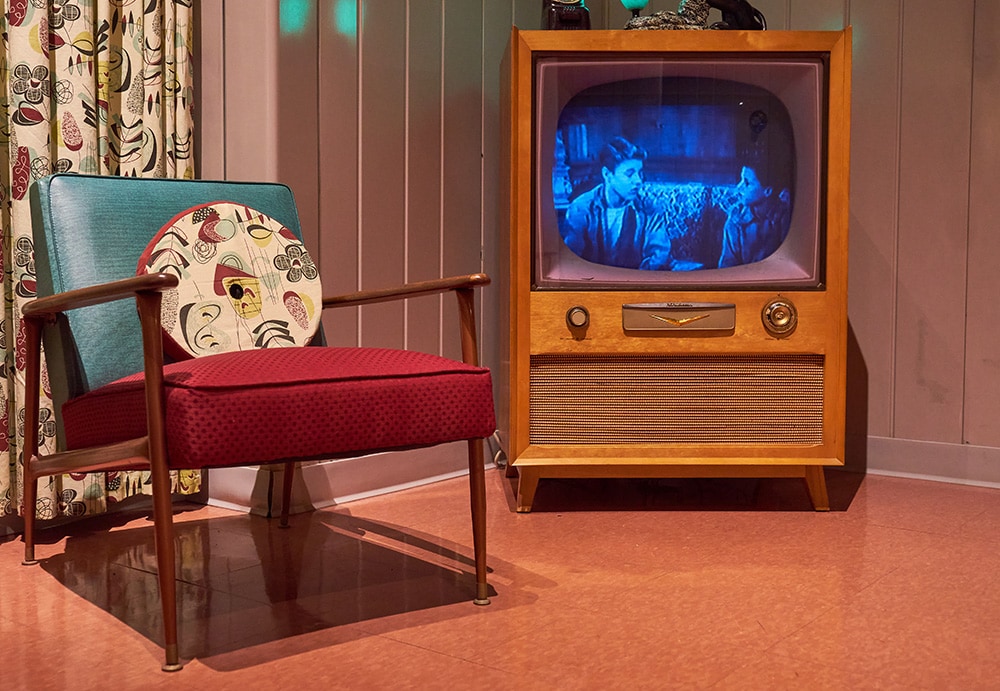 Nailing down the 1950s interior design look can be difficult. Much like today, the 1950s did not have one set style. In fact, the 1950s was really the first decade where this was the case.
Even so, there are seven main categories of 1950s retro interior design: ranch house, pastels, bold fabrics, lamps, enamel, technology, and eclectic styles.
Let's take a look at several examples of these categories so you can start applying 1950s interior design to your own home.
The Top 7 1950s Interior Design Ideas For Your Home
1.

Ranch House
Ranch houses became super popular in the 1950s. This building design became popular because it symbolized the American spirit and growth as a modern country. Certain ranch homes have actually been saved as historical locations due to the significance of the home style in the 1950s.
Most 1950s ranch-style homes had three bedrooms, one bathroom, and an open floor plan. This open floor plan is the most important part of a ranch-style home. You can apply this style to your home by opening up the rooms and creating an open environment.
---
2.

Pastels
During the 1950s, there were three popular color trends: modern, Scandinavian, and pastel. Of these three trends, the pastel trend has become the most associated with 1950s decor.
Whenever homes were themed in pastel, the pastel could be seen practically everywhere. The bathroom was especially an area of the home that had major pastel hues. Pastel would be incorporated throughout other areas of the home, including the kitchen, living room, and bedrooms.
This pastel trend has come back in style as of late. Incorporating pastels into your home is an easy way to get inspiration from retro designs while still looking in style. For example, get a pastel throw blanket or pillows. If you want to go the extra mile, get a pastel shower curtain!
---
3.

Bold Fabrics
Bold, sometimes obnoxious, fabrics became way too popular in the 1950s. Some of the most popular patterns include polka dots, stripes, checks, stars, and flowers. These patterns were seen on tablecloths, upholstery, clothing, and wallpaper.
Because bold fabrics were found practically everywhere throughout the home in a 1950s house, you can easily incorporate bold fabrics into your own home. You can go as bold as opting for bright drapes. If you want something more subtle, you can always select checkerboard hand towels and place them next to your sinks.
---
4.

Lamps, Lamps, Lamps!
Lamps made their first debut as a decor item in the 1950s. Before the 1950s, lamps were purely practical and did not add to the decor of the home. Because of this new approach to lamps, lamps and unique lighting were found all around the 1950s home.
This lamp trend is one of the most popular 1950s trends that still applies today.  After all, lighting is a serious part of modern decor. You can easily incorporate small table lamps, floor lamps, or unique lighting throughout your home to make sure you have just the right ambiance.
---
5.

Enamel Appliances
Without a doubt, the most recognizable feature of 1950s decor was the enamel appliances. The enamel appliances often came in pastel hues to compliment the pastel colors throughout the rest of the home. Refrigerators, washers, sinks, and stoves were often made from this bright pastel material.
Enamel appliances are a bit of a novelty today. These items are more expensive than most other appliances simply because of their style. However, these enamel appliances can be real statement pieces in your home.
For example, purchase a retro refrigerator. Keep the rest of your kitchen simple and clean looking. The fridge will be the star of the room, and you won't have to worry much about accessories or decorations.
---
6.

Technology
The 1950s was the first decade where technology became easily accessible to everyday people. As a result, technology was littered throughout practically all American homes. This focus on technology is a 1950s trend you certainly want to apply to your own home.
Although you don't need dated or retro pieces, having the most up-to-date technology in your home really is a nod to the 1950s. Whether you have a TV, gaming setup, or surround sound system, this technology melds the love of technology from the 1950s with the modernity of today.
---
7.

Eclectic Styles
During the 1950s, there was a distinctive eclectic style. Some furniture and pieces were antiques passed down from generation to generation. Other accessories were newly bought and had a distinctly modern flair. As such, the eclectic style popped up.
In fact, the term "eclectic" was first applied to interior design in the 1950s by a designer named William Pahlmann to describe this phenomenon.
You can incorporate eclectic styles into your home pretty easily. Select distinctively modern accessories, but pair them with a retro couch. You can also add natural finishes and accessories throughout the home with plants and other natural touches.

More About 1950s Design
The 1950s was the start of the mid-century modern movement. This movement was popularized in American interiors, products, architectures, graphic designs, and Urban Developments between the years of 1945 and 1969.
Mid-century modern styles typically have clean and simple lines that also make great use of materials to ensure you are getting the full value of the product. Often, the mid-century modern movement was mixed in with eclectic styles to account for the changes in culture and materials around the globe.
To this day, mid-century modern is still a popular design style. You can easily find 1950s-inspired products for your own home by researching mid-century modern decor, accessories, and appliances.

Conclusion
The 1950s have a distinctive interior design look known as mid-century modern. This design choice includes bright colors, bold patterns, and eclectic styles. However, the decade itself has a lot of looks, as opposed to one standard approach to decor.
Even so, you can incorporate any one of the seven ideas into your own home to bring a retro flair to the building. Something as simple as buying checkered hand towels or pastel throw pillows can be a great way to nod to the 1950s while still having a modern home.
---
Featured Image Credit: R Scott James, Shutterstock