5 Best Toilet Unclogger Liquids in 2023 — Reviews & Top Picks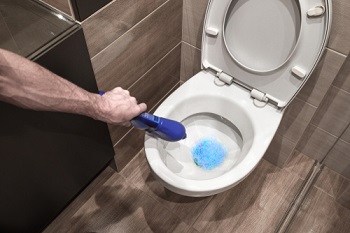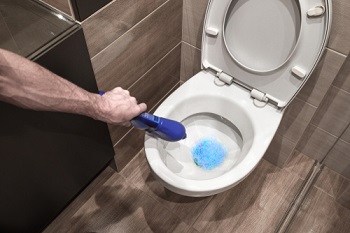 Toilet unclogger liquid is rarely the number one topic on our minds or even our shopping list. That is, until you find yourself in somewhat desperate need of it. Making sure that you have a quality unclogger can make the moment so much easier and more forgettable.
Many people are familiar with a plunger as the first step in the war against toilet clogs. However, what happens when that doesn't cut it? The next step is to invest in a toilet-safe unclogger. The thing that many people don't realize is that most drain cleaners, liquid or powdered, are unsuitable to be used in a toilet. They may stain the bowl or splash up, causing damage to the material around them.
In the name of safety and unclogged toilets, we have made a list of reviews that includes the top five toilet unclogger liquids to help you find your match and keep it clean.
---
A Quick Comparison of Our Favorites in 2023
Rating
Image
Product
Details

Best Overall

Green Gobbler

Dissolves soap, paper, hair and grease buildup
Safer to use than sodium hydroxide products
No harsh chemical smell
CHECK PRICE

Best Value

Instant Power 1868

Bacteria take away need for harsh chemicals
Reduces strong odors
Simple instructions
CHECK PRICE

Premium Choice

Natural Rapport SM16-NR

Reduces nasty smells
No chemical smell
Eco-friendly
CHECK PRICE

RID-X

No harsh chemical smell
Balances microbe population
Useful preventative measure
CHECK PRICE

Roebic K-97-Q-4

Eco-friendly
Useful for prevention
Works in water
CHECK PRICE
The 5 Best Toilet Unclogger Liquids
1.

  Green Gobbler Drain Clog Dissolver — Best Overall
One of the most important aspects of a substance used for unclogging toilets is that it is heavier than water to reach the clog through the inevitable standing water. The company makes Green Gobbler with an ultra-thick formula designed to sink quickly and cling to pipes to keep everything moving through, even after it clears the clog away.
Green Gobbler, our pick for the best toilet unclogger liquid, is made particularly for bathrooms, toilets, sinks, and tubs. Common problems with clogged drains are too much toilet paper, a buildup of sludge and other waste, soap scum, and hair. If this is your problem, Green Gobbler may be the ideal solution.
When you use it, it only takes a couple of minutes to eat a hole through. It may be best to give a highly corroded drain several treatments to ensure the pipe is completely unclogged. Fortunately, Green Gobbler works without producing an offensive or toxic odor.
Pros
Dissolves soap, paper, hair and grease buildup
Safer to use than sodium hydroxide products
No harsh chemical smell
Cons
May stain plastic
More expensive than similar brands
---
2.

  Instant Power 1868 Septic Shock — Best Value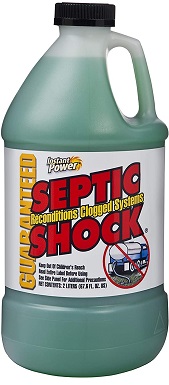 This product is the best toilet unclogger liquid for the money. It is much cheaper than similar products and appealing if you want a product without harsh chemicals or acids. It's formulated to digest soap, paper, and grease build-up.
Septic Shock contains lipase, protease, and cellulose, which devour grease, protein, and paper. All of these work together to help clear your drain quickly. Additionally, the manufacturers have added alpha-amylase bacteria and enzymes to produce the desired results. These bacteria eat through clogs in drains by digesting the clog away.
Septic Shock isn't only to treat the clog but also the smell produced from septic backup, which means that when your clog is gone, the scent should be as well. It dissolves all the evidence away.
Pros
Bacteria take away need for harsh chemicals
Reduces strong odors
Simple instructions
Cons
Takes longer to work
May take several treatments
---
3.

  Natural Rapport SM16-NR Septic Treatment — Premium Choice

Natural Rapport lives up to its name in that it is a non-chemical product. Its formula helps keep it safe to use for those that don't want stains or corrosion occurring after applying the product. Instead of chemicals, this product uses beneficial bacteria to eat through waste. These bacteria dissolve clogging materials such as hair, grease, food, and other grime. Many people may appreciate that this cleaner is eco-friendly. It keeps local water sources free from seeping chemicals from our sewer and septic systems.
The enzymatic formula and the smaller bottle required for effective use may have caused the price to increase. Yet the presence of bacteria instead of a mixture of chemicals means that it doesn't create a harsh chemical odor. Instead, it fights abrasive smells traditionally associated with septic systems to give you an end product that smells truly clean.
Pros
Reduces nasty smells
No chemical smell
Eco-friendly
Natural product
Cons
More expensive than similar products
Slow-working bacteria formula
---
4.

  RID-X Septic Tank Treatment
Sometimes, we don't realize that our drains are well on their way to clogging. The buildup often occurs slowly, with grime getting stuck to the sides of pipes and more stacking on top of it day after day. To avoid this kind of problem, RID-X recommends that a user should clean the drains with the product once a month to prevent surprise backups from occurring.
This product replenishes beneficial microbe populations to work through and dissolve clogs in toilets, sinks, tubs, and other parts of the septic system. This efficient ability is why many people use it as a preventative method to keep the septic tank balanced.
You don't have to use the entire bottle in one go, either. Instead, this is more of an investment. Buying one bottle gives you enough for six months of preventative use when you use it once a month. Only 8 ounces need to be used to do its job effectively.
Pros
No harsh chemical smell
Balances microbe population
Useful preventative measure
Only 8 oz. required for each use
Cons
Slow working
Doesn't come with a measurement cup
---
5.

  Roebic K-97-Q-4 Main Line Cleaner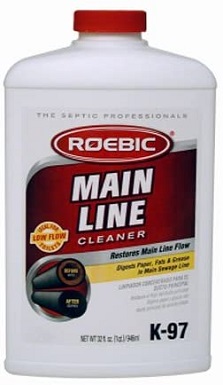 The last product in our compilation is from Roebic. It is similar to the RID-X in that you only use 8 ounces. This amount is equal to using about a quarter of the container. It is another bacteria-based cleaner that takes a while but is quite useful.
The best way to use this product is as a preventative measure, especially if you have a lot of heavy materials going down your drains. This heavy-duty action frequently happens with large families, living with several people with long hair, sending food particles without a garbage disposal or high quantities of grease and fat.
It works in the presence of water by sinking below, with the helpful bacteria moving toward the items responsible for the clog. It is also less expensive than other products of a similar size and with similar bacterial formulas.
Pros
Eco-friendly
Useful for prevention
Works in water
Natural breakdown of clogs
Less expensive product
Only 8 oz. required for each use
Cons
Works slowly
Best for prevention
---
Buyer's Guide – Finding the Best Toilet Unclogger Liquid
Many people go through several products before they find the right one to suit their needs. Instead of being one of those people, determine what you want out of a product. You can use the essential factors to consider below to create a priority list.
The Clog
Start with the problem. Are you looking for a long-term solution? For example, your sewer line or drains get backed up once a month, and you also have to have a plumber come out. Or perhaps your system is old, and too much material in a short time is hard for your septic system to handle.
If it is a short-term problem, you may need to find something strong to clear it out quickly. Then, go back and think about what caused it and if it is a long-term problem that may require multiple solutions throughout its timeline.
Knowing the extent of the clogging problem you have helps to determine the best solution. If you can, try to figure out what made the clog. With toilets, it may well be much simpler than in a bathtub or a sink drain.
The Formula
Next, consider the formula of the product. Some are made with several chemicals. These may stain your toilet bowl if they're left in for too long or if the bowl is made out of cheap materials. They also are a leading cause of corrosion, most notably when used improperly.
Also, consider how you feel about using chemicals and flushing them back into the septic system. Some people have no problem with this, but if you find yourself feeling uncomfortable, look for a product that is natural. Often, they are bacterial-based products that may work slower but are still effective. They can be even more effective than chemical cleaners in the long term. The bacteria continue actively eating substances that commonly cause clogs even after the original problem is dealt with.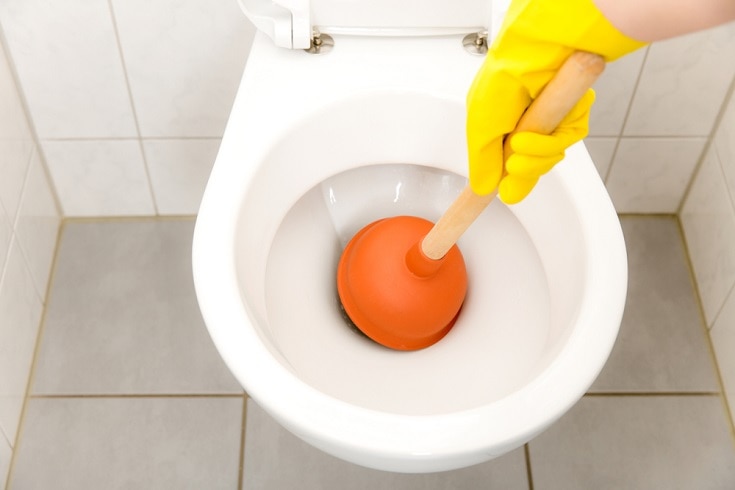 Safety
Storing any cleaner or chemical in your home poses some safety issues if they're not stored properly. Also, some cleaners have such powerful chemicals that any splashback may harm anyone it lands on. That is especially important to think of when using toilet cleaners and needing to flush them down.
Also, consider the chemical's safety in your drains and septic tank. Take note of any safety precautions noted by the manufacturer before you buy the product. There are some highly effective cleaners out there that are simply NOT safe for use in a toilet.
For your safety, the environment, and your septic system, it is important to heed the safety warnings. Don't buy just any high-rated liquid cleaner.
The Water Works
Many people wouldn't consider that a cleaner may not work properly in the presence of water. However, some cleaners with chemical compositions may be lighter than water. This makes them ineffective for use in a toilet since there is always standing water. They will stay floating on top and never contact the materials causing the clog.
Prevention or Solution
Next, consider whether or not you need a product that is more effective for prevention or if you only want a one-time solution. Just as we talked about a long-term or short-term problem, you may be able to mitigate both by preventing clogs before they have a chance to occur.
Often products that work as solutions are stronger and may be made of more harsh chemicals. They may leave behind a strong chemical smell and generally work quickly to clear clogs.
Products made for prevention are either weak chemical compositions or bacterial formulas. The bacterial formulas get into a septic system and reinforce beneficial microbial populations. These communities eat away the hair, food waste, and grease that cause clogs. Using these products once a month is an effective prevention measure if you have a frequent clogging problem.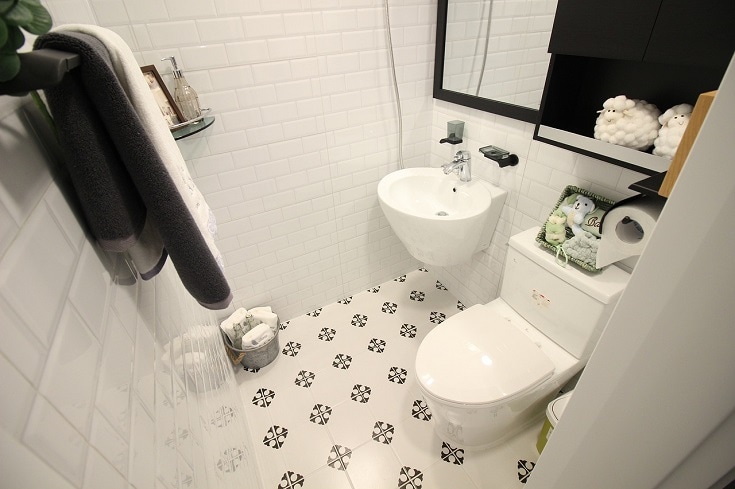 Price vs Quality
Lastly, using our list of toilet reviews and other online reviews, you can determine if the product's price justifies its quality. Some products may cost more but are simply premium products. Others are priced lower, but that doesn't mean you aren't getting a quality product. You can often use the stories in other customer reviews to find a situation similar to yours and find out if it worked for them or not.
---
Conclusion
With our best toilet unclogger liquid overall, the Green Gobbler Drain Clog Dissolver, it is easy to safely unclog your toilet without leaving behind an obnoxious chemical smell. If you are looking for the best toilet unclogger liquid for the money, we recommend the Instant Power 1868 Septic Shock. From natural bacterial blends to quick-acting chemical mixtures, there are multiple ways to unclog your toilet. We hope you can use our list of reviews, along with the buying guide, to take back control over your toilet and all of its related systems.
See also:
---
Featured Image Credit: Rolandas Grigaitis, Shutterstock