Shopping for spray paint online can feel like a hopeless task. The lid colors and color swatches aren't enough to get a feel for what the spray paint looks like, and it's hard to know if you are getting a good deal on the price, too.
We want to make shopping online easy, which is why we assembled these reviews of the best gold spray paints of 2020. Using this list, you should be able to find a gold spray paint that will meet your needs, and make for an enjoyable, easy, and low-cost process, too.
We've also included a buyer's guide, so if you want to take a deep dive on gold spray paints, you can learn everything you need to know, before you guy.
---
The 5 Winners of 2021
Rating
Image
Product
Details

Best Overall

Krylon Metallic Gold

Rust protection
Great color
Great coverage
CHECK PRICE

Design Master Rose Gold

Accurate rose gold color
Quick-drying
Chip-resistant
CHECK PRICE

Best Value

Rust-Oleum Metallic Gold

Great price
Interior/exterior
Includes metallic flakes
CHECK PRICE

Seymour HI-TECH Gold

Engine spray paint
Heat resistant
For close work applications
CHECK PRICE

PlastiKote Premium Metallic

Can be used on metal or wood
UV and water resistant
Resistant to scratches
CHECK PRICE
5 Best Gold Spray Paints
1.

Krylon Metallic Gold Spray Paint – Best Overall
The Krylon K09194000 COVERMAXX Metallic Gold is our top pick. It comes with a great gold color that will bring an element of class to almost any object you own. Krylon makes great spray paints, and this color is no exception. It goes on to most kinds of materials quickly and provides great coverage in a single coat, which is something you wouldn't expect of a lesser brand. It also dries in ten minutes or less, which means you don't have to wait a long time between painting and using the object you painted.
This formula also adds rust protection, which is a great feature to have if you're painting metal surfaces. You'll need to keep in mind that this spray paint is only certified for indoor use, so it's not going to be the best protection for bikes or other metal objects that may be subject to rain or high levels of humidity. One complaint about this spray paint is that it doesn't have the shiny pop that many people expect from a gold spray paint, and it instead settles for a regal matte finish. While this won't suit everyone's taste, it's still a great buy for most people.
Pros
Rust protection
Great color
Fast drying
Great coverage
---
2.

Design Master Rose Gold Spray-Paint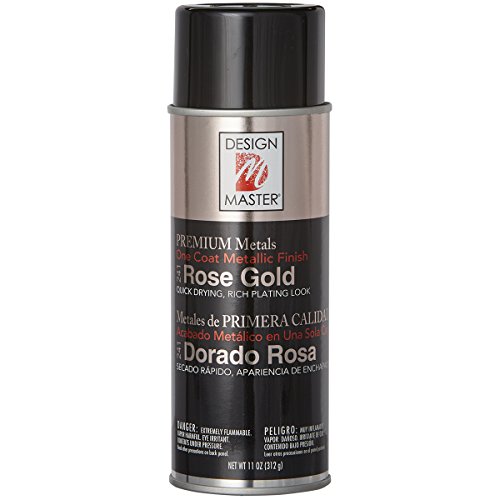 One of the biggest problems with shopping for rose gold spray paints is that so many brands miss the color and end up creating something with far more orange in it than a true rose gold. That is not the case with theDesign Master DM241 Rose Gold spray paint, which nails the color. You really can't overvalue a spray paint that correctly produces the color, as there are so many varieties on the market that are far enough away from the desired color that they'll always bother you.
This formulation is also quick-drying, so you can get your project done quickly and without spending too much time outside. It also produces a chip-resistant finish, which is great for objects that will be handled from time to time. The one downside to this spray paint that keeps it out of first is that it is subject to can clogging. While the problem is uncommon, it does happen sometimes, and that can be a frustrating issue to resolve. Overall, this is the best option for those looking for a rose gold spray paint, only kept out of first due to its can clogging issues.
Pros
Accurate rose gold color
Quick-drying
Chip-resistant
---
3.

Rust-Oleum Metallic Gold Spray Paint – Best Value

The Rust-Oleum 286564 can be used for objects that will be inside or outside, and that factor alone is enough to make this model our choice for best value. It also comes at a great price, so if you're looking for a rose gold spray paint, this can be an excellent choice. This spray paint includes metallic flakes that lend it a more brilliant, shiny color that you're not going to find in all gold spray paints on the market.
Since it's a Rust-Oleum product, it also does a good job of preventing rust, which is yet another reason why this model should be at the top of your list if you're looking for something to use outside. It's also largely chip-resistant, which means that you can be confident that the coating will last a long time. It can be a bit hard to apply as it does drip some. However, the price is also fantastic, so if you're looking for a good deal on a great interior/exterior rose gold paint, this is the spray paint for you.
Pros
Chip-resistant
Interior/exterior
Includes metallic flakes
Prevents rust
---
4.

Seymour HI-TECH Gold Spray Paints

The Seymour En-50 Hi-Tech is meant to coat engine parts that have been scratched during repairs, and so it was designed to stand up to high-temperature situations. If you're working on an engine, then this spray paint can be an excellent choice, if a bit expensive relative to other spray paints. You need to keep in mind that this gold is designed to look like the gold parts you'd find in an engine block, which tend to be much duller than the color you probably want to produce.
This spray paint isn't the most durable on its own, as it has some adhesion problems. Consequently, it's a good idea to use a primer before you use this spray paint, and you may even consider using a sealant to protect the paint afterward. It also takes a long time to dry, which means you're going to have to wait between your coat of paint and your coat of sealant, which can be a pain. However, if you need a spray paint that will work well in high-temperature situations, this could be the spray paint for you.
Pros
Engine spray paint
Heat resistant
Cons
Works best with primer
Slow drying
---
5.

PlastiKote Premium Metallic Gold Paint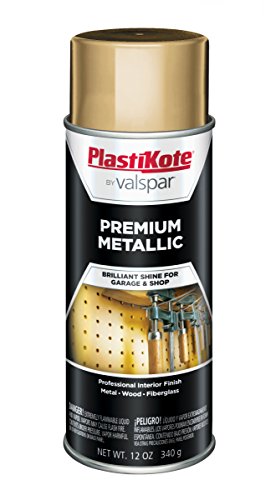 The PlastiKote 452 Metal Gold spray paint is meant for indoor and outdoor use, which is good for situations where you want to transform something outdoors into a work of art. However, this spray paint comes with a lot of flaws that sink it to the bottom of our list. One of the most significant is that it comes with horrible quality-control problems. Frequently, the cans will stop working after under a minute of use, which means you have all the paint you need, but no way of using it. That's a big waste of money.
Furthermore, the color it produces isn't very good. It's not glossy, which many people who are looking for gold spray paint are going to object to. It's also not compatible with the clear coats made by the same company, as the application of that clear coat will darken and alter the color of the spray paint. This leaves you with no real way of extending the life of the spray paint. Unfortunately, this isn't that good of a product, and you can get better value by spending your money elsewhere.
Cons
Quality-control problems
Not glossy
Not compatible with clear coats
---
Buyer's Guide
Coverage
You should always consider how well a spray paint works before you buy. If you get a spray paint that is runny, or bubbles, or doesn't work well with the material you need to paint, you're going to have a frustrating experience. Spray paints should make things easier, but if you don't do your due diligence, they can have the opposite effect. You should only invest in brands that have a good reputation for producing good spray paints, and you should always make sure that it is compatible with the material you need to paint before you buy.
Color
Metallic colors, such as gold, give spray paint manufactures a lot of trouble. Many of them do a poor job of producing an accurate color, though one problem looms larger than that. Even if the color is right, the whole project can look "off" because the luster is off. We usually think of metallic colors such as gold, silver, or chrome, as having a shiny effect, as that's how we encounter them most in daily life. However, some gold spray paints settle for a dull or matte color that is technically correct but doesn't "pop" like we intuitively think it should.
Ease of use
You never want to buy a spray paint that comes in a crappy can that gives out after just a few minutes of work. You may think that you're getting a good deal and saving a lot of money, but if it breaks down, you lose the entire investment. Some companies make better cans than others, so it may be worth a few extra bucks to ensure that you get a working model. You may also want to see if you can buy some extra nozzles so that you can quickly replace one if yours clogs during use.
Conclusion
The Krylon K09194000 COVERMAXX Metallic Gold was our favorite gold spray paint due to its rust-protective properties and its great color. The Design Master DM241 Rose Gold comes in second with its great color and fast drying but misses out on first due to clogging issues. The Rust-Oleum 286564 is a great indoor/outdoor spray paint with rust-preventative properties and a low price, which makes it the best value on our list. The Seymour En-50 Hi-Tech is a heat-resistant, engine paint that has some limited uses, but won't be the right thing for most people. The PlastiKote 452 Metal Gold spray paint has quality-control issues and produces an underwhelming color, which are good reasons to stay away.
We hope that our reviews and our buyer's guide have given you some insight into which gold spray paints are worth the money. Armed with that information, you should be able to find the variety that is right for you.
Other types of spray-paints:

Pete has been working in the trades since high school, where he first developed a passion for woodworking. Over the years, he has developed a keen interest in a wide variety of DIY projects around the home. Fascinated by all sort of tools, Pete loves reading and writing about all the latest gadgets and accessories that hit the market. His other interests include astronomy, hiking, and fishing.
As the founder of House Grail, David's primary goal is to help consumers make educated decisions about DIY projects at home, in the garage, and in the garden.