10 Best Trim Routers of 2023 – Reviews & Top Picks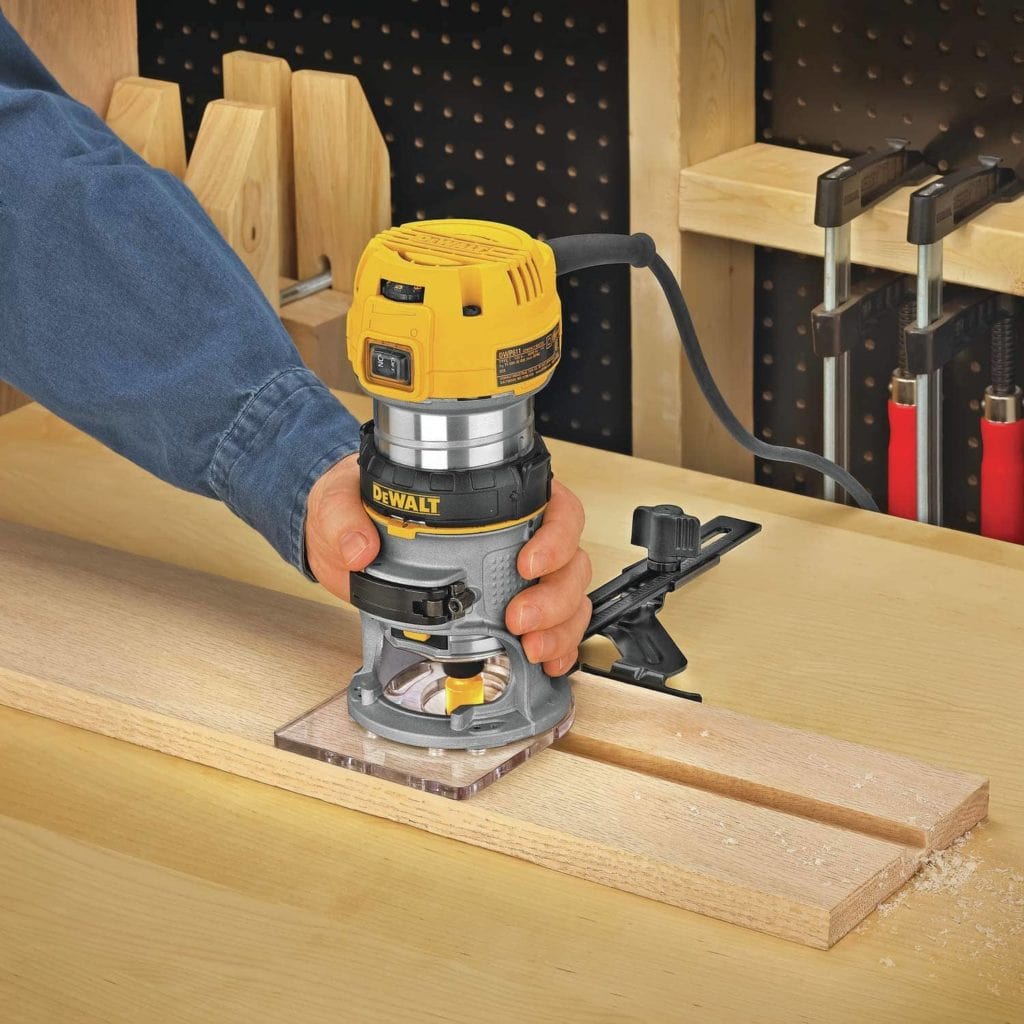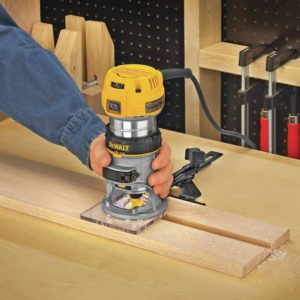 A good trim router can be a carpenter's best friend. Whether you're trimming laminate or shaping boards, these little devices can come in very handy.
However, deciding which one is best for your purposes can be a real chore. With hundreds of options to choose from, with different features from model to model, picking the right trim router is a confusing, potentially overwhelming task.
Luckily, we've trimmed away the confusion for you. With this handy list of our top 10 reviews and a buyer's guide, you'll be well-equipped to add your next tool to your kit.
A Quick Comparison of Our Favorites
Rating
Image
Product
Details

Best Overall

DEWALT DWP611 Router

Fast and powerful
Lightweight and portable
LED illumination
CHECK PRICE

Best Value

Bosch PR20EVS Router Tool

Fast and powerful
Right-angle power cord exit
Variable speed
CHECK PRICE

Premium Choice

Milwaukee M18 FUEL Compact Router

Powerful and fast
Micro and macro depth adjustment
LED lighting
CHECK PRICE

Makita XTR01Z Brushless Cordless Compact Router

Fine depth adjustment
Aluminum base and housing
LED illumination
CHECK PRICE

PORTER-CABLE PCE6430 Trimmer Router

Powerful and fast
Fine depth adjustments
Aluminum base
CHECK PRICE
The 10 Best Trim Routers – Reviews 2023
1.

DEWALT DWP611 Router – Best Overall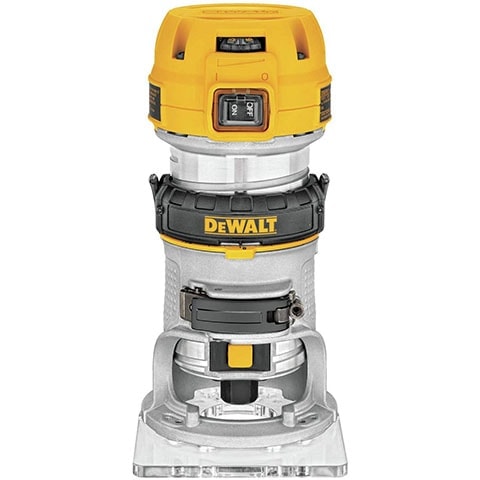 Dewalt tops our list with solid power, a plethora of features, and a low-profile, lightweight format. It's a seven-amp motor, which delivers 1.25 horsepower and 16,000-27,000 rotations per minute (RPM). With that kind of speed and power, it's a great choice for most applications. It also offers variable speed control, which gives you greater influence over the specific application.
It's also comfortable and user-friendly. At 4.1 pounds, it's lightweight, portable, and easy to handle. A molded grip close to the work surface offers additional control. It includes LED lighting and a clear plastic base to improve visibility. Bit replacement is accomplished with a locking mechanism and a single wrench, making it easier than other models that require a two-wrench approach. Depth adjustments are made easy with an adjustment ring precise to 1/64 inches.
Overall, this is an excellent tool, with very few flaws. The ones that do exist are fairly minor, and can be avoided with mindful use. The first is that the bit loosens over prolonged use. The easy solution for this is to tighten regularly during use. The LEDs are a little farther from the work surface than might be desired, but a little light is better than none at all. Overall this is the best trim router available right now.
Pros
Fast and powerful
Lightweight and portable
LED illumination
Clear plastic base
Single-wrench bit replacement
Depth adjustment accurate to 1/64 inches
Cons
Bit loosens under prolonged use
LED not as close as desired
---
2.

Bosch PR20EVS Router Tool – Best Value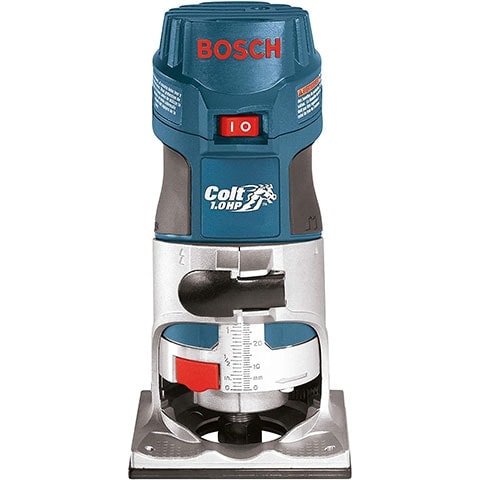 Bosch makes the best trim routers for the money. This unit is durable, precise, and versatile. All of this makes it an excellent addition to your tool collection if you're on a budget.
For a small tool, this one packs a punch. It has a 5.6-amp, 1-horsepower motor that runs at 16,000 to 35,000 RPM. It also offers variable speed adjustment so you can match speed to the specific application you're working on.
There are a number of safety and stability features with this router. The power cord has a right-angle exit from the motor body, which keeps it out of the way while you're working. The base features finger pockets to provide additional stability when routing edges.
The base is made of aluminum. This makes it durable.
The router is also versatile. It accepts bits up to 1-5/16 inches in diameter. Changing bits is a breeze. You can do it either with two wrenches or with a spindle lock and one wrench. It also comes with both micro and macro adjustments.
There are a few problems with this router. First of all, there's no center line on the base, which makes lining things up difficult. There's an overall problem with looseness. Both the bit and the base screws loosen during prolonged use. Additionally, it has some trouble holding a depth setting. Speaking of depth settings, the fine-adjustment knob is difficult to operate.
Pros
Fast and powerful
Right-angle power cord exit
Variable speed
Finger pockets on base
Aluminum base
Takes bits up to 1-5/16 inches
Easy bit changing
Cons
No center line on base
Bit and base screws loosen
Doesn't hold depth setting well
Fine-adjustment knob hard to operate
---
3.

Milwaukee FUEL Compact Router – Premium Choice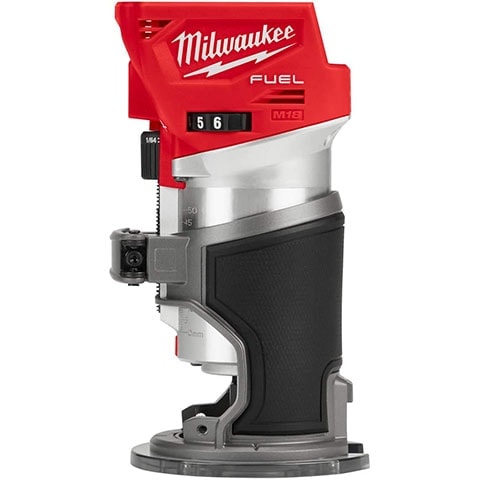 For an excellent battery-operated compact router option, the Milwaukee M18 Fuel is a great choice. Its brushless motor offers speed and power equivalent to a corded router. The 1.25-horsepower motor delivers 10,000 to 31,000 RPM. It has a variable power knob to match your speed to the project you're working on.
The depth adjustment offers equal versatility. It has the ability to adjust the depth on both the rough and the fine scale. Big adjustments can be made with the macro adjust button within a 1½-inch range. Fine adjustments are accomplished by the use of the fine adjustment knob, which can dial your depth down to 1/64 of an inch.
It also offers high visibility. The base has a large cutout so you can keep an eye on your progress. It's also illuminated by two LED lights.
The size of this router lends itself to easy control combined with stability. At 4.84 pounds, it's very easy to handle. The 4-inch base helps maintain additional stability for the unit.
It's also compatible with both offset and plunge bases. These are sold separately, but offer the router additional versatility.
We only have two complaints with this machine. The first is that the battery is not included. This is a pain, but they're easy to source. The second is that the depth lock is not as secure as might be desired. So, be sure to check your depth with regularity as you're working.
Pros
Powerful and fast
Micro and macro depth adjustment
LED lighting
Compact
Cordless
Cons
Battery not included
Changes depth while working
---
4.

Makita Brushless Cordless Compact Router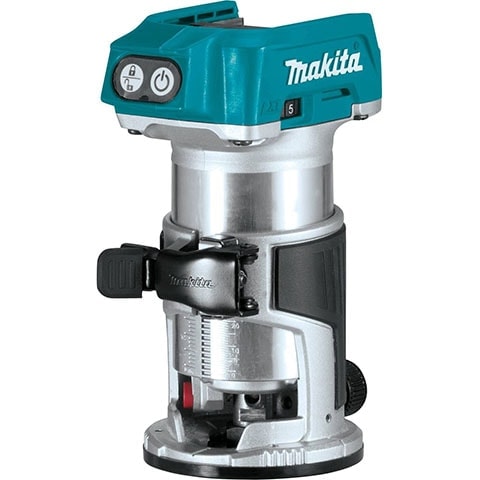 Makita makes another cordless router that will get the job done. It features solid power along with a number of additional features that make it easy to use and accurate.
The 18-volt battery powers a brushless motor, which offers greater run time. The motor delivers 10,000 to 30,000 RPM on a variable speed dial. This means customizable control depending on the requirements of your project. The motor is also electronically controlled. This allows for continuous speed under variable loads.
The power button features a locking switch to prevent accidental activation. Depth adjustment is simple with this model, and offers both fine and rough tuning. A rack-and-pinion fine adjustment system is activated with the easy turn of a knob.
The housing and base are made of aluminum for greater durability.
It also features good visibility. While the base is opaque, the tool comes with twin LED lights to illuminate the work surface.
While this is overall a solid tool, there are a number of defects that bear mentioning. The first is that the depth adjustment is clumsy. While it offers the possibility of dialing it to a very fine depth adjustment, you have to be careful when releasing the locking lever. If it's all the way open, the force of gravity will drop the whole unit all the way down. It also doesn't fit larger round-over bits (⅜-inch and ½-inch). The rounded, relatively small base also makes it easy to accidentally tip the router which can result in a damaged project.
Pros
Fast and powerful
Electronic motor control
Locking power switch
Fine depth adjustment
Aluminum base and housing
LED illumination
Cons
Clumsy depth adjustment
Doesn't fit larger round-over bits
Base makes it easy to tip router
---
5.

PORTER-CABLE PCE6430 Trimmer Router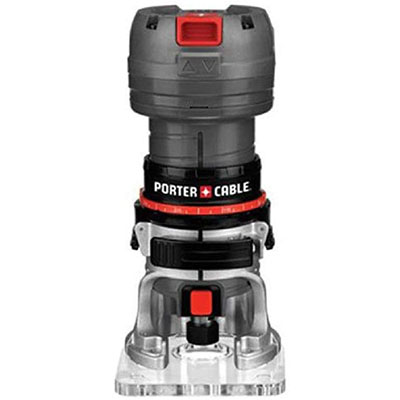 Another solid choice for a trim router is Porter Cable's offering. It's lightweight, portable, easy to use, and powerful. It has a 4.5-amp motor. It rotates at up to 31,000 RPM. Unlike other offerings on this list, it doesn't offer variable speed adjustment.
The router allows for both gross and fine path depth adjustments. Extra-large locking clips offer rapid motor release and depth adjustment. A rotating ring allows for rapid and accurate finer depth changes.
The base is aluminum for greater durability. It's very lightweight and small, which allows for easy handling. At 4.46 pounds and 8.31 x 8.31 x 5.75 inches, it's not the smallest on this list, but still simple to control.
The big disadvantage with this device is that the depth collar slips. That means that the bit plunges deeper as you're cutting, which can ruin a project if you're not careful.
Pros
Powerful and fast
Fine depth adjustments
Aluminum base
Lightweight and small
Cons
No variable speed adjustment
Depth collar slips
---
6.

Metabo M12VC HPT Router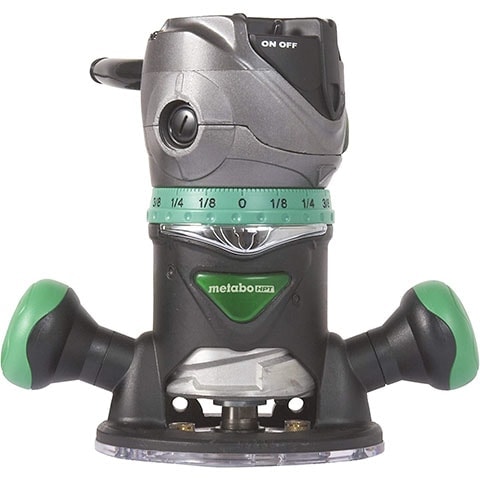 Metabo's router is higher-powered than others on this list. Other than that, it's a fairly straightforward machine.
The 11-amp motor produces 2.25 peak horsepower. It has variable speed control. It's also electronically regulated so that rotations per minute are maintained, regardless of the load put on the device during your project.
This is a relatively quiet router. It runs at 79.5 decibels, which provides a quieter work environment. That's only 19.5 decibels louder than a normal conversation.
It comes with handholds on the base. This gives you maximum control during your work.
There's a two-stage depth adjustment mechanism. This allows for both large and small adjustments. The locking lever releases the motor for larger adjustments, while the adjustment ring on the body allows for fine tuning.
This router isn't without its drawbacks. The first set of problems is with the collets. They are difficult to release for bit change-out, and at times require strokes with a rubber hammer to loosen them. At the same time, they occasionally loosen on their own during use, which causes bits to slip. We'd recommend a collet upgrade if you plan to hold onto this router for an extended period of time.
Additionally, there's no shaft lock, so the only way to change bits is to use two wrenches. There's no work light built in, so it can be hard to see what you're doing through the router base. Finally, the power switch is located on the top of the unit, rather than on a handle. This means you have to hold it with one hand while you're starting it, which can result in a sloppy start on your projects.
Pros
Quiet
Powerful
Electronic regulation
Two-stage depth adjustment
Cons
Problematic collets
No shaft lock
Power switch on top
---
7.

Enertwist ET-RT-710S Compact Router

Enertwist makes another budget router option. It offers solid power. A 7-amp motor pushes out 1.25 horsepower. It has adjustable speeds between 10,000 and 32,000 RPM so that you can match speed to the project you're working on. The motor has electronic control that allows for a soft start along with continuous rotation under variable loads. It also prevents overload.
Depth adjustment and motor removal are made easy with a quick-release cam lock. Finer adjustments are accomplished using a rack-and-pinion system measured in either inches or millimeters.
The body is made of aluminum for increased durability. It comes with a rubberized grip for comfort during use. It also comes with a dust hood to hook up to a vacuum cleaner to keep your workspace clean.
It isn't the smallest of the compact routers on this list, but it's not the largest either. It's made easy to control with a weight of 6.17 pounds and dimensions of 10.59 x 8.19 x 6.81 inches.
There are a number of difficulties with this router. It's louder than other models. It also has a looseness problem. The depth setting slips and bits tend to loosen under prolonged use. The depth adjustment knob also binds, which makes setting depth difficult in the first place.
Pros
Powerful for its size
Relatively compact
Quick-release cam lock
Rubberized grip
Aluminum body
Vacuum hood
Cons
Loud
Loses depth setting
Bits come loose
Adjustment knob binds
---
8.

Ridgid R2401 Laminate Trim Router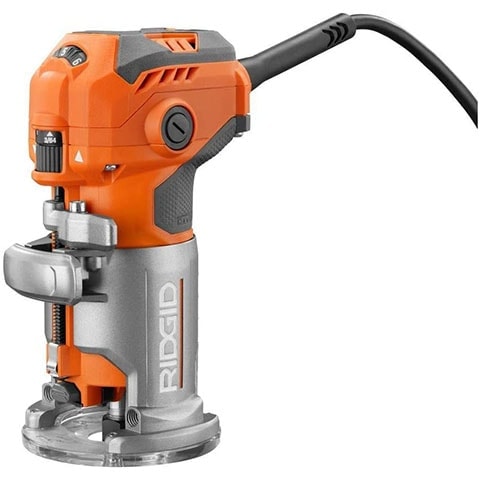 Ridgid makes another laminate trimmer with solid power and a few extra features. The 5.5-amp motor delivers 20,000-30,000 RPM. It comes with variable speed adjustments. Unfortunately, it doesn't extend to lower speeds so may not be applicable for all projects. It offers electronic feedback for continuous power under varying loads.
It also comes with both round and square bases. The square base helps with establishing an edge guide.
A release lever allows for easy large adjustments and motor removal. The rack-and-pinion micro-adjustment dial is great for finer depth adjustments.
The top of the router is designed to be set upside down on surfaces. It has a flat top so it won't tip over. It's also over-molded with rubber in order to prevent damage to your project if you set it down. This is handy when you step away or for better line-of-sight when you're changing a bit.
The lighting also bears some mention. It comes equipped with LED surface lighting to increase visibility while you're working. The plug is also lighted so you know when your tool is powered.
It's designed for single-wrench bit changes. A spindle-lock mechanism allows for this possibility. This is also one of the lowest-profile routers around. At 4 pounds and 6.5 x 3 x 3 inches, it's designed for the maximum in storage and portability.
While this is a fairly solid router, there are a number of drawbacks. The bits tend to loosen under extended use. Bit changes are made a hassle by two factors. The first is a sloppy spindle lock. The excess rotation means it's hard to get a good turn on the nut. To compound the problem, the base offers minimal access so it requires numerous strokes to loosen or tighten the nut. It's also a little tricky to remove the motor from the unit.
If you're looking for a plunge router, this isn't the direction to go. There are no aftermarket plunge bases available for this model. Additionally, this router gets extremely hot to the touch under heavy use.
Pros
High speed
Variable speed adjustments
Designed to rest upside down
LED lighting
Lit plugs
Tiny
Spindle lock for single-wrench changes
Cons
No lower speed settings
Bits loosen under extended use
Sloppy spindle lock
Hard to change bits
Difficult to remove motor from housing
No aftermarket plunge base available
Gets hot under heavy use
---
9.

Goplus Wood Router Tool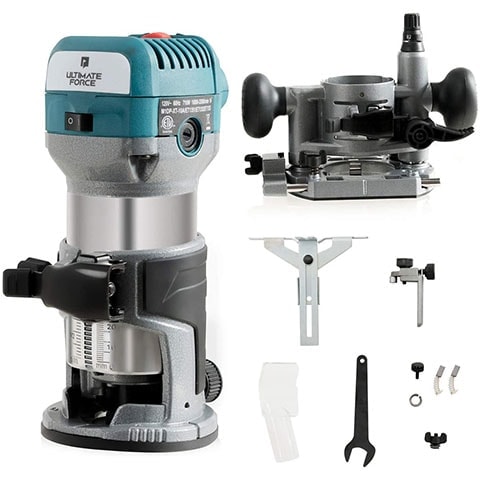 The Goplus router offers a versatile, powerful tool. One feature that makes it unique among this selection is that it comes with two bases. The first is a standard round fixed base. The other is a plunge base, so you get two functions for the price of one.
It sports a 6.5-amp motor that puts out 1.25 horsepower. It runs at 6 variable speeds between 10,000 and 32,000 RPM. This allows for precise adjustment to the project you're working on.
It also features easy motor removal. All it requires is a simple lever release.
The entire router is aluminum and nylon. This makes it a very durable unit, suitable for rough work environments.
It comes with a dust cover. This prevents dust spatter. It can also be attached to a vacuum for cleaner work.
It has a number of other excellent features. It has external carbon brushes for easy replacement. There's a scale on the router for easy depth adjustment. It also includes a trimming guide. It can handle both ¼-inch and ⅜-inch chuck diameters. It has a quick-change button for bits.
On the down side, at 10.98 pounds and 13.5 x 11.5 x 10.5 inches, it's bigger and heavier than other trim routers, which makes it clumsier to use. Routers this size should have more power. The bit slips under heavy use, which runs the risk of ruining your projects. It also struggles with hard wood, so it might not be the best choice for those applications.
Pros
Two bases
Variable speed
Easy motor removal
Cons
Bigger and heavier than other trim routers
Bit slips under heavy use
Struggles with hardwood
---
10.

Grizzly Industrial H7791 Trim Router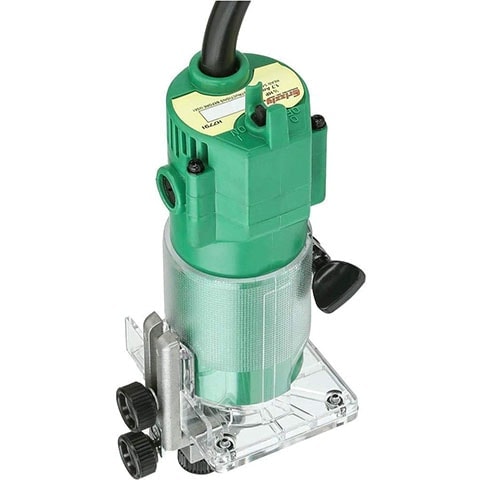 Bringing up the bottom of our list is the Grizzly trim router. It's lower-powered and less durable than other models. It has a 1.7-amp motor that runs at 0.5 horsepower. It runs up to 30,000 RPM. Its body is entirely made of plastic, which makes it less durable than aluminum models.
It has relatively simple rack-and-pinion depth adjustment. In order to adjust depth, you release the knob and then turn the depth screw. Unfortunately, the depth slips when you retighten it.
It's fairly small, but not as small as some others on this list. It's 5.2 pounds and 6.25 x 11.5 x 4 inches.
Bit changes are a little clumsy. The base has to be removed in order to do it, then it requires two wrenches to complete the job.
Despite a higher price tag and the Grizzly brand, the electronics are not top-of-the-line. It doesn't include a soft start or built-in lighting.
Cons
Depth slips
Clumsy bit changes
Underpowered
No soft start
No lighting
---
Buyer's Guide – Choosing the Best Trim Router
With all the options out there, buying a good router can be a challenge. There are a lot of moving parts and a lot of options, any of which could be benefits or downfalls. Use the buyer's guide below along with the reviews above to make your decision a stream-lined checklist, rather than chaos. The following guide lists features to keep an eye on while you're making your decision.
Horsepower
While trim routers don't generally have the same power as their full-sized cousins, it's possible for a small router to pack a lot of punch. The more powerful it is, the better it can handle a variety of material. Don't settle for less than 1.25 horsepower on a trim router. If you can find one more powerful than that, all the better.
Size and Weight
Small routers are easier to control in detail-oriented situations. For a trim router, the smaller the better. Shoot for under 5 pounds and the smaller dimensions the better. There are a number of routers on this list that match those specifications. Smaller size also makes them easier to store and haul around.
Speed and Speed Adjustments
Don't just look for high maximum speed. Look for a range of speeds and a variable speed dial. This allows you to match speed to the project you're working on. Look for routers with a variable speed range of 10,000 to 32,000 RPM.
Electronic Controls
Variable loads during routing can result in strain on the motor, which can slow it down, running the risk of damaging your project or getting bogged down. More advanced routers have electronic control systems. These allow the router to sense heavier loads and increase router speed to counteract it. This allows for consistent speeds throughout the project. In addition, these systems often offer a soft start, which helps prevent a sloppy beginning of a router cut.
Base Removal and Options
Base removal should be easy. Better routers are equipped with a simple clip that once released will allow the entire base to slide off of the motor. It's also helpful if there are a variety of options for bases. These can include square or round fixed bases or plunger bases.
Accessories
Routers can come with a variety of accessories. The most popular are work surface lighting, vacuum shrouds, and edge guides. Look for features that make your life easier when you're working.
Bit Changes and Collet Security
Bit changes with routers can be a hassle. For many routers, it involves the use of two wrenches working in concert, which means you don't have a hand on the router while you're changing the bit. All this makes for a clumsy operation. Better trim routers have a spindle lock button that allows for single-wrench bit changes. It should also be confirmed that the collet doesn't loosen easily during work. A loose bit can not only ruin projects, but pose a potential safety threat.
Depth Adjustment and Security
Depth adjustment can be as simple as loosening the collar and sliding the motor up and down. While this is effective for gross adjustments, it's useful to have a mechanism for fine adjustments as well. The best routers offer a mechanism for adjustments as fine 1/64 of an inch. In addition, you'll want a router that holds its depth. Look for routers with secure depth hold. This will prevent many ruined projects.

Conclusion
That wraps up our round-up of the ten best trim routers. Our top pick was the DeWalt DWP611 router. It offers solid power, compact size, and a wealth of features. If you're looking for a bargain, the best router for the money was the Bosch PR20EVS router tool. It's got plenty of powerful, durable, and better-priced than many models out there.
We've done the work for you to trim away the excess when it comes to the routers out there. With these reviews and the buyer's guide in hand, hopefully your new router decision will be easier.
Related articles you may want to read: