8 Best Router Tables of 2023 – Reviews & Buying Guide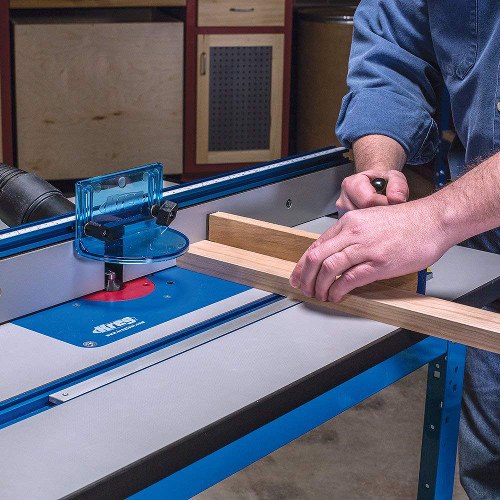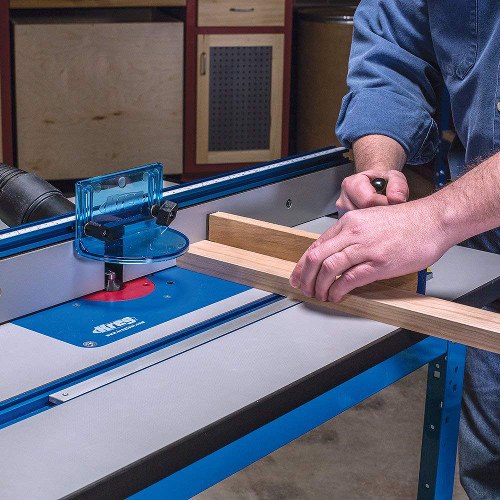 If you are a craftsman or woodworker who often works with a router, a router table is an important piece of equipment to have for a fully rounded out workshop. These tabletops make a difficult job simple, plus they allow you to work much more efficiently. In general, if you don't have a router table, you're missing out.
If the time has come to make this all-important purchase…you will have your work cut out for you. There are so many options available that finding the best one for your needs and workspace is not easy. Though they all claim to be the best, we all know that is not the case.
So, where do you turn?
If you have landed on this page, you have turned to the right place! We have done all the necessary searching and researching, and we have found the best eight options available. Check out our reviews below for each router table's dimensions, versatility, extra features, and ease of use.
But that's not all folks, we have also thrown together some helpful tips on how to find a good router table, as well.
A Quick Comparison of Our Favorites
Rating
Image
Product
Details

Best Overall

Bosch RA1181 Benchtop Router Table

Rigid mounting plate
Extra tall fence
Dust collection port
CHECK PRICE

Best Value

Rockler Trim Router Table

Durable acrylic top
Adjustable fence
Can be used with a dust port
CHECK PRICE

Premium Choice

Kreg PRS2100 Bench Top Router Table

Adjustable faces
Dust-port
Portable
CHECK PRICE

Dremel 231 Portable Rotary Tool Shaper and Router Table

Portable
Adjustable faces
Easy to set-up and takedown
CHECK PRICE

Skil RAS900 Router Table

Full-size portable table
Extra storage compartments
A tall fence with adjustable faces
CHECK PRICE
The 8 Best Router Tables – Reviews 2023
1.

Bosch RA1181 Benchtop Router Table – Best Overall
The Bosch RA1181 Benchtop Router Table is our first suggestion. This is a 22.75" X 27" X 14.5" table that has many functional features. It has an aluminum top that is durable and built for precision. It also has an aluminum mounting plate that is pre-drilled to be compatible with various routers. Not only that, but it's also great for the above table height adjustments.
The Bosch table has an extra aluminum fence and adjustable faceplates and feather boards. This allows you to be precise, but also have a further range and versatility. What's more, you will have a convenient dust-collection port that fits most standard vacuums that are 2½ inches. This will help keep your area dust-free and tidy.
The feather boards on this option are easy to use, plus they are adjustable and protect you from kickback. There is also a ¾-inch accessory slot for other devises and saws, and a storage pocket for your additional items. You also have a 6-foot power cord that has its own storage compartment when not in use. Finally, you will receive two outfeed shims, starter pin, and guard that are handy for working with curved wood. In general, this is our top pick for a router table. Overall this is the best benchtop router table available today.
Pros
Durable aluminum top
Rigid mounting plate
Extra tall fence
Dust collection port
Additional accessory slots
Starter pin and guard
---
2.

Rockler Trim Router Table – Best Value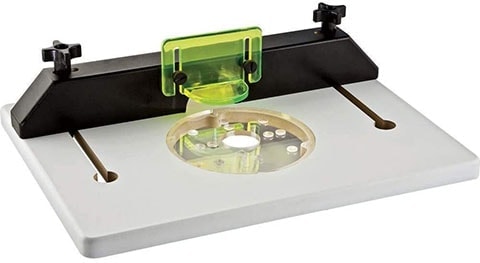 Router tables don't always come cheap, but we did manage to find a great option with a decent price tag. The Rockler Trim Router Table is the best router table for the money. This is a portable table-top option that can be mounted in many locals. The pre-drilled holes allow you to clamp it to an existing workbench, a table, or even the tailgate of your truck. This model is easy to set-up and just as easy to take down.
This option has a ¼-inch thick acrylic base and is 11½" X 15½" X ¾". You can use the Rockler tabletop to do either free-hand work, or you can use the pre-drilled holes that will fit most standard trim routers. The wide, level base is great for stability and accuracy, as well. You will also find an adjustable fence that can be used with the Rockler dust port. At 6.72 pounds, you can bring this table from job to job for all your detailed work. The only downside to this option is it's designed for trim work only.
If you use your router for round overs, chamfers, and other small jobs, this is a good option for you. On the other hand, if you are looking for something that will be compatible with a full-sized router, this is not going to be enough for your needs. A trim-router specialist on the go will benefit greatly from this option, however.
Pros
Portable and lightweight
sets -up and breaks down quickly
Durable acrylic top
Adjustable fence
Can be used with a dust port
---
3.

Kreg PRS2100 Bench Top Router Table – Premium Choice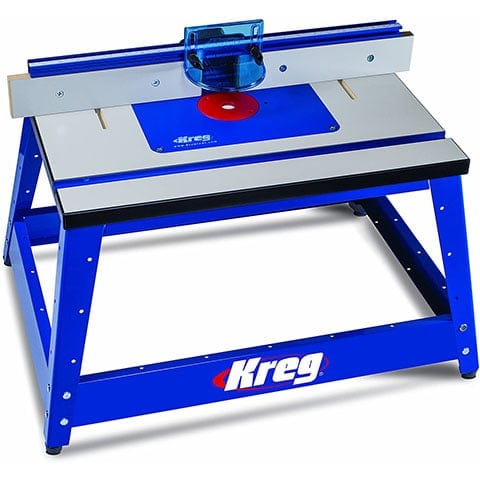 If you want a premium table for your router jobs, the Kreg PRS2100 Bench Top Router Table is a good place to start looking. It has an extra-large tabletop measuring 16" X 24". It also has a wide-stance steel base that is durable, stable, and trustworthy. You will find this model has an industrial fence that has adjustable faces and a dust-collection port.
The Kreg comes with vertical jointing and new cam clamps. It is designed for a full-size router and has an insert plate precise leveler plus new Level-Loc reducing rings all of which are designed to make you more efficient and secure. It has an Easy-Slide surface, as well.
The biggest downside to this model is the price tag. It will cost you more than our other two options, but it is well worth it. The extruding aluminum fence is heavy-duty, but the rubber feet keep vibration and noise low. Lastly, this ⅜" X 9 ¼" X 11¾" table is portable. You can set it up in your workspace as a permanent fixture or easily assemble and disassemble it at different job sites.
Pros
Extra-large durable top with steel frame
Adjustable faces
Dust-port
Portable
Level-Loc reducing rings
---
4.

Dremel 231 Portable Rotary Tool Shaper and Router Table
The Dremel 231 Portable Rotary Tool Sharpener and Router Table is a multi-functional option for the all-around craftsman. It is a large 8" X 6" tabletop that can be mounted on any tool bench or table. It's easy to set up and take down for the on-the-go- handyman. This option is also durable, lightweight, and can be used as a wood sharpener.
As noted, this model is only designed for light work such as making slots, grooves, or sanding items. That being said, you can easily accomplish this on both conventional and irregular shapes. The Dremel has an adjustable face you can make use of, as well. It is also great for precision work.
Something else to note about the table is it's compatible with only Dremel corded routers and one cordless option. Not only that, but it also doesn't have a dust-port to help keep your work area clean. Beyond that, it has predrilled holes for a secure connection to the surface of your choice.
Pros
Portable
Adjustable faces
Easy to set-up and takedown
Great for precise work
Cons
Only compatible with corded Dremel products and one cordless option
No dust port
---
5.

Skil RAS900 Router Table
Our next pick is the Skil RAS900 Router Table. This is a full-size model that has a laminated medium density fiber (MDF) top. This is a folding model that comes pre-assembled, so all you have to do is unfold the legs and get to work. You will also find plenty of storage space for your router accessories like the fence and router bits. Plus, you will also receive a guard, feather board, miter gauge, and bit inserts. There is also additional storage space for other items.
The Skil table has dual feather boards, a starter pin, and a guard for security when working on curved pieces of wood. What it doesn't have is a dust port to keep your space clean. On the other hand, you will find the bit height gauge handy for precision, and it has a quick-release router mount that grabs and let's go of your tool in seconds.
A drawback of this model is the overall stability. Although the folding legs make it portable, they are not always as sturdy as you need them to be. It does have a tall fence and adjustable faces. Unfortunately, the routing mount does not allow for easy bit changes, and it can throw off your level. Caution is advised.
Pros
Full-size portable table
A tall fence with adjustable faces
Extra storage compartments
Starter pin and guard
Cons
No dust port
Not as sturdy with folding legs
Bit changes make table not level
---
6.

Goplus Electric Aluminum Router Table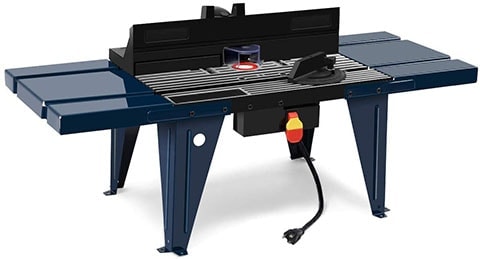 Coming in at number six we have the GoPlus Electric Aluminum Router Table. As the name states, this is an aluminum option that features an 18" X 13" tabletop with two extension tables that measure 7.8" X 13". This will give you ample space to complete any router project you have. They also have an easy slide surface with a fence that has a transparent guard to keep wood chips from flying around. Keep in mind, however, this table is designed for routers with a 6-inch diameter base only. Router bits with base plates of this size will work, though it won't be compatible with other sizes.
The GoPlus has a versatile fence that provides support around the bit, plus it has a jointing fence for vertical projects. The miter gauge can be used to measure angles, but it is not as accurate when it comes to keeping your cuts straight. On the other hand, the frame is made of durable steel for stability.
This model has a rust-proof table top with a wide stance frame. It's important to note, however, the construction of the table allows for more vibration than other models. What's more, this option takes more time and effort to assemble. It is not a router table you will wish to travel from job to job with. Other than that, it has a dual outlet switch with a 3-prong plug.
Pros
Extended table tops
Transparent fence guard
Jointing fence for vertical projects
Rust-proof aluminum top
Cons
For 6-inch routers only
Higher vibration
Harder to assemble
The miter gauge is not as accurate
Wood Shaper vs Router – What's the Difference?
---
7.

Grizzly Industrial T10432 Router Table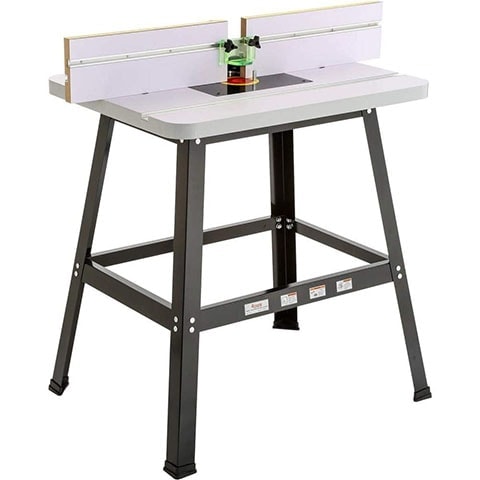 The second to last option we found is the Grizzly Industrial T10432 Router Table. This is a 31⅞" X 24" tabletop that is made in an A-frame design. It has a steel stand that is, unfortunately, not always level. What's more, this model has a considerable amount of vibration and is consequently not as sturdy. Besides that, however, it has a large adjustable fence with T-slots and a universal router mounting plate.
You will also find the Grizzly has a 2½-inch dust port. What you will discover is the dust port is not as effective as it should be. On the other hand, the split fence can be shimmed for jointing, plus it has two removable inserts. What's more, it has a starting pin for freehand routing. Be advised, the starting pin is not durable and can malfunction.
To table has melamine laminate and polyethylene edges, and a 33-inch anodized aluminum mounting bracket. The T-slots are great for mounting feather boards and jigs, but the measurements can be off. The pieces will not always fit. This router table also has a measuring tape that can be read from left or right.
Pros
Adjustable fence
Universal mounting plate
The split fence can be shimmed for jointing
Cons
Dust-port is not effective
High vibration
The table is not level
The starting pin is not durable
---
8.

MLCS 2394 Extension Router Table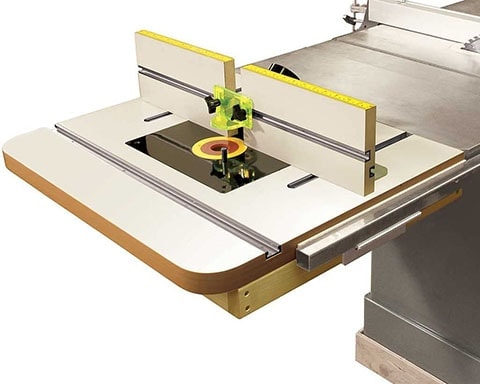 Our final suggestion is the MLCS 2394 Extension Router Table. This is a router table that is designed to be an extension of a table saw with a standard fence. Unfortunately, what many customers find is that it doesn't always fit the "standard" fence. It can be mounted on either the right or left as long as it has a 27" deep top. The extension table itself is 1 ⅜-inch thick and 23½" X 27".
The MLCS has a melamine surface that is not as durable as we would like, though it has MDF core and polyethylene edges. It also has an aluminum T-track slot and a miter slot. You can use them to attach feather boards or jigs to the fence. Again, it's important to note that the T-slots are not durable nor sturdy. You will find a dust-port with a shop vac hose adapter, however.
This model attaches with hex screws with a magnetic insert to the top. With that being said, it has been known to not only be off-kilter but in some circumstances, fall off completely. Overall, the durability is not good nor is it a stable option. This table has a high split fence for vertical routing and a durable plastic safety guard. Unfortunately, these things are not effective when the entire table is not secure. Unless you make modifications, this is not the safest option, and it is our least favorite option.
Pros
Can be mounted on right or left
Dust-port
Cons
Not durable
Does not fit a lot of table saws
Can potentially fall off
T-slots are not durable
Does not stay level
---
Buyer's Guide: How to Find the Best Router Table
When working with a router, many jobs can prove very difficult when you try to freehand the work. Having a router table not only allows you to safely complete the trickier aspects of woodworking, but it also provides you with a safe and secure place to accomplish all of your projects. With so many options available, you will find that each table offers different features, though. Depending on your crafts and jobs, these things may prove useful or not at all.
Shopping Tips
Before you head out to purchase a router table, you want to take a long look at the projects you typically work on, and the needs you have that are currently not being met. This will give you a better idea of the type of table that will work best for you.
Take a look at some of these features to see which ones are appropriate for your workmanship.
Portable or Stationary Tables: Router saws can be either portable or stationary. You can even find ones that are both. If you are a DIY woodworker that needs a table for at-home projects, a stationary table will likely be your best bet if you have the room. You can opt for a table extension, as well, if space is limited. On the other hand, if you are a carpenter or craftsman with various clients, a portable table is a good option. They can range from full-size folding tables to tabletop or extension options.
Fences: Your fence is another important aspect of your table you need to consider. It is the epicenter of the piece, and it will determine the type of work you can do. For example, some fences are extra high and have feather boards and starter pins for working on curved wood. You also have split fences for vertical projects. Again, these features will be determined by the type of work you do.
T-slots and Insert Plates: One of the most important features of your table is the insert plates or T-slots. You want to ensure that your particular router will be compatible, and you want to make sure it will be secure, stable, and efficient.
Table Top: Many table tops are made of aluminum to keep them lightweight, level, yet durable. Having an uneven surface can cause a lot of issues, plus you want a space that is going to be durable, as well. Besides the material, you should also be considerate of the size. It goes without saying that portable options can be on the smaller side, however, you want to ensure you have enough space to work comfortably and safely.
Dust Ports: This is a feature that can fall beneath the radar, but is important, nonetheless. A dust port allows you to attach a vacuum to the table to keep the worst of the wood chips and dust at bay. Some router tables use a transparent fence guard to trap the debris, but they are usually not as effective.
Vibration: Having a table that shimmies across the floor while you're trying to use your router makes for tough working conditions unless you plan to make woodworking an Olympic sport. Look for low-vibration ratings and accessories such as rubber-coated feet.
Extras: There are several other features of a router table; some of which may be more useful for you than others. For example, some tables come with additional storage space for your accessories. Others have accessories built right in. With that being said, there is a good option for every craftsman if you know what to look for.

Conclusion
To make your work more efficient and your projects more enjoyable, we hope this article has given you some food for thought on what router table will fit best with your skills. As our reviews showed, we like the Bosch RA1181 Benchtop Router Table. This is a sturdy and durable option that gives you a lot of versatility and stability.
Our second favorite option is also an affordable one and will make a great starter-table for the novice router saw craftsman. The Rockler Trim Router Table is a good option for someone who regularly works on small and precise projects, as well.
Also, we have a router lift buyer's guide. Feel free to read it if you're interested!