10 Best Water Heaters of 2023 – Reviews & Top Picks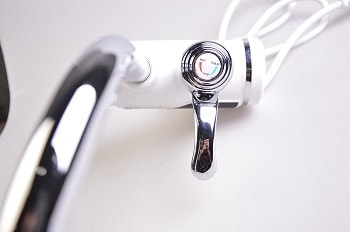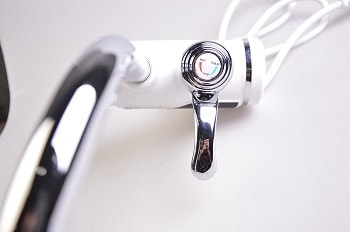 If your water heater has ever been out of commission for some reason and you had to take cold showers for any length of time, then you know just how much we rely on these valuable appliances. But they're not all created equal and depending on your situation, only particular types may even be applicable.
If you're looking for a new water heater, you're going to find scores of available models. But which one should you choose? To help you narrow down the choices we've put together a list of the best water heaters of all types. We've tested and tried tons of water heaters and these were the ones that impressed us the most.

A Quick Comparison of our Favorites in 2023
Rating
Image
Product
Details

Best Overall

Camplux Tankless

Provides hot water instantly
Energy-efficient design
Can supply an entire house
CHECK PRICE

Best Value

BISELONG Electric Mini-Tank

Affordably priced
Max temp of 167 degrees
Works in many applications
CHECK PRICE

Best Electric

Ecosmart ECO 18

Never runs out of hot water
Self-modulating design
Lifetime warranty
CHECK PRICE

Best Gas

Rinnai V65eN Tankless

Hot water is instant
10 years heat exchanger warranty
5-year parts warranty
CHECK PRICE

Best Tankless

Rheem RTEX-13

Up to 3.17 GPM flow rate
Self-modulating power control
Provides even heating
CHECK PRICE
The 10 Best Water Heaters
1.

Camplux Tankless Electric Water Heater — Best Overall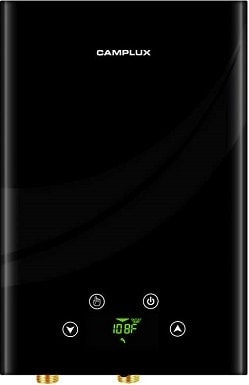 With flow rates ranging from 3-6 gallons per minute, the Camplux Tankless Electric Water Heater can provide your entire home with hot water without the need for a gas hookup. It runs entirely on electricity, but you'll need a 240V circuit with 3 50-amp 2-pole breakers to run it. Still, it's hard to beat the convenience of instant and endless hot water in the entire house.
Since there's no tank of water to keep warm, this tankless water heater helps to save you money on your energy bill since it only heats water when you need it. You'll also conserve water in the long run because you'll never have to wait for the water to get warm again.
Water heaters with large tanks take up a lot of space in your home, but the Camplux water heater is small and tankless, so it can be easily tucked away and even hidden under your sink. Despite its small size, it's got 87,500 BTUs of heating power, so it can heat your entire home's water to a maximum of 125 degrees.
Pros
Provides hot water instantly
The energy-efficient design saves money
Can supply an entire house with hot water
Compact design saves space
Cons
Requires a 240V electrical circuit and 3 50A 2-pole breakers
---
2.

BISELONG Electric Mini-Tank Hot Water Heater — Best Value
Many water heaters require that you hire a licensed plumber for installation. However, the BISELONG Electric Mini-Tan Hot Water Heater is much simpler and most homeowners can install it on their own. It simply plugs into the wall and all the fittings you need for the single input and output are included.
This unit is very small, making it great for sticking underneath a sink or even in a small living space like a tiny home or RV. But the tiny size can also work against it. It's only intended to provide hot water to a single point of use such as a kitchen sink. The tank is just 2.5 gallons and once you empty it, you might wait as long as 15 minutes to get hot water again.
You'll find that many electric water heaters top out around 130 degrees, but this heater will heat your water to a maximum of 167 degrees. It's got a smart chip that lets you set your desired temperature and the chip will keep your water there. Best of all, it's affordably priced so most people can afford to add instant hot water to any sink in their home.
Pros
Affordably priced
Max temperature of 167 degrees
Small size fits easily under the sink
Works in many applications
Cons
Only intended for a single point of use
Can take up to 15 minutes for the second tank of hot water
---
3.

Ecosmart ECO 18 — Best Electric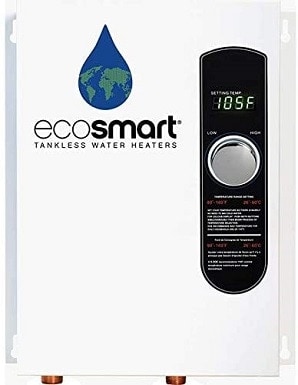 Traditionally, water heaters kept a tank full of water warm for when you needed it. But keeping all that water warm takes a lot of energy, especially considering that it will only be used a few times each day. The Ecosmart ECO series aims to remedy this issue with their self-modulating water heaters.
These heaters only use the amount of energy needed to provide the hot water you need. Plus, the ECO 18 is completely tankless, so it doesn't waste energy keeping a reserve of water warm. It simply heats the water on-demand when you ask for it. This means you can never run out of warm water, unlike those old water heater tanks that take forever to refill and reheat once you empty the tank.
With this water heater, you get precise temperature control. Just set the temperature you want and the ECO 18 will make sure your hot water is always that temperature. Since it's built to last, you get a lifetime warranty to protect your investment. It does cost more upfront than some of the other models, but the high quality, energy-savings, and lifetime warranty are worth the extra cost.
Pros
Self-modulating design conserves energy
Lifetime warranty
Never runs out of hot water
Set the precise temperature you want
Cons
It's a larger investment upfront
---
4.

Rinnai V65eN Tankless Water Heater — Best Gas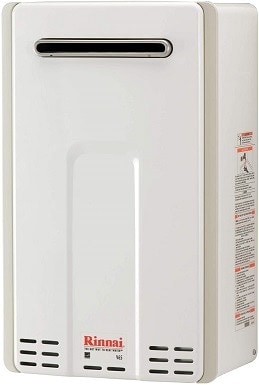 If you're looking for the best gas-powered water heater on the market, look no farther than the Rinnai V65eN. Though it's set up for use with natural gas, it's also available in a propane model. It's small and compact, especially considering that it provides enough hot water to supply an entire house. This one has a flow rate of 6.5 gallons per minute, but models in the same lineup are available with flow rates up to 9.4 gallons per minute to supply even large homes with instant hot water.
Waiting for hot water to get to your shower or sink can result in the wasting of substantial amounts of water each year. But the Rinnai V65eN recirculates your hot water, meaning that you'll have hot water the moment you turn the sink handle and won't waste any water waiting for the hot water to get to the faucet.
With a maximum of 120,000 BTUs, this is one powerful water heater. But it's also got some impressive longevity. Included is a 5-year warranty on the parts and a 10-year warranty on the heat exchanger. Granted, it's not cheap, but considering the quality and features, we think it's worth the higher price.
Pros
Impressive 6.5-GPM flow rate
120,000 BTUs
Provides unlimited hot water
Hot water is instant — no waiting
5-year parts warranty; 10 years on heat exchanger
---
5.

Rheem RTEX-13 — Best Tankless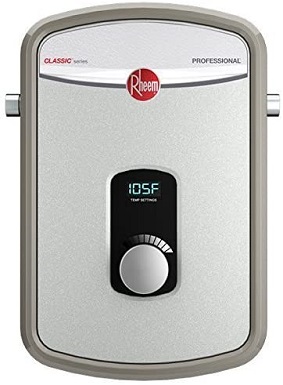 There are many tankless water heaters on the market these days, but we think the Rheem RTEX-13 is one of the best. It's small, compact, and provides an endless supply of hot water to the fixtures in your home. Best of all, the temperature never fluctuates, so you can say goodbye to cold patches of water hitting you uncomfortable and unexpectedly in the shower.
Though it's a very small unit, the Rheem RTEX-13 has a maximum flow rate of 3.17 gallons per minute. This is plenty for a home with 1-2 bathrooms. Generally, such a home would require a water heater with a capacity of between 30-50 gallons. This would mean keeping all that water hot all the time. But the Rheem tankless water heater uses self-modulating technology to only heat the water when it's needed. This saves energy, which saves you money on your energy bill in turn.
On the downside, this water heater does need a 240V electrical circuit. This means it's not well-suited as a point of use heater, but it will do well providing hot water for your whole home.
Pros
Digital display and thermostat control
Up to 3.17 GPM flow rate
Self-modulating power control conserves energy
Provides even heating with no temperature fluctuations
Cons
Requires a 240V electrical circuit
---
6.

Duda Solar 30 Tube Water Heater Collector — Best Solar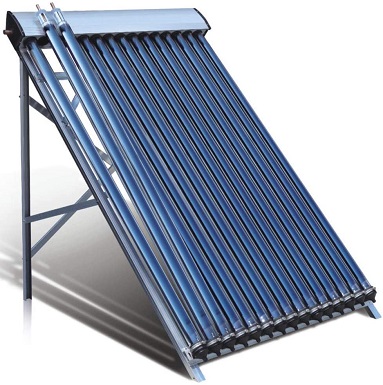 Recently, there has been a big push towards alternative energy. One great way to implement some alternative energy savings into your household is with the Duda Solar 30 Tube Water Heater Collector. This water heater is a series of glass tubes installed on your roof where they can absorb the sun. Your water flows through the tubes, absorbing the heat from the sun. Then, the water gets stored in a tank like a normal water heater until you're ready to use it.
This system is a bit of an investment to get started with. Worse, it's just the tubes and solar device. To complete the system, you'll need to get a tank to hold the hot water and a pump to circulate it, costing even more upfront. But you'll save quite a bit in the long term since you won't have to pay to heat your water anymore. You'll also get a 30% federal tax rebate, which means additional savings.
These tubes have a 15-year lifespan. In case anything happens to some of them, a few extras are even included. Plus, since the system isn't terribly complicated you might be able to install it yourself.
Pros
Saves tons on your electric bill
30% federal tax rebate
15-year lifespan
Includes spare tubes
Cons
Requires a separate pump to circulate the hot water
More of an investment upfront
---
7.

Portable Propane Tankless Water Heater — Best Portable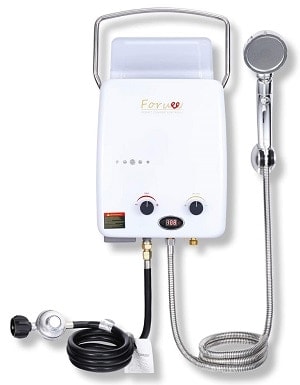 For families and individuals that are always on the move, this Portable Propane Tankless Water Heater provides ample amounts of hot water wherever you need it. Whether you're camping, washing the dog, or just showering off after a swim in the lake, this device is the perfect portable solution.
At just 9 pounds, this water heater is light enough to carry to the campsite without issue. It's less than 2 feet tall including the handle and less than a foot wide, so it packs away easily in any trunk or backseat. It's also dead-simple to use. Just attach a propane canister to the included hose and screw a water hose into the heater. You can use the included shower head attachment to wash off with up to 1.32 gallons per minute of water.
While most water heaters have to be plugged in, this portable device runs on 2 D-cell batteries. This means you'll never be tied to any power cords. As long as you have access to propane, you can have hot water with this water heater.
Pros
Space-saving design
Runs on 2 D-cell batteries
Weighs just 9 pounds
Provides hot water wherever you need it
Included showerhead makes it easy to shower off
---
8.

Bosch Electric Mini-Tank Water Heater— Best Mini-Tank
Tired of waiting at the kitchen sink for the water to get hot? It's something we all experience, and that time waiting for the hot water wastes a lot of water in the long run. But the Bosch Electric Mini-Tank Water Heater is a great solution for precisely this problem. It's a small 2.5-gallon water heater that mounts under your sink, providing hot water the instant you turn the handle.
With a thermal efficiency of 98%, you won't be losing any heat or wasting any electricity with the Bosch Mini-Tank. Plus, it's very easy to install. Just tap into the water line and plug the device into a standard 120V outlet. No professionals needed. Even better, this water heater is affordably priced, making it easy for anyone to have instant hot water at their sink.
On the downside, the 2.5-gallon capacity isn't going to supply your whole home or even just a shower. It's available with larger tanks of 4 or 7 gallons, but that's still not going to heat water for a shower since the average person uses around 17 gallons of water per shower.
Pros
Affordably priced
Plugs into standard 120V outlet
Easy to install
Provides instant hot water for up to 2 sinks
Cons
Won't supply a whole home or even a shower
---
9.

A.B. Crew Water Heater Faucet — Best Faucet Heater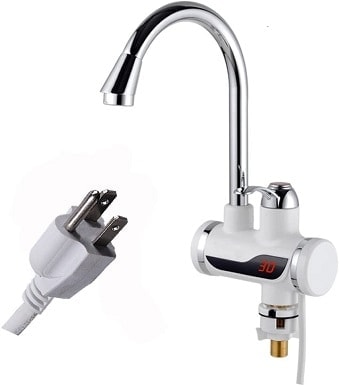 Though several solutions exist to provide hot water from your faucet the moment you turn the handle, they can be a bit expensive and take up additional space in your already cramped under-sink cabinet. If you're looking for a cheaper and easier solution, you might consider a water heater faucet, such as this one from A.B Crew.
Inexpensive, simple, and easy to install, this device will provide you with nearly-instant hot water from your sink. The heater is actually built into the faucet, so you won't have to wait for hot water to flow from another source. Once you turn the handle, it takes just 3-5 seconds for hot water to start flowing.
Installation is easy since this faucet just plugs into a standard 110V outlet. It will replace your existing faucet, so you'll just need to unscrew your current faucet and hook this up in its place. No need to call in the professionals.
Of course, this heater doesn't get as hot as some. In the winter, you can expect it to raise water temps by 20-40 degrees. It does better in summer when it can raise the temperature by 30-50 degrees.
Pros
Affordable
Easy to install
Provides hot water in 3-5 seconds
Cons
Doesn't get as hot as other water heaters
---
10.

EZ 101 Tankless Water Heater — Best for RV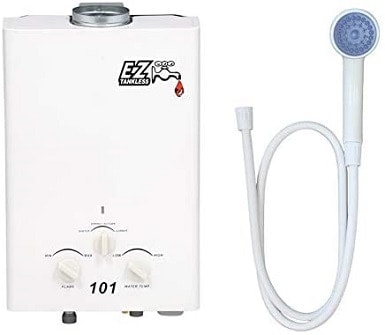 Tankless and portable, the EZ 101 Water Heater is the perfect solution for RVs, travel trailers, camper vans, and any other place with hot water demands and only minimal space. This device runs on propane gas, which is already installed in most RVs and similar living spaces. The ignition is powered by 2 D-cell batteries, so no power wires are needed and there's no pilot light; a safe and convenient design.
This water heater includes a low-flow showerhead and hose so you can use it as a shower with no additional parts. Just hook up the propane, screw in a water hose, and you've got hot water for your shower. But if you're going to use it in an RV, you'll need to vent it to the outside. Alternatively, you can use it outside or set it up outside and run the shower head inside.
Depending on the season, you can set the heater to run more of the jets with winter, spring, and summer settings. You also get flame adjustment and water flow adjustment dials to precisely set the temperature and water flow you want.
Pros
Easily adjustable with multiple settings
Portable
Runs on propane and 2 D-cell batteries
Includes a water-saving low-flow showerhead
Cons
Needs to be vented to the outside

Buyer's Guide – Choosing the Best Water Heater
As you can tell, there are plenty of excellent options available when it comes to water heaters. Whatever your needs are, there is certainly a water heater that's tailor-made to solve your problem. But how do you choose the right water heater for your situation?
After testing so many of these water heaters, we have a pretty good idea of what separates each of them and how to decide which ones will best suit your needs. Let's take a quick look at the most important factors to consider that will help you make the right choice.
Where Do You Need Hot Water?
The first question you have to answer is — where do you need hot water? You should get specific with your answer. Are you looking for a replacement water heater to provide hot water to your whole home? If so, your needs are much different than someone who's looking to get hot water to their kitchen sink the instant they turn the handle.
For a whole home, you need a large water heater that can produce more water. The size will depend on the size of your home. If you have just one bathroom in your house, you could get away with a tankless water heater that provides at least 3 gallons per minute. On the other hand, if you've got multiple bathrooms and several people living in your home, you might need 6 gallons per minute of hot water or possibly even more.
If you just want instant hot water at any particular faucet, then you don't need a whole house water heater. Instead, you need a point of use heater. These are much smaller and have lower flow rates since they supply just a single faucet. You could get a tankless one or even consider a mini-tank heater that holds only a small amount of water. These will ensure you get hot water as soon as you turn the knob, but they won't waste water keeping a large tank hot.
If you use your water heater away from home, then you might need a portable unit instead. These run off of propane and batteries, allowing you to have a hot shower anywhere you can get water flow.
How Much Hot Water Do You Need?
Once you decide where you need water and you figure out what type of unit will work best there, it's time to decide how much water you actually need. Even among the same types of water heaters, there are major differences in how much hot water they provide.
For instance, a mini-tank heater could be as small as 2.5 gallons, providing just enough water to wash your hands or a couple of dishes before running out of hot water. On the other hand, you can get the same mini-tank heater with a larger tank such as 7 gallons. It might even be the same model water heater, but you've got a lot more hot water available. Likewise, you'll be using more energy to keep that water heated, so it's a bit of a tradeoff.
If your point of use water heater is supplying one sink it won't need as much flow as if you're using it for 2 sinks. Determine how many devices will run on your new water heater and choose the right flow rate for your situation.
How Will You Power the Water Heater?
Do you plan to run your water heater exclusively on electricity or do you intend to use propane or natural gas? If you're replacing an existing heater, then you might want to stick to the same power source it was using, just for the sake of an easy installation. But you might decide to make a change, such as switching from gas to electric.
If going electric, you have even more decisions. Do you want a heater that runs on 110V or 240V electric? Running a new 240V circuit can be expensive, especially if you have to hire a professional. Keep this in mind when choosing a new water heater.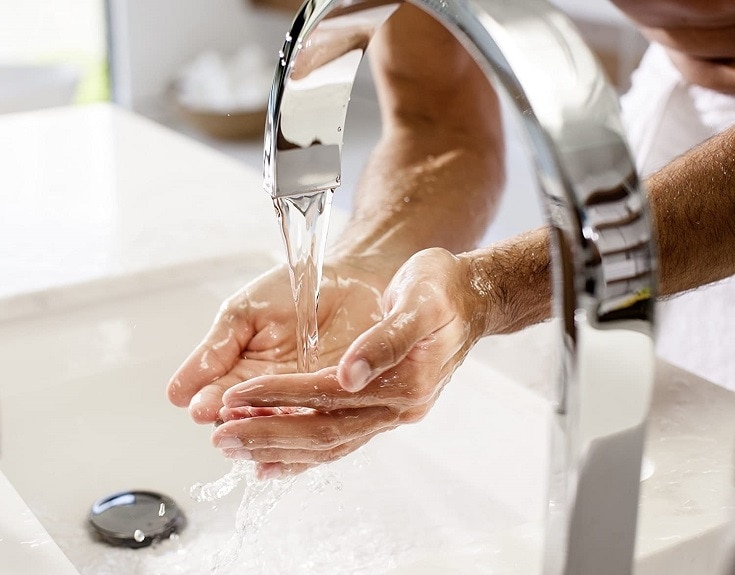 Budget
Finally, after you've made all the other important decisions, you'll want to choose the option that best fits your budget. Remember to factor in additional costs such as plumbing supplies and tools, electrical circuits, and the possibility of hiring a professional.
Not all water heaters will require these extra expenses. You might be able to install it yourself without a professional or you might already have the electrical circuits necessary. But the last thing you want is to have a certain price figure in your head just to find out that it's going to cost a lot more once everything is installed and ready for use! Be sure to determine everything you'll need and what it will cost before you purchase your new water heater.

Conclusion
There are tons of water heaters on the market that are built to suit every application you can imagine. Whether you just need hot water supplied to a single sink without waiting, a tankless heater so you don't run out of water mid-shower, or you're looking for a portable solution for showering on the go, we've covered the best water heaters for each situation.
Overall, the Camplux Tankless Electric Water Heater was our pick for the best water heater. Its compact size means it can be installed out of the way, but with 87,500 BTUs, it's able to provide instant and endless hot water for your whole home.
For the best water heater value pick, we recommend the BISELONG Electric Mini-Tank Water Heater. It's the perfect solution for providing instant hot water to a single faucet since it's small enough to tuck away nicely inside a cabinet.
If you need a gas water heater, we suggest the Rinnai V65eN. It's available in a natural gas or propane edition, and with 120,000 BTUs and a flow rate of 6.5 gallons per minute, it can provide hot water to every faucet in your home.