10 Best Tankless Water Heaters of 2023 – Reviews & Top Picks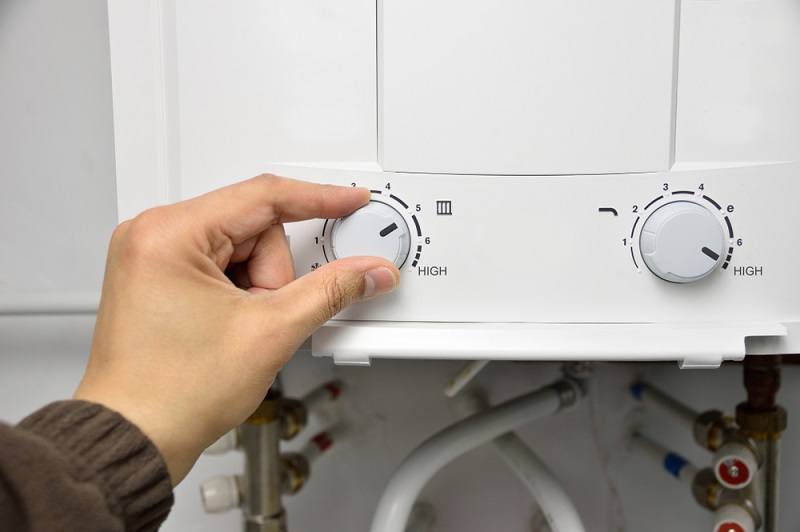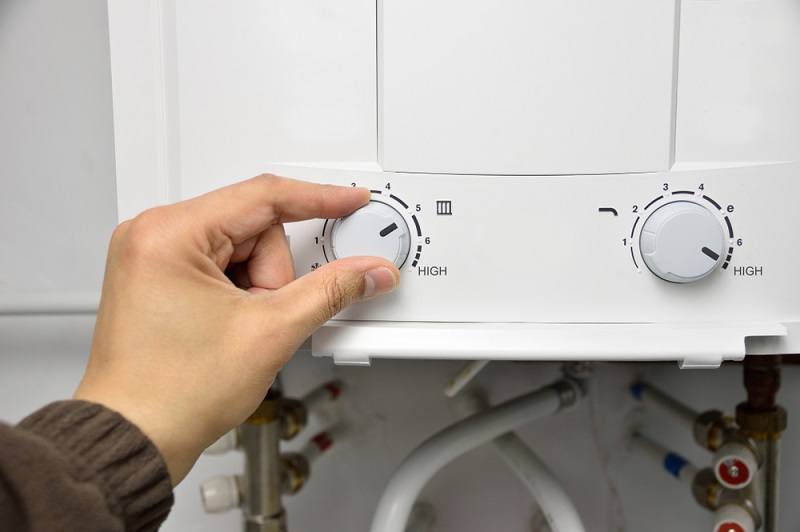 Traditional water heater tanks are notoriously frustrating. Between their inefficient energy use, constant maintenance issues, and showers that won't stay hot enough for long enough, the water heater that came with your home or apartment might have you ready to pull your hair out.
If this sounds like your life, you'll be glad to know that there's an alternative: tankless water heaters. While once reserved for special applications where water heater tanks would not fit, the technologies behind these instantaneous water heaters have continued to advance and develop each year. Now, they're a reliable option for at-home installation, and available for a much wider range of budgets.
To help you get to know this category of on-demand water heaters better, we've gathered experience and opinions from homeowners, plumbers, architects, and contractors to bring you these reviews of the 10 best tankless water heaters available on the market today. Read on to get the inside scoop on all the benefits you can expect from upgrading your in-home water heating system and our tankless water heater reviews today!
---
A Glance at Our Favorites in 2023
Rating
Image
Product
Details

Best Overall

Stiebel Eltron Tempra 12 Plus Tankless Heater

Patented flow control system
Auto-modulation
Features preset temperature memory buttons
CHECK PRICE

Best Value

Eemax EEM24013 Electric Tankless Water Heater

Precise temperature controls
Relatively quick installation
Compact design
CHECK PRICE

Premium Choice

Noritz NRC66DVNG Direct Tankless Hot Water Heater

Extra-large 6.5-gallon per minute heating flow rate
Built-in precision temperature controller
Best warranty
CHECK PRICE

ECOTOUCH Electric Tankless Water Heater

Extremely compact
Installation is simple
Remarkably consistent water temperatures
CHECK PRICE

Eccotemp L5 Portable Outdoor Tankless Water Heater

Exceptionally lightweight
Responsive customer support
Portable
CHECK PRICE
The 10 Best Tankless Water Heaters
1.

Stiebel Eltron Tempra 12 Plus Tankless Water Heater – Best Overall
Deciding on our pick for the top tankless water heater was no small feat, due to the wide array of efficient, well-designed, and affordable options available today. Thanks to its combination of easy operation, precise temperature control, and compatibility with any homeowner's needs, the Stiebel Eltron Tempra 12 Plus Tankless Heater steals the show.
A beautifully designed piece of German engineering, the Tempra 12 Plus more than justifies its reasonable price. The simple and easy to use interface lets you choose precise temperature measurements from 86 to 140 degrees F – and its patented flow regulation system guarantees a consistent temperature during use.
Add in noiseless operation, a compact and space-saving design, and impressive warranties, and it's easy to see why we would choose a Stiebel Eltron for our own home. While this specific model is a 12kW power source (suitable for a small home), you also have the option of upgrading to larger and more powerful models with the same company.
Pros
Exceptional at providing continuous hot water thanks to its patented flow control system
Auto-modulation makes it extremely energy efficient, leading to big electricity bill savings
Digital display is easy to use and features preset temperature memory buttons
Completely silent operation and small profile make it easy to install in any area of your house
Comes with a 7-year leakage warranty, and a 3-year parts warranty to protect your investment
Cons
Customer service experiences can be spotty and inconsistent
---
2.

Eemax EEM24013 Electric Tankless Water Heater – Best Value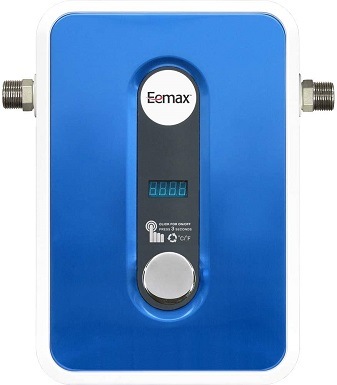 Compact, simple, and straight to the point, the Eemax Electric Tankless Water Heater punches far above its weight in the category of budget tankless water heaters. It excels as a point-of-use water heater, providing endless hot water in your kitchen or bathroom – the two areas of your home where you're most likely to benefit from the Eemax's energy efficiency.
Available for just a fraction of the cost of many of its competitors, the EEM24013 may well be the best tankless water heater for the money. Simply put, its combination of easy installation, self-modulating efficiency, and precise temperature control make it our favorite low-priced pick. Keep in mind, however, that customer service is almost nonexistent for this brand; it's better to call an electrician if you have any issues with installation.
Pros
Simple operation and precise temperature controls
Relatively quick installation
Compact design fits almost anywhere as a point of use system
Self-modulating technology makes it energy efficient
Cons
Customer service is not very responsive
Does not come with a warranty
---
3.

Noritz NRC66DVNG Direct Tankless Hot Water Heater – Premium Choice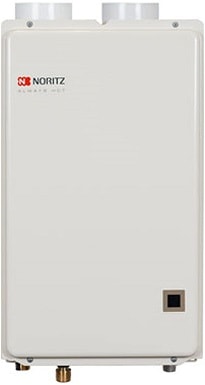 Where the previous two water heaters excelled in their individual purposes for either small homes or single point of use, this Direct Tankless Water Heater from Noritz packs enough power to provide hot water to houses of all shapes and sizes. Thanks to a big 6.5-gallon per minute flow rate, it can easily power multiple hot showers without any loss of pressure or temperature.
The tradeoff for the Noritz's exemplary performance, however, is an equally impressive cost. After purchase and installation, you'll be looking at a substantial investment that will take years to recover even with this system's efficiency-driven energy savings.
Lastly, given its series of warranties – 1 year for labor, 5 years for parts, and 12 years for the heat exchanger – the Noritz will have the time to pay for itself. If you have the upfront cash and don't mind a high startup cost, it's a premium choice that's sure to impress.
Pros
Extra-large 6.5-gallon per minute heating flow rate
Built-in precision temperature controller
Best warranties of any water heater in our review
Exceptional energy efficiency thanks to auto modulation
Cons
Quite pricey
Requires professional installation and venting
Fairly large
---
4.

ECOTOUCH Electric Tankless Water Heater – Best Compact Tankless Water Heater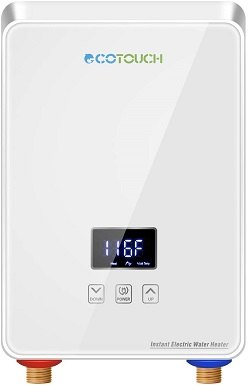 At less than 1 foot tall and barely approaching 8 inches wide, the ECOTOUCH Electric Tankless Water Heater can be installed where no other water heater could even dream of. With an exceptionally compact design and simple user interface, it's a fantastic option for beginners looking to test the waters on tankless heating.
A 5.5kW heating system provides enough juice to consistently supply hot water up to 116 degrees F. While this is certainly nothing to write home about, the smart self-adjusting system guarantees that the displayed temperature remains constant for as long as you need.
Even better, a small amount of electrical know-how (or the willingness to get your DIY hands dirty) will allow you to install the ECOTOUCH entirely on your own. It's a simple, affordable, and compact way to save water, energy, and money in your bathroom or kitchen.
Pros
Extremely compact and easy to install anywhere
Installation is simple and can be done without professional help
Provides remarkably consistent water temperatures
Easy to use digital interface requires no guesswork
Cons
Low maximum heating temperature
Has performance issues in colder climates
---
5.

Eccotemp L5 Portable Outdoor Tankless Water Heater – Best Portable Tankless Water Heater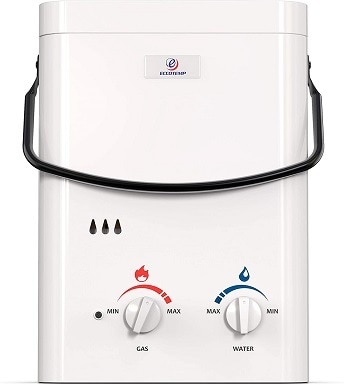 One of the very few tankless water heaters to be manufactured in the United States, the Eccotemp L5 Portable Tankless Water Heater hails from Summerville, South Carolina. Designed entirely for portable and outdoor use, it's a lightweight and easy to carry option that's especially useful for RVs and camper vans.
You'll need a standard 20-pound liquid propane tank as well as 2 D-cell batteries to power the Eccotemp, allowing it to reach temperatures up to 140 degrees F. Be warned, however, that analog controls make it somewhat difficult to achieve a precise water temperature; you'll need to fiddle with it a lot to dial in your desired temperature.
In short, the Eccotemp allows for go-anywhere hot water but requires a fair amount of troubleshooting to get precise results. Thankfully, the responsive and enthusiastic US-based customer support makes it easy to overcome any initial difficulties you might have with the product.
Pros
Exceptionally lightweight and portable
Responsive customer support
Cons
Requires 2 D-cell batteries (not included)
Difficult to dial in a precise temperature
---
6.

Rheem Heating Chamber RTEX-13 Residential Tankless Water Heater – Best Easy Installation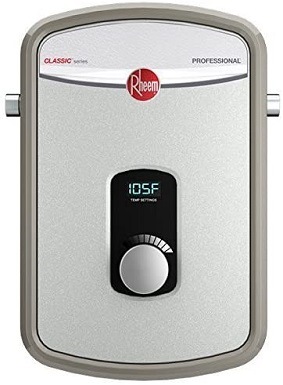 Boasting a 99.8% energy efficiency rating and one of the simplest installations of any tankless water heater in our reviews, the Rheem RTEX-13 Heating Chamber is a beautifully designed heater suitable for small homes or point-of-use applications. With its 13kW heating system and a flow rate up to 3.17 gallons per minute, it's a surprisingly powerful heater sold at an affordable price.
We were doubly impressed by the Rheem's signature water-saving showerhead mode. Dialing back the water pressure to 1.5 gallons per minute, it provided perfect water pressure while saving loads on water and electricity bills over time. Add that to a precise and easy to adjust temperature control, and we found ourselves quite impressed with this easy to install model.
Pros
Incredibly easy installation thanks to threaded pipe outlets
Excellent energy efficiency leads to big electricity bill savings
17-gallon per minute flow rate is suitable for small homes or single point-of-use applications
Shower mode makes it great for saving water, too
Cons
Can be noisy during operation
Has performance issues in cold climates and seasons
---
7.

Thermoflow 24KW Tankless Water Heater – Best High Temp Tankless Water Heater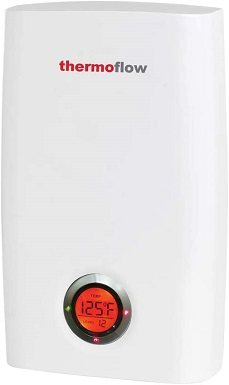 Comfortable temperature preferences for showers can vary widely from person to person – meaning that if you prefer yours on the side of "scalding hot", most tankless water heaters will be a big disappointment for you. Not so with the Thermoflow 24kW Tankless Water Heater, though! With a maximum temperature of 167 degrees F, it easily beats out every other water heater we tested when it comes time to bring the heat.
Quite compact and fairly easy to install, the Thermoflow Elex24 is equipped with a backlit LCD display and touch screen for quick, precise temperature adjustments. This is doubly backed up by a proprietary Electric Temperature Control system, ensuring a steady temperature while pressure and flow rates vary.
Overall, it's an impressively equipped tankless water heater that is only held back by a strange design decision: rather than having the installation pipes coming out of the bottom, you'll find the pipes on the back of this unit, limiting where it may potentially be installed.
Pros
Best in class water heating capabilities, up to 167 degrees F
Backlit LCD touch screen display for easy and precise temperature adjustments
Electric Temperature Control system maintains consistent heating even as water flow and pressure vary
Quite affordable for its performance, and comes with a 2-year warranty
Cons
Strange pipe placement limits where you can install it
Customer service is very hard to get ahold of
---
8.

Marey GA10LP Power Propane Gas Tankless Water Heater – Best Propane Tankless Water Heater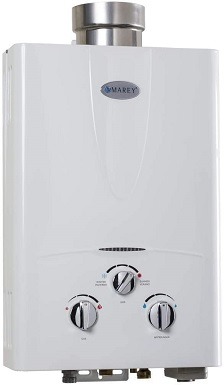 Let's be entirely clear: propane tankless water heaters like the Marey GA10LP offer little in the way of benefits for any in-home application and are designed for use with RVs or in outdoor settings. Because of this, they often lack many of the precise temperature controls found in electric heaters. If you need hot water in your camper van or stable, though, there's no better solution currently available.
As far as propane tankless water heaters go, this one from Marey strikes an excellent balance between affordability and performance. That said, it's also hampered by a poor battery placement with a flimsy plastic covering, and controls that are difficult to dial in a consistent temperature with.
On the plus side, this tankless water heater is exceptionally easy to install and comes with a 5-year warranty that's backed by helpful customer service. And with temperatures up to 115 degrees F and a 2.7-gallon per minute flow, it may well be the best option for dedicated RV enthusiasts wanting to equip themselves for warm showers.
Pros
Easy installation with clear and simple to follow instructions
Impressive 2.7-gallon per minute flow
Excellent option for installing in an RV or camper van
Cons
Battery box is poorly designed, difficult to open, and easy to break
Limited temperature controls are quite inconvenient
---
9.

EcoSmart ECO 27 Electric Tankless Water Heater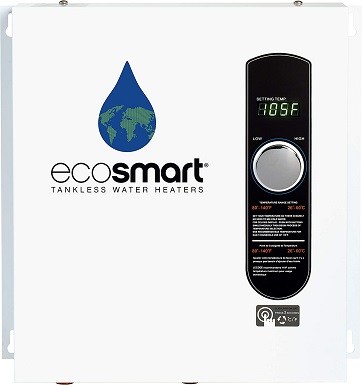 At first glance, EcoSmart's ECO27 Electric Tankless Water Heater seemed to have most of the qualities we look for in an instant water heater. Precise digital temperature control, compact size, and excellent energy efficiency initially put it in our good graces. Upon further examination and consulting with fellow homeowners, however, we can't strongly recommend it.
In short, EcoSmart's tankless water heaters seem to be plagued with a wide variety of issues that require considerable maintenance and troubleshooting. From problems with wiring to incompatibility with LED lights in the homing to corroding pipes, there's always a new issue to deal with here.
While problems like this might be easy to overlook with proper customer service, getting EcoSmart on the line – or getting them to honor a warranty – may be nearly impossible. Given the fairly high price tag on this unit, that's reason enough for us to pass it over in favor of a competitor's model.
Pros
Precise temperature control
Compact and energy efficient design
Cons
Difficult to install
Pipes corrode and require maintenance or replacement very quickly
Too expensive
Customer service is almost impossible to get in contact with
---
10.

Rinnai V65iN High Efficiency Tankless Hot Water Heater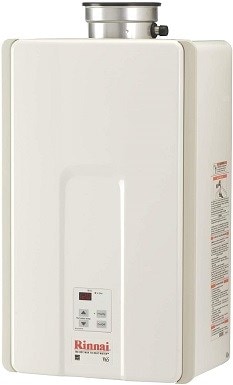 An indoor tankless water heater that runs on natural gas seems like a strange decision at best, but when you add in the Rinnai V65iN's requirement for an AC outlet as well, it looks even stranger still. While being gas-powered protects your hot water supply against power outages, how often will you be able to take advantage of this feature?
Quite simply, we're not sure what Rinnai is driving at with this odd combination of gas and electric power. And for the exorbitant price, we weren't impressed enough with its energy efficiency or heating capabilities to recommend it; even its extra-long warranties aren't enough to sway our decision.
Pros
Up to 6.5 gallons per minute flow rating
Up to 10 years warranty on heat exchanger
Cons
Requires natural gas and electric power to operate
Incredibly difficult to install
Professional installation and maintenance add to the already high cost
Far too expensive
---
Buyer's Guide: Choosing the Best Tankless Water Heater
Contrary to their high-tech appearance, the very first models of tankless water heaters were produced as far back as 1889. Hampered by the need for copious amounts of thick copper insulation, they were largely too expensive to produce for use in ordinary homes. 1929 saw the invention of the electric tankless water heater, but it would be another 60 years before technological advancements made them cost-effective in American homes.
While the initial startup and installation costs of a continuous flow water heater may scare some buyers away, their potential for energy savings and quality of life benefits have made them a darling of modern heater design. To better prepare yourself to make an informed decision on whether a tankless water heater is right for you, follow along as we examine tankless water heaters in more depth.
How Does a Tankless Water Heater Work?
To understand how the features of a tankless water heater relate to its benefit and total price, it helps to know a little bit about the design of these machines.
By equipping the system with water-activated flow sensors and a lengthy copper heat exchanger, tankless water heaters only turn on when water is actively being piped through. Warmed by gas or electrical heating, this eliminates the need for an always-warmed tank of water – and always guarantees a continuous flow of hot water.
Depending on the size and heating capabilities of a tankless water heater model, they can be used to heat water at a single point of use (POU) or provide hot water for an entire household. Available as either electrical or propane-powered systems, tankless water heaters can effectively be customized to fit the needs of any home.
What to Look for In a Tankless Water Heater
As we tested multiple models of tankless water heaters, we found that they can be judged effectively based on the following five categories:
Energy Efficiency. One of the biggest draws of a tankless water heater is the potential energy savings. The more efficient an individual model is, the faster it will pay for itself in savings on your electricity bill. Some of the best water heaters in our review feature auto-modulation and electronic water flow measures to dial in maximum energy efficiency.
Flow Rate and heating capability will determine how many sources of hot water you can have running at one time without a loss in heating performance. A great whole-house model should be able to handle multiple hot showers running at once, while a point-of-use heater will be limited to a single water source.
Size and shape of the water heater can be a surprisingly key feature. Always measure the space that you intend to install your heater, and make sure that the pipe fittings are oriented in a way that works with your unique space.
Temperature Control in tankless heaters ranges from primitive "on or off" functions to degree-specific digital controls. We strongly advocate for models that allow more precise temperature control unless you intend on using it as a POU or portable solution.
Installation and Maintenance are the biggest hidden costs of any water heater, tankless heaters included. For most models, it's wise to have a professional perform the installation – but watch out for companies that require frequent, proprietary maintenance. We give preference to water heaters that you can easily perform the maintenance on yourself.
Pros and Cons of Tankless Water Heaters
Not so certain whether a tankless water heater is worth the cost of installation? Then you may want to check out the following list of benefits for going tankless, as well as a few places where traditional water heaters may be a better choice.
Pros
Long term savings
Ecologically responsible
Unlimited hot water
Space-saving design
Less risk of water damage
Fewer spikes in water temperature thanks to more precise control
Portable models can be used in RVs
Cons
Higher startup cost
Occasional delays in hot water production because of flow rate triggers
Modulating electrical rate can cause "fluttering" or strobe-like patterns in LED lights
Electrical heaters can't be used during power outages

Conclusion
Of all the best tankless water heaters in our reviews, the Stiebel Eltron Tempra 12 Plus Tankless Heater truly stands out from the crowd. It's a whole lot of water heater for a completely reasonable price and features some of the most reliable technology in the water heater world – all backed by an impressive warranty policy. If you're looking for one tankless water heater to last a decade or more, the Stiebel Eltron should be your first pick.
The Eemax EEM24013 Electric Tankless Water Heater offers a surprisingly affordable and powerful point of use water heater for anyone on a tighter budget. If you aren't ready to commit to the startup and installation costs of a whole-house tankless water heater system, consider the Eemax as the perfect stepping stone towards energy efficiency.
---
Featured Image Credit: cunaplus, Shutterstock