5 Best Weed Eaters under $200 of 2023 – Reviews & Top Picks
If you are in the market for a new weed eater, but also someone that does not want to spend a fortune on this new acquisition then you have undoubtedly realized that there are some hurdles in your way.
Namely, it seems that all of the best weed eaters cost an arm and a leg to get, doesn't it? This does not have to be the case. Finding a weed eater that works well and manages to also be affordable is very doable with a little bit of research.
And there lies the other problem. Who has time for research? Us! We have tested the products, done the homework, and assembled a list of the five best weed eaters under $200 this year.
All that is left for you to do is sit back, relax, and enjoy the reviews!
---
Our Favorite Models Compared in 2023
Rating
Image
Product
Details

Top Pick

DEWALT DCST920P1

Great Motor
Large Cutting Swath
Variable Speed Trigger
CHECK PRICE

Top Gas-powered Pick

Hitachi CG23ECPSL

Powerful
Easy Pull Draw String
Reduced Vibration
CHECK PRICE

Best for the Money

BLACK+DECKER LST300

Best for the Money
Hedger
Good Battery
CHECK PRICE

Greenworks 21362

Affordable
Hedger
CHECK PRICE

Poulan Pro 967105301

Large Cutting Swath
Powerful Motor
CHECK PRICE
The 5 Best Weed Eaters under $200
1.

DEWALT DCST920P1 Weed Eater – Top Pick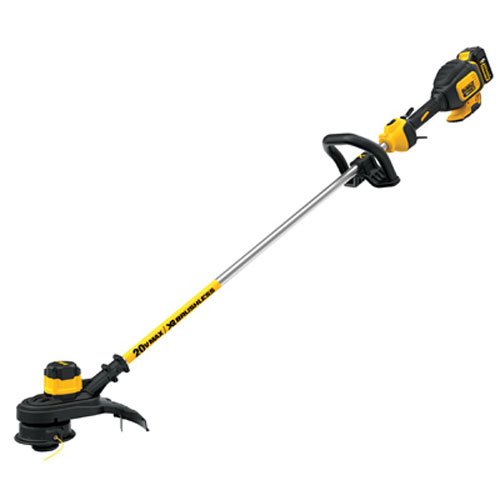 In our first slot, we have the Dewalt DCT920P1, our pick for the top option on this list. The Dewalt earns its place at the top largely by way of its high caliber 20-volt motor that produces enough power to work through even tougher patches of weeds.
It also produces a large thirteen-inch swath of cutting that can help users get more work done quickly.
Last but not least, the unit even includes a variable speed trigger that empowers users to take a more customized approach to their work.
Naturally, even with all of these high-quality attributes, the Dewalt is not perfect. The biggest problem that we were able to detect with this unit is that the guard near the trimming component is not quite as large as it needs to be, which means that grass and weed trimmings are sometimes chaotically dispersed.
This aside, it's a great option and in our opinion, the best weed eater under $200 on the market today.
Pros
Great Motor
Large Cutting Swath
Variable Speed Trigger
---
2.

Hitachi CG23ECPSL Weed Eater – Top Gas-powered Pick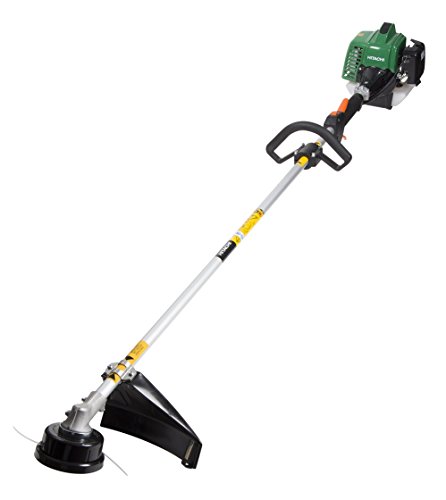 In second, we have the Hitachi, which earned not only the distinction of being the runner up on this list, but also of being the top gas powered option that we were able to identify.
Perhaps the best thing about this weed eater is simply that it is designed to be user-friendly. The motor is powerful enough to effortlessly work through most weed and grass issues, the drawstring that starts the unit has been optimized with easy pull technology so that it starts quickly and without much effort, and it has even been built to naturally reduce vibration to mitigate the issue of user fatigue.
Indeed, buyers would be hard put to find a better gas weed eater, but that said, there are still issues that potential shoppers should be aware of.
The biggest problem that we were able to detect with the Hitachi is in the department of durability. Some of the plastic components on this unit just aren't built to stand up to rugged use, which may eliminate this unit as an option for some buyers.
Pros
Powerful
Easy Pull Draw String
Reduced Vibration
---
3.

BLACK+DECKER LST300 Weed-Eater – Best for the Money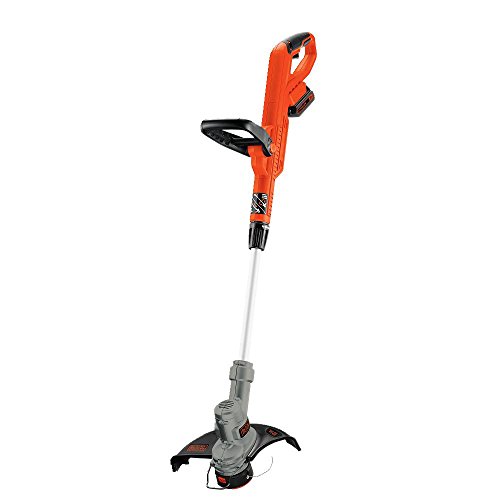 In third, and in our best for the money slot, we have the Black and Decker LST300. The first thing that shoppers will notice about this option is probably its price, but there is certainly more to it than just that.
In addition to being roughly half the price of the other options that we have looked at, it also features a solid battery that is designed to run for about thirty minutes and a hedging component that allows you to take a more versatile approach to your work.
One thing to keep in mind about the Black and Decker is that it will struggle with extremely thick clumps of weeds or grass. The battery tends to die very quickly when the unit is overworked, which may eliminate this as an option for shoppers with a serious weed problem.
Pros
Best for the Money
Hedger
Good Battery
Cons
Doesn't work well with thick weeds
---
4.

Greenworks 21362 Weed Eater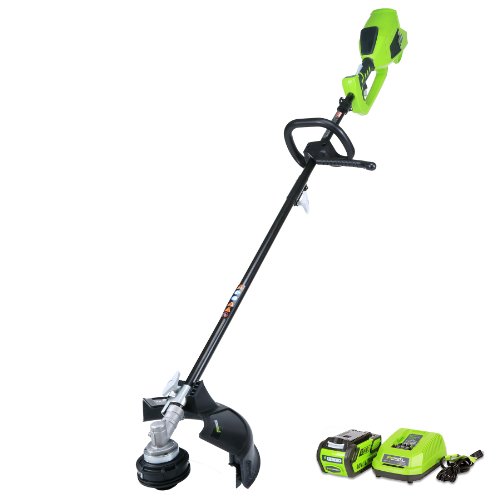 In fourth place, we have the Greenworks 21362. The Greenworks does not quite boast the same level of quality that we saw in the last few options on this list but will be a suitable selection for users looking for a budget-friendly buying option.
The first thing that potential shoppers are going to notice is that this is actually the most affordable option that we have seen so far. And in addition to being affordable, it also has the benefit of being fairly versatile, featuring the edger component that we appreciated in the Black and Decker.
So why didn't this unit find its way to our best for the money slot? Unfortunately, there are a few too many cons attached to it.
The problem is the battery. Like the Black and Decker, the battery also is going to die quickly when dealing with thicker weeds, but that isn't the only issue. It also takes a long time to charge and doesn't run for very long.
In short, this is an ok option for a restrictive budget, but most will prefer our best for the money pick.
Cons
Short battery life
Long charge time
Doesn't work well with thick weeds
---
5.

Poulan Pro 967105301 Weed Eaters

In last place we have the Poulan Pro, a choice that must shoppers are probably going to find very inferior when compared to the rest of the list.
Before we get to the cons, let's discuss what the Poulan does right. The gas motor itself is powerful, which means that thicker weeds are not going to be an issue. And it also features a very large cutting swath of 17" which adds lots of efficiency to the unit.
If this was all there was to the Poulan it would be a great buy, but unfortunately, there are some issues many shoppers won't care for. It's hard to start, the motor breaks down frequently, and the head is not durable.
In short, the Poulan shows promise, but issues of quality keep it from reaching its full potential.
Pros
Large Cutting Swath
Powerful Motor
Cons
Lots of maintenance
Not durable
Hard to start.
---
Conclusion
And that is that! You have read the reviews, and all that is left now is the challenging decision of which option to take home with you.
We aren't in the business of telling people what to buy, but if you still have not made up your mind as to which of these options you prefer, we can help with that.
For shoppers that value quality over everything else, there really is no beating the DEWALT DCST920P1, our choice for the best option on the list.
Of course, if you are looking more for a blend of affordability and quality, then look no further than our best for the money pick, the BLACK+DECKER LST300.
Needless to say, these are just our opinions. Now that you have read our guide, you can make your own informed buying decision that will leave you with the perfect weed eater for your needs!
More buying guides like this: