Having a garden filled with bright flowers and plants definitely makes it look livelier and more beautiful. As with all perks, there are also the unfavorable component that accompanies it. In a garden, that is weeds. Getting rid of them can take a lot of time and be frustrating, so having a handy tool will make the job more pleasant.
Numerous manufacturers claim to offer the best weed remover and puller on the market, so how do you know which one to choose? Our article has taken the hard work out of your equation by researching the market and finding 10 products. Our reviews contain the features, the aspects of the product that stand out and the ones that could possibly hold you back.
To save you even more time by directing you to the product that could be applicable to you, we included a buyer's guide. That will guide you about the features you need to look out for to get the weed remover and puller to suit your needs.
Comparison Table (updated in 2021)
Rating
Image
Product
Details

Best Overall

Grampa's Weeder Stand Up Weed Puller

Durable
Easy to use
Long handle
CHECK PRICE

Best Value

Homegrown Garden Tools Manual Weed Puller

Easy to use
Aluminum shaft
Ergonomic handle
CHECK PRICE

Premium Choice

AMES Steel Stand Up Weeder

Lightweight
Use by standing
Long warranty
CHECK PRICE

Yard Butler RKT-1000 Rocket Weeder

Long handle
Easy to release the weeds
Durable
CHECK PRICE

Flexrake CLA329 Classic Dandelion Weeder

Classic craftsmanship
Durable
Light and compact
CHECK PRICE
The 10 Best Weed Removers & Pullers:
1.

Grampa's Weeder Stand Up Weed Puller – Best Overall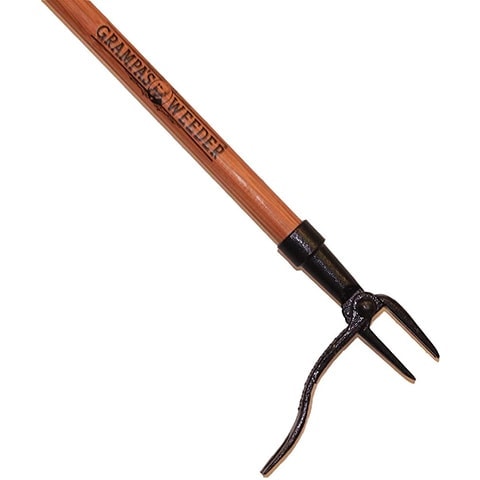 Not putting strain on your knees and back is important, and that's what Grampa's Weeder avoids. All you do is hover the weed remover over the center of the weed, press it into the ground with your foot and lean the handle to take it out. They've designed it with a powder coated metal and a 45-inch bamboo handle that's going to last for the long-haul. The design is simple, which helps you to exert the least effort possible while getting the job done.
Besides the fact that it's made from steel, Grampa's Weeder has a 4-claw design that helps you tackle all types of soil, even after it has rained or the soil has been watered. The best part about this remover and puller is that you don't need to use any harmful chemicals to get the weeds out, so it's safe for children and pets.
This puller weighs only 1 pound, so it's easy to use for prolonged periods. You might find that wet soil can stick to this puller.
After comparing the features of this product to the rest on our list, we found that Grampa's Weeder was the best product overall.
Pros
Durable
Easy to use
Long handle
---
2.

Homegrown Garden Tools Manual Weed Puller – Best Value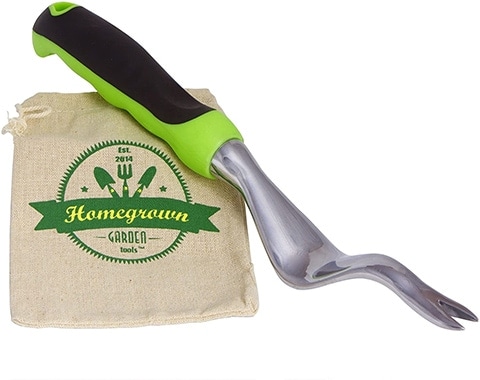 If you want a tool that's good at removing dandelions and thistles with a curved shaft, then the Homegrown Manual Weed Puller is perfect. All you do is push this weed puller into the ground at the base of the weed, and the V-shaped tip will capture the root. Then, press down on the handle and watch the weed come out.
You don't have to use harmful chemicals, so it's safe around children and animals. Homegrown has fitted an ergonomic handle, which has a rubber palm rest and contoured fingertips. That's going to add to the comfort of using this remover. It's made from an aluminum shaft, which is durable and rust-resistant. They've made it bright green so that you can find it easily if you lose it in the garden.
Homegrown had provided a lifetime warranty, but the only issue with this remover is that it's 12.75 inches long. That means you're going to bend over to get the weeds out. After comparing the features to the price and to the rest on the list, we found that Homegrown Manual Weed Puller was the best weed remover and puller for the money.
Pros
Easy to use
Aluminum shaft
Ergonomic handle
---
3.

AMES 2917300 Steel Stand Up Weeder – Premium Choice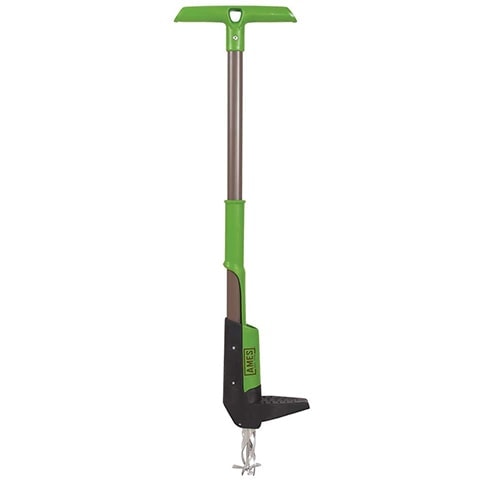 Ames has designed this weeder easy to use because you can remove weeds by standing up, eliminating the need to strain your back and knees. That's why it's 40 inches long. Besides not needing to bend over, you also don't have to use chemicals.
Although it's 40 inches long, this weeder weighs 3.6 pounds, so it's fairly light. It's also compact, so storing it shouldn't be a problem if you're squeezed for space. Ames has made it from steel, enabling you to use it for a long time. They've fitted a T-grip, which helps you easily pluck out the weeds without feeling hand ache.
Ames has also added an ejection slide handle, which is going to help you release the weeds easily. Also, the plunger they fitted clears weeds and aerates soil. With the poly step, you press it for the unit to dig to the root of the weed and pluck it out. It can happen that hard soil gets stuck to this stand up weeder. The warranty is valid for 15 years.
Pros
Lightweight
Use by standing
Long warranty
---
4.

Yard Butler RKT-1000 Rocket Weeder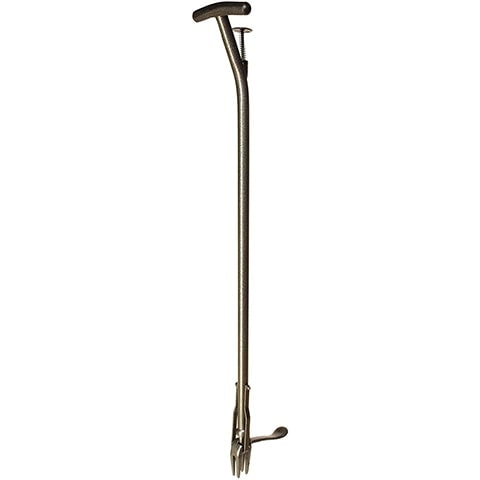 This is another stand-up weeder that works well on dandelions and thistels. It's 37 inches long, so you don't have to bend over, and the ergonomic design of the grip will make you feel that it's comfortable, even after using it for hours. All you have to do is use the foot pedal to drive the weeder deeper into the root and rock it out of the ground. Then, press the weed ejector button to rid yourself of the weed.
The Yard Butler will last you a long time because they've made it from a heavy-duty powder-coated steel, but it also helps that it comes with a lifetime warranty. The product weighs 3 pounds, and it doesn't require any chemicals to get the job done. Don't be surprised to find that muddy soil sticks to the product, and you'll have to remove it manually.
Pros
Long handle
Easy to release the weeds
Durable
Cons
Muddy soil stick and need manual removal
---
5.

Flexrake CLA329 Classic Dandelion Weeder
If you're feeling nostalgic and want a design that'll take you to the days of classic craftsmanship, then the Flexrake might be your first option. You'll find the oak handle and the leather hanger appealing, not to mention the carbon steel blade that will last for a few years if you look after this weeder.
The forked tine helps you to gouge the weed, and the curved metal gives you leverage to dig the weed out conveniently. Flexrake designed this weeder to be lightweight, so it weighs only 7.7 ounces, and it's compact because it's only 17.3 inches long. The downside of Flexrake's weed puller is that you have to bend over to extract the weeds from the ground or to kneel. The tines are too far apart to pull out roots, so this weeder is more suitable for pulling out large dandelions.
Pros
Classic craftsmanship
Light and compact
Durable
Cons
Can't be used standing
Ineffective with small roots
---
6.

ORIENTOOLS Weed Puller Tool
You won't strain your back or knees because you can use this weed puller while standing due to the 39-inch shaft. Orientools made the tines out of stainless steel and the handle out of aluminum. You can adjust the folding foot plate, allowing you to use it even on a slope.
Orientools has used a PP grip handle, which will provide you with comfort, and the 4 steel claws are going to help you easily extract the weeds. All you need to do is step on the foot plate of this tool to push it into the roots of the weeds and allow the tines to grip the roots. Then, tilt the weed puller to the side and pull it out. The last step is to use the slide green sleeve to remove the weeds from the claws.
You can use this weed puller tool on thistles, flowers and dandelions. The only issue with this weed puller is that the foot plate is plastic and can break with significant pressure.
Pros
Work while standing
Use on a slope
Strong weed grip
Cons
Foot plate prone to breaking
---
7.

Weed Zinger Stand Up Weeding Tool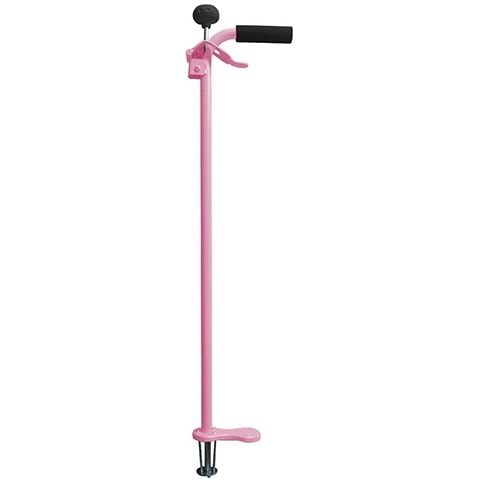 The Weed Zinger has a powder-coated frame and stainless-steel tines, which make this product durable. The tines are spiral-shaped, which helps to add more grip force. The soft foam handle makes the grip so much more comfortable, and it's a lightweight product since it weighs just over 3 pounds.
There's no need to bend over or kneel since this weed puller is 35 inches long. Use it while you're standing. The only thing you should do is center the bottom plate over the weed, press the foot pedal and click the center shaft at least three times, then twist the weed and pull it out. The only issue with the Weed Zinger is that it is most effective when the ground is slightly damp, making it easy to penetrate the soil. It won't work well when the ground is solid.
Pros
Durable
Forceful tines
Work while standing
Cons
Not effective on solid soil
---
8.

FLORA GUARD Feet Weeding Tool- Stand-Up Weeder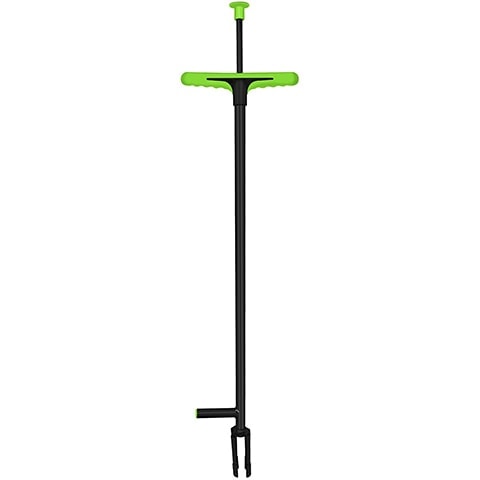 Flora Guard made this weeder 40 inches long so that you don't have to strain your back or knees. They've used an ergonomically designed handle, which feels comfortable and won't slip out of your hands. There's a spring button on the handle that's for removing plants and soil easily of our the weeder.
It also comes with four claws, which are almost 5 inches and will help to reduce the workload by avoiding multiple applications. Using this weeder is as simple as pointing it over the weed to be removed, then pressing the foot pedal, and twisting and pulling it out to remove the weeds. Then, press the tube to remove the weeds from the tool
Flora Guard made this stand up weeder light and compact since it weighs under 3 pounds. The issue with this weeder is that it's got a plastic handle that's prone to break. The other components also aren't that sturdy
Cons
Plastic handle prone to breaking
Not sturdy
---
9.

Ruppert Garden Tools The Weed Snatcher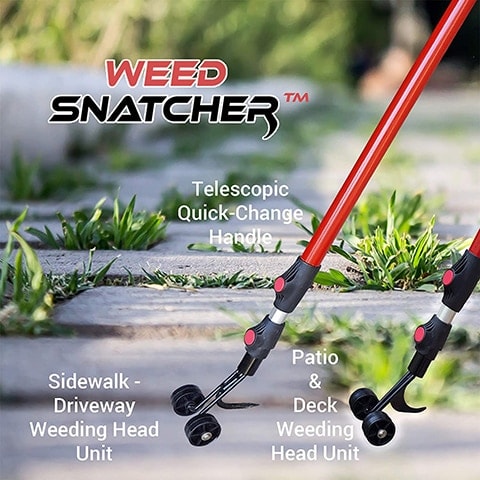 It's not necessary to bend over or kneel with the Ruppert Weed Snatcher because you can extend the telescopic pole from 3 to 6 feet. You also don't need to use any chemicals, and this tool is environmentally friendly. It's easy to use since it's lightweight, weighing only 2 pounds and 39 inches in length.
This weeder works best with extracting weeds trapped in between wooden decks or in gaps on concrete blocks. It's not really convenient to use on grass since it doesn't have a foot pedal for you to dig the tines into the weed roots and to pull it out. It also doesn't have a tube or any other mechanism to press when you want to release the weeds from the snatcher, so you'll have to do it manually.
Pros
Extended telescopic pole
Light
Cons
Not suitable on grass
Remove weeds from tine manually
No food pedal
---
10.

Winslow&Ross Stand Up Weeder Puller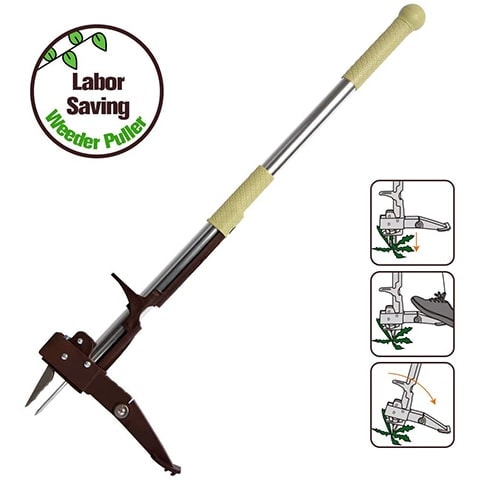 No need to exert yourself and suffer from excruciating pain in your back and knees because you can work with this weed puller by standing. It's got an anti-slip handle, so it's comfortable, and the shaft is made from stainless steel. To use this product, you have to center the 40-inch shaft over the weed, press the foot step and pull up the shaft to extract the weeds. It's easy to clean afterward, and the Winslow & Ross used a non-sharp blade, so it's safe for even children to remove the weeds.
This product comes with a 3-year free return period, and it's got 10-year warranty. You might need to use it since this product isn't the strongest out of the weeders we've featured.
Pros
Working while standing
Safe

Buyer's Guide
The product reviews help you know the different features of the product and how they can help you, but the buyer's guide assists you in knowing what features to look out for and the criteria to use to choose the right type of product.
Why Choose Weed Pullers?
The alternative to weed pullers is toxic chemicals. That'll require you to pour the chemical onto the weeds to eradicate it. That usually doesn't require any bending over or kneeling, so you won't exert yourself as much as a handheld puller. The problem with that option is that it's unsafe. You can't use toxic chemicals around children and pets. Also, it's not the best option for the environment, and it can ruin your grass or other surfaces where applied.
Weed pullers require you to exert more effort than toxic chemicals, but it's a safer and healthier option. It also tends to be a cheaper option, depending on the area that you want to cover. If your garden is filled with weeds, you're going to require a significant amount of chemicals, which is a variable expense. A weed puller if a fixed expense if you look after your tools.
Material
The weed puller's material determines how much you can do and the types of weeds that you can extract. Not only should you consider the material of the shaft but also the blade. You'll need a sturdy unit to get those pesky weeds out at the root. Also, the material determines if you can use it on solid ground or slightly damp soil.
The other component to examine regarding the material is the handle. This determines how easily the handle will break and how comfortable it is. The best weed pullers are usually made from stainless steel that does not rust. Those weeders tend to last the longest and can dig deep into the ground so that you can grip the weed's roots and pull it out.
Size
The size of a weed puller also determines how much effort you're going to exert. If you're a senior citizen who doesn't want to bend over or kneel, then you can go for a stand-up weed puller. Those types allow you to stand and exert pressure on a foot step to dig into the ground. That's highly suitable if you're going to use the weed puller for prolonged periods. The great thing about stand up weed removers is that most of them don't require chemicals to work, so they're safe to be used around children and pets.
The other option are the traditional weed pullers, which are smaller than stand up weed removers. They're known as manual or handheld weed pullers because you do most of the work, instead of certain components that help you pull out the weeds. With manual weed pullers, you have to bend over or kneel in order to extract the weeds. You have to use your hands to dig the tines deeper into the ground and clean them afterward, as opposed to mechanism that releases the weeds.
Important Considerations
Soil
You'll have to determine the strength of the soil you're working on to decide the type of weed puller you're going to buy. Some weed pullers are very sturdy, so they can penetrate deep into the ground with ease. Other weed pullers work best on slightly damp soil, so you should always go for the strongest possible weeder.
Ease of use
Choosing between a stand-up or handheld weed remover will determine how much effort you're going to exert. With a handheld weeder, you don't have the luxury of using a foot platform to dig the tines into the ground. You have to get close to the ground so that you can extract the weeds. With a stand-up weed puller, it's the blades that will do most of the work, as opposed to your hands.
Price
In the reviews, you'll find the weed puller that is the best value for money since its features are extraordinary and so is the price. The stand-up weed pullers tend to be more expensive than the handheld ones because they have more features and are bigger. If your budget is tight, then the handheld ones are your best option.
Warranty
It's essential that a weed puller comes with warranty. Many manufacturers claim that their products are durable and will last for many years. If that's the case, then they shouldn't have a problem with offering a warranty. Some manufacturers offer a lifetime warranty, which is the ideal option. Others offer a period of 10 years. Then, there are also manufacturers that offer a 3-year return period. Always look for a product that has the longest warranty period since you never know how long a weed puller will last.

Conclusion
You must consider several features when choosing the right weed puller needed to complete your desired tasks. Our list contains 10 reviews that highlight each product's features, how they're going to help you and how they can impede you from doing the job the most effective and convenient way. Furthermore, the buyer's guide assists you to compare the difference between the two types of weed pullers to choose from and how their features and prices fare against each other.
After composing the 10 reviews, we compared the products to each other and found that Grampa's Weeder Stand Up Weed Puller was the best product overall. Its features and price made it our top pick. There were several products that had outstanding features, but some of them were too expensive, so finding a balance between price and features is important.
The best weed remover and puller value for money was Homegrown Garden Tools Manual Weed Puller. Consumers who want to go for a slightly more expensive option can choose a premium product such as AMES 2917300 Steel Stand Up Weeder. The reviews and the buyer's guide saved you a lot of time of searching for the right product.

Pete has been working in the trades since high school, where he first developed a passion for woodworking. Over the years, he has developed a keen interest in a wide variety of DIY projects around the home. Fascinated by all sort of tools, Pete loves reading and writing about all the latest gadgets and accessories that hit the market. His other interests include astronomy, hiking, and fishing.
As the founder of House Grail, David's primary goal is to help consumers make educated decisions about DIY projects at home, in the garage, and in the garden.