8 Clever and Creative DIY Round Coffee Tables (With Pictures)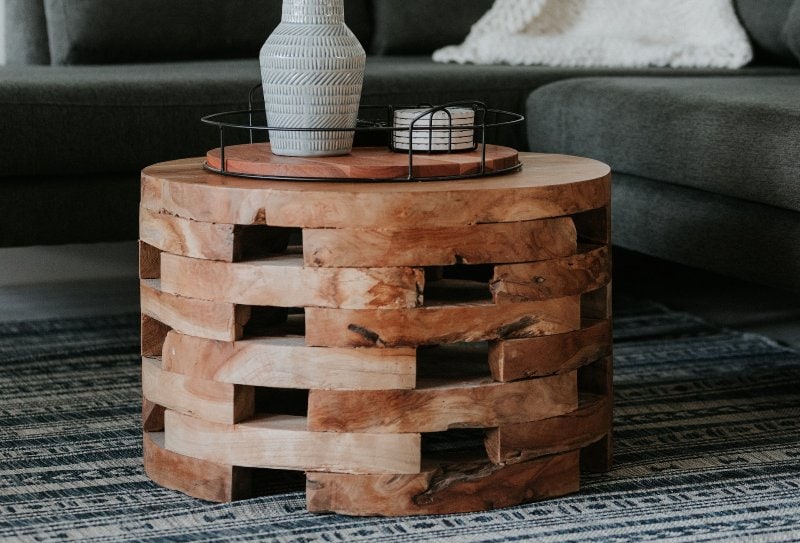 If you are looking to make your living room more functional and organized, you can do so by adding a coffee table. This crucial piece of furniture will hold your drinks, reading material, remote and perhaps even your feet after a long work day.
If you are hunting down clever and creative DIY round coffee table ideas, you are in the right place. We will do a roundup of eight simple projects that can inspire you to create a round coffee table that will turn your buddies green with envy!

The 8 DIY Round Coffee Table Ideas
1.

Fluted Coffee Table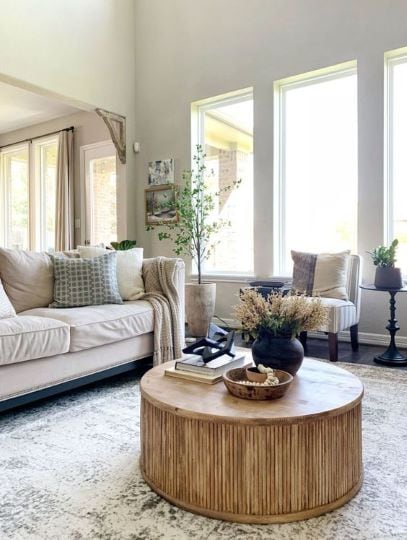 | | |
| --- | --- |
| Skill Level: | Advanced |
| Materials: | 2 Round wood boards 36″, 40-45 1/2″ round dowels, 1″ flathead screws, 2.5″ wood screws, 1/2″ screws, wood glue, 2X4 common board, figure 8 fasteners 12 gauge, polycrylic, wood stain and sandpaper |
| Tools Needed: | 5/8″ forstner drill bit, power drill, long level, miter saw |
If you are more than just a weekend warrior, this eye-catching round table is one you can make in 10-12 hours. It is an excellent project to partake in, especially if you've always wanted pieces from high-end furniture lines but lacked the budget.
Getting started on the project can be overwhelming because there is quite a list of materials you must source. However, you are assured of indulging in a rewarding DIY that can make your living room a tad more stunning.
---
2.

Modern DIY Coffee Table
| | |
| --- | --- |
| Skill Level: | Beginner |
| Materials: | 4′ x 8′ maple plywood panel 3/4″ thick, (1)1/4″ wood screws, 2 1 in. x 4 in. x 8 ft. pieces of maple lumber, Wood conditioner, 3/4″ edge banding, tack cloth, matte polyurethane finish, 2 1/2″ pocket hole screws, wood glue, grit sandpaper, drill bits and golden pecan stain |
| Tools Needed: | Clamp, Kreg pocket hole jig, mitre saw, router, circular saw, power drill, trimming plane |
Even when building a classic round coffee table, sometimes, a simple design is the best. The clean outline of this round table gives it a modern appeal. Also, the table legs' sleek design makes it unique while providing stability. The best part is that you don't need advanced woodworking skills to piece up this alluring charm for your living room.
---
3.

Farmhouse Coffee Table
| | |
| --- | --- |
| Skill Level: | Intermediate |
| Materials: | Quality pine – 1x6x8′ (2), 2x6x8′ (2) and 1x3x6 (1), round top, stain, and finish |
| Tools Needed: | Clamp, sandpaper, circular saw, power drill |
For lumber worth less than $100, you can make this beautiful round coffee table in just one weekend. You could even cut down your budget further by using reclaimed wood. The chunky base and extra thick table top give the overall design an undeniable charm.
With intermediate woodworking skills and some luck on your side, you are almost assured of enjoying a perfect outcome!
---
4.

DIY Round Outdoor Coffee Table
| | |
| --- | --- |
| Skill Level: | Beginner |
| Materials: | Lumber – (2) 8FT 2″x 10″ and (2) 8FT 4″ x 4″, (1) 3/8″ wood dowel kit, 3/8″ unfinished wood dowel rod, wood glue, 6″ construction screws, 3/8″ drill bit, dark walnut wood stain, polyurethane wipe-on sealant and black paint (color Noir) |
| Tools Needed: | Circular saw, tape measure, hammer, jig saw, router, sander |
For most folk, it's hard to believe how affordable making a stunning round outdoor coffee table can be. With a budget of $100, you can complete the project using salvaged wood and still achieve jaw-dropping results. This rustic coffee table is of the perfect size and could be the furniture piece you need to enhance the aesthetics and functions of your patio.
---
5.

Simple DIY Round Coffee Table
| | |
| --- | --- |
| Skill Level: | Beginner |
| Materials: | (7) 2×6 boards, wood glue, (2) 1/2″ pocket hole screws, 2″ brad nails, wood stain |
| Tools Needed: | Power drill, Kreg tool face clamp, plunge router. |
If you are looking for a simple and inexpensive DIY project to add character to your home, try making this "no frills" round coffee table. It has a minimalistic design, ensuring that decorating on a budget is also possible. You don't need to have plenty of experience with power tools and working with lumber. Just a little creativity will suffice!
---
6.

X Base Round Coffee Table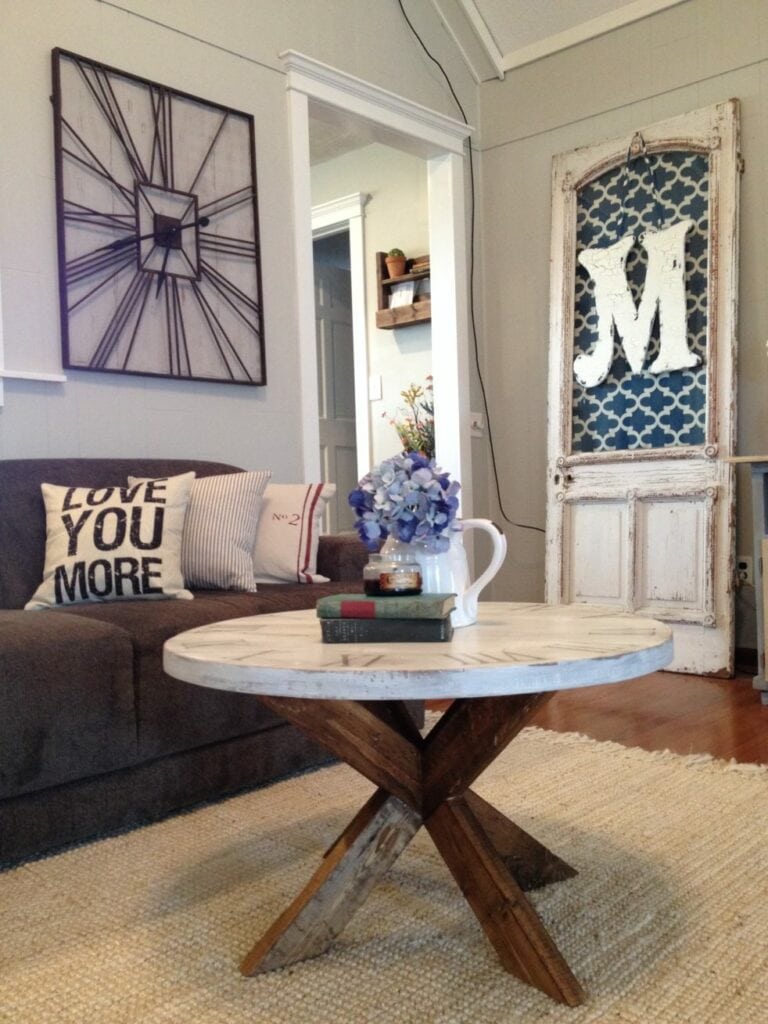 | | |
| --- | --- |
| Skill Level: | Beginner |
| Materials: | (2) 2x8x8 boards, (2) 2x4x8 boards, Pocket hole plugs, (2) ½″ pocket hole screws, wood glue |
| Tools Needed: | Clamp, drill, miter saw, measuring tape, router and jig saw |
You don't need to spend a fortune to make your house feel like home. This X-base round coffee table is a perfect place to start if you want to give your living room a facelift.
It is fun to make, and the simple approach in every detail is a definite plus point. If you are thinking of doing one project at a time to transform your home, the outcome of this project may give you much-needed inspiration.
---
7.

Round Coffee Table With Hairpin Legs
| | |
| --- | --- |
| Skill Level: | Beginner |
| Materials: | 1 36″ round wooden table top, 4 16″ hairpin legs, wood stain |
| Tools Needed: | Electric screwdriver or power drill |
Are you considering a DIY project that will stimulate your mind? If you are, making this round coffee table with hairpin legs will activate your brain's reward center.
The best thing is that building this stylish, vintage and expensive-looking furniture piece is not as challenging as it seems. With beginner DIY skills, giving your living room a stunning retro flair will only take one Saturday afternoon. Brace yourself for one of the most rewarding projects you've ever worked on.
---
8.

Round Coffee Table With Storage
| | |
| --- | --- |
| Skill Level: | Advanced |
| Materials: | 3/4″ plywood, 1/2″ MDF, 2″ dowels, pin nails, wood glue, wood varnish, router bit |
| Tools Needed: | Band saw, wood router, rabbeting bit set |
Coffee tables with storage are the latest organization obsession. If you want to build a coffee table to accent your living room, add style to your home, and provide storage for your magazines and other small items, here's the perfect project for you. This round coffee table has a charming modern vibe and can be an ideal addition to your home, irrespective of your interior décor style.

Final Thoughts
Round coffee tables are a classic and make excellent centerpieces. They can give your living room an aura of elegance, irrespective of your interior design theme. If you are considering experimenting with a DIY project, we hope the round coffee table ideas on our list inspire you.
We handpicked projects ideal for DIYers of different skill levels. Whether you are an avid woodworker or plan to depend mainly on wood glue to fix a stellar round table, our suggestions can get you started on the most rewarding DIY you have ever done!
---
Featured Image Credit: Zane Persaud, Unsplash