10 Best Whole House Water Filters of 2023 – Reviews & Top Picks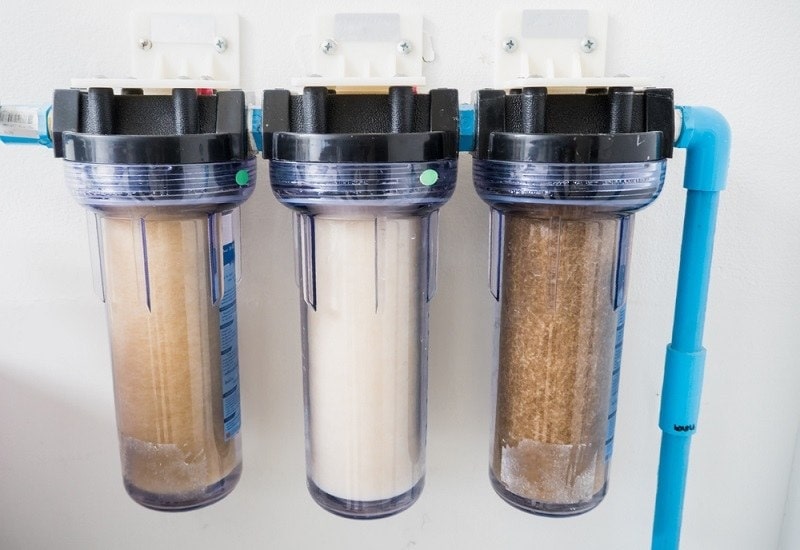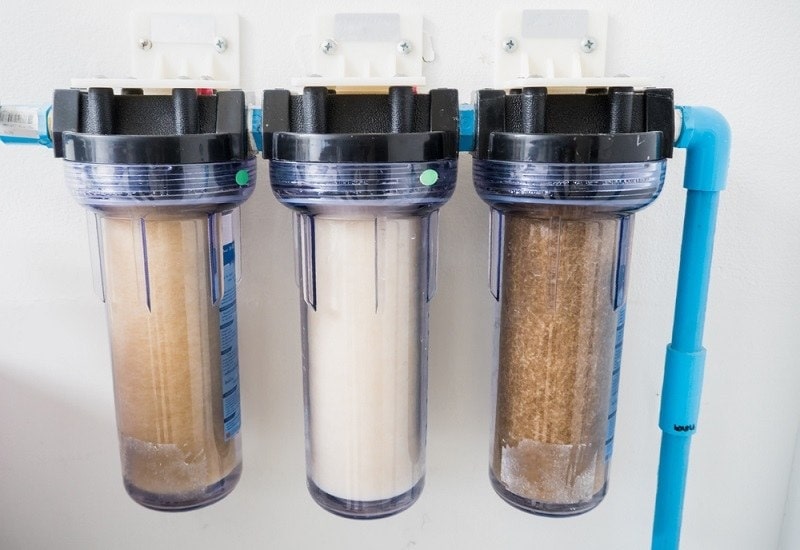 Depending on where you get your water from, there are a multitude of sediments, metals, and even bacteria that can damage your pipes over time and take a toll on your health.
You may already know how important it is to filter your drinking water. Perhaps you have a jug in the fridge that you refill after every use or a single point filter on your kitchen sink. But what does that do for the water you are showering in, washing your clothes in, or even taking a bath in? Nothing at all.
That's why a whole house water filter is the way to go. After all, we interact with more than just one kitchen faucet for all our water needs.
With our helpful buyer's guide and these in-depth whole house water filtration system reviews, you'll get a full scope of how you can improve the quality of all the water in your home – and improve your total quality of life!
---
A Quick Comparison of Our Favorites
Rating
Image
Product
Details

Best Overall

Express Water WH300SCKS Whole House Water Filter

3-step filtration
High capacity
Simple twist-off filter housing
CHECK PRICE

Best Value

Culligan WH-HD200-C Whole House Water Filter

Certified by the WQA and NSF
Removes most sediment and chlorine
Can choose the right filter for the job
CHECK PRICE

Premium Choice

Aquasana EQ-WELL-UV-PRO-AST Whole House Water Filter System

Great for well water
Removes 97% of chlorine
Includes water softener
CHECK PRICE

Home Master HMF3SdgFeC Whole House Water Filtration System

3-step filtration
Ideal for well water that includes manganese
iron
and sulfur
Less frequent replacement
CHECK PRICE

iSpring WGB21B Whole House Water Filtration System

2-step filtration
Lifetime tech support
Inexpensive filters
CHECK PRICE
The 10 Best Whole House Water Filters – Reviews 2023
1.

Express Water WH300SCKS Whole House Water Filter – Best Overall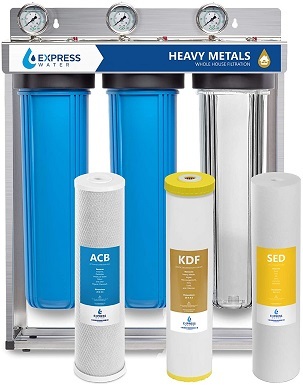 The top choice for whole house water filtration is an easy one. Express Water delivers NSF verified quality and a simple design that makes installation and replacement a snap.
The coolest part about the Express system is that the three-step filtration gets nearly all common contaminants out of your water: step one gets all the sediment and physical junk, step two cleans up the metals and biological gunk, and step three strips all unnecessary chemicals from the water.
Plus, the clear case for the sediment filter lets you see what's piling up – and reminds you how awesome it is not to be drinking or showering in all that crud!
Due to this model's high ability to deal with sediment and chemicals, it makes an excellent choice for well water or city water. You'll never have to worry about the water you're drinking, showering in, or washing clothes with ever again!
Pros
3-step filtration great for city or well water
High capacity, standard size flow connectors
Simple twist-off filter housing for easy replacements
Clear filter housing: easy to see when you need to replace
Long filter life: 100,000 gallons/1 year
Cons
Moderate to high price range
---
2.

Culligan WH-HD200-C Whole House Water Filter – Best Value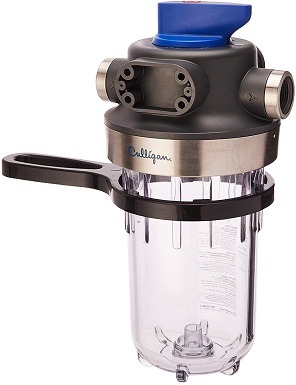 For folks who have well water with lots of sediment, the Culligan filter is absolutely the best whole house water filter for the money. This system excels at removing nearly all the rust, scale, dirt, sand, and even chlorine – all at a fraction of the cost of other systems!
It's cheap enough that you can buy multiple units to make your own custom set up. And Culligan sells multiple kinds of compatible filters for different types of water, so you'll never have to pay for fancy features that you don't need again.
Many consumers have noted, however, that replacing filters and the process for turning on/off the filter bypass function can be challenging. We recommend checking that all the levers turn easily on your unit before installing and have some food-grade silicone grease on hand for if they don't.
Pros
Housing tested and certified by the WQA and NSF
Removes most sediment and chlorine
Can choose the right filter for the job without paying for extras
Reasonably priced
Can chain together for custom filtration needs
Cons
Filters nearly as expensive as the unit itself
Installation and maintenance can be tricky
---
3.

Aquasana EQ-WELL-UV-PRO-AST Whole House Water Filter System – Premium Choice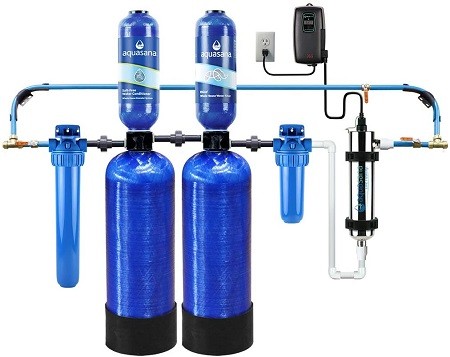 When it comes to full treatment water filtration it doesn't get any more premium than Aquasana. Those with well water or in cities with poor treatment and regular boil water advisories will likely jump at the chance to get the peace of mind offered with this filter.
This filtration system is perfect for high sediment and bacteria-laden well water. It is hugely effective at reducing physical and chemical contaminants like lead, mercury, chlorine, and pesticides. And that's not all – there's even a UV light purifier that kills 99.9% of biological threats too!
And of course, all these fancy features come at a fancy price. Non-plumbers will likely desire a professional installation, so expect another price rise there as well.
If you're just looking for chlorine or sediment reduction, or only want a better tasting tap water, then this might be too much filtration for your needs.
Pros
Great for well water, or cities with frequent boil advisories
Removes 97% of chlorine in water as well as other chemicals
Includes water softener
UV filtration for extra bacteria and parasite protection
Ridiculously long filter lifespan: 500,000 gallons or 5 years!
Cons
Professional installation recommended
Pre and post-filters need yearly replacements
More expensive than a used car
---
4.

Home Master HMF3SdgFeC Whole House Water Filtration System
Home Master provides three-step filtration for homes with well water. Say goodbye to sediment, pesticides, iron, and even manganese and sulfur!
It is easy to install and maintain too, even without the help of your ex-plumber uncle. The special radial flow design water minimizes pressure loss, and each filter easily lasts six months to a year.
However, this system is only for well water. If you have chlorinated city water, not only will Home Master not remove the chlorine, but it may damage the system. This filter is not designed to work with chlorinated water, acidic water, or iron bacteria.
Pros
3-step filtration that snags physical, chemical, and radioactive contaminants
Ideal for well water that includes manganese, iron, and sulfur
Large filters, less frequent replacement
Easy installation and maintenance
Cons
Cannot be used for chlorinated city water
Does not remove significant biological contaminants
Middling to high price range
---
5.

iSpring WGB21B Whole House Water Filtration System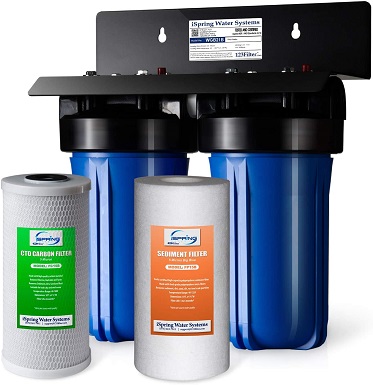 This compact but powerful filtration system removes up to 95% of rust, sediment, pesticides, and industrial chemicals in addition to 90% of chlorine. It makes an excellent choice for an all-around improvement to your water quality at a modest price.
Refreshingly, iSpring designed their product for simple installation – even by laymen! And though it is specifically for smaller homes, the filter prices are some of the most reasonable on our list.
However, those with more specific or thorough filtration needs will probably need to look elsewhere. The iSpring does not reduce iron, manganese, lead, radioactive materials, or bacteria and viruses.
Pros
2-step filtration removes most physical and chemical contaminants
Extended manufacturer warranty, lifetime tech support
Moderate price, inexpensive filters
Compact, great for smaller homes
Cons
Too small for large home filtration needs
Does not remove biological or radioactive contaminants
---
6.

3M Aqua-Pure AP904 Whole House Water Filter System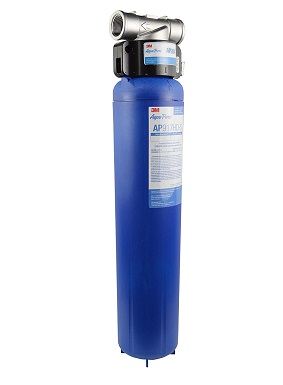 For those looking for a whole house system that can keep your tap water from smelling like a public swimming pool, the Aqua-Pure is a great choice and a good price.
The Aqua-Pure water filtration system is best utilized by folks with municipal water that want to avoid excess chlorine or sediment heavy water. Unfortunately, it lacks some of the added protection that you need for well water due to the inability to reduce mineral, biological, and radioactive contaminants.
Also, your savings on the total unit will certainly be impacted by the expensive filter costs. After three filter changes the price more closely resembles pricey models, but that will be a few years down the line.
Pros
Filters physical and many chemical contaminants
NSF standard certified
Easy filter replacement design
All pieces made from corrosion-resistant materials
Cons
Moderate price, expensive filters
Professional installation highly recommended
Medium filter lifespan, clogs easily
---
7.

APEC 3-Stage Whole House Water Filter System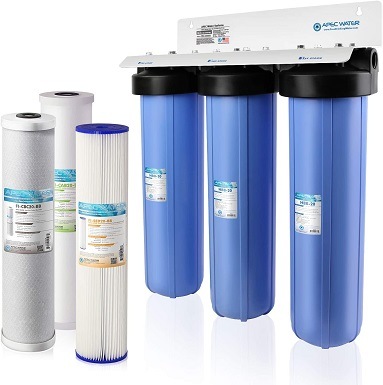 The APEC three-stage system is durable enough to handle large volumes and won't limit the water pressure in your home – no matter how many folks are using sinks throughout the house!
Rather than get an individual filter for each tap in your home, the APEC system makes getting better water throughout your entire home easy and affordable. And the moderate to high price is actually far less daunting when you consider the high-volume capacity.
This is a good option for those in large homes, those concerned with sediment, rust, as well as chlorine and other harsh chemicals. It doesn't provide filtration for bacteria or parasites but will do a great all-around job for city water or most wells.
Pros
3-stage filtration for physical and chemical contaminants
Sturdy enough for industrial use
Washable sediment filter, 100,000-gallon lifespan
Cons
Plumbing knowledge a plus when installing
Not suitable for filtering biological contaminants
Mid-high price range
---
8.

iFilters Whole House Water Filter System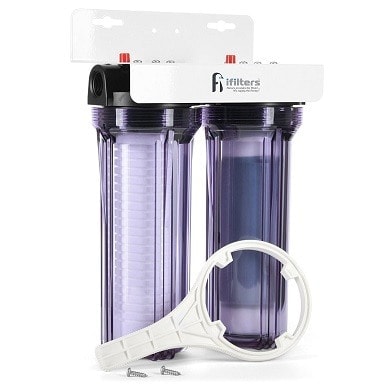 iFilters are designed and built in California, and all their manufacturing materials meet the strict guidelines of the NSF. This two-stage system excels at removing chlorine, sediment, and nasty smells for less money than your next supermarket trip.
Though it's inexpensive, there's a reason. The 3 GPM flow rate iFilters system only works well for small homes, RVs, and point of use filtration. Those with moderate to large houses who are looking for a whole home system that won't drastically reduce the water pressure should search elsewhere on our list.
Also, this filter is not suitable for those seeking extra protection from bacteria, parasites, and radioactive particles. Though great for sediment and chlorine, it may be a poor choice for those with well water or municipal sources with regular boil water advisories.
Pros
Built with NSF approved components
Costs less than your next grocery bill
Easy replacement design
Cons
3 GPM flow, unsuitable for medium to large homes
Does not filter out biological or radioactive contaminants
Filter lifespan maximum of 6 months
---
9.

Aquaboon Big Blue Whole House Well Water Filter System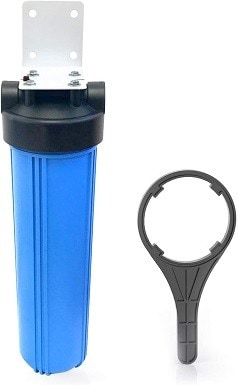 The great thing about the Aquaboon Big Blue is that it allows you to customize the filtration that you need and doesn't end up charging you extra for features you don't. They are each affordable enough to make buying two or three on par or cheaper than some competitors.
The downside is that for a full range of filtration options you will need to purchase multiple or incorporate into a larger system. For folks that just want to get the sediment out of their water, or are solely concerned with chlorine and chemical content, it could be perfect.
But for wells, or poor-quality water that needs a wise variety of contaminants filtered out, your money will be better spent on a fuller spectrum system.
Pros
Compatible with a range of other systems and filters
Can customize your own filter setup for your needs
Cons
Better utilized as part of a larger system or point of use
Tend to leak if installed by the inexperienced
Must choose between contaminants to filter, or spend more money
No certifications from NSF, WQA, or other independent researchers
---
10.

General Electric GXWH04F Whole House Filtration System

For folks looking for a cheap, point of use filter or to customize their own small home system this filter from General Electric could be a decent option.
However, the sizing on this unit means that larger homes are likely to see a significant water pressure loss – especially when trying to run multiple water sources. This pivotal downside mixed with the lack of contaminant filter options makes this model a budget choice and not a solid quality choice.
Pros
Cheaper than an entrée at your favorite sit-down restaurant
Inexpensive replacement filters
Cons
¾-inch connector limits water pressure for larger homes
Better used as point of use or part of a larger system
Short filter lifespan: 3 months
Only filters sediment and physical contaminants
Does not specify whether it complies with NSF standards

Buyer's Guide – Choosing the Best Whole House Water Filtration System
What Do you Need a Whole House Water Filter For?
Depending on where you live and where your drinking water comes from, there may be a host of answers to this question!
Excessive chemical additives in city water, "hard" water with nasty tasting minerals, and even harmful contaminants leached in from the environment can all be remedied with the right water filtration system.
Many water filter options available are either the type you hook up to a single tap, refrigerator filters, or the jug style that need to be refilled constantly.
What does that mean for the water coming from your shower or the bathroom sink? Unless you get a filter for every water output you may be ingesting or bathing in contaminants you'd rather avoid! In other words, a whole house water filter is the way to go if you have any concerns about water quality.
To fully understand what your home water filtration system will need to handle, we highly recommend testing your water. That way you'll be able to tell what features of a system are a necessity, and which ones may just be pricey add-ons that aren't worth it.
If you have city or county water, you can also check to see if the tap water tests are available in the most recent database compiled by the Environmental Working Group (EWG).
Common Contaminants That Can Be Filtered Out of Your Water
Filtration systems meant for the entire home are generally capable of filtering out sediments as small as 0.35 micron. Some are targeted at specific chemicals or metals. Others may even add a water softener or use a UV light to purify water of sneaky bacteria.
So, which contaminants do you need filtered out?
Here's a list of the common ones that you can find in many city and well water supplies:
Physical: sediment or organic material that come from soil erosion in river, streams, and lakes.
Biological: organisms like bacteria, parasites, viruses, and protozoan.
Radiological: radioactive elements such as uranium, plutonium, or cesium.
Chemical: man-made or naturally occurring chemicals like heavy metals, nitrogen, salts, pesticides, pharmaceuticals or medication, bleach, and other cleaning products.
Features To Pay Attention To For a Water Filter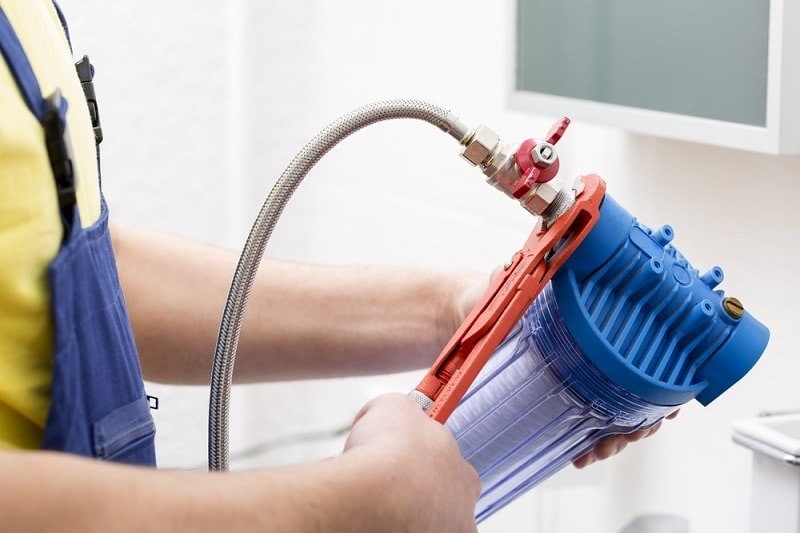 Filter lifespan
The filter for your water filtration system will need to be replaced eventually, and every company differs on how often. Your water supply may also dictate when to change based on the level of contaminants and types that get filtered out.
Filters can be expensive and time-consuming to change, so keep an eye out for long filter life or products with a simple design that makes swaps easy.
Flow rate
The flow rate of a filtration system is noted in gallons per minute, or GPM. A standard flow rate is usually between 15 to 40 GPM. Depending on the size of your family, and the frequency of water usage you may need to keep an eye on this so as not to overload the system.
Port size
The port is the connection point between where your water is pulled from and the whole house water filter. The diameter of your port should be a minimum of one inch to avoid a loss of pressure.
Certifications and Standards For Water Filters
An excellent, one-and-done way to scope out a quality water filtration system is to see whether it meets the standards of the National Sanitation Foundation International and American National Standards Institute (NSF/ANSI).
When a product displays the seal of approval that means it meets NSF standards and you know that it has been built without harmful chemicals or metals (like BPA), filters common and dangerous metals (like lead), and that it has been rigorously tested to meet exacting specifications.
Other independent research companies that test products and bestow certifications are the Water Quality Association (WQA) and EWG. If a product boasts the approval of any of these organizations, you know that they really care about the health and satisfaction of their customers!

Final Thoughts
For those who just want the quick rundown, here you go!
Our choice for best overall product from the roundup is the Express Water WH300SCKS Whole House Water Filter. At only a mid-range price, this system gives you premium filtration and peace of mind. Well or city, Express will markedly improve any type of water you pipe through it.
And for those on a budget, we recommend the Culligan WH-HD200-C Whole House Water Filter as the best value pick. It doesn't have a ton of extra bells and whistles that jack up the price. What you get is reasonably priced, superior chlorine and sediment reduction without loss of water pressure.
Hopefully, these handy tips and detailed reviews have saved you some time down the water filtration rabbit hole. There are so many options, features, and price ranges to sift through. But with our keen insights, you too can filter out the crud and get the best whole house water filter for your needs.
Happy splashing!
---
Featured Image Credit: Sukan Saythong, Shutterstock