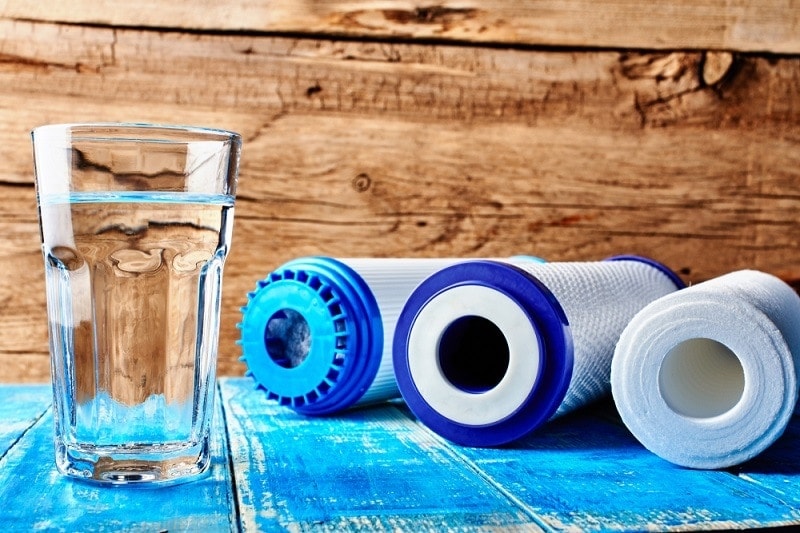 The average household uses around 100 gallons of water every day. Having a well means that you can access the water you need for free, but there is a multitude of contaminants and bacteria lurking in the water. Installing a filtration system on every faucet and shower is inconvenient and costly.
A whole house water filter is attached at the source, eliminating the need for individual filters. With the right filter, you will be able to run every faucet at once, drawing purified, clean water. It's not only better for you, but can protect your appliances from water contaminants, too.
The best whole house filter costs only a little more than an under-sink filter. It should be easy to install, match your maximum and typical flow rates, and it should not need changing too frequently.
There are many benefits to having a whole house filter, but there is a seemingly varied assortment of devices on the market, which can make choosing the right one a challenge. Using our list of in-depth reviews, you can narrow down your options, opting for the model that is best for your needs.
---
A Quick Comparison of Our Favorites
Rating
Image
Product
Details

Best Overall

iSpring WGB32BM Whole House Water Filter

3-stage filtration
Removes chlorine taste
100
000-gallon capacity
CHECK PRICE

Best Value

Aquaboon Whole House Well Water Filter System

Great value for money
Works with 20-inch cartridges
FDA approved materials
CHECK PRICE

Premium Choice

Aquasana EQ-WELL-UV-PRO-AST Water Filter System

6-stage filtration system
20-inch pre-filter
Filtration for 500
000 gallons
CHECK PRICE

Express Water WH300SCKS Whole House Water Filter

Pressure gauges above each filter
Freestanding installation rack
Clear sediment filter
CHECK PRICE

iFilters Well Water Whole House Filtration System

Cheap
6-month filter life
Removes 95% of sediment
CHECK PRICE
---
The 9 Best Whole House Water Filters for Well Water – Reviews 2021
1. iSpring WGB32BM Whole House Water Filter – Best Overall
The iSpring WGB32BM is a three-stage whole-house water filter. The sediment filter first removes any large particles and debris. This minimizes clogging while also ensuring greater filtration results from the second stage filter, which is the carbon block. The carbon block features compact, high-quality coconut shell carbon. The carbon block removes pesticides, herbicides, chlorine, and other pollutants. The third stage of filtration reduces iron levels and is also responsible for minimizing lead to below 15 parts per billion, considered a safe drinking water level.
With a peak flow rate of 15 gallons per minute and 25 PSI minimum working pressure, the iSpring WGB32BM is effective for households of up to four people.
Although the iSpring removes more iron and other contaminants than a standard water softener, the company recommends installing a separate water softener if your water is measured as having more than 700TDS.
Two things held us up from giving this filter a perfect review. It was a bit tricky to install, and it seemed to meet its limit with highly polluted water. But all in all, it's a near-perfect package.
Pros
3-stage filtration
Removes chlorine taste
100,000-gallon capacity
Reduces heavy metals
Cons
May require separate water softener
Tricky to install
---
2. Aquaboon Whole House Well Water Filter System – Best Value
The Aquaboon Big Blue is a filter housing system that will accept a range of 20-inch filters. The filters are not included when buying the housing, so you will need to purchase these separately. However, even after buying filters, the Big Blue from Aquaboon's price means it is the best whole house water filter for well water for the money.
The unit incorporates a pressure release button inside the cap, which makes changing the filter easier and less messy. There is also a double-O ring to ensure water does not leak outside the filter system.
Thanks to its large capacity housing, the Aquaboon whole house well water filter system is especially effective for use with wells that have heavy-sediment water, or where high water flow rates are required. It is made from FDA approved, food-grade materials, ensuring that it doesn't add to the pollutants in your water, and it includes the brackets and all other fittings required to install the filter in your well water system.
Pros
Great value for money
Works with 20-inch cartridges from various manufacturers
FDA approved materials
Double-O ring attachment prevents leaks
Cons
Need to buy filters separately
---
3. Aquasana EQ-WELL-UV-PRO-AST Water Filter System – Premium Choice
The Aquasana EQ-WELL-UV-PRO-AST water filter system is an advanced six-stage system that has been designed specifically for use with well water. It is on the pricey side, costing several times more than some of the other system we reviewed, but Aquasana states that it will clean your water for five years, or roughly 500,000 gallons of water.
Water passes through a pre-filter to remove sediment before reaching the salt-free softener. The premium filter system also includes a mineral stone filter, activated carbon, a post filter, and a UV filter.
It has proven especially effective for water with high sediment levels, thanks to its giant 20-inch pre-filter. It also reduces up to 97% of chlorine in the water, while eliminating heavy metals, so your water tastes great and won't stain your glassware or damage your appliances. The salt-free softener also negates the need to have to replace salt, while the filters will need changing approximately every three months.
The price is this unit's biggest drawback, while its complexity means that you may need a professional installer to avoid the complex installation, and the multiple filters mean that it does take up quite a lot of room. Overall, though, it is a powerful and effective filter.
Pros
6-stage filtration system
20-inch pre-filter removes heavy sediment
Filtration for five years or 500,000 gallons
No need to replace salt in the softener
Cons
Expensive
Bulky
Difficult to install
---
4. Express Water WH300SCKS Whole House Water Filter
The three-stage Express Water WH300SCKS water filter boasts a 15 GPM flow rate at a pressure between 45 and 80 PSI. Water passes through a sediment filter to get rid of coarse debris like sand and rust before the Kinetic Degradation Fluxion (HDF) filter removes heavy metals. Finally, your well water is passed through an Activated Carbon Block (ACB) that effectively captures chlorine, pesticides, pharmaceuticals, and other chemicals that can give water an off-taste.
Express Water boasts that each filter will last between six months and a year, depending on the quality and cleanliness of your water in the first place.
The model includes handy pressure gauges on top of each filter, which indicate if you have a blockage and when filters need replacing. These can help save money because they prevent you from replacing incorrect filters or replacing the whole lot every time you change them.
The WH300SCKS also comes with a freestanding frame, so you don't have to attach brackets to your wall unless you want to.
There were a few hang-ups with this filter. First off, we experienced leaking connections, even after applying several layers of Teflon tape. Secondly, we found that the water pressure dropped drastically between the filtration stages, which caused a problem with showers and following heavy water use.
Pros
Pressure gauges above each filter
Freestanding installation rack
Clear sediment filter is easy to monitor
Cons
Leaks
Loss of water pressure
---
5. iFilters Well Water Whole House Filtration System
The well water whole house filtration system from iFilters is an inexpensive system that offers two-stage filtration and includes the filters. It is best for light use because its 3 GPM flow rate is lower than most other models, but this matches its price tag. iFilters state that filters will last for approximately six months before they need changing, although the actual frequency you will have to change your filter depends on water quality.
Once installed, your well water passes through a sediment filter, which rids the water of sand, rust, and other large sediments. The sediment-free water is then passed through a coconut carbon filter, removing heavy metals, mercury, pollutants, and chlorine, ensuring that you have odorless and clean water from every faucet.
Although this model is a good price, it lacks the third filtration stage that most models offer, and it also lacks the power of most models. It is best reserved for those with minimal water usage.
Pros
Cheap
6-month filter life
Removes 95% of sediment
Cons
Only a 2-stage filtration system
3 GPM flow rate
---
6. Home Master Whole House Water Filtration System
The Home Master HMF3SDGFEC is a whole house water filtration system. It offers a flow rate of 15 gallons per minute and a capacity of 1 million gallons of water. Home Master says that the filters will only need replacing approximately every six months to a year, depending on the water quality prior to filtration.
The first filtration stage utilizes a high-capacity PP sediment filter. This removes large particles of sediment including rust, sand, and dirt. The second stage removes iron, manganese, and sulfur, and it uses a radial flow design that prevents any drop in water pressure. The final filter is a coconut shell carbon filter, used to remove potentially harmful, foul-tasting, and odorous chemicals from the water.
The filters are over-sized, so they are a little bulkier, but this enables the water to pass through without losing pressure, and it also means that the filters are less likely to become clogged so maintenance requirements are minimized.
Unfortunately, we found this filter did not do a good job of removing the sulfur smell. On top of this, after a few weeks, of use our water was yellow and high in iron again.
Pros
Oversized filters mean easier maintenance
Very little loss of water pressure
Three-stage filtration
Cons
Doesn't do a great job removing sulfur smell
Iron quickly returns to the water
Installation can be difficult
---
7. Pro Aqua ELITE Whole House Water Filter
The Pro Aqua ELITE is a three-stage whole house water filter that offers 99% reduction of chlorine and heavy metals, which not only make your water look and taste foul, but can also leave lasting rust damage on your sinks and baths, and even damage water-based appliances like washers and dishwashers.
The system is designed for use in small to medium homes and each filter offers a life of up to 100,000 gallons of water or 6 to 12 months, depending on the quality of your water in the first place. It offers a flow rate of up to 15 GPM and is modestly priced. It also includes a heavy-duty bracket for fixing the filter by the well and has water pressure gauges above each filter so that you can determine where any pressure loss is coming from, and exactly which filter needs replacing.
However, we experienced leaks early on in our testing. And if you do have very dirty water, you may need to invest in a bigger and more powerful filtration system.
Pros
Modestly priced
Water pressure gauges
99% reduction of chlorine and other contaminants
Cons
Leaks
Not as effective on dirty water
---
8. 3M Aqua-Pure AP903 Whole House Water Filter System
Small and portable, the 3M Aqua-Pure AP903 offers two stages of filtration: a particulate filter, which rids the water of large particles including sand and rust; and a carbon filter that reduces chlorine and minimizes the taste and smell of your water.
Although the 3M Aqua-Pure is sold as being suitable for use with city water and well water, and it has an impressive 20 gallons per minute flow rate, it struggles to purify all but the clearest of well waters and is better reserved for city water supplies. With that said, it is a portable design and, as a result of this, it is easy to fix. 3M states that a filter will last for 12 months or 100,000 gallons of water, and the unit includes a magnetic display timer to remind owners when it is time to change the unit.
The unit also works with a choice of three different filter types, with a universal fixing, so that you can choose the filtration system for you.
Pros
Small and portable
Cheap
Choice of filter systems
Does a good job of eliminating chlorine
Cons
Ineffective for most well supplies
Filter last as little as one month
---
9. EcoPure EPWO4 Whole Water Filter
The EcoPure EPWO4 is a 10-inch large capacity water filter housing unit. It is compatible with EcoPure's range of 10-inch filters, as well as 10-inch filters from other major manufacturers.
It is quite cheap, although it is important to note that you will need to buy the filters to go into the housing because none are included. Also, if you want a three-stage filter, you will need to buy three housing units and three individual filters. The cost soon adds up and connecting multiple housing units and filters is not as simple as buying a single three-stage filter.
We have our fair share of complaints about this particular filter. First off, it was nothing close to a cinch to put together. Secondly, we had trouble finding appropriately sized O-rings to tighten the seal. And lastly, we experienced leaks after just a few weeks. All in all, the quality is much lower than other units on our list. Buyer beware.
Pros
Cheap for a single filter
10-inch universal housing
Cons
You need multiple units for multiple filtration stages
Difficult to put together
Leaks
Easily breaks or cracks

Conclusion
Above, we have compiled a list of in-depth reviews of the best whole house water filters for wells. We have included single, three, and even six-stage filtration systems so that you can find the system that best meets your home setup and your requirements.
Overall, we found the iSpring WGB32BM to be the best system, offering three-stage filtration, a competitive price range, and few issues with installation or use. If you're on a tight budget, the Aquaboon filtration housing system, which works with just about any 20-inch filter cartridge, provides a host of benefits at a really good price.
---
Featured Image Credit: ivan_kislitsin, Shutterstock

Pete has been working in the trades since high school, where he first developed a passion for woodworking. Over the years, he has developed a keen interest in a wide variety of DIY projects around the home. Fascinated by all sort of tools, Pete loves reading and writing about all the latest gadgets and accessories that hit the market. His other interests include astronomy, hiking, and fishing.
As the founder of House Grail, David's primary goal is to help consumers make educated decisions about DIY projects at home, in the garage, and in the garden.