10 Best Wood Chipper Shredders of 2023 – Reviews & Top Picks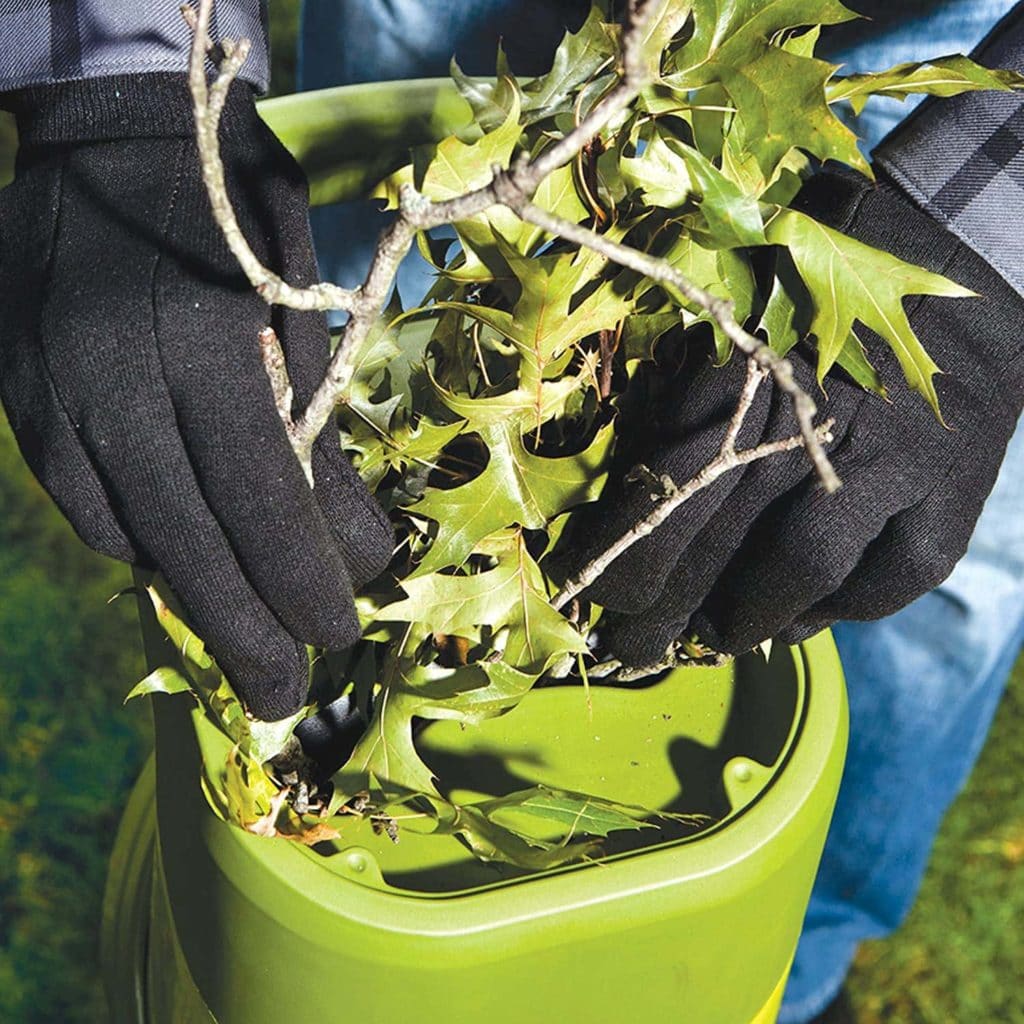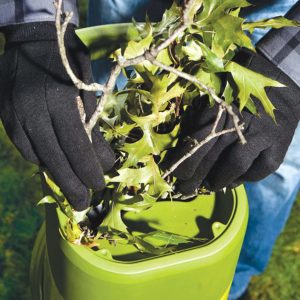 For your landscaping needs, having a robust and efficient chipper shredder is not only an excellent way to whittle down your excess branches and get rid of yard debris, but it is also an opportunity to cultivate your own mulch. Why buy big bags of mulch when you can make your own, and wood chipper shredders do that for you, and so much more.
In gas-powered and electric models, the chipper shredder has become a staple with most landscaping crews for its ease of use and its collection of functions. They aren't just a single-purpose machine as they were in the past, but a multi-functional tool that gives the user plenty of services for many landscaping desires.
In our reviews, we will cover the best wood chipper shredders available, all of which are compact enough for a single person to move and store, and each one ready to help you dispose of those twigs and thorny branches. If you are in the market for a new wood chipper shredder, take a look and pick out yours from this comprehensive overview.

A Quick Comparison of Our Favorites in 2023
Rating
Image
Product
Details

Best Overall

Landworks Wood Chipper Shredder

Powerful
Unique design
3-in-1
CHECK PRICE

Best Value

Sun Joe CJ602E Electric Wood Chipper Shredder

Powerful motor
4
100 RPM
Safety hopper
CHECK PRICE

Patriot Products CSV-2515 Wood Chipper Shredder

Quiet
Maintenance Free
Smooth mechanism
CHECK PRICE

Earthwise GS70015 Electric Wood Chipper Shredder

15A motor
2-bushel collection bin
Safety features
CHECK PRICE

GreatCircleUSA Wood Chipper Shredder

Powerful
Gas-powered
Eats 3" branches
CHECK PRICE
The 10 Best Wood Chipper Shredders – Reviews
1.

Landworks Wood Chipper Shredder – Best Overall
If you are looking for the end-all, be-all monster in the chipper shredder game, then the Landworks Wood Chipper Shredder takes the trophy and turns it into mulch. This amazing machine is a 3-in-1 dynamo, capable of eating a 3-inch branch as if it was swallowing a toothpick and then turning it into mulch for the garden.
Its unique design boasts a slanted housing, reducing jams, and a vacuum inlet that sucks up leaves for easy shredding into additional mulch products. It has a powerful 7 horsepower (HP), 212cc, 4-stroke gas-powered engine and accepts only the same fuel you put into your car.
The consensus on this item is excellent, but a few buyers have had trouble with their engines. They found it stalled after limited use, and the instructions lacked certain specifics, like the quantity of oil to put into the oil tank. Overall, we think this is the best chipper shredder you can buy this year.
Pros
Powerful
Unique design
3-in-1
Uses unleaded 87+ fuel
Reduced jams
Vacuum inlet
Cons
Stalls under strain
Poor customer care
---
2.

Sun Joe CJ602E Electric Wood Chipper Shredder – Best Value
You might not believe that a wood chipper shredder can be electric, but the Sun Joe CJ602Eis here to prove it can. With its powerful 15A motor, it is more than ready to turn your light duty chipping needs into a nutrient-rich mulch that will benefit your garden and give your plants the bonus of an attractive top coating.
It can shred branches up to 1½ inches thick with minimal effort and has a no-load speed of 4,100 revolutions per minute (RPM). It has a safety hopper with a locking knob, which will make the motor inoperable when opened — an outstanding feature for homes with curious kids. Its large wheels for transport and 2-year warranty are the icing on the very affordable cake. This is truly one of the best wood chipper shredders for the money.
It does have its flaws, but there aren't many. For instance, if you wish to replace the blades or reverse them for improved efficiency after a duration of use, it is impossible. The blades are a permanent fixture. And if the machine breaks down, warranty support is sorely lacking. It's a good thing this unit is so inexpensive.
Pros
Powerful motor
4,100 RPM
Safety hopper
2-year warranty
Lightweight design
Cons
Poor warranty support
Blades irreplaceable
---
3.

Patriot Products CSV-2515 Wood Chipper Shredder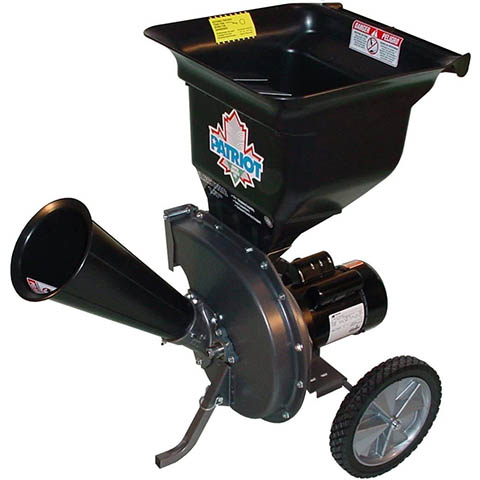 The Patriot Products CSV-2515 is not a tool, it is an investment. Plus, it's an electric unit. It is quiet during operation, the action of the mechanism is very smooth, and it is entirely maintenance-free.
It is the unit to have for dissolving those leaves you labored to rake in autumn in hopes of creating a warm topcoat for your plants, and it will do the job quickly and without even the slightest hiccup. It will make coin-sized chips out of branches up to 2½ inches in diameter.
This model is expensive and it is somewhat underpowered. The motor gets too hot too quickly and will not start again until it cools. It is only intended for the lightest-duty landscaping work.
Pros
Quiet
Maintenance Free
Smooth mechanism
Eats branches up to 2½" thick
Cons
Light duty use only
Engine overheats
Very expensive
---
4.

Earthwise GS70015 Electric Wood Chipper Shredder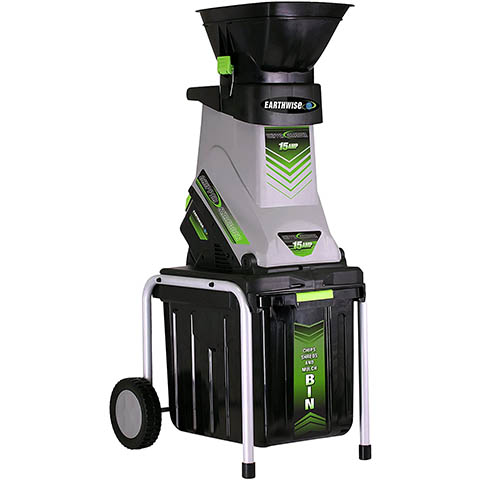 At first blush, the Earthwise GS70015 doesn't look like your garden variety wood chipper shredder. But flip on the power switch, drop a few branches in, and see what this exciting unit can do. The people at Earthwise wanted to design an efficient chipper, and they knocked it out of the park with this model.
It has a 15A electric motor that can shred branches up to 1¾ inches thick and has a chute tamper tool to prevent accidents. Its collection bin at the base is 1.2 bushels, enough space to trap plenty of mulch before scattering it at the bottom of your plants. It has rear wheels with a stand-up design that will give the user improved mobility when relocating the machine.
Unfortunately, this model fails to deliver on many of its promises. For one, if the branch you are chipping is green, as in recently alive, it will bog down—dead branches only. And if the branch is put in at an angle, the machine will jam. And it seems certain types of leaves can also give it trouble.
Pros
15A motor
2-bushel collection bin
Safety features
Easy to move
Cons
Design flaws
Jams
Dead branches only
---
5.

GreatCircleUSA Wood Chipper Shredder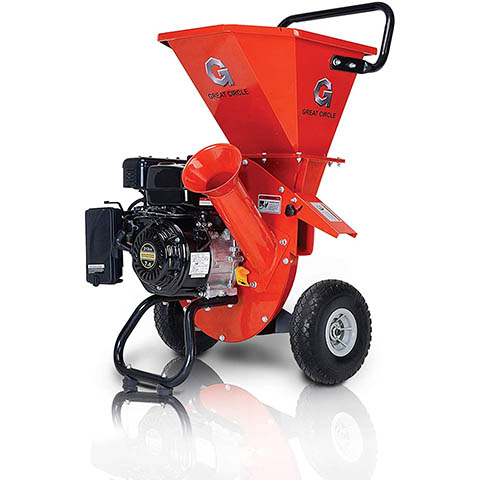 Another monster gas-powered unit, the GreatCircleUSA Wood Chipper Shredder can handle your workload and then some. It is ready to eat branches up to 3 inches in diameter like a hungry wolf and turn them into mulch at a reduction rate of 15:1. It has a powerful 7 HP motor and takes 87+ unleaded fuel.
This is the model you want when chipping and shredding in the forest or doing some green waste recycling. It has the shape to make it easy to tow behind an ATV or lawnmower, haul it to your worksite, and let it do what it does best. It has an outport for an optional vacuum kit and is terrific for fire prevention.
It has a classic problem that happens to many gas-powered landscaping units, and that is the cord. This is a little different, though, in that once pulled out to attempt to start the motor, the cord does not retract. And many other buyers found design flaws where the oil and gas were not getting into the carburetor. Plus, there were some reports of units arriving damaged.
Pros
Powerful
Gas-powered
Eats 3" branches
Cons
Manufacturing defects
Design flaws
Shipping damage
---
6.

WEN 41121 Rolling Wood Chipper Shredder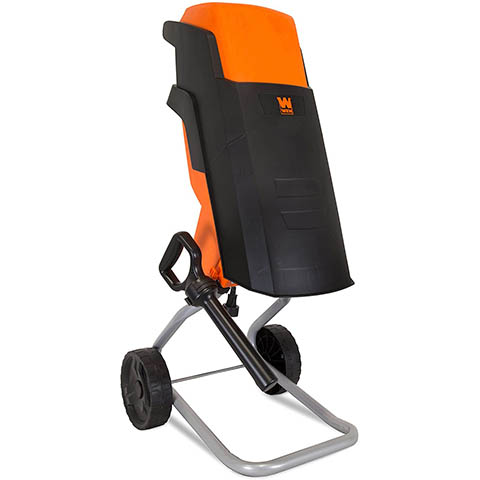 The last thing anyone will see when they feast their eyes on the clean lines and fetching design of the WEN 41121 is a wood chipper shredder, but that is precisely what it is. Take lawn clippings, twigs, and even branches, turn them into mulch with this electric gem and do it in style.
The electric 15A motor can dish out 8,000 cuts per minute using its 7-inch cutting blades. But don't let those blades frighten you. The WEN has an internal safety mechanism that prevents the motor from initiating when the hopper is open. And it has an on-board collection bag and a 2-year warranty as a bonus.
This item has a couple of snags that are frustrating to some users. They find it vibrates so much that the machine itself rattles apart. And the motor bogs with minimal strain. Some purchasers are getting units that don't work, and there is little info for troubleshooting the problem. Unfortunately, warranty support is unreliable, which is disappointing.
Pros
Electric
8000 cuts per minute
7-inch blades
Cons
Design flaws
Very light-duty
Motor bogs
Poor customer service
---
7.

SPEED FORCE Wood Chipper Shredder
Another gas-powered wood-eating machine, the SPEED FORCE Wood Chipper Shredder has taken a different tack and is designed for one thing only, and that is chipping wood with efficiency. The 6.5 HP, 208cc, 4-stroke Maxx series engine shreds a 2-inch thick wood branch with ease.
This model is designed with several innovative features that are worth mentioning. It has an engine oil alert sensor that lets the operator know the oil level is insufficient by cutting the ignition to the starter. The twin steel alloy blades are reversible, and the hopper has a hinged feed that offers quick and straightforward cleaning and maintenance.
A few users found this machine a little underpowered for the task at hand. They noticed it bogged down when branches near the machine's advertised size cap were inserted. And the ads also say it can handle a branch that is 3 inches in diameter, but the manual says the max is 2 inches.
Pros
5 HP engine
Engine oil alert sensor
Reversible twin blades
Cons
Underpowered
Inconsistent specs
Manufacturing defects
---
8.

TACKLIFE Wood Chipper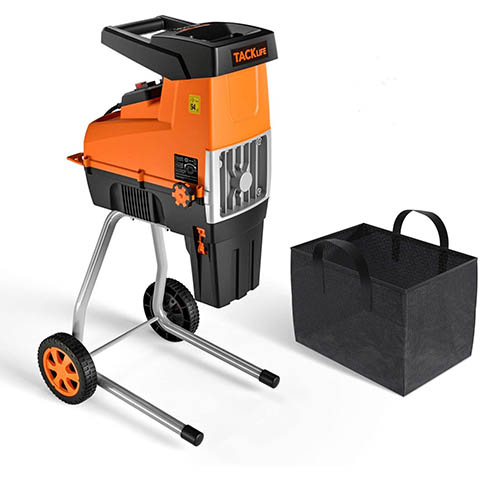 It isn't the biggest or the strongest, but the TACKLIFE Wood Chipper will still make an impact on your landscaping work. As with all-electric models, it has a 15A motor that is perfect for most light-duty tasks, including compost shredding and, of course, wood chipping. It has a chipping reduction of 16:1 and a rollerblade to prevent clogs.
It is portable and makes very little noise considering the job it has to do, and because it is electric, it creates no exhaust, therefore lowering its carbon impact. It has a safety protection switch that shuts off the machine if it is blocked to save the motor and comes with a sturdy push paddle, keeping your hands from accidents.
The roller feature is seen as an ineffective way to chip the wood or even dissolve dead leaves. It seems it just spits everything out roughly the same as it went in. Users reported that this complaint, as well as others, were not met with any real support from the company's service team.
Pros
No exhaust
16:1 reduction
Cons
Does not chip wood
Rollerblade not efficient
Poor customer support
---
9.

YARDMAX YW7565 Chipper Shredder
Nothing says gas-powered excellence like Briggs & Stratton, and they are the makers of the YARDMAX YW7565, so you know the motor on this model will be top-notch. This model is as durable as it is user-friendly. It has a spacious self-feeding chute and a solid steel casing for long life and minimal damageability.
If you need to do some routine maintenance, the blade area is easily accessible through an access port on the side. It is ready to handle your most challenging jobs, and the 6.5 HP motor won't show any branch up to 3 inches thick any mercy. Save money, save the planet, and repurpose your trimmings and chippings into useful and effective mulch.
The biggest gripes with this model have to do with the price and the build. It doesn't come fully assembled, and some of the screw holes don't quite line up. If you can manage to get the screws in place, other design defects cause it to fail.
Pros
User-friendly
Self-feeding chute
Cons
Expensive
Manufacturing defects
Stalls frequently
---
10.

Powerhorse Chipper/Shredder
It is evident just from looking at it that this is a monolith of a chipper/shredder and that Powerhorse is the right name for it. See the tow point on the back, just above the 13-inch tires that are perfect for rolling over every conceivable terrain. And it is designed with an eye on balance with a low center of gravity for improved stability.
It has a massive 212cc gas engine with a cast iron sleeve and the brilliant low oil shutdown feature, plus a dual-feed unit with a drop-in shredding hopper and chipper chute. And it can chip limbs up to 3 inches in diameter without breaking a sweat.
Some users have found this model overpriced for the efficiency it lacks. They feel the design is flawed, and thus, it will not handle a large workload, making the job seem longer than it has to be. And the steel body is very susceptible to rust even after a short time of outdoor exposure.
Cons
Overpriced
Inefficient
Design flaws
Rusts quickly
---
Buyer's Guide – How to Purchase the Best Wood Chipper Shredder
If you have never had one, the innovation and efficiency of the modern wood chipper shredder can be a total game-changer for your yard, your gardening, and your general limb disposal. But those who do have one know that the work would not be the same without it.
It doesn't just chip the wood into useful mulch, repurposing the dead to help the living, it also clears away dead leaves, works as a fire break building component, and can be a great way to lower your carbon footprint with new ways to take your composting to a whole new level.
When choosing your wood chipper shredder, a few factors make a difference, but they all dictate the machine's efficiency. If it doesn't do its job and do it in a timely fashion, it isn't worth having. Not many people enjoy landscaping, but a high-quality chipper shredder can undoubtedly speed up the work and give you back your day.
Choosing Your Wood Chipper Shredder
Picking a wood chipper shredder is somewhat more complicated than other landscaping tools because of the various features that combine to make a quality model. First and foremost is the power source. Chipper shredders can be either electric with a motor or gas-powered with an engine.
Picking your power source also helps you decide what kind of chipper blade you will have. Some of the electric models come with a blade system, while others come with a roller. The same applies to the gas-powered models, but the blades are more plentiful and the rollers more rigid and violent when the wood is introduced.
As the motor or engine's ripple effect carries to the shredder chipper blades, this creates the dynamic of the size of branches and quantity of leaves that can be handled in short succession. As you can see, everything stems from the power source. Everything works in concert, and nothing can function without a heavy-duty motor.
The Power Source
When we mention a power source, we usually talk about the difference between battery power and electric power. In this instance, we are referencing the combustion engine on gas-powered shredders versus the motor on electric units. And each has its perks and deficits, which is what makes picking the right one so important.
Gas-Powered Engine
Combustion gas engines are measured by HP and in increments of cubic centimeters, or cc. The cubic centimeters are just a measurement of the physical size of the engine on the whole, where the HP, or horsepower, is the raw energy generated by the explosive force of the engine. The higher the HP, the more power the unit has, even if the cubic centimeters are smaller than other models.
The significant gain of the gas-engine is also its biggest flaw. Because it is an engine, it is naturally more powerful than electrically-driven motors, but that power has to start with a spark, and if you can't get the spark, it is a costly paperweight. Electric motors don't have carburetors, which is the most crucial part of the gas-engine and its Achilles heel.
If the filter is clogged, if the air is too cold, or even if the unit is faulty in its combustion mix, it will not fire. Pull the crank rope all you wish; you will just give yourself a sore arm. The best recourse is to install a push-button starter, but the same rules apply. Environments must be perfect for these to start correctly. Still, it is the better choice for chipper shredders, generally speaking.
Electric Motors
Electric motors are measured in amps. Typically, all-electric chipper shredders are around 15A. They start with a simple push of a button, they have no combustion, so there is no need for a filter or exhaust, and the lack of gas or oil makes them very green-friendly across the board.
They are very quiet in comparison. But therein lies the rub. They are quiet, which means they aren't working as hard as their gas-powered counterparts, and this power struggle is why most users go for the gas models. And their other big flaw is proximity to an outlet. They don't work if they aren't plugged in. Not the tool to have on the job site or in any professional capacity.
The Cutting Area
The motors power a system of blades that have the sole purpose of shredding, chipping, and in no uncertain terms, eating any wood that comes in their gaping teeth. Typically, there are either one or two blades, but some units use more. The other possibility is a roller, but they are less efficient and bog down much easier than the bladed models.
Blades and Gas Engines
When a chipper shredder with a gas engine has blades, they are designed to not only be removed and replaced when needed but also reversed for longer use. This feature cuts down on wear and can lower the refuse when blades must be discarded. And these blades can be sharpened, another terrific bonus.
They are easy to access when maintaining or cleaning the cutting area, and their power makes short work of most wood sent to them via the chute. The ease of accessing the blades has one drawback, and that is safety. It is not difficult to open the blade port on some models while the machine is running, which is a tremendous safety hazard.
Blades and Electric Motors
This is another big reason why we recommend a gas-powered model over an electric one. On no model in this review that was listed as electric motor driven were the blades replaceable. They were packed neatly within the design, completely inaccessible from the outside. This is a great feature for safety, but not for blade efficiency.
It counters the idea of a carbon-neutral machine when the entire machine must be scrapped if the blades become too dull to do their job. It does, however, add to the overall safety of the unit. All-electric models have fail-safes. If the chute is opened while in operation, the motor cuts out to prevent accidental death or dismemberment.
Additional Features
The two more popular features are the vacuum attachment on gas-powered models for directing mulch spray and vacuuming leaves for mulching and the easy collection system on both types for effortless cleanup. Not all models have these, so if it is essential, look for the one that does. They are lovely side bonuses to have, but no model has both.

Conclusion
Picking the right wood chipper shredder will always come down to the features, and those features will be championed by the people who use them the most. The model with all the features we loved was the Landworks Wood Chipper Shredder. It had plenty of muscle for the job, had the vacuum attachment standard, and had plenty of extra perks to send it over the top.
While most chipper shredders are pretty pricey, we chose the Sun Joe CJ602E Electric Wood Chipper Shredder for its value and its style. Yes, it is an electric model, so that it will lack a little of the punch of its gas-powered competitors. But it will start in the cold, every time, and its motor will make those shredder blades do their job with speed and intensity.
When picking yours, remember, it is about how often you will use it, where you will use it, how you will use it, and if you care about the environment or more about getting the job done. Any contest between gas and electricity will always come down to these factors. We hope we cut through the details enough to paint you an accurate picture so you can pick your best wood chipper shredder.