DeWalt DW713 Miter Saw Review 2023 – Pros, Cons, & Verdict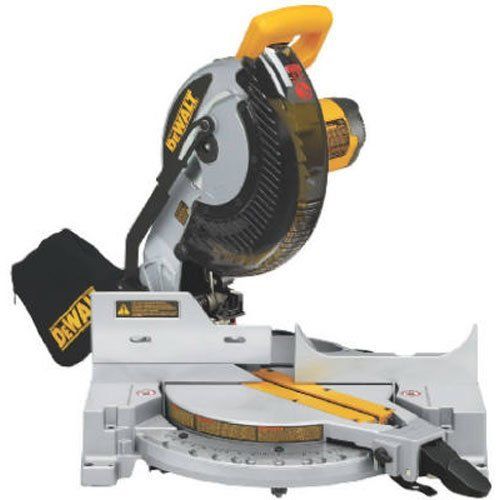 We give the DeWalt DW713 Miter Saw a rating of 4.3 out of 5 stars. 
Functionality: 4.7/5
Design: 4.2/5
Price: 4/5
Review Summary
DeWalt is one of the premier tool brands and those who have used their tools have nothing but amazing things to say about them. They function just as they have been advertised and their honesty and reliability has seen them gain a lot of followers. In this article, we bring you the review of the DeWalt DW713 which is one of the best miter saws that you can get if you make cuts regularly when working with wood and other materials.
The DeWalt DW713 is powerful enough to handle complex professional jobs while at the same time being simple enough for a DIY enthusiast to use it with ease and this makes it ideal for both professional and DIY users. Hobbyist, however, will struggle with this particular model as it is somehow complex but if you have prior experience with such tools then using the DeWalt DW713 will not be a problem.
The DeWalt DW713 impressed us with its ability to generate a lot of power without being too heavy and this makes it easy to move around with at the workstation. There are other impressive attributes of this compound miter saw and we will discuss them below to see it is suitable for your craft needs.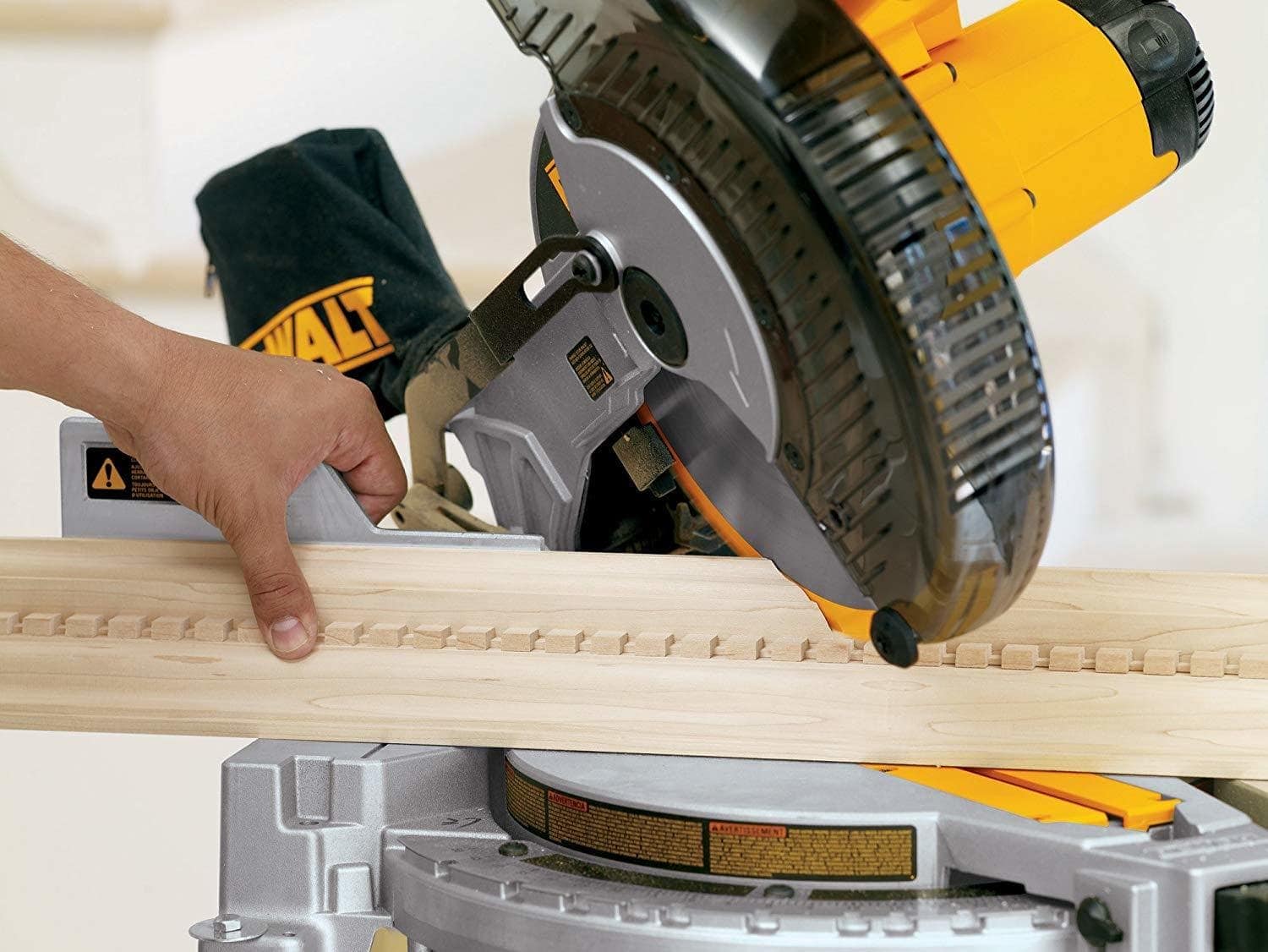 DeWalt DW713 – a Quick Look
Pros
Light in weight
Can generate a lot of power
Very accurate
Easy to use
Cons
Too noisy at higher rpm
Lacks an LED guide
Specifications
Brand name: DeWalt

Model: DW713

Product weight: 35 pounds

Dimensions: 19 x 23.8 x 17 in

No-load rotating speed: 5000 rpm

Amperage: 15A

Voltage: 120V

Blade diameter: 10 in

Miter range: 50 degrees left, 50 degrees right

Bevel range: 48 degrees left, 3 degrees right

Warranty: 3 years
A powerful and accurate miter saw
A great miter saw must be able to accomplish two things; it must be powerful enough for a variety of cutting jobs and it should be able to make accurate cuts and the DeWalt DW713 satisfies all these requirements. With a motor that runs at 5000 rpm without a load, the DeWalt DW713 will cut through any material that you throw at it.

More power means that you will be able to get the job done efficiently and this will help you as a professional craftsman as it will not only improve the quality of your cuts, it will allow you to make the cuts in the shortest time possible.

Accuracy is another attribute that best describes the DeWalt DW713 and this results from its bevel adjustment system. The cam lock on the miter's handle can be adjusted and this makes it easy to cut pretty much anything at an angle and accurately as well. It has 11 positive stops as well that are easy to set up for improved cutting efficiency.
Portable and convenient
At just 35 pounds, the DeWalt DW713 is one of the lightest compound miter saws on the market. Transporting it from place to place and within your working area will not be a challenge and you can even use the carry handle for enhanced portability. Its lightweight design makes it easy to use as you will not have to struggle with heavy and bulky parts.
Safe to use
Power tools present a lot of hazards but the DeWalt DW713 has been protected adequately to make it safe for you to use. It features a transparent guard on the blade that allows you to safely monitor the blade as it cuts to ascertain that the cuts are being made just as you like them. This reduces the chances of you coming into contact with the blade and injuring yourself.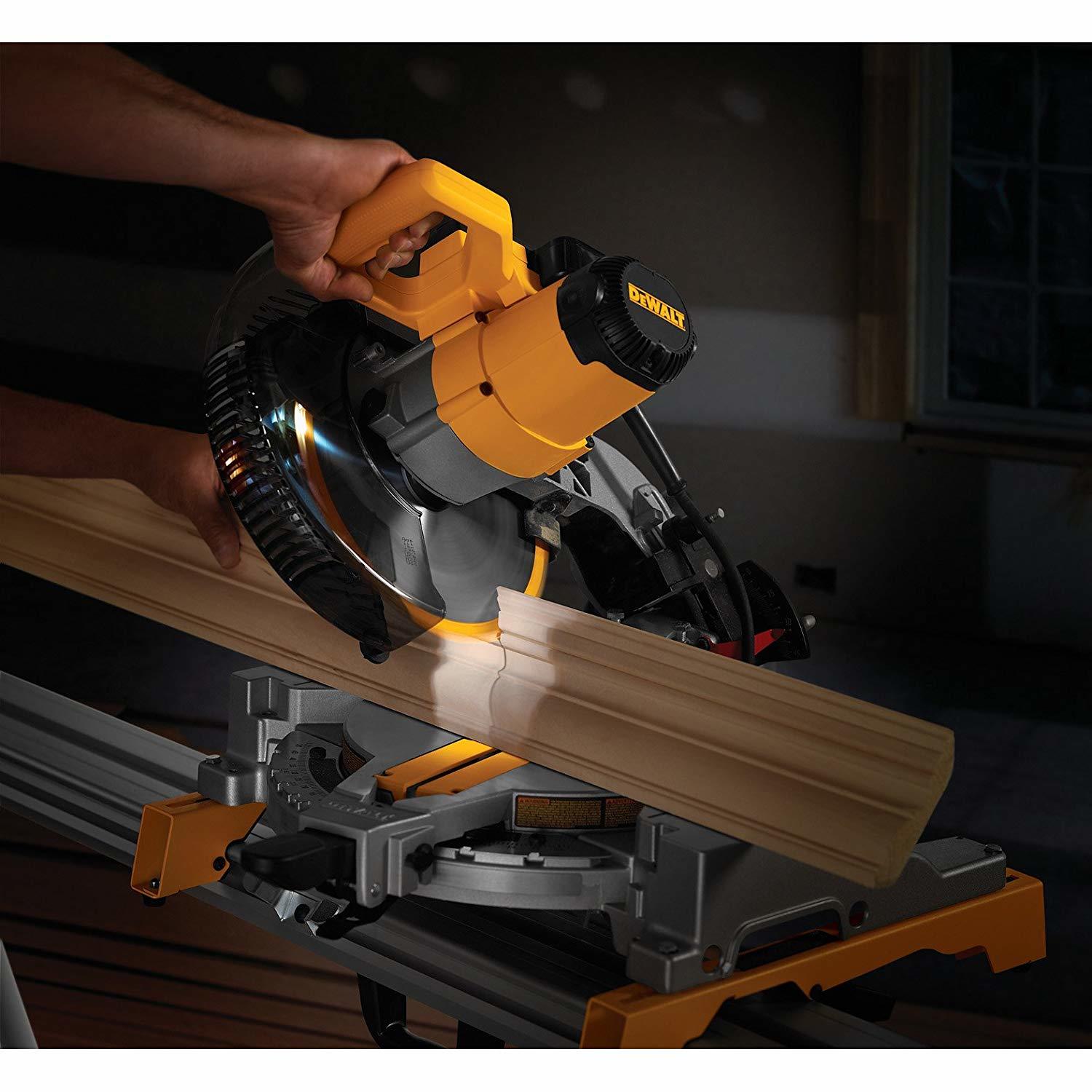 FAQ
Does the DeWalt DW713 come with a warranty?

The DeWalt DW713 features an exclusive warranty from the manufacturer that covers defects in design and assembly. You also get one year of free service when you purchase the product and a money-back guarantee of 90 days should you not as the miter saw.

Does it feature a light guide?

The DeWalt DW713 does not feature either an LED or laser guide. However, you can buy the DW7187 LED guide that is sold separately for more accuracy when using the saw.

Can the DeWalt DW713 cut other materials other than wood?

Yes, it can. You can use it to cut aluminum but it will struggle with steel.
General user impressions
Most of the people who have used this saw have nothing but positive things to say about it. Its biggest selling point was how powerful the saw is with most people amazed at how such a compact saw can generate all that power. A saw rated at 5000 rpm is quite powerful and the DeWalt DW713 can generate all this power yet it weighs just 35 pounds.

Its light and compact build was another thing that the users liked about this miter saw as it made it possible move the saw around the workstation without breaking a sweat.

As we have already mentioned, the accuracy of the saw was another reason why users chose it over other miter saws and its 11 positive stops and miter adjustment capability were the factors that made this possible.

The DeWalt DW713, however, also had some flaws that made it lose some credibility points which some users complaining of how noisy the unit got at high RPMs.

All in all, the positive reviews outweighed the negative ones and this means that the saw has been positively received.
DEWALT 10-Inch Compound Miter Saw (DW713)
15 amp, 5,000 rpm motor delivers extended power and durability for the 10-inch miter saw blade
Stainless steel detent plate with 11 positive stops of the mitre saw provides repeatable accuracy and jobsite duability
Tall sliding fences of DEWALT miter saw support crown molding vertically 4-1/2-inch and easily slides out of the way for bevel cuts
---
Conclusion
Is the DeWalt DW713 a great miter saw? Yes, it. Is it flawless? Definitely not, but if you want a reliable miter saw that will cut through anything that you through at it, then the DeWalt DW713 is your guy.

It will generate enough power for your cutting needs and make the cuts as accurately as possible thanks to its bevel adjustment system.