31 Different Types of Clamps & Their Uses – Which is Right for You?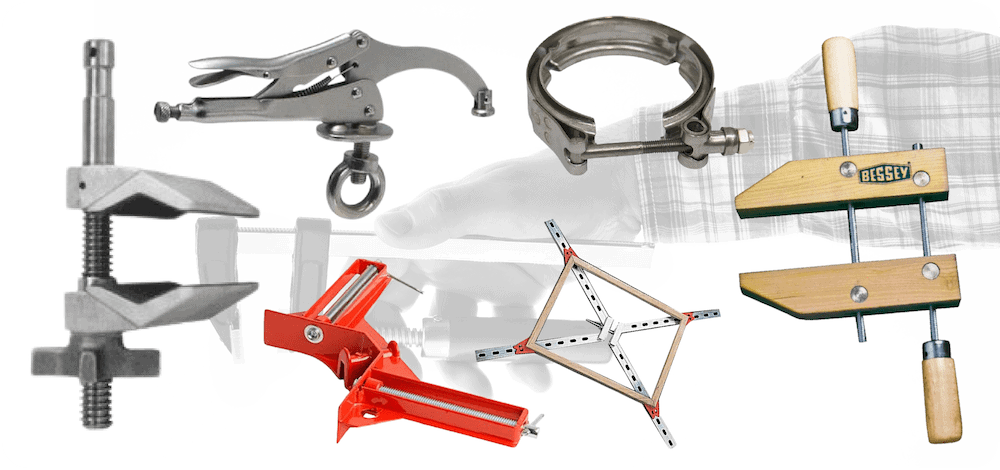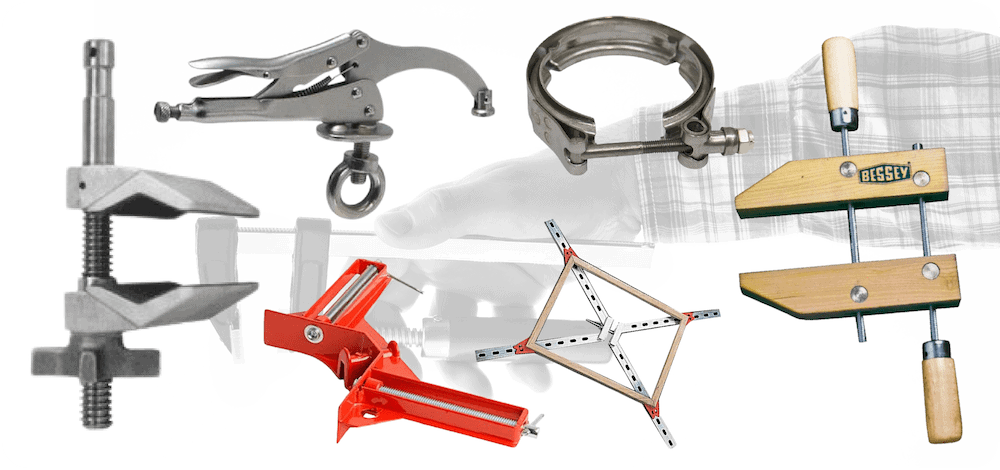 Even though all clamps pretty much serve the same function, there are a variety of clamps to add to a workshop. If you are new to clamps, you will be shocked to find dozens of different types.
This article gives you a comprehensive list of clamps used for welding, metalwork, woodwork, and other construction or home uses. Although we do not cover medical clamps, this is a complete guide to clamps for work. Let's dive into them!

The 31 Different Types of Clamps & Their Uses
1.

Bar, F, or Sliding Clamp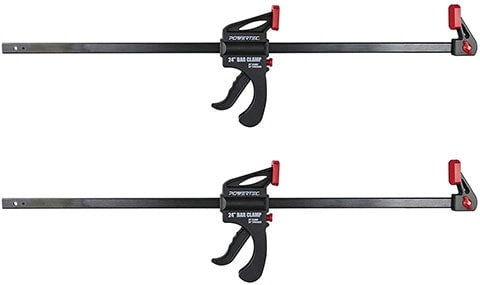 Bar, F, or sliding clamps offer a wide clamp opening, making them perfect for a large project and woodworking. The handles are normally long, offering stability and enough traction for big projects. You place the project on the bar's flat surface and then slide up to clamp the head shut and hold the project tight. There are a variety of styles for this clamp-type because of how necessary it is for large projects.
---
2.

Bench Clamp
When you are working on a bench, you sometimes need a clamp to keep the project attached to the bench. A bench clamp does just that. The bench provides the fixed jaw for the clamp, while the tool itself provides the sliding motion. This is a great tool to have for furniture making, carpentry, and welding. Since this tool is so versatile, it is normally inexpensive.
---
3.

Bench Vise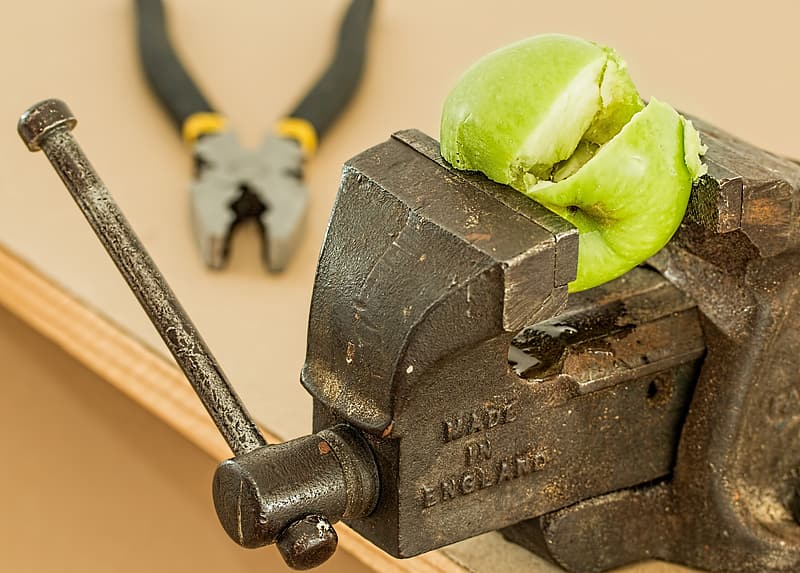 Whereas the bench clamp uses the bench as the fixed piece, a bench vise connects to the bench and includes a fixed jaw and a sliding jaw. These vices are incredibly versatile, and you can use them while sanding, drilling, or sawing. This device can even be screwed or clamped onto different workbenches, making it a great option if you need a portable clamp.
---
4.

Cardellini Clamp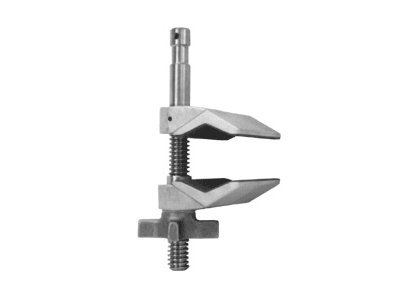 Cardellini clamps are great for clamping onto tubing. Regardless of whether the tubing is square, round, or rectangle-shaped, this clamp can handle it. The clamp can even grip flat projects, equipment, and lights. The problem with these clamps is that they can be tightened too much, making them susceptible to damage easily. Make sure to be careful when tightening and adjusting a Cardellini clamp for this reason.
---
5.

Drill Press Clamp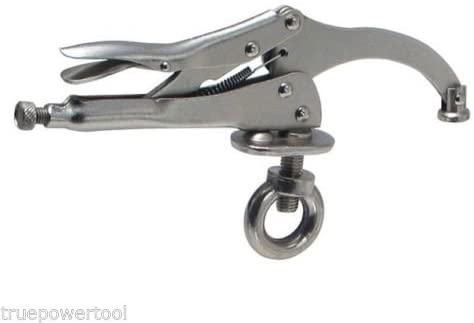 This clamp is designed to hold materials to a drill press table. It gives you accurate and clean cuts as you use your machinery. There are a variety of designs for drill press clamps, but they almost always include an easy tension adjustment system and quick release. This provides a safe and easy way to use your drill press.
---
6.

Flooring Clamp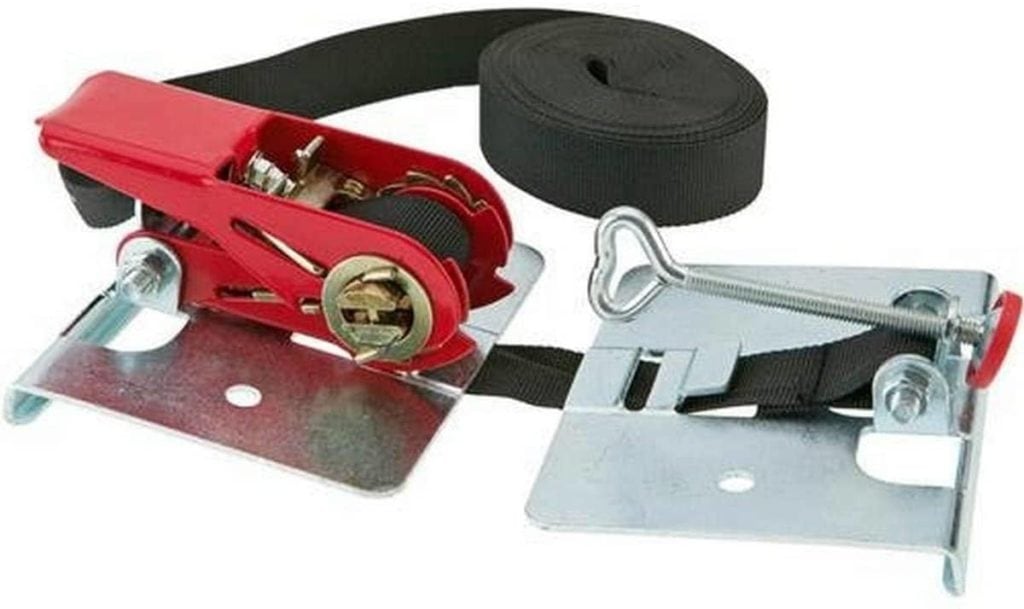 As you probably suspected, based on this clamp's name, a flooring clamp is used for installing a floor. The clamp holds tongues and boards in place, allowing you to nail them down securely. These clamps often hold up to 10 boards at a time, but you will need to use them with other flooring clamps for them to work properly.
---
7.

G or C Clamp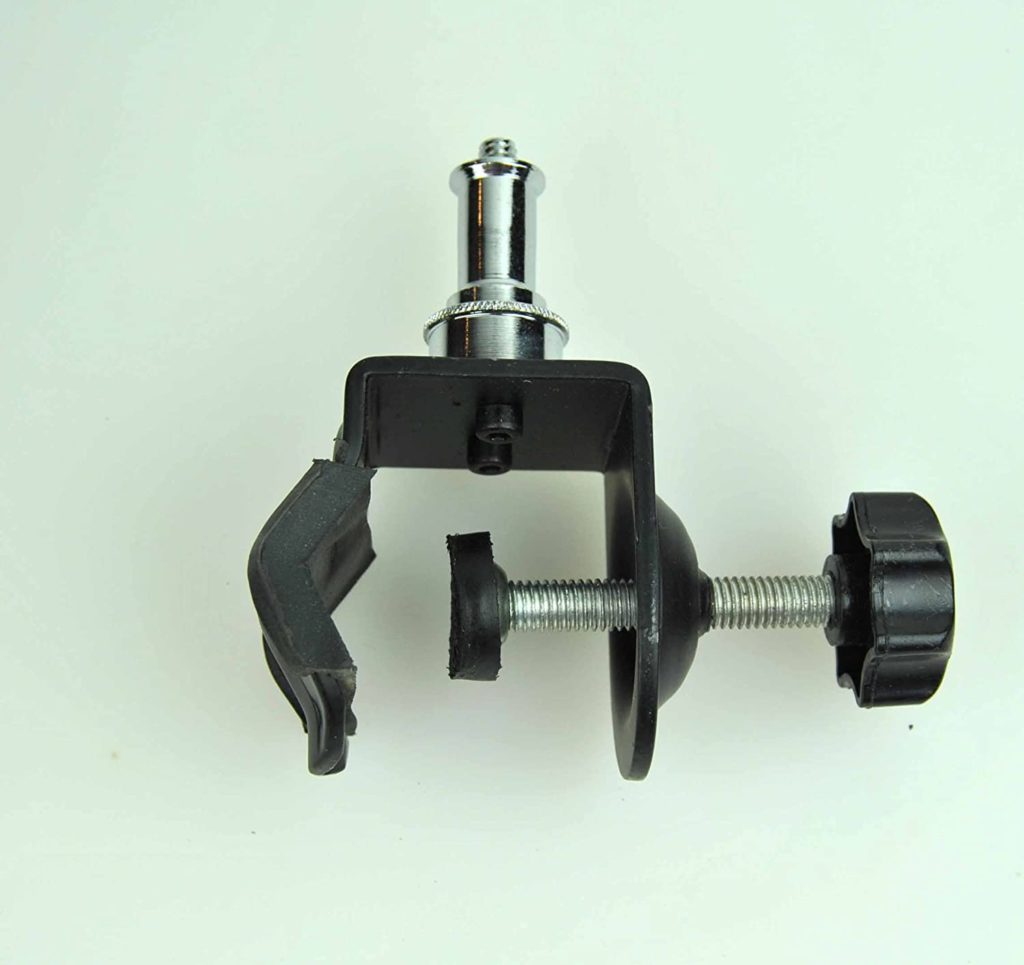 This clamp is named after its G or C shape. This clamp is a must for professional use or to just keep around your home. The opening of the G or C clamp ranges from one inch to about eight inches. This range makes it perfect for a variety of projects. Meanwhile, the swivel head allows the screw section to clamp onto many surfaces. Together, the ingenious design of the G or C clamp makes it highly versatile.
---
8.

Gripe Clamp
A gripe clamp is a very simple and straightforward designed clamp. They hold a strake in place as it is fitted and attached. For this reason, gripe clamps are used for clinker boats. If you need a gripe clamp, you will probably need to go to a specialty store or look online since this is a rarer clamp to use.
---
9.

Hand Screw Clamp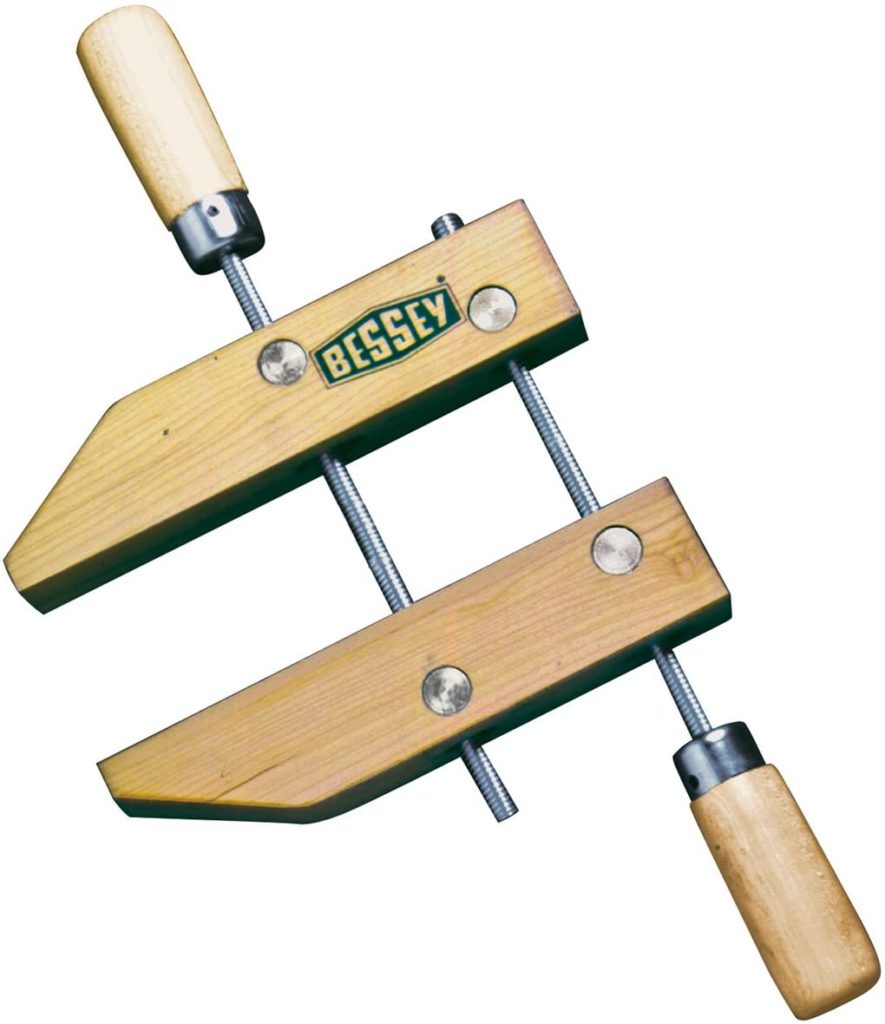 Hand screw clamps are almost exclusively used for metalwork, but they can also be used for repairing furniture. The jaws are easily adjusted to fit onto angled surfaces and hold them in place. Most of these clamps have an all-steel construction, though some companies make wooden versions too. These clamps are often known for their durability.
---
10.

Hose Clamp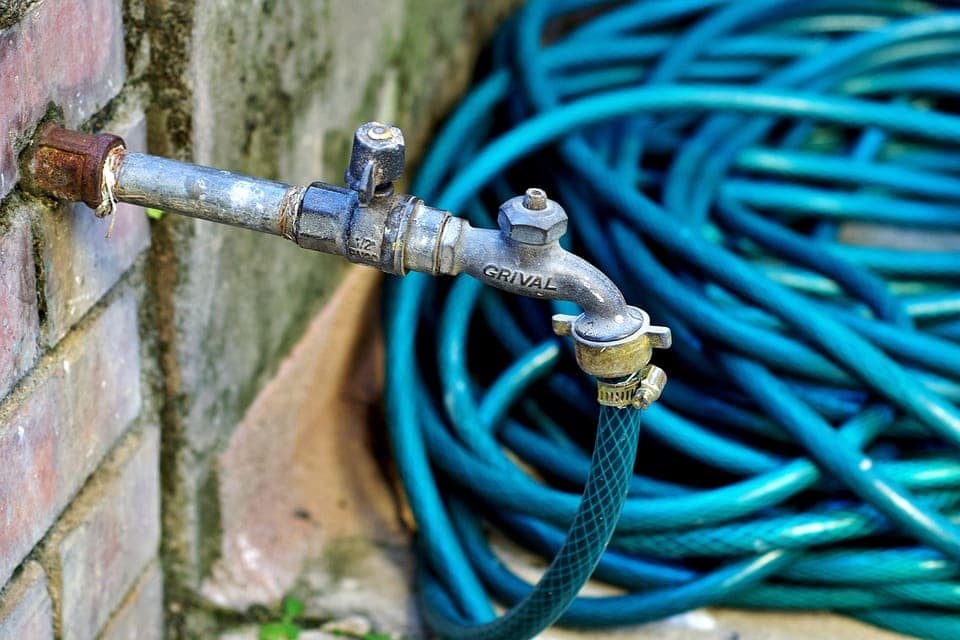 Although most clamps are designed for flat surfaces projects, a hose clamp is designed for cylinder surfaces. They supply enough pressure for different cylinder pieces around the home or car. These hose clamps provide a more permanent solution than duct tape, but they are not super expensive or strong either.
---
11.

Kant-Twist Clamp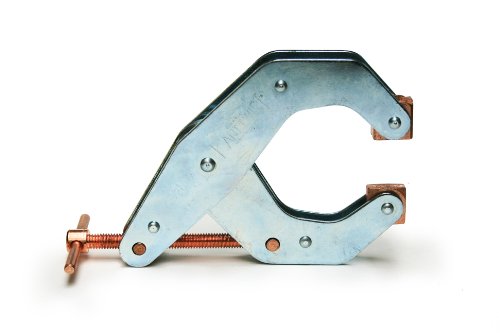 A Kant-twist clamp is multipurpose. It combines the benefits of both a parallel and a C clamp. This clamp comes with free-floating jaws that allow it to adjust to nonparallel surfaces and prevent it from shifting as you apply pressure. These clamps are great for beginners because they are easy to use and get a lot of movement.
---
12.

Locking Clamp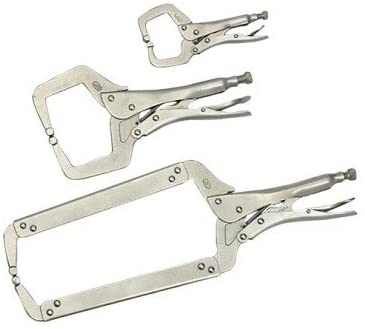 A lot of clamps take a bit of time and effort, but not the locking clamp. This locking clamp is great for quick use since it has a one-handed design. You will often use locking clamps for welding jobs and woodworking projects.
---
13.

Marmon Clamp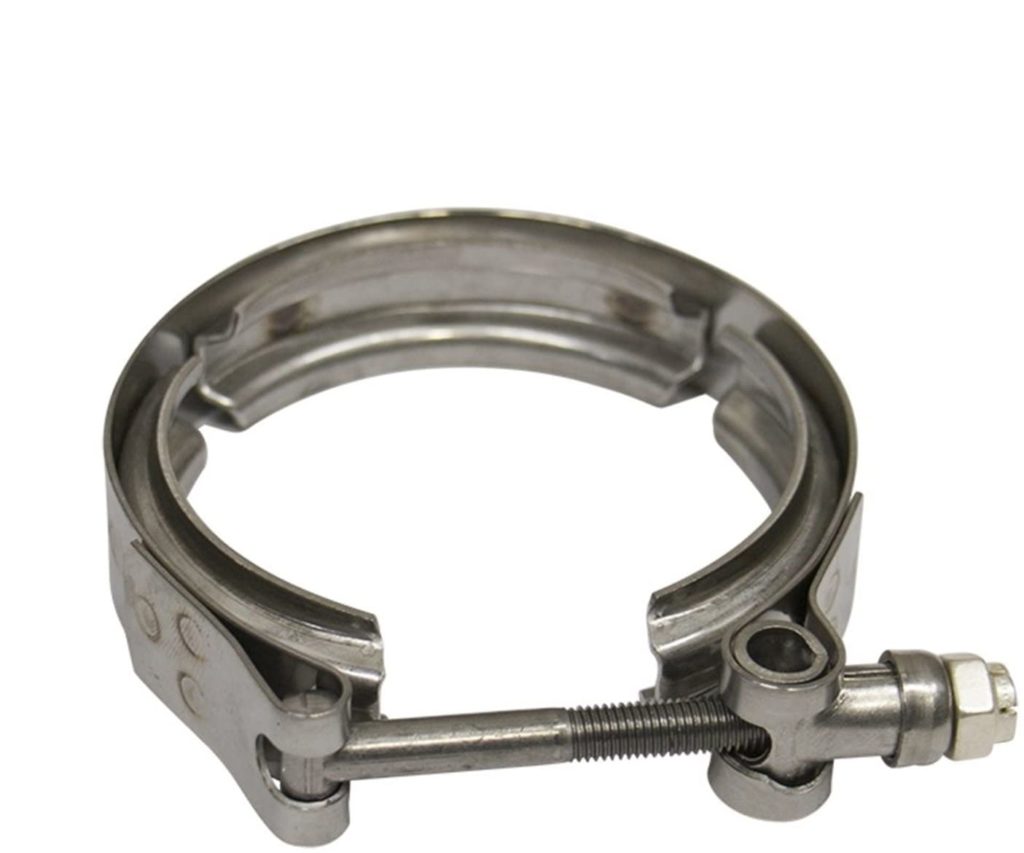 Similar to the hose clamp, the Marmon clamp allows you to clamp together cylinders. These clamps are shaped like rings and come in a variety of sizes or strengths. These clamps are also great for when you need to disconnect two items that have been clamped together. For this reason, the aircraft industry uses these clamps frequently.
---
14.

Mitre Clamp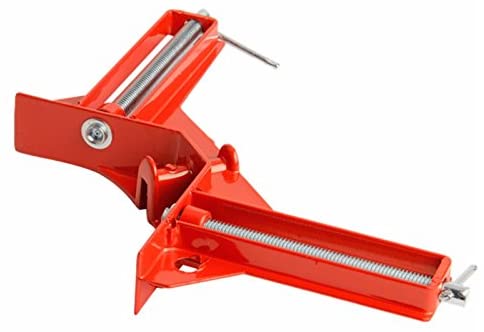 A mitre clamp holds two pieces together that have mitered ends at a right angle. They hold the frame in place by using screws and a bit that clamps down. This clamp type is much more difficult to use, and many people opt for a more basic clamp simply for effectiveness and time's sake.
---
15.

Parallel Clamp
Similar to the F clamp, a parallel clamp includes a short rod that slides. It has a wide opening capacity, making it great for woodworking and metalwork.
---
16.

Picture Frame Clamp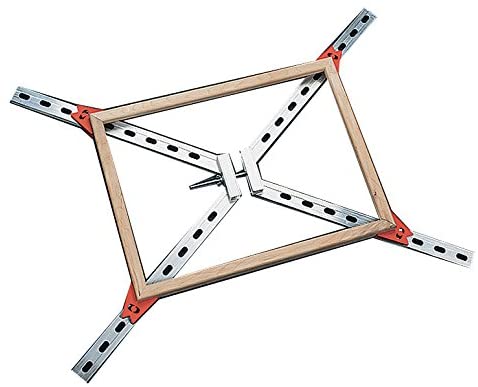 Picture frames are a great way to show off your family and favorite memories, but more goes into making a picture frame than you might think. A picture frame clamp is designed to bring together the four pieces needed to create a picture frame. The mitered edges allow the frame to come together nicely, and they're held together with the clamp. There are several different designs for this clamp type, but the most popular include a central screw.
---
17.

Pinch Dog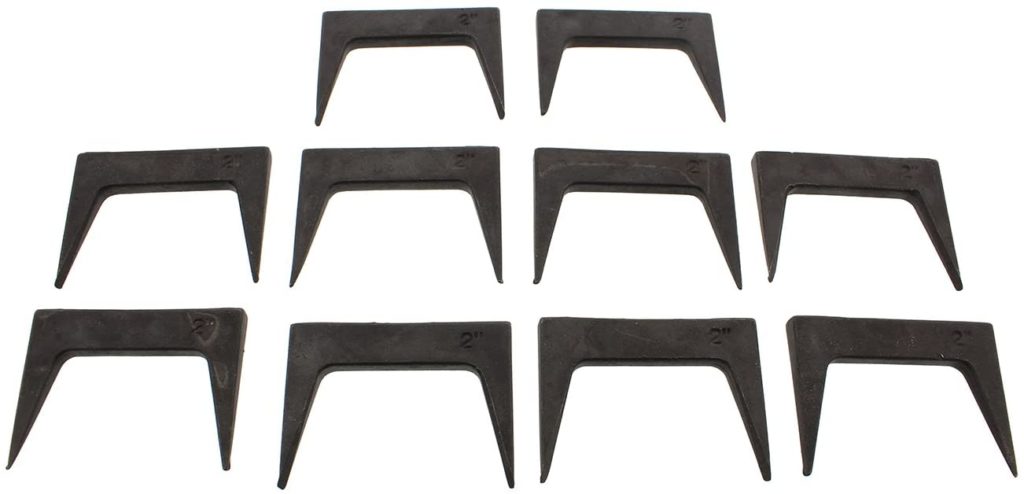 After you glue joints together, you often need to hold them until the glue hardens. A pinch dog does this work for you. This clamp type is straightforward and shaped like a stable. This simple design allows it to straddle joints and hold them together until the glue has dried.
---
18.

Pipe Clamp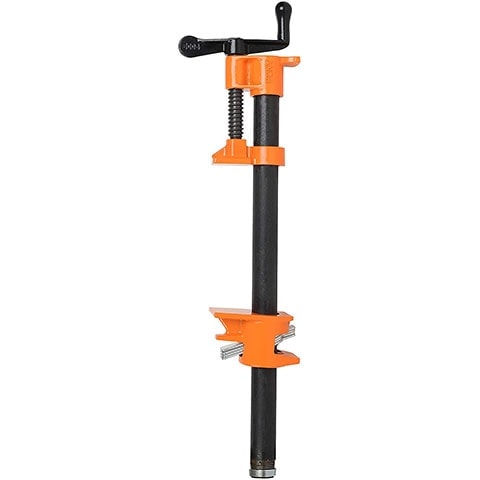 The pipe clamp is another one of the most popular clamp types. It has a round design so that it can accurately grip around shafts. The length of the pipe you use determines the length of the plant. You simply add more tube to the clamp to lengthen it. This makes it highly versatile. The pipe clamp is one that you should definitely add to your list, whether you are a professional or amateur.
---
19.

Power Clamp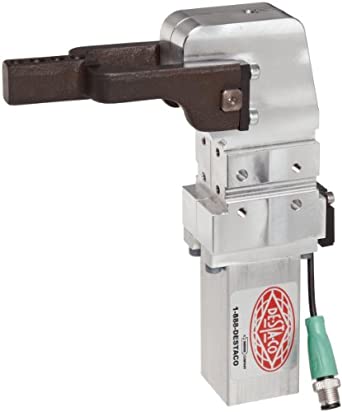 Power clamps are named due to their incredible power and force. You can easily clamp materials together with one fast movement. Despite their impressive power, they are also light and easy to use.
---
20.

Quick Action Clamp
Quick action clamps are named as such because they are designed to be used with one hand. Even though they have a one-hand design, they are still powerful and strong. The release is normally light enough that you can pull it with a single finger.
---
21.

Quick Grip
Another clamp very similar to the quick action clamp is the quick grip. This clamp also has a one-handed design, but it offers adjustable pressure. It is highly versatile as a result. This clamp type is best for thin materials and pieces because the jaws do not close squarely to each other.
---
22.

Sash Clamp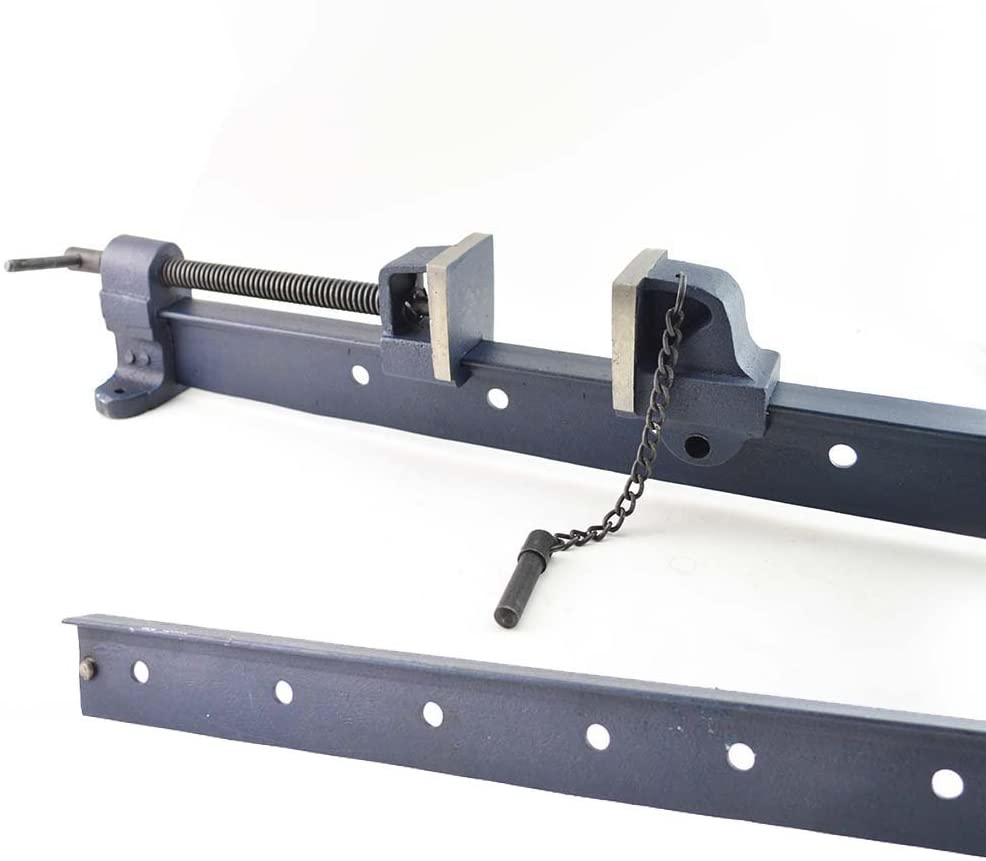 You might want a sash clamp if you are working on large projects like cabinets or sash windows. You will use more than one at a time to maximize grip and stability. Sash clamps include a long bar, a fixed jaw, and a movable jaw. You adjust the fixed jaw using a screw. Meanwhile, you can move the sliding jaw to lock materials in place.
---
23.

Screw Clamp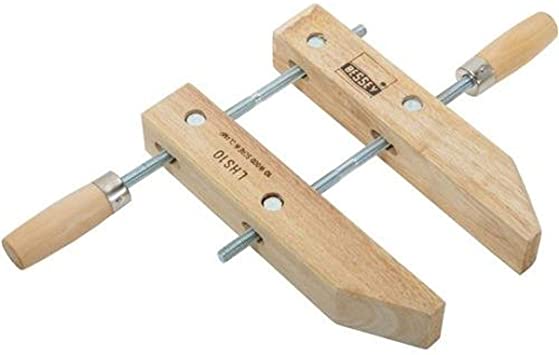 A screw clamp is similar to a power clamp. It offers a lot of strength and stability, but it opens and closes in one motion. The clamp includes a thread and handles that need to be screwed, hence its name.
---
24.

Sheet Metal Clamp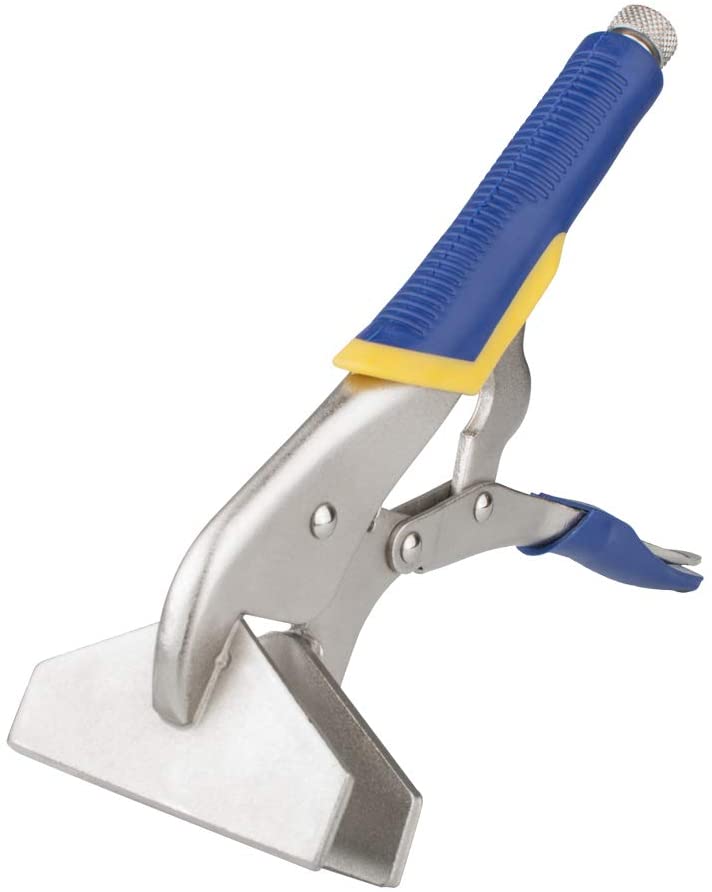 The sheet metal clamp is like the locking clamp, but it is designed for sheet metal specifically. The clamping mechanism is much wider, making it perfect for wide but flexible material like sheet metal. This unique design makes it useful for welding specifically.
---
25.

Speed Clamp
If you want a fast-acting clamp, then the speed clamp might be for you. It includes a long metal bar with several serrations. The serrations hold the adjustable head in place so that you can move it tightly on the project. As you clamp down the head, the serrations lock into place and prevent the sliding head from slipping during use.
---
26.

Spring Clamp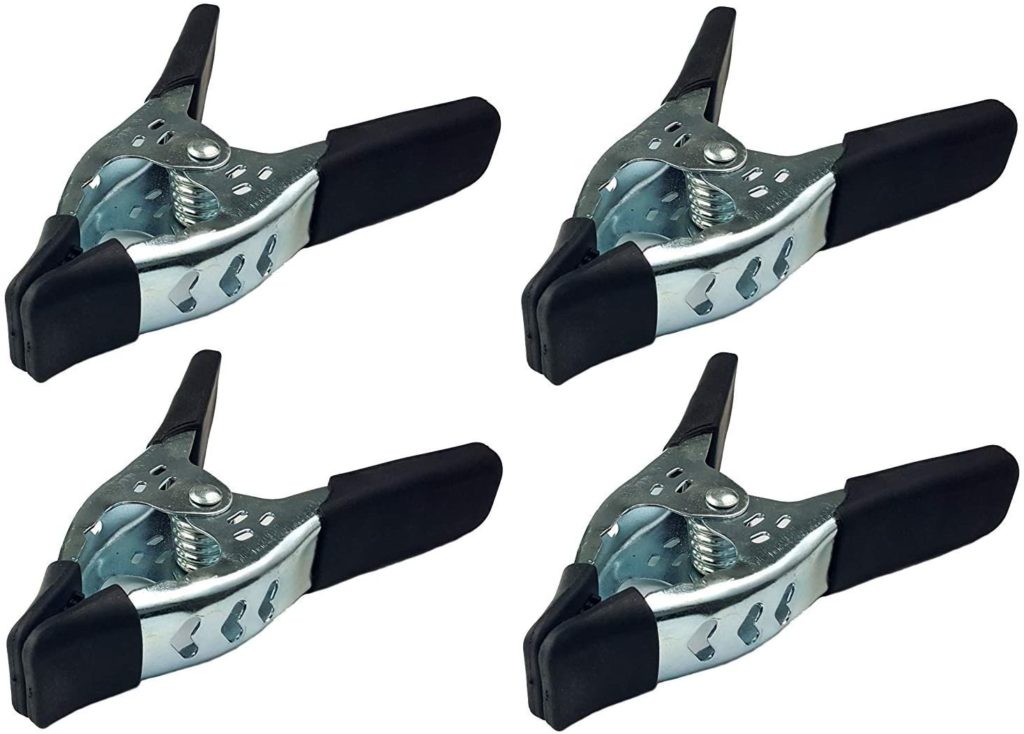 The spring clamp is an example of a very small clamp. The small and simple pinching design of this clamp makes it a versatile choice. You can use it for woodworking projects or beading and jewelry projects. Most of the handles and tips have PVC covers, so you don't injure yourself or the material you are working with. The clamp includes a tension spring so that they remain tightly shut.
---
27.

Step Clamp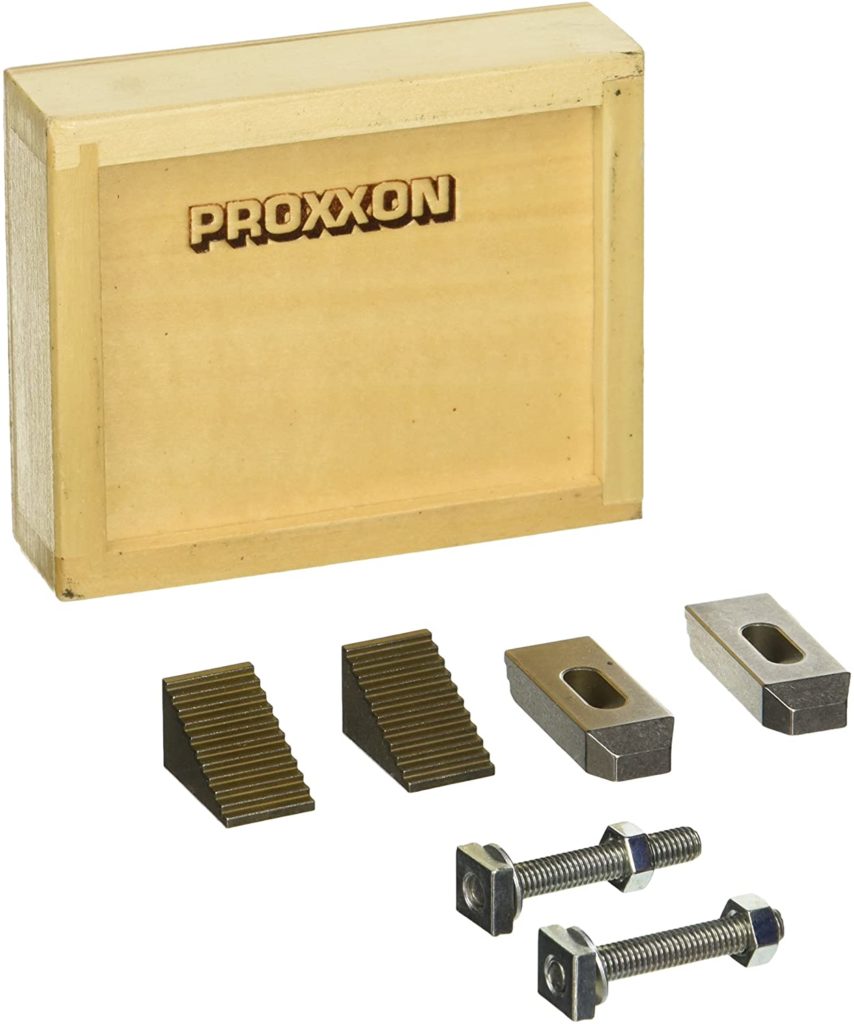 Step clamps have a variety of parts and are used for metal, milling, and machine parts. You must use step clamps together with step blocks for them to work properly.
---
28.

Toggle Clamp
Toggle clamps are great for milling, woodworking, metalworking, and drilling. It comes with a handle, a bar, levers, and pins. The handle controls the clamp, while the bar holds the project in place. The levers and pins can increase the force. Together, the parts allow you to hold objects tightly so that they don't move or separate as you put pressure on them.
---
29.

Trigger Clamp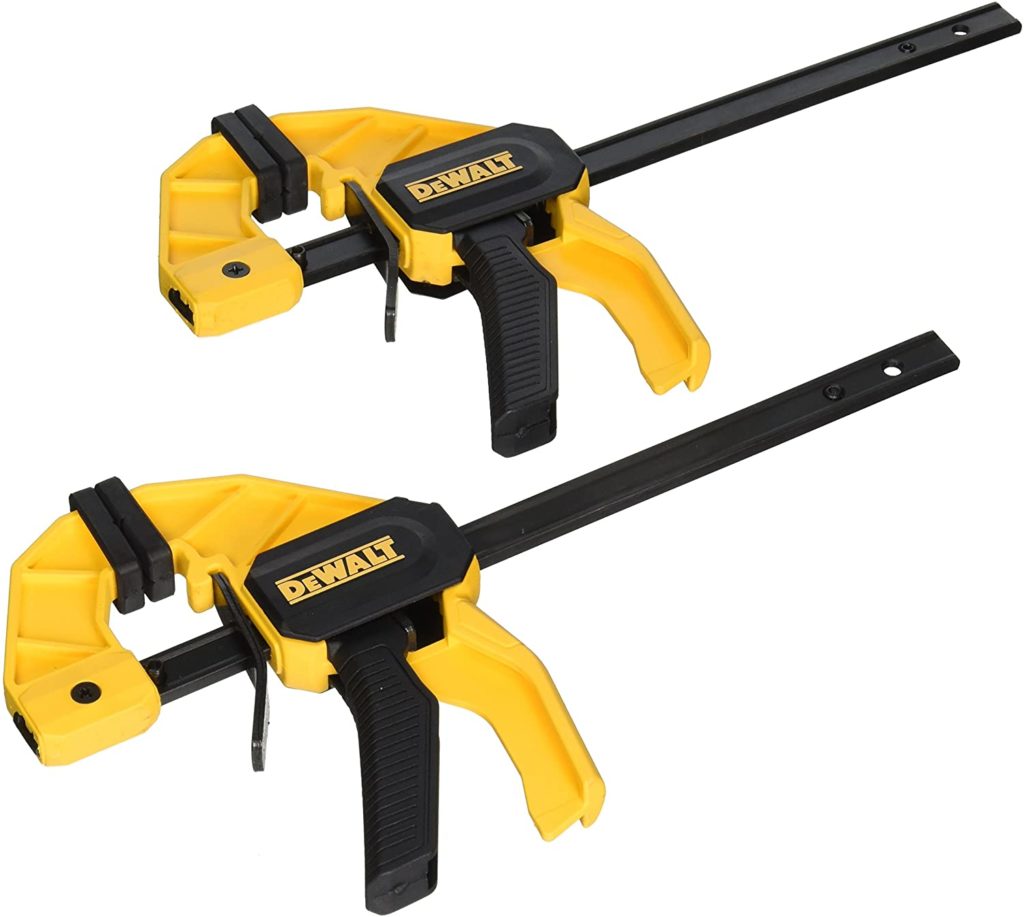 This clamp uses a trigger to adjust the head and jaws, hence the name trigger clamp. Because of the trigger design, they can be used with only one hand. Yet, the trigger clamp is also strong and versatile. This is a great clamp to have for your home, workshop, and garden.
---
30.

Web Clamp
Web clamps are used when working on frames. They include nylon frames and a ratchet. This design allows the frames to be held together but not damaged. You can even use the tool with corner gripping pieces to distribute the pressure more evenly.
---
31.

Wire Rope Clamp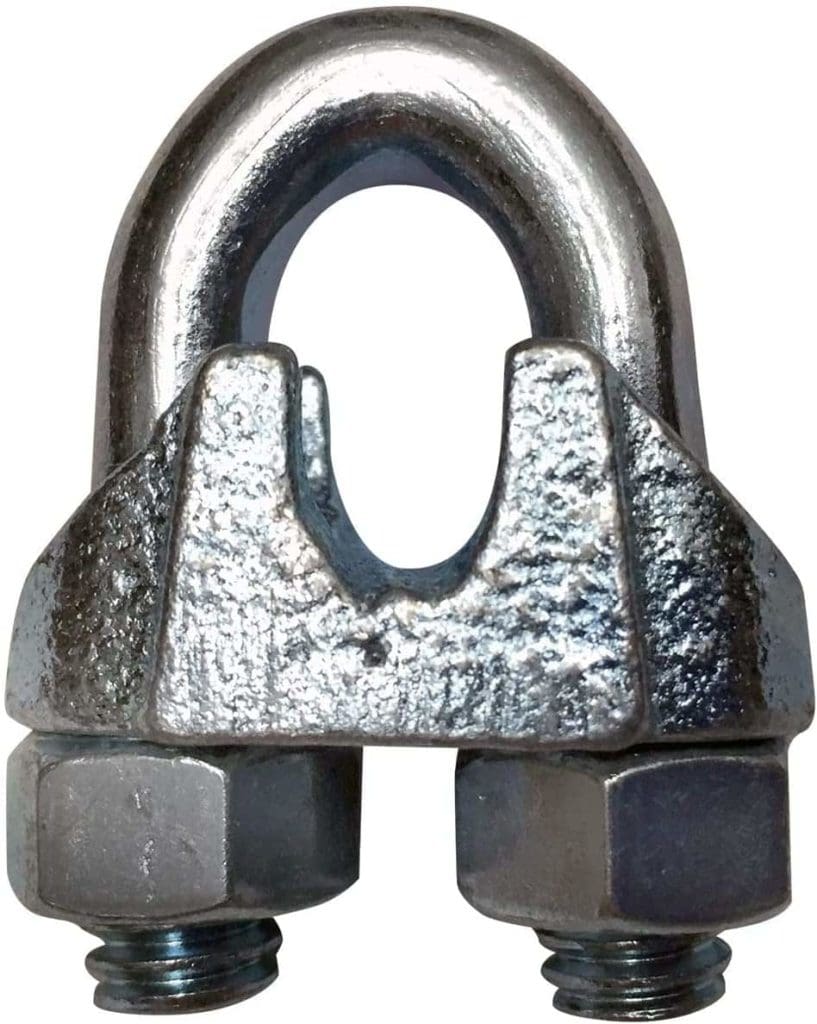 Finally, we have the wire rope clamp. These clamps are more accurately described as clips because they are small. Nevertheless, a wire rope clamp holds together loose ends of a wire rope loop. It includes two nuts, a saddle, and a U-shaped bolt. The very specific purpose of this clamp means that they are more difficult to find. You will probably need to special order these clamps so that you can find the right size for your wire rope.

Conclusion
As you can see, there are a variety of clamps. You will select the clamp you need based on the type of material you are clamping together and why. If you don't have any clamps yet, definitely start with some of the basics like the G clamp, F clamp, pipe clamp, and bench clamp. These clamps are used all the time, and you are sure to use them occasionally yourself.
See Also: 
---
Featured Image Credit: Pixabay