10 Different Types of Marble Flooring (With Pictures)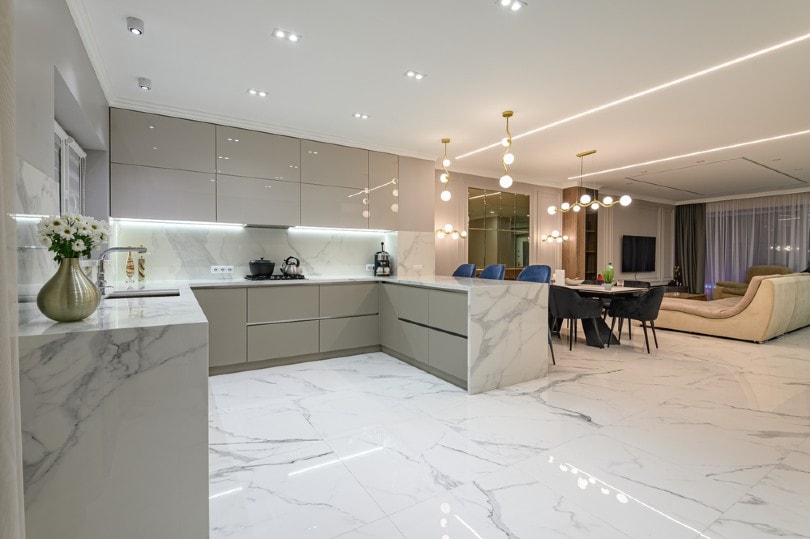 Did you know there are several types of marble flooring? The wide variety of styles and colors available allow you to find a stone that works with just about any theme or design you have in mind.
Marble flooring is one of the most luxurious home floor coverings you can have. Its Italian origins can be traced back to antiquity and the present day. Its elegance adds an impressive touch to any living space, while its durability makes it a wise choice for areas that get heavy traffic.
There are many different types of marble flooring, each with its special characteristics and qualities. Learn more about the different types of marble flooring below.

The 10 Types of Marble Flooring
1.

Carrara Marble Flooring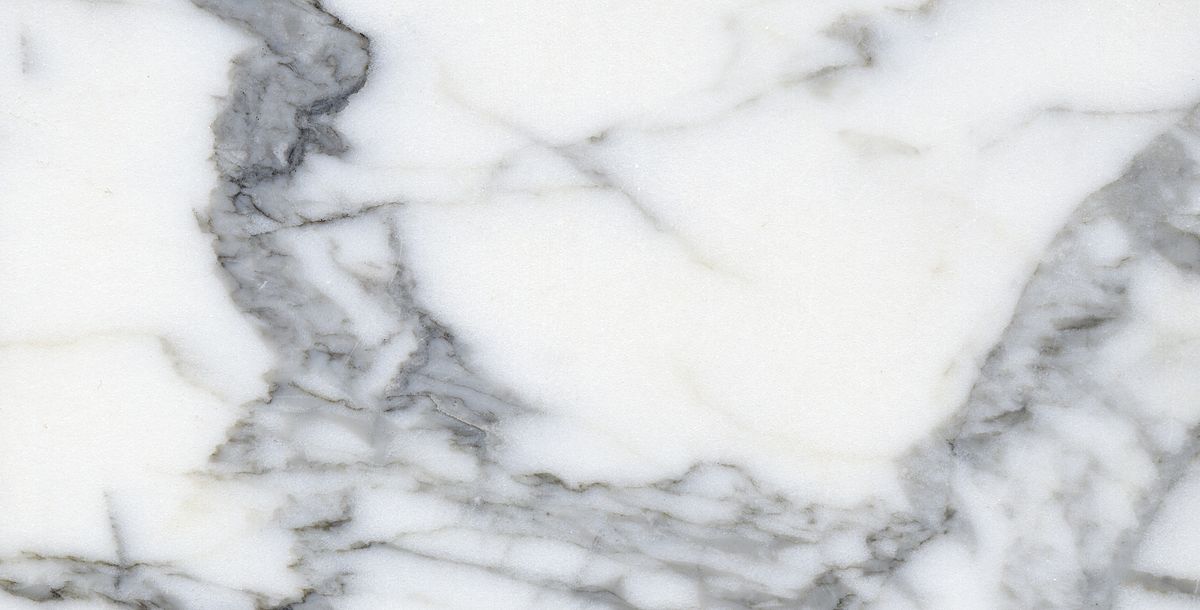 Carrara marble is quarried from the Carrara region of Italy, which is where the finest marble in the world comes from. It has been used for centuries by great builders and sculptors like Michelangelo.
This marble is made of calcium carbonate. It also contains some dolomite and serpentine minerals. It's white with grayish veining and flecks that give it a rich, luxurious look.
This type of marble can be polished to a high sheen or honed (ground down to a matte finish). You can also find some yellow, russet, and light green accents. Carrara marble can have a wide range of veining, from imperceptible to thick curved lines.
The best quality grades are the purest white and the most consistent veining pattern. It's a classic and elegant marble that works well with traditional and contemporary decorating styles.
Pros
Adds style, class, and a luxurious feel to your house
Low maintenance
Sturdy and strong
---
2.

Emperador Marble Flooring
Emperador marble is one of the most popular marble flooring available in the market. The color varies from dark brown to light brown, and it has streaks of white running through it.
Emperador marble is known for its durability, strength, and hardness. It comes from Spain and Turkey. This type of marble is best used as wall tiles or countertop tiles, but it also looks great as floor tiles in some places.
You can get it in different finishes, such as polished and honed. If you have an indoor area that gets a lot of sunlight, you can choose a polished finish for your floors. It's because polished marble is more resistant to stains.
But if you have pets at home, go for the honed finish as it provides more grip and prevents your pets from slipping and falling on the slippery surface.
Pros
Easy to maintain
It's a cheaper alternative to granite
Has excellent durability and strength
Resistant to wear and tear
Cons
Gets dirty easily
Not ideal for homes with pets
Consult a flooring expert
Find a flooring specialist in your area, and get free, no-commitment estimates for your project.


---
3.

Crema Marfil Marble
Crema Marfil is one of the most popular types of marble because it resembles granite. It comes from Spain. It has a medium-grained texture. It's found in light brown or dark yellow color with dark veins running through it. It also features a creamy color with soft brown veining similar to travertine or limestone tile but with a more even tone. It can be honed or tumbled to create a more rustic look.
This marble has a smooth surface, making it an ideal choice for flooring, especially if you want to give your home a rustic look. It is easy to maintain and clean and is resistant to stains and scratches. It's an excellent choice for high-traffic areas such as hallways and lobbies.
Pros
Resistant to staining, scratches, and absorbs heat.
Excellent for both indoor and outdoor flooring
Can withstand extreme weather conditions
---
4.

Levadia Black Marble
Levadia black marble is a beautiful stone that differs from other black marble. It's because of its grayish veins that cross the stone surface. It makes it an incredibly versatile material that you can use in different applications, such as floors, walls, and countertops. It gives a classy and elegant look to your home. Also, it enhances the beauty of your house as it comes in different colors, such as white, black, and brown.
The Levadia Black marble is quarried in Greece. It's available in slabs, tiles, mosaics, moldings, and borders.
You can clean Levadia Black marble flooring easily by using warm water or any mild cleaner as it does not get scratched easily.
Pros
High-quality black marble.
Affordable compared to other marble floorings
There are many colors to choose from
Easier to install
Cons
Needs regular resealing and polishing
---
5.

Talathello Marble Flooring (Silver Beige Marble)
The Talathello type comprises three layers; two layers of marble and one layer of cement binding them. The top layer is polished and exposed, while the bottom layer is rough. It is also known as double charged or double-loaded marble tile because both the top and bottom sides are covered with marble.
It's available in many colors, designs, and patterns to suit your taste and style. It can be polished to a high shine or left rough for an attractive natural look. It's often used in kitchens and bathrooms because it is easy to clean and maintain.
This marble needs to be sealed to prevent stains. The veining pattern hides scratches. It makes it a good choice for high traffic areas.
Pros
Resistant to scratch and denting
Comes in many color schemes
Long-lasting marble
Needs low maintenance
Cons
It's expensive
It has a smaller selection of designs
---
6.

Statuary (Statuario) Marble Flooring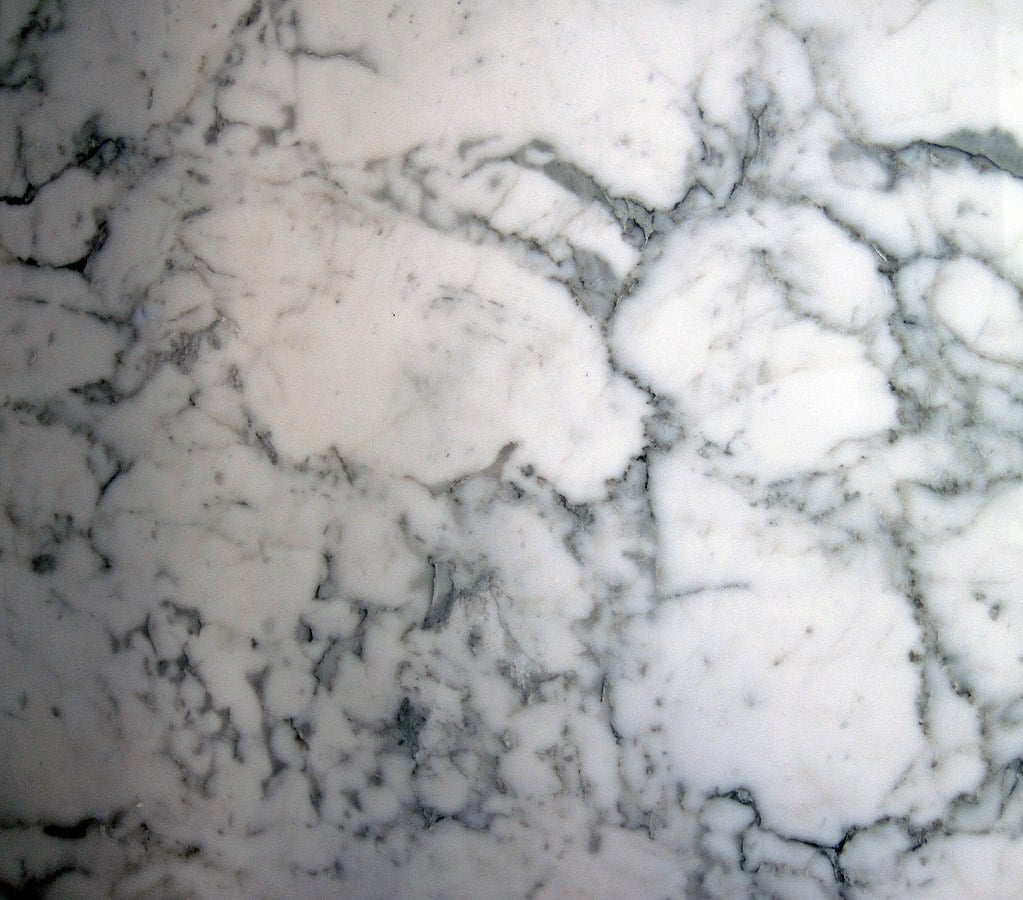 Statuary (Statuario) marble is an Italian white marble that has been used for centuries given its elegant look and durability. It's one of the most popular types of marble flooring because it has a uniform color, which makes it attractive. It's well known for its white color with light gray streaks. It has a white background with deep gray veining.
Statuary marble has a smooth surface. It makes it susceptible to scratches and stains. So, take extra care while maintaining this marble flooring.
It is also one of the most expensive types of marble flooring. It is an excellent choice for high-end residential and commercial applications. But it can also add elegance and sophistication to any space in your home or office.
Pros
Looks more natural than granite
Resistant to acid, alkaline, and salt
Ideal for high traffic areas
---
7.

Calacatta Marble Flooring
Calacatta is one of the most beautiful marbles globally sourced from Italy. It is a more expensive marble option because it is rarer than other types of marble.
It has a wide range of white and gray shades with clear veining. The white color makes it ideal for many floors. It adds some elegance to your space with its natural beauty and classic color combination.
The veins vary in thickness, which creates a unique look and improves its aesthetic appeal. Usually, there are more gray or beige tones running through the stone. Also, they have brown or black streaks that create depth in each slab or tile when placed side by side on your flooring.
Pros
Durable with a long-lasting shine
Comes in a wide range of colors that match most interior decor
Cons
It's more porous, stains set in fast
---
8.

Nero Marquina Marble Flooring
Nero Marquina marble is the most sought-after type of marble flooring. Its unique appearance comes from solid black color with small shining white veins spread all over like a spider web.
It is available in many different designs. Besides, it can be customized according to the client's requirements. It has a high-gloss sheen that adds elegance and sophistication to any room. It comes in various sizes and shapes, depending on your needs.
Nero Marquina marble flooring is ideal for people looking to make their homes look creative and stylish at the same time.
Pros
Easy to clean and maintain
Durable and smooth on your feet
More resistant to abrasion than other materials
Available in different colors
Cons
Susceptible to scratches and can crack easily
---
9.

Breccia Oniciata Marble
This marble gets its name from the word "brecciated." It means broken fragments that have been cemented together by a fine-grained matrix.
This Italian marble features swirls of green, red, brown, yellow, and white set with a creamy pink background. It offers a unique look that stands out when used as flooring or countertops in kitchens and bathrooms.
This marble has rich brown veins on a deep red background. It is the perfect choice for flooring if you want to create a dramatic ambiance in your home.
Pros
Ideal for high-traffic areas.
Has a gleaming shine
You can use these marbles in all types of flooring
Cons
Breccia Oniciata marbles are pricey
---
10.

  Cultured Marble Flooring
Cultured marble flooring is also called cultured granite flooring or cultured stone flooring. It is used for kitchens and bathrooms. It's also used for commercial applications because it comes in many different shades and textures.
Not only is cultured marble flooring more durable than other marble, it also looks more elegant. It is a mixture of crushed limestone and polyester resin. The mixture is combined and heated to create a solid surface that resembles real marble.
Cultured marble has many advantages over real marble. They include resistance to stains, scratches, and heat.
However, it doesn't have the same beauty as a real piece of marble. It's because it lacks the uniqueness and variation that real marble has. Cultured marble is also porous. So, it must be sealed regularly to maintain its look.
Pros
Easy to clean and is not affected by water
Lasts longer than regular marble floors
It comes in a variety of designs

How to Choose the Best Marble Flooring
Choosing the best marble flooring for your home can be overwhelming. It's because there are different styles to choose from. However, you can find amazing deals if you know what to look for. Here are a few things to consider when choosing the best marble flooring:
Variety
Marble flooring comes in different types, depending on the place where it's mined and the texture of the stone. The most popular variety is Carrara marble, which has been used for centuries.
Other types available include Crema Marfil, Emperador Dark, Verde Tropical, and Calacatta Gold. Each type has its unique characteristics and appearance. You can visit a supplier's showroom to see samples of these marbles to make an informed choice.
Cost
The cost of buying marble tiles will depend on various factors such as quality, size, length, and thickness of the tile. So, make sure that you compare prices before buying a new tile. If you want to save money on your new tile, you can buy them at wholesale prices or even buy them online.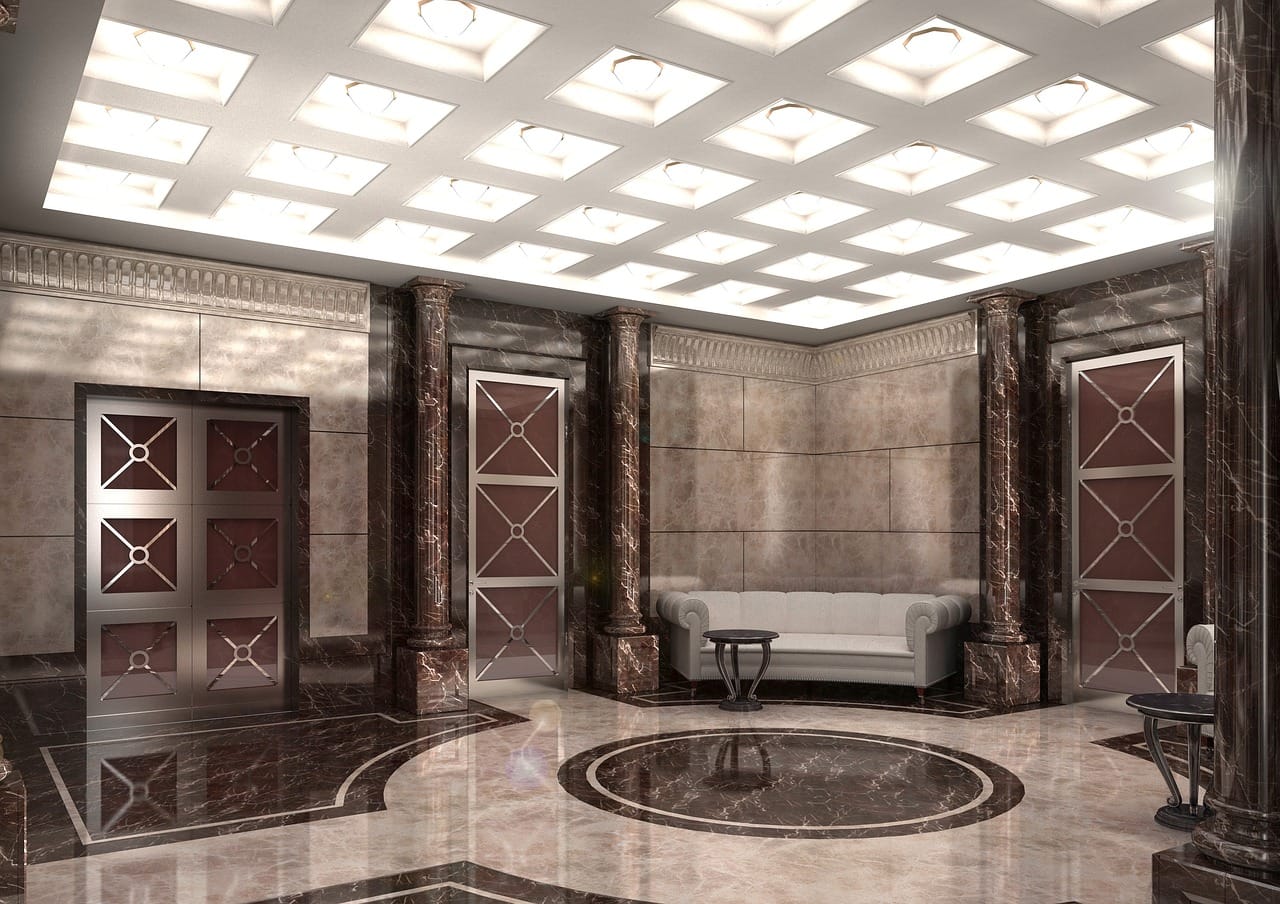 Durability
Marble is a durable choice and can last for ages. Still, the different types of marbles available in the market vary in terms of hardness and durability. Some marbles are porous, and they can be damaged by scratches and stains penetrating the surface.
Thus, you will want to choose marble floors highly resistant to scuffing and scratching to enhance durability.
Color
Marble comes in different colors and shades. They include white, black, yellow, red, pink, and green. You can choose any color depending on what you like and what will match your house décor.
Consider the Room
When choosing a certain type of marble flooring, consider the room intended for installation. Some marbles are suitable for low traffic areas, while others can work in high traffic areas. Having this in mind will help you choose the ideal marble for specific areas.

Conclusion
Marble floors are nothing new. We've seen them throughout history, in many different locations and buildings, and they've always been stunning. Each marble slab is unique in its color and pattern.
If you want to install marble flooring, there are many options to choose from. You can preserve the natural colors by selecting a more expensive, finer grade of marble. Also, you can choose marble tiles with a more uniform look and less natural variation in color.
It means you can have a great deal of control over what your floor looks like once installed. There is also a great variety in the size of marble flooring. It allows you to pick something that fits into your designs and space.
---
Featured Image Credit: Serghei Starus, Shutterstock