8 Dining Room Lighting Trends in 2023 – Design Ideas for a Modern Home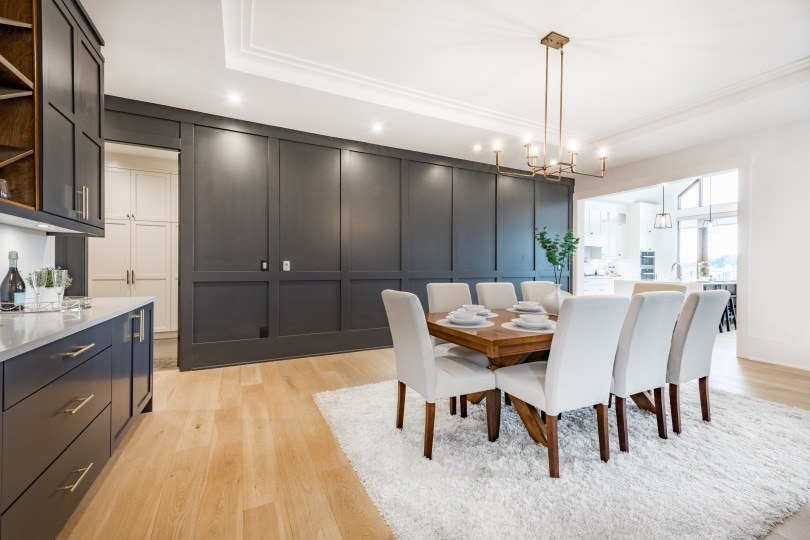 Lighting is extremely important in any room, especially in the dining room—where it is essential for gathering for good meals and good conversation.
If you were looking to update the lighting in this important area of your home but aren't sure where to begin or to learn about the modern trends, you don't need to look any further. Keep reading as we look at several of the most popular dining room lighting trends this year. This way, you can be better informed and find something that will work perfectly in your home.

Top 8 Dining Room Lighting Trends
1.

Minimalist Lights
Minimalist lights brighten your room but doesn't attract much attention yet looks amazing. They can be chandelier style that makes use of popular trends for this kind of light, including the white and gold colors. They could also be much more simple with just a candle style light bulb. Minimalism is the fastest growing trend in lighting this year and provide plenty of light for a small to medium-sized table.
---
2.

Rejuvenation Lighting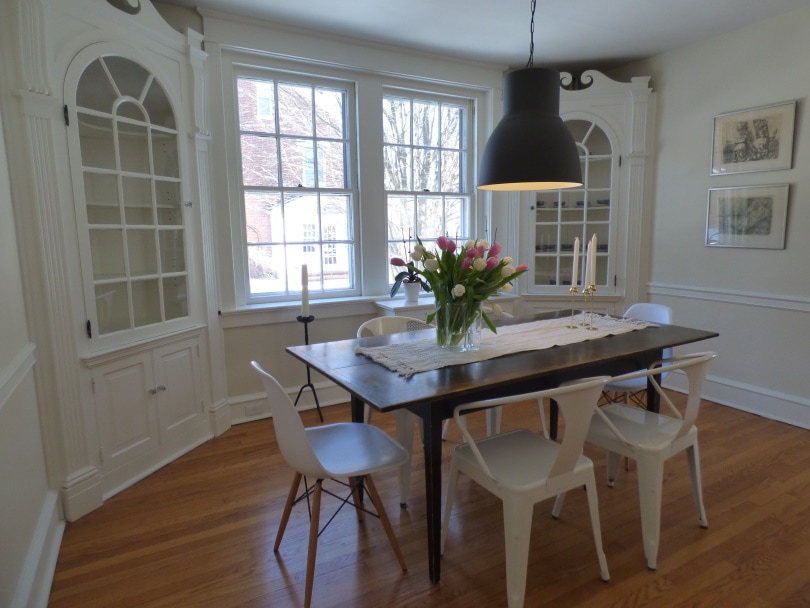 Rejuvenation lighting design is a unique chandelier style light that will look great in any dining room. It's perfect for lighting the dinner table and is well suited to round tables. Place it closer to the table in small rooms or farther away to accommodate a large table or room. The dark color looks great when paired with any décor.
---
3.

Rectangular Chandelier
R
Rectangular chandeliers with large glass globes over the lights are a growing trend this year. It's well suited to large rectangular tables due to its length, and it provides plenty of soft light for dinner and conversation. The dark metal frames are lightweight and will look great in any room.
---
4.

Modern Chandeliers
Modern chandeliers have unique design that would not have seemed possible just a few years ago. This one uses a black metal frame for a modern design that will be great as a conversation starter. A round design but plenty of lights, so you will be able to use it for a rectangular table too. It's great for a large and small room and will match almost any décor.
---
5.

Drum Pendants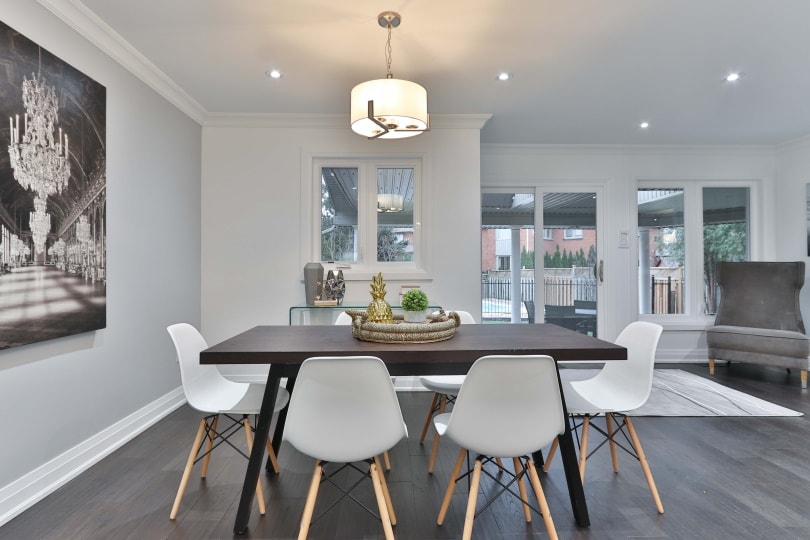 Drum pendants have a unique design that has a white chandelier and multiple tiers, both popular trends right now. It looks amazing and perfectly accents a large room. You can use it along with a round or square table, and it produces plenty of light without any harsh glares.
---
6.

Traditional Chandelier
A traditional chandelier is one of the most attractive designs on this list. It has a bowl design made of small, connected crystals and light bulbs. These scatter the light and produce the perfect illumination for dining. It hangs from a single chain, so it's easy to install, and the base of the chain is also intricately designed and attractive.
---
7.

Dramatic Lighting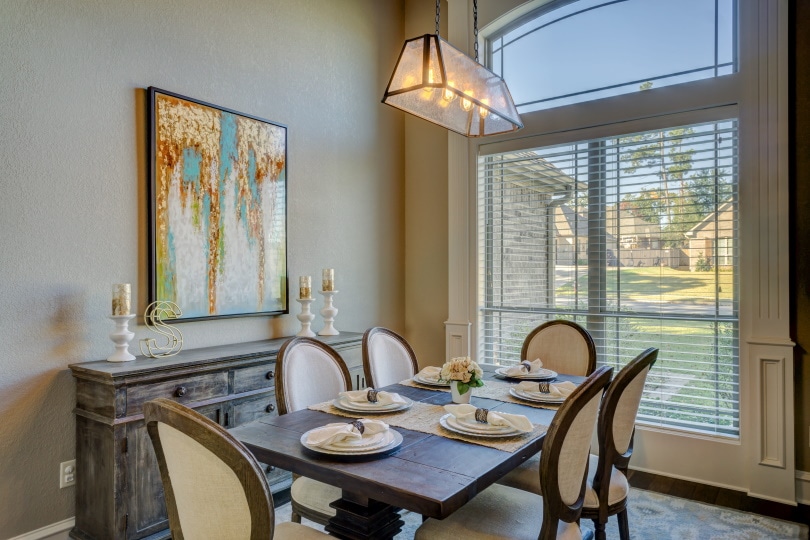 Dramatic lights have an amazing design with several modern features. This one hangs by two chains, so it is incredibly stable, and it's long and rectangular, so it's perfectly suited to large rectangular tables and rooms. Large candle style lights provide plenty of illumination without creating any strong glares.
---
8.

Dramatic and Modern
Getting a light fixture that has an extremely dramatic and modern design that will stand out in any home and be the focal point of conversation is a big trend this year. These options range from a chandelier that resembles a flower to a rustic millennial light piece that takes up the entire table area, or even a long bar of lights that provide fantastic lighting while looking amazing. They are sure to have all your guests talking!

Popular Dining Room Lighting Trends
Minimalist
A minimalistic design is becoming more popular as people are trying to become more environmentally friendly and mindful of excesses. Everything is getting smaller and simpler, and the same holds true for lighting. The current trend is to use lights that take up less space and use fewer builds. In fact, some take steps to make sure you don't see the lights at all, even in the dining area.
Unique
Another popular lighting trend this year for lamps and chandeliers is to find something unique. Gone are the days when every house looked like a copy of each other. Now, people seek to express their personality in as many ways as possible, which extends to dining room lighting. To keep with current trends, find something that no one else you know has and that would remind people of you if they saw it.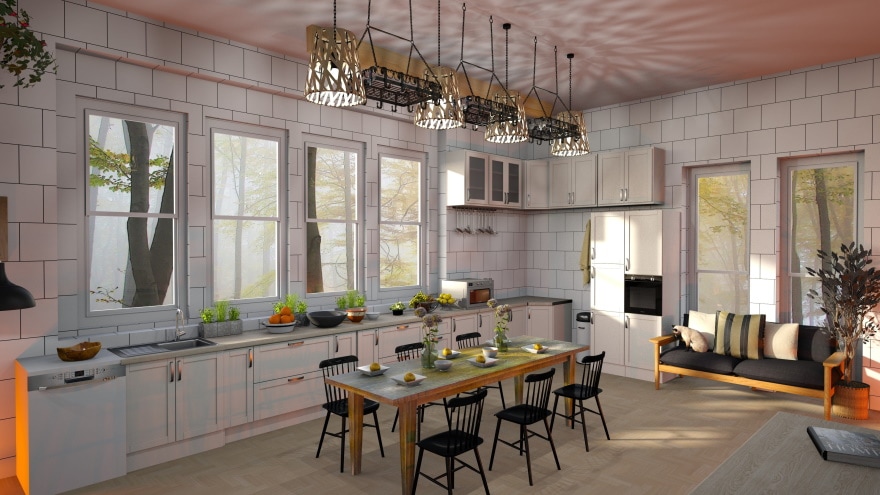 Dramatic
Along with the trend to find unique dining room lighting this year is the trend to be dramatic. If you locate something unique, you likely want everyone to know about it, so many people are installing unusual lighting that will immediately strike up a conversation.

Summary
There are plenty of options available if you are looking to update your dining room lighting. The modern trends show that people are leaning toward a minimalist design, and they prefer something unique that none of their friends or family have. There is also a recent push toward dramatic lights that stand out and attract attention.
Our favorites on this list are the Hunker Traditional Chandelier and the At Home With The Bakers Chandelier. The Martha Stewart Dining Room Light is also perfect for someone who doesn't want the lighting to take over the room.
---
Featured Image Credit: Sheila Say, Shutterstock