12 DIY Band Saw Projects You Can Build Today (with Pictures)
If you have been looking for a unique DIY challenge to fill your spare time, the band saw has unlimited potential for creativity. This saw is great for cutting difficult shapes regardless of the thickness of the wood. Not only that, but you can also use the saw for re-cutting pieces and repurposing wood.
Below, we have found the 12 DIY bandsaw projects you can get started on today. Take a look below to see our favorites.

The 12 DIY Band Saw Projects
1.

DIY Jewelry Box by Instructables
The Instructables provides a plan for how to build a jewelry box with a bandsaw which is a great place to start with your bandsaw. Not only is the skill level on the easy side, but it will stretch your legs (so to speak) and allow you to get the feeling for your tool. What's more, this simple box will make a great gift for a family member, friend, or even yourself.
Specifications
Skill Level: Easy
Tools
Bandsaw
Table saw
Planer (optional)
Drum sander
Web clamp
Materials
3' X 3½" X ⅜" maple
28" X 2" X 3/16" walnut
20" X 4½" X ¼" walnut
---
2.

DIY Coat Hanger Rack by Instructions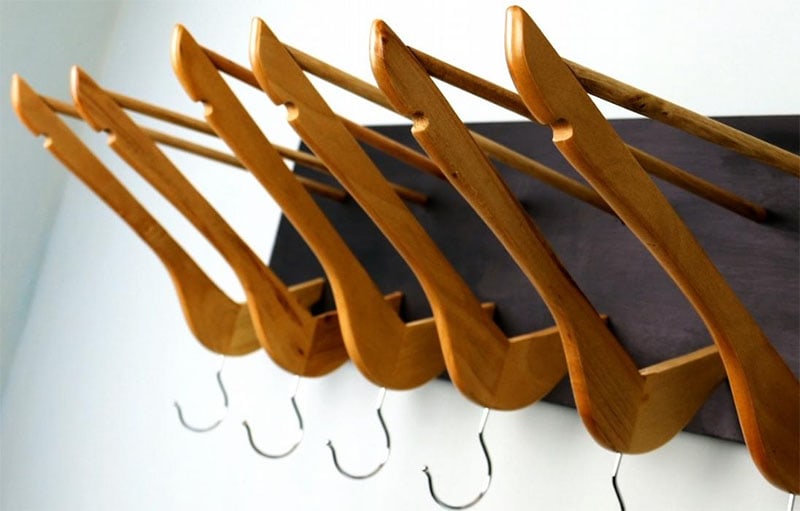 This fun DIY by Instructions will provide versatility in your home. Not only can you hang your coats and hats, but it is also a place to put your mail, hang keys, and leave notes. The moderate skill level project will provide you with all the details you need to get started on this plan right away. It is cute, unique, and will provide a sense of style that is not easily duplicated, either. Though you will need morderate skill for this project, it is worth the extra effort.
Specifications
Skill Level: Moderate
Tools
Bandsaw
Hand saw
Pencil
Ruler
Drill
Four-millimeter wood drill
Flat drill bit
Sandpaper
Paint brush
Materials
Glued spruce wood board
Wooden clothes hangers
Piece of paper
Cabinet suspension brackets with screws
Paint
Runner band
Clear wood wax
---
3.

DIY Name Plaque by Reality Daydreams
Name plaques have come back into style recently, but they can be on the expensive side to have custom made. Thankfully, Reality Daydreams have come up with a DIY solution. Although this is one of the harder projects, it will be well-worth the effort when you have your unique and hand-made desk-knack.
Specifications
Skill Level: Moderate to advanced
Tools
Bandsaw
Chalk marker
Drill
Scroll saw
Roundover router bit
Orbital sander
Staple gun or nail gun
Materials
Hardwood
Wood glue
Paint
Stain
Chalk marker
1" X 10" pine board
¼" plywood
Heavy-duty picture hanger
---
4.

DIY Scoop by Four Oaks Crafts
Though this may seem like a very simple DIY, it is actually a versatile project that requires a few more steps and a little more time than other designs. The great part, however, is the scoop can be added to other DIY projects to add a personal detail. For example, attach the scoop to a hand painted coffee jar or use it with a homemade ice cream cake. Regardless, the extra time is worth it especially with the step by step instructions from Four Oaks Crafts.
Specifications
Skill Level: Easy to moderate
Tools
Bandsaw
Hand drill or drill press
Belt sander
Forstner bit
Materials
Chunk of wood of your choosing
Sandpaper
Food grade mineral oil
---
5.

DIY Toy Plane by Instructables
If you are looking for a unique and personalized gift for a baby shower, birthday, or other occasion, a handmade toy plane is a great choice. Instructables has provided this DIY bandsaw project that will make you the favorite in the little tykes eyes, Follow the plan below, but remember you can customize this project as you see fit.
Specifications
Skill Level: Easy to advanced
Materials
Wood of your choosing
Super glue
Paint or stain (optional)
---
6.

USB Cover by Crafts & DIY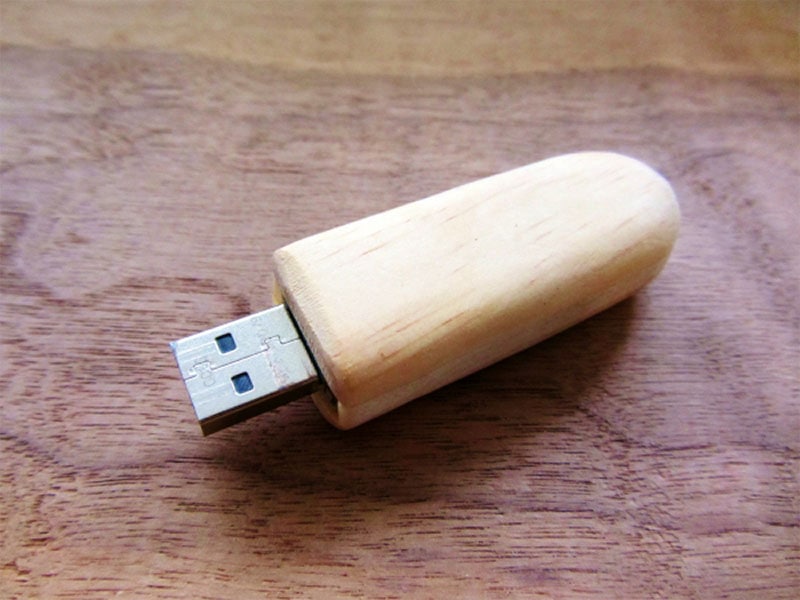 This is a tiny DIY project that brings new technology to a vintage vibe. Using Crafts & DIY project plan, you can create this USB cover made out of wood. You can paint it, stain it, or leave it in its raw form for a truly rustic feel.
Specifications
Skill Level: Moderate
Tools
Bandsaw
Pencil
Sandpaper
Various sized clamps
Safety goggles
Materials
Small piece of wood of your choosing
Wood glue
USB Flash drive
---
7.

DIY Dinner Table by Saw Hub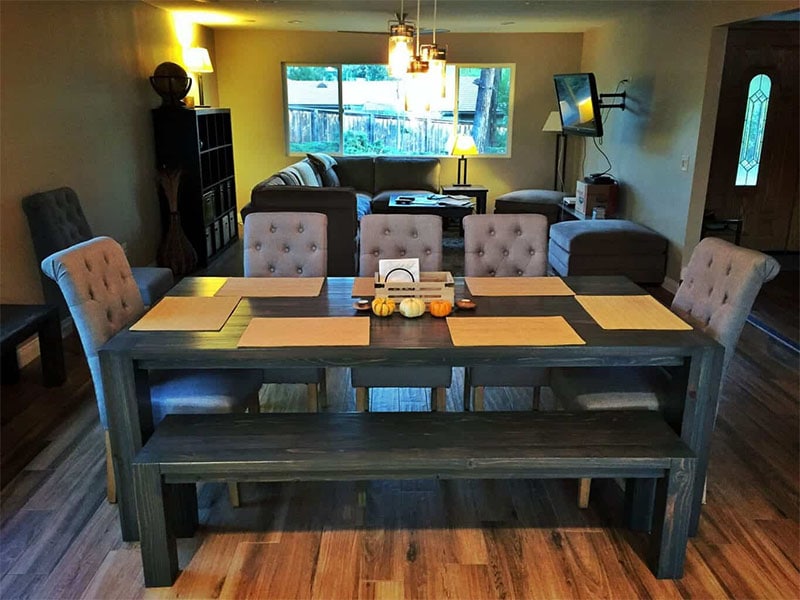 Saw Hub is responsible for this larger bandsaw DIY project that you can start today and finish in your spare time. This plan is detailed, precise, but still allows you enough room to be creative and add your own personal touch. Whether you have a rustic vibe, modern, feel, or even a beachy and coastal decor, this project will be able to walk you through designing the perfect dining room main focus.
Specifications
Skill Level: Moderate to advanced
Tools
Bandsaw
Orbital sander
Goggles
Measure tape
Pencil
Drill
Materials
Wood of your choice
Wood screws
---
8.

DIY Three Drawer Night Stand by Fix This Build That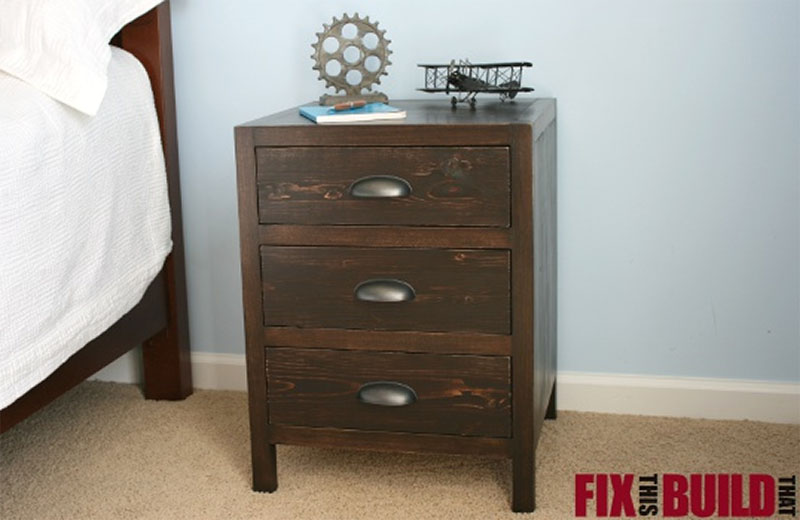 A night stand is a basic bedroom accessory that can be made fairly simply with a bandsaw and other basic tools as long as you have the right project plan. Fix This Build That has provided a step by step tutorial that will outline all the details to not only create this design, but also add all the finishing touches you are looking for.
Specifications
Skill Level: Moderate to advanced
Tools
Bandsaw
Kreg jig
Kreg face clamp
Table saw
Miter saw
Orbital sander
Cordless drill
Materials
(5) 8' 1 X 6 pine boards
(3) 8' 2 X 2 poplar boards
(10) 8' 1 X 4 pine board
(3) pairs of full extension drawer slides
(3) drawer pulls
1 ¼" pocket hole screws
Stain or paint
---
9.

DIY Succulent Planter by Home Crux
If you want a statement piece for your modern and lux decor, the succulent planter is perfect. Although this project looks simple, Home Crux's design will get you started today with all the tools and materials you need. They also share an easy to follow guide on how to put this unique piece together one step at a time.
Specifications
Skill Level: Advanced
Tools
Bandsaw
Tape measure
Sand paper
Materials
Wood of choice
Wood glue
Decorative rocks
Succulents (real or fake)
Stain or paint
---
10.

DIY Wooden Bowls by Instructables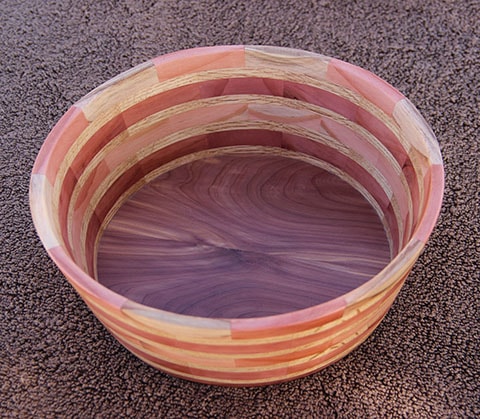 There is nothing better in the summer time than enjoying a crisp salad in the yard that is served in the traditional wooden salad bowls. If you want to jump into a DIY project with your bandsaw that can help move this picture into reality, Instructables has the design plan that teaches you how to build wooden bowls with your bandsaw. Not only are these bowls excellent for hot, humid salad days (no pun intended), but they are also a great starter bandsaw do it yourself hobby.
Specifications
Skill Level: Easy to moderate
Tools
Bandsaw
Calculator
Ruler
Pencil
Materials
Wood of choice
Wood glue
Food grade mineral oil
---
11.

DIY Travel Mug by Woodworkers Guild Of America
Since we went with the wooden salad bowls, we thought we would share the wooden travel mug, as well. These unique pieces will catch the eye and make your friends and family believe you have been spending some cash. The Woodworkers Guild Of America has created an easy to follow DIY design that will be easy to follow, and you can start the plan right now.
Specifications
Skill Level: Moderate to advanced
Tools
Bandsaw
Ruler
Pencil
Clamps
Hose clamps
Dowels
Materials
Two-tones of wood
Wood glue
Metal insert
Wood glazing
Cap
Bottom disk
---
12.

DIY Wooden Sunglasses by Instructables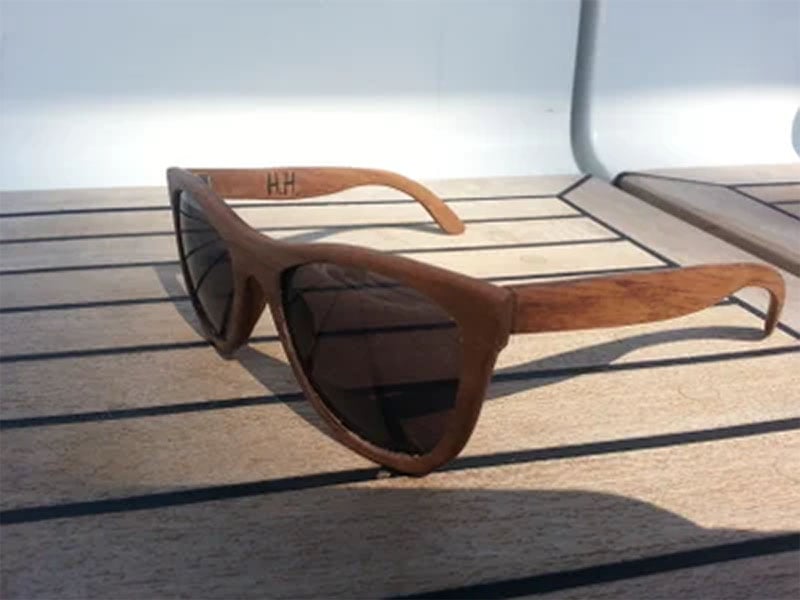 Our final DIY bandsaw project is by Instructables. They have provided us with a fun wooden sunglasses project you can create for yourself, kids, or the whole family. The best part is they can be customized for different members. Paint them different colors or add other details to personalize them and make them your own. You can also display them on your desk or wear them out!
Specifications
Skill Level: Easy to moderate
Tools
Bandsaw
Pencil
Fabric tape (optional)
Materials
Hardwood of your choice
Ordered lens
Ordered hinges
Print out design (see project)
Wood glue
Sandpaper
Stain
Transparent wood glaze
Conclusion
We hope you have enjoyed these 12 bandsaw DIY projects. The great thing about this tool is not only can it create the odd angles that are difficult for most saws, but it also can accomplish many other cuts that you need to create beautiful, unique, and personalized projects that will catch the eye.
Related Reads:
---
Featured Image Credit: Pixabay