9 Free DIY Bookshelf Plans (With Pictures): Build Today!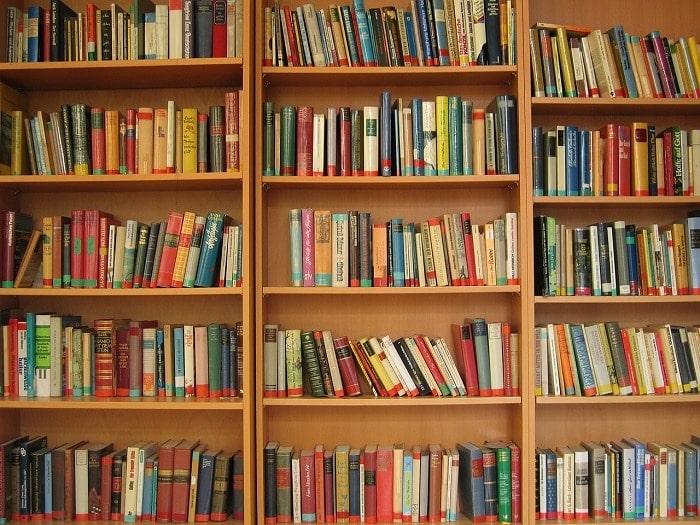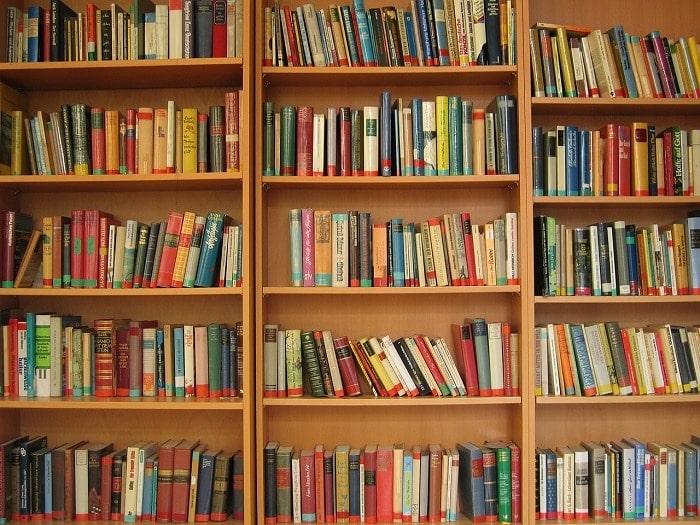 If you are new to DIY projects, building a bookshelf is the perfect place to start. Most bookshelves use square cuts and right angles, making them much more comfortable to assemble and work with. Within the broader category of bookshelves and bookcases, there are so many styles and designs that you will come across. We tried to pick a variety of designs that would work for beginners and experienced woodworkers. Regardless of the style of your home, there is a plan here that will teach you how to build the bookshelf you've always wanted.

The 9 DIY Bookshelf Plans
1.

Crates & Pallet Bookshelf by Jen Wood House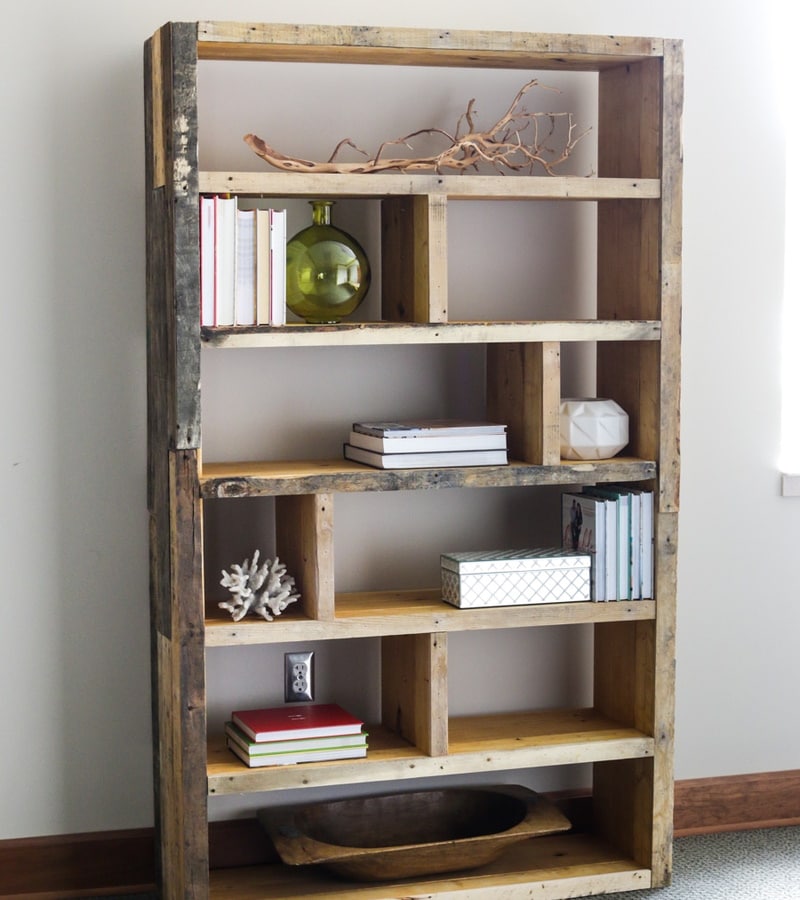 Starting off our list of free bookshelf plans you can DIY today is this Crates and Pallet Bookshelf by Jen Wood House. This bookshelf has a rustic look and uses very few materials. This finished piece looks like something out of a magazine without paying hundreds of dollars. Learning how to build a bookshelf is easier than ever with this plan; it gives you step-by-step pictures and instructions and a perfect materials and supplies list.
As complicated as this may look to a new DIYer, this project is very well laid out and an excellent option for a first-timer looking to get into furniture building. You can easily adjust the design of the shelves and spacing to fit certain things that you need, but we love the way this is done.
---
2.

Industrial Bookcase by Rogue Engineer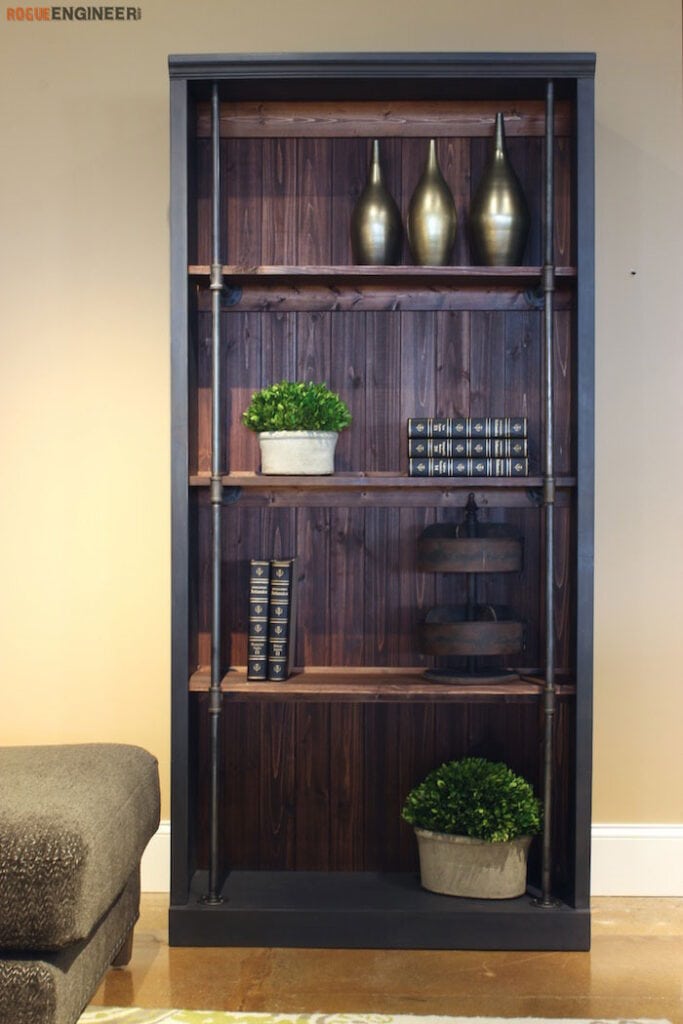 If you are looking for a mix of wood and metal in your next bookshelf, this Industrial Bookshelf from Rogue Engineer could be a good fit. We will not say that this is a challenging build, but it will undoubtedly be more involved than a bookshelf that just uses wood. You will need a couple of extra tools and supplies to get this one done, but in the end, it is hard not to be satisfied with this finished look.
This shelf costs a bit more than some other plans, coming in at around $300, but considering similar bookshelves are selling in stores for over $1,000, your time spent on this will be well spent.
---
3.

Cubby Bookshelf from Ana White
The Cubby Bookshelf from Ana White is a trendy design when it comes to book storage and also toy storage. You can purchase fabric-type bins to place inside some or all of these cubbies when your project is complete. The directions to build this bookshelf are clearly laid out, and the measurements and steps are easy to follow.
If you have a particular size bin or container that you want to fit in this bookshelf, be sure to measure it before starting your building. If you like this design and can handle making this project a bit more complicated, you can turn this 9-cube organizer into a 12 or 15-cube organizer.
---
4.

DIY Modern Rustic Bookshelf from Rain On A Tin Roof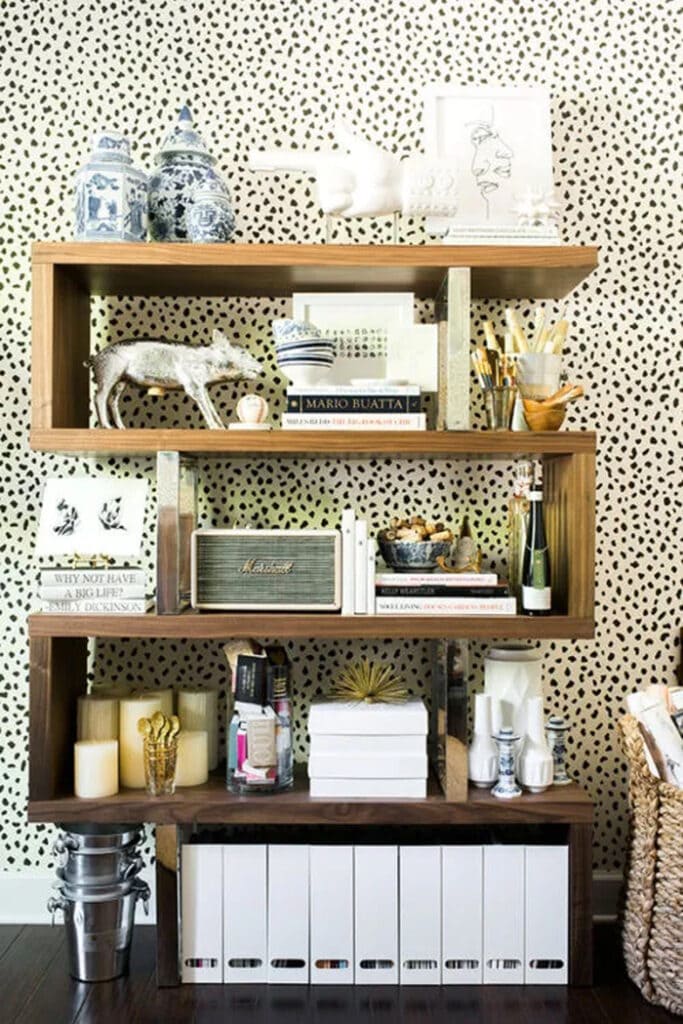 The inspiration for this super cool bookshelf was a $1,000 model that the designer couldn't contemplate spending. Instead, Rain On A Tin Roof developed this plan for a DIY Modern Rustic Bookshelf. The entire project cost less than $50.
The plans to follow are straightforward, and you can tell that they were written and completed by someone new to DIY. We love the use of color on this shelf as well and think that could be carried over to a few of the other designs that we found.
---
5.

Sawhorse Bookcase from Shanty 2 Chic
Next on our list is this Sawhorse Bookcase by Shanty 2 Chic. This particular model is such an exciting design that we felt like it had to be shared. This bookcase goes beyond functional and becomes a beautiful decorating piece in a home. We love the way this plan is laid out and the simple-to-follow pictures.
Besides the bracket used at the top to pull this all together, the basic design of this shelf is not challenging to build and could be done by a beginner-level woodworker. We love the stain they used to give this bookcase a complete and finished look that would look beautiful in any home.
---
6.

Built In Bookcase Plan by This Old House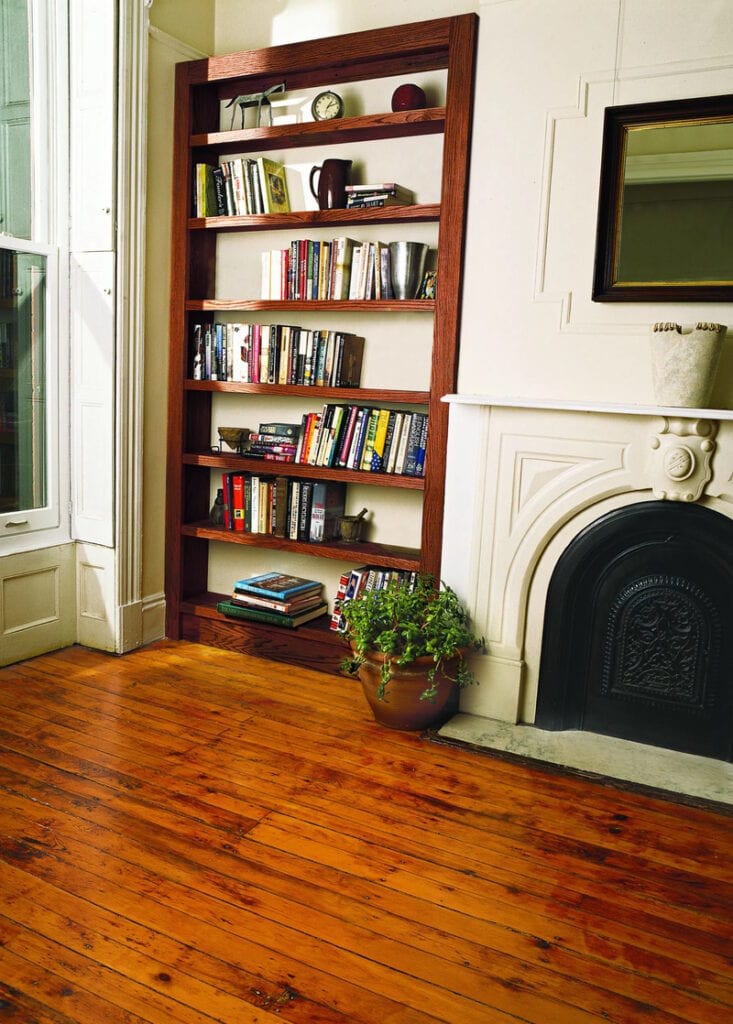 Now, if you want to get fancy with your woodworking, you can take on the Built-in Bookcase Plan by This Old House. The estimated costs of this project are between $200 and $500, and although that may seem high, there are a few things to consider here. First, a built-in bookcase is an improvement to a home and not just a piece of furniture. Secondly, to have a contractor come and install one of these would be thousands of dollars.
This is a detailed and easy-to-follow plan, but the concept of a built-in bookcase is designed for the more experienced woodworker. If this is your first project, you may want to opt for something a bit easier.
---
7.

Craftsman Bookcase by Family Handyman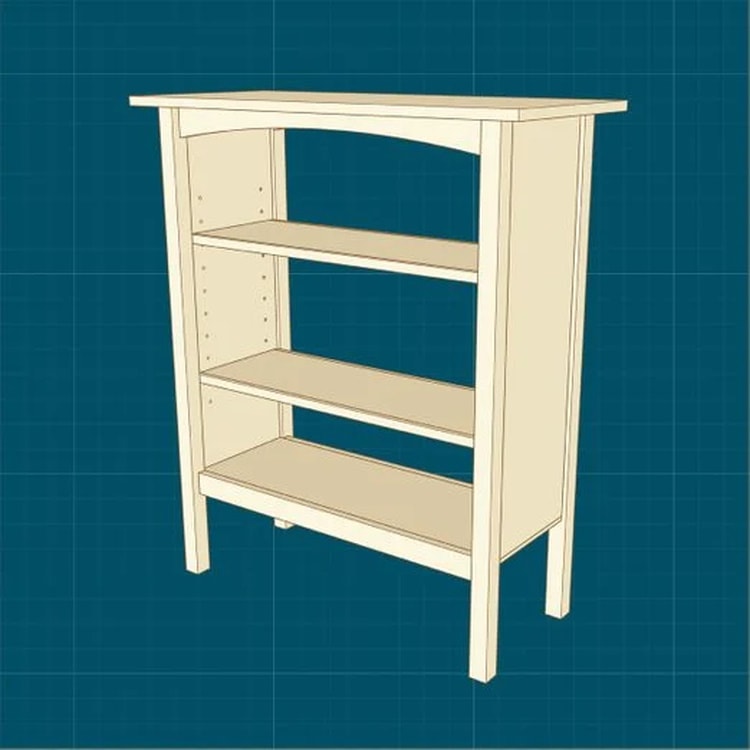 If you are looking to build a bookcase but don't want a solid wall of wood in your home, this open and airy Craftsman Bookcase from Family Handyman may work. This is a moderately tricky build that will take many tools to complete. However, you can easily adjust this plan to work for the wall space and the number of books you have. We love that this is a lighter design, and because of that, your costs on the wood products will be considerably less.
---
8.

Modern Kids Bookrack by Ana White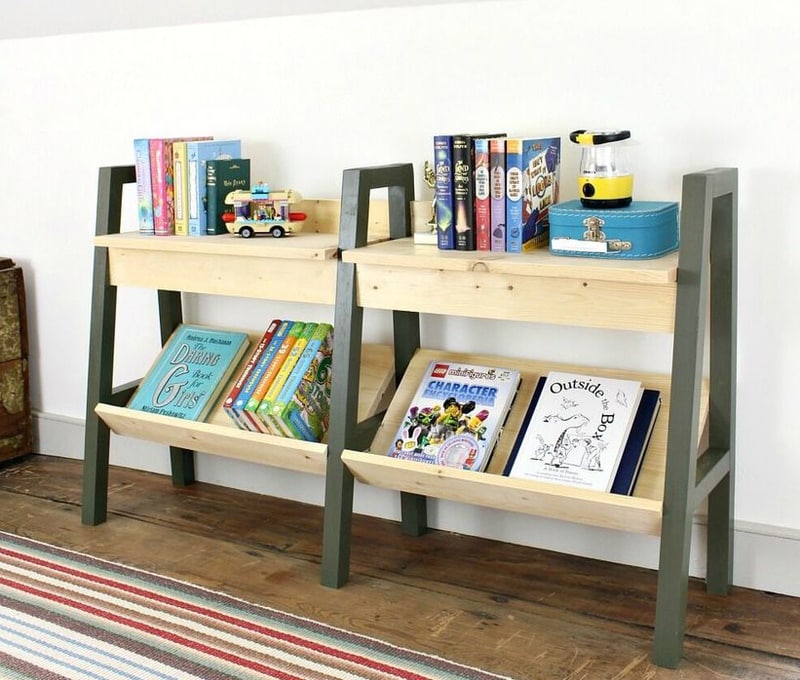 If your motivation for building a bookshelf is for the little ones in your home, this Modern Kids Bookrack by Ana White is a great choice. We love how the bottom shelves are hung on an angle so that little readers can have a clear view of their book selection. This model is more difficult than a standard bookshelf, but the directions are very clear and easy to follow. We also love the contrasting colors on this shelf; be sure to read the entire plan for tips on the painting technique used.
---
9.

DIY Modern Bookshelf from Anikas DIY Life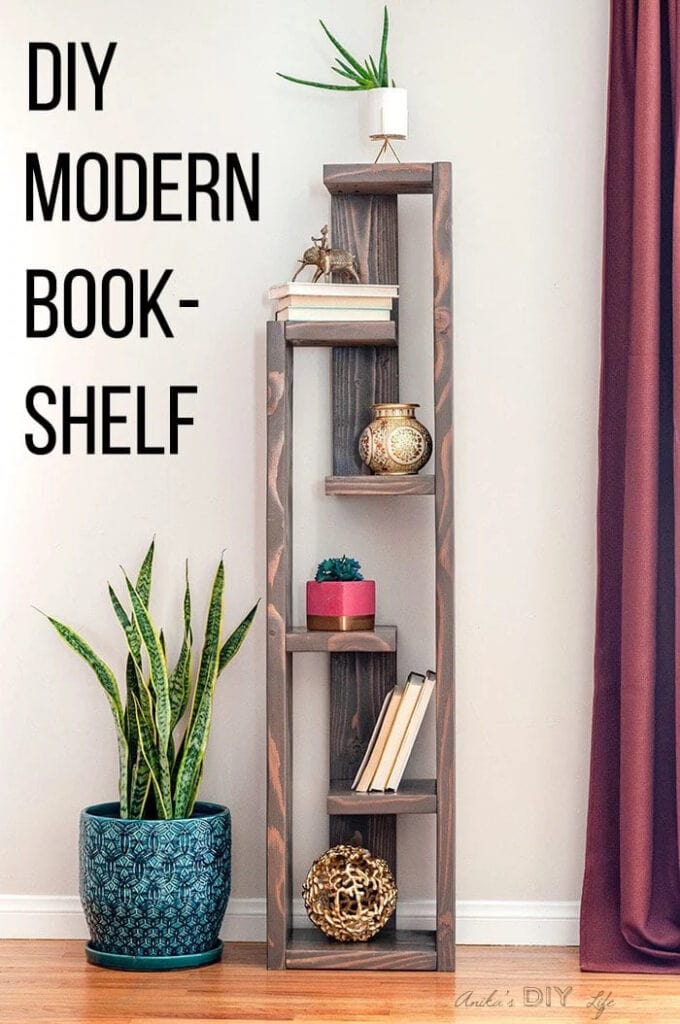 Last on our list is this very modern, very easy-to-make bookshelf from Anikas DIY Life. This shelf can accommodate books and prized possessions to add a beautiful display piece to any modern home. The best thing about this bookshelf is that it takes only five steps to complete. This shelf looks much more complicated than it is, and it seems like a piece that people would pay quite a bit of money for. Luckily this is a very inexpensive design, and the bright pictures and instructions will have you complete it in no time.
---
Featured image credit: geralt, Pixabay