17 Free DIY Toy Box You Can Build Today (With Instructions)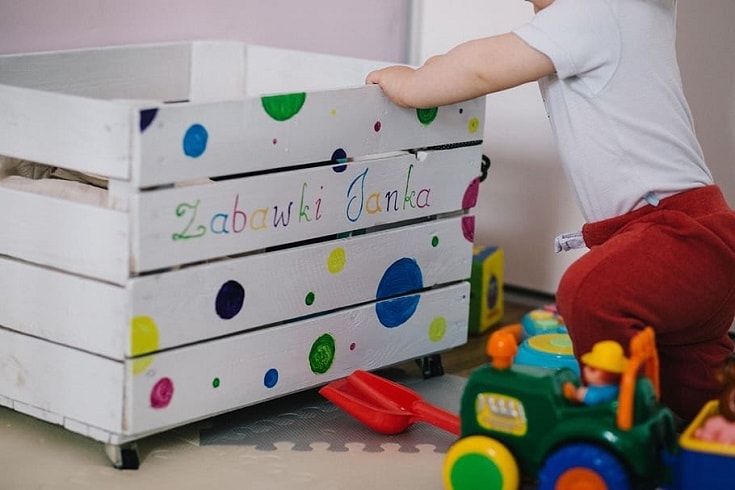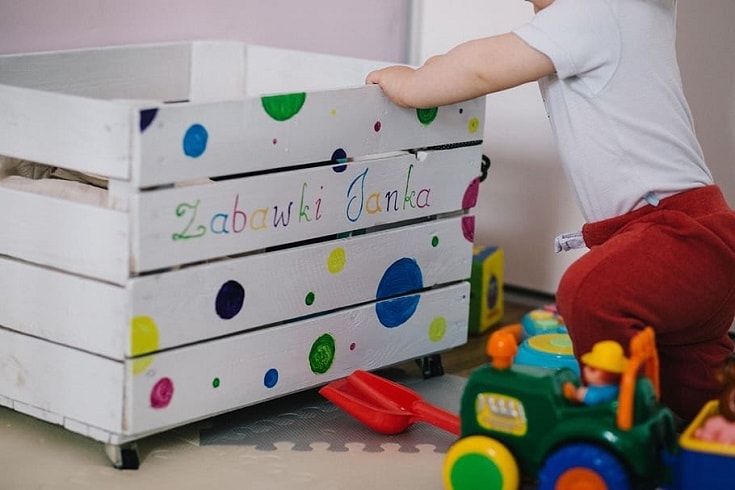 Toy boxes can provide additional storage, double up as items like benches, or incorporate chalkboards, and they may even encourage your kids to tidy up after themselves (maybe).
Rather than spending even more money on your child's bedroom, why not learn how to build a toy box on your own? Below is a list of 17 free toy box plans that, combined with DIY skill, wood, and basic tools, you can create yourself.
You can even get the kids to help make their new toy box. The plans include basic but highly functional designs, as well as more complex builds like a pirate chest and even a rolling wagon.

The 17 Free DIY Toy Box Plans
1.

Simple Storage Box Plans From Instructables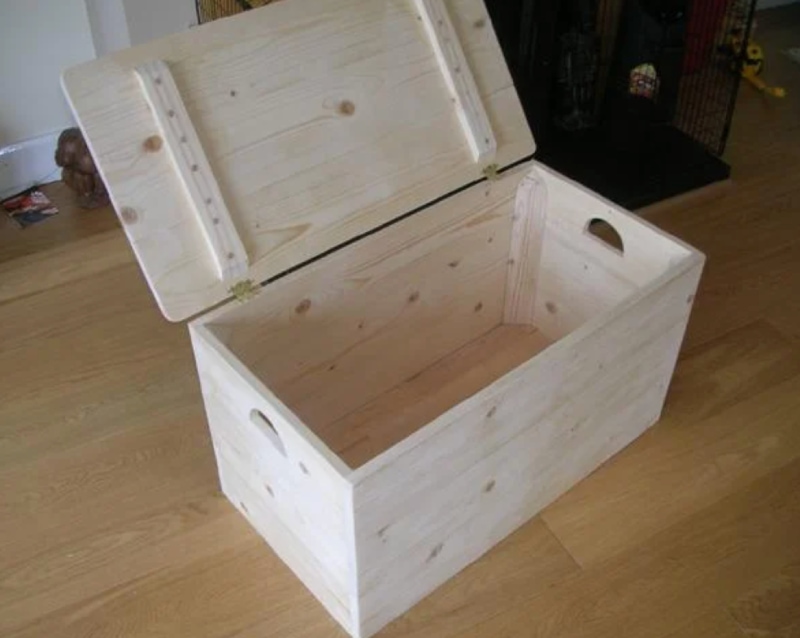 The simple storage box from Instructables is a simple but functional solution for storing anything. The plans suggest using your own choice of wood, and the finished item has a hole in either end for lifting and carrying the box. The whole project should take no more than a few hours to complete.
---
2.

Free Toy Box Plan From Wayne of the Woods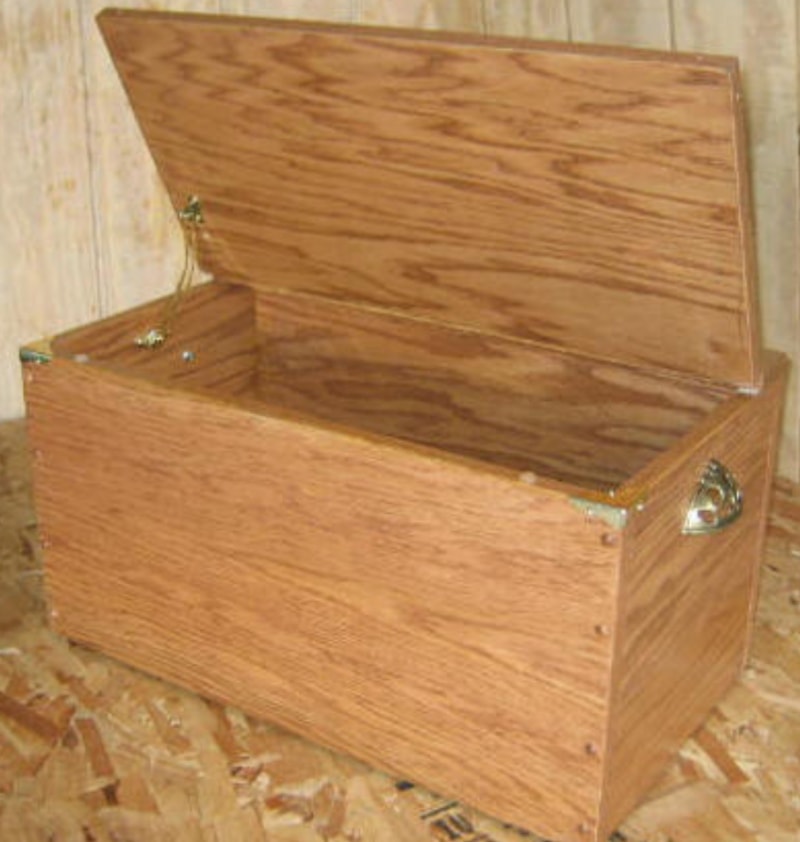 This free toy box plan from Wayne of the Woods has a hinged lid with additional hinges on the outside of the box and suggests adding handles at the end of construction. The plans can be finished using a single piece of plywood, although you will need matching edging material.
---
3.

Toy Box Plans From My Outdoor Plans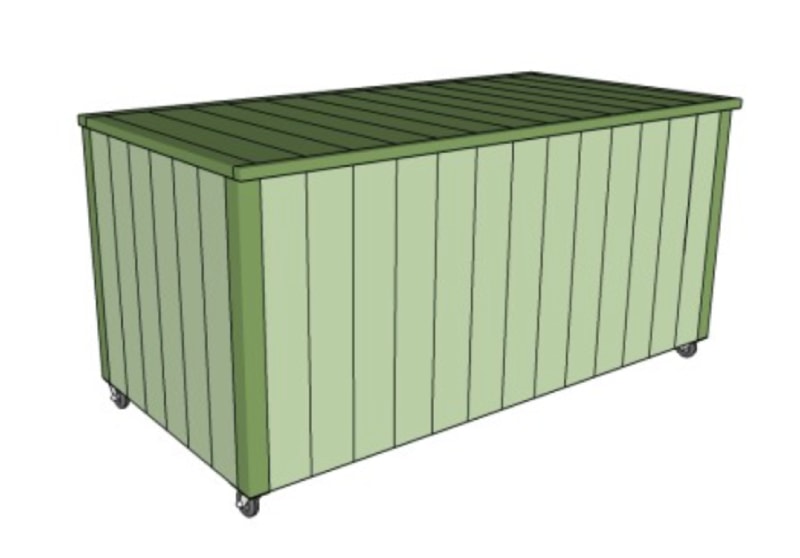 This toy box is a little more complicated than the previous ones because My Outdoor Plans has used slats of wood rather than sheets. It has caster wheels, allowing your child to move it when they want something, and letting you move it back when you want to clear space.
---
4.

Ana White's Simple Modern Toy Box With Lid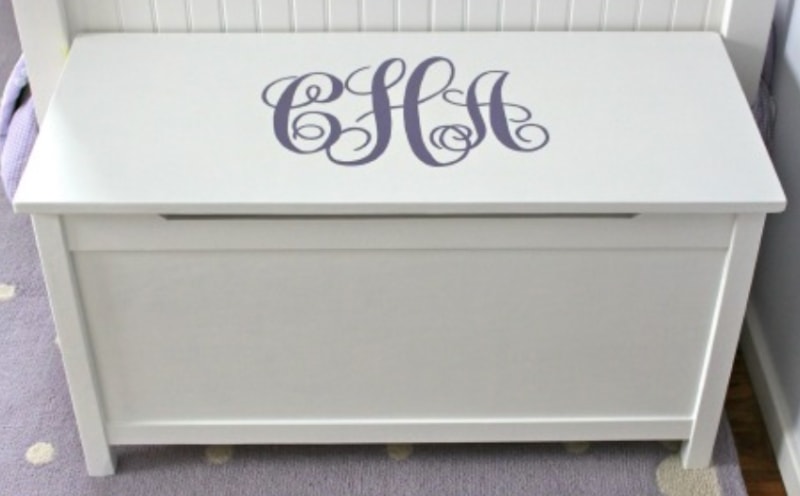 Simple doesn't have to mean boring. Ana White's simple modern toy box plans are elegant and attractive. It is an easy construction, but the finished box has little touches like a hinged lid. The feet give the finished piece a cot-like look, and the hole under the lid not only makes it easier to lift the lid but protects little fingers if the lid falls.
---
5.

A Toy Box That Anyone Can Make From Jay's Custom Plans
The toy box plans from Jay's Custom Plans are simple, but the finished project looks great. We love the orange color used in the instructions, but you could change this to match the décor of a child's bedroom. The build doesn't require the use of many tools, although you will find it easier if you have a table saw and miter saw.
---
6.

Toy Box Woodworking Plans From Mother Earth News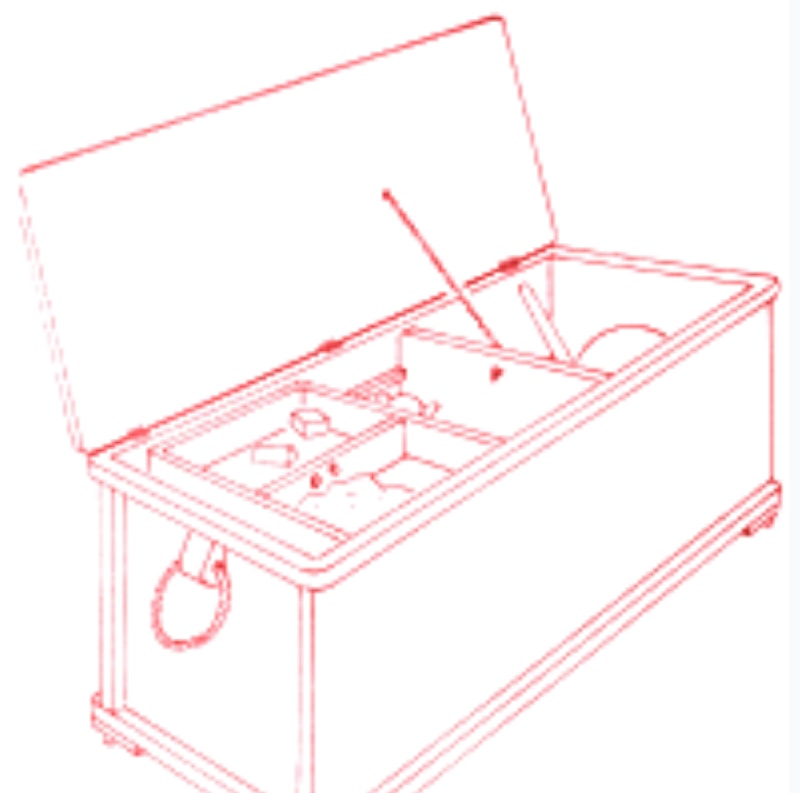 The toy box woodworking plans from Mother Earth News are simple to follow. They use glue, as well as other fastenings, which means that there are no fancy joints to cut—so this can be done with standard tools.
---
7.

Farmhouse Toy Box From Ana White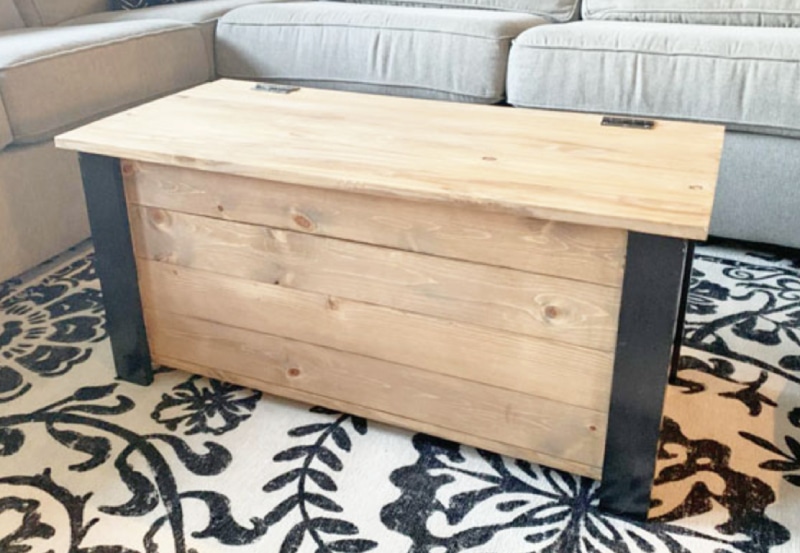 This is another toy box from Ana White, and it is another simple plan with an elegant-looking finish. The lid is hinged, making it easy to access and close, and you can use a toy box hinge. Toy box hinges ensure that the lid stays open and doesn't slam down on your child's fingers while they're deciding what to play with.
---
8.

Rona's Chest Bench Construction Plan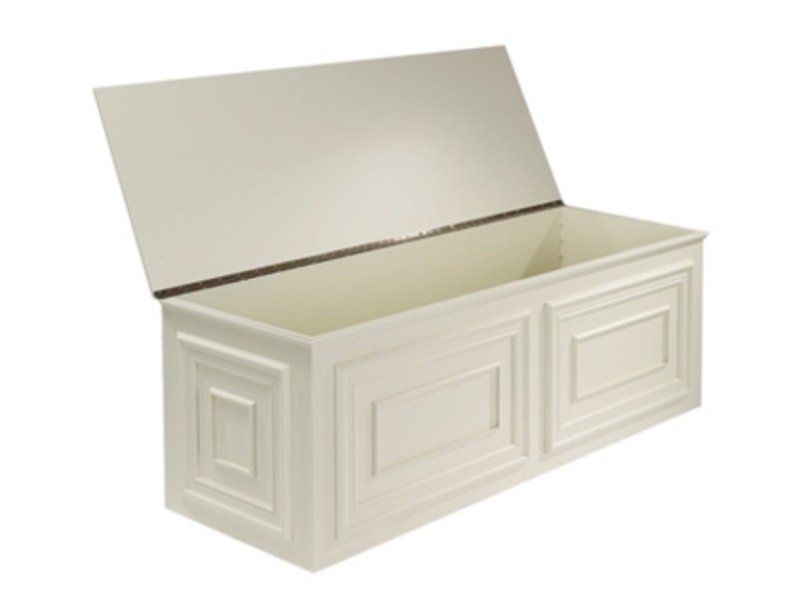 The chest bench from Rona doesn't have to be used as a toy box. The geometric finish and soft paint mean that it would look great in any bedroom. The plans use MDF, but as the website suggests, a keen woodworker could easily replace this with natural wood. This means that you can match the chest bench to existing furniture. Adorn the top of the chest with cushions, and it doubles up as a bench.
---
9.

Child's Bench Toy Box Plans From Woodware Designs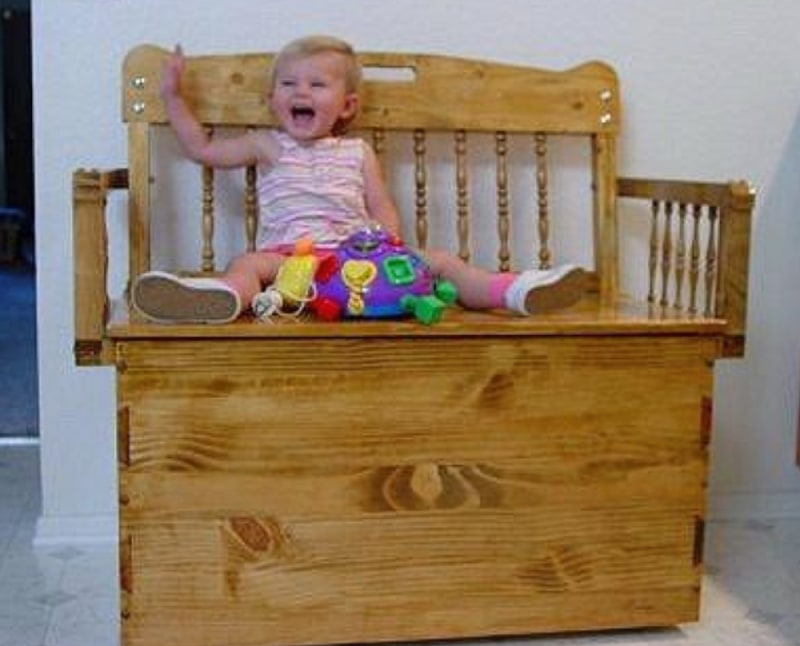 This is another storage box that can also be used as a bench once built. The child's bench toy box plans from Woodware Designs features casters, so you can easily move the box around when not in use. It has an internal tray and even a secret compartment underneath, so the kids are bound to love it.
---
10.

Shanty 2 Chic's DIY Storage Idea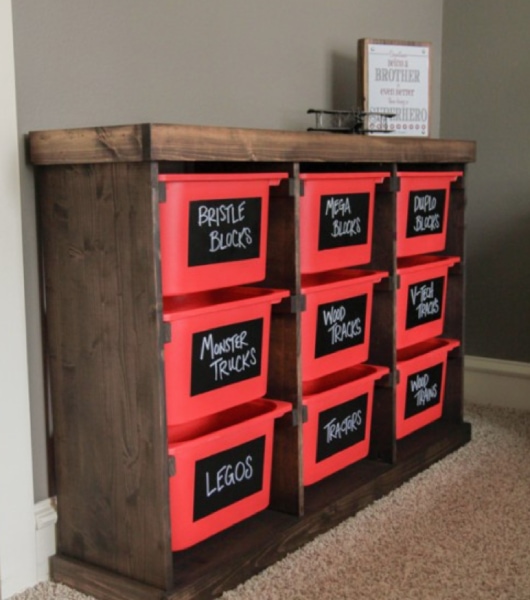 Shanty 2 Chic offers a different take on the toy box storage design. They've combined storage boxes from Ikea with a stained pine frame. The boxes easily slide in and out of position. Many toy boxes become a pile of old toys with no order whatsoever. Thanks to the separate trays, which you can label to identify the contents, you can bring order to your toy storage with this plan.
---
11.

Build Something's Toy Storage Console With Rolling Bins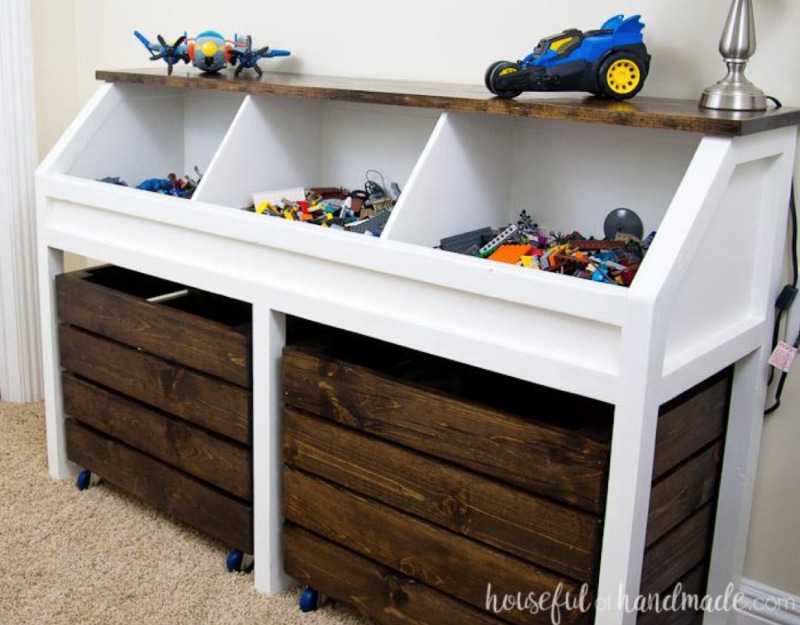 The toy storage console from Build Something utilizes a similar idea as the previous plan but combines it with the traditional vat storage of a toy box. It has two large bins underneath, both of which have caster wheels for easy movement. The top of the box has three open tray sections, used in the pictures for holding Legos, but that could be used for arts and crafts, collectibles, or any other collection.
---
12.

Pirate's Chest Toy Box From Chief's Shop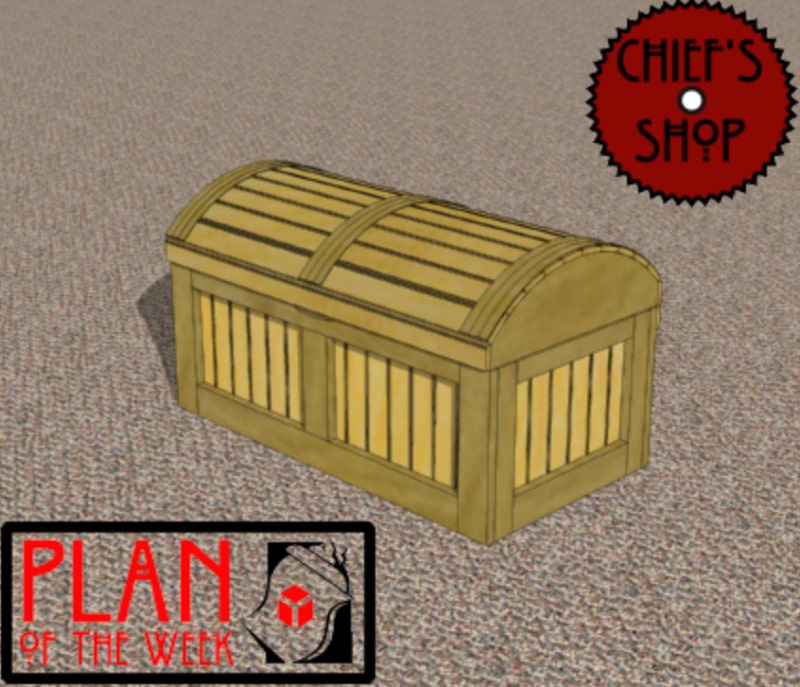 The Pirate's chest toy box from Chief's Shop has a curved lid and uses slatted wood to give the effect of a pirate's treasure chest—and the result is great. Don't let the curved lid put you off, either, because the construction is simple. You should be able to complete this project in half a day.
---
13.

Bookcase With Toy Storage Plans From Build Something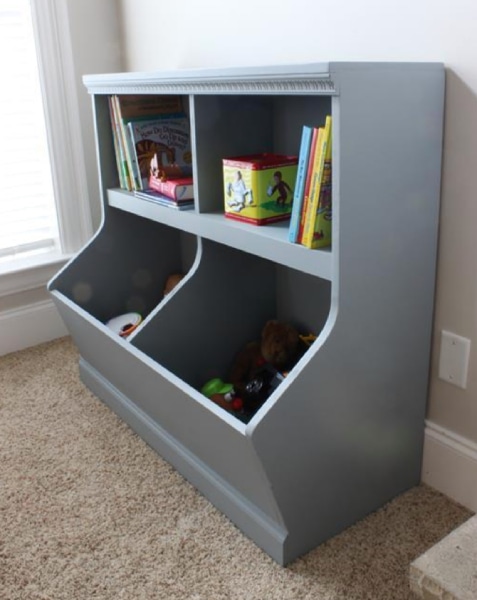 When it comes to functional storage, this bookcase with toy storage from Build Something is multifunctional but still retains its attractiveness. There are two bookcase sections, as well as two open bucket areas for holding everyday toys. There is a little more cutting involved in this design, especially to create the sides, but it is still a simple build.
---
14.

The Merry Thought's DIY Wooden Toy Bins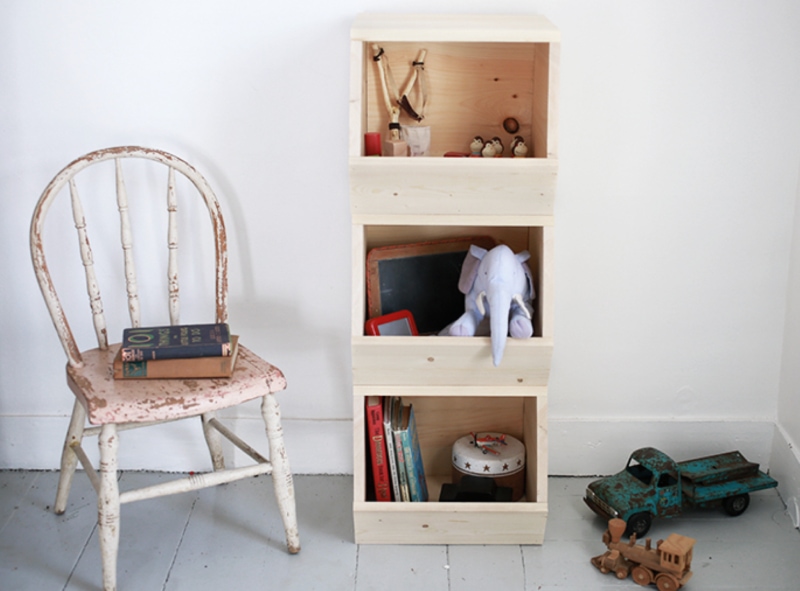 The DIY wooden toy bins from The Merry Thought provide vertical storage, but it's not so high that your child can't reach in and grab their favorite playthings. With three separate sections, you can encourage a little order at clearing up time too.
---
15.

Ana White's Train Toy Box Plans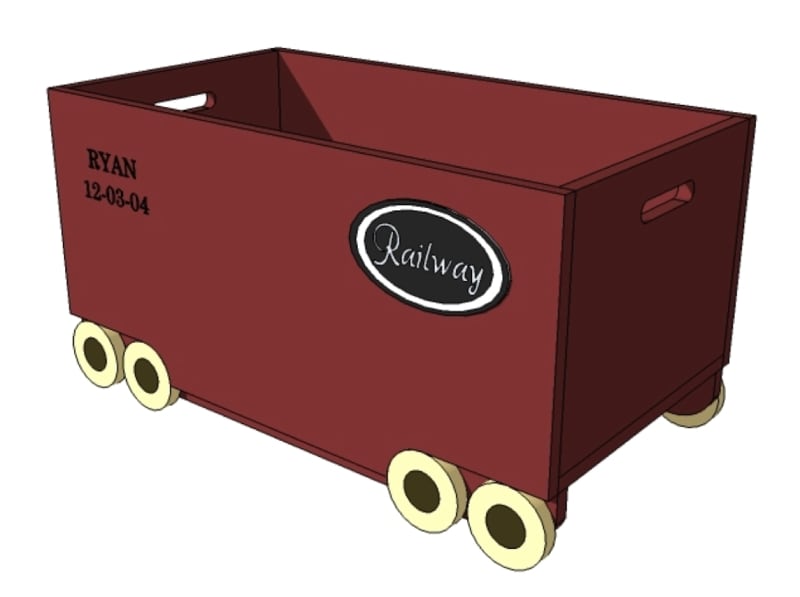 This time, Ana White has provided designs for a train toy box. It offers plenty of storage room and even doubles as a toy itself. It can be made from half a sheet of plywood, and the plans suggest that it's easy to add caster wheels behind the fixed wheels so that it will actually move.
See also: 25 Free DIY Wooden Box Plans You Can Build Today
---
16.

Free Toy Box Plans With Chalkboard From Woodwork City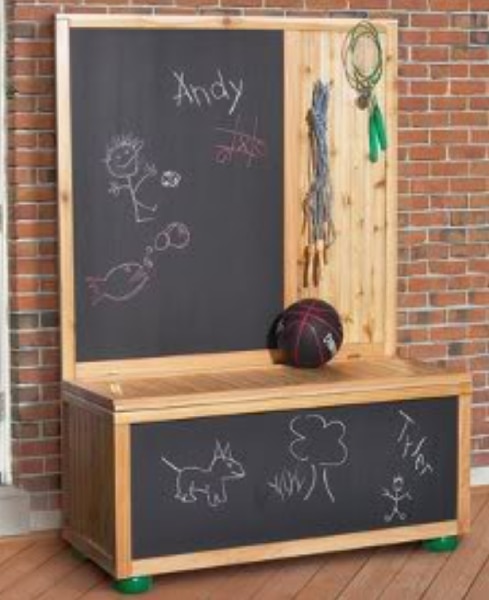 Chalkboards are great for kids' bedrooms. You can use them to write messages for your child, reminding them to tidy up. You can use them to label storage boxes, and your child will love to draw on them. This toy box plan from Woodwork City has a tall back covered in chalkboard, and there is another patch of chalkboard on the front too.
---
17.

Toy Chest Plans From This Old House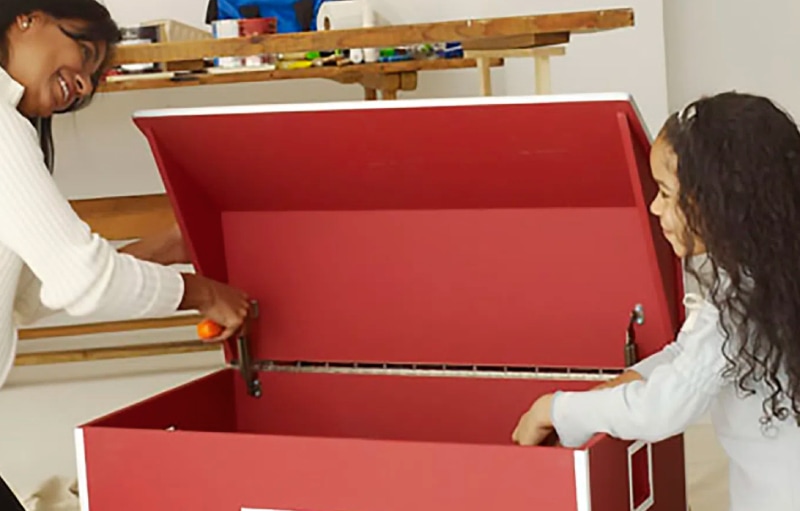 This Old House teaches you how to build a toy box that is designed to look like a barn, so it can become a part of playtime just as much as the toys inside. It has wheels for easy movement, and there's a support for the lid. The plans suggest getting the kids involved to help with elements of the build.
Here's something different: DIY Saddle Rack Plans

Free Toy Box Plans
The primary use of a toy box might be to store toys, books, and other items in your child's bedroom, but as you can see from the plans above, they can do much more. They can be used to better organize the mess and even become toys themselves.
---
Featured Image Credit: Pxfuel