8 Free DIY Chicken Nesting Box Plans You Can Make Today (With Pictures)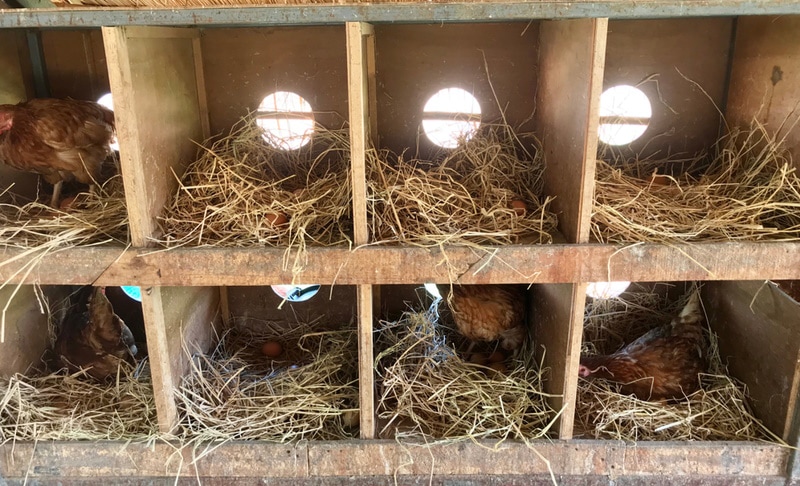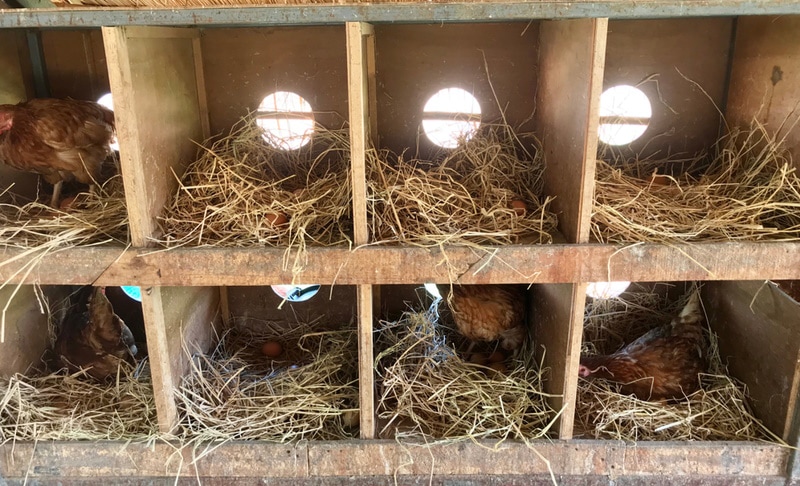 If you are one of the many people who enjoy fresh eggs on a daily basis, you most likely have small feather friends pecking around your yard. Unfortunately, though, you will not be able to eat those fresh eggs often if you don't create a safe place for your chickens to lay. Why not learn how to build a chicken nesting box yourself.
Buying these boxes can quickly add up to a pretty penny. To save you the cost-consuming chicken bedding, we have found 7 DIY chicken box plans you can get started on today. These simple plans are easy and effective, plus free for you below.

The 8 Free DIY Chicken Nesting Box Plans
1.

Bock Bock Bouquet Nesting Boxes for Chickens
If you want a heavy-duty set of nesting boxes to last you seasons to come, check out the Bock Bock Bouquet DIY Nesting Boxes for Chickens. The tutorial is under 8 minutes, but it is comprehensive. The creator does a really fantastic job explaining each step of the process.
This particular setup requires pretty heavy-duty tool construction. You can get a very good visual of each part and the tools necessary to assemble it. If you still need to get the tools on hand, the creator comments that he went to Lowe's to get specific cuts made.
Remember that even if you're not construction savvy, this DIY is still possible for you.
---
2.

Hometeady Chain Nest Box
Homesteady DIY gives you a terrific little educational lesson and a ton of options for various building structures. The creator here is in-depth, explaining the different setups for chicken coops and how you can incorporate nest boxes into your design.
This gentleman walks you through how to use $3 Tractor Supply buckets to make your nesting boxes. This is very cost-efficient for many people and is a really cheap and easy DIY to do in your spare time. You can get these types of buckets at virtually any home improvement store or online.
You might even luck out and find some for free—or you already have a few lying around. Chickens will really gravitate toward them as they are the perfect size. Plus, they are effortless to clean, move, and gather from—cost-efficient for the win.
---
3.

RedsHomestead Milk Crate Nesting Boxes
These nesting boxes are a relatively inexpensive and simple option. Using repurposed milk crates, this couple turned a drab chicken coop into a nesting paradise. They already had some wooden structures in the coop, so they could attach the milk crates. If you still need to get such a structure, you might have to factor in the cost of getting the wood for that. Otherwise, this is an inexpensive option for nesting boxes, and the DIY is entertaining.
---
4.

El Stumpy 2 Super Easy, Super Cheap Nesting Boxes
If you're looking for cheap and easy, this DIY gives you two fantastic options. The creator walks you around, explaining and showing what he has done with his own personal setup before describing how to make the nesting boxes you see in the video. These nesting boxes are made from old crates, which you can find for cheap or free depending on where you're looking.
---
5.

Whitepepper Farms Cheap and Easy DIY Nesting Box
These nesting boxes incorporate organizer totes found at a local dollar store. It cuts out all of the hard work for you, instantly stacking atop one another for an easy stowaway. You can find several items like this locally or buy something similar online.
They were able to find these particular totes at their local Walmart. While you may not find them and store them at every Walmart around the nation, you can look on the website to see if you can purchase them online.
The DIY creators were nice enough to add the link for a 4-pack they found online. These totes average out to roughly $10 each—easy peasy.
---
6.

Prepping Texas Homestead DIY Roll-Out Egg Box
This DIY by Prepping Texas Homestead incorporates a rule-out concept that prevents eggs from getting poopy or messy between the time they are laid and picked up by you. It's a semi-simple design, but you will still need tools to complete it.
This creator uses a wooden structure with AstroTurf within each compartment. This feature makes the boxes super easy to spray off and clean.
The whole purpose of this DIY is to tilt the setup so that the eggs roll from the chicken to preserve the cleanliness of the product. It was a success!
---
7.

Sonnie's Place Simple DIY Nesting Boxes
These nesting boxes from Sonnie's Place are decently straightforward boxes to make. You still have to rely on tools or have the wooden pieces cut for you at a home improvement store. However, you can assemble it easily with a few quick measurements and cuts.
All this DIY really takes are a few screws and a capable person to whistle together. With a visual tutorial, the creator walks you through each building process step, making everything more seamless. This concept is a perfect setup if you have a starter flock, as it fits three chickens at a time.
---
8.

Kai Projects External Nesting Box
These nesting boxes by Kai Projects are external if you have no room in your coop—or have another setup idea. You start by making a few cuts to the outside of the coop to place the boxes. Then, the creator takes a few cuts of scrap wood and makes a small set of nesting boxes.
You could have many of these supplies and tools on hand. You need a pretty extensive set of supplies, but the creator goes over each step so you can easily make your shopping list. We love the hinge design, making egg gathering super simple.
This setup looks stylish, and it's practical, too! This isn't a great project for a solo person. Have a helper on standby in case you need some assistance. Ultimately, when it is finished, it looks like part of the original coop and gives it some cool character.
You might also be interested in: 12 DIY Goat Milking Stands You Can Make Today
---
Featured Image Credit: SutidaS, Shutterstock