11 DIY Chicken Nesting Box Plans You Can Make Today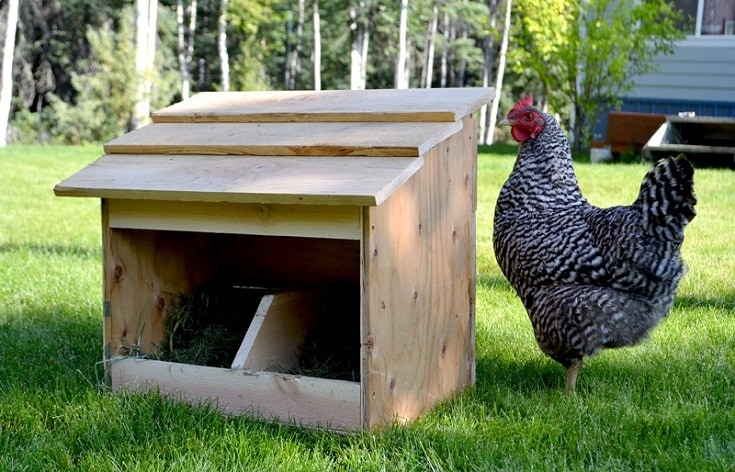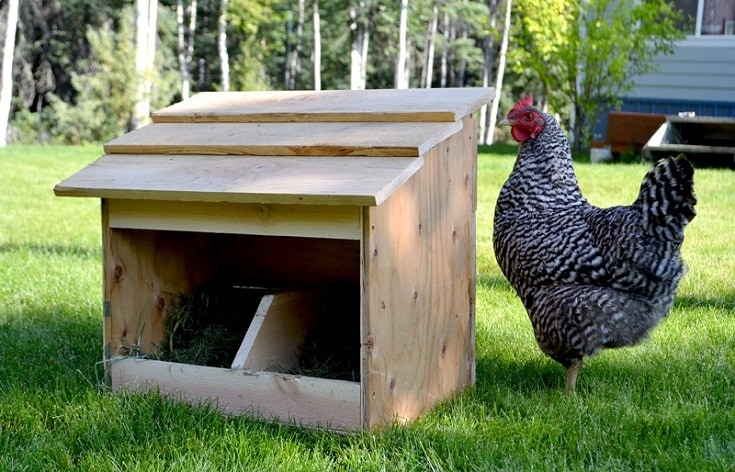 If you are one of the many people who enjoy fresh eggs on a daily basis, you most likely have small feather friends pecking around your yard. Unfortunately, though, you will not be able to eat those fresh eggs often if you don't create a safe place for your chickens to lay. Why not learn how to build a chicken nesting box yourself.
Buying these boxes can quickly add up to a pretty penny. To save you the cost-consuming chicken bedding, we have found 12 DIY chicken box plans you can get started on today. These simple plans are easy and effective, plus free for you below.
1.    Chicken Box: Basic by Construct101
Construct 101 has outlined a basic plan to DIY simple chicken box setups. This plan requires basic knowledge and minimal tools. They also provide the measurements you need to construct this basic hen house, as well. As another bonus, you cn easily contiue the project to make the nest four or five layers long.
---
2. Single by Ana White Chicken Box
This option is a great single chicken box that is easy to assemble with the right tools and measurements. Ana White offers you all the DIY planning your need to get the job done quickly. Not only that, but you can add a divider for a pair of hens, as well.
---
3. Barrel by Home and Gardening Ideas
This is a white barrel option that is an attractive alternative to the basic chicken box. You can check out this easy to DIY plan. Their basic setup will provide you with all the info you will need to get started right away. Plus, it looks cute in your yard.
---
4. Chicken Box: Tote Box by Becky's Homestead
If you are one of the many people who have extra totes laying around the house, they are one of the best materials to use for making DIY chicken boxes. Becky's Homestead will give you all the practical knowledge you need, plus you won't need more than some sharp shears or scissors to complete the project.
---
5. Bowls by Crafty Kritters
The Crafty Kritters site has proven they have one of the easiest chicken box DIY projects around. Not only are limited skills needed, but the tools and materials are very basic. You will be able to have your chickens comfortably settled within a few hours.
---
6. Toy Nest by Tumbleweed and Thyme Chicken Box
Tumbleweed and Thyme has provided this multi-layer chicken box plan that can house six to nine birds at a time. Resembling a toy box, this DIY project will take a bit more time but will be well worth the effort if you enjoy multiple fresh eggs in the morning.
---
7. Bucket by Home Steading
This simple DIY chicken box uses basic buckets to provide your hens with a comfortable place to relax. HomeSteading offers you all the planning materials you need, plus a helpful video, as well. You will be able to complete this project with minimal skills and time.
---
8. Five Gallon Bucket by Community Chickens
Unlike the DIY above, this project uses the large five-gallon buckets to nest your chickens. Community Chickens will lay out a detailed guide on setting up this do it yourself option that will take you no time to complete.
---
9. TriPlex by Remove and Replace
If you have more than one chick, but you don't have an entire yard full, the triplex may be right for you. Removeandreplace.com gives you all the instructions you need to learn how to build a chicken nesting box that creates three housing units. Be aware, you will need moderate skills, plus a few tools to accomplish the chore. On the other hand, with this plan it will not be difficult.
---
10. Egg Crates by Mom With A Prep
Another simple chicken box alternative is the milk crate option. Mywithaprep.com will help you plan the DIY, and it requires a few tools or skills as the difficult part is cutting the front of the crate away to provide easy access for your hens.
---
11. Easy Egg by The Poultry Guide
If you have multiple chickens, this DIY will make collecting the golden gifts a breeze. The only thing to consider with this plan is it will require more skill, time, and tools/hardware. That being said, the easy to follow tutorial will allow you to start this project today!
With your DIY project in hand, you will be able to provide your egg layers with a comfortable place to snooze and best. Most of these projects are simple with few required skills, tools, and money. For the most part, many of the materials can also be found around the house, so the boxes will be sustainable, as well!
---
Featured Image Credit: Ana White