11 DIY Ladder Plant Stands You Can Build Today (With Pictures)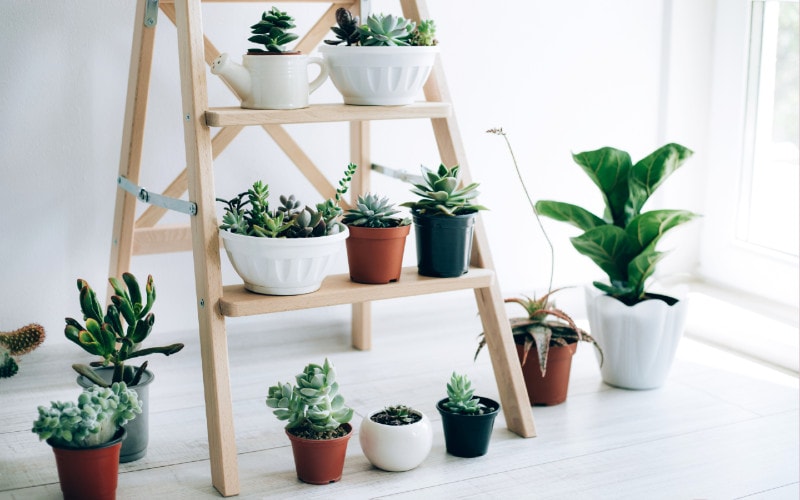 Plants enhance the aesthetic appeal of your home, add color and purify breathing air while showcasing your gardening skills or creativity. You can make your living space feel cozy and inviting with ladder plant stands that group plants and provide a focal point while making tending to them easier.
Utilize wood leftovers, scraps, and derelict ladders to create stellar ladder plant stands for indoor or outdoor plants. Ladder plant stands will maximize space due to their vertical arrangement and can be placed anywhere as long as there's sufficient sunlight.
In this article, you'll find material ideas and instructions to design these space-saving solutions for your home, yard, garden, or office.

11 DIY Ladder Plant Stand Plans
1.

Ladder Plant Stand With Shelves by Woodshop Diaries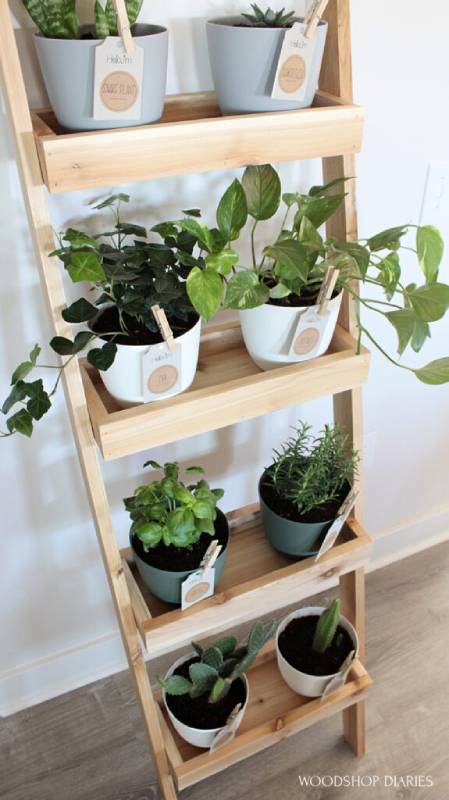 | | |
| --- | --- |
| Materials: | One 1x6x8 board, four 1x3x8 boards |
| Tools: | Nail gun, miter saw, drill/driver, 1 ¼″ brad nails, 1 ¼″ wood screws, wood glue |
| Difficulty Level: | Difficult |
Anyone with limited space can benefit from this DIY ladder plant stand that houses flower pots on its box shelves. It's a perfect solution when you've only got a single-frame ladder whose steps need more base width so that plants don't tip over.
You can also build this DIY ladder plant stand from scratch using a 1×6 wood beam and a few 1×3 boards. To assemble, use nails and screws, appropriating between a nail gun and a drill or screwdriver. You'll create trays that you can nail onto the ladder's beams with mitered edges to lean back on the wall.
You can create this shelved DIY ladder plant stand in a couple of hours with limited tools, even for the non-crafty. Use a light coat of paint or staining to add color and give damp resistance, especially if you place your plants outside.
---
2.

Rustic Wood Plant Ladder by leaning shelf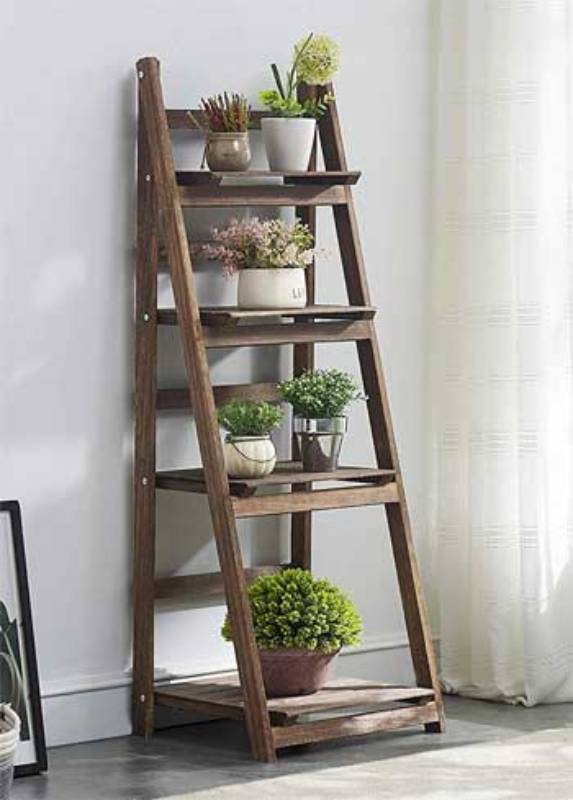 | | |
| --- | --- |
| Materials: | Pallet wood, cedar planks, nails, screws, bolts and nuts, beams, paint or stain |
| Tools: | Miter or circular saw, drill, clamp, nailer, screwdriver, tape measure, paintbrush |
| Difficulty Level: | Moderately difficult |
If you want to add style to your display for various houseplants, this DIY rustic wood plant ladder offers enough space on four shelves. The stylish flower pot accessory fits right into your home's décor with its clean vintage features and modern country look.
One aspect of the DIY rustic wood plant ladder that you'll love is its stability, allowing the placement of even enormous pots to the tiniest. You can also mix other decorative elements, such as travel souvenirs, family photos, and personal items, among the flowers and plants.
For outdoor use, build the DIY rustic wood plant ladder using UV rays, damp or ice-resistant wood, or apply waterproofing to the finished item. It sets up vertically so you'll select the plants to place in the lower tiers, particularly those that prefer shadows or don't have hanging tendrils.
---
3.

Wood Mini Plant Ladder by the STONYBRICK house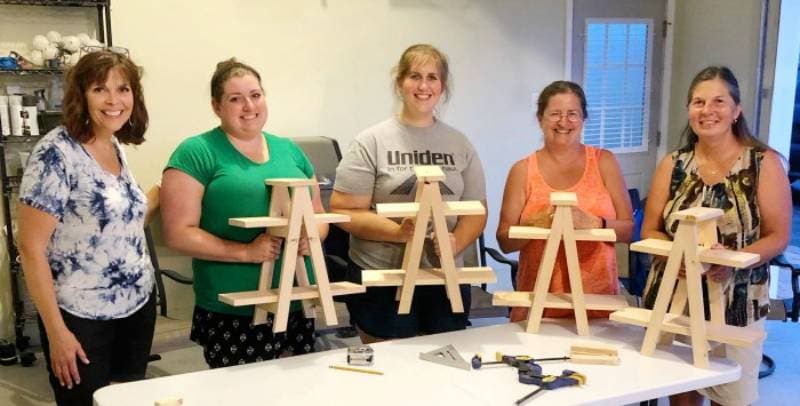 | | |
| --- | --- |
| Materials: | Wooden planks, picket pieces, nails, screws, stain or paint |
| Tools: | Drill, hammer, clamp, circular saw, tape measure, screwdriver |
| Difficulty Level: | Moderately difficult |
If you're strapped for space or materials, this DIY wood mini plant ladder is the perfect indoor or outdoor flower pot accessory. It's easy to build and quick to assemble with a few wooden planks and basic woodworking tools.
You can place the DIY wood mini plant ladder outside or indoors, depending on your chosen height, on windowsills or a garden table. There's enough space to hold four or five medium-sized flower pots, including one that perches on the top rung.
The rigid mini ladder plant holder features two flat board rungs supported by angled beams at 70° and 13°. You only need minimal DIY skills to put the ladder together, and you can adjust the rung width or beam height according to your specifications.
---
4.

Leaning Ladder Plant Stand by FARMLIFE diy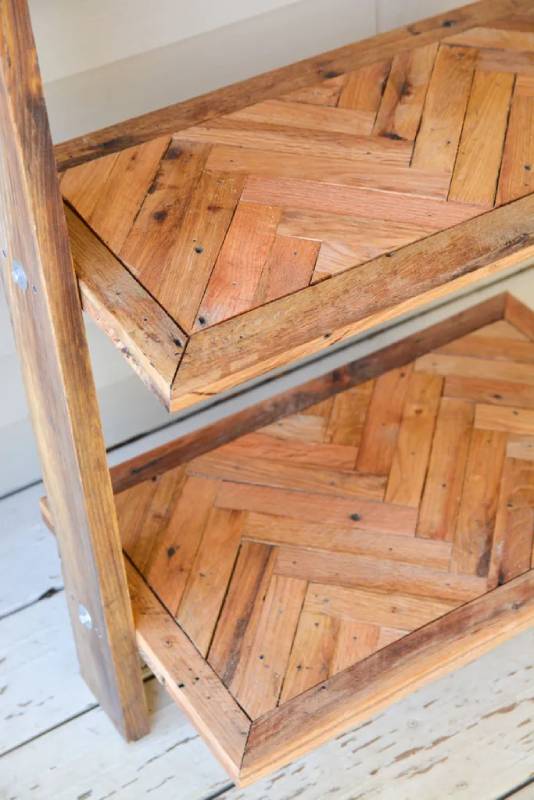 | | |
| --- | --- |
| Materials: | Used ladder, pallet wood |
| Tools: | Hammer and nails, circular saw, table saw, speed or combo square, clamps, glue, drill and bits, bolt and dowel |
| Difficulty Level: | Moderate difficulty |
An old ladder can be reclaimed to make this DIY leaning ladder plant stand, created out of pallet wood and taking up minimal floor space. Its compact design leaning and secured against a wall or tree for support is suited to your indoors, deck, patio, or garden.
The leaning ladder plant stand uses the two beams as legs, but the creative bits are the shelves since they're wide enough to hold most flower pots. You may trim the base and top of the support studs at slight angles to enable sitting flush with your floor and leaning on the wall.
Shelves get smaller as you go up the DIY-leaning ladder plant stand; for these, you'll need to be creative with joining the pallet wood. Secure them with nails or bolts and nuts for added stability, especially if you place heavier pots on the lower shelves.
---
5.

Freestanding Ladder Plant Stand by 100 THINGS 2 DO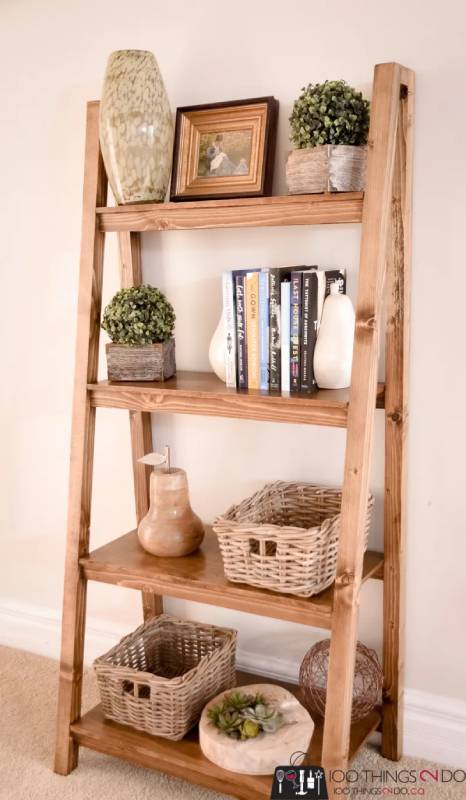 | | |
| --- | --- |
| Materials: | 1×2-inch boards, 1×10-inch boards, 2×6 wooden beams, nails, glue, primer paint or sealer |
| Tools: | Saw, hammer or power nailer, sander, measuring tape |
| Difficulty Level: | Moderate difficulty |
The rigid DIY freestanding ladder plant stand is a robust alternative for larger flower pots and plants, which are suitably placed outdoors. It consists of slatted planks instead of flat shelves, angled slightly to allow sunshine and water through.
You can place the DIY freestanding ladder plant stand anywhere with sufficient space for its height and width, whether against a wall or out in the open. While not fixed, the stand can rise five tiers high, including the base on which you'll set shadow-loving plants.
You must create your freestanding ladder plant stand from wood that can withstand the elements, such as cedar instead of spruce. If not, finish your creation with a coat of paint or vanish, then put full-sun flowers and plants on each shelf without worrying about the light.
---
6.

Wooden Tomato Cage Ladder Plant Stand by The Handyman's Daughter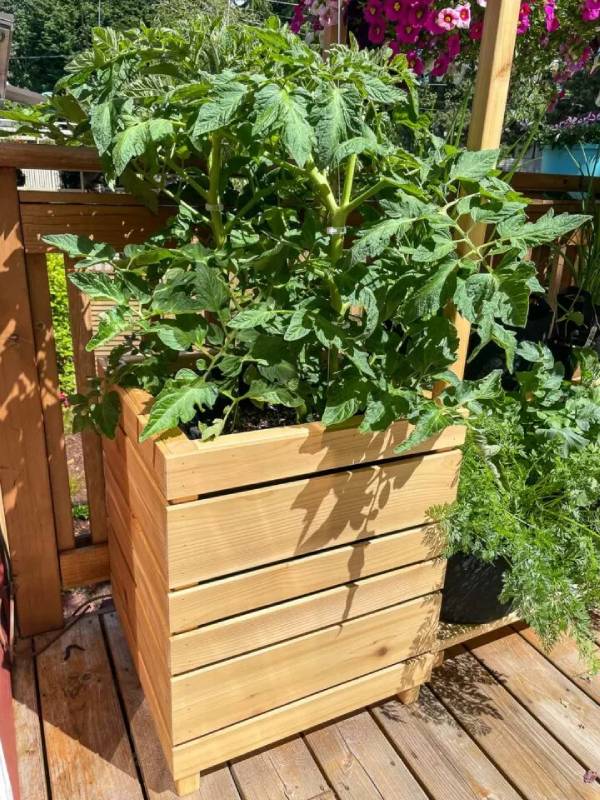 | | |
| --- | --- |
| Materials: | Two or four derelict ladders, six to ten 2×4 wood pieces, joining yarn, nails, or screws |
| Tools: | Circular or miter saw, exterior wood glue, nailer, clamps, paint or varnish stain if needed |
| Difficulty Level: | Easy to moderately difficult |
Besides flowers and decorative plants, you can use your creative and carpentry skills to build garden fixtures for vegetables and other eatables. For instance, this DIY wooden tomato cage ladder plant stand supports a healthy crop uncontaminated by metal.
You can turn that tiny tomato seedling into gigantic tomatoes in a matter of months since the ladder trellis offers proper air and light circulation. Create a wooden tomato cage ladder using untreated lumber extending up to 6 feet high.
Sink the ladder legs into the ground for extra support, and you can place another in the opposite direction, joined with struts, to form a cage. If you have four complete ladders, it's simply a matter of joining them around your tomato grow bags and watching them germinate.
---
7.

A-Frame Ladder Plant Stand by CREATED BY V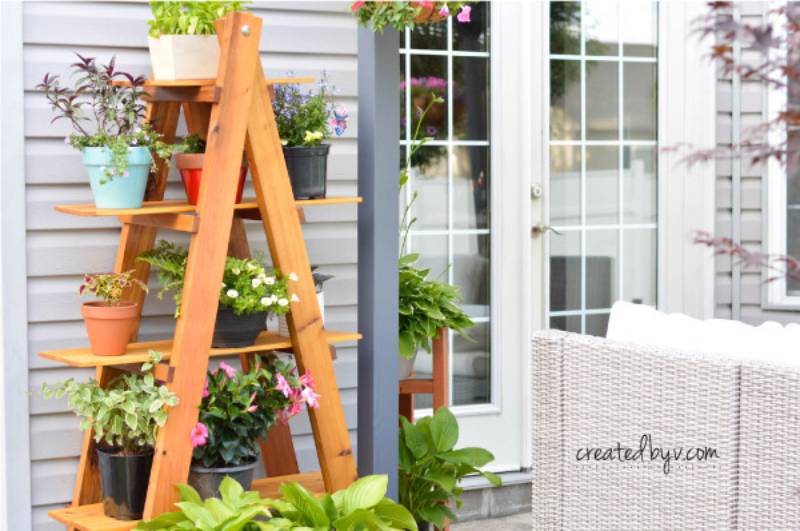 | | |
| --- | --- |
| Materials: | 2x4x8 rough cut cedar, ⅝ x5 ½ x6 fence pickets, carriage bolts, flat washers, lock nuts |
| Tools: | Table or miter saw, drill with bits, sander or sandpaper, nailer, wood glue, sealer |
| Difficulty Level: | Moderately difficult |
Whether you want greenery indoors or outdoors, you can build this DIY A-frame ladder plant stand whose wide bases are enough to hold small to medium-sized flower pots. The collapsible frame lets your plants receive plenty of sunlight, and you may place shade-loving ones under the shelves.
Satisfy your green thumb while adding natural beauty to your space with this stand that has sufficient space to hold several plants and flowers. Thanks to its construction, it stays on the ground, and you can keep its shelving in place entirely without nails or screws.
Use wood naturally resistant to dampness so the shelves don't warp and pick plants that balance on the unattached shelves. When the weather isn't fine such as during winter, you can pack up the A-frame ladder plant for storage until spring.
---
8.

Double A-Frame Ladder Shelf Plant Stand by Mother Daughter Projects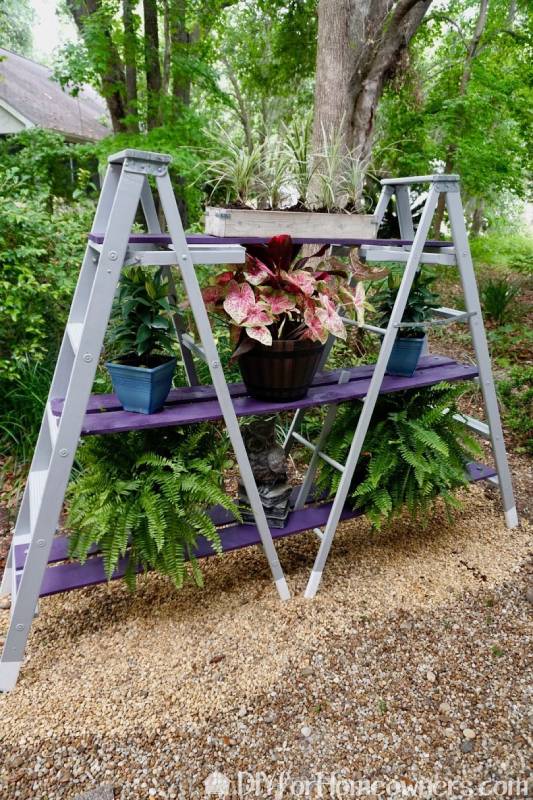 | | |
| --- | --- |
| Materials: | Two old A-frame ladders, fence picket planks, hex bolts and nuts, paint, varnish, or flex seal |
| Tools: | Circular saw, sander, drill and bits, paintbrush |
| Difficulty Level: | Easy |
Two is better than one, as with this repurposed DIY double A-frame ladder shelf plant stand that uses two ladders of the same height. If the steps line up, you'll have an easier time placing the fence pickets across them; otherwise, a little realignment is called for.
Clean, sand, and paint the old ladders before removing any excess wood with a circular saw, and then measure and cut the pickets. For ladder shelf stands you'll place outside, use a liquid rubber flex seal to waterproof the beam bases to prevent termites and rot.
Use two planks for each rung, running horizontally from one A-frame ladder to the next so that water runs through and sunlight can access your plants. Bolts work better to fix picket wood if you plan to take them apart during inclement weather.
---
9.

Vertical Ladder Plant Stand by Shades of Blue Interiors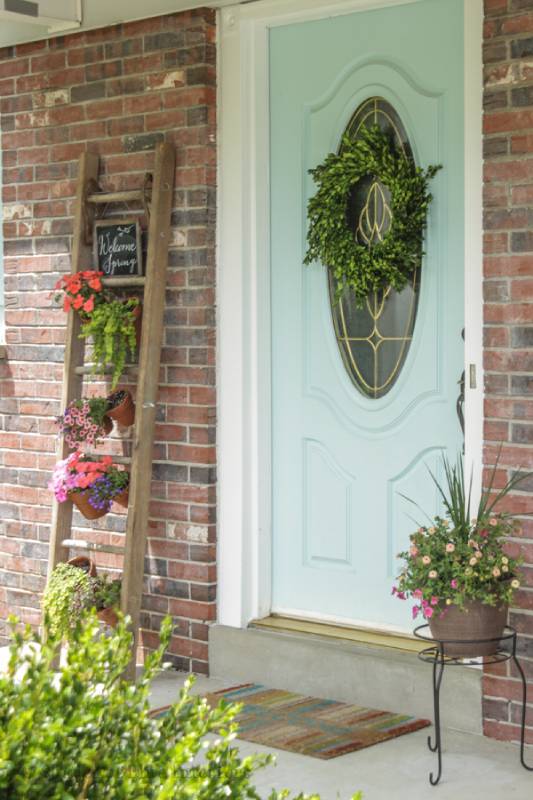 | | |
| --- | --- |
| Materials: | Wooden ladder 6 feet tall, plastic or terracotta pots, floral wire |
| Tools: | Paint or varnish brush, sander, wall attachments |
| Difficulty Level: | Very easy |
You can grow more plants and place them on pots using this DIY vertical ladder plant stand indoors and outdoors. Using an old wooden ladder, create shelving using wooden planks or pallet pieces to give your plants a sufficient horizontal sitting base.
The vertical ladder plant stand is attached directly to the wall, and it's especially space-saving if you have a small porch, balcony, patio, or backyard. It's also the best alternative if you prefer not to do a lot of woodwork, and it works well with ladders with small or round rungs.
All that's needed is a bit of ladder refurbishment, and then you can hang or hook your potted plants on these supports. Even terra cotta pots can be attached to your DIY vertical ladder plant stand, as it can withstand the most violent storms.
---
10.

Tiered Ladder Plant Stand by Zach Medler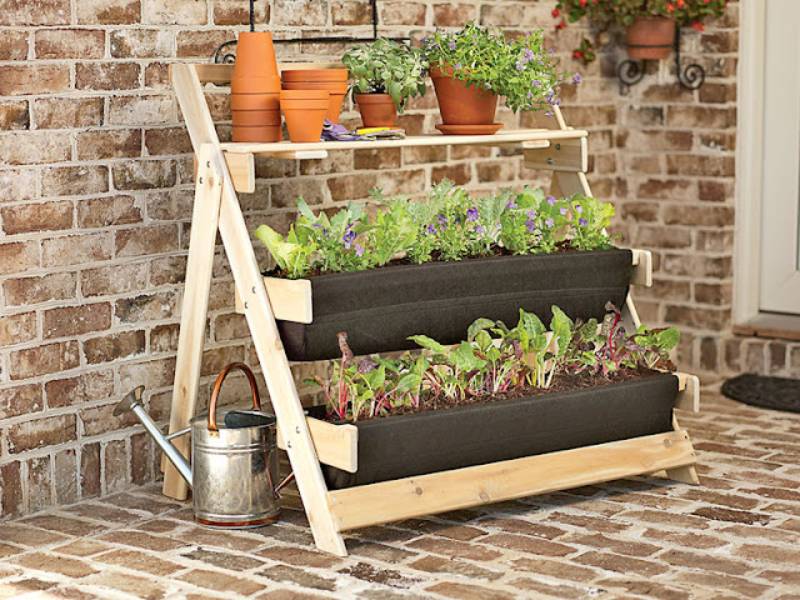 | | |
| --- | --- |
| Materials: | Old A-frame ladder, planter trays, pebbles, pallet wood pieces |
| Tools: | Hammer, nails, saw, sander, and painting tools |
| Difficulty Level: | Very easy |
You can tackle the lack of space on your patio, deck, yard, or garden by creating a DIY tiered ladder plant stand that extends upward instead of taking up valuable floor footage. While expensive, you can build one using an old A-frame ladder or fixing two ladder-like pieces together.
Use planter trays on pallet wood across the breadth of your wooden ladder and inlay them with pebbles to help with water seepage. On this, place your potted plants, whether outdoor or houseplants, and find a suitable placement where they'll have undeterred access to sunlight.
Depending on the height of your tiered ladder plant stand, make the lower tiers taller than the above. That's so you can place tall plants that grow in the shade below, while on top of these, you'll place short and trailing varieties.
---
11.

Indoor Ladder Plant Garden Stand by bob vila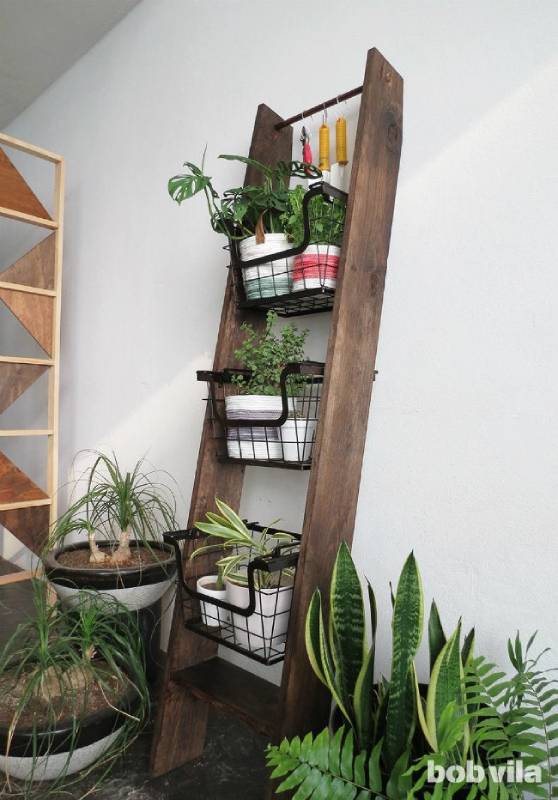 | | |
| --- | --- |
| Materials: | 1×6 lumber, mirror steel hooks, stackable metal baskets, metal brackets, 1 ½ inch wood screws, wood glue, stain |
| Tools: | A handsaw, drill, pencil and ruler, paintbrush, sandpaper |
| Difficulty Level: | Moderately difficult |
If the space available on your windowsill for houseplants is limited, you can stack up your flower pots on this DIY indoor ladder plant garden stand. These accessories enclose all your green-thumb requirements- they consist of three or four tiers dedicated to your in-house greenery.
An indoor ladder plant garden stand won't take up much floor space, and it's an easy project that you'll complete in a few hours. Remember to angle the ladder support beams' top and bottom parts so they'll sit squarely on your floor, against a wall, and preferably in a corner.
Attach metal brackets to the inside of your ladder planks to hook your metal baskets as carriers or holders for plant pots. You can also add the steel hooks as storage space for your potting tools or hang smaller flower containers to maximize space.
---
Benefits of Using a Ladder Plant Stand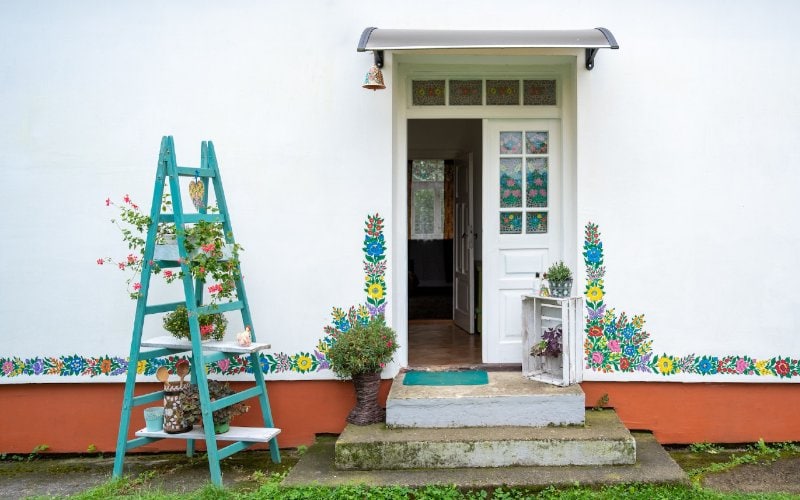 Are you tired of standard shelving or running out of room to decorate with plants? A DIY ladder plant stand is a space-saving solution that you can quickly put together yourself with little woodworking expertise.
Indoor or outdoor plants look and flourish better when arranged creatively rather than heaping them together in an unruly pile. A ladder plant stand is the best surface to sit your flower pots and will work to create extra vertical space for displaying your greenery.
These stands also allow your houseplants, garden varieties, and flowers to catch sufficient sunlight while offering better access during watering, fertilizing, and tending. They only take up a little floor space and can occupy small niches and corners in your home, both indoors and outdoors.
Cut garden center bills while giving your plants a better chance to grow successfully with easy-to-make DIY ladder plant stands. They also prevent pets and pests from destroying your plants while allowing you to curate the perfect garden.

Conclusion
Your creativity knows no bounds when creating DIY ladder plant stands; only the availability of materials or tools can prove limiting. If you already have disused ladders, it's easy to turn them into functional stands that support and display your gardening skills while giving your plants the best opportunity for growth.
The inspiring examples in this article are something you can create within hours, and they don't require expert woodworking skills or complicated processes. Ladder plant stands suit indoor and outdoor plants, utilizing vertical space to keep your greenery fresh, sunlit, and thriving.
---
Featured Image Credit: ezhenaphoto, Shutterstock