18 DIY Plant Stand Ideas for Outdoor & Indoor You Can Make Today (with Pictures)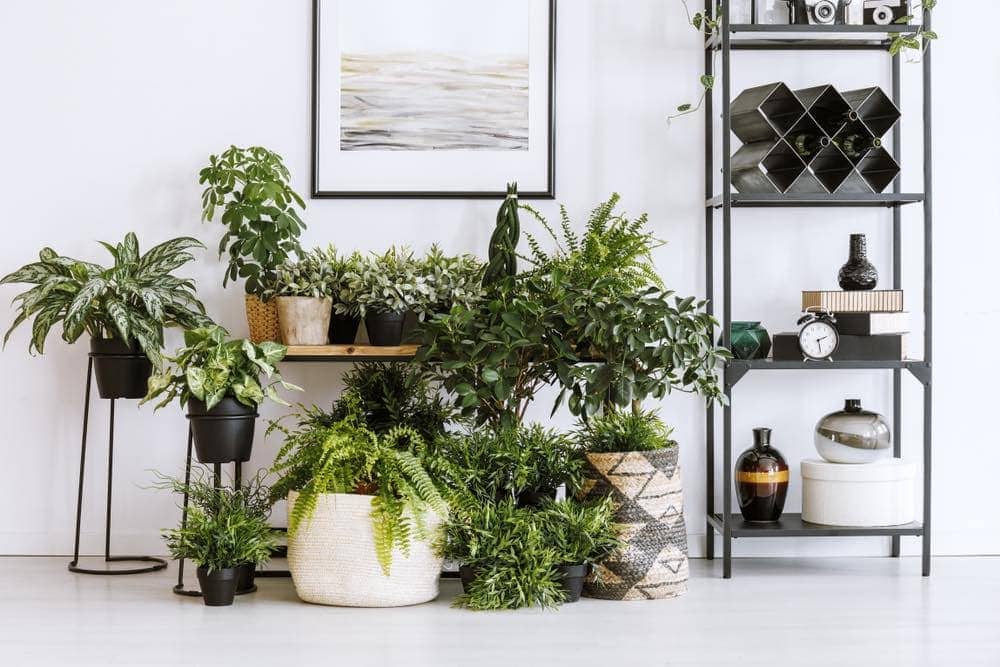 No two houseplants look the same. So, you want to present them in your home in a way that accentuates their individuality. That goes into how you take care of them, and it goes with your choice in planter and even planter stand.
Planters come in all kinds of shapes and sizes, but when you get right down to it they all look largely the same. The planter stand, on the other hand, you can tailor specifically into your own home decor scheme. That includes both inside your home and outside. In fact, if you're into working with your hands, you can make your own.
We've included a range of plans that teach you how to build plant stands that you can make for your home, indoor and out. The materials are either lying around your house or available at affordable prices at your local hardware store. You can either use these as-is, or as a basic template that you follow while letting your imagination run wild.

The Top 18 DIY Plant Stand Ideas
1.

Ladder Planter from Good Ho
For that ladder you have sitting around unused, reusing it as a ladder stand with a rustic appearance doesn't require a lot of work. You can also customize it a little bit with just a little work.
The step-by-step instructions start with a list of tools you'll need and lets you click through a series of pictures that lay out how to make it. You can also deviate off the instructions when you want to make it look like you want it to.
---
2.

Copper Plant Stand from DIY in PDX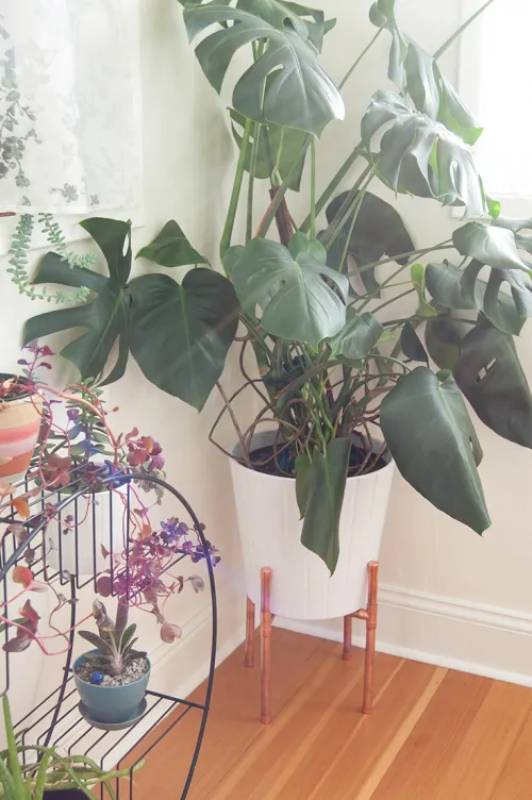 Indoor or out, nothing projects a little bit of taste like copper. This stand is a dream for a DIYer who likes a bit of a challenge because it requires that you measure and cut metal. It will also last a long time.
The instructions for this include the materials you'll need and step-by-step instructions on how to put it together. But, it should be no sweat to customize the measurements to fit your planters.
---
3.

Mid-century Inspired Planter from A Beautiful Mess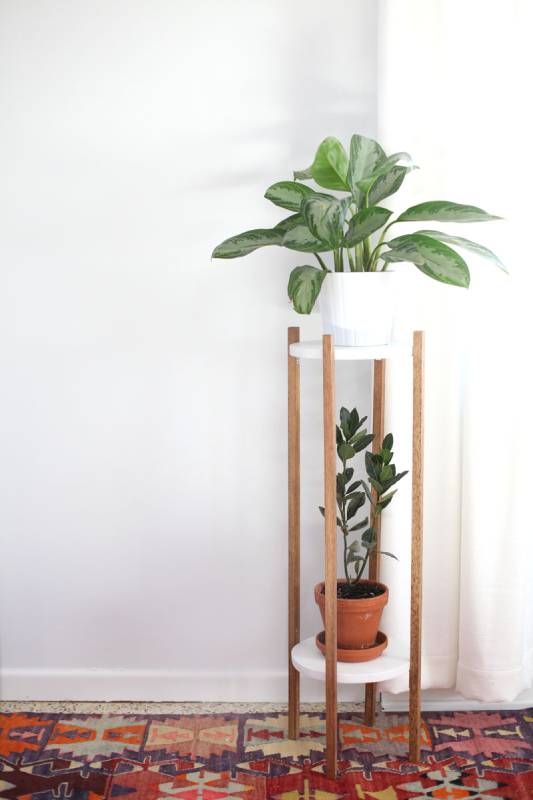 Quick and easy to make, you can crank out these wood planter stands in a hurry. These are perfect if you've got a lot of plants you want to display, but want to put them on something that will distract guests from looking at your greenery.
The plan for this one not only comes with detailed, step-by-step instructions for how to make them and a list of tools you'll need. They also come with a quick and dirty budget that tells you they are as affordable as they are easy to build.
---
4.

Copper and Marble Foxtail N Moss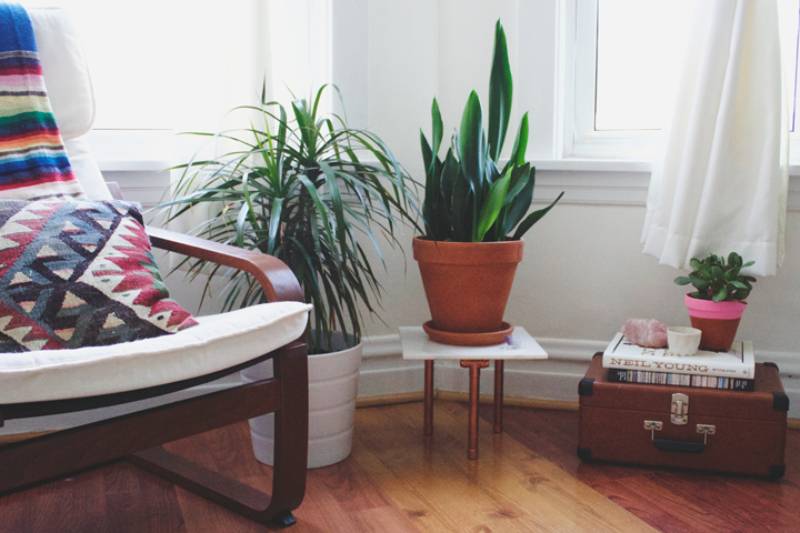 Perfect to complement an elegant living room set, this marble-and-copper planter stand projects taste. The materials are also durable enough that this one would also work in an outdoor setting.
The instructions are pretty straightforward, not just in materials but also in how to put them together. It's copper piping, so it might be a little pricier, and if you're going to use it inside you can also add something to protect your floors from contact with the metal.
---
5.

DIY Corner Plant Stand from Bob Vila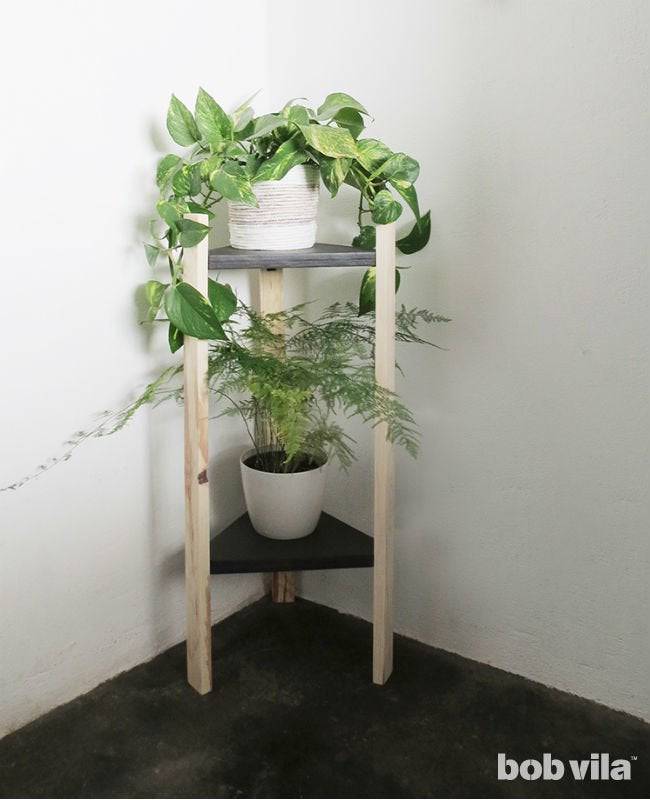 Unlike some of our other stands, this one is designed to maximize space by greening out a corner. It's also customizable in terms of tiers and size, and even in color.
The great news for DIY enthusiasts is that the plans call for using several power tools. They also offer step-by-step instructions for how to put them together. You can also feel free to change up the colors you use to paint them to match your room.
---
6.

Wooden Plant Stand from Elise Blaha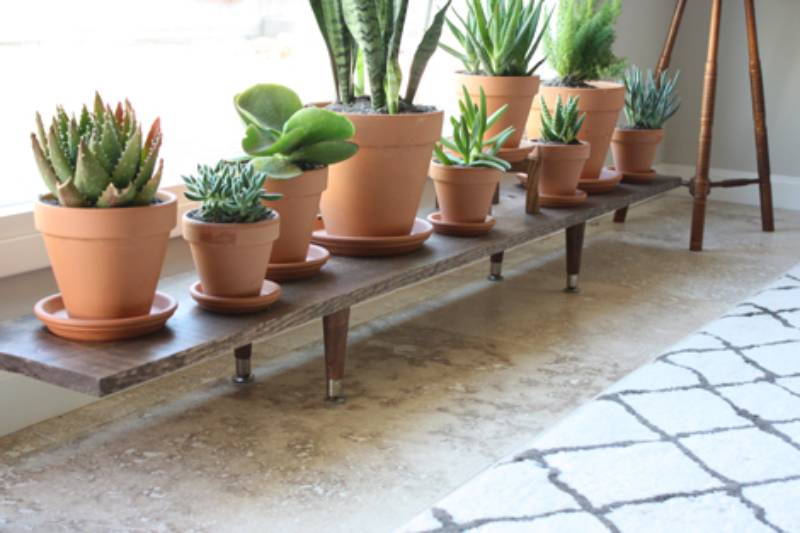 Low to the ground and perfect to place next to big floor-to-ceiling windows to add some green towards the floor. These are perfect to create a multi-layered look to your inside places.
You won't find detailed instructions, but only a vague description of how it was made. This isn't much of a problem, because it's so simple to build that all you need are the basics so that you can customize it for your house.
---
7.

DIY Wooden Plant Stand from Live Free Creative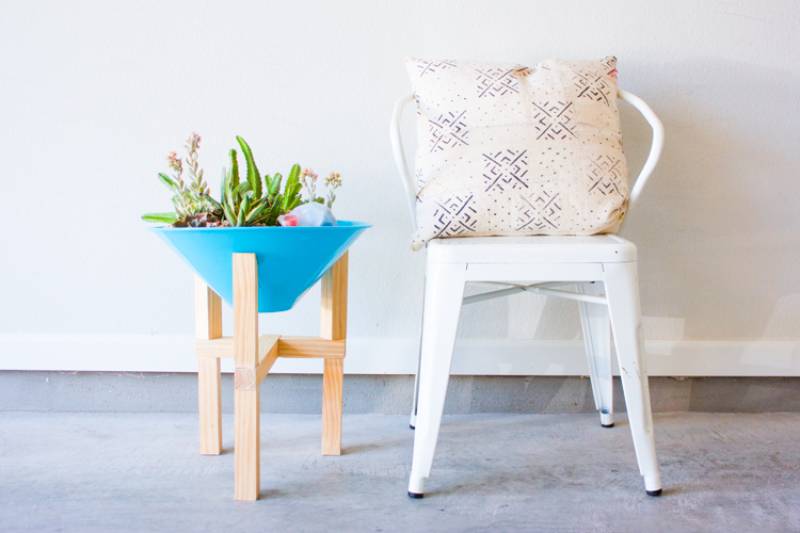 Another wood plant stand, this one is more like the copper stand profiled previously. This one demonstrates that something as simple as bare wood can look sophisticated enough for your inside spaces.
The instructions are detailed and include pictures for optimum ease in construction. With a little imagination, you can also modify the instructions to tailor your stand to your planters.
---
8.

Concrete Plant Stand from Dwelling in Happiness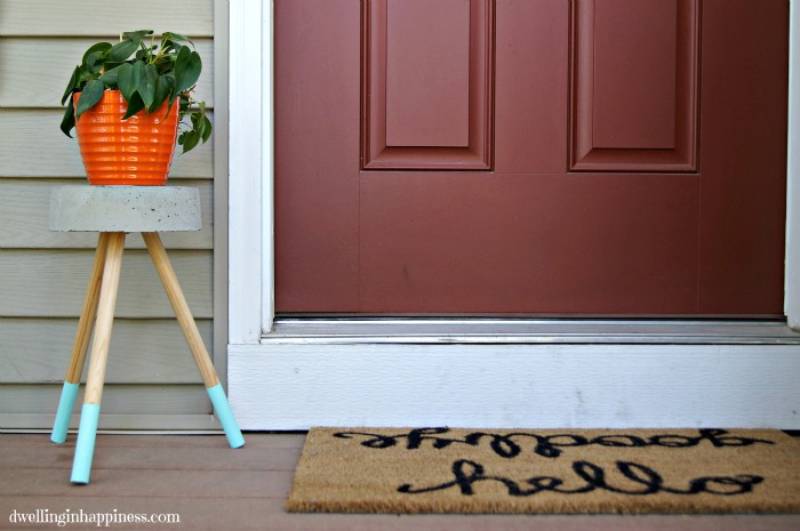 Built like a stool, and sturdy enough for the outside, this concrete planter stand is great in its simplicity. There is nothing flashy or sophisticated about it. It lets you get creative while making a planter that can fit into whatever you need it to.
The instructions are detailed and come with pictures. As the headline on the website advertises, the price for making this one is affordable enough that you can build it on any budget.
---
9.

Modern Plant Stand Homeyohmy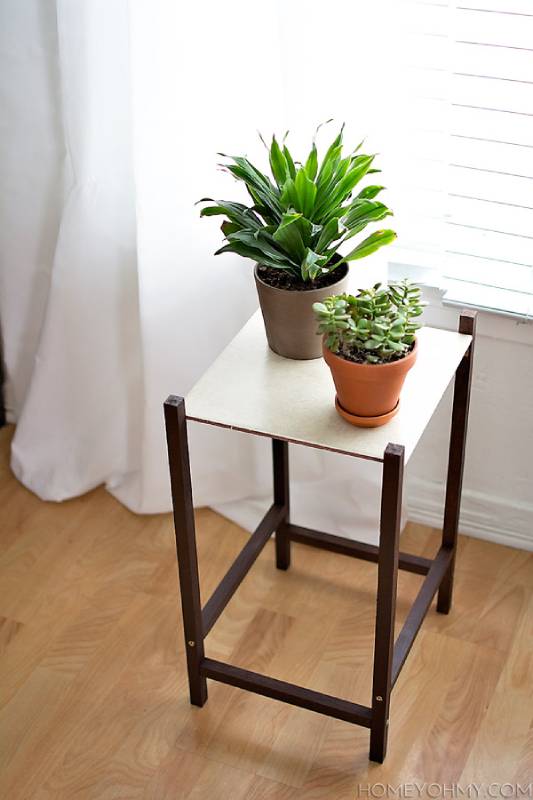 Perfect for a sparse inside display without a lot of color, these modern planter stands can complement your decor scheme without overpowering it. A modular design with simple colors, these blend into the background while giving your greenery a little elevation.
Follow the instructions and you can get consistent results. On the other hand, with a little creativity, you can customize your measurements to create plant stands just the size that you need.
---
10.

Copper Round Plant Stand from Darling Darlene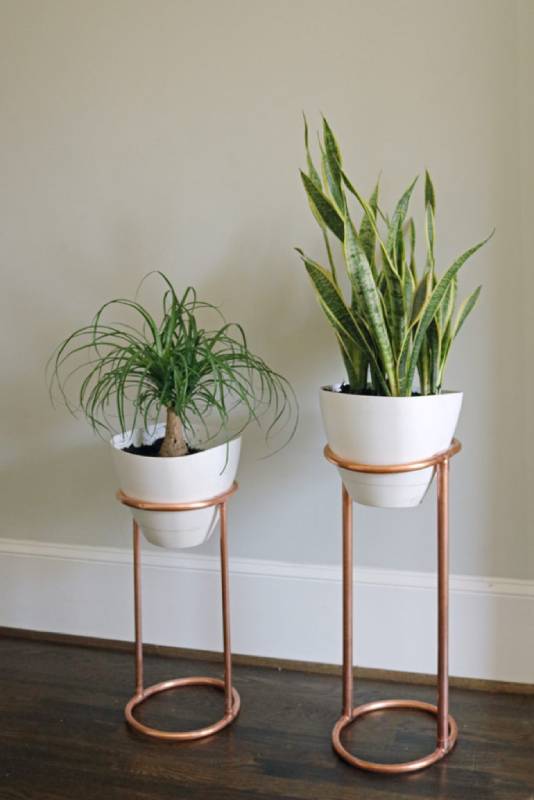 If you were looking for a cute mid-century design that's easy to build, the Copper Round Plant Stand from Darling Darlene is a great option. It only takes about 30 minutes to build, and you'll have to let it sit overnight to dry, but the result will be a durable plant stand that looks expensive. You'll need little more than some copper pipe, copper tees, and some glue to complete this project.
---
11.

Plant Stands from Wood from Lily Ardor
Plant Stands from Wood is a design from Lily Ardor That creates a natural-looking plant stand with little effort and few materials. You can substitute all types of wood for the tops, and the legs are wooden dowels. You can also finish it with stain or paint to achieve any look you desire. If you purchased the legs to the length, you might not require any power tools at all to complete this project.
---
12.

Easy Outdoor Plant Stand from BitterrootDIY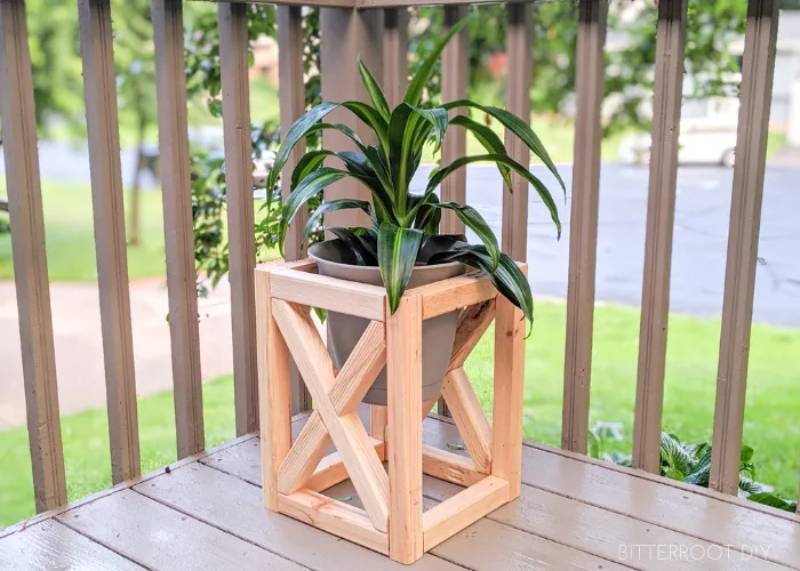 The easy Outdoor Plant Stand is bought for us by BitterrootDIY, and it's a little more complicated than some of our other projects. However, it's well worth the time and effort and will reward you with a durable modern-looking stand that's ideal for the balcony or porch. It calls for some power tools like the miter saw and brad nail gun, but you can accomplish it with hand tools if you don't have them.
---
13.

Colorful Stacked Book Plant Stand from A Kailo Chick Life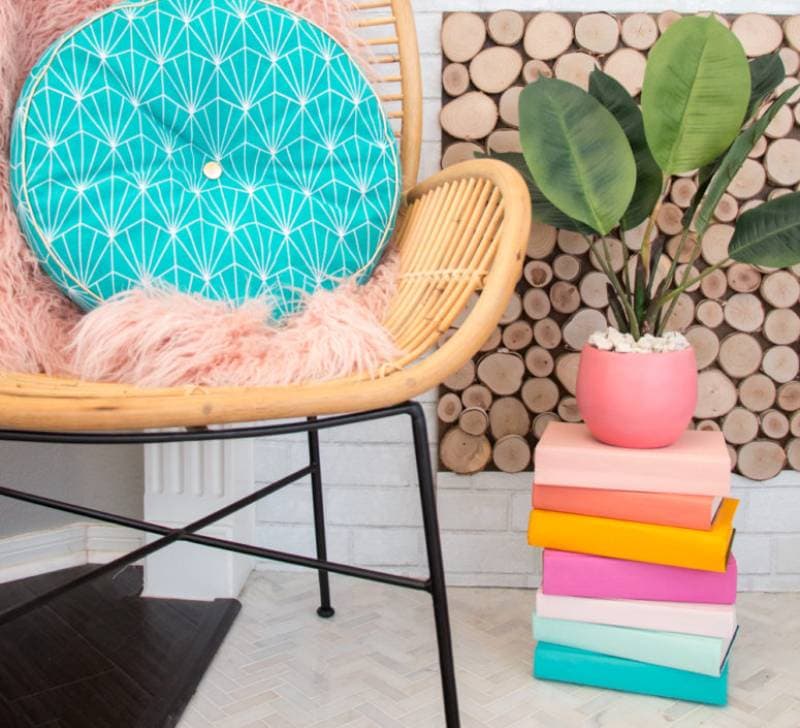 The Colorful Stacked Book Plant Stand is a unique plant stand brought to us by A Kailo Chick Life. To create this plant stand, you only need a few old books, acrylic paint, and wood glue. It will take you about 30 minutes to complete the project, and you'll need to let it dry overnight, but the result is an eye-catching indoor plant stand that will look great in any room.
---
14.

Hairpin Copper Leg Plant Stand by SarahShermanSamuel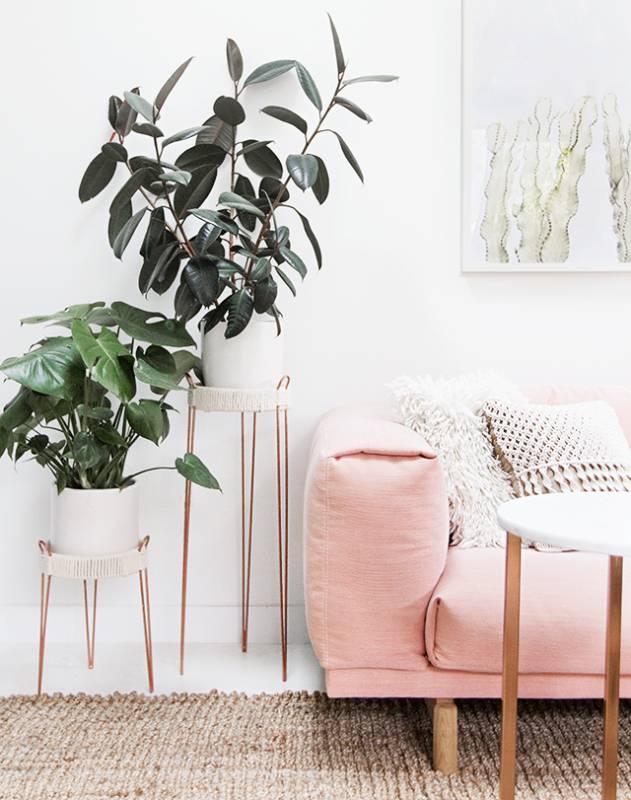 The Hairpin Copper Leg Plant Stand is brought to us by SarahShermanSamuel, and it's an easy project if you can find the hairpin copper legs. It has an elegant looking base for the plant to rest on that you create yourself from rope. It only takes a few minutes to complete the project, and there are many ways to personalize it for your home.
---
15.

DIY Plant Stand from Shanty 2 Chic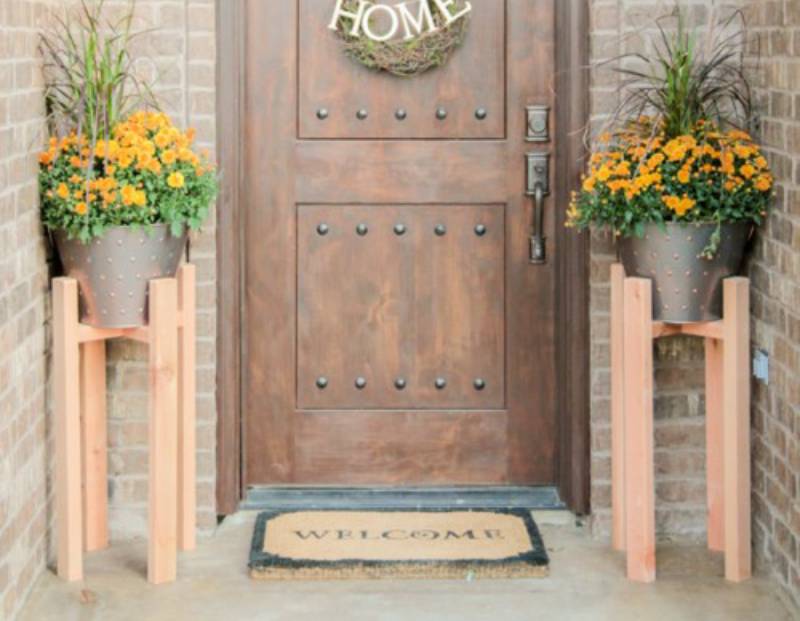 The DIY Plant Stand is brought to us by Shanty 2 Chic. It requires some woodworking experience and some power tools, but this project can result in something you can show off if you have those things. It's a durable corner stand that will look excellent indoors or out. It will take a few hours to complete, and you can finish it in several ways.
---
16.

DIY Lampshade Plant Stand by Harlow and Thistle
The Lampshade Plant Stand is brought to us by Harlow and Thistle. It's an easy to build project to turn some of your old lampshades into functional plant holders. You can also find suitable shades at the local thrift store, pawnshop, or yard sale. You only need a few minutes and some spray paint to complete the project, and you'll be amazed at how attractive they are.
---
17.

Mid Century Plant Stand by Burkatron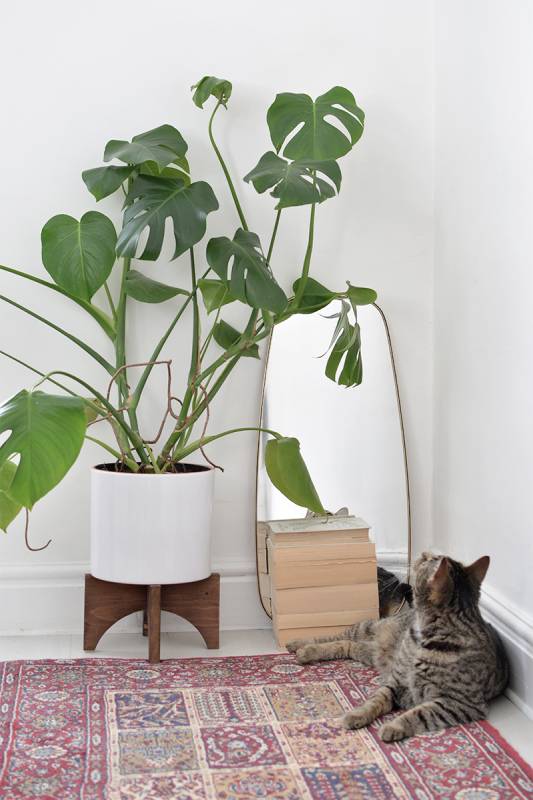 The Mid Century Plant Stand comes from Burkatron. It requires a small amount of woodworking experience and the few tools of the trade, but for the most part, anyone can create this project at home. It only requires two boards and some tricky cuts to have a stable plant stand that can last a lifetime.
---
18.

Trash Can Plant Stand from Homeyohmy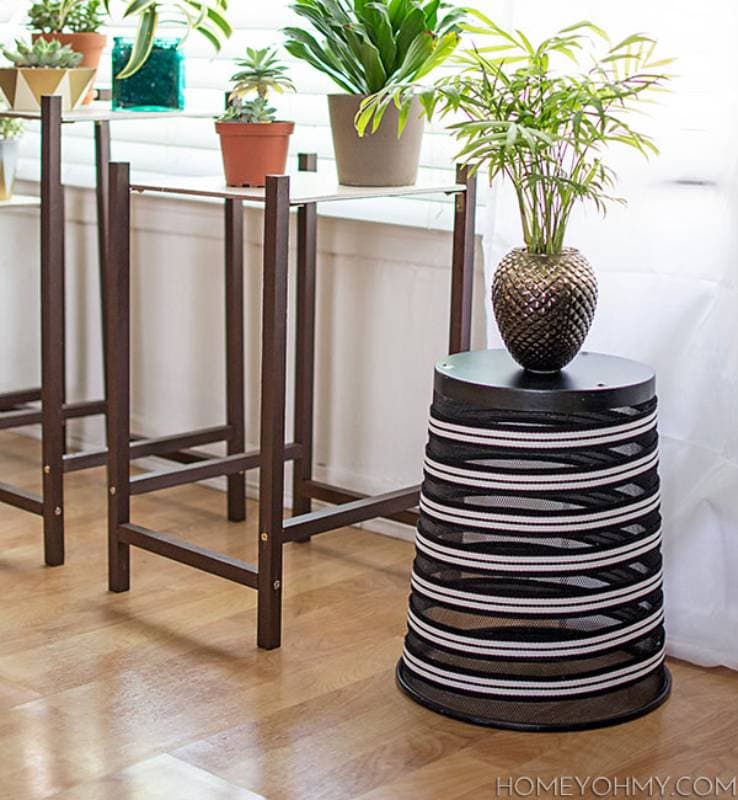 The Trash Can Plant Stand is brought to us by Homeyohmy. This plan teaches you how to build a plant stand that might just be the easiestst projects you can ask for and only requires an old wire wastebasket, fabric, and glue. You can build it in about 15 minutes and customize it endlessly. It's durable and will most likely outlast you.

Here are some of our other favorite plans:
---
Featured Image Credit: Photographee.eu, Shutterstock