6 Best Commercial Wood Chipper Shredders 2023 – Reviews & Top Picks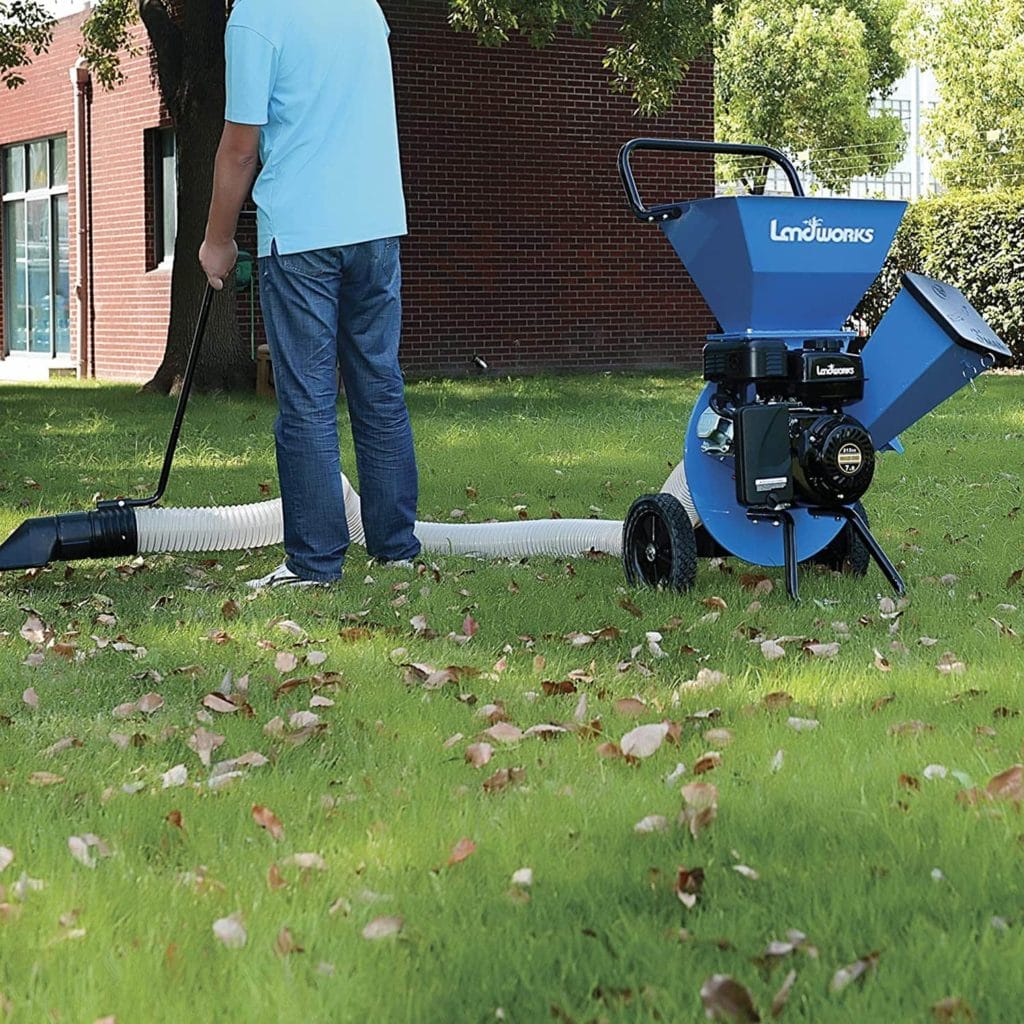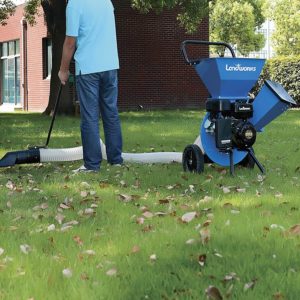 What if the biggest liability to your business was the tools you use?
A commercial wood chipper can make a world of difference when you need to handle wood debris. But a solid business requires solid performance, and that means wood chippers that are powerful and rugged. Unless you can settle for a business that is less than the best, you need the best equipment by your side.
But how can you tell a world-class commercial wood chipper from a mediocre one? That's where we come in. Our reviews will explore some of the best wood chippers on the market today, and our buyer's guide will help you learn everything you need to know about these awesome tools.
Between our reviews and our buyer's guide, you can do what you do best: getting back to business!
A Quick Comparison of Our Favorites in 2023
Rating
Image
Product
Details

Best Overall

Landworks Wood Chipper

15:1 reduction ratio
Powerful engine
Versatile design
CHECK PRICE

Best Value

GreatCircleUSA Wood Chipper

15:1 reduction ratio
Low-oil shutoff
Versatile add-ons
CHECK PRICE

Premium Choice

Detail K2 Kohler Engine Commercial Chipper

Powerful engine
Auto-adjust cutters
Double-edged blades
CHECK PRICE

SuperHandy 6K-9PZU-RVR9 Wood Chipper

15:1 reduction ratio
Versatile 3-in-1 design
Powerful engine
CHECK PRICE

Patriot Products CSV-3100B Gas-Powered Wood Chipper

12:1 reduction rate
Powerful engine
Direct drive
CHECK PRICE
The 6 Best Commercial Wood Chippers
1.

Landworks Wood Chipper – Best Overall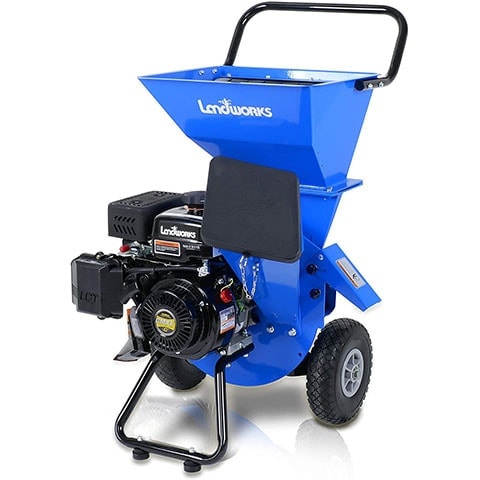 When you want the best tool, you want it right now: no delays or excuses will do. So, what is the best overall commercial wood chipper? Our vote goes to the Landworks Wood Chipper.
First of all, the 15:1 reduction ratio is absolutely amazing. And the 4-stroke, single-cylinder engine helps provide the power and precision you need for the biggest projects. Finally, the 3-in-1 design means you'll get a lot of extra versatility out of this product.
However, even the best tools have their little quirks. With this wood chipper, you might find that the oil filler and dipstick are hard to reach, and the catching bag is small and comes off easily. Overall this is the best commercial chipper shredder available this year.
Pros
15:1 reduction ratio
Powerful engine
Versatile design
Cons
Hard-to-reach filler and dipstick
Inconvenient catching bag
---
2.

GreatCircleUSA Wood Chipper – Best Value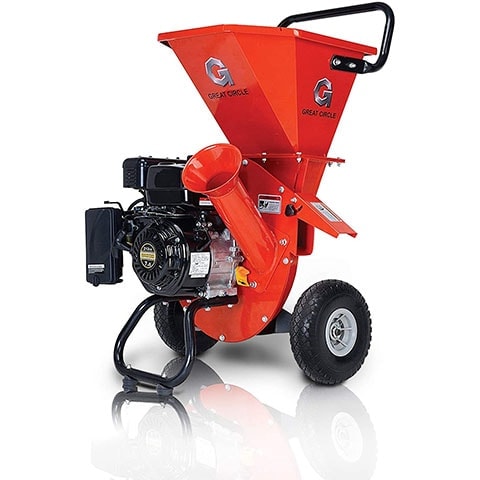 In business, they say you need to spend money to make money. But it's always great when you can catch a deal and still end up with a great product. And if you're looking for the best commercial wood chipper for the money, you should go with the GreatCircleUSA Wood Chipper.
Despite the great price, it sports the 15:1 reduction ratio we loved in our #1 pick. And the low-oil shutoff is very convenient for people that hate to perform regular tool maintenance. Finally, add-ons like the separate vacuum kit help you get serious long term use out of this tool.
So, what keeps this as our best value pick instead of best overall? Some buyers report annoying shredder jams when operating the shredder. And others reported chipper problems when they tried to feed the machine too fast.
Pros
15:1 reduction ratio
Low-oil shutoff
Versatile add-ons
Cons
Potential shredder jams
Potential problems with feeding the chipper
---
3.

Detail K2 Kohler Engine Commercial Chipper – Premium Choice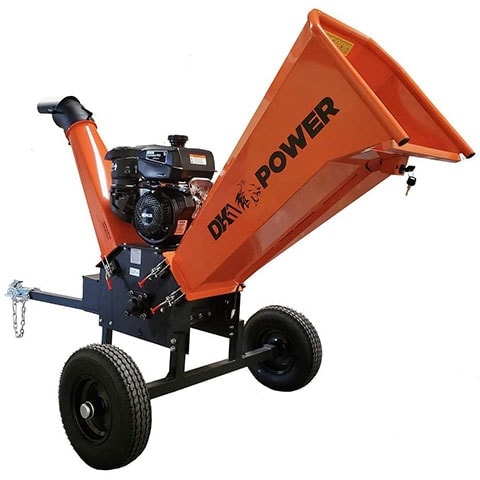 When it comes to commercial wood chippers, a tool is more than a tool. It's an investment in your future success. And for users who want to invest in a truly premium product, we must recommend the Detail K2 Kohler Engine Commercial Chipper.
You'll notice those premium features right away. For example, the powerful 429cc engine gets any job done. And the auto-adjust cutters really make work that much easier. Finally, the double-edged reversible cutting blades provide the versatility and performance you need.
There are a few issues to consider, though. For example, the exhaust section heats up while blending in, making it likely to cause an accident. And at nearly 400 pounds, it is very difficult to move around without tractors or other special equipment.
Pros
Powerful engine
Auto-adjust cutters
Double-edged blades
Cons
The exhaust section is hard to see
The tool is very heavy
---
4.

SuperHandy 6K-9PZU-RVR9 Wood Chipper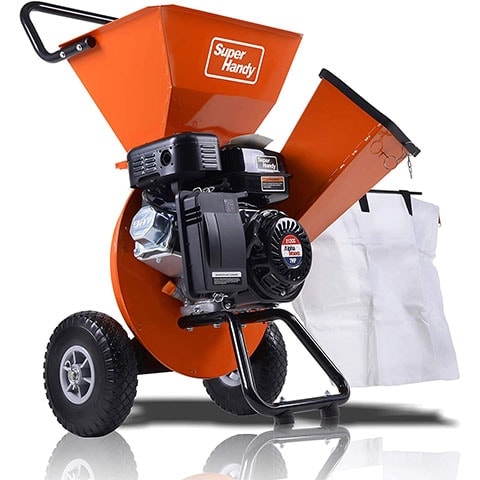 The SuperHandy 6K-9PZU-RVR9 Wood Chipper is another commercial wood chipper presenting itself as a powerful and versatile solution. But can it do whatever you need it to? Almost!
The 15:1 reduction ratio is very solid, and the 3-in-1 design means it can handle shredding and mulching just as well as chipping. The 212cc engine is powerful, and the special slanted design helps to reduce the number of jams you have to deal with.
What's the catch? You'll need to watch out for an uneven flywheel. And removing the feeder chute to check the oil is an annoying and time-consuming process.
Pros
15:1 reduction ratio
Versatile 3-in-1 design
Powerful engine
Slanted design
Cons
Uneven flywheel
Checking the oil takes a lot of time
---
5.

Patriot Products CSV-3100B Gas-Powered Wood Chipper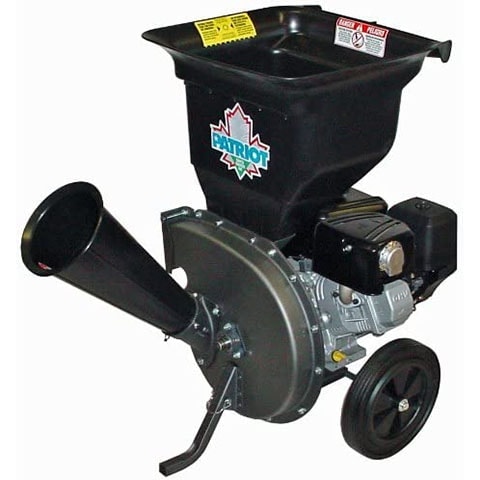 The Patriot Products CSV-3100B Gas-Powered Wood Chipper has more bells and whistles than many of the tools on this list. But does it have what it takes to get the job done? With a couple of exceptions, the answer is a resounding "yes!"
It has an approximate reduction rate of 12:1. While there are better rates on our list, that's really respectable. The direct drive provides the performance you need, and the 4-cycle engine definitely brings the power.
Really, there are only two things we didn't love about this model. First, the pull start is disappointing, especially for those who are accustomed to electric starts. And second, there is a bit more assembly required with this chipper than others.
Pros
12:1 reduction rate
Powerful engine
Direct drive
Cons
Pull start is annoying
Some assembly required
---
6.

Powerhorse 1104S233 Chipper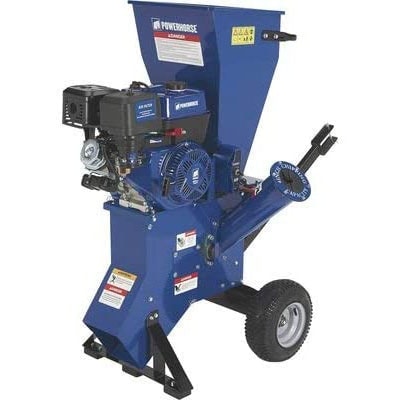 The Powerhorse 1104S233 Chipper is the last chipper on our list. Did we save the best for last, or is this a "must-miss" tool? In reality, this is a perfectly average commercial wood chipper.
With its 420cc engine, it brings more power than your average wood chipper. And the debris bag and tow bar make for some really convenient extra features. Finally, this model has the electric start that some of the other major models lack.
At the same time, users have had many complaints about this chipper. Some report that it arrived damaged, and others claim it arrived with parts missing. And to make things even worse, contacting the company and ordering extra parts is very difficult.
Pros
Powerful engine
Debris bag and toe bar
Electric start
Cons
May arrive damaged
May arrive missing parts
Company is difficult to contact
---
Buyer's Guide – Purchasing the Best Commercial Wood Chipper Shredders
With any luck, our thorough reviews will help you find the wood chipper that you need. More often than not, though, buyers need a bit more info before they finalize their decision.
That's why we put together a comprehensive buyer's guide. It will help you learn everything you need to know about these complex tools and how to use them.
Ready to take a deep dive into the world of commercial wood chippers? Keep reading to learn all of the answers to your most important questions!
Check the Capacity
With a commercial wood chipper, your primary focus is on…well…chipping wood! But you need to check the capacity of the machine before you get to work.
This is usually measured in diameter and lets you know the size of the wood you can stick in the chipper. Some industrial chippers go as high as 160 inches in diameter, but most commercial applications don't require anywhere near that size.
Of course, putting the wood in is one thing and chopping the wood up is something else entirely. Pay careful attention to the number of blades inside the chipper. Generally, the more blades the better when it comes to chipping wood.
Examine the Ratio
One feature we frequently examined in our reviews was the reduction ratio. But what is the reduction ratio, and why is it important for your particular needs?
The reduction ratio represents the feed capacity of the chipper against the width of the average chip that it produces. While bigger isn't always better when it comes to tools, you are better off with a higher reduction ratio than a lower one.
With that being said, every healthy handyman has a different set of needs for their commercial wood chipper. You don't need to break the bank to get a really high reduction ratio unless it actually suits your particular needs.
Engine Type
What type of engine do you want to power your new wood chipper? As with many tools, you must decide between an electric engine and a gas-powered one.
Electric engines provide a lot of convenience, but there are limits to how much power they can produce. That's why these types of engines are usually only suitable to smaller wood chipping tasks.
Gas-powered engines require more maintenance, but they also provide enough power to take on really heavy-duty jobs. Aside from the maintenance, you must consider portability (more on this later): gas-powered engines make for heavier wood chippers, and you may need a tractor or a towable frame in order to move one around.
"Commercial" or not, you should tailor the wood chipper engine type to your exact needs and preferences.
Capacity of Engine
Most of the wood chippers that we reviewed featured a four-stroke engine. However, some engines were more powerful than others. In most cases, this comes down to the cubic centimeters (or "cc") of the engine.
As with motorcycles, a higher cc usually translates to a higher power output and greater horsepower. While higher power output sounds great in theory, keep in mind that this will burn through your fuel that much more quickly. Over time, this can contribute to the overall costs of owning and maintaining a wood chipper.
The Power Ratings
We use the term "power" a lot in relation to commercial wood chippers. But what kind of raw wattage do you actually need from your new toy? As you might imagine, it comes down to your particular needs.
For example, if you need a 35 mm capacity, you'll need between 2,000 and 2,200W. For capacity between 38-45 mm, you'll need (give or take) 2,500W. And for a hefty 50mm capacity, you'll need something over 3,000W.
Just as every healthy handyman is different, every commercial business is unique. You need to research your intended work capacity to make sure the chipper you choose can keep up with you!
Feeding Mechanism Specifics
With new tools, it's the little details that really add up. Before you make a purchase, you need to research the specifics behind the feeding mechanism of the wood chipper.
For example, we recommend chippers with self-feeding options. They are more convenient to operate and generally makes your chipping work that much safer.
Try to calculate the weight of the wood you'll be putting into the chipper. You need a tool that can handle the wood and its weight at the inlet. Otherwise, even the best chipper in the world won't be able to get the job done.
Chipping Mechanism Specifics
Not all chippers work exactly the same way. In fact, there are 3 different chipping mechanisms you should be aware of. Knowing about these different mechanisms can help you make an informed choice as a buyer.
As the name implies, disc chippers use a bladed disc to do the chipping. It is fast and efficient, but some users find these chippers to be loud and likelier to jam.
Drum chippers use a special rotor to chip wood, and some of these chippers may crush the wood first before running it through the impeller. This system is great for heavy-duty work, but the act of chipping is slower for drum chippers versus disc chippers.
Turbine chippers use blade-shafts that spin to chip wood in a very energy-efficient system. These are best suited for dried hardwood, though you may find other uses for them over time.
Sturdy Construction
Wood chippers really put the "heavy" in "heavy-duty use." That's why it's so important to make sure your chosen wood chipper has very sturdy construction.
The act of chipping causes a lot of vibrations throughout the unit. You need to make sure the different elements (like supply chutes and wheels) are able to handle all of this vibration.
And the sturdiness you need extends below the surface as well. Ideally, the blades are made of high-quality welded steel. This makes sure that you get the quality cut you are looking for no matter how long you've been running the wood chipper.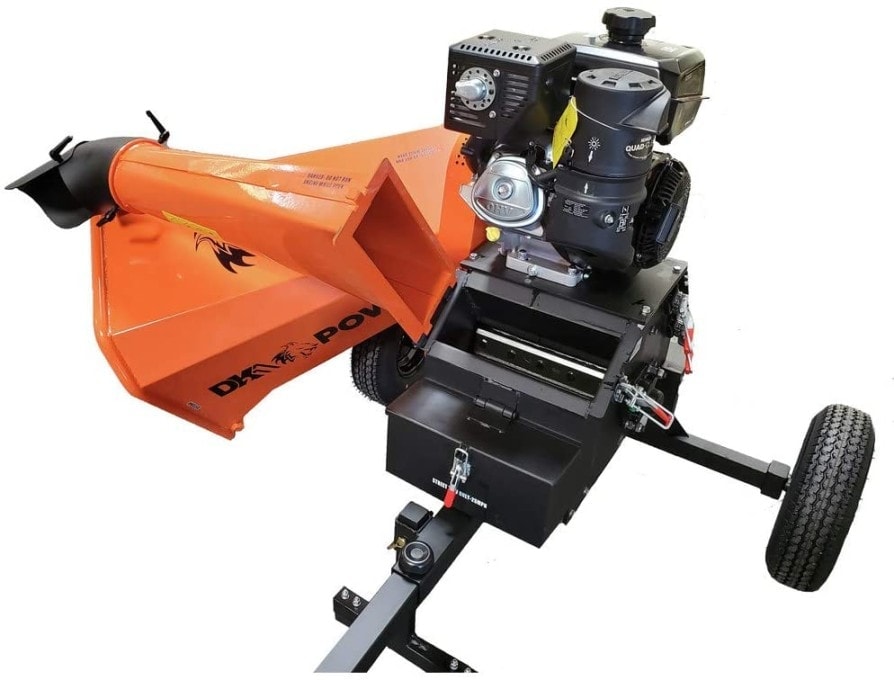 Portability
A good wood chipper is one of those tools that you need to move to different locations over time. Because of this, one of the most important things to consider is the portability of the whipper.
We generally recommend you pick a chipper that has wheels on it. While some models will be heavier than others, any model that comes with wheels will be easier to move than a model that doesn't.
As we noted before, the type of engine that you choose will affect the weight. Some gas-powered chippers in our reviews were just shy of 400 pounds. While the engines on these chippers are likely to provide the power you need, whether you can easily move the chipper around should be a major concern.
Bonus Features
So far, our buyer's guide has focused on the essentials that you should consider before buying a new wood chipper. This last category, though, is all about "extra features." These are features that are nice to have, but the lack of these features shouldn't be a dealbreaker when it comes to the chipper that you buy.
Things like self-sharpening blades may sound like a real luxury. Over time, though, this can save you a lot of time on maintenance while helping your blades last longer.
And an electric starter may sound like a small detail. But over time, you can easily wear your arm out with the standard pull-starters, so you may want to splurge on an electric one.
Finally, things like towing drawbars and forward discharge chutes can make a profound difference in both the length and quality of your work.

Conclusion
Our reviews and our buyer's guide have only one purpose: to help you pick the best commercial wood chipper. But who were the biggest winners in our review roundup?
For the best overall pick, we have to go with the Landworks Wood Chipper. It offers the power and performance you need without making too many sacrifices.
If you're shopping on a budget, you don't have to make too many sacrifices either. Just go with our best budget pick: the GreatCircleUSA Wood Chipper.
But as we like to remind handymen, you are the only one who can decide which tools you need to tackle which jobs. All we can do is make picking the right tools easier so you can put down the phone, pick up your toolbox, and get right back to work!