16 DIY Outdoor Side Tables You Can Build Today (With Pictures)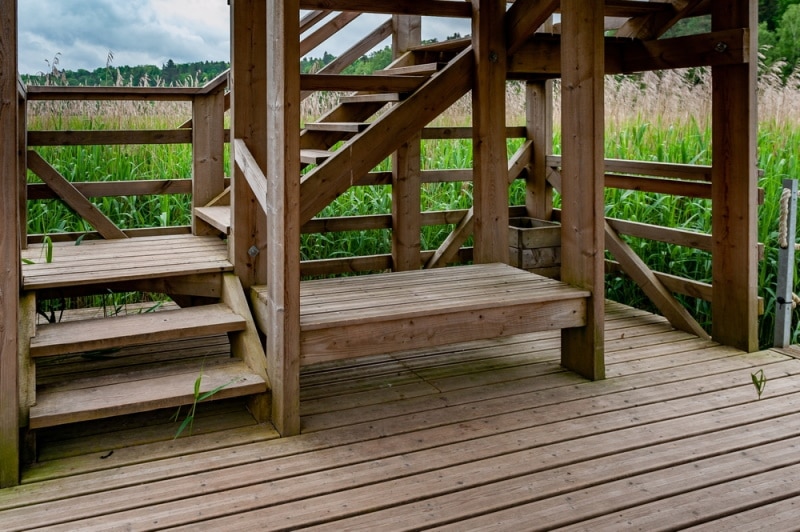 Side tables can be a useful extension for your patio lounger or deck chair and can be a useful place to rest your book or drink while having a relaxing day outdoors.
Side tables aren't necessarily cheap, but the good news is that you can easily DIY one that suits your décor, space, and budget. There are so many great plans out there, and they are all relatively easy to put together. From upcycling, reusing, and constructing, there is something easy for you to try. We have put together a list of some clever and creative outdoor side tables that you can easily make today.

The 16 DIY Outdoor Side Tables Plans
1.

Simple DIY Outdoor Side Table by Tool Box Divas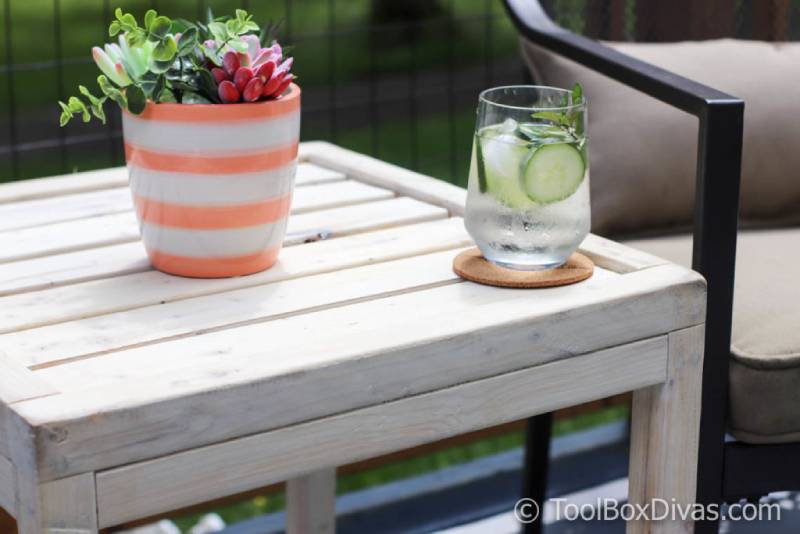 | | |
| --- | --- |
| Materials: | 3–2 x 2 x 8 boards, 2–1 x 3 x 8 boards, screws, corner brackets |
| Tools: | Drill, miter saw, sander |
| Difficulty Level: | Moderate |
This is such a simple and cost-effective DIY project that you will love; it may even inspire you to make matching pairs! The wood cuts are simple, and you are good to go if you have the tools! The result is a rustic but chic wooden table that you can place next to your deck chair to rest your book, coffee, and phone while you soak up some sun.
You can give It a coat of varnish or even paint it if you wish, but because it's an outdoor table exposed to the elements, we recommend protecting it somehow, even if that means a light tablecloth.
---
2.

DIY Stool Hack Side Table by Garrison Street Design Studio
| | |
| --- | --- |
| Materials: | 12 x 12 cement stepping stone, old stool |
| Tools: | Glue (optional) |
| Difficulty Level: | Easy |
An upcycled stool is a great hack for an outdoor side table. All you need to do is add a cement paver at the top to act as the surface of your table. Voila! That's it, and it looks surprisingly great.
Cement is a great material since it is durable and won't blow away. It is also an excellent choice if you intend to put your table near a fireplace or fire pit. The cement pieces can be glued onto the stools if you are concerned about kiddies running around and potentially knocking them off, but their weight should balance them just fine.
---
3.

DIY Outdoor Side Table with Cooler by Southern Revivals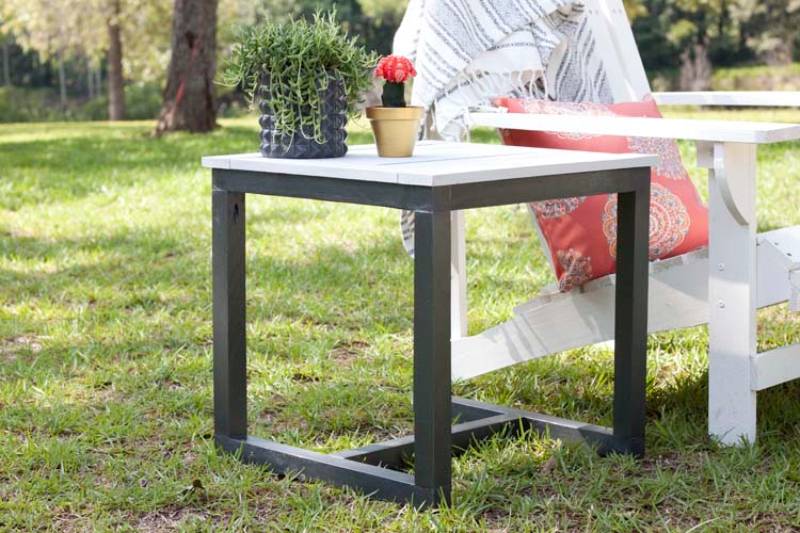 | | |
| --- | --- |
| Materials: | Wood, wood stain, pocket screws, wood glue, plastic planter |
| Tools: | Miter saw, pocket hole Jig, drill, jigsaw, table saw, tape measure |
| Difficulty Level: | Moderate |
This clever DIY outdoor side table has a removable top that covers an extra storage space that can be used as a cooler or storage for candles or books. When the barbeque is lit and your friends are splashing around in the pool, it makes a perfect cooler to keep your drinks cold while providing somewhere to place them when you're not sipping.
This small outdoor side table is a simple weekend project that only requires basic woodworking skills and standard woodworking tools. Cedar is an excellent option for an outdoor table as it is naturally resistant to decay.
---
4.

DIY Paver Outdoor Side Table by Learn Kregtool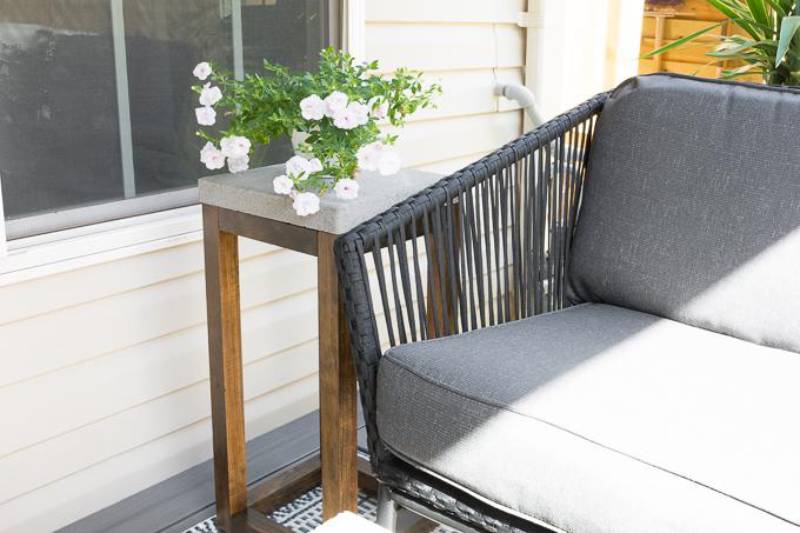 | | |
| --- | --- |
| Materials: | Wood, screws, concrete paver, sandpaper, wood stain, heavy-duty adhesive |
| Tools: | Table saw, drill, clamps |
| Difficulty Level: | Easy to Moderate |
You can easily make a modern-looking outdoor side table using concrete pavers and a small amount of wood. This easy but trendy side table will look great alongside your chair holding your favorite plant.
It is a relatively straightforward design that anyone can make if they have the tools available. You can customize it by choosing different colored wood stains and pavers with different textures. You could even take it up a level and change the shape to a round or hexagonal design.
---
5.

DIY Wire Basket Side Table by The Shabby Creek Cottage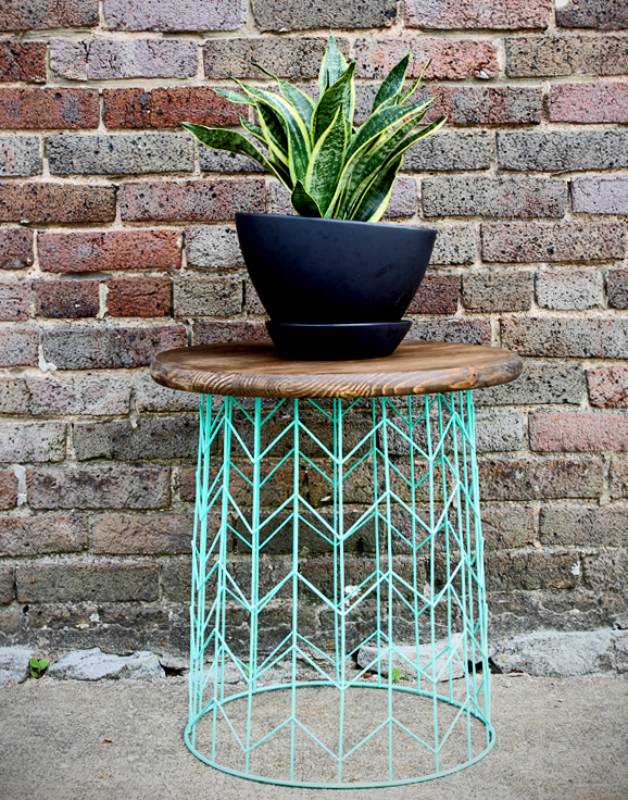 | | |
| --- | --- |
| Materials: | Wire basket, 18" round wood panel, wood stain, spray paint (optional), cable staples |
| Tools: | Hammer |
| Difficulty Level: | Easy |
This simple and creative basket side table will take only 30 minutes of your time, and no woodworking skills or power tools are required. In fact, it's most likely that you have the supplies on hand already.
All you need to do to create this clever side table is use an old wire bin and add a round piece of wood to the top. Once you have secured the wire to the wood with cable stables, flip it over, and there you have it!
---
6.

Plate and Planter DIY Outdoor Side Table by Off Beat Home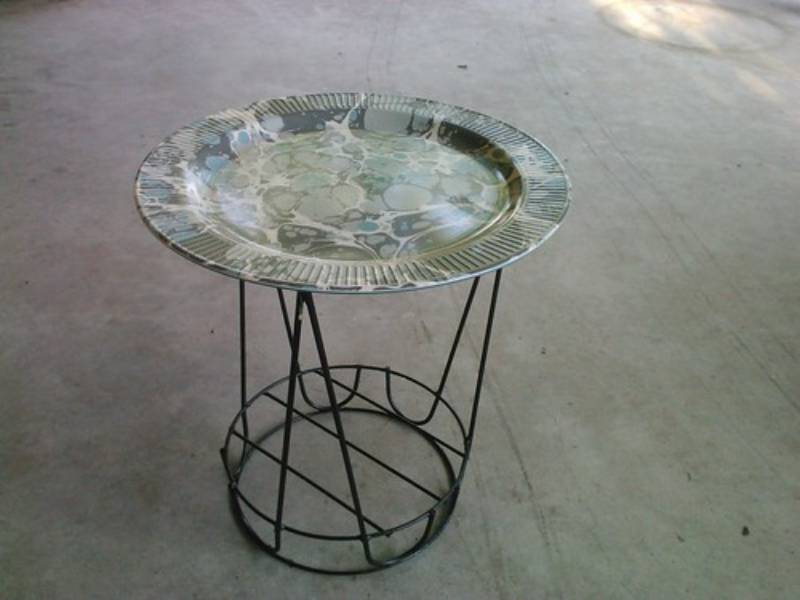 | | |
| --- | --- |
| Materials: | Plant holder, plate, spray paint, sander block, gorilla glue |
| Tools: | No tools |
| Difficulty Level: | Easy |
You can easily make this chic side table with just a plate and an unused plant holder. No tools are required, and you can have it done in under an hour. If you have an unused plant holder, you are one step ahead, but if not, you could easily pick one up at a thrift store.
Give it a fresh coat of paint to make it look new and refreshed while also matching your patio décor. Find or buy an old plate and add it to the top.  Make sure your plate is plastic or metal, as a ceramic plate will break quickly.
---
7.

DIY Unique Wooden Side Table by Francois Et Moi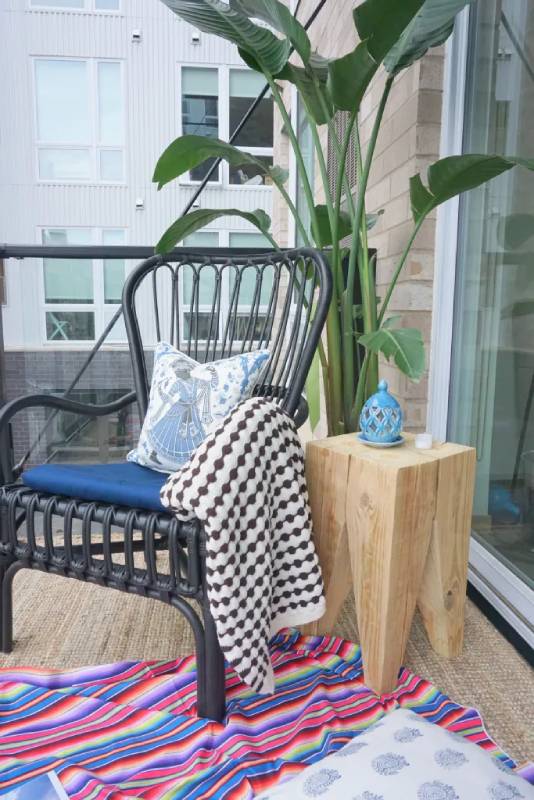 | | |
| --- | --- |
| Materials: | 6" x 69" timber, wood dowels, wood glue |
| Tools: | Circular saw, belt sander, drill, clamps, measuring tape, pencil |
| Difficulty Level: | Moderate |
This uniquely shaped side table will be ideal for your patio makeover. It will require some skills, especially with power tools and wood. The belt sander is the key power tool here, as it smooths out various flaws, such as uneven legs, uneven tops, and rough edges. The result is a shabby chic side table with a great feature of wood rings on the surface.
---
8.

DIY Side Table with Storage by Feeling Nifty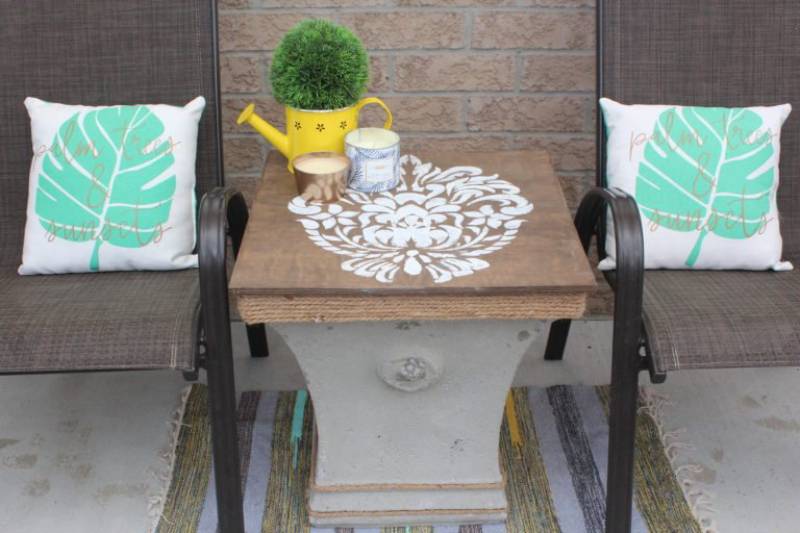 | | |
| --- | --- |
| Materials: | Planter, piece of wood |
| Tools: | No tools |
| Difficulty Level: | Easy |
You can make a great side table that's perfect for your patio or porch with just an old planter and a piece of wood. The best part is that no power tools or confusing plans are needed to create this table. You can repurpose a base from an old table and use an unused bucket planter as the base of your table.
The key feature is that the hollow part of the planter acts as a storage space, where you can store anything from pool supplies, patio accessories, garden tools, or whatever you can think of. A simple piece of wood will rest on the top, and it is easy to remove when you need to access your stored items.
---
9.

DIY X-Brace Side Table by Remodel Aholic
| | |
| --- | --- |
| Materials: | Premium studs, pine, 10″ x 10′ roll of galvanized flashing, Quikrete, 1/2″pocket hole screws, 1/4″ pocket hole screws, pine pocket hole plugs, wood filler, wood glue, wood stain, sandpaper, tape |
| Tools: | Miter saw, drill, pocket hole jig, sander |
| Difficulty Level: | Moderate |
This DIY table not only looks great, but it is sturdy and durable and designed to tolerate the elements, making it a great outdoor table. It will require some basic skills and power tools, but the process and results are worth it!
It's a perfect table to hold a drink or book as well as a permanent home for a potted plant. It will also be a table you will use and own for years.
---
10.

DIY Pot Side Table by Home Talk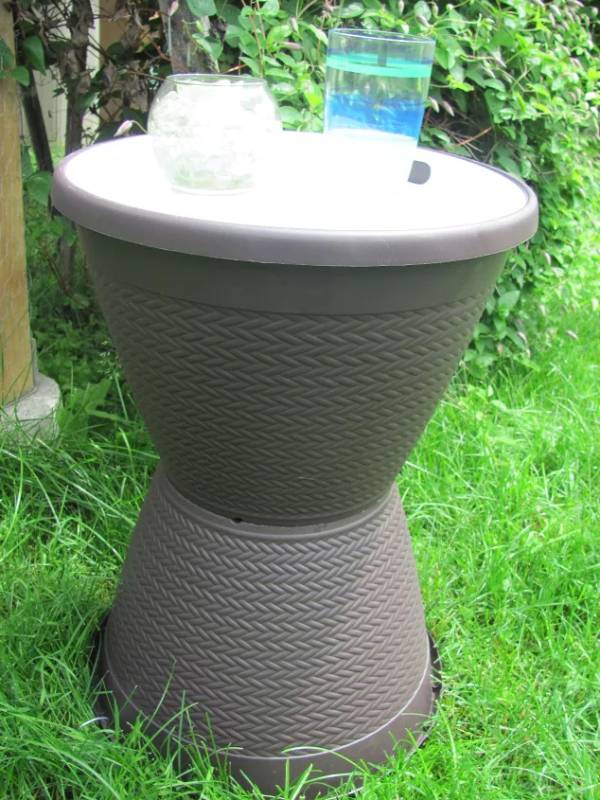 | | |
| --- | --- |
| Materials: | 2 Plant pots, tray, glue |
| Tools: | Screwdriver or drill (optional) |
| Difficulty Level: | Easy |
If new outdoor furniture is out of your budget, then this DIY side table using pots is a perfect way to upgrade your patio while staying within budget. It is quick and easy to put together and only requires three items that you may already have at home, or you can get them from the dollar store. All you need is two pot plant holders, a tray, and some glue!
It will be a lightweight table, so it can be placed over a garden light to keep it in place in the wind. Or you can add some drilled holes around the edges and stake it into the ground.
---
11.

DIY Pedestal Style Side Table by Laugh Cry DIY
| | |
| --- | --- |
| Materials: | 2 plastic trash cans, fabric, round board, modge podge, strong glue |
| Tools: | Scissors, paintbrush |
| Difficulty Level: | Easy |
All you need to create this cute pedestal style side table is two trash cans, a round board, and some fabric. You can pick up trash cans at the dollar store and look for alternatives to buying timber, like a photo board.
The fabric is modge podged to the trash cans and tabletop to add a unique pattern of your design, and some personal touches such as gold leafing the rim can add to the final look as well. It's a perfect DIY project for beginners to try.
---
12.

DIY Bucket Side Table by Home Talk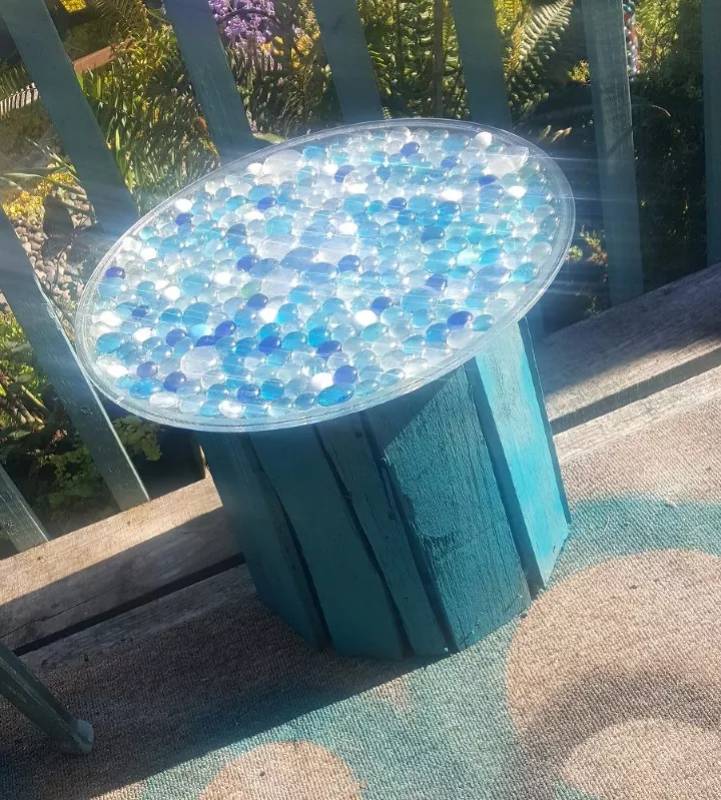 | | |
| --- | --- |
| Materials: | Old bucket, plate, glass stones, silicone caulking, pallet wood |
| Tools: | Nail gun, paintbrush |
| Difficulty Level: | Easy |
This creative side table can easily be made with items you have in your storeroom. It is made using a bucket and a plate with a matching diameter. Some old pallet wood is used to cover the sides of the bucket and create a base.
From there, you can paint the wood or stain it for a more rustic feel. Glass stones are then attached with silicone caulk to the top to create a bedazzled look. Seal the wood and this whole table becomes waterproof!
---
13.

Distress Wood DIY Outdoor Side Table by Satori Design For Living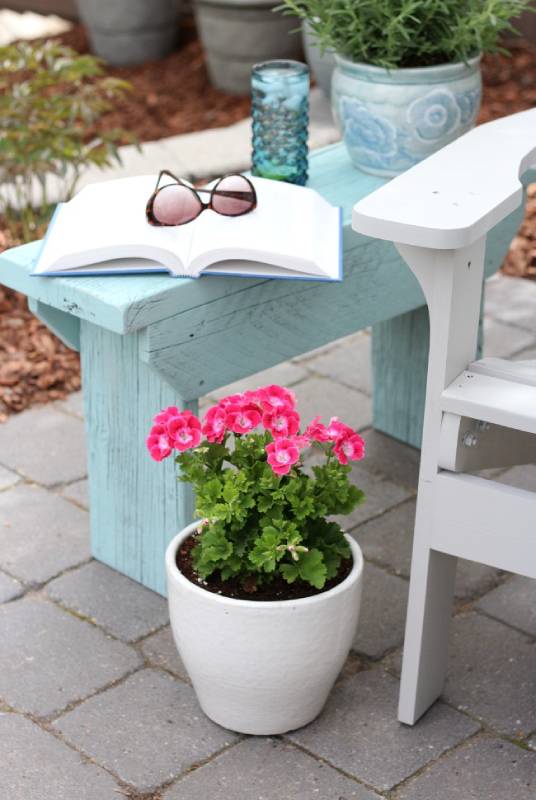 | | |
| --- | --- |
| Materials: | Salvaged wood pieces, screws, paint, sandpaper |
| Tools: | Drill, paint brush |
| Difficulty Level: | Easy |
The aesthetic of distressed wood will be a long-standing trend, and you can easily create an outdoor side table to give your patio some rustic charm. This table is made using pieces of scrap wood and a coat of paint; it's that simple.
The beauty of using old wood only adds to the look of the finished project. The shape is more of a mini bench, which makes it a perfect height and length to sit alongside a chair and hold a drink and a magazine.
---
14.

DIY Fluted Table by Krystal Clear DIY
| | |
| --- | --- |
| Materials: | 12' concrete form, 22 half-round molding pieces, round board, wood glue, paint, outdoor poly, liquid nails, bungee cords |
| Tools: | Miter saw, clamps |
| Difficulty Level: | Moderate |
A fluted table can cost a pretty penny, but you can easily DIY one at a fraction of the price. This DIY project will require a bit of patience and a small amount of skill, but the process and result will be so rewarding. This table is modern with a touch of elegance, but it works well as a side table on your patio alongside some lounger chairs or a daybed.
---
15.

DIY Garden Side Table by EHow
| | |
| --- | --- |
| Materials: | Cedar, nails, wood glue, wood filler, wood stain, |
| Tools: | Nailer, circular saw, sanding pad, clamp, measuring tape, paintbrush |
| Difficulty Level: | Easy to moderate |
Create this unique side table to combine functionality with aesthetics. It is designed in a geometric shape to include three built-in planters made from wood, which works perfectly to showcase your chosen greenery. You can admire your plants' new growth every time you use it. It's an easy and fun project that can make a perfect gift for loved ones.
---
16.

DIY Branch Table by 100 Things 2 Do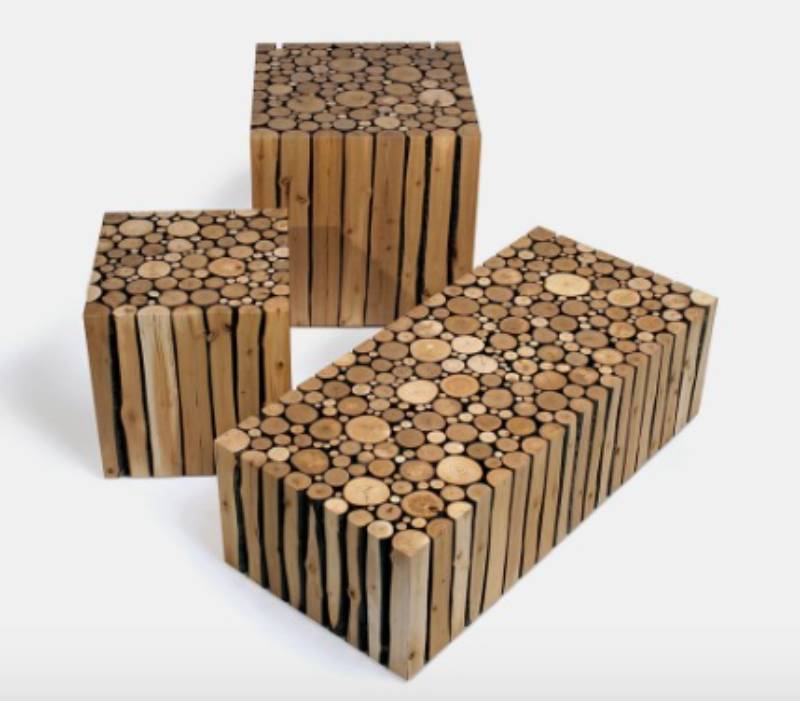 | | |
| --- | --- |
| Materials: | Old table, branches, screws, wood glue, epoxy resin |
| Tools: | Drill, sander, miter saw |
| Difficulty Level: | Easy |
This DIY branch table is an easy and fun project requiring only an old table and some fallen branches. This project will be perfect if you have a small old table that needs some TLC. You can also pick a secondhand one if you want something that is a bit damaged, as you will be covering it up with your branches.
Then go into your garden and find some fallen branches, and you're ready to get started. The result will be a rustic, cabin-style side table that will look great on your outdoor patio.

Final Thoughts
There are so many clever and creative ways to DIY your own outdoor side table. So don't let your budget get in the way of your plans to makeover or enhance your patio or balcony. Whatever look or function you are going for, there is something for you, and these plans are easy to follow and customizable. Some plans require no power tools at all, so whether you are a novice or a skilled DIYer, you can easily build your next piece of chic outdoor furniture.
---
Featured Image Credit: Regina M art, Shutterstock