5 Awesome DIY Projector Screen Frames You Can Make Today!
Watching movies and TV shows on a large-screen TV is great, but nothing beats a projector for the ultimate viewing experience. With a projector at home, you can have a massive viewing area that takes up an entire wall for a perspective nearly as big as the one you'll get in the cinema or your local movie theater. One drawback of home projectors is that they lose some of their brilliance and color saturation when projected onto a normal wall, especially if that wall is painted in any color besides white. That's why many projector owners purchase a projector screen to use when watching their favorite TV programs.
Of course, projector screens and the frames that support them aren't free, and some can cost hundreds of dollars. No worries if you've tapped out your bank account on your projector and don't have the spare cash for a screen frame! The five awesome DIY projector screen frames below are easy to make at home and, even better, can be made on a budget that beats anything you can buy at the store. Read on to discover them all and get to work building an awesome and affordable projector screen frame today!

The 5 Awesome DIY Projector Screen Frames
1.

Easy DIY Outdoor PVC Projector Screen Frame
| | |
| --- | --- |
| Materials: | Four 10-foot-long pieces of 1-1/2 inch PVC pipe, Two 45° elbows (that fit 1 1/2 inch pipe), four T fittings (that fit 1 1/2 inch pipe), eight 10-inch spikes, one full-size white sheet, six pieces of 3/4 grosgrain ribbon (18 inches long each). |
| Tools: | Sewing machine, miter saw, PVC glue, clamps |
| Difficulty Level: | Moderate |
This excellent PVC projector screen frame from The Shabby Creek Cottage is easy to make, looks great, and costs very little. You will need some sewing skills to attach the white sheet to the PVC frame, although you could certainly get around that with a little ingenuity and some zip ties.
Also, depending on the size screen you'd like, you can customize the plans for this projector screen frame very easily. All you need to do is determine your screen size and cut the PVC to the size you like. The frame is perfect for outdoor viewing but could also be set up indoors, in your garage, or wherever you like. Best of all, it's collapsible to make it easy to store when movie time is over!
---
2.

Inexpensive Collapsible Projector Screen Frame
| | |
| --- | --- |
| Materials: | PVC pipes of various lengths, T-fittings, and elbows. Paracord, bungee cords |
| Tools: | Miter saw, PVC glue, various clamps |
| Difficulty Level: | Moderate |
Here's another PVC collapsible projector screen frame from YouTuber Glenn Frazee. Glenn goes through every step in detail in his video, and the results are, as you might expect, awesome. PVC projector screen frames are lightweight, so you can easily move them around even when they're completed and ready to use.
Like the top project on today's list, this screen frame is also collapsible for easy storage. The screen itself was store-bought, which is typical, and included grommets to make it easy to attach to the frame. This excellent screen frame will turn your movie nights into something magical. Wait until the end of the video to see a little projector screen magic!
---
3.

Simple & Beautiful Indoor Projector Screen Frame
| | |
| --- | --- |
| Materials: | Various wood frame pieces, wood screws, wood glue, L-braces, T-braces, projector screen material, felt tape |
| Tools: | Table saw, drill, drill bits, clamps, level, drill guide |
| Difficulty Level: | Moderate to high |
From the YouTube channel DIY with Rick comes this simple but attractive and highly functional projector screen to hang on a wall indoors. The maker purchased projector screen material, which is easy to find, and created a simple but sturdy frame to hang the material from. His video shows every step clearly, including the use of some special drill guides that ensure your frame is durable and stable. If an indoor screen for your projector is what you want, these instructions will empower you to make it happen.
---
4.

Super Easy and Fast Projector Screen Frame
| | |
| --- | --- |
| Materials: | Wood slats, L-brackets |
| Tools: | Hand saw, drill |
| Difficulty Level: | Easy |
This projector screen from YouTuber Black Series Edition LLC proves that you don't need superior carpentry skills or a large collection of tools to make a functional screen frame. Indeed, all you need is a hand saw, a drill, and some L-brackets, along with some 1×3 wood slats, and you'll have a projector screen frame ready to go in mere minutes.
Even better, your new screen frame should cost less than $40. All you need to add is screen material, and you'll have the projector screen of your dreams ready to hang wherever you like.
---
5.

Inexpensive, Simple Projector Screen Frame
| | |
| --- | --- |
| Materials: | Black band trim, black spray paint, four corner braces, screen material, felt tape, various lengths of wooden timber |
| Tools: | Pocket hole jig, drill & drill bits, miter saw, staple gun & staples, brad nailer |
| Difficulty Level: | Low to moderate |
With the screen included, this simple yet effective projector screen frame can be made for a very affordable price. It's made for indoor viewing but could be used outdoors as well. The maker on YouTube shows you all the steps and gives plenty of great tips so that you get excellent results. You don't need a massive tool collection to complete the project and only require moderate DIY skills.

What Types of Projector Screen Materials work With Projector Screen Frames?
We've looked at how to make a projector screen frame today, but many of you might be wondering where the actual screen comes from. There are several types of material you can use for the screen; some are cheaper than others. They include the following:
A large, white bed sheet
If you want a super-cheap screen, there are very few choices better than a large, white bed sheet that you would typically put on a bed. You don't even need a screen frame to hang it because you can tack it to the wall with pushpins or thumbtacks. Will the screen be the most attractive thing you've ever seen? Probably not, but it will do the trick!
Blackout Cloth or Fabric
Blackout fabric or cloth is used to make blackout curtains you can put on your bedroom windows. Blackout fabric has a special polymeric coating and often has a foam backing that absorbs noise. As a projector screen, blackout fabric is awesome because it reflects light well, prevents light from filtering through the back of the screen, and reduces echo and other noises.
A Drop Cloth
Like a bed sheet, a drop cloth makes an easy, inexpensive projector screen that you can hang from your new screen frame. Experts recommend getting a drop cloth that's as white as possible and made from heavy-duty canvas for the best results.
Projector Screen Paint
One of the easiest ways to make a projector screen on your wall is to paint it there using projector screen paint. Several manufacturers make this specialized paint, which you can use for any type or resolution. Projector screen paint is typically formulated to provide a neutral response to colors and keep "hot spots" from forming.
Best of all, all you need is a paintbrush, and, in minutes, your wall will be a gigantic screen. If you like, you can use framing trim and make a basic frame that attaches directly to the wall.
Projector Screen Material
The best material to use as a projector screen is material made expressly for that purpose. You can use several types of projector screen material, including woven, perforated, white, gray, silver, and white blackout cloth. Which one is best? Experts agree that white blackout cloth screen material is the superior choice as it absorbs light well and keeps the image on the screen dazzling and brilliant.

The 6 Basic Steps to Make a Projector Screen Frame
Although the projector screen frames we've looked at today all have instructions, you may want to make one on your own, especially if you have decent DIY skills. If so, the basic steps below will get you going in the right direction.
1.

Choose the Dimensions of Your Screen
Before making a screen frame, you need to know the dimensions your projector can project, both the height and the width. Most projectors come with these specifications in their instruction booklet. Also, most projectors can be adjusted to fit a variety of wall sizes, allowing you to choose any wall in your home.
---
2.

Remember to Add a Little Extra Height and Length
Your screen frame will be slightly bigger than the size your projector projects due to the black trim on the side (if you want the trim). Typically, adding 2 to 4 inches on each side, to the top and bottom, will be sufficient.
---
3.

Cut Your Frame Material of Choice to the Correct Size
Whether you use PVC or wood to make your frame, you'll need to cut the four sides to the correct length based on your measurements. Also, you'll need to cut at least one, if not several, supports for the frame's interior, so it doesn't sag under the weight of the screen. If you're making a freestanding frame, be sure also to cut pieces of wood or PVC for the feet. Be sure to use eye and ear protection during this step.
---
4.

Connect Your Frame Pieces Together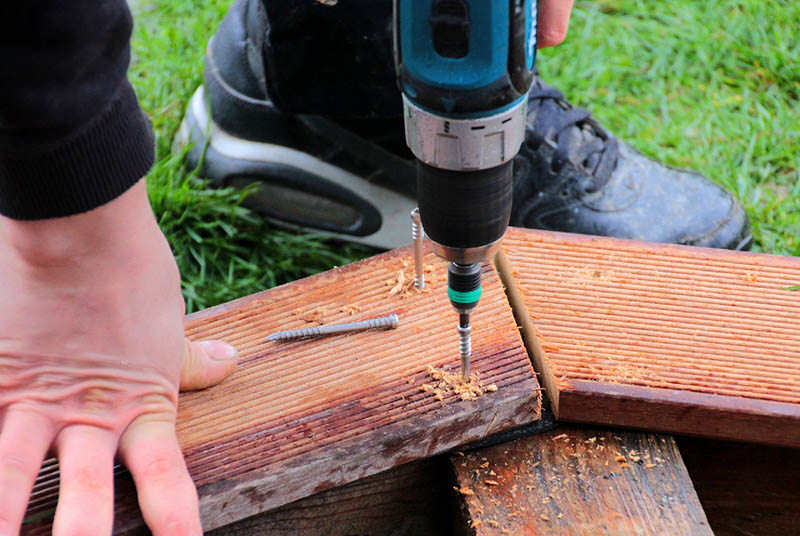 This step involves either drilling and using screws and braces or using PVC glue to attach the pieces of your projector screen frame. Your goal should be to have a sturdy, lightweight frame that won't sag from the weight and downward pull of the screen material.
---
5.

Attach Your Screen Material to the Frame
Once the frame is finished, and any glue has dried, it's time to attach your projector screen material. For wood frames, you will likely staple the screen material to the frame, but for PVC frames, you will probably use bungee cords or zip ties. Either way, be sure to attach the screen firmly and remove any wrinkles as you go.
---
6.

Hang Your New Projector Screen in Place
This step is necessary if you've crafted a projector screen to hang on the wall. Lightweight frames can be hung using wall hooks, or you can also drill the frame directly into the wall. If you've crafted a freestanding frame, all you need to do is stand it up and move it into the area where you wish to view your movies and TV shows, which might be inside your home or outside. The beauty of a freestanding frame is that you can easily use it anywhere you like!
---
7.

Enjoy Your Massive Projector Screen!
Now that your screen frame and projector screen are finished, it's time to enjoy the fruits of your labor and watch some shows or movies with your family and friends!

Final Thoughts
There's nothing better than having a cinema experience from the comfort of your sofa or outdoor lounge chair. While we only looked at five DIY projector screen frames today, you can find many more plans online. They're all very similar and use the same basic principles, materials, and tools.
Whichever plans you decide to use, or if you use them as a guide and make your own, we wish you the best of luck making your projector screen frame. Once your projector screen is ready, watching your favorite shows, movies and specials will never be the same!
---
Featured Image Credit: subin pumsom, Shutterstock