17 Basement Rec Room Ideas & Design Tips (with Pictures)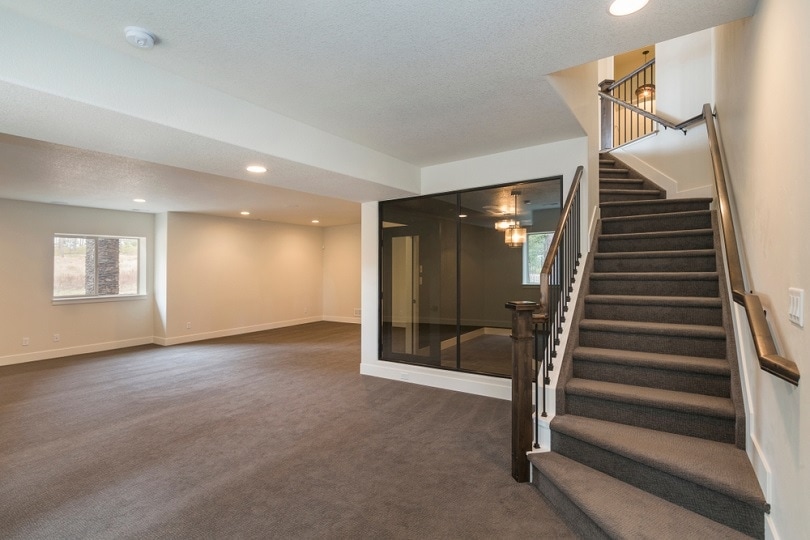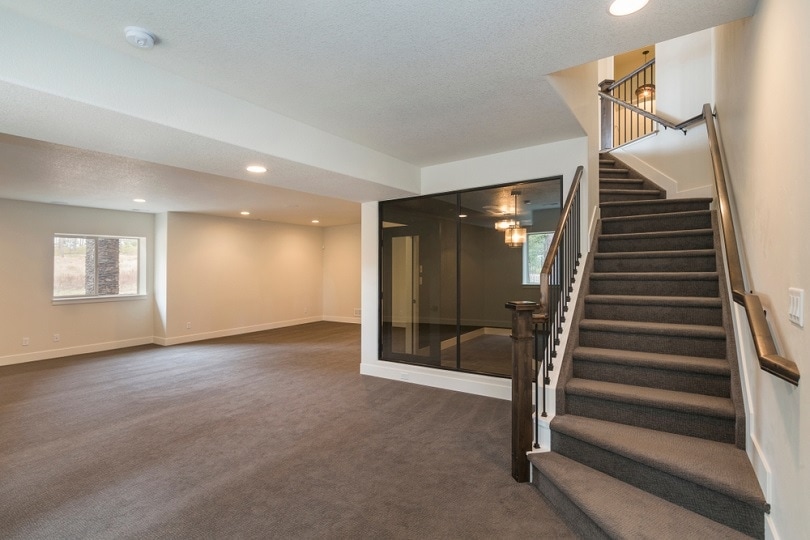 A rec room, or recreation room, is a room used for recreation. There is no set or specific purpose. Some people might appreciate a quiet little nook where they can read, while others long for an all-action gym and sports room. Your likes and preferences, as well as the size and dimensions of your basement, as well as your available budget, will, ultimately, determine the rec room you can have in your house.
Below, we have included 17 rec room ideas. Use some or all of the features included, modify them to your dimensions and preferences, or implement the tips at the bottom of the list when you are refurbishing and creating your rec room retreat.

1. Pool Table
The pool table is the mainstay of a lot of dream rec rooms, but their size and the amount of space you need to offer around the table means that they are not practical for most rooms in the house. They are ideal for placement in the basement, though, especially if you have access to the whole floor. There is a wide variety of wood types and colors, cloth colors, and styles and designs on the table themselves, so that you can choose one to match the room's décor.
---
2. Foosball
Foosball is another table-based game. This one is smaller than a standard pool table and although you will need some elbow room for vigorously swinging the players around, you don't need to allow as much room for this game. The foosball table is usually light and portable enough that it can easily be lifted and moved into the room when playing.
---
3. Soccer
If miniature table-based soccer players aren't enough for you, then why not style the entire room out as a soccer pitch? It's unlikely you'll have enough for a full game, or even a 5-a-side pitch, but you will be able to fit a 5-a-side goal and some fake turf so that you and a friend can take shots against one another. Some traditional club flags and you've got a brilliantly styled basement rec room.
---
4. Darts
Darts is a traditional bar game and one that can be enjoyed by male and female players, young and old. It can be played solo or in twos or teams, and there are multiple variants. You only really need a small amount of wall space and just under 8 feet of floor for the distance between the board and the oche. Alternatively, add some mood lighting, hang a blackboard to keep score, and put in a bar for real authenticity. If you're adventurous, you could even make your own out of corks.
---
5. Basketball
Whatever your preferred sport or game, you can find some way of incorporating it into your basement rec room design. Basketball, for example, is usually played on a court that is 94 feet long while the hoop is 10 feet off the ground and needs a little room for ball movement above it. Alternatively, you can install a net and a basketball game so that all your guests can have a go.
---
6. Bowling Alley
This is going to take commitment to build, as well as needing a lot of space to install it, but a bowling alley will provide hours of fun. You can even host your own bowling nights and invite everybody over.
---
7. Mini Golf
Turn your basement into a putting green, and you could improve your handicap while playing some limited stroke play. If you've got the room, you could install your own 19th hole, too, so that you can grab some liquid refreshments after the competition.
---
8. Full-Size Golf
Advances in modern technology mean that you can install not only a single full-size hole, but every full-size hole of every tournament course in the world. Of course, we mean through the medium of a golf simulator. The simulator screen can be used as a TV when you're not trying to land a hole-in-one at the Golden Bell at Augusta.
---
9. Video Games
Such are the improvements that have been made to simulators and video games, that you can easily install a giant TV, add a couple of consoles, and create the perfect video gaming arena. If PC gaming is more your thing, turn your basement rec room into the perfect PC gaming room, replete with ambient lighting, a gaming chair, and a steady supply of chilled energy drinks.
---
10. Sports Theme
Whatever your favorite sport, there is almost certainly a tabletop game or floor game that can somehow be incorporated into your basement rec room. F1 simulators give you access to hundreds of miles of racing tracks and you can make tables and chairs from tires. If you're into hockey, grab yourself a table hockey game, hang jerseys, and color the room with your favorite team's colors.
---
11. Gym
Creating a home gym is a common use for the basement space. Add some kind of sympathetic flooring, install gym mats, and you can include a range of equipment from free weights to running machines and more. Add a TV so that you can follow along with some TV-based fitness routines.
---
12. Kid's Game Room
It may be that you will get the most enjoyment from your basement rec room by conceding and handing it over to the kids. After all, it will give them somewhere away from the rest of the house. This means that you can keep their mess separate from your living area and because they're in the basement you won't be able to hear them jumping around. Make the rec room kid-friendly, or go all out and make your son or daughter an underground Lego build room. But, remember, you do have to let them use it sometimes.
---
13. Bar
If the room is geared more towards adults, then another popular use is to convert it into a home bar. You have some kitchen elements, plenty of storage, optics for spirits, and a fridge or two for a chilled beer and soft drinks. Add seating and tables, including a TV for typical barroom entertainment, and you've got yourself the perfect home from home, at home.
---
14. Wine Room
Of course, if wine is your thing, and you don't have time for beer and other drinks, turning your basement into a wine cellar is not a huge stretch of the imagination. This is the area of the house where you would traditionally store bottles of wine to prevent excessive heat and UV light from getting into the bottle.
---
15. Music Stage
Whether you're a family of born performers, you play in a band need the practice area, or you take your karaoke really, really seriously, a home music stage is fun, outgoing, and exciting, and it is likely to attract a few of your friends and family, especially if they've partaken at the bar area.
---
16. Home Theater
Install a large projector screen and projector, dimmable lighting, and some luxurious recliner chairs and you not only have a TV room, but you also have a home theatre that will make everybody jealous. For the best possible experience, ensure that you've got a good lighting and PA system to go, too.
---
17. Art and Crafts Room
You can use the basement as your personal space. Somewhere you can go, that is out of the way of the rest of the house, and where you can be creative without interruption. Add some work surfaces, plenty of storage, and you've got yourself an arts and crafts studio.
Basement Rec Room Ideas
The Basement rec room is somewhere to enjoy. Somewhere you can go to do whatever it is that helps you unwind. Whether you're into playing or watching sports, enjoy reading, or like to unwind by singing karaoke on stage or creating scrapbooks for friends and family, you can turn the basement into the rec room of your dreams.
---
Featured image credit: Neil Podoll, Shutterstock