7 DIY Raised Trampoline Ladders You Can Build Today (With Pictures)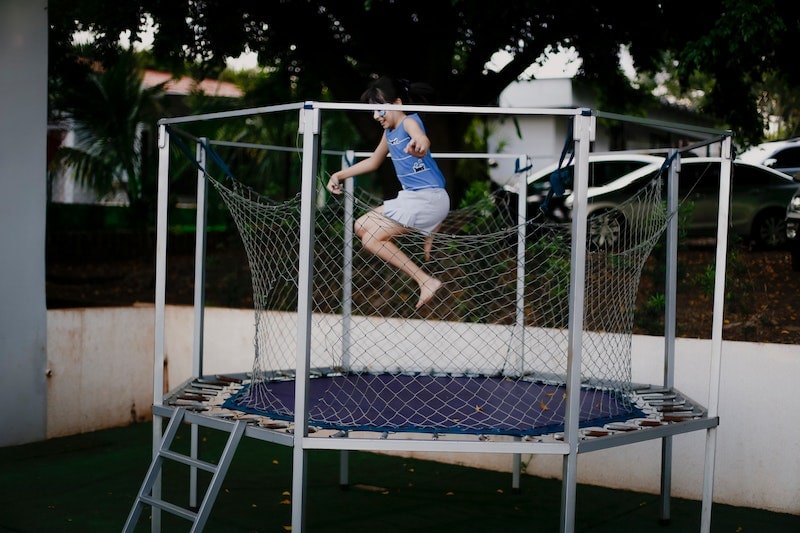 What kid doesn't have a trampoline in their yards these days, right? Trampolines are a timeless playground item that can be enjoyed for hours; even the parents can be found bouncing around among the kids.
Raised trampolines can sometimes be challenging to climb onto, and it's important for toddlers who battle to find support to have safe and easy access. A sturdy ladder and the proper height can make all the difference, and you can easily DIY one quickly and easily.
We have listed a few DIY ideas in this article that require very basic woodworking skills and some that don't, so there is a project that can work for any DIY skill level.

The 7 DIY Trampoline Ladders
1.

DIY Wood Ladder by The Project Lady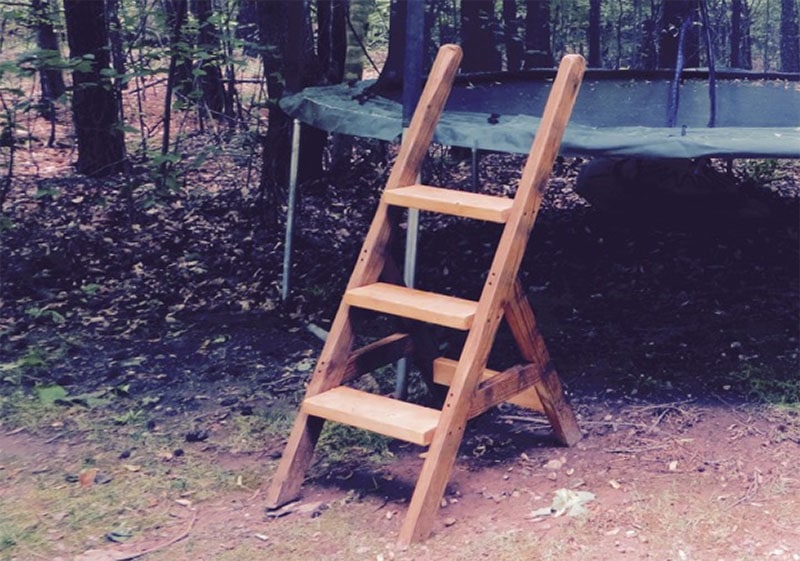 | | |
| --- | --- |
| Materials: | wood, screws, sandpaper, wood finish |
| Tools: | Miter saw, drill, angle tool, clamps |
| Difficulty Level: | Easy |
This DIY trampoline ladder is sturdy and easy to construct. It can be made using scrap wood, but if wood needs to be purchased, it is still an affordable build. This plan is easy to follow, making it ideal for novice woodworkers, and if you have a little more experience, you can likely construct this ladder by just looking at the picture. Once it's done, you can finish the wood with a stain to protect it and make it look great.
It's important to note that the design of this ladder is only suitable for trampolines with a safety net, as the handles at the top of the ladder stick out, which is a hazard for little faces.
---
2.

DIY Trampoline Steps
| | |
| --- | --- |
| Materials: | Wood, screws, wood glue, sandpaper |
| Tools: | Circular saw, drill, sander |
| Difficulty Level: | Easy |
These trampoline steps can be built in just a few hours by any woodworking novice. They are safe and sturdy and will make accessing a trampoline easy for your children. You will have peace of mind knowing that your children can quickly get on and off the trampoline with minimal risk of falling or the ladder breaking.
When constructing these stairs, make sure the top meets the underside of the trampoline, so there is no risk of it tipping over.
---
3.

Straightforward DIY Ladder for Trampoline and Playset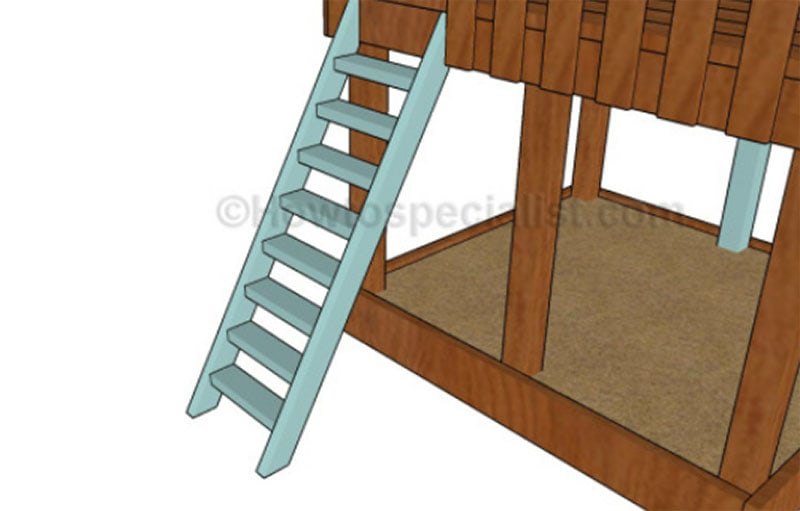 | | |
| --- | --- |
| Materials: | Wood, screws, sandpaper, stain |
| Tools: | Circular saw, drill |
| Difficulty Level: | Easy |
This plan includes a straightforward ladder, which can easily be used for a trampoline or any other part of an outdoor playset or jungle gym. If a simple ladder is what you are looking for, this will be an easy task and can potentially have more uses than just a trampoline ladder.
However, with this design, extra safety precautions are needed as there is no extra stability, and the ladder will need to lean against something.
---
4.

DIY Trampoline Rope Ladder by DIY Doctor
| | |
| --- | --- |
| Materials: | Wood planks or old broom handle, sturdy rope |
| Tools: | Saw, drill |
| Difficulty Level: | Easy |
Rope ladders are always fun for kids, and this is a fun and quick project where you can make your rope ladder in about an hour! This plan includes two options, so you can choose which one is more suitable for your trampoline and kids. The tied rope ladder is most commonly and easily constructed with round rungs made from an old broom handle. The step rope ladder has flat plank steps through which the rope passes through. A knot is tied under each side of the planks to keep them in place when weight is applied.
The knots can potentially come loose, and the rungs can slide out, so they must be checked before and after use. Whatever type of rope ladder you choose to build, you should secure the bottom of the ladder to the ground because when you climb it, it tends to swing out from underneath you, making it difficult to climb.
---
5.

Trampoline Stairs With Slide by Rogue Engineer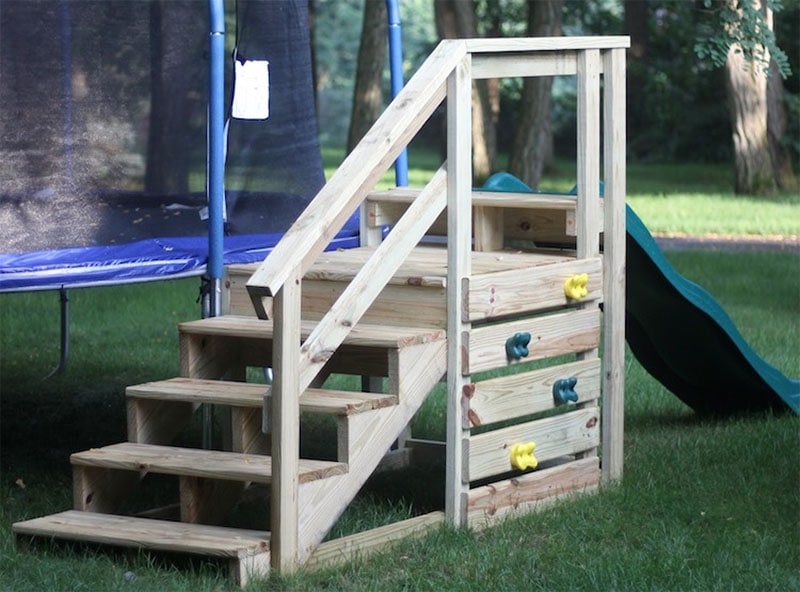 | | |
| --- | --- |
| Materials: | Wood, deck screws, slide, rock climbing holds |
| Tools: | Miter saw, drill, tape measure |
| Difficulty Level: | Moderate to difficult |
You can go a few steps above a simple trampoline ladder and add extra fun for your kids. Of course, this project will require woodworking experience, but it will provide your kids with hours of outdoor playtime. These steps are built with a platform, a rock wall, and slide, transforming your trampoline into a new playset for the kids.
If you like the idea of the platform and want something a bit simpler, you can easily construct these stairs leaving out the rock-climbing element and the slide.
---
6.

PVC Pipe Ladder
| | |
| --- | --- |
| Materials: | PVC pipes and elbows |
| Tools: | Saw |
| Difficulty Level: | Easy |
A PVC pipe ladder is probably more suited to young kids who are lightweight. It is simple to construct, and anybody can put this ladder together in less than an hour. It may not be the best option for something permanent, but it is suitable if you are looking for something immediate. The pipes can easily be cut to size and joined together using elbows. Make sure when putting this ladder together that the bottom has enough stability.
---
7.

Tree Stump Trampoline Stairs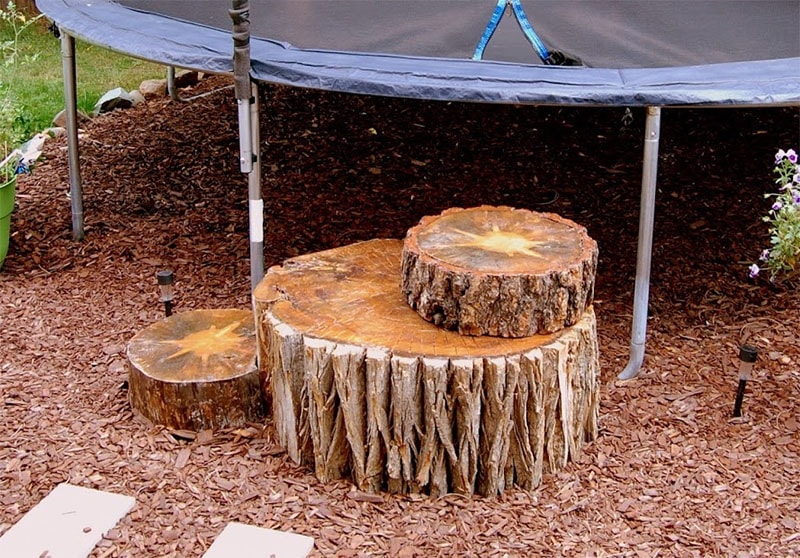 | | |
| --- | --- |
| Materials: | Wood stumps, sandpaper, wood hardener, fiberglass resin |
| Tools: | Saw, sander |
| Difficulty Level: | Easy |
This DIY project is an attractive way to create steps for the trampoline. It also provides a more organic aesthetic that will blend in with the outdoors. Naturally, for this project, you will need some old wood stumps, which shouldn't be hard to find.
The weight of the wood stumps will keep them sturdy, and the wood hardener will prolong their life. A coat of fiberglass resin, like the one used for boats, will keep it smooth and provide a non-slip surface. Make sure the stumps are broad enough so it's not easy to fall off; the kids can use the edge of the trampoline as a support rail.

How to Measure a Ladder for a Trampoline
To find the correct ladder length for your trampoline, you will need to do some measurements.
How to Measure:
First, you will need to accurately measure the frame of your trampoline by measuring from the top of the frame to the ground in millimeters (mm).
Once you have your frame height, add 100 mm to that number to make room for an angle. For example, if your frame height measurement is 900 mm, then your ladder will need to be 1,000 mm.
Anything more than 150 mm higher than the height of your trampoline creates too much of an angle, making it more likely that your children will lose their footing.
Make sure there are no screws or nails sticking out from the wood, or any other materials that can be dangerous.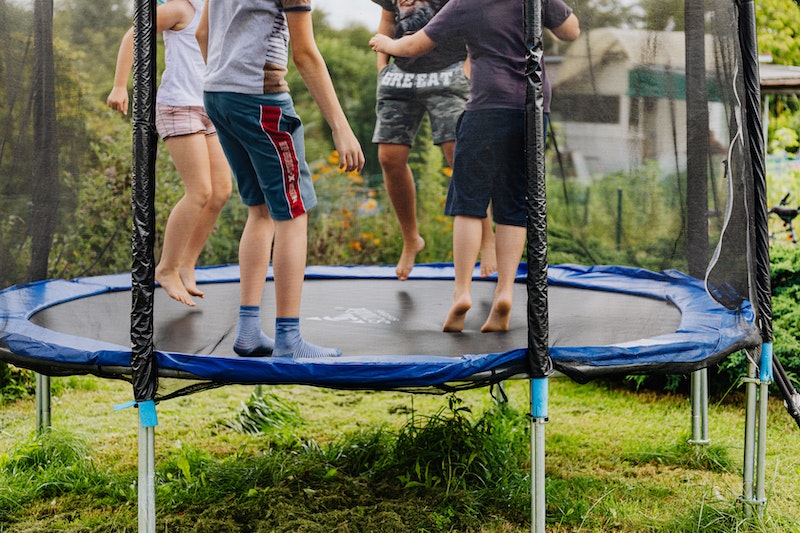 Ladder Safety Tips for Children
Safety Tips:
There should always be three points of contact when climbing a ladder, which can either be two hands and one foot or two feet and one hand on the ladder.
Always face the ladder when climbing.
Don't carry anything in your hands when climbing a ladder.
Don't skip steps and climb slowly.
Always check that the ladder is not damaged or broken before climbing it.
Make sure there are no slippery substances on the ladder, such as melted ice cream, water, ice, or grease.

Conclusion
A ladder can make accessing a trampoline so much easier for kids while minimizing the risk of falling or getting injured. If your trampoline doesn't have a ladder yet, one of these plans will suit your needs, and you can easily DIY one today! Whichever ladder you choose, ensure it is strong and sturdy and that your kids understand the ladder safety rules so you can rest easy knowing they are safe while having fun.
See also: How to Patch a Trampoline in 3 Simple Steps
---
Featured Image Credit: vidal-balielo-jr, Pexels