7 DIY Rolling Library Ladders You Can Build Today (With Instructions)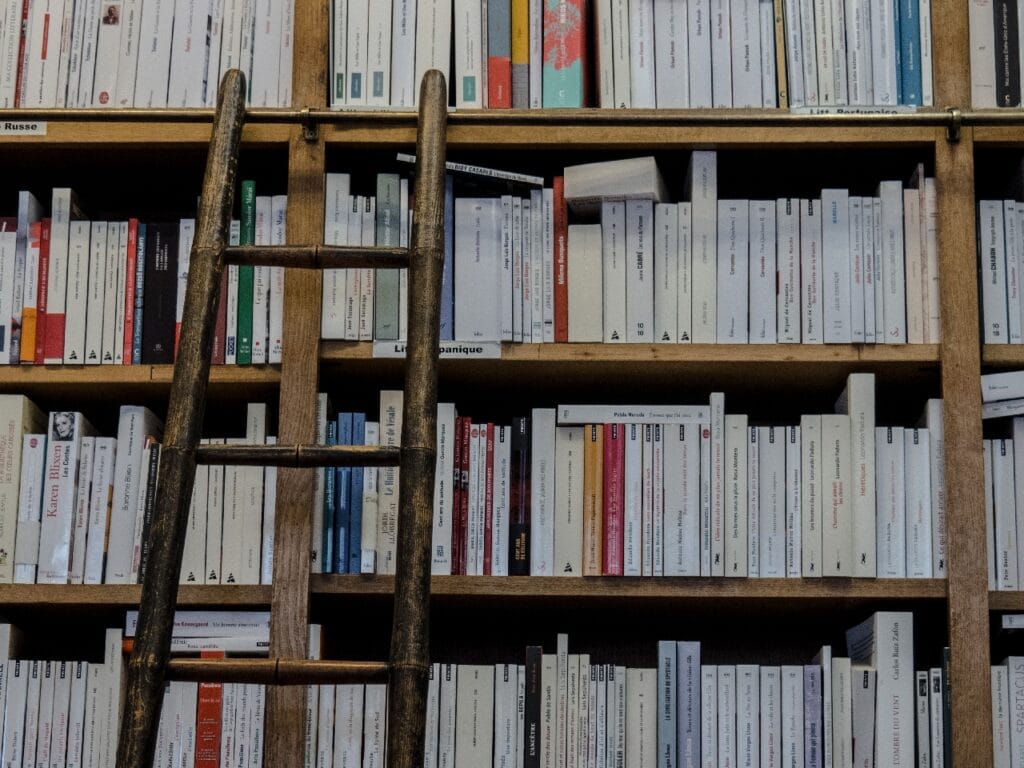 A rolling ladder is just your typical ladder, save for the fact that it's equipped with wheels that gives it the ability to swivel from one direction to the other. Rolling ladders are special in the sense that they are often constructed using materials that are not only lightweight but also non-corrosive. For example, aluminum and wood.
This type of ladder is mostly used in manufacturing facilities, distribution centers, and libraries.
If you've been scouring the internet searching for tutorials that could help you build a rolling library ladder, these are the DIY plans that we found to be the most useful.

The 7 DIY Rolling Library Ladder Tutorials
1.

Old House Rolling Library Ladder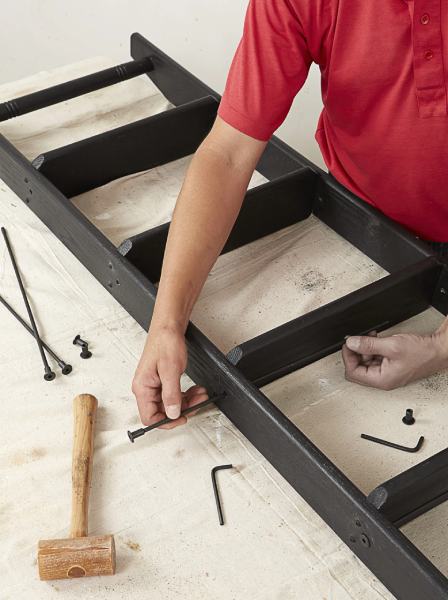 | | |
| --- | --- |
| Skill Level: | Intermediate |
| Estimated Time: | 2 days |
This Old House tutorial is primarily useful to those who have some experience working on these types of DIY projects. Of course, you're welcome to give it a shot as a novice, but without any level of experience, you may struggle when it comes to routing the angled grooves.
It's also important to add that this is a 2-day project, and the construction materials are not going to come cheap.
---
2.

Ginger Home Rolling Library Ladder
| | |
| --- | --- |
| Skill Level: | Beginner |
| Estimated Time: | 1 day |
If you've been pondering the question of what features to add to your library during renovations, Ginger Home just gave you an answer. They came up with a rolling ladder tutorial with instructions that are so easy for anyone to understand—no experience is needed here.
Because it's designed to be used in the closet, the end product won't be as large as your traditional rolling library ladder. They didn't want it to occupy too much space or make the area look cluttered.
We also noted that the construction materials used were relatively cheaper than those used in other tutorials.
---
3.

Mother-Daughter DIY Rolling Ladder
| | |
| --- | --- |
| Skill Level: | Beginner |
| Estimated Time: | 1–2 days |
Mother-Daughter gave us a fun DIY rolling library ladder plan that can only be executed by two or more family members. On a simplicity scale of 1–10—where 1 represents a difficult project and 10 a simple one—we'd give it a 9. It's beginner-friendly and not time-consuming at all. It's in video format, but you can also find written instructions on the Mother-Daughter website.
---
4.

HGTV Rolling Library Ladder
| | |
| --- | --- |
| Skill Level: | Intermediate |
| Estimated Time: | 1–2 days |
We'd be remiss to talk about home improvement without bringing HGTV into the conversation. Those Home and Garden Television shows are the reason why some of us know how to set a pretty Thanksgiving table or renovate our kitchens.
When HGTV heard people were interested in learning how to DIY a rolling library ladder, they made this informative tutorial. The instructions are well laid out, and easy to understand.
We just wish they used tools that were less complex because operating the ones they had in the tutorial might be an issue for inexperienced DIYers.
---
5.

Abby's Rolling Library Ladder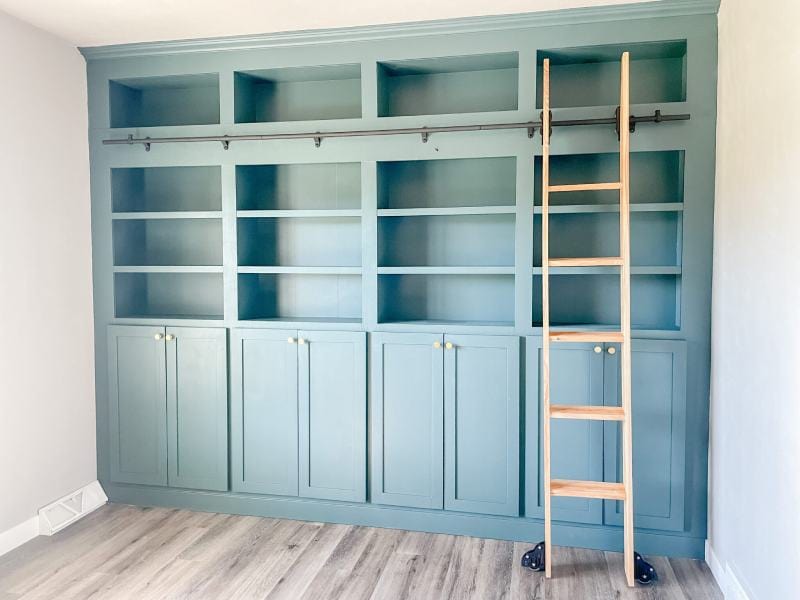 | | |
| --- | --- |
| Skill Level: | Beginner |
| Estimated Time: | 1 day |
We love this unique and inexpensive DIY rolling library ladder tutorial. Custom-building a ladder was obviously the prime goal, but the second one was to let the audience know that anyone can successfully complete such a project, regardless of their level of experience. She used affordable, easily accessible materials, and everyday hand tools to make it simple and easy.
---
6.

Shabby Creek Rolling Library Ladder
| | |
| --- | --- |
| Skill Level: | Beginner |
| Estimated Time: | 1 day |
Shabby Creek gave us a tutorial that caters to people living in homes that have a unique type of wall-shelving system. And to quell your concerns, they made sure that the Creek rolling library ladder is large enough to help you get to those hard-to-reach sections of the shelf.
Instead of writing down the instructions, they chose the video route. Which was a good idea considering we remained engaged throughout the whole process. It's going to be a two-person job, so you should probably invite a friend or family member.
---
7.

Sara D. Rolling Library Ladder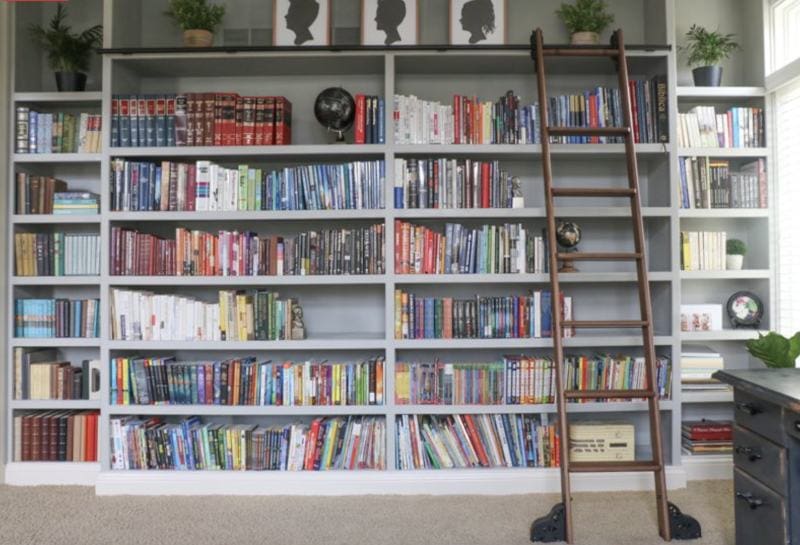 | | |
| --- | --- |
| Skill Level: | Beginner |
| Estimated Time: | 1 day |
According to Sara, every home needs a wall that's completely covered by bookshelves. She feels that's the only way we can all guarantee that our books remain organized, and don't get lost every time they are spread out in different closets.
But for those shelves to be effective, you'll also need a rolling library ladder. You'll be glad to learn that her simple instructions make the whole project beginner friendly.

Frequently Asked Questions (FAQs)
How Tall Is a Rolling Library Ladder?
Rolling library ladders vary in size and weight. But this shouldn't be surprising, given they are all products designed to cater to the specific need of a consumer. That being said, experts recommend that all rolling library ladders be at least 7 inches below the ceiling. That's the only way to guarantee that the ladder won't run into any clearance issues while in use.
Does the 3-Point Rule Apply to a Rolling Library Ladder?
Yes, it does. The 3-point rule states that anyone who's ascending or descending from any type of ladder has to maintain a 3-point contact. They could either choose to have two hands and a foot on the rungs, or both feet and one hand. The whole purpose of the rule is to reduce the number of injuries and deaths caused by ladder falls.
What's the Main Cause of Accidents Involving Ladders?
An accident involving a ladder can be caused by anything, but the number one cause is—and has always been—human error. It's usually the leading cause of such accidents because people don't use ladders the way they are designed to be used.

Conclusion
Nobody can deny the fact that a rolling library ladder is an amazing addition to any home.
If you've been thinking of buying a rolling library ladder for your home office, try and DIY one instead. It's going to be cost-effective, and you and your family might forge stronger bonds while building one together. Also, judging from these tutorials, anyone can do it.
Let us know if you have questions or wish to share a few DIY tutorials with us.
---
Featured Image Credit: Jumpstory