18 Free DIY Sawhorse Plans You Can Build Today (with Pictures)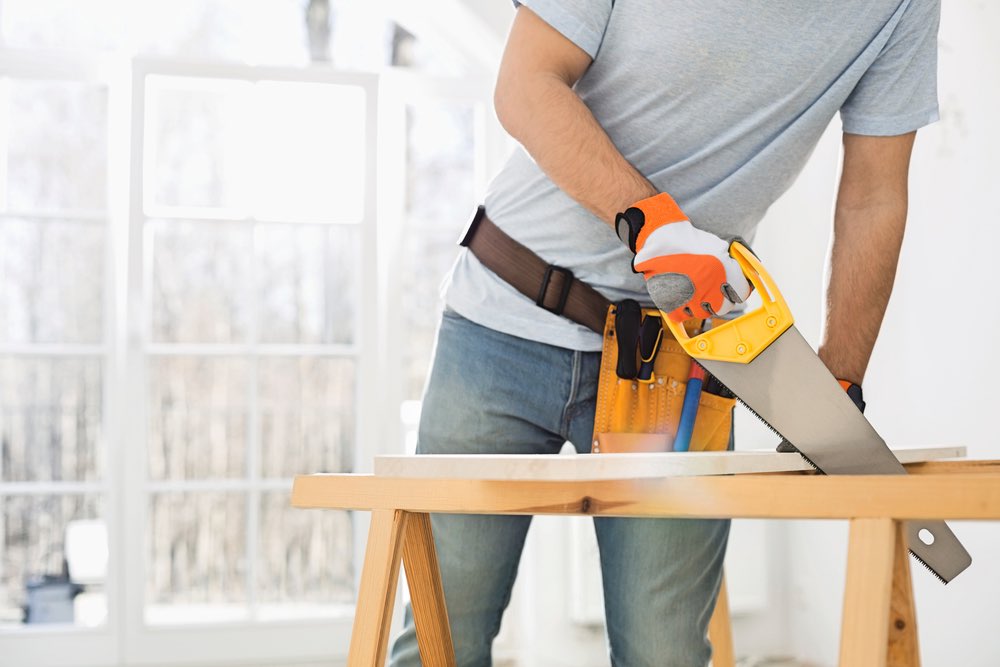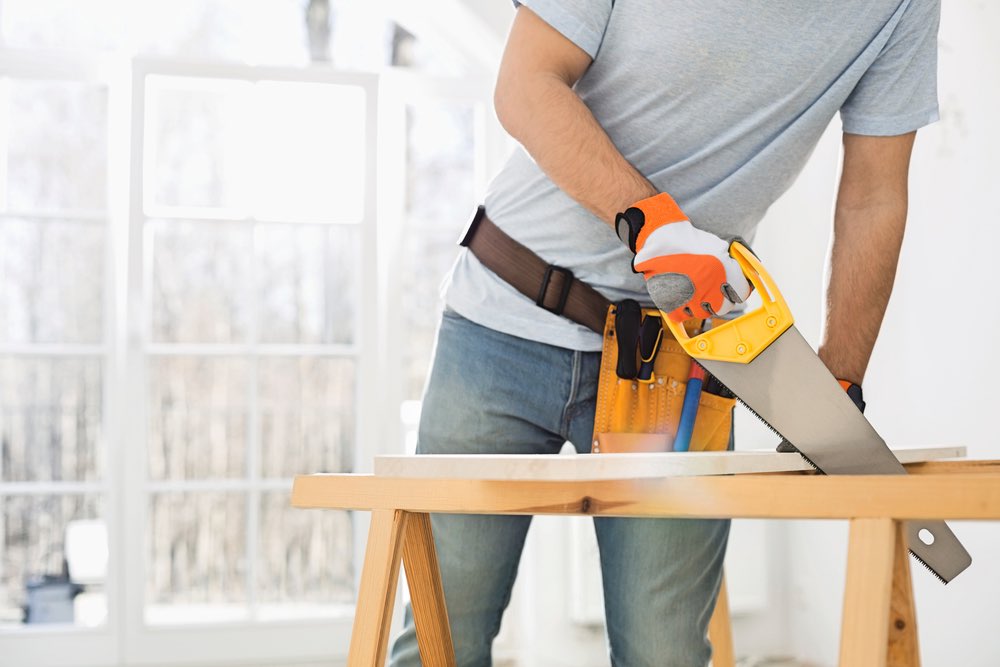 If you have a pile of scrap lumber lying around, you don't need to pay money for sawhorses. Learning how to build a sawhorse is easy and you don't need to spend a lot of time or energy to make them look nice. After all, they're just tools to help you build other things.
We hunted down a good variety of sawhorses to hit just about every need you might have. There are simple wood frames you can put together in a couple of minutes. There are folding sawhorses that you can store between uses. There are even more complex projects just in case you need something extra.

The 18 Free DIY Sawhorse Plans
1.

Five-legged Sawhorse Plan from Lightlink
A complex design intended to give you maximum stability, Lightlink's five-legged sawhorses will take a little more time, but they'll also give you a lot more support. This is critical when you need to deliver precise results away from your workshop. They even break down between uses for easy storage, making them a great time-saver in the long run.
---
2.

Replaceable Insert Sawhorse Plan from Woodworking Tips
Sawhorses, by design, take a beating when used. That's why it's sometimes best to throw them together out of leftovers. These replaceable insert sawhorses from Woodworking Tips are built for longevity. You can swap out the part that gets worn out the most quickly, allowing you to get more time out of a sturdy frame to create a stable work environment.
---
3.

The 14-minute Sawhorse Plan from Shopping Matchmaker
What we like about these quick-build sawhorse plans from Shopping Matchmaker is that you can whip up a strong sawhorse from simple materials in a short period. There's nothing subtle or nuanced about these. However, when you're building sawhorses, you're really just looking for something that will get you working as quickly as possible.
---
4.

Plywood Sawhorse Plan from The Wood Whisperer
One advantage of sawhorses built out of plywood is that you can put them together really quickly with just a couple of cuts. There's no need for hammers, nails, or screws. This plywood sawhorse from The Wood Whisperer won't be able to handle your hardest jobs, but you can build it out of basically nothing in just a couple of minutes.
---
5.

Sawhorse Plan from Wayne of the Woods
These simple sawhorse plans from Wayne of the Woods are good and sturdy, and the flat surface is ripe for customizing with hooks from which you can hang tool bags and tools. They also have a sturdy construction that will deliver good stability for the life of the sawhorse.
---
6.

Knock-down Sawhorse Cutting Grid Plan from Woodworking Plans
There is a method behind the madness to be found from this cutting grid from Woodworking Plans. It provides a framework for using circular saws. You need only remove the frame you're cutting over to prevent damaging the sawhorse. It's also built out of simple materials that you can put together quickly and cheaply.
---
7.

Low-stand Sawhorse Plans from Mr. Wizard
Hugging close to the earth, these sawhorse plans from Mr. Wizard are perfect for work that you need to do close to the ground. They also break down to a small size for storage. And, as you can imagine, they're built out of very modest materials.
---
8.

Plywood Sawhorse Plan from Shopnotes
This plywood sawhorse plan from Shopnotes is less a traditional work tool and more a portable, easily broken-down stand. Place a flat piece of wood over the top and it's a traditional portable workbench. Or you can use it as an easily collapsible stand.
---
9.

2×4 Sawhorse Plan from My Repurposed Life
These simple 2×4 sawhorses from My Repurposed Life use materials that just about everyone has lying around. These are easily replicated and, once you're done using them, you can stack them for easy storage.
---
10.

Stackable Sawhorse Plan from Popular Mechanics
Designed for vertical storage, these stackable sawhorses from Popular Mechanics benefit from a uniform set of materials and hardware. That means that not only can you put them away in between uses, but that they are also pretty easy to replicate if you have to replace one that gets broken.
---
11.

Wood Sawhorse Plans from The Spruce Crafts
A good all-around sawhorse design from The Spruce Crafts, these are simply designed and built from simple materials. It takes a little longer to put them together, but then again, they're also likely to last a little longer. What's more, you can easily stack them when you're done.
---
12.

Stackable Sawhorse Plan from Life Hacker
Stackable sawhorses like these from Life Hacker have a couple of advantages. The first is obvious—they're easy to store between uses. The second is that they're uniform in construction so that they're stable to use. That means delivering a consistent work experience.
---
13.

Knock-down Sawhorse Plan from Woodworking Tips
If you need sawhorses that can fit into a trailer to take with you to the job, this plan for knock-down sawhorses from Woodworking Tips might be ideal. They aren't terribly strong, so you'll want to watch what kind of work you do on them, but they are portable and solidly constructed.
---
14.

Folding Sawhorse Plan from My Outdoor Plans
This folding sawhorse plan from My Outdoor Plans is pretty simple, and it allows you to pack it up and move it in a hurry. It's also got a shelf for stability and storage. Best of all, it's built from simple materials and the instructions are available on a downloadable PDF.
---
15.

Homemade Sawhorse Plan from Old World Gardens
There isn't anything flashy or complicated about this sawhorse plan from Old World Gardens. The top brace that offers a little more stability is about as sophisticated as it gets. The materials are also pretty basic. Overall, this is a perfect journeyman's sawhorse.
---
16.

Simple Easy Folding Sawhorse Plan from Instructables
The best thing about these simple folding sawhorses from Instructables is that they fold up to a nice thin width so they're easy to store and easy to get around. They aren't the sturdiest sawhorses on the market though, so you won't want to use them for heavy-duty work.
---
17.

Sawhorse from Bench Notes
When you want to learn how to build a basic sawhorse from really simple materials, this plan from Bench Notes fits the bill. There is nothing complicated about these. You can actually wait until you're already at the worksite and build them out of materials in the scrap pile.
---
18.

Wood Sawhorse Plan from Stan's Plans
Another set of really simple sawhorse plans, this one from Stan's Plans is great because you can replicate it at just about any size. The materials are basic enough that you probably have them lying around the house. And, if you put them to real use and they fall apart, you can easily replace them.
---
Featured Image Credit: sirtravelalot, Shutterstock