8 DIY Super-Simple Workbench Plans You Can Build Today (With Pictures)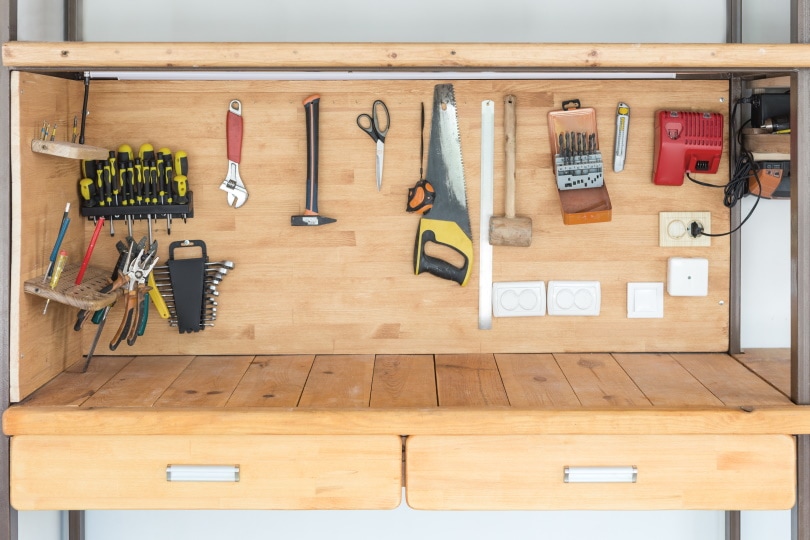 A workbench provides a stable surface where you can work with wood and other materials to craft your own projects. If you're keen on woodworking projects, it stands to reason that you can build your own workbench, whether it's in a dedicated woodworking room or the small corner of the garage that you've been allowed to use. Generally, the only materials you need are timber, glue, screws or nails, and DIY tools. But, you also need workbench plans.
Below, we have gathered together 8 simple DIY plans to get you started, but before you start cutting and building, measure the space you have available. Determine whether you are going to build a mobile workbench that can be wheeled in and out of position, as required, or a static platform. A successful project starts with careful planning.

The 8 DIY Simple Workbench Plans
1.

2×4 Workbench
The 2×4 workbench is made using 2.4 timber, it doesn't measure 2×4. It has a sturdy, flat top, and it has a lower platform on which you can store your tools, so they are close to hand and easy to find. As well as modifying the size of the table according to your own space, you may want to consider raising the bottom platform a few inches, so it is easier to sweep dust from under the bench and so that it is easier to get to your tools.
---
2.

Space-Saving Flip-Top Workbench
If you have more than one benchtop tool, it doesn't mean you have to double the length of your workbench. This space-saving flip-top workbench is sturdy and secure, includes plenty of drawers and storage space, and you can flip the top platform over, essentially giving you two benchtops for the space of one. Other features include a roller to better handle long materials and wheels so that you can move the bench in and out of its corner. There's even a fixed power strip, so you can manage cables without the risk of cutting through or tripping over them.
---
3.

Rolling Workbench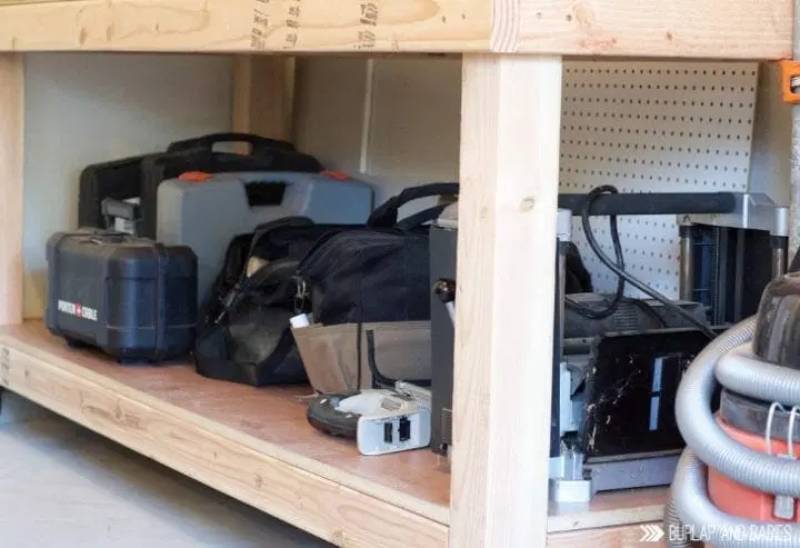 A rolling workbench enables you to utilize every inch of space you have available. When the bench isn't in use, it can be pushed right back into the corner and out of the way, serving as a convenient storage bench. When it's time to start your next project, it can be wheeled out, ensuring that you have proper clearance all around the workspace. You do need to ensure that you use strong casters that will handle the weight of the bench and any tools on top, and you must have a way to lock the wheels in place when you're using the bench.
---
4.

DIY Mobile Workbench
This DIY mobile workbench is quite basic in its design but is still highly functional and extremely convenient. Again, you need to use castors that have a locking mechanism to ensure that the bench doesn't roll around while you're working. Also worth noting is the benchtop has an overhang that allows for the use of clamps to stabilize your workpiece.
---
5.

Simple Yet Strong Workbench Top
The simple yet strong workbench top uses a slightly unusual design, in that the tabletop isn't really a tabletop. This bench has a planked top, which means that the planks of wood are individually attached to the base with a gap between them. The gaps allow for contraction and expansion of the wood over time, therefore preventing the top from becoming unusable when the bench ages. The availability of planks, not to mention the fact that they are easier to work with than a giant piece of laminated wood, makes this a cheaper and somewhat easier build, too.
---
6.

Mobile Workbench With Table Saw
A basic workbench gives you the space and the flat surface on which to work with handheld tools. This mobile workbench with a table saw has the added benefit that it has a table saw built-in. The plans are for use of a specific table saw, so you will need to modify the table saw mounting section according to the saw you have. The bench uses heavy-duty locking castor wheels so is ideal for use in a multi-purpose garage or in a workshop with limited space.
---
7.

DIY Miter Saw Stand
If you need a miter saw stand, rather than a table saw, these plans offer exactly that. The design is essentially three frames. The miter saw is affixed to the middle frame, which is a little lower and ensures that your material can be easily fed into and run off the saw, so it is safe and convenient to use. Again, you will need to alter measurements according to the size and dimensions of your saw, as well as those of your available space. The whole bench has a bottom platform that can store tools and materials.
---
8.

DIY Mobile & Modular Workbench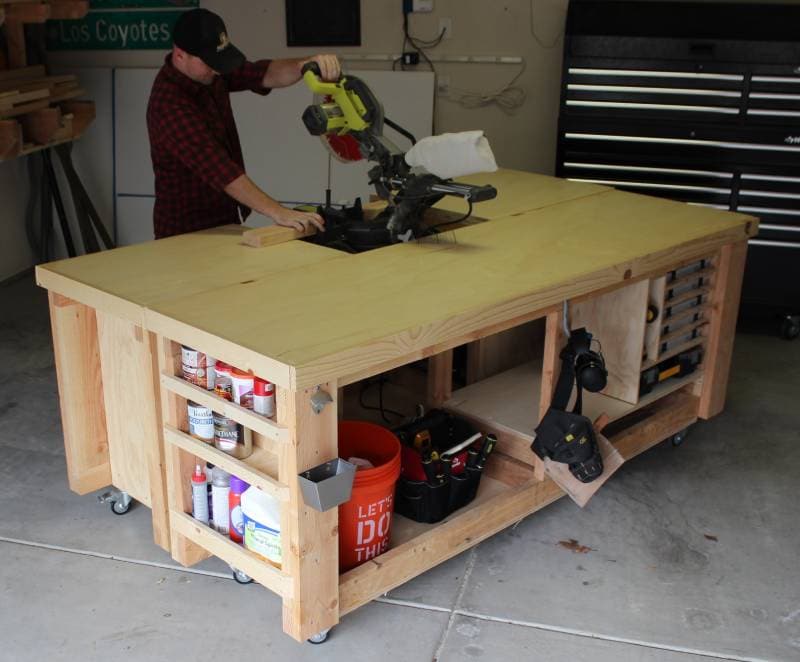 Some DIY jobs only require cutting a couple of small pieces of wood. Others take up a lot more workroom. This DIY mobile and modular workbench is ideal for all sizes of project because it is not only mobile, thanks to castor wheels, but it is also modular. The bench can be used in two smaller halves or connected as one giant bench. It uses strong magnets to keep the two halves together when you do need extra space.

Conclusion: Simple Workbench Plans
Having a decent workbench really does enable you to step your DIY and woodworking game up because it provides stability, security, and space. It can also be used to keep your tools and materials together, even when you're not using them. As with any woodworking plans, the projects above will benefit from some modifications and minor alterations to ensure that they more accurately fit your purpose, but they should give you the steps and the cut lists to make your own bench space.
---
Featured Image Credit: Gorlov-KV, Shutterstock