15 DIY Super-Simple Workbench Plans You Can Build Today (With Pictures)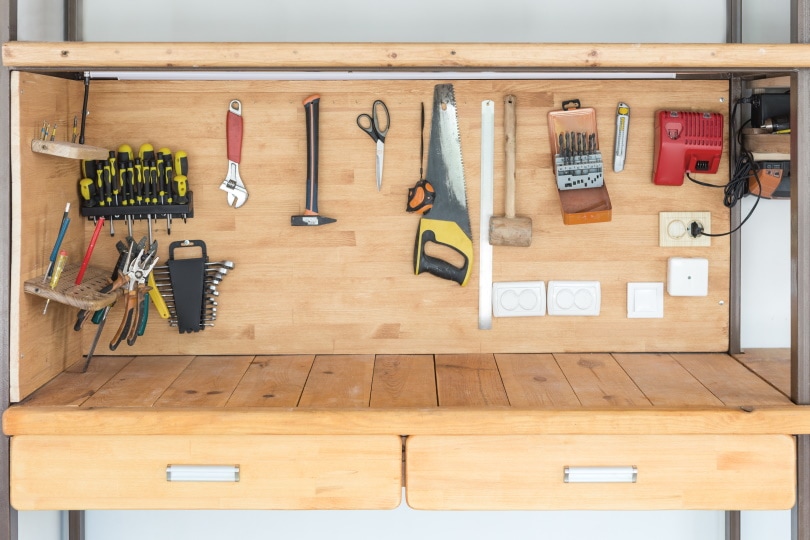 A workbench provides a stable surface where you can work with wood and other materials to craft your own projects. If you're keen on woodworking projects, it stands to reason that you can build your own workbench, whether it's in a dedicated woodworking room or the small corner of the garage that you've been allowed to use. Generally, the only materials you need are timber, glue, screws or nails, and DIY tools. But, you also need workbench plans.
Below, we have gathered together simple DIY plans to get you started, but before you start cutting and building, measure the space you have available. Determine whether you are going to build a mobile workbench that can be wheeled in and out of position, as required, or a static platform. A successful project starts with careful planning.

The 15 DIY Simple Workbenches
1.

DIY 2×4 Workbench by Fix This Build That
The 2×4 workbench is made using 2.4 timber, it doesn't measure 2×4. It has a sturdy, flat top, and it has a lower platform on which you can store your tools, so they are close to hand and easy to find. As well as modifying the size of the table according to your own space, you may want to consider raising the bottom platform a few inches, so it is easier to sweep dust from under the bench and so that it is easier to get to your tools.
---
2.

Space-Saving Flip-Top DIY Workbench by Family Handyman
If you have more than one benchtop tool, it doesn't mean you have to double the length of your workbench. This space-saving flip-top workbench is sturdy and secure, includes plenty of drawers and storage space, and you can flip the top platform over, essentially giving you two benchtops for the space of one. Other features include a roller to better handle long materials and wheels so that you can move the bench in and out of its corner. There's even a fixed power strip, so you can manage cables without the risk of cutting through or tripping over them.
---
3.

DIY Rolling Workbench by A Crafted Passion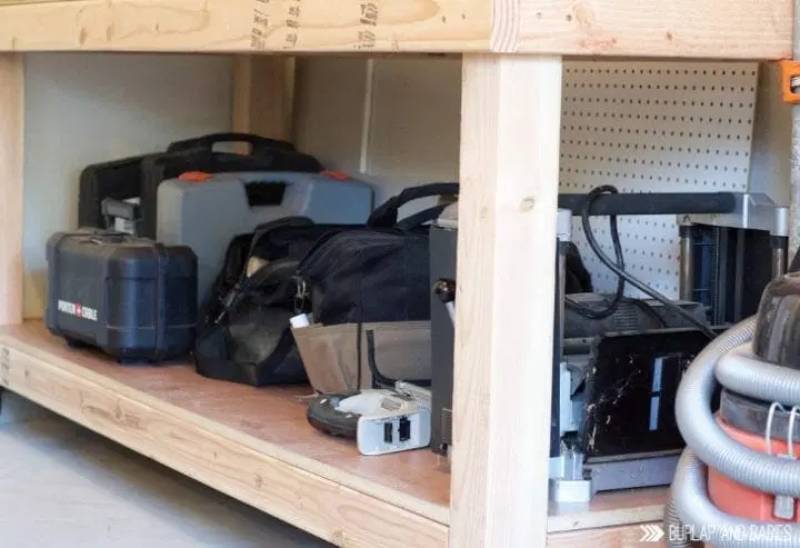 A rolling workbench enables you to utilize every inch of space you have available. When the bench isn't in use, it can be pushed right back into the corner and out of the way, serving as a convenient storage bench. When it's time to start your next project, it can be wheeled out, ensuring that you have proper clearance all around the workspace. You do need to ensure that you use strong casters that will handle the weight of the bench and any tools on top, and you must have a way to lock the wheels in place when you're using the bench.
---
4.

DIY Mobile Workbench by Angela Marie Made
This DIY mobile workbench is quite basic in its design but is still highly functional and extremely convenient. Again, you need to use castors that have a locking mechanism to ensure that the bench doesn't roll around while you're working. Also worth noting is the benchtop has an overhang that allows for the use of clamps to stabilize your workpiece.
---
5.

Simple Yet Strong DIY Workbench Top by The English Woodworker
The simple yet strong workbench top uses a slightly unusual design, in that the tabletop isn't really a tabletop. This bench has a planked top, which means that the planks of wood are individually attached to the base with a gap between them. The gaps allow for contraction and expansion of the wood over time, therefore preventing the top from becoming unusable when the bench ages. The availability of planks, not to mention the fact that they are easier to work with than a giant piece of laminated wood, makes this a cheaper and somewhat easier build, too.
---
6.

Mobile DIY Workbench With Table Saw by TYLYNN M
A basic workbench gives you the space and the flat surface on which to work with handheld tools. This mobile workbench with a table saw has the added benefit that it has a table saw built-in. The plans are for use of a specific table saw, so you will need to modify the table saw mounting section according to the saw you have. The bench uses heavy-duty locking castor wheels so is ideal for use in a multi-purpose garage or in a workshop with limited space.
---
7.

DIY Miter Saw Stand by TYLYNN M
If you need a miter saw stand, rather than a table saw, these plans offer exactly that. The design is essentially three frames. The miter saw is affixed to the middle frame, which is a little lower and ensures that your material can be easily fed into and run off the saw, so it is safe and convenient to use. Again, you will need to alter measurements according to the size and dimensions of your saw, as well as those of your available space. The whole bench has a bottom platform that can store tools and materials.
---
8.

DIY Mobile & Modular Workbench by Gadgets and Grain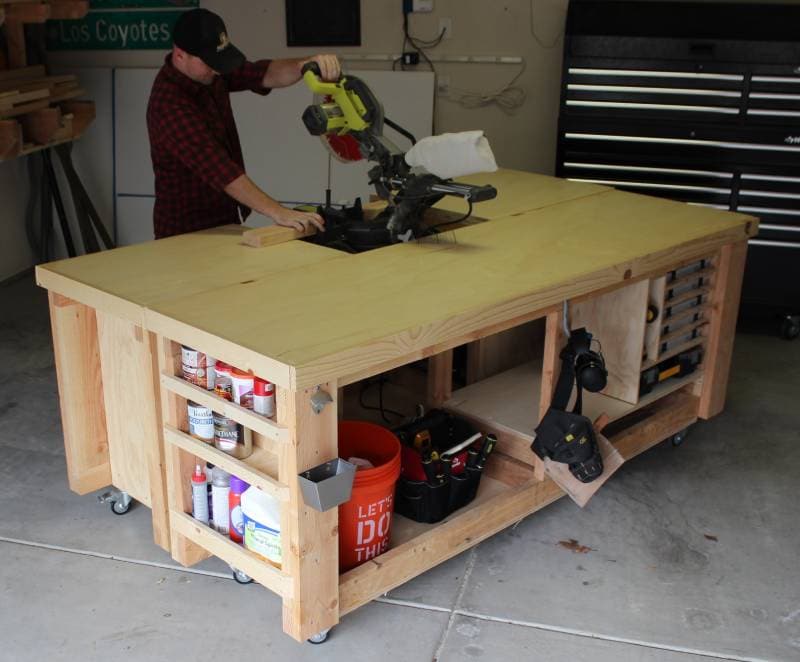 Some DIY jobs only require cutting a couple of small pieces of wood. Others take up a lot more workroom. This DIY mobile and modular workbench is ideal for all sizes of project because it is not only mobile, thanks to castor wheels, but it is also modular. The bench can be used in two smaller halves or connected as one giant bench. It uses strong magnets to keep the two halves together when you do need extra space.
---
9.

One Hour DIY Workbench by Instructables
Some DIY workbenches come with the scary label of needing "multiple days" to complete. But not all workbenches need to take hours and hours of labor to complete. This workbench can take as little as 1 hour if you have the necessary tools and expertise. This workbench is very simple, sporting a plywood top and four legs. But it can be very versatile and perfect for your garage workshop. You can outfit the bottom with casters to make it a rolling workbench with one additional step or you can keep it flat and anchor it into a corner to make it more permanent. The choice is ultimately up to you.
---
10.

Sturdy Garage DIY Workbench by Instructables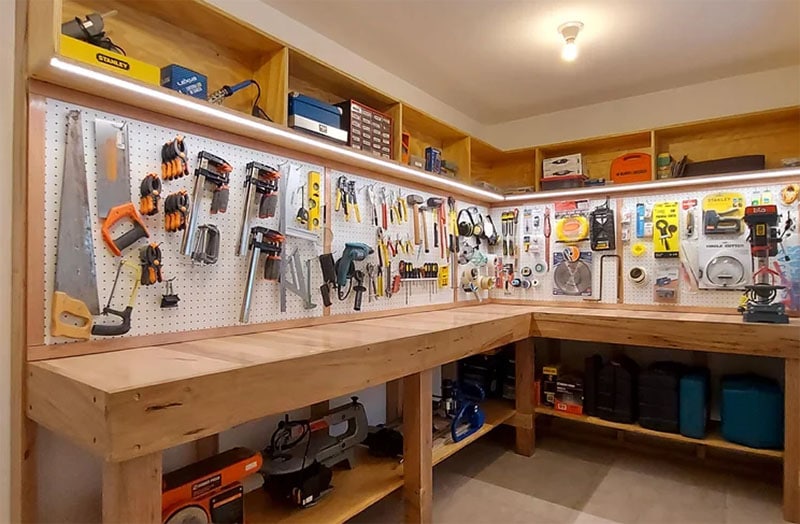 This large workbench is perfect for the craftsman, artisan, or carpenter who likes to get things done at home. Multi-tiered, this project gives you ample room to tackle a variety of different jobs while giving you plenty of storage space to keep your goodies nearby. The base is a traditional workbench that is anchored into the wall giving you a solid foundation to work from. The upper levels include a pegboard and simple cabinet storage options. You can modify these plans to fit your space more evenly. For example, you do not need to make this a full L-shape if you do not have the room to make it work.
---
11.

Portable DIY Workbench by Instructables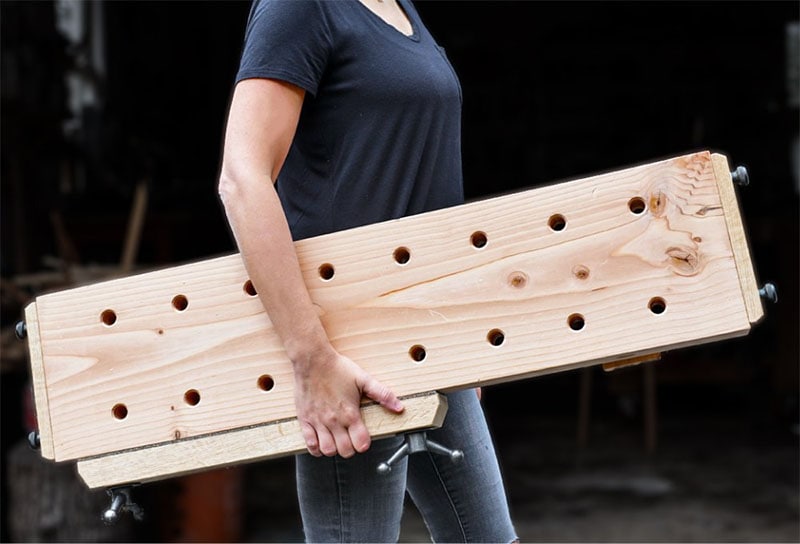 Not everyone needs a permanent workbench. Some people work on the go. Whether you are a mobile carpenter, a contractor, or a hobbyist with hobbyist friends, there are ample opportunities to use a portable workbench. This portable workbench allows you to quickly break down and set up your workbench on the go. It uses a simple but ingenious peg system to allow you to put the bench together and configure the legs how you need them to fit your project at the moment. It requires a lot of drilling, but otherwise, it is a simple project to finish in an afternoon.
---
12.

Basic Plywood DIY Workbench by Ana White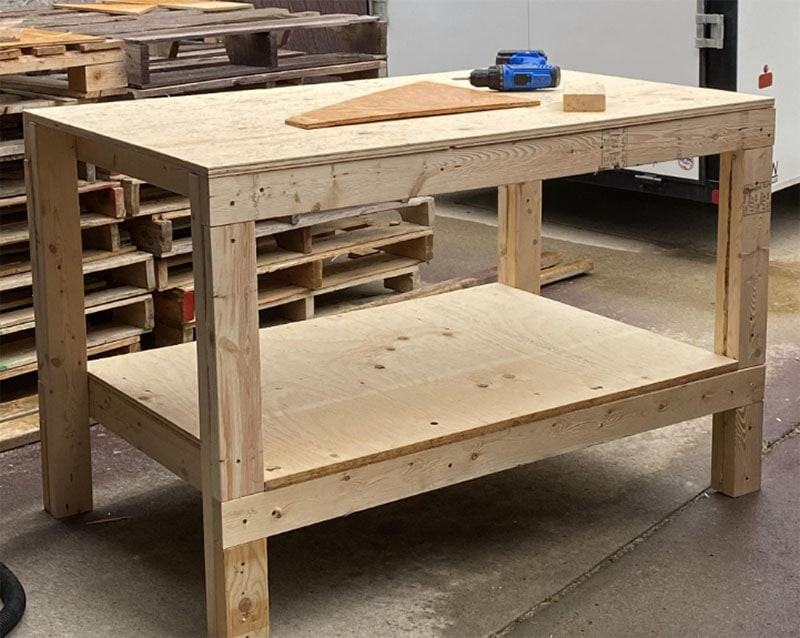 This is yet another take on the simple DIY workbench. Nothing beats the classics, and this classic workbench is a fantastic addition to any workspace. This workbench features two levels with a sturdy plywood top and shelf. You can swap out the plywood with some strong finish plywood for a smoother finish if you want something a little more polished. This design continues to resurface with some minor tweaks because it does everything you need it to do and little that you don't. You can also build two of these simultaneously and connect them to create a larger workbench that retains the simplicity of the single version.
---
13.

Modular DIY Workbench by Family Handyman
This modular workbench is deeply cool. It features five different fold out stations that can accommodate a variety of different saws and stations. One of the best parts of this workbench is that you only need to build the sections that you actually need. No table saw? No problem. Just skip that section. That is the beauty of a modular design. If you want to build the whole thing, it will take some serious effort, but it can also rapidly transform a small workshop space by giving you ample amounts of space and specialized sections to work. Even with the size and effort involved, this workbench is flagged as being beginner friendly and can cost as little as $125 if you choose a pared-down route to completion.
---
14.

Easy Folding DIY Workbench by Saws on Skates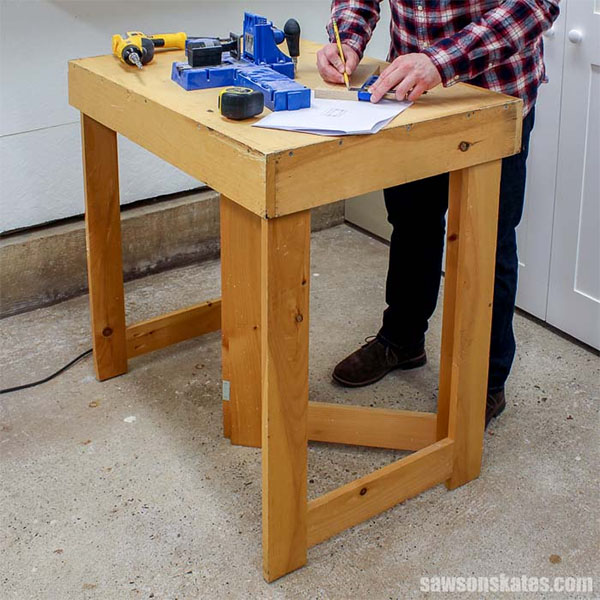 This portable workbench has numerous excellent uses. First, it can fit someone who does not have a lot of space in their shed or garage. You can easily fold this workbench up and stick it into a corner to keep it out of the way when you are not using it. This is thanks to a very clever design that sees all of the legs easily fit within the top of the workbench. It can also double as a portable workbench. Being able to fold it up allows you to quickly stick it in the back of a truck or work van. This workbench is not too complicated to build and will not break the bank to complete.
---
15.

IKEA Hack DIY Workbench by Polished Habitat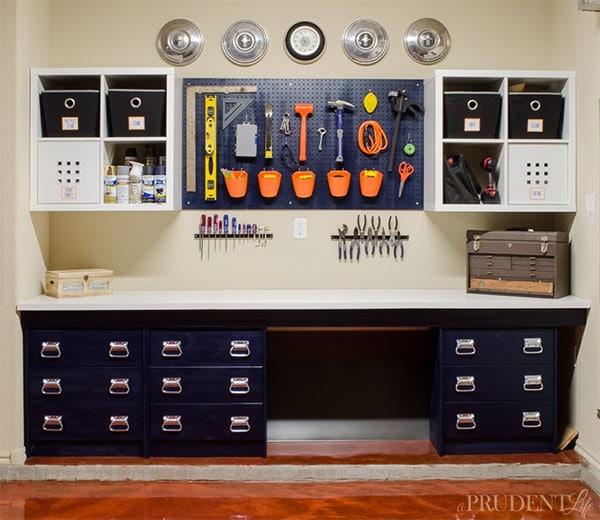 This workbench is one of the more unique DIY options on this list, but it is no less viable. Many people love IKEA for its large stock of easy-to-build furniture. But did you know that you do not have to follow their plans exactly to create something new and incredible? Using a variety of IKEA parts and pieces, you can build your very own workbench. This has a number of benefits. First, IKEA furniture is usually good quality. Second, each individual part is easy to assemble. Third, you have a ton of options for creativity and customization. These plans are perfect for anyone who is familiar with IKEA or who lives near an IKEA and is willing to be creative in pursuit of your ideal workbench.

Conclusion
Having a decent workbench really does enable you to step your DIY and woodworking game up because it provides stability, security, and space. It can also be used to keep your tools and materials together, even when you're not using them. As with any woodworking plans, the projects above will benefit from some modifications and minor alterations to ensure that they more accurately fit your purpose, but they should give you the steps and the cut lists to make your own bench space.
---
Featured Image Credit: Gorlov-KV, Shutterstock