10 Best Push Lawn Mowers 2023 – Reviews & Top Picks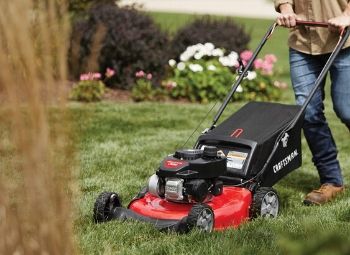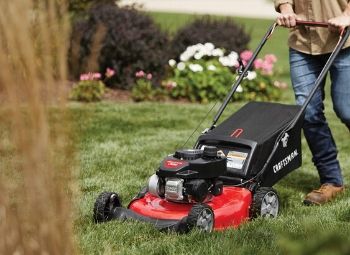 There are many push lawn mowers to choose from, along with many different power sources. Our list focuses on electric, gas, and push reel mowers and compares the features of each one.
A man from England invented the reel lawn mower in the 1830s, after deciding the world deserved something better than a scythe to cut the grass in large gardens and sports grounds. The first gas-powered mower was invented in the United States in 1919, and in 2012, Black and Decker released the first cordless electric mower.
Even though the reel mower is still quite basic, it has come a long way since the 19th century and has great features that make for easy mowing. You may prefer the extra power from a gas engine, or you like the idea of being eco-friendly, so the electric mower interests you.
Each type shares certain benefits but also offers unique features that you should consider. As you read through this list, you may decide you like a whole different mower than you had originally planned to buy.

Our 2023 Favorites Compared
Rating
Image
Product
Details

Best Overall

Sun Joe MJ401C

All-terrain wheels
Safety-start feature
Easy assembly
CHECK PRICE

Best Value

Great States 304-14

Adjustable cutting height
Hard enamel finish
Lightweight
CHECK PRICE

Premium Choice

Craftsman M105

Fold-down handle
Easy assembly
6 height settings
CHECK PRICE

American Lawn Mower Co.

Adjustable cutting height
Heat-treated blades
Large composite wheels
CHECK PRICE

Scotts Outdoor Power Tools 2000-20

Loop-style handle
Dual tracking wheels
Quick-snap height adjuster
CHECK PRICE
The 10 Best Push Lawn-Mowers
1.

Sun Joe MJ401C Push Lawn Mower – Best Overall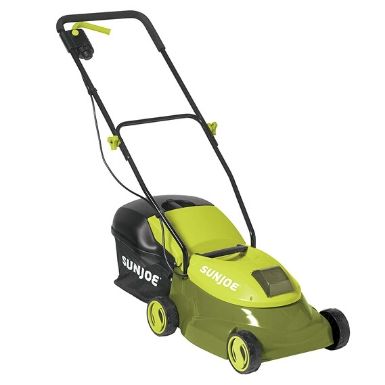 The Sun Joe is an electric lawn mower with a 28-volt, 4 amp-hour (Ah) battery. This means the battery will last approximately 30 minutes or will mow up to a quarter acre per charge. The lithium ion battery is rechargeable, taking up to four hours to fully re-charge. We found it to be the best push lawn mower for small to medium-sized yards.
This mower has a 14-inch cutting deck with a steel blade. The deck has a manual three-position adjustable deck, so you can get the perfect cut height every time. It has all-terrain wheels to help with traction, and there is a detachable 10.6-gallon grass collector. The option to mulch is a nice feature.
The handle is collapsible, so it can be stored easily in smaller spaces. There is an instant-start feature with a safety key and switch. You insert the key, press the safety switch, and squeeze the trigger to begin mowing.
On the negative side, it is lightweight, about 23.1 pounds, because it has many plastic parts. Still, it is easy to push, and we liked how quiet it was when running. Easy assembly is another great feature: You only have to attach the handle and grass catcher (if using). It comes with an AC adaptor charging cord, and there is a two-year warranty.
Pros
28 V lithium ion rechargeable battery
Three-position cutting adjustment
6-gallon grass collector
Lightweight
All-terrain wheels
Collapsible handle
Safety-start feature
Steel blade
Easy assembly
Cons
Plastic parts
Small cutting deck
---
2.

Great States Push Lawn Mower – Best Value
The Great States may be the best push lawn mower for your money. We liked its simplicity, ease of use, and minimal maintenance. The American Lawn Company has been in business for over 120 years and prides itself in producing quality, well-built reel mowers.
This reel mower has a cutting width of 14 inches and a five-blade, ball-bearing reel. The adjustable cutting height is from 0.5-1.75 inches. The blades are a heat-treated alloy steel that stays sharper longer, and you can sharpen them as needed. They are also smooth spinning and cut the grass effortlessly, leaving a well-manicured lawn in its wake.
The T-style handle has a cushioned grip that makes it easier to push. The handle is zinc plated, and the reel is covered in a hard enamel finish to prevent rust. This reel mower is 21 pounds and has large 8.5-inch solid rubber tires that make for easy-rolling along the grass.
Tools are not needed to assemble the handlebars to the reel. It comes with a one-year warranty, and you have the option to purchase a grass catcher for this reel. This mower is not our number-one choice because some will find it too basic in design and prefer more options and features.
Pros
Large, solid rubber tires
Lightweight
Easy to push
T-style ergonomic handle
Hard enamel finish
Easy assembly
Adjustable cutting height
Heat-treated alloy steel blades
Five blades
Cons
Grass catcher separate
Small cutting width
See: The top battery-powered lawn mowers of the year
---
3.

Craftsman M105 Push Lawn Mower – Premium Choice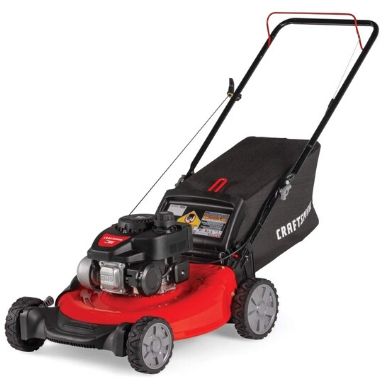 This is a classic gas-powered push mower. We listed it as our best push lawn mower premium choice because it offers many nice features. It's considered a three-in-one because it has side discharge, rear discharge, and mulching capabilities. The 4-stroke engine is 140cc, with recoil and auto choke making it much easier to pull start.
The 21-inch cutting deck will decrease how many passes are made when mowing your yard, saving you time and energy. It has a dual-lever adjustable cutting height with six height settings, so you can let your grass grow taller between cuts. The zag-treated tires offer increased grip on wet grass, and the large 8-inch rear tires and 7-inch front tires make it easier to push.
It comes with a bagger and the oil needed for the engine (so don't forget to fill the engine with the oil before starting it up the first time). Assembly is easy with only the handle and the bag needing to be attached. The handle folds down for easy storage.
Gas mowers require more maintenance than electric or reel mowers, which may be a deterrent for those who don't like mechanic work.
Pros
Wide cutting deck
Powerful engine
Three-in-one capabilities
Six height settings
Large treated tires
Fold-down handle
Easy assembly
Comes with bagger and engine oil
---
4.

American Lawn Mower Co. Push Lawn Mower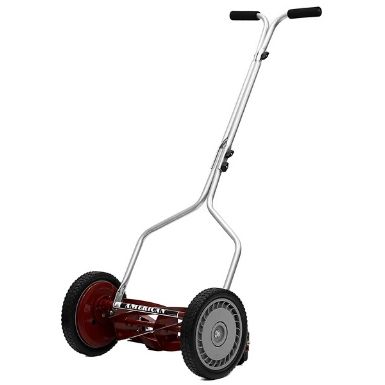 This reel mower company was established in 1895 and has been perfecting its reel lawn mowers ever since, focusing on making them easier to push and maintain. This reel mower has a 14-inch cutting width with five blades on a ball-bearing reel. The blades are heat-treated alloy steel and can be sharpened as needed.
It has an adjustable cutting height from 0.5-1.75 inches, which is a decent range, if a little short. There is a rear-roller bar that helps provide balance, and the ergonomic T-style handle makes it easier to maneuver around obstacles.
It weighs 21 pounds and has 8.5-inch composite wheels that make this reel mower a breeze to push. As with the other reel mowers on the list, it is easy to assemble and requires no tools. You have the option to purchase a grass catcher separately, and it comes with a one-year warranty.
Pros
Five blades
Heat-treated blades
Adjustable cutting height
Rear roller bar
T-style handle
Large composite wheels
Lightweight
Cons
Small cutting width
Grass catcher separate
---
5.

Scotts Outdoor Push Reel Lawn Mower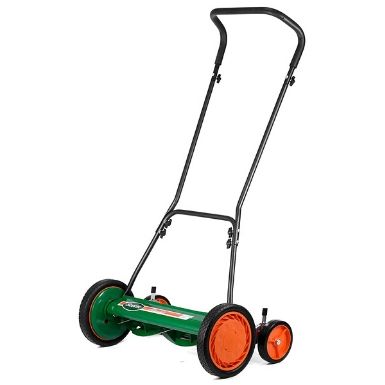 Here is another reel mower you might want to consider. It has a few unique features from the other reel mowers on our list. You will also notice the price difference when comparing models. This is a heavy reel mower, weighing 34 pounds.
The cutting width is one of the largest at 20 inches. There are five heat-treated alloy blades with a ball-bearing reel. The blades are sharp and can cut the grass clean in one pass. There is an easy-to-use quick-snap height adjustment of one to three inches on the reel. This extra cutting depth allows you to go a little longer between mowing.
It has dual tracking wheels, which means there are four wheels on this reel. The 6-inch rear wheels and 10-inch front wheels increase maneuverability and eliminate drag, making the mower easier to push.
The unique cushioned loop-style handle may provide a more secure grip. On the negative side, you cannot adjust the handle height, so we felt it may be too tall for people shorter in stature.
No tools are needed for assembly, and there is a two-year warranty.
Pros
Wide cutting width
Five blades
Heat-treated blades
Steel handle
Dual tracking wheels
Loop-style handle
Easy assembly
Quick-snap height adjuster
Cons
Heavy
Non-adjustable handle
---
6.

Fiskars 6208 Push Lawn Mower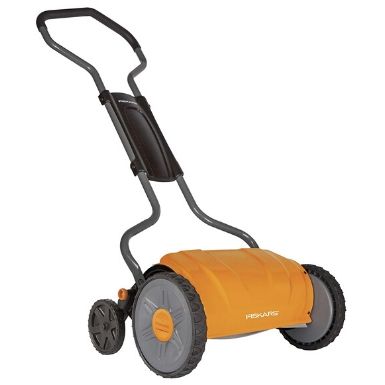 The Fiskars reel mower has an unusual feature: It houses the blades under a protective covering and throws the grass forward instead of behind the reel. This feature is nice if you don't like grass thrown on your feet.
It also has a stay-sharp cutting system that reduces how often the blades need sharpened. The design makes it so the blades don't come in contact with one another, reducing friction and resistance when cutting.
The five-blade reel is large in diameter and has thicker blades. It has a one- to four-inch easy lever to adjust the height, giving it the highest cutting height of all the reels on this list. The cutting width is 17 inches.
The Fiskars reel mower is the heaviest at 40.2 pounds, which may make it difficult to push on uneven ground or slopes, but the loop-style cushioned handle will offer some assistance. It is easily assembled and has dual tracking wheels, and there is a three-year warranty. A grass catcher can be purchased separately for this model.
Pros
Thicker, wider blades
Non-contact blades
Five blades
Grass is thrown forward
High cutting height
17-inch cutting width
Easy assembly
Cons
Heavy
Grass catcher separate
---
7.

Greenworks M-210 Brushless Push Mower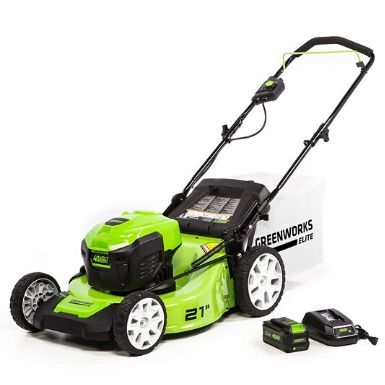 The Greenworks is a 21-inch steel deck with 40 volts of power. It is a brushless push lawn mower, which means there are no brush components that will wear down and cause a failed engine. Brushless motors are quieter and have a longer life span and more torque.
It also offers a three-in-one, so you can mulch, rear bag, or side bag clippings with this mower. There is a push-start button and two batteries at 2.5 amp hours apiece. You can have one battery ready to go in the dual battery port while the other one is being used. You get a decent amount of run time at 45 minutes (or ½ acre), with both batteries.
Charging is easy, and the charger is included with purchase. One negative aspect is that the charger does not tell you when the battery is charged, so you have to make sure to not let it overheat.
Other features we like are the seven-position cutting height adjustment, push-button start, and the fact that it can be stored vertically. It is the heaviest electric mower on our list, topping out at 65.5 pounds. The mower has a four-year warranty and the batteries have a two-year warranty.
Pros
40 V, 6 amp hours
Three-in-one options
Two batteries
Seven-position cutting height
Can be stored vertically
USB port on battery
Cons
Heavy
No smart charge
Pricey
---
8.

Earthwise 1715-16 Push Lawn Mower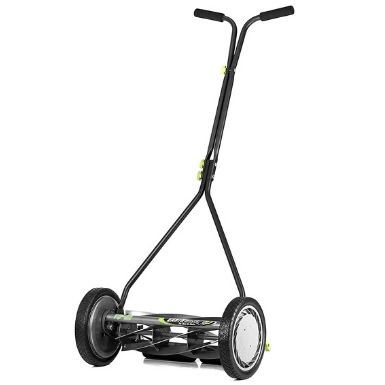 This reel lawn mower comes with seven blades (the others on our list have been five-blade models). The extra blades make this reel excel at cutting creeping grasses such as Bermuda and St. Augustine. It has a 16-inch cutting width with a ball-bearing reel and alloy-steel blades.
The adjustable cutting height ranges from 0.5-2.5 inches, which is good for those who prefer to trim their grass more often. You won't find it difficult to push this 26-pound mower with the 10-inch composite wheels, and for even greater maneuverability and balance, there is a drag-roller on the back.
The T-handle has a soft, cushioned grip, and a grass catcher is offered separately. Unfortunately, the roller bars seemed to lock up easily and not function as intended. The seven blades are a little noisier compared to the five-blade models, but nothing comparable to a gas-powered mower. Assembly is easy and tool-free, and it comes with a two-year warranty.
Pros
Seven blades
16-inch cutting width
Large wheels
Lightweight
T-handle with grips
Easy assembly
Cons
Short cutting height
Noisier
---
9.

Craftsman M115 Push Lawn Mower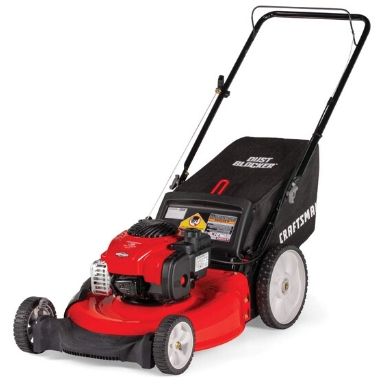 This is a gas-powered push mower with different features compared to a reel or electric mower. The engine is 140cc and equipped with recoil and primer to make it easier to start. It has a 21-inch steel deck that comes with the three-in-one capabilities of side discharge, rear discharge, or mulching options (bagger included).
The rear tires are large at 11 inches and the front tires are 7 inches, all with bar treads for added traction. On the downside, they're made of plastic. The dual-lever adjustable height has six settings, giving you many options for getting the correct height. But these are also plastic, which has the potential to break or bend.
Parts for the Brigg and Stratton motor can be difficult to find, and the bagger doesn't attach as securely as compared to the Craftsman M105 in our number-three spot.
Keep in mind that the gas-powered mowers will weigh more because of the engine and steel deck. This mower is no exception, with a weight of 73 pounds. On the upside, it comes with engine oil and a two-year warranty.
Pros
Powerful engine
Large cutting width
Three-in-one capabilities
Large wheels
Cons
Plastic tires and height levers
Heavy
Parts difficult to find
Bagger doesn't attach securely
---
10.

DuroStar DS1600LD Push Reel Mower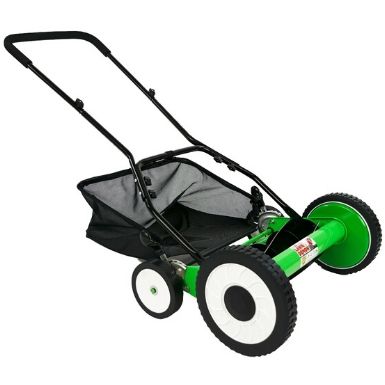 The Durostar has five steel blades with a 16-inch cutting width. It has dual wheels, with 10-inch heavy-duty ones on the front. Even though it weighs 26 pounds, it is a little more difficult to push and doesn't cut the grass as easily compared to the other reel mowers on the list.
The height adjustment is from ½ to two inches, so you will have to cut your grass more frequently to keep it from getting too tall. The loop handle has a cushioned grip, and this reel mower is easy to assemble.
It comes with a grass catcher, but unfortunately, most of the grass doesn't collect in the bag due to the large gap between the reel and the catcher. Durostar offers a one-year warranty on this reel mower.
Pros
Five blades
Heavy duty front wheels
Ergonomic loop handle
Cons
Hard to push
Blades not as sharp
Grass catcher ineffective
Small height adjustment
---
Buyer's Guide – Picking the Best Push Lawn Mower
Lawn mowers are an essential yard tool if you have grass that needs maintenance. Our reviews focused on three types of lawn mowers, so let's discuss them in further detail so you can learn more about their features.
1.

Gas-Powered Mower
Gas-powered mowers are probably the favorite of many lawn owners, though electric and reel mowers are becoming more popular as more people crave simplicity and an eco-friendly machine. Nevertheless, the gas mower still has benefits that can be a big win for some.
The Good
They have more power and will cut through different types of grass and weeds. If you have a large yard with thick, tall grass and weeds dispersed throughout, then this type of mower will do a great job. With some maintenance, a gas mower can last you many years. They are made from durable parts, such as a steel deck and rubber tires that will increase longevity.
No need to worry about run time either, as a tank of gas will most likely get your yard finished with time to spare. The initial cost of a gas mower may be cheaper than an electric, but the need for ongoing maintenance and the cost of fuel can add up.
The Bad
Gas mowers are not environmentally friendly, being inefficient and emitting greenhouse gases. The maintenance time can be bothersome and time consuming. Remember, it's a small engine, so there will be a need for oil changes, new spark plugs, air filters, and professional tune-ups. In addition, you will need to keep the blades sharpened, the undercarriage clean, and the gas drained at the end of each season.
With more power comes increased noise; these mowers are the loudest of the three and it's recommended that you wear ear protection when operating them. Most will have a pull-cord to start the engine, and these can be difficult to use. Don't forget that since gas-powered mowers are made of durable materials, they will be heavy, especially when having to push up a slope or hill.
---
2.

Electric Lawn Mower
Next up is the electric lawn mower, a.k.a. the cordless version. These are gaining popularity as a great mower for small to medium yards and offer many advantageous features.
The Good
If you want an eco-friendly machine that won't require as much exertion as a reel mower, then this is a great choice. They start with a simple push of a button and are lightweight, making them easy to maneuver. Typically, they are smaller too, which allows for easier storage. Some can even store vertically, meaning you can hang it on a garage wall out of the way.
Electric mowers are easier to maintain, though they still require maintenance to keep them going smoothly for a long time. Compared to a gas mower, these are quiet when running. A time-saving option is to have two batteries on hand so when one is discharged, the other is ready to go.
The Bad
What makes them lighter is the fact they aren't made of steel and other durable materials. If you keep your mower out of the elements, it will last longer. The batteries have a short-run time, which is why you don't want an electric for a large yard. Plus, it takes at least two hours to charge the battery, even longer if they are bigger.
Most batteries are lithium-ion, which aren't eco-friendly because of the process in which they mine lithium. You still have to keep the blades sharpened, the undercarriage cleaned, and the batteries maintained appropriately. Batteries can be finicky when exposed to extreme temperatures or overcharged. Plus, the battery will have to be replaced every three to five years no matter how well you care for it.
Electric mowers don't mow well in wet conditions (and it's a safety hazard). If you bag your grass, the weight of the bagger as it fills can drag and drain your battery faster.
---
3.

Reel Push Mower
Last to discuss is the reel mower. It's neat that these are still being made, and many people love the simplicity of these mowers. They are ideal for small yards with no weeds and don't work well in thick, heavy grass. Reel mowers have been modified over the last 100 years to be more efficient and easier to use, which is an attraction for many.
The Good
You really can't find anything simpler: They have blades that rotate and snip the grass, unlike powered mowers that tear and rip the grass, making your lawn more susceptible to insect problems and diseases. They are the most cost-effective of the three and can last for life if taken care of.
If being eco-friendly is at the top of your list, then you have to go with the reel mower — no gas, no oil, no emissions. Plus, you will get a great workout every time you mow the yard. They are small and easy to store and can hang on the wall.
The noise these make doesn't compare to the electric and gas mower. You can have conversations when mowing your grass, or you can mow early in the morning without concerns of waking up the whole neighborhood.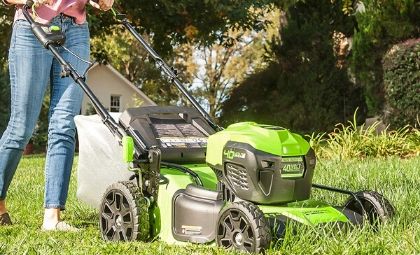 The Bad
If you have rough terrain and a lawn with many weeds, the reel mower doesn't perform well. The blades will need sharpening once per year and will run better if regularly cleaned and oiled. You will have to cut your lawn more frequently, since it struggles with tall grass.
---
Considerations
Here are final considerations when buying a push mower, whether gas, electric, or a reel.
Cutting width: How wide of an area does it cut with each pass? Reel mowers are the smallest, from 14-20 inches, while some gas mowers can have a 28-inch cutting deck. Keep in mind that the larger the width, the harder it will be to maneuver.
Cost: Your budget will determine what you can afford to buy. Reel mowers will be the cheapest, followed by gas, and electric will be the most expensive.
Warranty: All the mowers on this list come with a different warranty. Know what the warranty covers and if the company also provides good customer service.
Safety: Many mowers nowadays come with safety features to prevent accidents and injuries. It's good to know what security is in place for the mower you intend to buy.
Not all mowers are created equal, and it's difficult to discern what is good and what isn't. It depends on how large your yard is and the difficulty of the terrain. These considerations can help you narrow down what type of mower will meet your expectations.

Conclusion
As you can see, mowers are not as straightforward as they may first appear to be. There are many types and models that come with a variety of features. The Sun Joe electric mower is at the top of our list of best push lawn mowers, offering many great features that make mowing less of a chore. If you are looking for the best push lawn mower for the money with simple features, look no further than the Great States reel mower. Our premium choice is the Craftsman M105 gas mower, which can power through the toughest jobs in your yard.
It's up to you, the buyer, to figure out what mower will work best with your yard and that will meet your expectations. Our comprehensive review list and buyer's guide should lead you in the right direction in choosing the best push lawn mower that you will love.