11 Free DIY Wood Gun Cabinet Plans You Can Make Today (with Pictures)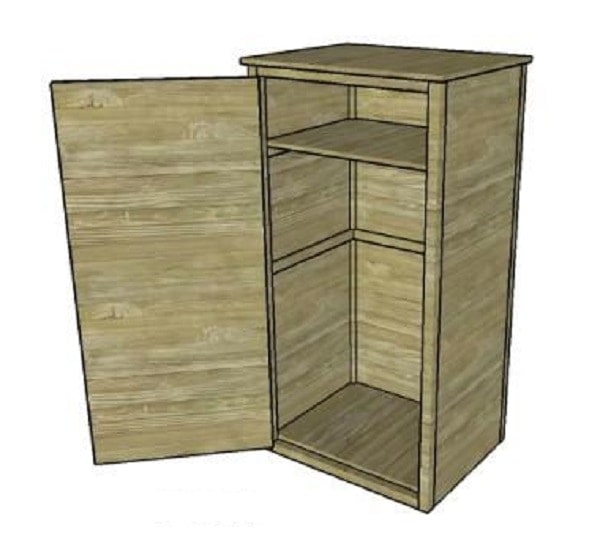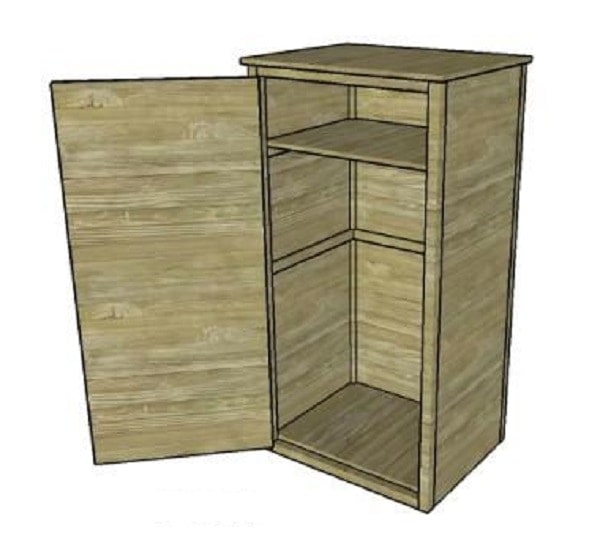 A gun rack provides a convenient and permanent location for your firearms. They make it easier to store and organize rifles, handguns, and other firearms. Some cabinets can be locked for secure storage, while certain plans offer hidden gun storage options. There are gun racks that attach to the wall, freestanding units that can display your weapons, and those that keep your weapons safely out of harm's way.
Good-quality gun cabinets can run to thousands of dollars, but if you have basic woodworking and DIY skills, why not create your own? Below, we have listed 11 gun cabinet plans that will teach you how to build a wood gun cabinet of your own.

The 11 DIY Wood Gun Cabinet Plans
1.

Reclaimed Pallet Wood Gun Rack From Instructables
Shipping pallets are a great resource for the home woodworker. They tend to be made from good-quality wood, and many of them have been heat treated so they will withstand regular use. They can also be found for cheap at local stores, and many places give them away rather than having to pay to have them collected for recycling.
This reclaimed pallet wood gun rack guide from Instructables uses recycled pallets and tools that you probably have lying around the house. The finished design will hold two rifles or shotguns, but you could easily adapt the measurements to include more storage space.
---
2.

Floating Shelf Gun Safe Plans From DIYEasyCrafts
Floating shelves can be placed in any room, and they are a great way of showing off family photos, plants, or artwork. They don't display any fixings or brackets because they typically affix to the wall via the interior of the shelf unit.
The floating gun shelf plan from DIYEasyCrafts takes advantage of this hollow design to offer concealed storage for a shotgun or rifle. The shelf hinges from the front, meaning you can leave the shelf items in place while you remove or replace the gun. The author warns that the cabinet is not secure, so you should not use it if children can access the shelf. However, it is a convenient way of storing an unloaded weapon.
---
3.

Rifle Rack Plan From Wayne of the Woods
The rifle rack plan from Wayne of the Woods is a wall-mounted rack made using plywood and backboard, as well as your choice of hardwood. It uses a rotary saw to cut out the shapes in the side panels, and the right panels are cut out one inch higher than those on the left, so the rifle barrels can rest level.
The finished rack will hold three rifles or shotguns, and it has a bottom shelf to hold ammunition or other items. The design is simple and the instructions are easy to follow. The only section you might struggle with is the cutting of the side panels, unless you have an electric rotary saw.
---
4.

Allen's Woodworking Gun Cabinet Plans
Gun cabinets are functional items. They are designed to safely store rifles and shotguns when not in use, but if you're proud of your guns and want to show them off, then an ornate display cabinet is a better alternative.
Allen's Woodworking wooden gun cabinet plans will cost you around $400. It details how to make the glass display doors, and the drawers for the bottom of the cabinet. In total, you will be able to store 8–10 weapons in the cabinet, along with assorted ammunition and any other items. The finish of the cabinet means that it would look at home in the dining room, kitchen, or hallway.
---
5.

Rifle Rack Plan From Rod's Woodworking Shop
Rod's Woodworking Shop has plans for a wall-mounted rifle rack that will hold three rifles. It also has an additional shelf at the bottom. In the pictures, the shelf is used to hold a handgun and bullets, but you could fill it with whatever items you like.
This is another plan that will benefit from the use of a drill press and router, but you could make do with hand tools. The construction is simple, and you can stain or even paint the rack, ensuring that it will match the look you're trying to achieve.
---
6.

Firearms Display Cabinet From Popular Mechanics
The firearms display cabinet plan from Popular Mechanics is another display cabinet designed to show your rifles off, as well as store and sort them. Having your guns in a secure and easy-to-find location allows you to quickly grab your rifle for your next hunting trip.
This particular cabinet has an upper case that can store five long arms and a lower case for displaying pistols. Below the lower case, there are two drawers for ammunition and other supplies. All the doors and drawers are fitted with locks, so you can keep all your weapons securely locked away. The glazed doors have also been constructed from impact-resistant acrylic, offering further protection and security. The display cabinet not only looks great but is quite functional.
---
7.

Gun Cabinet Plans From Instructables
These wooden gun cabinet plans from Instructables are quite simple. You will essentially build a large wooden box with room for 12 rifles, ammunition, and other supplies. The guide has used scraps and existing wood to make their cabinet, but you could use nicer cuts and even decorate your cabinet if you want to display it.
---
8.

Secret Compartment Gun Case From Sawdust2Stitches
The secret compartment gun case from Sawdust2Stitches is another gun case that allows you to secretly and securely store your gun away out of the way of prying eyes and wandering hands. In this case, you'll use a mirror, behind which will be a pegboard. The inclusion of the pegboard allows you to insert dowels and pegs and move them around. This means that the gun case can be used for any configuration and collection of firearms.
The original guide for this case did not include a lock. It relied on the fact that it is a secret compartment and tricky to open to keep the guns secure. However, it has been amended to include a key lock.
---
9.

Free Gun Cabinet Plans From MyOutdoorPlans
The free wooden gun cabinet plans from MyOutdoorPlans enable you to quickly and easily create a functional gun cabinet. If you follow the plans exactly, you will end up with a plain finish, but you can stain or paint the wood according to your preferences. The simplicity of the design also makes it possible for you to increase the size or make changes to the dimensions of the cabinet so you can enjoy the gun storage you need.
---
10.

Field Rifle Rack Plans From Bill Pounds
The field rifle rack plans from Bill Pounds is a portable, folding rifle rack ideal for hunting parties because it enables all everyone to stand their weapons while not in use. When the rack is unfolded, the sides act as feet and keep the rack stable, which is important to protect your rifles and ensure that there aren't any accidents. When closed, it can be carried around like a suitcase or briefcase.
The guide uses strips of leather to help protect weapons. The pictured rack has been stained in a fitting Hunter Green stain.
---
11.

Ammunition Box Plans From HicketyPip
This isn't strictly a gun rack, but it is related. The ammunition box plans from HicketyPip is a period ammo box favored by the British Army and features a sliding access section on the top of the box, brass screws to hold the construction together, and rope handles at either end. Traditionally, the box would have been made from teak with mahogany ends, but you can change this to any good-quality timber.

Free Gun Cabinet Plans
We hope that you have enjoyed learning how to build a gun rack cabinet. Gun cabinets and gun racks enable you to keep your firearms safe, and some provide the added benefit of secure storage. Always ensure that your guns are kept safe, especially if you have kids, and enjoy taking the time to craft yourself a gun rack using one of the wooden gun cabinet plans above.
You might also be interested in:
---
Featured Image Credit: My Outdoor Plans