4 DIY Wood Wick Candles You Can Make Today (With Pictures)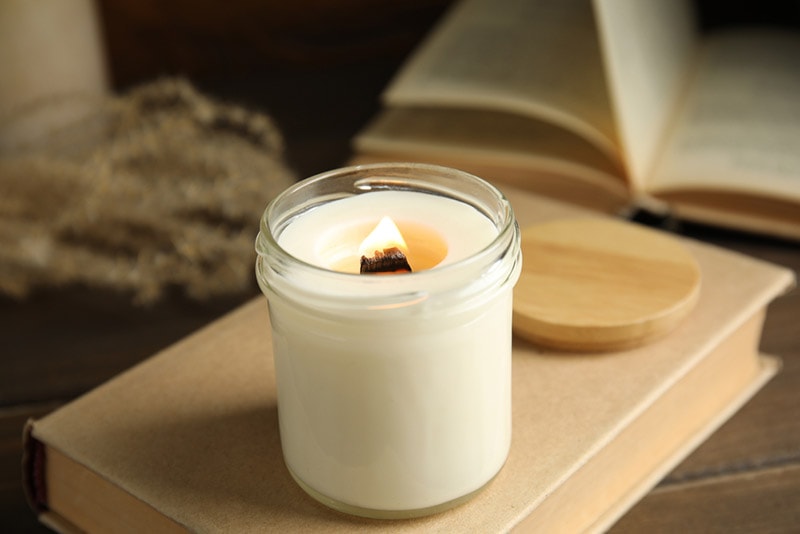 A new trend in candles is wood wicks, which are just thin strips of wood cleverly fashioned into candle wicks. They look nice and offer the same soothing crackle as your favorite fireplace. Add a cozy touch to any of your aesthetically barren spaces with a nice homemade wood wick candle! Try making these at home yourself with the family for a group activity.

What Are Wood Wick Candles?
It turns out, you can recreate the crackle of an inviting fireplace by taking wafer-thin pieces of wood and twisting them into candle wicks! They have a warmer, cozier amber glow than traditional wicks, but that might be just the thing for your next date night or just to create a more welcoming ambiance in your living room.
Depending on the type of wood and wick crafting technique you use, you can make wicks that burn longer, brighter, or to disperse personalized fragrances. All wood wicks use wick tabs or anchors to hold them in place, like those metal tabs at the bottom of most commercial candles.
The 4 Plans for DIY Wood Wick Candles
1.

DIY Wood Wick Candle
| | |
| --- | --- |
| Difficulty: | Easy |
| Tools: | Nail clippers, double boiler, hot glue gun, glass jars, cookie sheet |
| Materials: | Candle wax, essential/scented oil of your choice, wood wicks with strips |
This comprehensive guide goes over everything you need to make a scented candle complete with the crackling wood wick at the center. You'll need some pure candle wax unless you're working with pre-melted wax from another candle. This also requires pre-crafted wood wicks with attached tabs, so make sure you get the right ones for the plan.
---
2.

DIY Wood Wicks for Candles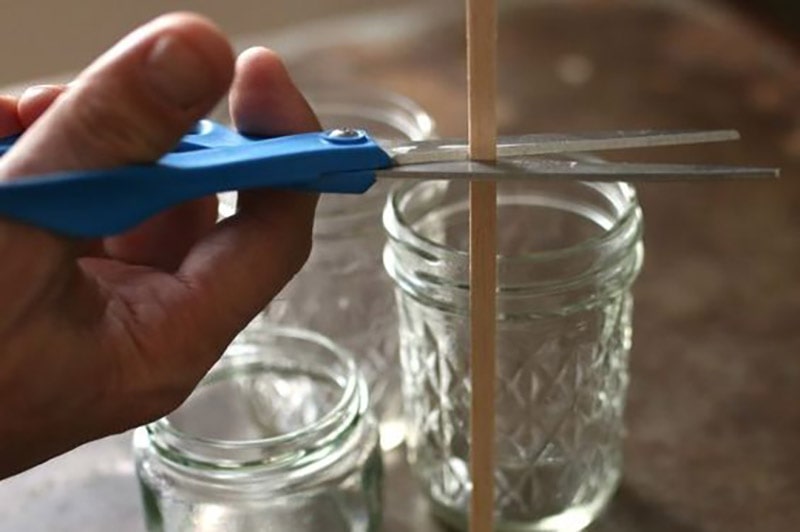 | | |
| --- | --- |
| Difficulty: | Easy |
| Tools: | Scissors, flat dish, spouted glass/metal vessel, paper towels, oven mitts |
| Materials: | Wax of choice, adhesive/dots, balsa wood sticks |
Balsa wood is one of the cheapest options for DIY wood wicks like this plan. You will need some special items, like the wood and wick tabs. Otherwise, the guide is straightforward and offers guidance on how to more efficiently make candle-related stuff in bulk. You can substitute the balsa wood for any other wood depending on the level of crackle you're looking for.
---
3.

Simple Homemade Wood Wick Candle
| | |
| --- | --- |
| Difficulty: | Easy |
| Tools: | Glass jars or another vessel, slow cooker/double boiler |
| Supplies: | Natural wax of your choice, essential/scented oil, wood wick, tabs/dots |
This DIY plan is for crafting candles with wooden wicks and recommends using essential oils for additional coziness. You can add lavender, peppermint, sandalwood, or whatever type you like best. The plan recommends using glass jars as candle holders, but you can make bare, naked candles if you don't mind the wax. Lastly, in a pinch, you can just strip apart wooden tongue depressors for wood wick material.
---
4.

Extra Cozy DIY Wood Wick Candles
| | |
| --- | --- |
| Difficulty: | Easy |
| Tools: | Double boiler/stovetop, glass jars, scissors, measuring cup/vessel, saucepan (for a stove) |
| Supplies: | Soy/paraffin wax, wood wick/material, olive oil, scented/essential oil, wick clip/tab, fractionated coconut oil |
With a focus on sustainable candle making, this DIY plan walks you through melting paraffin wax on the stove, but you can use a double boiler for less mess. As always, you can use a variety of surfaces to put and burn your candle on, from the fanciest glass candle holders you have to a more basic look with a cheap glass cup. Finally, this guide mentions curing. For an evenly burning flame, wait 2–3 days after making the wick before actually lighting it.

Conclusion
Wood wicks are a twist on traditional candles, offering a fireplace-like crackle and a more subdued, laidback feel. With these wood-wick candle plans, you can try your hand at crafting some today. For the best experience, we recommend making a whole candle to get a feel for the process.
---
Featured Image Credit: New Africa, Shutterstock