Dreo Space Heater Review 2023 – Pros, Cons, FAQ, and Verdict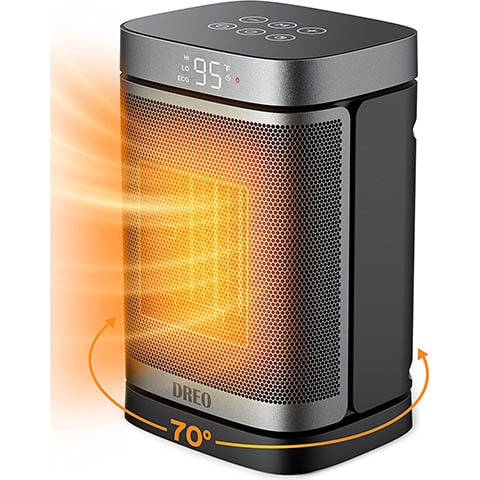 Review Summary
Our Final Verdict
We give Dreo Space Heater a rating of 4.5 out of 5 stars.
Build Quality: 4/5
Power: 4.7/5
Features: 5/5
Price 4.7/5
If you have been researching space heaters, you've more than likely come across the Dreo Space Heater specifically. This space heater has fantastic Amazon user reviews, and many people have tried it out themselves with great results. Is this space heater worth the hype, though?
Yes. The Dreo Space Heater offers fantastic heat output that can heat up any room. At the same time, it has many features that allow for customizable heat. It also has great safety features that will allow you to have some peace of mind while using this device. Furthermore, it is affordable and comes with a great warranty.
The only downside of this model is that the outside is easily scratched, but this drawback is minimal in comparison to its numerous benefits. As such, the Dreo Space Heater is an awesome choice for individuals who are looking for an affordable yet efficient space heater to keep within their homes.
For a more comprehensive review of the Dreo Space Heater, scroll down. This review tells you everything you need to know about this product.

Dreo Space Heater – A Quick Look
Specifications
Brand Name: Dreo
Color: Black
Power Source: AC
Heating Method: Forced air
Dimensions: 5.51 x 6.69 x 10.31 inches
Weight:  3.8 pounds
Temperature Settings: 4 mode settings
Temperature Range:41℉–95℉ Adjustable Digital Thermostat
Safety Features: Cold-to-touch housing; tip-over switch; overheat protection; VO flame-retardant materials
Pros
Great heat output
Many features allow for customizable heat
Fantastic safety features
Affordable
Great warranty
Dreo Space Heater Details
Customizable Heat
As a space heater, the number one thing to consider when purchasing the Dreo is its heating capabilities. This heater is fantastic in this respect. It offers customizable heat that is quick and efficient to keep you warm. Whether you just want a little bit of heat or need to heat up an entire room, this model has you covered.
It has four modes to choose from: high, low, eco, and fan. These options allow you to select a mode that is suitable to your needs and energy concerns. The temperatures range from 41℉–95℉ and it has a convenient digital thermostat to ensure you get the temperature you want.
Furthermore, this model comes with many features that keep this model convenient. For example, it comes with an LED display and control panel. These features further allow you to customize the temperature and experience to your exact needs.  It comes with an oscillating feature too, which is a favorite feature of many.
Here's a look at all the features this space heater comes with:
4 modes
Energy saving modes
Wide temperature range
Oscillating head
Digital thermostat
LED display
Control panel
12-hour timer
Safety Features
Space heaters are responsible for a number of residential fires. For this reason, you always want to select a model that has numerous safety features. The Dreo comes with many safety features that are designed to prevent fire and keep your home safe during use.
Most notably, this model comes with overheat protection and tip-over protection. It is also made from VO flame retardant materials and offers instant cooldown features. The instant cooldown feature is especially unique because it is one not found on many space heaters.
All these features mean that the Dreo Space Heater is very safe, but it's still important to practice good safety measures. Even with these features, fire can still occur.
Stylish
Whereas some space heaters are bulky and unattractive, the Dreo is very stylish and lightweight. It's only 3.8 pounds and 10 inches tall. It even comes in two colors, gray or black. This appearance makes the model non-intrusive in your home.
Affordable
Despite the many features and benefits of this model, the Dreo Space Heater is pretty affordable, too. It is affordable enough to fit most budgets, including those who have a tight budget. At the same time, it provides you with a high-quality space heater that far exceeds its price.
Easily Damaged
Although there are a lot of benefits to the space heater, it isn't perfect. The biggest downside of the model is that the exterior material is easily scratched. This is more of a minor drawback, but it may be one that you are concerned about if the space heater will be on full display.
FAQ
How safe is the Dreo Space Heater?
This space heater is incredibly safe because it comes with numerous high-functioning safety features. Even so, make sure to practice safety precautions to keep you and your home safe while using this space heater.
Does the Dreo Space Heater have a set thermostat temperature option?
Yes. The thermostat has an option to set a temperature. You can control all temperature requirements using the control panel.
Does the Dreo Space Heater heat up the room quickly?
Yes. This space heater can heat up the room quickly if you use the oscillating feature and high mode.
Is the Dreo Space Heater cordless?
No. This space heater is not cordless and requires plug in. It's best to plug this space heater into a wall outlet directly.
Does the Dreo Space Heater come with a warranty?
This space heater is covered by a 1-year limited warranty starting the date of purchase. If you contact the brand, you have an option to extend the warranty to a 5-year warranty instead.
What the Users Say
Users are very happy with the Dreo Space Heater. It has one of the highest Amazon ratings, and with good reason.
Users are very happy about the heat output, safety features, and timer function. Users report that all these features work exactly as promised and do a great job of heating up a room safely. Many individuals are especially happy with the fact that it offers energy savings while still offering the heat output of a regular space heater.
Although most reviews are positive, there are some negative reviews as well. Users report that the space heater turns off after it has been sitting for some time. More than likely, this has to do with the timer or safety features. Still, it is a complaint that multiple users report.
Overall, users are more than happy with the Dreo Space Heater. They report that it does a great job of heating up rooms comfortably and safely, so you don't have to worry about the item constantly.
Conclusion
After considering all the factors, features, and reviews of the Dreo Space Heater, you are probably wondering what our take is on this product.
Just like the other users, we are more than impressed with the Dreo Space Heater. It does exactly what it promises and heats up your room to your exact temperature and comfort. At the same time, its safety features are highly impressive, so you don't have to fret as much about space heater fires.
For its price and killer warranty, you really can't go wrong with the Dreo Space Heater.
---
Featured Image Credit: Amazon