Electric vs Air Impact Wrench: Which One To Choose?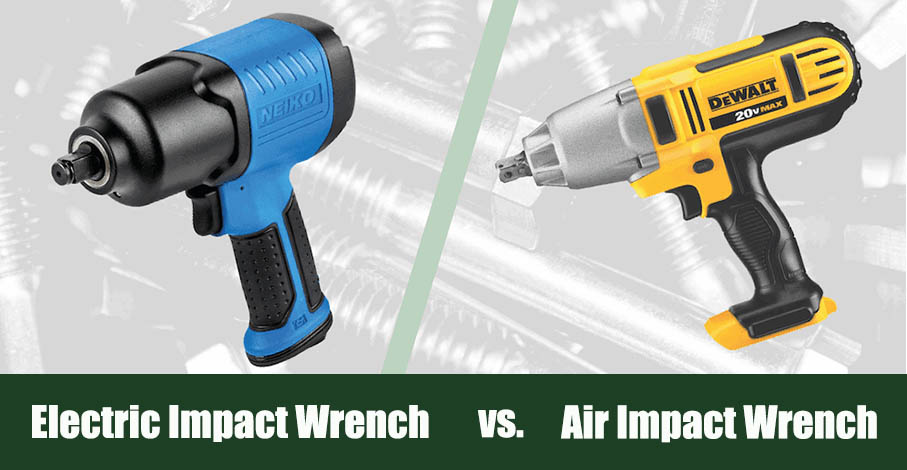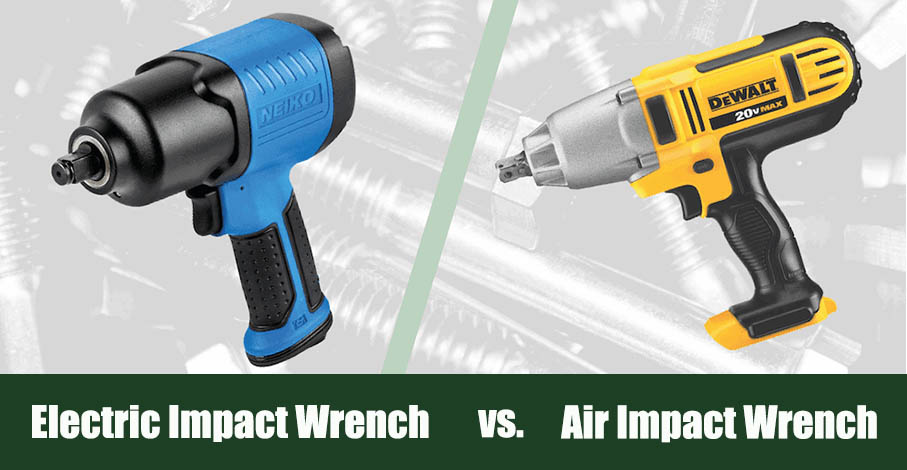 Wrenches are some of the most basic tools that any craftsman, automotive mechanic, or home repairman needs to have in their toolkit. But while wrenches are standard tools, manual wrenches can be difficult to use when it comes to certain tightly installed nuts and bolts.
This is especially true when performing maintenance or repair work on vehicles or larger structures. Sometimes, nuts and bolts are installed so tightly that it's simply impossible for you to loosen or remove those nuts and bolts using muscle power alone. Even when you encounter regular nuts and bolts, it's often easier to use a power tool instead of undoing all those bolts by hand.
Enter: impact wrenches. These capable tools provide the same fast response and excellent results as electric drills do for manual drills or screwdrivers. But while all impact wrenches can be helpful, it's important to know the difference between electric and air impact wrenches so you know which one you should choose.

Quick Overview of Impact Wrenches
An impact wrench looks similar to an electric drill, but they serve different repair and maintenance purposes. An impact wrench uses a power source to drive a hammer hidden in its interior, which strikes an anvil that is connected to the square driver of the impact wrench. That hammer causes the driver to turn, applying powerful force to any nut or bolt that the wrench may be attached to.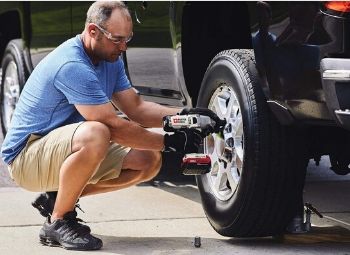 In this way, the impact wrench can perform the same function as a regular wrench but with much higher power and without requiring muscle strain on your part. Most impact wrenches can turn nuts and bolts in incremental bursts of power with each pull of the tool's trigger.
---
Electric Impact Wrench Overview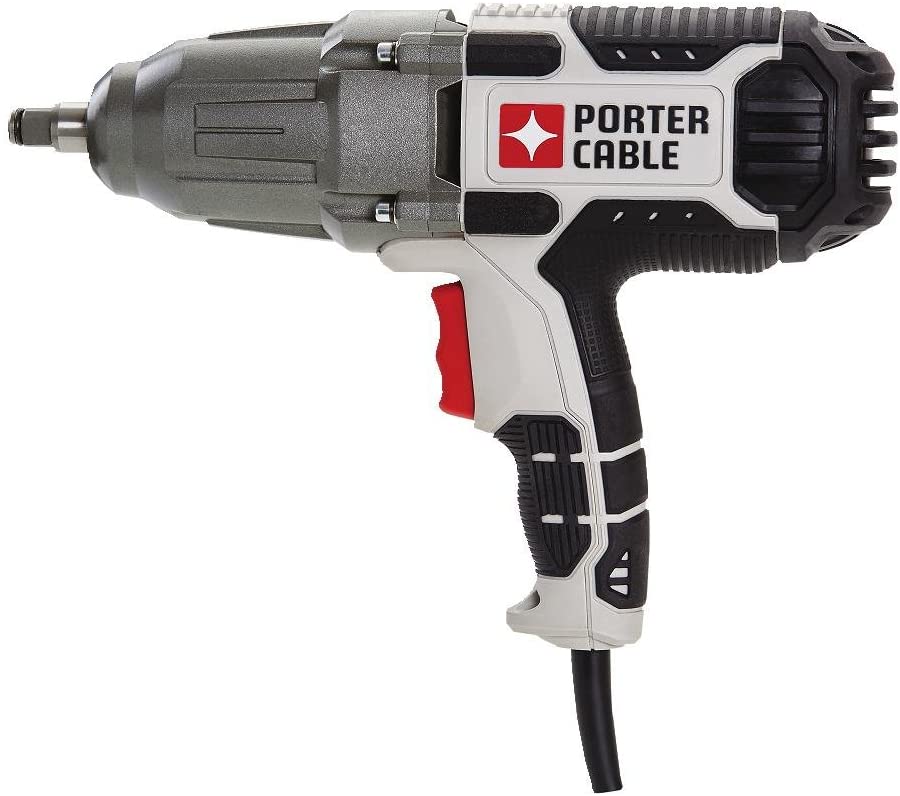 Power Source
An electric impact wrench, as the name suggests, is powered by electricity. Electric impact wrenches come in either corded or cordless varieties. Corded electric impact wrenches provide more power than their cordless counterparts, and they can usually remove larger sizes of bolts, nuts, and certain types of screws. However, corded electric impact wrenches are a little more cumbersome.
Portability & Power
Cordless electric impact wrenches are incredibly portable and are usually smaller in size. Thus, they're ideal for taking with you from worksite to worksite or for use in hard-to-reach places. However, cordless electric impact wrenches can run out of power quite quickly and are usually not as powerful as the other types.
Trigger Type
Both types of electric impact wrenches may come with variable triggers, which offer you greater control over the turning speed of the tool. This can make electric impact wrenches better for precision wrench work, especially for beginners.
Pros
More portable than air impact wrenches
Many models come with variable triggers
Easy to use
Better for use in cramped or narrow spots
Cons
Not as powerful as air impact wrenches

Air Impact Wrench Overview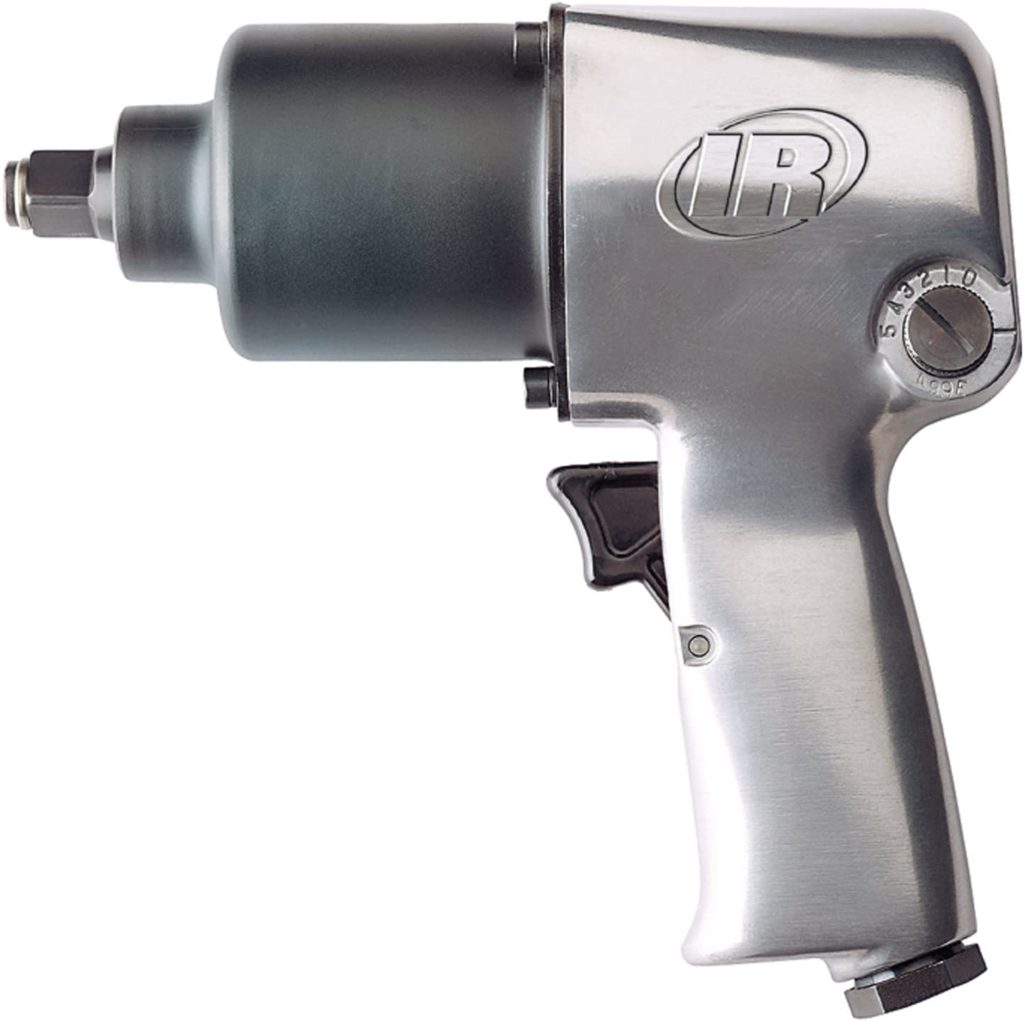 Power Source
The big difference between air impact wrenches and electric impact wrenches is that air wrenches use compressed air to power the internal hammer and turn the driver. Rather than relying on an inner motor, the compressed air does all the work. This necessarily means you need a powerful air compressor plugged into the impact wrench for the tool to function.
Portability & Power
Because of this, air impact wrenches are usually better for stationary work or use at a single worksite. Auto mechanic garages and similar places are great spots for air impact wrenches. Although air impact wrenches are definitely more cumbersome than cordless electric impact wrenches, they usually deliver more power. So, they're better for taking care of bigger nuts and bolts.
Trigger Type
While air impact wrenches don't usually have variable-speed triggers, they're pretty easy to operate and you can adjust the power of an air impact wrench by adjusting the attached air compressor.
Pros
The most powerful type of impact wrench
Great for stationary work or garages
Never runs out of power in most cases
Cons
Can be bulky/difficult to move
No variable triggers

When to Use an Electric Impact Wrench
All types of impact wrenches can be used for a variety of construction or repair tasks. They're most commonly used in the automotive industry. But here are some times when it's best to have an electric impact wrench compared to an air impact wrench:
For multiple worksites (i.e., when you need portability)
For indoor repair work
For working in cramped conditions
When you don't have space for an air compressor
If you're a beginner
The last condition is important since electric impact wrenches are easier to use than air impact wrenches. You only have to learn how to work a single tool instead of the wrench and an additional appliance.
Another Great Electric Impact Wrench
When to Use an Air Impact Wrench
Air impact wrenches, thanks to their higher average power, are best thought of as the workhorses of the impact wrench category. Here's when you should prioritize these tools over their electric counterparts:
When you have multiple, super-tight nuts and bolts to take care of
In an automotive repair shop/garage
In a home garage with plenty of space
At a long-term worksite without portability needs
When money isn't an object
While this last case isn't universally true, air impact wrenches are almost always more expensive than electric impact wrenches. This is doubly true if you don't already have a solid air compressor and need to purchase one to go with a new air impact wrench.
Another Great Air Impact Wrench
Ingersoll Rand 231C 1/2" Drive Air Impact Wrench – Lightweight, Max 600 ft-lbs Torque Output,...
Classic Choice: Lightweight And Easy To Maintain, This Impact Wrench Is A Reliable Choice For Auto Hobbyists And Professional Mechanics...
Reliable Performance: The 231C Air Impact Wrench Delivers A Maximum Torque Of 600 Foot-Pounds, And Offers Enough Power To Install And...
Adjustable Power: Its Adjustable Power Regulator Lets You Easily Adjust Power Output Needed For Your Task At Hand; The Twin Hammer...

Conclusion
All in all, the question of electric vs air impact wrenches is somewhat straightforward: do you need portability or power? If you need to be able to move your wrench from place to place, go with electric. If you only need an impact wrench at a single location, an air impact wrench is your best bet.
Either way, both types of impact wrenches can make your repair or maintenance work much faster and easier. Remember to consider your budget and experience level before making a final decision and you'll be set!
---
Featured Image Credit: Pixabay