Gorilla Ladder Review 2023: Pros, Cons, & Verdict
Review Summary
Our Final Verdict
We give Gorilla Ladder a rating of 4.9 out of 5 stars.
The Gorilla Ladder is very similar to other ladders. However, it is made to be lighter and stronger. With that said, this ladder isn't reinventing the wheel. It is a solid ladder with many features you would expect on a modern ladder. The hinges are extra-durable and designed to be used again and again. The height is adjustable and telescoping.
Furthermore, you can adjust this ladder into many positions. You can use it as an extension ladder, stairway stair ladder, or a twin-step ladder. It depends on your needs and situation.
As it is made of aluminum, this ladder is pretty strong. Furthermore, it can be transported easily thanks to its lightweight nature. However, this ladder is large so it will be a bit heavier than the smaller options. The gorilla grip on the ladder makes it more durable and easier to use.
Built-in wheels make the ladder pretty easy to move from place to place. However, these wheels can also be locked easily to prevent them from sliding when you're in the middle of using the ladder.
We love how sturdy this ladder is. The aluminum construction can stand up to regular use. Therefore, it's a great option for those who use the ladder regularly and extensively.
Gorilla Ladder – A Quick Look
Pros
Durable
Adjustable with many different forms
Built-in wheels
Gorilla grip locks for extra durability
Aluminum construction
Cons
Heavier and bigger than many options
Specifications
Base Spread: 65 in
Max Ladder Height: 15ft
Industry Standard Height: 17
Step Depth: 1 in
Step Ladder Height When Closed: 7 ft
Step Rise: 12"
Minimum Height When Open: 9 ft
Reach Height: 18 ft
Storage Depth:5 in
Adjustable
One of the best features this ladder has is its adjustability. This feature allows it to be extremely versatile. You can use it in a variety of ways. Therefore, it's a solid ladder for use in various situations. You won't need to purchase multiple ladders when you have this one.
This ladder has an adjustable height, which is adjusted using 1-hand speed locks. Thanks to this feature, you can use the ladder as an extension ladder, twin-step ladder, or stairway step ladder. The feet can even be turned and adjusted to suit the terrain.
We highly recommend this ladder for a range of different tasks. While this feature does exist on other ladders, this model does it particularly well and easily.
Ease of Transport
This ladder is pretty easy to transport thanks to several different features. For one, it is made of aluminum. Therefore, it is much lighter than other ladders. Wooden and metal ladders weigh much more.
Furthermore, this ladder is also on wheels and it can be wheeled along easily from place to place. Of course, the wheels also lock so that you don't have to worry about the ladder sliding when you're using it.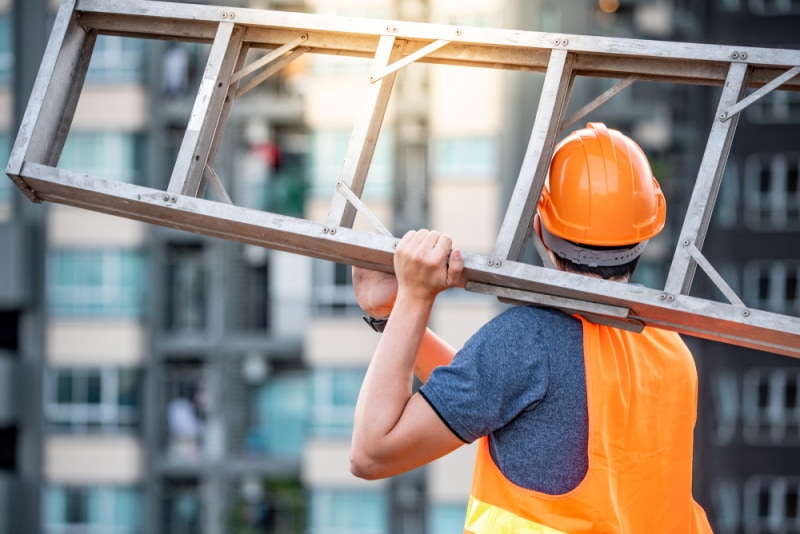 Weight
While this ladder is lighter than many of the same size, it is a pretty sizable one. Therefore, it is much heavier than other ladders of a smaller size. If you don't need something this large, you may not want to purchase this ladder. It is best for those who need a bigger ladder and doesn't mind transporting one around.
FAQ
How Heavy is the 18' Gorilla ladder?
This ladder weighs about 26 pounds. Therefore, it can be moved around pretty easily in most cases. Plus, it also has wheels. You can wheel it around without too much of a problem.
Are Gorilla Ladders Any Good?
Most users highly rate these ladders. While this brand wasn't originally in the ladder-making business, it did end up being quite good at it. Therefore, we recommend these ladders, though they can be more expensive than other options on the market.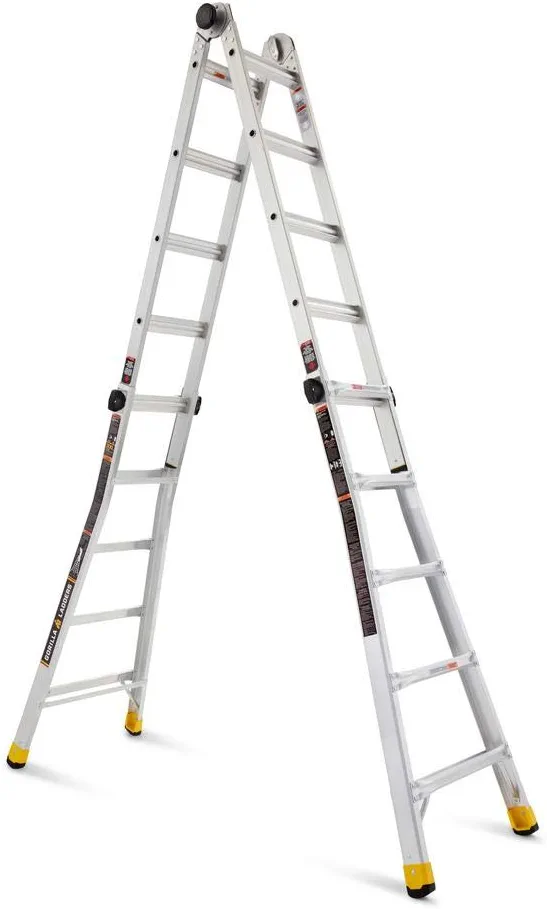 Do Gorilla Ladders Have a Lifetime Warranty?
Gorilla ladders have a lifetime warranty against defects. This doesn't mean that they will replace every ladder, however—normal wear-and-tear doesn't count. Furthermore, misusing the ladder won't lead to fulfilling the warranty, either. It only covers defects.
What The Users Say
Users found this ladder high-quality, leaving a range of mostly good reviews. Most rated it as very stable and sturdy. However, many also said it was rather heavy. Therefore, we don't recommend it for those who aren't going to be able to lift a substantial amount of weight.
With that said, this ladder is one of the largest available so it only makes sense that it would be one of the heaviest available. However, for its size, it is pretty lightweight.
Furthermore, users were quite surprised about the price. It is a bit cheaper than other tall ladders. Some other brands are very expensive, so this is a good budget option for those needing a tall ladder. For instance, Werner ladders are far more expensive.
Conclusion
Gorilla ladders are a great option for those needing a larger ladder. It is very large but remains lightweight because it is made from aluminum. Its extreme adjustability allows you to use it in various situations. The height of each side is adjusted separately, and even the feet are adjustable.
With that said, this ladder is much larger than others. Therefore, it is understandably heavy. For this reason, we don't recommend it for those that cannot handle the larger size. Still, many users did say that it works fine for most functioning adults.