7 Best Adjustable Bed Frames in 2023: Reviews & Top Picks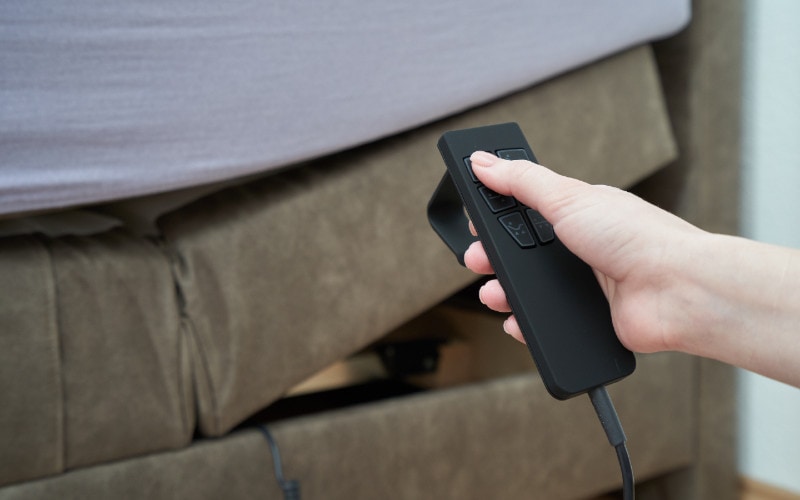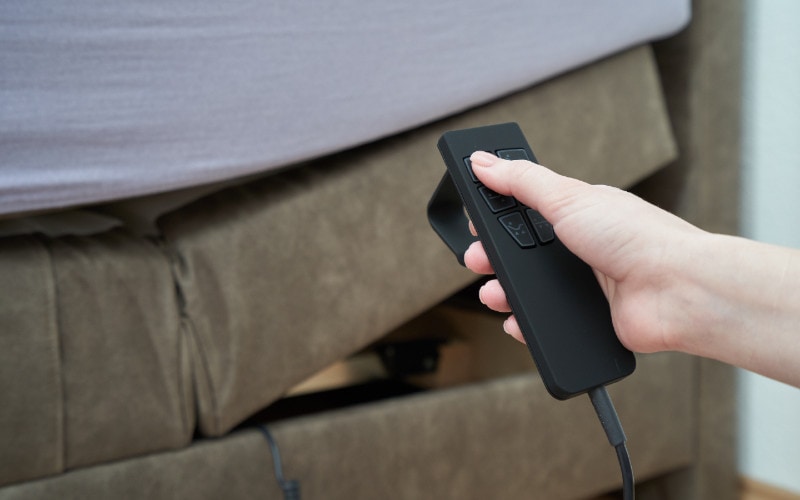 Upgraded sleep doesn't stop with a top-of-the-line mattress. For ultimate comfort and the deepest restorative rest, an adjustable foundation is an essential complement to a supportive bed. The benefits for individuals with health conditions are well-established, but anyone will enjoy the pressure relief and enhanced relaxation that only an elevated sleep position can provide.
As more consumers discover the incredible advantages of adjustable foundations, more diverse and affordable options continue to hit the market. Find out which sleep setup is worth the investment this year in these reviews of the best adjustable bed frames.

A Quick Look at Our Favorites in 2023
Rating
Image
Product
Details

Best Overall

iDealBed 4i

Four memory settings
Quiet Leggett & Platt motors
Head/foot massage with timer
CHECK PRICE

Best Value

BEDBOSS Relax 404

Low price
Two memory settings
Remote flashlight
CHECK PRICE

Premium Choice

Sven & Son Platinum Frame

Adjustable lumbar support
7-degree pillow tilt
Head/foot massage with three modes
CHECK PRICE

Lucid L300

Relatively inexpensive
USB charging ports
Easy to assemble
CHECK PRICE

Classic Brands Adjustable Comfort Bed Base 2.0

Three-speed massage
Easy-access USB ports
Two memory settings and child lock
CHECK PRICE
The 10 Best Adjustable Bed Frames
1.

iDealBed 4i – Best Overall
| | |
| --- | --- |
| Sizes: | TXL/F/Q/K/Cal K |
| Capacity (Queen): | 850 lbs |
| Warranty: | 3 years full; 10 years limited |
Finding all the perfect features to fit your needs and budget is a challenge, but the iDealBed 4i foundation packs in the capabilities without getting too pricey. Our pick for the best overall adjustable bed frame includes four memory presets to save your favorite positions, an under-bed light, a remote flashlight, and USB charging ports. Performance is equally impressive, as high-quality Leggett & Platt motors supply whisper-quiet operation and 850 pounds of capacity.
The iDealBed doesn't have an accompanying app, so you'll need to keep tabs on your remote. But sacrificing one minor convenience means they pack in more high-end features without raising the price. The foundation offers dual-zone massage with three intensity levels and four modes with a timing function to enhance your relaxation and lull you to sleep. And with four easily adjustable leg heights and a zero-clearance design, it can comfortably fit more beds and mattresses.
Pros
Four memory settings
Quiet Leggett & Platt motors
Head/foot massage with timer
Under-bed light and remote flashlight
USB ports
Emergency battery backup
Easy to set up
Upholstered covering with gripping MicroHook system
---
2.

BEDBOSS Relax 404 – Best Value
| | |
| --- | --- |
| Sizes: | TXL/Q/K |
| Capacity (Queen): | 750 lbs |
| Warranty: | 1 year full; 14 years limited parts |
With a thoughtful collection of features in a low-priced package, the BEDBOSS Relax 404 is our choice for the best adjustable bed frame for the money. The remote includes a flashlight and two memory settings, and the frame has a slightly higher head and foot tilt threshold than other value models.
You miss out on app compatibility and USB charging with the Relax 404, but otherwise, it's hard to complain about what the frame offers for its low price. Assembly is straightforward, and you can choose between four easy-to-adjust leg heights and a zero-clearance option to fit any bedroom suite. The full warranty is limited to one year, but you can add an extra year with registration, giving you two years before it converts to parts-only coverage.
Pros
Low price
Two memory settings
Remote flashlight
Cons
No USB or under-bed lighting
No app compatibility
Limited warranty
---
3.

Sven & Son Platinum Frame – Premium Choice
| | |
| --- | --- |
| Sizes: | TXL/Q/K/Cal K |
| Capacity (Queen): | 900 lbs |
| Warranty: | 25 years; 10 years non-prorated |
With the Platinum frame, Sven & Son addresses nearly any comfort and convenience issue you might face from the moment you enter the bed at night to when you leave it in the morning. Central to this effort is adjustability. The Platinum frame enhances a generous head tilt with a 7-degree pillow elbow, delivering the ideal range of motion for TV viewing and another level of customizable positioning. An adjustable lumbar support is the hero feature, a crucial upgrade allowing for the most supportive, pain-relieving sleep possible.
Other essential features include Bluetooth syncing, three memory positions, head/foot massage, and USB charging. The unit is a wall-hugger, so you'll always have easy access to your nightstand in an upright position. If you love lounging in bed, the Platinum bed frame is guaranteed to enhance every second.
Pros
Adjustable lumbar support
7-degree pillow tilt
Head/foot massage with three modes
Wall-hugging articulation
25-year warranty
Three memory positions
Under-bed light and remote flashlight
USB charging ports
Bluetooth compatibility
Cons
Relatively expensive
No adjustable massage timer
---
4.

Lucid L300 Adjustable Bed Frame
| | |
| --- | --- |
| Sizes: | Twin XL/F/Q |
| Capacity (Queen): | 750 lbs |
| Warranty: | 10 years |
The L300 is a mid-tier option from the Lucid brand that delivers surprising benefits in an inexpensive package. It may not have a built-in massage function, but by supplying attractive modern updates like USB charging and app compatibility (with added device), it offers more than enough to earn a place on our list. It's easy to assemble, and variable leg heights and the zero-clearance build mean it will work for any sleep setup.
The L300 design isn't as heavy-duty as more expensive options, and the head and foot tilts don't extend to the same angles as many other frames on this list. With only one memory setting, it's hardly the best choice for TV viewers and nighttime readers who like to sit up. But for anyone needing the health benefits of zero gravity sleep without a hefty price tag, it delivers the perfect level of reliable performance supported by a 10-year warranty.
Pros
Relatively inexpensive
USB charging ports
Easy to assemble
Remote flashlight
One memory setting
Adjustable leg heights and zero clearance
Cons
No under-bed light or massage
App requires extra purchase
Tilt angles are shallower than other options
---
5.

Classic Brands Adjustable Comfort Bed Base 2.0
| | |
| --- | --- |
| Sizes: | TXL/F/Q/K |
| Capacity (Queen): | 750 lbs |
| Warranty: | 3 years |
Classic Brands GEN 2 base is a straightforward adjustable foundation offering loads of convenience at a low price. It adds a three-speed massage, a nice upgrade from similarly priced models, and the remote includes two memory settings and a child safety lock. The USB ports are easy to find on the side of the unit rather than the underside. They're challenging to access if the bed is flat and surrounded by a bed frame, but in a zero-gravity position, the placement is far more convenient than on other adjustable foundations.
The primary limitations of the Classic Brands frame are in the setup and warranty, which only runs for 3 years. Although the legs are adjustable and the frame assembles in a snap, there is no zero-clearance option for existing platform beds.
Pros
Three-speed massage
Easy-access USB ports
Two memory settings and child lock
Relatively low price
Cons
Not zero clearance
Relatively short warranty
---
6.

Sven & Son Classic+ Adjustable Bed Frame
| | |
| --- | --- |
| Sizes: | TXL/F/Q/K |
| Capacity (Queen): | 850 lbs |
| Warranty: | 25 years; 5 years non-prorated |
While not as expensive as its Platinum model, the Classic+ doesn't disappoint in performance or features. In its mid-tier model, Sven & Son offers high-end features like a neck tilt, multiple massage modes and intensities, and an impressive 25-year warranty. The notable downgrades from the Platinum include a missing lumbar support bar and wall-hugging capability, but the middle-of-the-road pricing justifies the omissions.
Pros
High head/foot tilt angles plus neck tilt
Three-mode massage
Five preset positions
Remote flashlight and under-bed light
25-year warranty
Cons
Not as versatile as Platinum
More expensive than most reviewed models
---
7.

Blissful Nights e3 Adjustable Bed Frame
| | |
| --- | --- |
| Sizes: | TXL/Q/K/Cal K |
| Capacity (Queen): | 750 lb. |
| Warranty: | 10 years |
The Blissful Nights e3 is a slimmed-down frame for individuals needing simple bed adjustability. It doesn't have the USB ports or memory settings to match the L300, so it isn't the best value from a features standpoint. But the high-quality steel frame and 10-year warranty ensure reliable performance and a solid return on your investment. With its straightforward assembly, whisper-quiet and dependable operation, and low price, the e3 is an excellent option for upgrading the comfort in a guest room.
Pros
Low price
Fabric-wrapped frame
Quiet operation
Four-part adjustable legs
Cons
No massage, USB, or memory settings
No zero-clearance capability

Buyer's Guide: Choosing the Best Adjustable Bed Frames
Adjustable foundations are available with a broadening variety of constructions and features, and mattresses are becoming more compatible with them as their popularity continues to grow1. Most new innerspring, hybrid, and memory foam options work with an adjustable bed frame, so you can upgrade your sleep simply by changing out the box springs. Let's see how you can make the best adjustable foundation choice this year.
Head Only vs. Head and Foot
Adjustable foundations split their functional and physical benefits between adjustable head and foot sections. Heads generally tilt between 55–75 degrees, while feet raise 40–45 degrees.
A head-only option is the most inexpensive and easy-to-assemble option available. These are excellent solutions for TV viewing, reading, or eating, but the head tilt can also improve your sleep in several ways, including:
Decreasing snoring and easing respiration
Preventing nighttime acid reflux and improving digestion
Reducing effects of sleep apnea and asthma
Raising your head only 6–8 inches can completely change your comfort level and provide higher-quality sleep. By upgrading to a head-and-foot model, you can adjust your body in a zero-gravity setting (head and feet elevated) to attain all the advantages of a complete sleep system.
Raising your feet is the first step in finding your perfect position. Elevating them even a few inches can instantly alleviate lower back pressure and improve circulation. With the right zero-gravity setting, you'll wake up more refreshed, pain-free, and ready to start the day.
Key Features
Raising the head and feet should be the primary purpose for buying an adjustable bed frame, but that doesn't mean you should overlook all the fun features manufacturers include with today's models.
Keep the following criteria in mind to optimize your bedroom experience:
Massage: Gentle vibration to help relax your muscles and lull you to sleep
Underbed Light/Remote Flashlight: Provides light at night if you have to leave the bed without disturbing your partner
USB Ports: Allow you to charge devices at night
Backlit Remote: Makes it easier to view remote controls at night
Memory Settings: Programmable memory settings adjust to a custom head/foot elevation for sitting up or sleeping
Child Lock: Locks the remote to prevent children from accidentally activating the motors
Zero Clearance: Allows the foundation to lie legless on a platform bed
App Compatibility: Bluetooth features allow for wireless control from a smartphone or connected device
Weight Rating: Maximum amount the frame can support, including the mattress
Wall-Hugging: Frame moves back as the head raises to keep the head against the wall for easier access to nightstands
Neck Tilt: Adds an extra bend at the head for greater adjustability and more comfort while sitting up
Twin XL King or One Piece?
One essential consideration in buying an adjustable king frame is choosing between a one-piece foundation or the more common dual twin XL frames. Two twin XLs sitting side-by-side equal a king-size foundation, and you can sync them to work off one remote for a single king-size mattress.
Twin XLs are both more common and more expensive than one-piece solutions. The primary reasons to pay extra for two pieces are the ease of transportation and versatility down the line. While a one-piece king frame will fold to fit through doors and hallways, it will also be cumbersome compared to a twin XL. And if you later decide that you and your spouse need different sleeping surfaces (e.g., one firm, one plush), you already have the foundations in place for a seamless upgrade.

Conclusion
The iDealBed is an exceptional blend of price, features, and flexibility, making it the best adjustable bed frame for the broadest assortment of buyers this year. But with BEDBOSS and Lucid providing strong offerings in value-priced categories and Sven & Son singlehandedly meeting the needs of high-end consumers, there's a near-perfect option for any budget and nighttime need. By starting with these reviews, you'll have no problem upgrading the quality of your sleep.
---
Featured Image Credit: Dmitrii Pridannikov, Shutterstock