How Much Does It Cost to Replace Carpet with Hardwood? (2023 Update)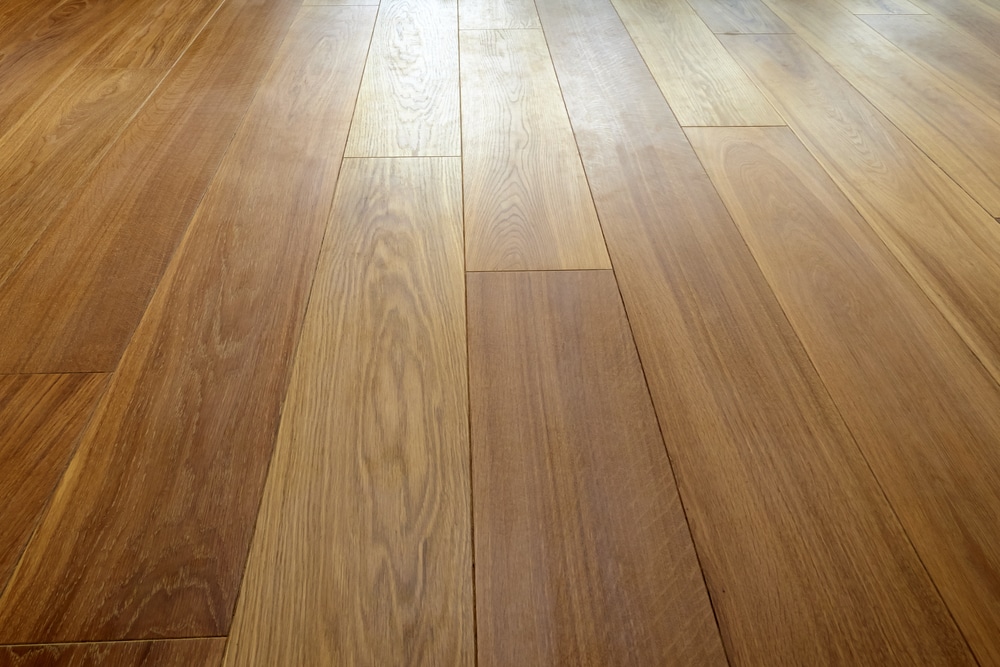 Whether you plan to sell your home in a few years or stay in it for the long haul, replacing your carpet with hardwood is one of the most satisfying remodeling projects you can take on. Hardwood instantly elevates any interior, and it keeps its appeal long after carpet tires and fades. If your carpet is finally on the way out, learn how much it will cost to upgrade your space with a hardwood treatment. Installing hardwood flooring costs $6–$15 per square foot. Professional labor runs approximately $3–$9 per square foot, roughly 50% of the total project costs.

Benefits of Replacing Carpet with Hardwood
Aside from having the best return on investment of any flooring option, there are many practical benefits to replacing carpet with hardwood. Even with the latest vinyl and laminate flooring improvements, solid hardwood floors supply unmistakable elegance and inviting warmth. If you're vying for the ultimate impression, high-quality hardwood is the ideal choice.
Maintenance-wise, there aren't many flooring options that offer the same cleanability and recovery of hardwood. It lasts for a long time, and you can keep it looking like new for decades. Hardwood has a consistent grain all the way through. You can sand it several times over to reverse the effects of aging and abuse, removing scratches, stains, and other cosmetic flaws as if they never happened.
The smooth surface makes wood easy to sweep and dry mop, which is a crucial advantage over carpet for your daily convenience, comfort, and health. It doesn't trap dust, dirt, pet dander, and other contaminants like carpet fibers. Cleaning takes little time and effort. Plus, you benefit from fewer allergens and overall better air quality, helping everyone in the house breathe easier.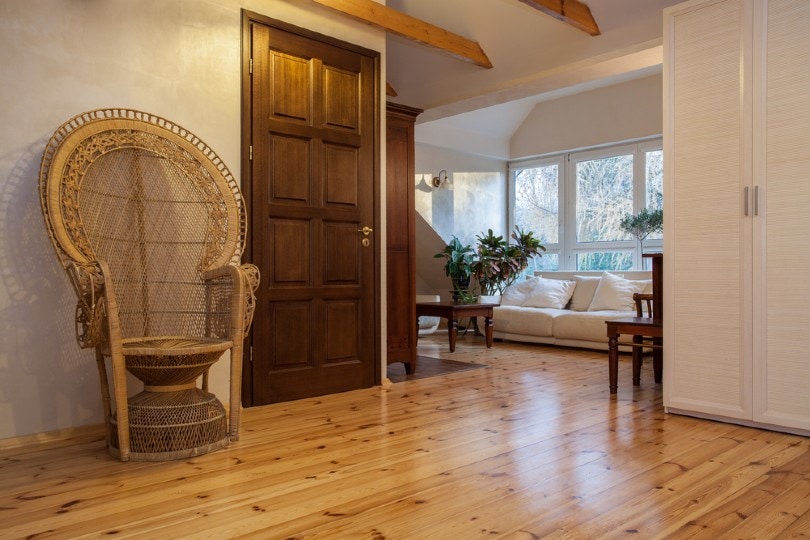 How Much Does It Cost to Replace Carpet with Hardwood?
Installing hardwood flooring costs $6–$15 per square foot. Professional labor runs approximately $3–$9 per square foot, roughly 50% of the total project costs.
Most engineered and solid hardwood options range from $3 to $9 per square foot, while high-end luxury flooring can run $11–$20 per square foot. Typically, less expensive materials also come with less expensive labor.
Often costing under $3 per square foot, pine is generally the least expensive wood flooring you can choose, though it's technically not hardwood. In the $3–$9 range, you'll find popular hardwoods such as oak, maple, and hickory. Hand-scraped and wire-brushed flooring will usually bring the cost up. At the high end, exotic hardwoods like Brazilian cherry and zebra wood can exceed $20, while a select few, such as Macassar ebony, can cost over $100 per square foot!

Additional Costs To Anticipate
There are a few factors to consider in estimating your total costs for replacing your carpet with hardwood. The size of your space will impact your material costs, as will the type of wood you buy. Meanwhile, carpet removal, debris disposal, and subfloor preparation will play into your labor costs.
Carpet Removal
Carpet removal costs roughly $1–$1.50 per square foot, and a standard contractor costs around $40–$80 an hour. A 100-square-foot carpet section takes about three hours to remove, so you can expect to pay anywhere from $90–$130 for your installer to take out the carpet, pad, and tack strips. Depending on where you live, you may have to pay extra for the safe and legal disposal of the old material.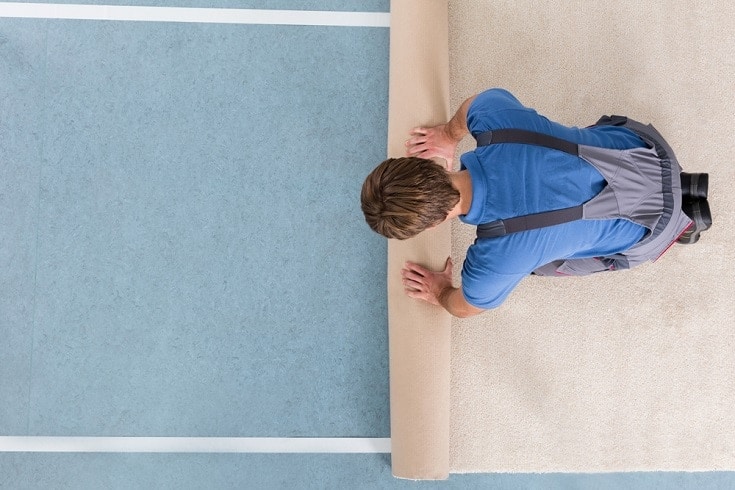 ---
Baseboard Removal
With your carpet up, you may have to remove your baseboard before laying your floorboards. It's generally sensible to do this no matter what, but it's essential if your hardwood doesn't fit perfectly underneath the baseboard, leaving a gap. Removing baseboards costs roughly $0.80–$1.50 per linear foot.
---
Leveling and Underlayment
Hardwood requires a level substrate because it doesn't flex and form like carpet. Even if your carpet seemed fine, you could end up with air gaps that create soft spots under a wood floor if you don't level your subfloor. If you need a simple leveling compound to touch up a few places, it can often cost under $50 for materials.
When your floor is level, clean, and free from structural issues, you can have your installer lay your hardwood flooring. But before you calculate your final costs, you still need to factor in your underlayment to protect your flooring from moisture damage.
Different types of underlayment offer various levels of protection, sound-dampening insulation, and comfort. In general, underlayment only costs $.30–$.70 per square foot.
Add it all together, and it costs anywhere from $8 to $19 per square foot to have your contractor remove your old carpet, prep your space, and install your brand-new hardwood flooring.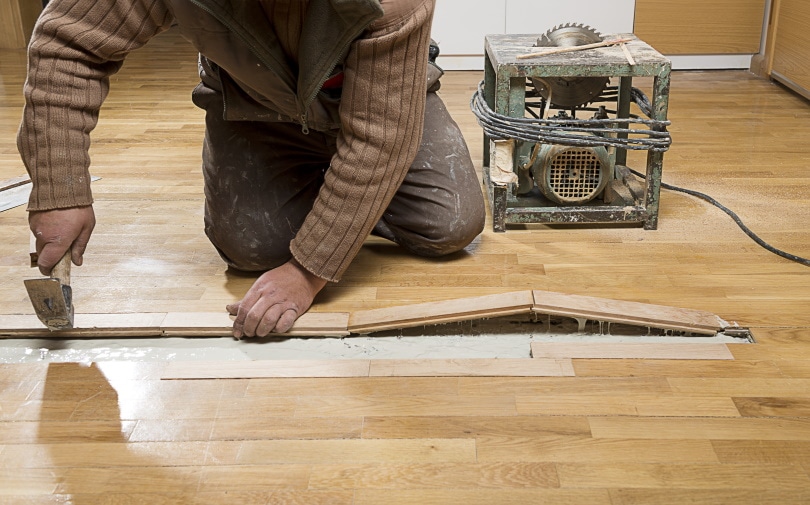 How Often Should I Replace Carpet?
The beauty of hardwood is that you can sand, refinish, and breathe 20 more years into it in the course of an afternoon. Carpeting doesn't have that kind of resilience. You can steam clean it and remove odors and stains, but worn fibers can't rejuvenate themselves. After roughly 10 years, your typical carpet will be worn out and ready for replacement.
Does Insurance Cover Carpet Replacement?
Homeowner's insurance will cover the cost to replace carpeting if it suffers damage from a covered peril. In most HO-2 policies, a typically covered occurrence may be a burst pipe or a house fire. It's crucial to read the details of your policy coverage, as many extreme weather-related events and other sources of damage, such as accidents or pest infestations, will not have coverage.
Even if your insurance provider covers your carpet replacement, you'll still have to pay a decent amount out of pocket to install hardwood due to the cost difference. An insurance policy will reimburse you the original or actual cash value of your carpet. Insurance policies generally imply that you'll replace lost items with similar items, so you may need to review your plan's details to see how a hardwood upgrade would play out.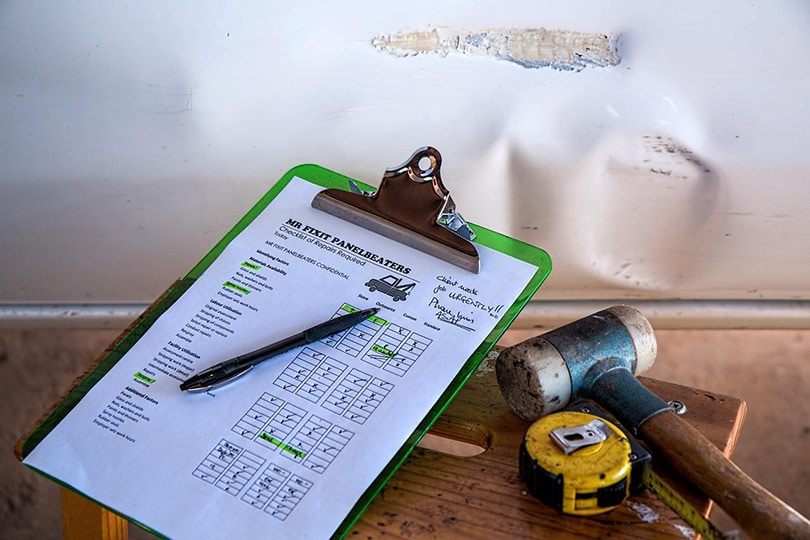 How to Save on Carpet Replacement Costs
The best way to save money on replacing carpet with hardwood is to do the installation yourself, though this is rarely a wise idea. Given the expense of hardwood, working with a professional provides peace of mind that your new flooring will last as long as possible. You'll also have added assurance if there are any problems with the installation.
While you may want to hire a professional to help you lay the new floor, removing the carpet is one chore that you might be able to pull off yourself. All you need are work gloves and a mask, a utility knife to remove the carpet, and a crowbar to pull up the tack strips. If you take care of the removal and subfloor preparation, you can potentially shave a few hundred dollars off of your total costs.

Conclusion
Starting at around $8 per square foot, replacing carpet with hardwood isn't a cheap project, but the final results are well worth the investment. Hardwood floors provide a notable selling point for your home and a new layer of luxury. Shop popular trends today, and follow this pricing guide to start planning the ultimate upgrade for your flooring.
---
Featured Image Credit: CapturePB, Shutterstock