How to Build a Treehouse – 8 Effective Tips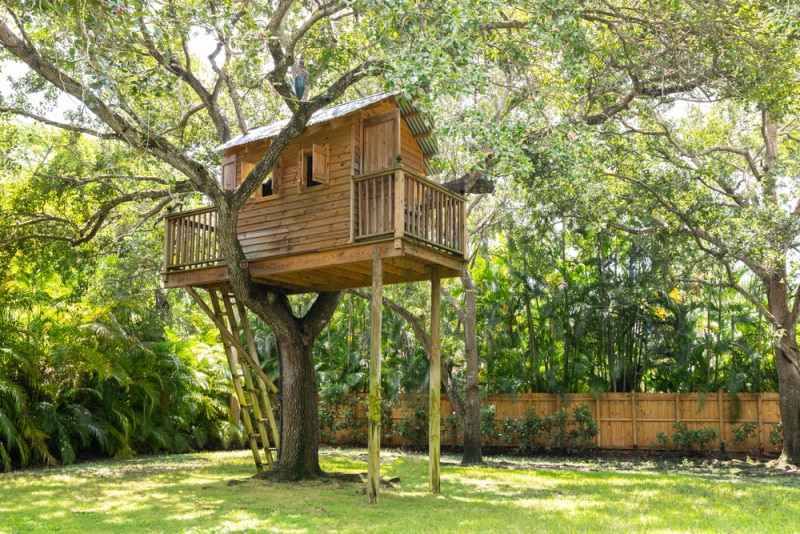 Whether it's your childhood dream come true for your own kids, or your creative office in the skies, a treehouse is an exciting addition to your backyard space that can add value to your property. The designs can range from a simple platform with no roof or walls to a miniature house you can practically live in. While the budget ranges widely, it's safe to say that all treehouses are fairly expensive endeavors that necessitate a lot of pre-planning before placing the first bolt. As you envision your dream project, here are eight things to consider that can add longevity and a little spirit to your arborous abode.

How to Build a Treehouse – 8 Tips to Take Your Treehouse to the Top
1.

Think About the Future
If you're building this project for your kids, you might not want to dwell on it, but you know that they'll eventually outgrow their treehouse. Depending on the ages of your kids, that could be sooner or later, but at some point you'll be left with a vacant building. Are you hoping to put it to another use when that day comes? You might consider incorporating some of those ideas into the overall layout. For example, you could convert the treehouse into an empty nester's lounge after your kids have moved on. Additionally, you'll want to choose high-quality materials and sturdy, healthy trees that'll last for longer than a few years. Experts say most treehouses have a 10–25-year lifespan, so plan accordingly.
---
2.

Consider the Tree
Hardwood trees such as oaks and maples work best. The supporting branches should be at least 8 inches in diameter, or more if you're using a softwood tree. Carefully inspect any prospective trees before you decide on your treehouse destination. The tree should be healthy, with no signs of termite damage or splitting.
---
3.

Give the Tree Some Room to Grow
Don't mount any boards directly to the trees. Instead, use brackets and treehouse fasteners to mount your house to the tree from a slight distance no more than 5 inches from the tree trunk. This encourages your tree to keep growing. If you're building an especially heavy treehouse, you might want to find two sturdy trees close together so you can brace the house between them for extra support. Additionally, don't run bolts through the tree, and leave sufficient space (between 12 and 18 inches) between them so they don't cause significant damage to one concentrated area, which can weaken the tree overall.
---
4.

Consider Placement
For safety, you don't want to build the house too high off the ground (and all the moms will agree). We recommend building your house about 6–10 feet off the ground, unless you live in a very windy area. If you live in a place that frequently receives high wind or tornadoes, build it in the lower third of the tree. You should try to center the weight around the trunk of the tree for extra support. This will relieve some of the tension from the branches, making them less likely to break.
---
5.

Buy About 10% More Materials Than You Think You Need
Nothing is more annoying when you're working on a project than running out of nails or screws. Try to buy about 10% more lumber and nails than you plan on using so you don't need to run to the store in the middle of your work session.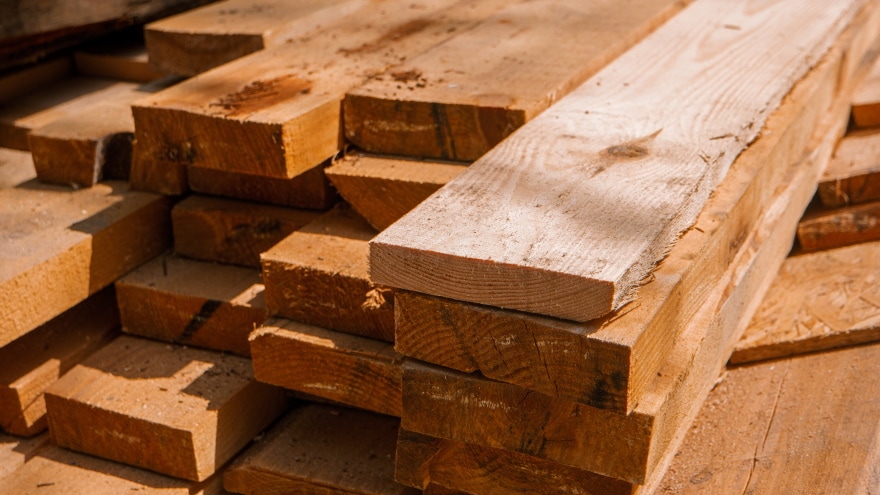 ---
6.

Build the House in Pieces on the Ground
Some treehouse builders prefer to lay down most of the groundwork on the ground instead of up in the swaying branches. For instance, you can assemble the floor under the tree and hoist it up when you're finished as opposed to nailing down every board in mid-air.
---
7.

Include a Railing If There's a Deck
If there's an exposed area outside the treehouse, make sure you add a railing around the opening as a safety measure.
---
8.

Don't Forget the Finishing Features
Adding just a few simple accessories can elevate your child's imagination to a whole new level. A pirate ship's wheel, a rope swing, a window box for flowers…your possibilities are endless.

Conclusion
When planning your (or your kid's) adventure home in the skies, it's important to consider safety first—theirs and the tree's. Keeping your tree healthy can keep your treehouse around for longer, which allows you to glean its full potential even after the kids move away.
---
Featured Image Credit: Cassanas Photography, Shutterstock