How to Get a Building Permit in the U.S.? What You Need To Know!
For the health and safety of residents, builders are required to follow certain codes and procedures as laid down by law. This includes building permits; if not acquired before the commencement of a building project, this will result in a violation of the law.
Building permits address important factors, including structural integrity, sanitation, water, electrical services, and fire protection.
However, not every type of construction will require a building permit, but it is good to be armed with the right information.
Whether or not you need the permit, you may not be aware of how to go around the process, and probably the reason you are reading this article.
Let's take a look at how you can get a building permit for your new construction, taking into account tips and best advice for going about it.

When Are Building Permits Required?
As stated, not all types of construction will need a permit. Such things as simple repairs and certain replacements may not need one. However, anything that involves major changes or additions to your home or structure or certain changes in the mechanical equipment will need permits.
Some of the structures that will most likely need a permit include:
Adding or removing walls
Changing a room to something else, i.e., changing a bedroom to a lounging area.
Changing the piping
Demolishing certain areas of your house
Adding new structures to the house such as bedroom extensions
Certain projects that may not require a building permit include:
Erecting a small picket fence
Repaving the driveway
Adding floor coverings
Adding kitchen cabinets
Repainting jobs
Modifying kitchen appliances or adding them
Certain constructions may need special kinds of permits, including electrical plumbing and mechanical permits. A good example is installing underground sprinklers. You will be required to get a special kind of plumbing permit or a mechanical permit for constructing a central air conditioning unit.
To be sure whether or not you need a permit for a certain kind of job, consult your city building and permit office.
Each municipality has codes that govern the construction of structures. In such states as Florida, the building codes may be more focused on such issues as humidity and heat, while in rural areas with frequent forest fires, building codes may require you to add fireproofing materials as you undertake construction.
Some of the various forms of permits include:
Building permit
Development permit
Mechanical permit
Plumbing permit
Electrical permit
Occupancy permit
Construction permit
Trade permit
Zoning permit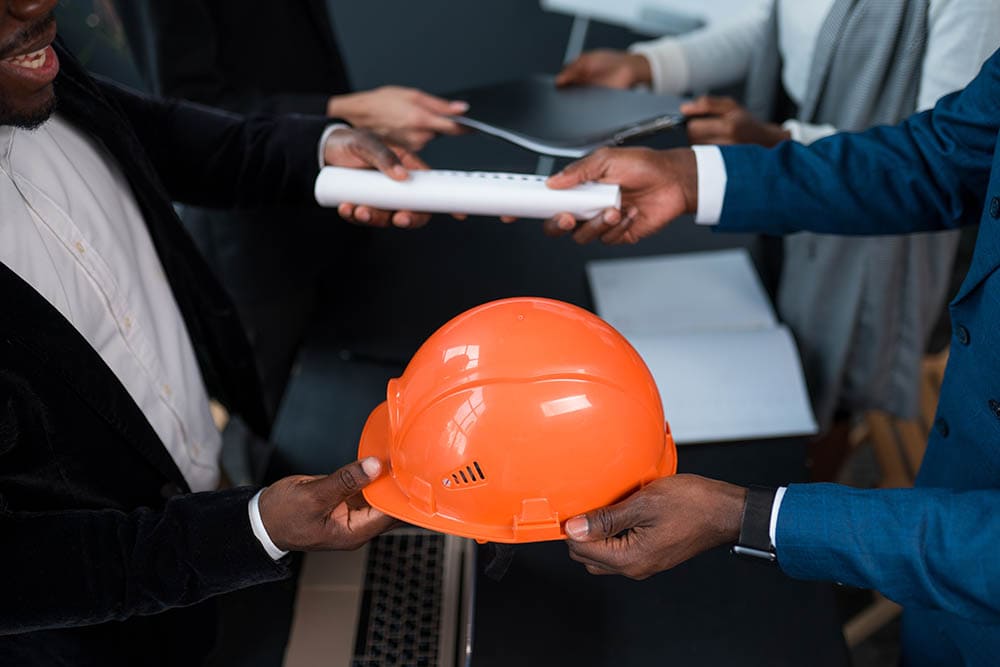 The Building Permit Process
The process of getting a permit will often follow these procedures:
Application Stage
You will first have to get in contact with your local building department and inform them of the kind of construction project you want to undertake. If a permit is required, you will get an application form with an outline of all the requirements by the local authorities.
Depending on the kind of construction project you want to undertake, you may be required to apply for more than one permit.
Prepare an application for a permit, and be sure to include all the details you have been asked for, including documents and plans.
Apply, and pay for all the fees required, after which you will get a permit certificate. This certificate may be required on an easily observable place in the construction site in case of inspection.
The Review Process
After the application and before the commencement of construction, there is a review process of the application which will involve several departments, all tailored to ensure all the codes and procedures are followed.
Depending on the type of construction, the application will go through the building and safety department to ensure compliance with plumbing, mechanical, electrical, energy consumption, and more.
The application may also go through the fire department that will check with fire safety.
It will then go through the public works department, which will check for compliance with flood control, drainage, parking, and driveway requirements.
For such issues as zoning regulations, the application will have to go through the planning division, while the utility department will look into water conservation and waste management.
Corrections and Changes
You may not always receive positive information on your permit, which means it may be rejected. This is due to non—compliance with certain requirements by the local authorities. In such scenarios, you will get several proposed corrections to your initial applications.
If the corrections are minor, you may correct them and re-submit the application. However in case, there are major problems with your application, it may mean that you have to go back to the drawing board, make all the corrections or conversely come up with a whole new plan.
After you have submitted the corrected plans, they will still have to go through all the necessary departments to ensure compliance.
Work In Progress
There are certain designated points during construction where you will be required to contact local authorities who will come to ascertain that the structure is being built in compliance with the law. In case not, the officer may require certain changes to be made before continuing with the project.
Work on these changes first, and ensure you call back the local authority to ascertain that indeed you have made the proposed changes to the structure.
After the inspector approves the work, you can continue with the construction. After finalization, you will still need to contact local authorities to obtain the final city approval.
It is worth noting that this is not a rigid process, and different localities will have different procedures to get a permit. However, they will not veer too far off this procedure.

Who Gets the Permit?
The best advice while looking to get a permit for construction is to get the contractor to do it for you if you have enlisted their services for the construction. Apart from being familiar with building codes and City inspectors, they can help make the best decision for the permit that best suits your construction.
The person who gets the permit is also responsible for any arising issues during the construction. This means that if you choose to take the permit yourself, you will be considered as the contractor, and liable for any problems that may arise.
However, in certain situations, the contractor may be charging by the hour, even in the process of getting the permit for you, which may become a bit too expensive. In such a scenario, the best choice for you would be to do the paperwork yourself and let the contractor work on the construction itself.
Everything depends on the complexity of the construction.
Can I Get Around a Permit?
If your project requires a permit, it will help save you a lot of potential headaches in the future to just get the permit. If the contractor suggests getting around the permit and working on the construction without it, get another contractor.
The process may be a bit cumbersome for most, but it is not as nearly as hectic as it will be if the authorities find you undertaking construction without a permit. This may result in doubling or even tripling the initial fees you would have used on the permit. You may also end up being shut down and losing the amount already spent on the construction.
In certain situations, the construction may be brought down, resulting in even bigger losses.
Also, if you are trying to sell your home and it comes out that you did not get a permit while constructing it, the value of the structure may drastically come down, or you will have to get it up to code to be able to sell it.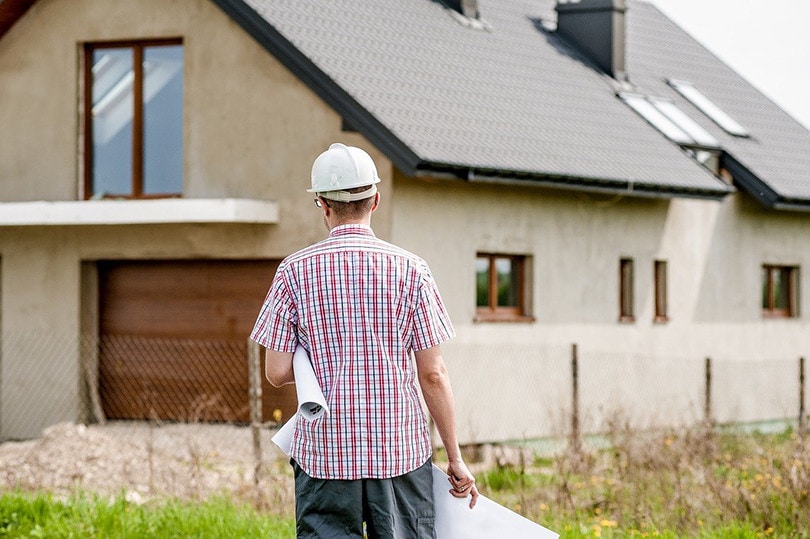 How Long Will It Take To Acquire a Permit?
The time it will take for you to get a permit depends on the location and the governing authority of the area. Check with your local authorities and building departments to understand the kinds of permits you need and the timeline involved.
Depending on the complexity of the project to be undertaken means there might be an in-depth review of the site and plans before the go-ahead is given, which may translate to a longer wait for the permits. However, for simpler constructions, the time may be less.
Some cities and counties that offer permits online can get them done in as little as a few days or weeks. Below are some examples of the timeline taken by a couple of counties and cities:
| | | |
| --- | --- | --- |
| City/ Municipality | Residential waiting time  | Commercial waiting time |
| Los Angeles, CA | 45 minutes to several days | Several weeks to a month |
| Orlando, FL | 10–15 business days | 20–35 business days |
| St. Louis, MO | 1–5 business days | 1–5 business days |
| Indianapolis, IN | 15–20 business days | Several weeks |
| Portland, OR | Up to 14 weeks | Up to 13 weeks |
| Dallas, TX | 1–3 business days | 12-20+ business days |
Can I Speed Up the Time It Takes to Get a Permit?
For you to get a permit there are several requirements including providing certain documents such as plans and other paperwork. Before going for the permit, ensure you have all the required information to help increase the pace of getting the permit.
If you go for a permit without all the documents, there may be an unnecessary back and forth that may end up losing you crucial time.
Apart from the provision of all the required paperwork, there is also the hurdle of inspection after construction to meet the authorities' requirements. If the investor is aware of all the codes beforehand, it may save time in additional improvements and repairs, which may add to the expenditure and take even more time.
The bottom line is that you cannot circumvent the permit process, and rather than complain, get an edge by familiarizing yourself with all the requirements to help smoothen the process.
What Is the Average Permit Fee?
Permits will vary in terms of pricing as there are different levels of construction, such as working on the electricity to building a skyscraper or building a residential home and building a commercial structure.
For the simpler types of construction, prices may range in the hundreds of dollars, while for larger-scale projects, you may be required to part with several thousand dollars.
Permits will cost anywhere between 2%–18% of the total cost of building the structure.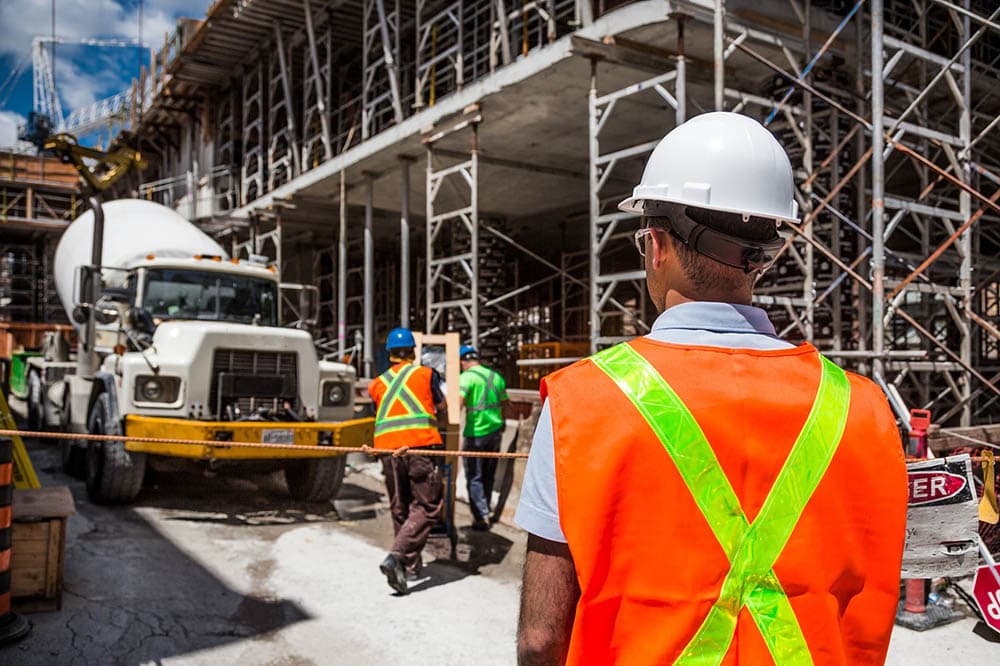 Building Permits and the Economy
Apart from building permits helping solve safety and planning issues for residents, they are also a major indicator of consumer solvency and economic confidence.
An increase in building permits may be an indicator of a need for more homes, especially when they are mostly for single or multi-family homes. This may indicate a surge in wealth where more people can afford a home, which may be a good attraction for investors in the area.
The case of a boom in commercial structures may indicate a surge in business.
The U.S. Census Bureau keeps a record of building permits for new houses, with monthly, yearly and progressive yearly intervals, all available for the public. The surveys are divided into regions, states, and counties.
Permit Quick Tips
In case the permit is being applied on behalf of the property owner, there should be a permit authorization affidavit which must be completed by the owner.
A wall check must be provided after constructing the foundation walls and before framing inspection happens.
For land exceeding 2,500 square feet, a development plan is required.
Demolition of an existing structure is held to be separate from the construction process.
You do not have to finish your application process in a fixed period; however, you are allowed up to six months from the day you started the application process to finalize and begin work on the construction.
You should be aware that a permit may expire, which may mean going through the process again, meaning you are required to keep working on the construction only after the finalization of the permit application process.

Conclusion
Construction requires planning. Considering that the building will last for many years, there is a need to maintain quality standards for longevity. The application process may be a bit cumbersome, but it does not compare to the losses that may arise in case something happens, and people are injured out of negligence.
If you are looking to start construction, liaise with your local department officials to ensure you are on the right track in terms of following procedures, and soon enough, you will be the new owner of a building or amazing construction.
---
Featured Image Credit: Yuriy K, Shutterstock