Intex Prism Frame Pool Review 2023: Pros, Cons & Verdict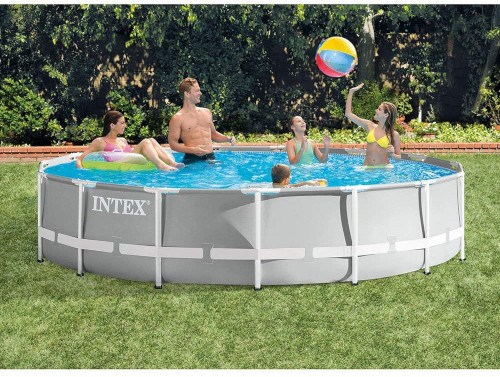 We give the Intex Prism Fram Pool a rating of 4.3 out of 5 stars. 
Installation: 4.0/5
Durability: 4.4/5
Pump: 3.5/5
Sizes: 4.8/5
Warranty: 3.0/5
The Intex Prism Frame Pool is an excellent and affordable way to get a pool in your backyard. Intex became very popular for its Easy Set Pools. The company decided it was on to something and wanted to expand its market, but it couldn't do that with the air ring pool. The sides aren't sturdy enough for the larger sizes. These Prism Frame pools come in several sizes, from 10' X 30" round pools to the massive rectangular 10' X 30" pool.
Once you choose between a round and rectangular shaped pool, the questions begin to mount. Which size can your property accommodate? Do you have little ones who will be the primary users? Do you have teenagers who need more space to swim and horse around? Is it easy to set up and maintain?
Are the Prism Frame Pools worth all the hype that they get? We decided to try one and find out.
Editor Ratings
Overall: 4.2 / 5 – Good
We gave the Intex Prism Frame Pool a rating of 4.6 out of 5 points for several reasons. Though there were a lot of pieces that looked overwhelming upon opening, they were pretty straightforward to set up. It took longer than Intex said it would, but it wasn't too bad. We have found ours to be durable and able to withstand the roughhousing of teenagers quite well. The thing that we didn't care for is the warranty and return policy. The service department leaves much to be desired.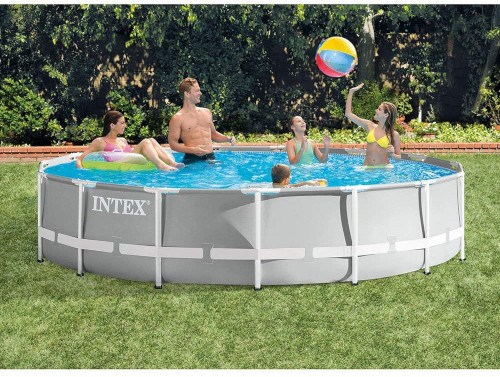 Installation: 4.0 / 5 – Fairly easy but time-consuming
If this is the first pool you've ever had, installation can be a pain because you need to make sure the ground where you want it is flat. It's a lot of hard work, but once the ground's ready, set-up is pretty simple.
You can put this pool directly on the ground as long as there are no sharp objects underneath, but we learned the hard way that you need a tarp as a screening. We have some hardy grass that grew right through the bottom of the liner. You will also need a ground cover if you put it on concrete with a rough surface.
The liner is stiff when it first comes out of the box, so we would recommend that you open it up and let it warm up in the sun while you get the poles and sort them out. The liner is more maneuverable when it's warm.
There are a lot of parts involved in putting these pools together. It can be a little overwhelming when you first see them all, so make sure you have a buddy or two there to help. The first thing to do is visit the Intex website and watch the instructional video for your pool. Intex ships new pools with an instructional DVD, but we didn't have a DVD player on hand. It was much easier to pull up the videos on a portable tablet computer and have it at the site.
Intex claims that these pools only take 30 to 90 minutes to set up, depending on the size. It took four of us a little over three hours.
After getting the water put in the pool, we found a little pinhole. That was easy to fix, though, with the pool repair kit that's included. When reading other reviews, quite a few people have had the same pinhole issue when they put theirs up for the first time.
Once you get the pool filled with water, mark your waterline with tape or a wax pencil and check it the day after you've filled it. If the water is lower than the line, you may have a tiny hole, too. The leak will be above the new waterline.
Durability: 4.4 / 5 – Good to very good
We have owned Intex Easy Set Pools in the past, so we were familiar with the air ring at the top that holds in the water. Those are nice, they don't offer the best stability, so we decided to upgrade a bit.
The sidewalls are the same thick material as the Easy Set Pools, but the metal frame makes them 1,000 times sturdier. The Easy Set is held up by an air ring that doesn't offer any support to the body of the pool. If you're on the slightest slope, the whole pool will sit lopsided, and water will flow over one side and ultimately cause it to collapse.
The metal frames on the Prism Frame Pools give the walls more rigidity. Although it's important that your pool is on a flat surface, if it isn't perfect, the pool will still sit firmly in place. The walls are soft and flexible, but they don't have nearly as much give, thanks to the stiff support poles, which are also rust-resistant.
Pump: 3.5 / 5 – Average
Intex supplies the smallest possible pumps with its pools. While they can keep the water circulating, we didn't think it kept our pool as clean as it could, so we upgraded to a bigger one. We still used an Intex brand, just more substantial, and it works great. You may want to consider upgrading before you even install the first pump.
We also added a skimmer to the system. It sucks debris off the top of the pool and keeps it nice and clean. You can use a hand skimmer for this, but we highly recommend one that attaches to the pump.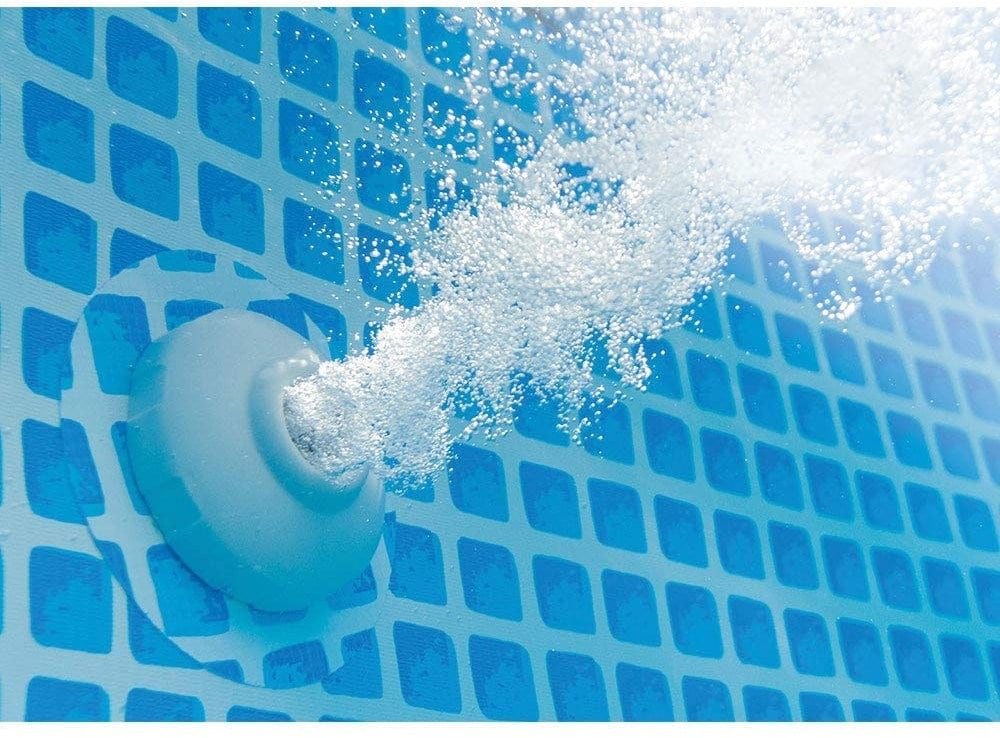 Sizes: 4.8 / 5 – Excellent
Intex Prism Frame Pools come in many different sizes to fit different needs. The smaller circular ones are perfect for families with small yards and young children. Some of them are the same sizes that are available in the Easy Set Pool line, but they're sturdier and last longer.
Others are as large as the Ultimate Frame Pool line, with several sizes available in between. We have the 14' X 42" and find that it fits our needs nicely. Find the size that fits your yard and your family the best.
Price: 4.8 / 5 – Excellent
The Prism Frame Pools range in price from around $100 for the smallest one to $800 for the largest one. They're more expensive than the Easy Set Pools, but they last longer.
The larger ones have many of the same features as the Ultra Frame Pools, but the frames aren't as robust and will rust a little faster. The Prism Frame Pools will last for four to five years, while the Ultra Frame Pools will last six to seven years. The trade-off for a year or two is the price. The Prism Frames run about one-third less than the Ultra Frames. We found that they gave us the most bang for our buck.
Warranty and Returns: 3.0 / 5 – Poor to adequate
Warranty
Intex Prism Frame Pools come with a limited warranty:
Pool Liner – 90 Days
Prism Frame – 90 Days
Ladder – 90 Days
Pump – One to two years, depending on size
The warranties are only good on products that are purchased directly from Intex or Intex online.
Returns
Intex isn't known for its customer service. The first thing you need to know is that you should never return something to Intex unless you call customer service and they tell you to. Just sending a product back within the allotted 30 days doesn't mean they'll give you a refund. Call them within 15 days of receiving the product. They'll tell you if the item is returnable or not.
If they tell you to send the product back, it needs to be in the original packaging that is in a resalable condition, and it must reach the warehouse within 30 days from when you received it. Include a copy of your original sales receipt to show your proof of purchase. Any credit due will be put back on the original credit card. Don't expect a refund for any part of the return fees. They are the responsibility of the consumer.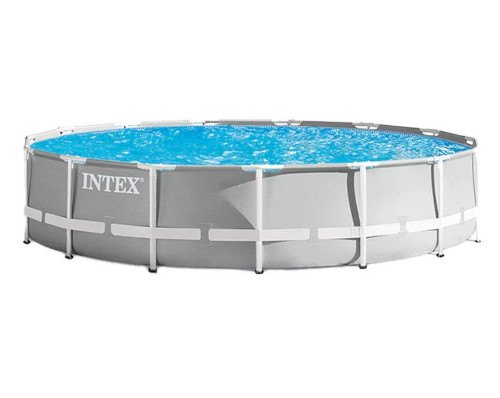 Who is this pool for?
Families of all shapes and sizes
These pools range from smaller, shallower pools for young children up to large rectangular pools that will accommodate the whole family plus some friends.
These pools are great for people with small yards, large yards, or anywhere in between. They cost between $100 to $800, depending on the size you need. These pools can fit almost any size yard or budget.
The Prism Frame Pools are an excellent choice for anyone. The smaller ones require almost no maintenance, allowing those who've never had a pool to try one on for size.  Many veterans don't mind the upkeep that's necessary for the larger ones, since they already know what they're doing.
Intex Prism Frame Pools – A Quick Look
Pros
Affordable for any budget
Available in several sizes
Powder coated steel poles
Fairly easy to assemble
Durable sidewalls
Perfect for any size family
Cons
No skimmer included
Pump is only adequate
Flimsy ladder
Cover is subpar quality
FAQs
1. Does this pool have to be taken down to store during the winter?
Not always. These pools don't have to be taken down during the winter. They can be partially drained to allow ice to expand, and winterized. However, if you live in a frigid climate, you may want to take it down and put it in storage somewhere. A lot of ice can cause damage.
2. Does the pump keep the whole pool clean?
No. The pump is made to sanitize the water. It won't do anything to keep the bottom and sides of the pool clean. The smaller pools don't require much maintenance, but all sizes of pools will last longer if the sides and bottom are kept clean by scrubbing with a brush or vacuum.
3. Can the pool be placed directly on the grass?
No. Hardy grasses will grow through the bottom of the pool liner. You need a good quality ground cover underneath it to prevent that from happening. You can place the pool on a concrete pad, but the ground cloth is still needed to keep it from rubbing on the abrasive surface.
4. Are replacement parts available?
Yes. All frame pieces and liners are replaceable and can be purchased separately through Intex.
5. How full can I fill the pool?
These pools have a fill line that is approximately 80% of its total capacity.
6. How long should I run the pump?
All the water in the pool should circulate through the pump every day. Since these pools come in many sizes, look up the suggested run time in your owner's manual.
What the Users Say
Set-up isn't too bad when you have at least two to three people working together. Intex claims it will only take 30 to 90 minutes, but it has taken most people three to four hours. There are a lot of parts that can be confusing at first, but it all makes sense when you watch the DVD.
Some people say that assembly requires alcohol to calm the nerves.
People who have owned an Easy Set Pool in the past love the Prism Frame. They love that it stands up better to the wear and tear of their young kids.
People who have previously had an Ultra Frame Pool wish that the Prism Frame would last the same amount of time, but they love the price tag being about a third less.
Most people know before purchasing a pool that there is a certain amount of maintenance required to keep one running at its best. The smaller ones don't require much at all. All you have to do is run the pump eight hours a day and add chlorine. The larger pools require the same maintenance as any other family-sized pool.
Some people think that remembering to turn on the pump and vacuum weekly is more work than the pool is worth. Those are usually people who don't use the pool daily. People who use them a lot don't mind the cleaning time. It's still time in the sun and provides their family and friends with a lot of fun and entertainment.

Conclusion
The Prism Frame Pools come in such a wide variety of sizes that they're affordable for almost anyone. They are made well and are reasonably easy to set up. Intex claims that they can be set up within 30 to 90 minutes, depending on the size. We didn't find that to be the case. It takes a few hours when you have friends to help you. It's quicker if you watch the DVD before you begin assembly.
The things that come with the pool do the jobs they're intended to do, but none of them are the greatest. The pump keeps the water circulating but doesn't clean as it should. It also doesn't have a skimmer attached. You'll want to upgrade the pump to keep maintenance down to a minimum.
You may also want to consider a sturdier ladder and better quality cover. The ladder is wobbly, and the cover is thin and tears easily. If you're looking for an economical pool to fit your tight budget, we recommend purchasing the kit as it comes, and upgrading the next year. You'll have to be more careful on the ladder and spend more time manually skimming debris off the top, but you'll still get many hours of entertainment.